Windows Movie Maker is a very useful tool both for professional videographers and casual video makers alike. But it has many limitations including that you cannot use Windows Movie Maker on Windows 10. To overcome these limitations you can download add-ons and plug-ins to Movie Maker. Below are the top 12 Windows Movie Maker Plugins.
Part 1. Best Alternative to Windows Movie Maker for Mac/Windows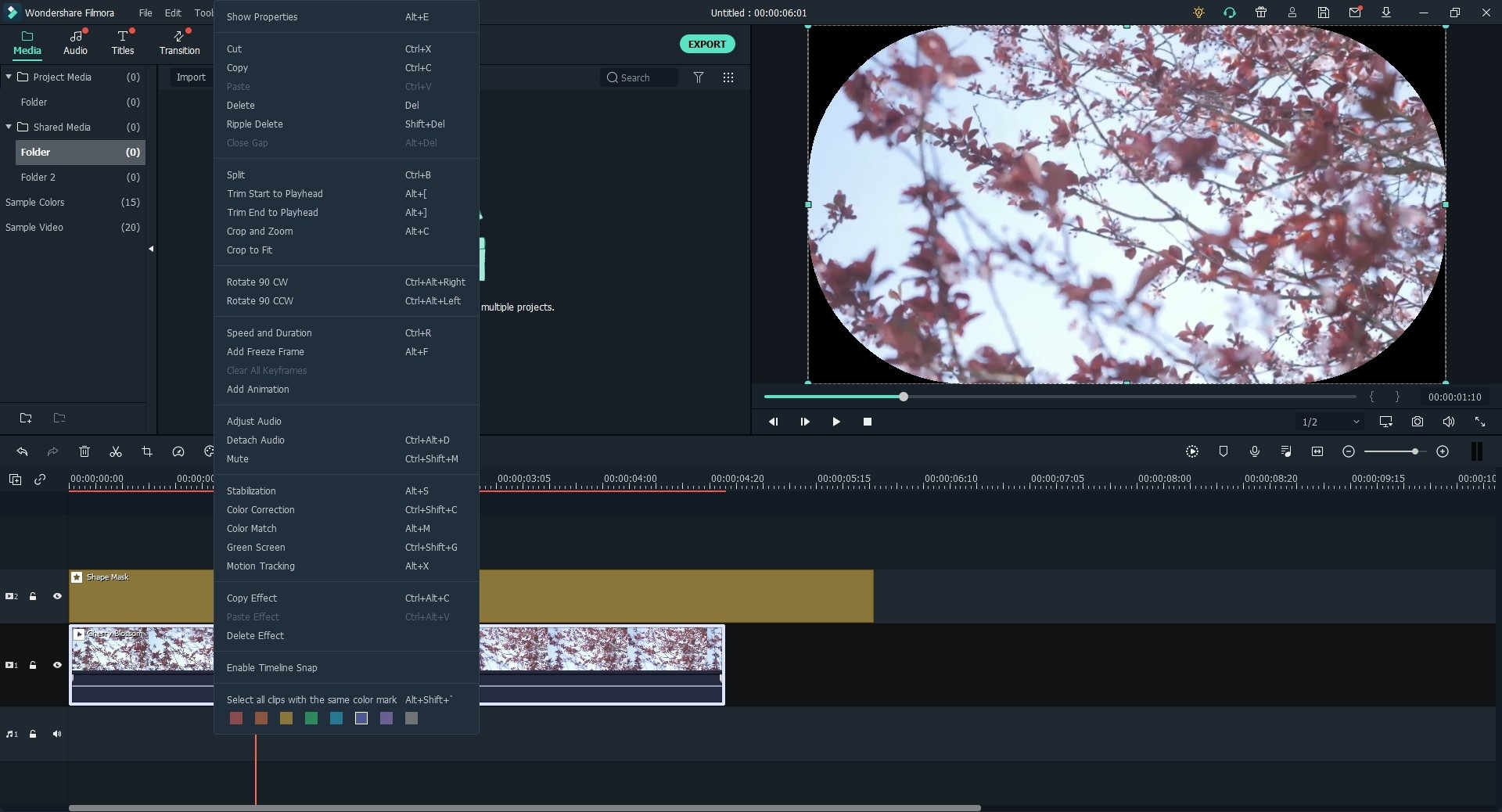 If you are looking for an alternative to Windows Movie Maker for Mac/Windows, then Filmora Video Editor will be the best choice for you. This video editing software comes with many advanced features that can help you editing video file. In fact, you can easily drag and drop video clips and create a great video according to your requirements. Like any other movie maker software, Filmora Video Editor lets you split, merge, crop, and trim videos. Furthermore, you can add background music, titles/credits, special effects, overlays, filters, and nice transitions to the final video.
Easily import your video clips using the drag and drop feature.
Plenty of video editing options including split, merge, crop, and trim.
Option to make your video unique and intriguing by adding special effects, overlays, filters, and custom texts.
The software is easy-to-use and simple-to-navigate.
By the way, if you want to learn how to use the best alternative to Windows Movie Maker, please check here to get detailed user guide.
---
Part 2. Top 12 Windows Movie Maker Plugins and Add Ons
#1. SceneFixer Effects Wizard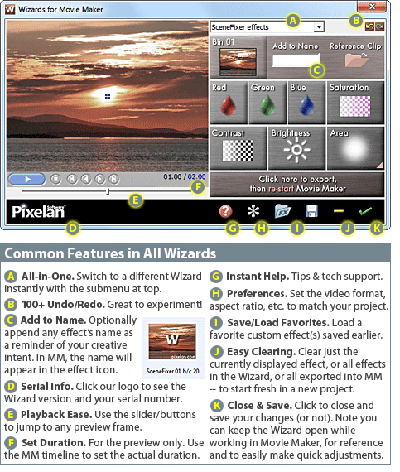 The SceneFixer is the Movie Maker add-on for those who want to have more control of the brightness and contrast controls. With this add on, you can fix different lighting issues such as poor lighting or a wrong white balance. This add-on also offers advance color correction. Of course, you can always correct color with the stock Movie Maker features but it will take a lot of time and effort. With SceneFixer, Movie Maker becomes more versatile as it allows users to set RGB amounts independently per channel and correct the color of a clip by adjusting saturation. You can also use this add-on to make quick fixes to still images.
Learn more >>
---
#2. Blur-Sharpen-Wizard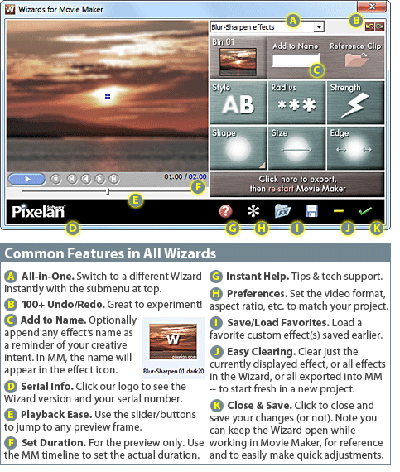 Blur and sharpen features can add excellent effects on your videos. But the blur and sharpen controls of Movie Maker is limited. With this add-on, you can get past the program's limitations. One of the best features of this add-on is the Smart Blur that sharpens some parts of a scene while smoothening the rest. This add-on will come in handy during instances when you have to blur out a part of a video such as a license plate for example.
Learn more >>
---
#3. FilmTouch Wizard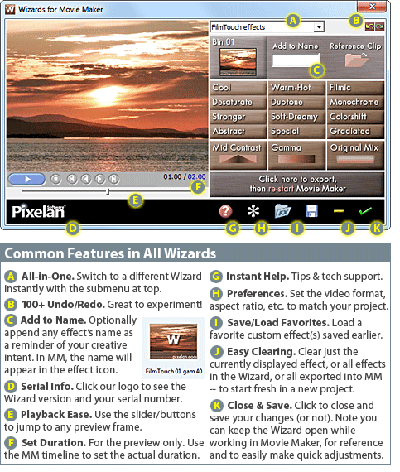 If you want to give your video the look of a certain popular video then you should try FilmTouch Wizard that has more than 200 professional presets of famous film looks. The best thing about these film effects is that each one of them is totally adjustable for brightness, contrast and levels of effects. The add-on even allows users to save the presets so they can create their own custom film looks that they can re-use over and over.
Learn more >>
---
#4. PanZoom Wizard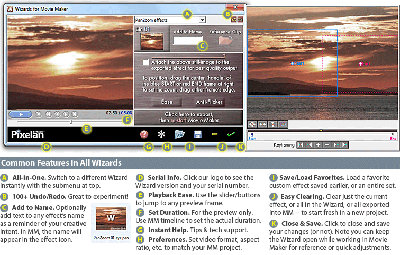 Adding pan and zoom effects is an excellent way to enhance your video. Now, you can easily add pan and zoom effects on Movie Maker with the PanZoom Wizard. And the best thing about this add-on is that it is very easy to use. To mark the start and end of your pan effect, all you need to do is to drag the START and the END frame then reduce or enlarge either frame's edge in order to set the zoom values.
Learn more >>
---
#5. TitleFX Wizard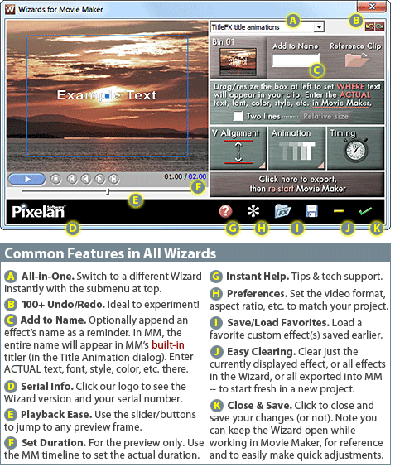 With a basic Movie Maker program one can only do little when it comes to titles and text positions. If you want to be able to position texts wherever you want them in your video then the TitleFX Wizard is for you. Of course, you can always do that by tinkering with the XML code but it's a lot of work and there's a chance that you might mess up the code entirely.
---
#6. OverlayFX Effects Wizard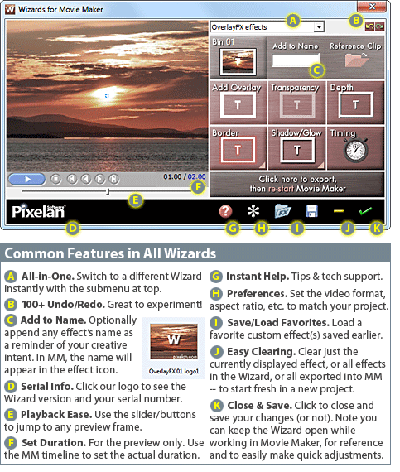 With Movie Maker you can only overlap images over a video clip because it only offers a single video track. By adding the OverlayFX Effects Wizard you can now easily and visually make overlays in Movie Maker. This add-on allows users to overlay imported images such as logos, titles, lower-thirds, graphics, custom frames, etc. Then it also allows users to fine-tune the overlaid element. The add-on lends the capability of adding up to six overlays in a single clip.
Learn more >>
---
#7. AccentFX Wizard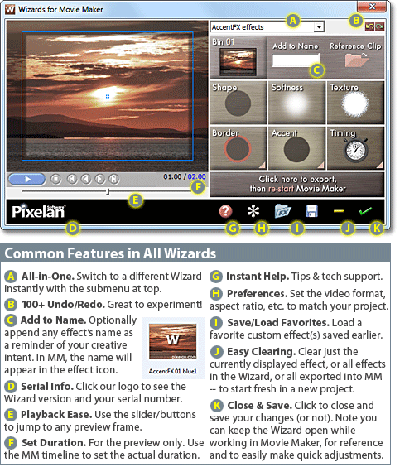 Sometimes, you want to highlight a part of your image or video scene. With this add-on, you can now easily do it by adding attractive borders and frames to the part you want to highlight. It also allows users to use visual accents. This add-on offer hundreds of possibilities to let you emphasize the subject of your video or image.
Learn more >>
---
#8. SpiceMaster Wizard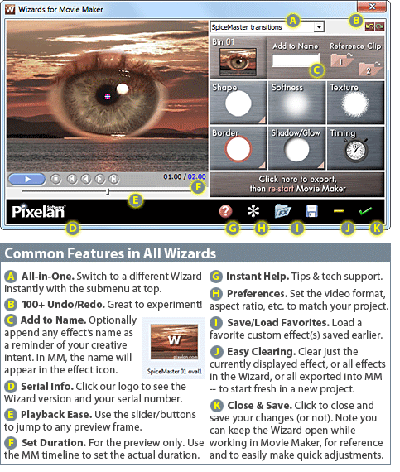 With this tool, you can easily add custom transitions to a Movie Maker video and all you need to do is choose the softness, shape, border, timing, texture and other variables. These custom transitions are impossible to achieve with basic features of Movie Maker.
Learn more >>
---
#9. PerfectPIP Wizard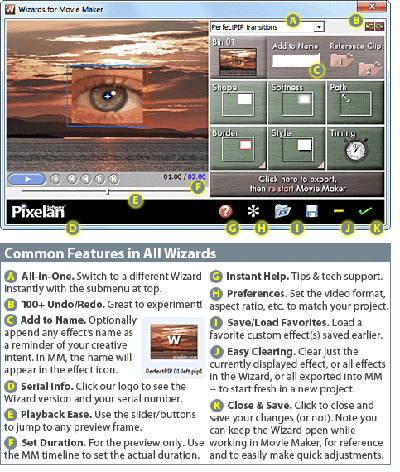 With this tool you can now create perfect picture-in-picture (PIP) in Movie Maker by choosing the style, shape, timing; location, etc. of the PIP. It also allows users to fly their video clips or still image over the background of another overlapping clip. It also offers many different border and edge treatments for the PIP transition. The newest version of the add-on now feature ultra-sharp PIP rendering.
Learn more >>
---
#10. TranJelly Wizard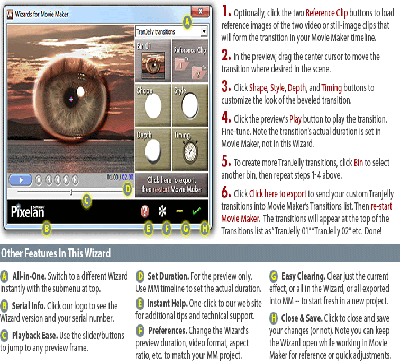 This is a unique tool that allows users to create realistic beveled transitions in Movie Maker. This can be used in conjunction with the SpiceMaster Wizard. This tool provides four different bevel styles and four bevel depth levels. The tool also allows users to adjust the timing of the transition based on their preferences.
Learn more >>
---
#11. Correction Effects Pack 1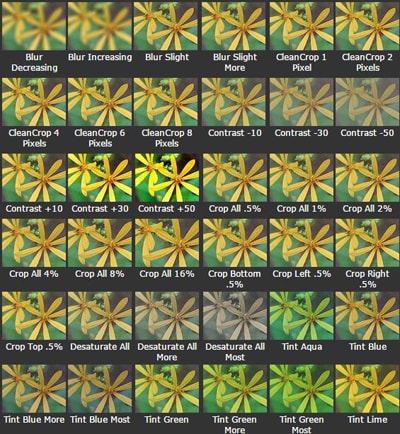 The Correction Effects Pack 1 is a massive tool that features 46 effects that can easily be used using drag and drop action. These effects corresponds to the commonly needed fixes when creating or editing videos. One of the best features of this tool is the CleanCrop effects that allows users to retain the sharpness of an image while eliminating frame edge artifacts at the same time. This pack is almost an indispensable tool for videographers of who are using Movie Maker. Below are just some of the things that you can do with this tool.
Improve Contrast – Solves the lack of contrast adjustment capability of Movie Maker.
Correct Color – If you have clips that are too "hot" or too "cool," you can easily fix it with this tool.
Crop Out Noise – Cropping is another feature that Movie Maker does not have. With this tool, you can easily crop frame-edge noise.
Blur Better – This tool will let you increase or decrease blur in a clip for a transition effect.
Learn more >>
---
#12. Animation Effects Pack 4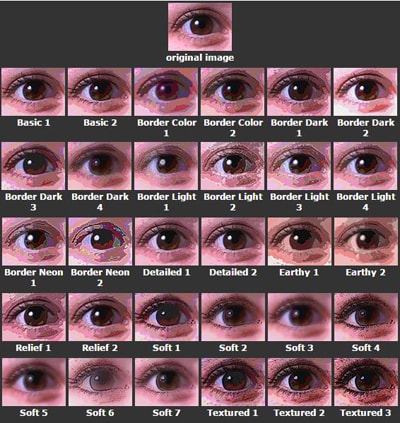 If you've always wanted to create animation effects but you can't because of the limitations of Movie Maker then you should get this add-on. This has more than 30 great ways to make cartoon and animation that are color-accurate directly from Movie Maker. You can always us this tool to make beautiful abstract images. Before the creation of this tool the only way to make animation is through a slow and manual process. This is why this is considered as breakthrough in Movie Maker.
Learn more >>