Los Angeles requiring vaccination proof for indoor businesses
Mayor Garcetti signed the measure Wednesday afternoon which takes affect on November 4 – LA County mandate starts Thursday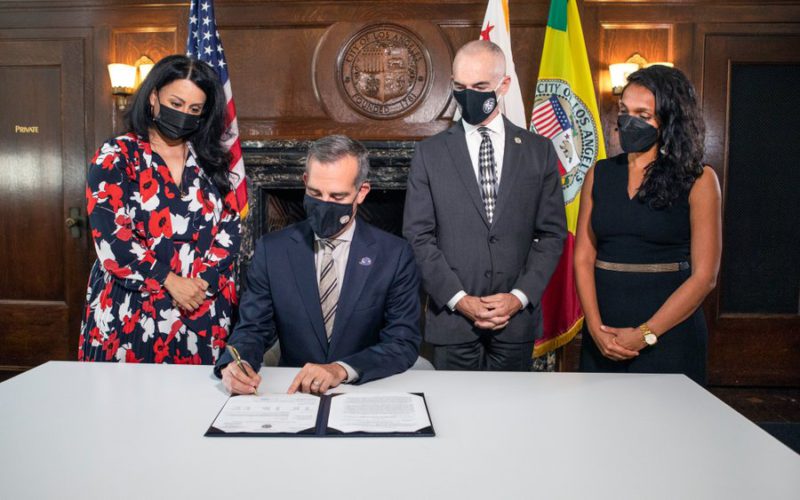 LOS ANGELES – The Los Angeles City Council voted 11-2 Wednesday to approve an ordinance that will require patrons aged 12 and older to show proof of full vaccination against COVID-19 to enter indoor restaurants, shopping centers, movie theaters, hair and nail salons and many other indoor venues.
Mayor Eric Garcetti signed the measure Wednesday afternoon which takes affect on November 4. The city's ordinance expands on a countywide order that on Thursday will begin requiring proof of COVID-19 vaccination at indoor bars, wineries, breweries, nightclubs, lounges and mega outdoor events.
KTLA reported that there are exemptions to the city's requirements: Those who self-attest to having a medical or religious reason for not getting vaccinated can instead provide a negative coronavirus test taken during the 72 hours before entering an indoor space.
During debate over the measure last week, L.A. City Council President Nury Martinez said; "No one is forcing anyone to get vaccinated, But if you don't, there are certain things you will not be able to do without showing proof of vaccination."
City Councilman Joe Buscaino, who is a candidate for mayor, had withheld his vote over concerns about enforcement, but today he, along with Councilman John Lee, voted against the measure.
Today, I signed an ordinance that requires people to be vaccinated to enter indoor public spaces, including restaurants, bars, gyms, sports arenas, nail salons, and all indoor City facilities.

The new law passed the City Council earlier today. pic.twitter.com/ZeES4xfcIv

— MayorOfLA (@MayorOfLA) October 6, 2021
Beginning, tomorrow, Thursday, October 7, proof of full vaccination or a negative test result will be required to enter outdoor mega events, and proof of at least one dose of the COVID-19 vaccine will be required to enter or work in indoor portions of bars, lounges, nightclubs, breweries, wineries, and distilleries in L.A. County.
On November 4, bars and similar establishments throughout L.A. County will be required to verify full vaccination of all patrons and employees prior to entry to indoor portions of their establishments.
"Helping organizations and businesses comply with targeted vaccination requirements over the next few months is a focus for Public Health. We are grateful for our partnerships with businesses and cities to promote safety for workers and residents. We do need to work together to improve vaccination coverage until we reach a vaccination level so high that the virus, or a new variant of the virus, would have trouble gaining traction.  The millions of individuals who remain unvaccinated unfortunately represent opportunities for viral transmission and mutation," said Barbara Ferrer, Los Angeles County Director of Public Health.
Anyone 12 and older living or working in L.A. County can get vaccinated. Vaccinations are always free and open to eligible residents and workers regardless of immigration status. Boosters are available for eligible individuals at all sites offering the Pfizer vaccine. Many vaccination sites across the county, including all the County-run sites, are also offering third doses of vaccine to eligible immunocompromised people. Appointments are not needed at many sites and all Public Health vaccination sites where first, second, and third doses are available.
Visit: www.VaccinateLACounty.com (English) and www.VacunateLosAngeles.com (Spanish) to find a vaccination site near you, make an appointment at vaccination sites, and much more. If you don't have internet access, can't use a computer, or you're over 65, you can call 1-833-540-0473 for help finding an appointment, connecting to free transportation to and from a vaccination site, or scheduling a home-visit if you are homebound.
Los Angeles guaranteed income program registration now open
"We're betting that one small but steady investment for Angeleno households will pay large dividends for health & stability across our city"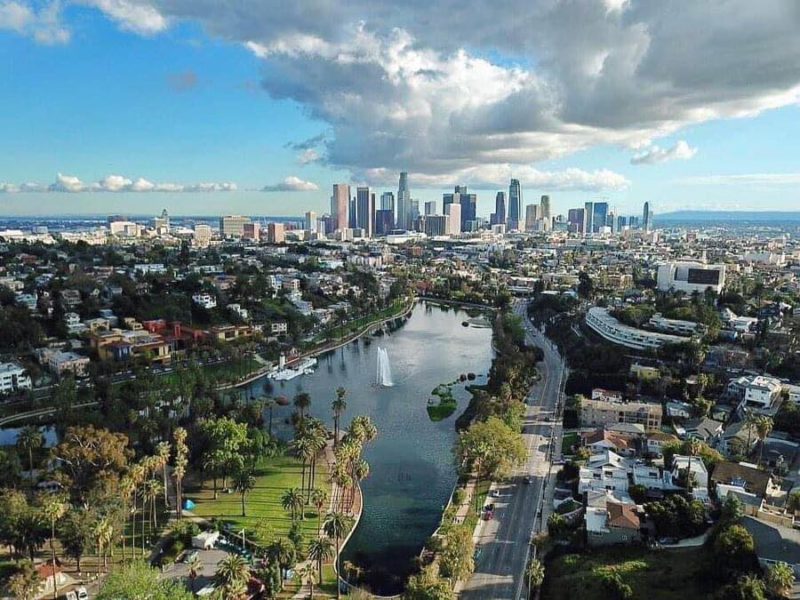 LOS ANGELES – A pilot guaranteed income program for city residents to apply for a chance to receive $1,000 monthly payments as part of the 12-month pilot BIG-LEAP program that was announced Wednesday by Mayor Eric Garcetti started taking applications Friday.
More than 3,200 applicants will be chosen at random to receive "unconditional," recurring direct cash payments with no restrictions on how the money can be spent.
Last April Garcetti proposed the guaranteed basic income pilot project that would pay $1,000 a month to 2,000 to the city's neediest households over the next year as part of a "basic guaranteed income" pilot program that he described as the biggest of any city in America.
"We're betting that one small but steady investment for Angeleno households will pay large dividends for health and stability across our city and light a fire across our nation," Garcetti said.
Recipients will be randomly selected from applicants aged 18 and older who meet eligibility requirements, including being an L.A. City resident, having at least one dependent child or are pregnant, having an income level that falls at or below the Federal Poverty Level and having experienced economic and/or medical hardship related to COVID-19.
KTLA reported that in his budget for the 2021-2022 fiscal year, Garcetti proposed a $24-million guaranteed basic income project, "no questions asked." After L.A. City Council members made additional investments, it brought the amount to $38 million for more than 3,200 families.
The City Council voted Tuesday to transfer the funds to the guaranteed income pilot program.
The program is being paid for with taxpayer funds, including approximately $11 million that was taken from the Los Angeles Police Department's budget after last year's racial justice protests, the Los Angeles Times reported.
People can apply on bigleap.lacity.org starting 8 a.m. Friday. The 10-day application period closes on Nov. 7.
Angelenos that are randomly selected to participate will be asked to provide documentation to prove they meet these eligibility requirements:
Must be an adult with at least one dependent, or be pregnant
Must be a resident of the City of Los Angeles
Must have an income at or below the federal poverty level
Experienced medical or economic impact due to COVID-19
Here are the 2021 federal poverty level income numbers, as detailed by the U.S. Department of Health and Human Services:
$12,880 for individuals
$17,420 for a family of 2
$21,960 for a family of 3
$26,500 for a family of 4
$31,040 for a family of 5
$35,580 for a family of 6
$40,120 for a family of 7
$44,660 for a family of 8
Once a participant's eligibility for the guaranteed income program is confirmed, they will receive a debit card that will be reloaded with $1,000 every month, with the first disbursement expected in January 2022.
Those who need help applying in-person can call 311 to get a list of community groups providing assistance.
Additional reporting by The Los Angeles Times & KTLA 5 Los Angeles
*********************
Los Angeles City Council bans homeless camps in 54 locations
Sitting, sleeping & storing property near fire hydrants, building entrances, driveways, libraries, parks, elementary schools banned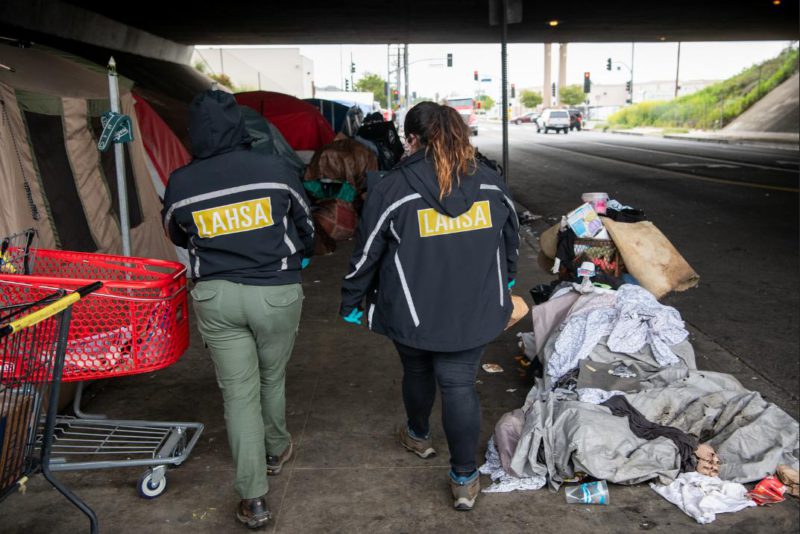 LOS ANGELES – Setting up or creating encampments by homeless persons in 54 select locations across the city is now banned after the LA City Council voted 12-2 Wednesday to outlaw sitting, sleeping and lying in those places.
Utilizing new laws passed over the summer after contentious and at times acrimonious debate, the council enacted new rules regulating sitting, sleeping and storing property near fire hydrants, building entrances, driveways, libraries, parks, elementary schools and several other locations.
The council also directed city staff to ensure that the homeless were given proper notifications prior to action and that all departments expand staff and make available resources to help those affected by the new ban.
On Wednesday, U.S. Veterans Affairs Secretary Denis McDonough announced that the VA is going to place more than 500 unhoused veterans living in Los Angeles into permanent housing.
According to McDonough, the efforts will be in two steps, the first to assist approximately 40 veterans living on the street in what is colloquially referred to as the 'Veteran's Row' encampment, located adjacent to the VA campus in Brentwood on San Vincente Boulevard.
Today, the VA has committed to quickly housing the Angelenos encamped on the federal land near the West LA campus — a big step in the right direction.

Deeply grateful to @SecVetAffairs, @LAHomeless, and @POTUS for their partnership.https://t.co/qiHNMvLm8j pic.twitter.com/R4q246RQFs

— MayorOfLA (@MayorOfLA) October 20, 2021
That encampment has been highlighted by mayoral candidates visiting it frequently including last week by U.S. Representative Karen Bass, (D) who was accompanied by the VA Secretary.
The next step is move another 500 veterans into permanent or transitional housing by December 31, the VA Secretary said.
In the last census count of homeless people conducted by the County of Los Angeles, of the nearly 66,000 people experiencing homelessness, roughly 3,900 are homeless veterans.
LA City Council votes to suspend Ridley-Thomas over corruption charges
The 11-to-3 vote to suspend vote came two days after Ridley-Thomas announced that he would "step back" from his duties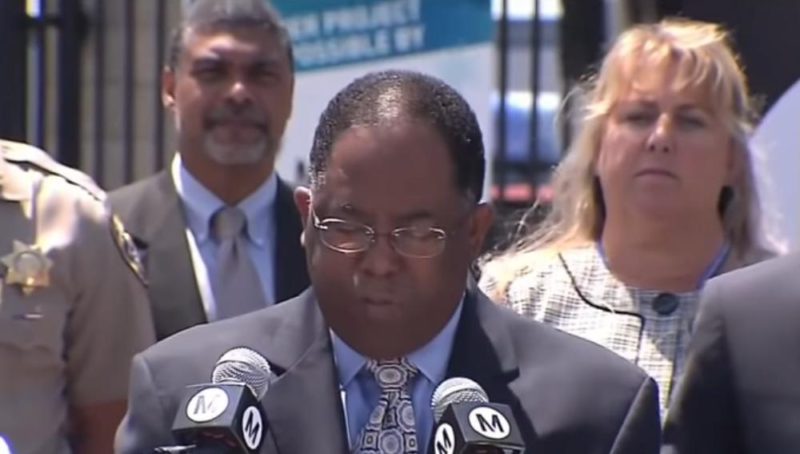 LOS ANGELES – The city council voted Wednesday to suspend Councilman Mark Ridley-Thomas, 66, who was was indicted a week ago by a federal grand jury on 20 federal counts of conspiracy, bribery, mail and wire fraud.
The 11-to-3 vote to suspend vote came two days after Ridley-Thomas announced that he would "step back" from participation in City Council meetings and committees. Ridley-Thomas, who has denied any wrongdoing, has said he will not resign and will fight the federal charges against him, KTLA and the Los Angeles Times reported.
The federal grand jury's indictment alleged that Ridley-Thomas took bribes from a former dean at the University of Southern California, (USC) when he was a member of the County Board of Supervisors.
In a letter sent to fellow councilmembers Monday, he indicated that he would step back from his duties but he declined to resign from his seat. He said that he planned to fight the "outrageous allegations" and would resume participation on the legislative body "at the earliest appropriate time."
The Los Angeles Times reported that in exchange for the payoffs, Ridley-Thomas allegedly supported awarding county contracts worth millions of dollars to USC.
In the indictment Ridley-Thomas is charged with conspiring with Marilyn Louise Flynn, 83, then dean of USC's School of Social Work, to steer county money to the university in return for admitting his son Sebastian into graduate school with a full-tuition scholarship and a paid professorship, the Times reported.