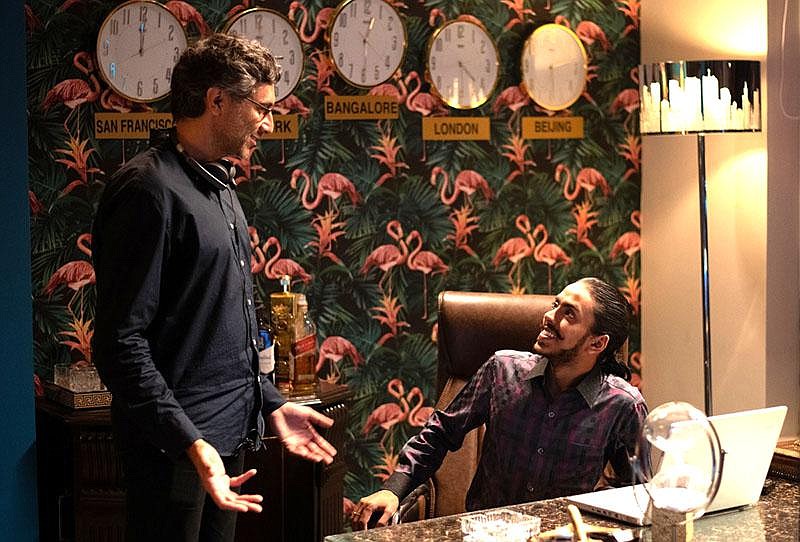 Director Ramin Bahrani consults with actor Adarsh Gourav on the set of Bahrani's "The White Tiger," which Bahrani has yet to watch with an audience.
Arkansas audiences had a chance to catch Ramin Bahrani's new movie "The White Tiger" on the big screen starting last week. It's something the movie's own screenwriter and director hasn't been able to do.
"Right now 'The White Tiger' is playing in theaters, but there are no theaters open near me," Bahrani says. "I've never seen my movie with an audience, not even an audience of two people because of covid. I had to edit the movie with just feedback from colleagues who would watch a link and then call me on the phone. I could never sit in a room and watch the movie with anybody."
The director may have some solace in that as of this writing, he's got a 90% approval rating on RottenTomatoes.com, and my teammate in criticism Piers Marchant has said, "It's a brilliant piece of filmmaking."
The movie, which follows a poor young man named Balram Halwai (Adarsh Gourav) from a rural village in India who ingratiates his way into the lives of a patrician family in Delhi. He becomes especially close to their youngest son Ashok (Rajkummar Rao) and his American-raised wife Pinky Madam (Priyanka Chopra, "Quantico," "Frozen 2").
Balram has been told he is that rarest of entities, a white tiger, who can rise above his lowly station. He gradually becomes an observer to all the sleazy transactions that keep Ashok's clan in power (they pay out bribes the way KFC doles out drumsticks), but he also becomes a confidant and a patsy when the family's personal lives start to crumble.
NOT SO FAR AWAY
If the regional slang (the movie's dialogue is primarily in English) isn't familiar, it takes no effort to grasp the economics or social structures of "The White Tiger." He has seen a little of it in his own life and in his fondness for movies about struggling working class people like Vittorio De Sica's "Bicycle Thieves."
"I don't come from the socio-economic background. I come from a middle-class background, but my parents are from Iran," he says. "I was born in North Carolina, but I spent three years of my adult life back in Iran, including villages where my dad comes from, which is very similar to the village where Balram comes from. When [my father] grew up there was no running water or electricity until he was 5 years old.
"We don't have servants. There's not that class like in India, but there is that kind of servitude mentality from the people who have less education and who are lower on the social ladder. There is that kind of bowing to somebody or that mentality is still part of it. But I sense that is also dripping into the western world more and more as the economic divide and wealth inequality grows, and the middle class starts to shrink. They kind of become poor without wanting to accept it. We're going to see more and more of that servant mentality and life here. We see it now in the gig economy, for example. When you push a button and hire an Uber driver, it's like Balram is coming to pick you up."
The theme is hardly new to Bahrani's films. His previous movies like "Chop Shop" and "99 Homes" also deal with less-than-legal trades and the people who have little choice but to engage in them. Neither film required him to leave the States.
"In general, a lot of my films are about people and their jobs. They are typically characters and worlds we don't see in movies, voices we don't typically get access to. In 'Chop Shop,' they are Hispanic street orphans who are working in a giant mess of a junkyard auto body shop that nobody pays any attention to. In '99 Homes,' we've never seen movies about people getting evicted and all the scams around the housing crisis. Part of that is if you're working class, and you're struggling to make it, sometimes you've got to kind of bend the rules a little to stay afloat," he explains.
THE RAREST OF THE RARE
That said, Balram is an unusual protagonist because he survives by relying on ambition and subterfuge.
"I think a lot of people are going to identify with Balram because he's gifted and because of his lot in life," Bahrani says. "He never gets chances. Even when he gets a chance as a kid to get a scholarship, he can't have it because his family pulls him out of school because they need him to work because they need money to live. Then he turns around and sees a man (Ashok) who was born into wealth and not just how corrupt they are but how little they're doing with their opportunity."
Bahrani is also quick to credit leading man Gourav, who found ways to make the seemingly unsavory character involving.
"He has such a warm, empathetic smile, and at the same time, he always had an ability to always be thinking. Whenever you saw him, he was always thinking about something. He made you fall in love with him in the first half of the film and prepares you for what's going to come in the second half," he says.
There's an old saying that the worst books make the best movies. It takes effort to find someone who remembers Pierre Boileau and Thomas Narcejac's novel "D'Entre Les Morts," but Alfred Hitchcock's "Vertigo" tops Sight & Sound's list of the best films of all time. Conversely, Donna Tartt's Pulitzer Prize-winning novel "The Goldfinch" inspired a 2019 movie that disappeared from theaters after receiving negative reviews.
With "The White Tiger," however, Indian-Australian writer Aravind Adiga won the prestigious Man Booker prize for the 2008 novel, and Bahrani has gone out of his way to preserve what he liked about the story in print.
"What really helped was that I've been with this book for a long time. I've been waiting 15 years to make it. It was written by a close friend of mine Aravind Adiga. We've been friends for over 25 years. I share my scripts with him for feedback," Bahrani recalls. "It's a rich, deep book, but when I think about it, it's a fun read. It's entertaining. When you pick it up, it jumps out of your hand because it's so propulsive and quirky and sarcastic and satirical and funny. I tried to have fun making it."
DAYS OF MIRACLE AND WONDERS
While current conditions have prevented Bahrani from seeing his own movie the way it was intended to be seen, the contemporary film market has ironically made his current movie possible.
"I don't think I could have made this movie when the book was published," he says. "I don't know who would have backed it at this level. It's a big, epic story. It took 60 days to film it. You need a budget to do that. I don't think it would have been possible without a company like Netflix. They were prepared to back an Iranian-American director making a movie in India with an entirely Indian cast. My crew is 99% Indian."
In addition, changes in technology have helped make watching his earlier movies "Man Push Cart" and "Chop Shop" look and sound better. He gleefully recounts getting a sound bar recently and is happy that both of those earlier films are scheduled to be released next month through the Criterion Collection.
The former earned praise from the late critic Roger Ebert, who took a lasting interest in the director's career.
"Most of the people who have seen my movies have because of him," he says. "His friendship was very meaningful to me, and his belief in me encouraged me to go in the direction I was going even though it was not necessarily the easiest route."
The director also recalls another mentor who guided his path.
"There was this wonderful man who used to be in charge of the film school at Winston-Salem from Little Rock, William Buck. He passed away unfortunately."
Buck, the assistant dean and a popular instructor at the North Carolina School of the Arts -- whose film school alumni also include Jeff Nichols, David Gordon Green, Danny McBride and Jody Hill -- died in a car wreck in Tennessee in 2000. The N.C.S.A.'s main film classroom building is named for him.
Sponsor Content