THE HARDER THEY FALL Trailer
A star-studded cast shoots their way through the West in The Harder They Fall, the latest from writer/director Jeymes Samuel.
You might have heard of some of the characters pinballing around this world, but make no mistake, the tale being told is pure fiction. The imagined showdown seems to be between Rufus Buck, a leader of an outlaw gang both in reality and in this movie, and Nat Love, a famous cowboy and "professional rival" here. Each lead a fearsome team, which means once the bullets start flying there'll likely be a high death count, and from the looks of this trailer, the movie will revel in the gunplay.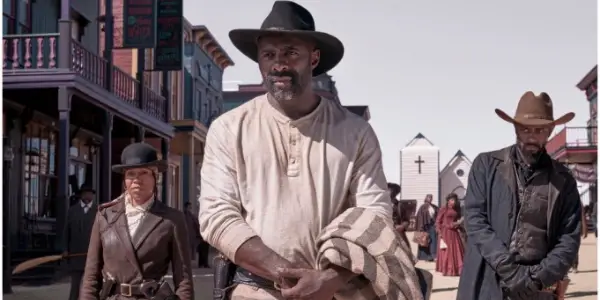 With a cast that includes Jonathan Majors, Idris Elba, Zazie Beetz, Regina King, Delroy Lindo, and Lakeith Stanfield, it's hard to miss that this is reframing the West as what it really was: a place filled with Black people. Hollywood's obstinate depictions of an all-white land of outlaws is simply untrue, hence all the real-life Black people this movie could pluck from history.
But just because it's got a point doesn't mean it won't be fun. It's clear that Samuel, who previously made the Rosario Dawson and Giancarlo Esposito led Western The Die by Dawn, wants to make this cross-country chase a stylish play on history, and with that cast it's almost bound to be.
They Die by Dawn is directed by Jeymes Samuel and stars Jonathan Majors, Idris Elba, and Regina King. It will get a limited theatrical release in the US on October 22nd before dropping on Netflix worldwide November 3rd.
Will you join in the fun? Let us know in the comments!
Does content like this matter to you?
---
film journalism. Unlock access to all of Film Inquiry`s great articles. Join a community of like-minded readers who are passionate about cinema - get access to our private members Network, give back to independent filmmakers, and more.
Emily Wheeler
Emily is a film addict, TV aficionado, and book lover. She's currently in training to become a crazy cat lady.