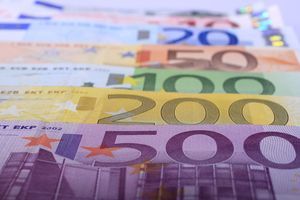 Countries using the Euro
The euro was introduced as book money in the European Union on January 1, 1999, and as an official cash currency on January 1, 2002. Currently, the Euro is the official currency in 35
countries
. Due to its special significance in international trade, it is also one of the major reserve currencies. 1 Euro is divided into 100 cents.
ISO 4127:
EUR
Numeric:
978
Symbol:
€
List of all currencies
Exchange rate history 1 EUR in USD
The graph shown here shows the exchange rate development from Januar 2015 to November 2021. The exchange rate for 1 EUR developed during this time from USD 1.07 to USD 1.14. In these 83 months it rose by 6.7%.



30 years to the Euro
The history of the euro began in its initial planning as early as 1970, but was repeatedly rejected or postponed due to many economic difficulties. The first major step was taken in 1979 with a European Monetary System, which was intended to cushion currency fluctuations among
countries
. The predecessor of the Euro was the ECU, which was only available as book money. More than 10 years later, the EC states agreed on free movement of capital and it was not until 1994 that a common European Monetary Institute was founded, which was replaced by the European Central Bank (ECB) in 1999. This gave rise to the
European Monetary Union
.
The Euro outside the European Union
The euro is an official currency not only within the EU. It is also used outside. Not surprisingly, the microstates of Andorra, Monaco, San Marino and the Vatican also
use
the euro. They are surrounded by other euro
countries
anyway and their size and dependence would cause unnecessary economic disadvantages. All 4 smallest states have even own Euro coins. Without their own euro coins, the European third
countries
Kosovo and Montenegro also
use
the Euro.
In Central Europe there are only a few exceptions with their own and independent currency. In Denmark, payment is made with the Danish Crown, but the Crown is linked to the Euro with a fixed exchange rate. 1 Euro corresponds to about 7.46 kroner. Switzerland, Poland and Great Britain go their own way.
But even far away from the European continent, the euro is considered an official currency. This is mainly thanks to the French, who have introduced it in their overseas territories. These include St. Pierre and Miquelon in the north of the Americas, the Caribbean
countries
of Guadeloupe, Martinique, Saint Bartholomew, Saint Martin and the islands of Mayotte and Réunion in the Indian Ocean. France is the only country that applies its own means of payment with this intensity to its overseas territories. In addition, several
countries
have a national "franc", which is linked to the euro at a fixed conversion rate.
Euro as currency
Currencies with a fixed exchange rate to the Euro