Congenital heart disease limited his physical activities in childhood, but after he had open heart surgery at 17 to correct a hole in his heart, nothing stopped Guyana-born Naraindra Prashad. Now 62 years old, he was a chartered accountant, leading administrator at the University of Toronto, and playwright; today he is a yoga instructor, avid gardener and philanthropist.
"From a philosophical point of view my life was just wonderful, considering I was born with a hole in the heart and struggled in my childhood when everyone was at their peak in health," Prashad said, "and then in my adulthood, it just went uphill for me."
Prashad was born in Thomas Street, Kitty. He left Guyana for Canada shortly after a successful sitting at the General Certificate of Education Ordinary Level examinations at North Georgetown Secondary School (NGSS) in 1975.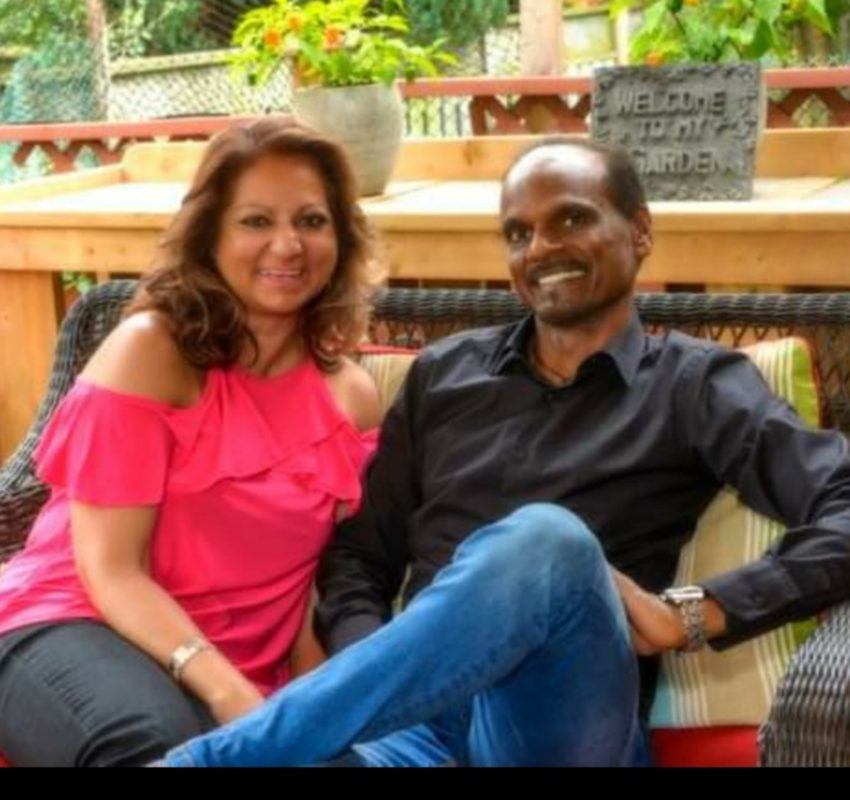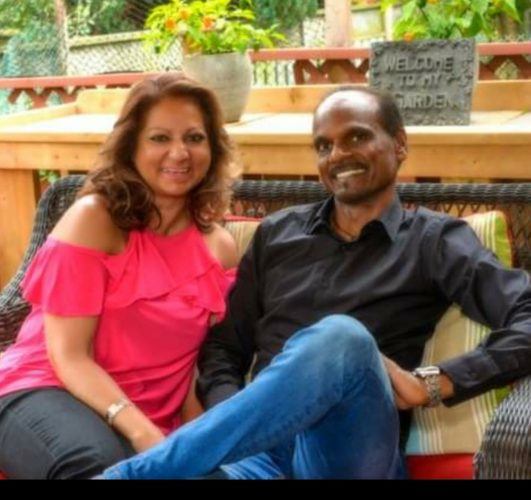 He had his kindergarten, childhood days with Jessie Burnham, sister of the late president Forbes Burnham, at their Pike Street and Stanley Place home, he told Stabroek Weekend in an interview.
"My mother and Jessie Burnham, all Kitty people, grew up together and were best friends. She used to visit our house frequently. Then I attended Rama Krishna Primary School in Barr Street, Kitty until I wrote Common Entrance."
At NGSS, he did not take part in sporting or physical activities because of breathing problems.
One day after walking home from school in the hot sun for lunch, he said, he drank a glass of "really cold water" and he fainted. "Another day, while playing cricket at the seawall with school friends, I saw a swelling on my chest. I went home and showed my parents. I was in third form at the time. They took me to the doctor and found something was wrong with my heart. The doctor said it was just a murmur and I would outgrow it. Guyana did not have the equipment to do the necessary testing. I spent a month at the Georgetown Public Hospital. I missed school for about half a year."
In preparation for migration to Canada, Prashad, two other siblings and his parents were required to undergo medical exami-nations. The others passed but he, the youngest of ten siblings, was pronounced medically unfit. His other siblings were already in Canada. He had to either remain in Guyana or redo the medical. The medical examination was redone and the doctor noted his problem, gave him "a pass" and said Canada was the best place for him to get treatment.
On the plane, the first time in one, he could not breathe and was given oxygen.
"The day after I arrived in Canada in August 1975, my brother took me to a doctor. When they started their diagnostics they said I either had one big hole in my heart or two or three or four smaller ones. With further tests they discovered I had a big hole in the heart, the size of a 25 cents and it was getting larger. By December I had open heart surgery at a hospital for sick children. The day I was going into surgery, I had no fear but my mother's blood pressure skyrocketed. That surgery was 46 years ago. Since then I never had problems related to my heart."
On arrival in Toronto he was admitted to Grade 12 to complete high school. He wanted to complete Grade 13 to be able to enter university. Because of the surgery he missed out on that school year and had to restart the following year. Fortunately for him he was 17 years old when he was admitted to Grade 12 and when he returned the following year he was the same age as the other students.
On completion of Grade 13, he applied and was accepted to the University of Toronto (U of T) Scarborough Campus to pursue a bachelor's degree in commerce and economics. After he finished his undergraduate studies, he married Trinidad-born Zita, who he met in his first year at U of T. They are now parents of two sons.
At the Scarborough campus, he was actively involved in the West Indian and Caribbean community and was a member of the Afro-Caribbean Students Associa-tion.
"We had one big club. Now there are Afro, Indo, Sino-centric and such clubs. Once you were Caribbean it didn't matter what race you were," he recalled.
He and a friend from Trinidad started the first Diwali celebrations in 1980 at the Scarborough campus.
"The university gave us a little bit of funding. My mother and a few of the girls came over to our house and made mithai and other sweets which we gave out on campus. We had a sari fashion show modelled by African and Indian girls and a cultural show with Indian songs and dances. It was a small event but it brought a nice little touch to the diversity and Diwali has since been celebrated there every year," he said.
As a past student of the university he served a term as president of the Scar-borough campus alumni association.
At U of T, he also did a certificate course in creative writing which included personal narratives, poetry, novella and play. In 1999, he put some of his creative writing skills to the test, writing a play, Phagwah in Guyana – Old Days for the Indo-Caribbean Golden Age Association, a group for which he was one of four volunteer coordinators.
"We used to do quite a few things, including skits, for them on major holi-days. I suggested we do a play and get the senior citizens involved. We got Guyana-born producer/entertainer Luther Hansraj to direct the play which was staged at a theatre in Toronto. In the two-hour play, which included music, songs and dances, we took them back to the 60s. Hansraj trained the seniors in acting for about six months," he recalled.
Working at U of T
Prashad always liked numbers and was always organising and putting things together administratively. So after finishing his bachelor's degree he continued his studies in accounting and qualified as a CPA (chartered professional accountant). He worked at a number of small private places for several years but wanted to get into a more established entity. He was advised to check out job vacancies at the U of T. With no internet in those days, he went to the human resources building and looked at all the job vacancies posted on the notice boards. He applied and was hired in 1992. He retired in 2016.
Prashad was in the business administrative side at the university, where he held the positions of business manager, estates and trust officer, financial officer and finally director, operations and finance, Office of the Governing Council.
"One role that was really significant, was estates and trust officer, a single position held at the university that I held for several years. I was the person who dealt with the bequests left to the university by people once they die. I also had to act as executor at times for strangers, like this academic/mathematician who had no relatives and left Cdn$2.5 million for the university. It was an interesting post," he said.
His tenure as director of operations and finance, Office of the Governing Council, where he spent 10 years, Prashad said, was the most significant role he played at the university.
"That is where all of the decisions governing the university take place. We had 50 governors from different constituencies including faculties, staff, government, students, business, etc. We were the administrators. I was at the nerve centre, the helm of the university working along with the offices of the president, provost, human resources and all of the main offices located in the central building, Simcoe Hall," he said.
That role also had its challenges including interacting with demonstrators protesting conditions on the university's campuses and at one time Prashad related, he was cornered by protestors for two hours.
He was also involved in the U of T's Rose Patten Mentorship Programme, a staff development programme, which included mentoring new staff recruits or junior staff at the university who were aspiring to move into higher positions.
"That wasn't a paid role. The human resources/staff development department recruited some of the more senior staff, who would have significant experience at the university to assist in mentoring," he said. "We were assigned a junior staff for a year and would work with them on a one-on-one basis just coaching them in different areas such as developing interviewing skills, networking and setting up meetings."
For several years he taught a budgeting course in the staff development programme. "I did not do that as a faculty member but as an administrative staff," he said.
"It was a blessing to be in an academic environment for so many years. It was like I never left school. Working with researchers and academics, I was always learning and I got a lot of opportunities to grow and develop. I was not the only Guyanese or Caribbean person working in the administrative section. A lot of non-Whites work at the university in all roles and race or colour for me was never an issue."
The U of T has been significant in his life, he said, "From 1978, I am pretty much connected with them as a student, staff and alumni. I made lifelong friends and I'm still connected to people there. It's still a part of me."
He retired early from U of T, he said, because he met "the numbers" for all his benefits and decided to go on to yoga, his hobby.
Yoga
Prashad started doing yoga in his first year at university but stopped after a few months because of school workload. He took it up again about 20 years ago to treat a neck ailment he sustained from spending too much time at the computer.
Encouraged by his yoga teachers, he did the teachers' training certification programme offered by the Canadian Yoga Alliance in 2009. He also completed a two-year applied specialisation in mindfulness meditation course through the U of T.
The Goodlife Fitness Gym, a well-known health club with gyms across Canada hired in 2010. Since the start of the COVID-19 pandemic, the gym was closed and he has not returned since. He then decided to do virtual yoga classes via Zoom.
Half of the people, including some in their early 70s, who practice with Prashad and the other teachers are from the gym. "It's easy for them as opposed to going out in the winter time, the traffic or whatever the elements. A lot just look forward to the classes as it is also a social outlet for them with the pandemic. We have people joining us from Germany, the Netherlands, Trinidad and Tobago, USA, and in Canada from different provinces," he said.
Like everything with COVID-19, the virtual classes have evolved. "I thought I'd just do it for a couple of months, COVID-19 would go away and I'd go back to the gym. We have about 85 people who are practicing with us at different times. We offer classes in breathing, physical and meditation. We have added dance classes because people want the cardio exercises," he noted.
Prashad is based in Toronto and the other three instructors are in India.
A nominal fee is charged from which the three instructors are paid and the remainder is donated to charity. "None of it comes to me. In this way we are helping people to keep fit and helping people who are needy. We do not have money in an account or anything here. Whatever comes in goes out. That is how we help," he said.
One of the teachers is the principal of a school for underprivileged children who Prashad met in 2019 on a trip to India. The school was started by a Dutch woman about 19 years ago to provide them with an education for a better life
"I am living my philanthropic work vicariously through him. He's like a son to me. All of the things I wanted to do, he is doing it there for me physically. We have fundraisers to secure supplies for the children. Two weeks ago we did a virtual paint night and we raised Cdn$2,000. That is going to buy warm clothing for 250 children and sweet boxes for 350," he enthused.
In addition to supporting the school in India, Prashad is assisting a relative who runs the US-based charitable organisation Oaks of Righteousness to assist underprivileged children to meet their educational needs.
An avid gardener, he did a course in plantscaping at U of T to plant his once empty backyard. Now he uses his planting skills to raise funds for his charity works. Recently he raised Cdn$1,500 from a plant sale to buy supplies for the school in India. "I am certain they weren't valued $1,500 but I told people about the cause and they gave freely," he said.