At the age of 40, Arthur Mitchell has already won a secure place for himself in dance history. Because of him the ballet scene – in America, at any rate – will never be the same again. As the first black to join an important ballet company (Balanchine's New York City Ballet) and the first to achieve stardom, his influence has been tremendous. Overnight he made white ballet audiences colour blind. Overnight, too, he made it possible for blacks to think of themselves in tutus and leotards.
In the long run, perhaps, his influence on the art of ballet in general might well outweigh all other considerations. lie is now a choreographer and, as the co-artistic director of the Dance Theatre of Harlem, the cause of choreography in others. He is also – as London will see next week – the cause of a great deal of wonderful dancing. But meanwhile the effect he produces on his fellow blacks tends to throw everything else into the shade.
Like Leontyne Price, Mitchell has gone beyond the stage of being a superb and satisfying performer. Whether he likes it or not, he has also become a symbol. The success of Price, the way hitherto impregnable barriers fell before her in the 50s and 60s, has made a lot of subsequent careers possible. As recently as twenty years ago, even extraordinary talent wasn't enough to ensure black artists a place in the world of classical music. Price changed all that for good. Shirley Verrett, Grace Bumbry, Reri Grist, Jessye Norman, even George Shirley, owe the opportunity for the free exercise of their gifts directly to her. And so, to Arthur Mitchell, should all contemporary black ballet dancers.
But the astonishing fact is that there aren't any: outside his own company, that is. In New York's four classical ballet companies there are only the same number of black ballet dancers – one in New York City Ballet, one in Ballet Theatre, two in Joffrey and none at all in Harkness. The sad truth is that so far as mainstream activity is concerned. Mitchell has proved to be an exception rather than a harbinger.
As black aspirants have discovered, ballet managements are still loth to interfere with the snowy whiteness of their flocks. Inspired by Mitchell's success, blacks have made their way in increasing numbers to the barre, only to find themselves with nowhere to go at the end of their training. Mitchell himself, it ought to be remembered, had special status in New York City Ballet. Right from the start he was marked out for special distinction. Almost the first thing Balanchine told him was that there was no room for him in the company as a member of the corps de ballet. He would either be a principal or nothing. As a consequence Mitchell, then 22, saw that his task was to excel and, without wasting a moment, excel he did.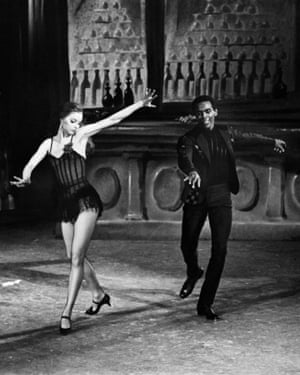 Though in fact he could occasionally be seen as a monster in Firebird, a huntsman in Swan Lake or rodent in Nutcracker he almost immediately became a soloist, taking on leading roles in Balanchine's Stars and Stripes and Western Symphony and Robbins's Afternoon of a Faun. With his splendid classical physique – small head, wide shoulders, narrow hips, long legs – his remarkable handsomeness and his ability to focus the attention of an audience, he was destined, not only to give wonderful performances, but, more important, to inspire great choreography. Balanchine's Agon, followed by his Movements for Piano and Orchestra, both by Stravinsky were the high points of Mitchell's years at New York City Ballet. In Agon his pas de deux with Diana Adams remains for anyone lucky enough to have seen it an imperishable theatrical memory, a combination of grace, nerve and self-assurance that no subsequent pair of New York City Ballet dancers has yet equalled.
But hearing that he is exceptional became the cause of a profound sense of dissatisfaction for Mitchell during the 60s. "It's not a matter of exception." he says. "It's just that I had the opportunity." The Dance Theatre of Harlem is the result of Mitchell's determination to find a way of giving all black dancers the same kind of opportunity. Not that he wishes to eliminate the idea of excellence. Soloists. even stars, have already emerged, There won't be much doubt of that, I predict, after the company's first night at Sadler's Wells. Paul Russell in the pas de deux from Le Corsaire is likely to set the house cheering as swiftly in London next week as he did in New York last spring. Even so. Mitchell feels that what blacks need most, right now, is simply a chance to practise the art of dance. Once they see that there are no artificial impediments to their progress as artists anything is possible for them. Without that assurance, nothing is.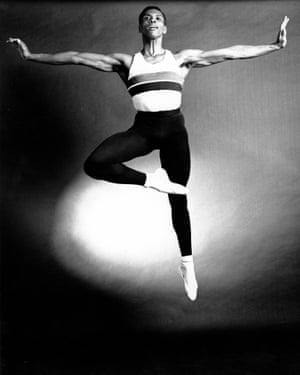 The turning point in Mitchell's life as a dancer, the moment at which his ultimate ambitions became clear was the assassination six years ago of Martin Luther King. At a time of great despair Mitchell decided to put his feelings to constructive use – and that, as he immediately saw, meant doing so within the discipline he had mastered. In Harlem, still a ghetto despite the progress made by blacks in America during the last 20 years, he began to give classes in ballet to any youngster interested enough to take them. Soon he had 30 dedicated students. Six years later the number is 500.
The idea of a permanent black ballet company was present in Mitchell's mind from the very start. Equally important then was the need to instil into his students an overriding sense of confidence. In 1988 blacks needed to develop pride in themselves. What better means than the rigours of ballet technique with its ability to enhance the body's skilfulness and expressiveness? Mitchell saw no reason why blacks, who had long excelled in stage dancing of a popular sort, shouldn't succeed at ballet, and do so, moreover, like the other ballet companies, in the commercial theatre. Mitchell himself had proved fit was possible, for a single dancer. Now, like Ninette de Valois foreseeing a future for British ballet where until then there had only been individual British dancers, Mitchell was determined to put his convictions into practice.
Unite the Alvin Ailey Dance Theatre the Dance Theatre of Harlem is an all-black company. Non-blacks can study at Mitchell's school and are even eligible for scholarships, but there will be no vacancies for them in his company until more opportunities are offered black dancers in the ballet world at large. As it stands now the Dance Theatre of Harlem is a showcase for black performers. But in spite of what looks like rigidity on this point, Mitchell is not a racial separatist.
Nobody knows better than Mitchell that ballet is an art form whose origins are European and whose survival depends on the handing down of tradition. The technical terms – alike in Paris, London, Moscow, Havana and Harlem – are still French. Whatever the colour of your skin an arabesque is an arabesque in every classroom of the world. Russian ballet derives from the French school, as British ballet does from the Russian. Whatever the sense of social injustice that initially impelled Mitchell into action, the Dance Theatre of Harlem comes out of Balanchine's American mutation of the Russian style.
Moreover, Mitchell's dancers are not simply black, they are black Americans – with all that implies in physique, temperament, and ambition. Black dancers have unique qualities of emphasis and phrasing. They convert the universals of ballet technique to their own expressive ends no less inevitably than Russian, British, or Red Chinese dancers do. The themes of several works in the Harlem repertory are ethnic: African ritual, Caribbean voodoo, memories of slavery in the South, jazz – all contribute to the company's subject matter and therefore to its style.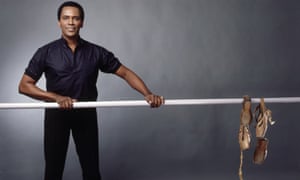 Yet, as Americans, the basis of their work is the undiluted classical ballet technique as it has established itself on the North American continent. The Dance Theatre of Harlem is now talking about staging Giselle. Not, however, in its familiar Rhineland setting, but in New Orleans, with Giselle a slave and Albrecht a high-born Creole.
There will be no changes in the choreography. The accent, inevitably, will be different the language will remain the same. By opening their London season with Balanchine's Concerto Barocco the Dance Theatre of Harlem will be asserting their title to a three-hundred-year-old heritage. By dancing it in their own unmistakeable manner they will be making a contribution to that heritage.
Given the fact that Mitchell is just as aware of his artistic origins as his racial ones it comes as no surprise to discover that the co-founder of the original Harlem school in 1968 was a white man, Karel Shook, who now also shares the company's artistic direction with Mitchell. Shook, formerly ballet master of the Netherlands Ballet, is one of a group of white well-wishers who, fired by Mitchell's enthusiasm and the loftiness of his aims, have rallied to the company's support.
Lincoln Kirstein, who first took Balanchine to America and therefore understands something about the significance of pioneering efforts, has called the Dance Theatre of Harlem a metaphor for all that is most hopeful in the United States today. It is hard to disagree. Mitchell has made a contribution to the life of his own people that transcends the merely ethnic. Blacks and whites alike are his beneficiaries.
Black is beautiful: an interview with Arthur Mitchell, 11 August 1976.