---
Post Author: Shernell Stilley
---
Did you know that for what seems like forever, I have had to wear a mask whenever I want to go out of the house? It's a mask meant to protect me from an invisible disease. Did you know that people in positions of power knew about this disease but chose to deny it, and still do, for reasons unbeknownst to me? I don't have the disease, but I am 100% certain that this disease is real. And I'm scared. I'm scared all the time. I am constantly checking to make sure that not only do I have my mask on, but I triple check to make sure that my spouse and child have theirs on too. I am obsessing over where they go, what they do, and how long they are gone. I don't care what anyone says, this disease is real. This thing could kill us if we aren't careful. No ifs, ands, or buts about it. No one leaves this house without a mask.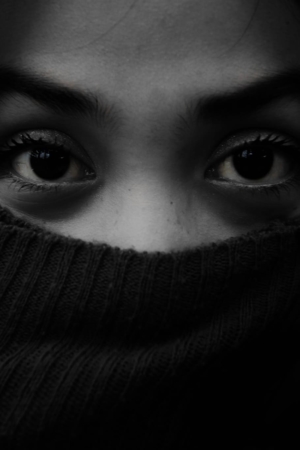 I have to say though, the irony of this is that the masks keep us as safe as any mask could in this situation; yet, I hate the things. I actually resent having to wear mine. It restricts my breathing in a way that makes me feel claustrophobic despite being in wide open spaces. It's almost like I'm losing breath and have to work harder to breathe once I put it on. I long for the day when I can go out and expose my face to the elements and breathe naturally. Without the mask.
Nevertheless, for all intents and purposes, the mask is saving our lives. My life. At least, that's what the officials tell me. I went out recently and I actually got away with only using half of my mask. No one really said anything, and I felt I had a lucky escape. However, when I looked around there were people with no masks on at all! I couldn't believe that. In the middle of all of this, that someone would be bold enough to still go around with no mask on to protect themselves is incomprehensible! Most people of a certain age should know better! I mean, I knew I was taking a risk to only utilize half of my mask, but I never would've gone out with no mask at all. Now, I will admit that there are times that I forget to put on my mask and it's not until I get too far from home to turn back that I remember that I am not covered. I normally recite a long list of expletives in my head beating myself up for not remembering to put it on before I left the house. Still, I am pretty crafty and can normally whip up something in a pinch that will do until I get back home. That's happened to me a few times. It'll be once I am about to enter an essential place that I get a glimpse of my reflection in the glass and I race back to the car, or somewhere private, and figure out how to cover my bare face so that I can gain access and get what I need. But, not these people. Their faces were exposed for all to see and who knows what diseases they could've been carrying?! At some point while I was out, I resigned myself to just wear the mask like I'm supposed to and stop trying to be more comfortable. There were more important things going on around me and soon enough I would be back in my car headed home where I could be free from the mask for at least the remainder of the day.
I suppose my point in telling you all of this is just to express how complex my feelings are about my mask. Despite knowing that I need it, I also know its weak spots. I know it slips and sometimes I rig it so that it's more comfortable than it is safe. I get that it isn't the best mask and it is far from a flawless edition. Still, it's helped to keep me alive this long and I believe that as long as I wear it there is a certain amount of protection. Moreover, I made the mask. Without question, I got material from my family members who had enough to share and I definitely got tips from others, since I wanted it to be of a certain caliber and hold up against a variety of both seen and unseen elements. All in all, though, it's my mask and as much as I can't stand it, I have come to realize that there is no way I can leave home without it. To ensure less occurrences happen where I am caught mask-less, I now just wear the thing 24 hours a day. No, I can't breathe well in it and it's irritating. Still, better safe than sorry.
I mean, you tell me. What's worse? Being super uncomfortable and trying to find one more palatable way to answer the question, "How are you?", or, not wearing my mask at all and yelling all the time because I'm so scared? What's worse? Not really being able to breathe with my mask on, or, taking off my mask completely and risk being deemed "a threat" only to not be able to breathe at all? What's worse? Belaboring the point until I'm almost hoarse that my child MUST wear a mask if they are to even have a chance of getting home safely, or, allow them to just be them and risk making someone else uncomfortable? No, no, no. It's fine. I've done this for years. As have so many before me and so many that will come after me. Amongst ourselves, some of us will create the best mask possible and even make other people who have to wear masks jealous of the pristine condition of the one we get to don. It's inevitable that despite being properly masked, some of us will still die by the hands of this awful disease during this seemingly endless, cyclical in nature, pandemic. Still, it's no question that I have to wear a mask. And, I get it now. In order to even have a fighting chance, my mask has to be on at all times. Who knows when someone will feel guilty about the pandemic and the fact that they actually benefitted from it and they need me to assure them that it's okay? For this, I need my mask. Who knows when someone else like me will be too tongue-tied or rogue mouthed to approach for an answer and so the opportunity will come my way to speak for us all? For something like this, I need my mask. The truth is, I've only made it as far as I have because of my mask. Albeit constricting, I can pronounce the King's English to a "tee", and I can still produce a huge smile that makes it look like I don't have on a mask at all. My mask is see-through enough that one can still see my complexion, yet opaque enough that if you wish, you wouldn't know how dark I actually am. My mask is made up of the finest educations but tailored enough to not get ahead of itself. It appears to be constructed of grandiose ideals; but underneath, the material has proven that it is not able to hold up against too much wear and tear. Despite this, my mask is one of the best that exists as it is patriotic in nature and enabling in nurture. Indeed, like most masks worn by people like me, it was crafted right here in the U.S. of A. Something of which the forefathers would truly be proud.
So, listen, no need to check on me or my family. We are all fine. We always remember to have on our masks.
---
Reverend Shernell Edney Stilley currently serves as the Associate Conference Minister for Congregational Vitality in the New York Conference of the United Church of Christ. She is presently a member of the United Church of Christ Board of Directors and the United Church of Christ Mental Health Network (UCCMHN). Prior to this position, she has served as a both an Associate Pastor and Minister for Congregational Life in local churches, a Minister of Education at HOPE Partnership for the Disciples of Christ, Program Associate of Global Advocacy and Education for Global Ministries, an adjunct professor of Philosophy and Ethics, and both a hospital and hospice Chaplain. Reverend Edney Stilley is a graduate of Drexel University where she holds a B.S. in Corporate Communications and a graduate of Virginia Union University where she earned her Master of Divinity and became a Certified Pastoral Care Specialist.
---
https://media.myworshiptimes31.com/wp-content/uploads/sites/3/2020/06/11090716/eyes-portraits-face-woman.jpg
1365
910
Shernell Stilley
https://youngclergywomen.org/wp-content/uploads/sites/3/2017/05/YCWILogo_Vert_Black-300x229.png
Shernell Stilley
2020-06-11 04:00:11
2020-06-11 09:08:03
The Mask