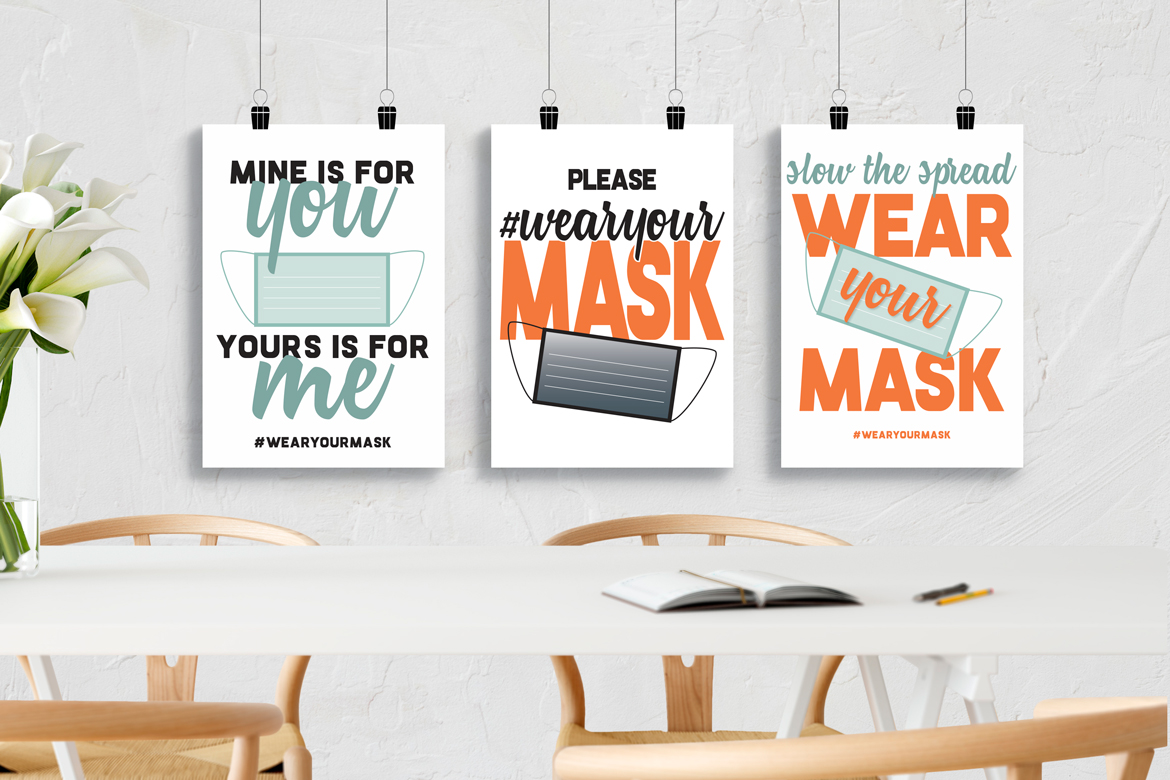 WEAR A MASK and download my free printable signs!
"There's compelling evidence that Japan, Hong Kong, and other East Asian locales are doing it right and we should really, truly mask up—fast."
~ David Ewing Duncan
Ok, facts are facts. There aren't enough tests to go around, and there's also some question as to their accuracy. A vaccine is at least a year out. The healthcare system is overburdened. But, last week I saw a ray of hope.
An article published May 8, 2020, in Vanity Fair magazine talks about a study conducted by a team of doctors at Berkeley that measured the effectiveness of wearing a mask. De Kai, et al, found that masks, along with social distancing, helps reduce transmission by stopping droplets created while speaking and breathing, as well as coughing. Wearing a mask can slow transmission by those that don't yet show any symptoms. Dr. Kai states that the preventive benefits will be most effective when we can get 80% to 90% people wearing the masks. 

Wear a Mask
To be honest, I'm no fan of the mask. I can't share a smile, nor can I see other's expressions. It's an imposition on me and my personal space. It requires me to think differently about my world, and also requires me to think about what my impact may be on others. But, let's keep this in perspective. This is a health issue. Wearing a mask is not a tragedy, it's an inconvenience. Losing millions of lives is a tragedy. Wearing masks will allow us to safely open the economy back up. It will help us to prevent future infections, and protect those that are vulnerable to the virus. It will buy us time for treatment and a vaccine.
Just as we require other actions for the common good (think wearing seatbelts, wearing shoes in public areas, or child safety lids) wearing masks has been shown to reduce the transmission of the virus, most effectively if both parties are wearing one. That's worth a small inconvenience.
Post a sign
After working in healthcare and seeing real heroes at work, I've joked that my skillset isn't much good in an emergency. But, in this instance, I think I can actually be of some service. A sign is a great way to get the message out. With that in mind, I've created three different signs. I would be thrilled if you would download one (or more!) and post them everywhere and anywhere you want to get the word out. Everyone can be part of stopping the spread of Coronavirus.
We can slow the transmission of COVID-19 to a crawl if we all get on board! Are you with me?! All you gotta do is wear your mask!
Download any or all Mask Printables by clicking the buttons below
Slow the Spread
Download
Mine is for You – Yours is for Me
Download
Wear Your Mask
Download
Be Sure to Sign Up~
Before you go, click here to sign up!  Subscribers receive post updates, surprise freebies, and direct links to my newest free printables, as well as exclusive digital desktop images of each month's featured printable. Digital desktop images are only available for the first month, so don't miss out!
You Might Also Like
Could you use a little Serenity? Download my Serenity Prayer here.
Let's focus on the positive with a pretty See the Good printable.
Share some goodness with my matching Be the Good printable.
Sources: