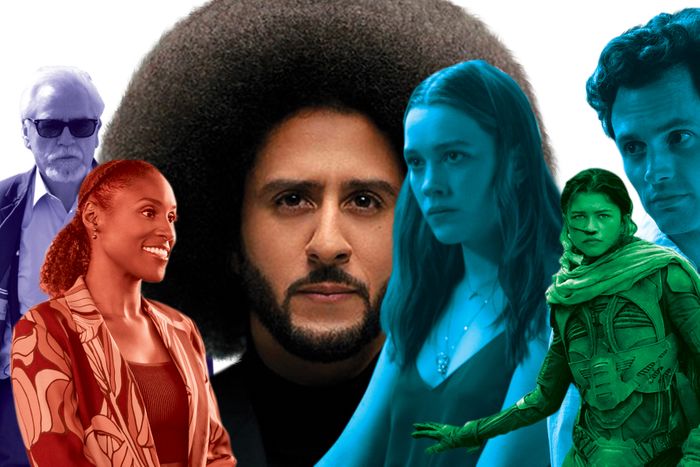 Photo-Illustration: HBO (Succession); HBO (Insecure); Netflix (Colin in Black and White); Netflix (You); Warner Brothers (Dune)
To Do: October 13–27: Our biweekly guide on what to see, hear, watch, and read.
Succession
Who's up for some Boar on the Floor?
HBO, October 17.
The third season of Succession begins with Logan Roy (Brian Cox) freaking out about his future, his son Kendall (Jeremy Strong) plotting moves, and everyone in the Roy family scheming and saying mean things to each other. —Jen Chaney
You
We're having a baby.
Netflix, October 15.
The murderous, self-aware stalker drama You has always been in a race against the collapse of its own premise, but its third season manages to find a fantastic new gear. Its protagonist, the family man Joe (Penn Badgley), moves to the burbs, which means You gets to wallow in a deep dive on wealthy athleisure mom-fluencer types. Who's more fun to loathe? —Kathryn VanArendonk
Insecure
Low-key sad this is the last season.
HBO, October 24.
Issa Rae's smart, observant dramedy about a Black woman navigating romance, career, and friendship in L.A. begins its fifth and final season. —J.C.
Good Timing With Jo Firestone
Master class.
Peacock, October 15.
Comedian Jo Firestone presents an hourlong adaptation of a project she has worked on throughout the pandemic: teaching senior citizens how to perform comedy. Part of the pleasure is that her students are so game and entertaining, but so much of the joy is in watching Firestone's pride and awe when someone pulls off a great line. —K.V.A.
Invasion
E.T.'s arrive and, sady, are nothing like E.T.
Apple TV+, October 22.
Another gigantic, FX-heavy saga, this time about what happens when aliens stage a coup and Will Smith isn't there to say, "Welcome to Earth." —J.C.
Colin in Black & White
Colin Kaepernick tells his story.
Netflix, October 29.
This limited series, directed by Ava DuVernay, is part scripted storytelling, part docuseries and features the activist and former NFL quarterback recounting his life story, which plays out in scenes that feature actor Jaden Michael as a young Kaepernick and Nick Offerman and Mary-Louise Parker as Kaepernick's adoptive parents. —J.C.
Movies
Dune
Part one, technically.
In theaters and HBO Max, October 22.
Frank Herbert's space saga has gotten the adaptation it deserves — gorgeous, vast, unfriendly as all hell. Denis Villeneuve's Dune has manipulative psychic covens, sandworms that look like buttholes, and a cast that includes Timothée Chalamet and Zendaya. —Alison Willmore
Old Henry
If you like Westerns.
In theaters.
The main reason to see Potsy Ponciroli's old-fashioned Western, a moving, violent tale of a farmer and his son who take in a wounded gunsel, is Tim Blake Nelson as a man haunted by his past and determined to protect his son. —Bilge Ebiri
Bergman Island
For the Ingmar Bergman heads.
In theaters October 15.
A beguiling mix of the fictional and the non-, this new feature from Mia Hansen-Løve is a meditation on love, cinema, fandom, and ABBA. Vicky Krieps and Tim Roth play married filmmakers at a residency on Fårö, where Ingmar Bergman spent much of his life and shot several films. But what starts off as a portrait of a fond but flat relationship gives way to a heady film within a film starring Mia Wasikowska and Anders Danielsen Lie as former lovers who reconnect at a wedding. —A.W.
Hallmark Christmas Movies
It's beginning to look a lot like …
Hallmark, October 22.
Maybe you're just counting down the days until you can haul out the eggnog. Great news! The Hallmark Channel is ready for you, even though it's clearly still autumn: Christmas movies debut every weekend, beginning with You, Me & the Christmas Trees, starring Danica McKellar. Yeah, it's early, but c'mon, it's 2021! Time means nothing now. —K.V.A.
East of the Mountains
Based on a David Guterson novel.
VOD.
Tom Skerritt has been doing supporting parts for more than 50 years, but now, in the twilight of his career, he turns in a startling lead performance as a suicidal man who reconnects with life during a hunting trip in the mountains with his dog. It's a quiet, gentle little film, but somehow it contains the world. —B.E.
Art
Marcel Dzama: Who Loves the Sun
Sunbursts.
David Zwirner Gallery, 34 East 69th Street, through October 23.
In his new drawings of beasts and people, of soirees imaginary and real, Merlin-like artist Marcel Dzama conjures life in a sort of COVID lockdown, yet from the inside—inspired, optimistic, sometimes sinister — mitigating 1,000 anxieties with little reveries of delicate smart line, subtle color, and enchanted touch. —Jerry Saltz
William Beckman: Five Decades of Self-Portraits
Portraits.
Forum Gallery, 475 Park Avenue, through November 6.
William Beckman is an anomaly, a contemporary artist who seems to paint in an academic, realist, old-fashioned way but with amplitudes of amazing gradation of color, subtle shades, and a satin touch. His work is a testament to commitment, mad skills, and smart decisions. —J.S.
Books
LaserWriter II, by Tamara Shopsin
Coming of age.
MCD, October 19.
A 19-year-old woman gets a job at TekServe, the affectionately remembered Mac repair shop on West 23rd Street, in this droll illustrated novel of '90s New York by Tamara Shopsin of the Greenwich Village restaurant family. There, she discovers a self-contained ecosystem of oddballs and geeks who excel at fixing things at a time when the hardware is not yet iPad-era sleek. —Emma Alpern
Podcasts
Waiting for Impact
The dream of the '90s is alive in Dave Holmes.
Exactly Right, October 12.
This ten-episode series follows Dave Holmes, the former MTV VJ, as he sets out to learn what happened to Sudden Impact, a boy band that made its debut on a Boyz II Men music video in 1991 and was never heard from again. Expect bucket-hat-loads of '90s nostalgia. —Nicholas Quah
Wild Things: Siegfried & Roy
RIP.
Apple TV+ and At Will Media, late October.
Leather pants. White tigers. Magic tricks. In their heyday, the magicians Siegfried Fischbacher and Roy Horn were among the top Vegas acts, until Horn was mauled onstage by a tiger in 2003. This series, part of Apple's push into original podcast programming, is the first attempt to unpack the duo's legacy since their recent deaths. —N.Q.
Pop Music
Finneas, Optimist
From Billie's big bro.
Interscope Records, October 15.
Finneas is a singer-songwriter and producer best known for his work on his sister Billie Eilish's albums. The rustic, somber lead single, "A Concert Six Months From Now," and the weary, nostalgic "The 90s" on his debut album are bound to make fans of the uninitiated. —Craig Jenkins
Elton John, The Lockdown Sessions
With the Rocket Man.
Interscope Records, October 22.
With the music world suddenly on hold last year, Sir Elton John got to work, calling up some of the guests from his long-running Apple Music show Rocket Hour and other admirers to team up on new songs. Linking over Zoom and carefully regulated studio sessions, he crafted these duets with an intergenerational cast, including Stevie Nicks, Lil Nas X, Stevie Wonder, Young Thug, Gorillaz, Rina Sawayama, and Dua Lipa. —C.J.
Coldplay, Music of the Spheres
Coldplay looks ahead and beyond.
Atlantic Records, October 15.
Following 2019's Everyday Life, a survey of moods and music from all over the world, U.K. pop-rock stars Coldplay return with Music of the Spheres, produced alongside Swedish hitmakers Max Martin and Oscar Holter. You'd think this one would be the sleek pop effort that singles like "Higher Power" and the BTS collaboration "My Universe" might suggest, but Spheres is surprisingly varied and unpredictable. —C.J.
Theater
Prelude Festival
Inside the artist's studio.
thesegalcenter.org, October 25 to 31.
The annual fest at CUNY's Graduate Center is the quick and easy (and free) way to glimpse what's coming up in the experimental realms of performance. Artists show "trailers" of the work they're making now: We see in-progress sequences, snippets of finished theater or multimedia works, panel discussions, and process talks. In just a week, you can gobble up more than a dozen bite-size shows. In this all-online digital edition, programming duties have been decentralized, spread out among more than a dozen curators, including artists Nile Harris and Ty Defoe. If you find you've been thinking too much about the year behind us, come to think about what's next. —Helen Shaw
Crossing the Line Festival
On y va.
Various locations, October 20 to November 6.
The French Institute Alliance Française curators Courtney Geraghty and Claude Grunitzky have assembled a feast of multidisciplinary works: two pieces by Okwui Okpokwasili and Peter Born (including On the way, undone performed at the Weeksville Heritage Center); the U.S. premiere of nora chipaumire's audio broadcast Nehanda; a concert at Florence Gould Hall by Somi; Christopher Myers's tribute to Nijinsky, Fire in the Head; and an early look at Kaneza Schaal's KLII. —H.S.
Classical Music
Tenet
An ensemble of vocal artists.
Church of St. Ignatius of Antioch, October 23.
There was no greater musical celebrity in early-16th-century England than the composer Robert Fayrfax, whose fans included Henrys VII and VIII. His fame was later eclipsed by upstarts like Taverner and Tallis, partly because much of his opus vanished. The early-music ensemble celebrates the 500 years since his death with a selection of surviving vocal works. —Justin Davidson
Israeli Chamber Project
The "From Creation to the End of Time" program.
Merkin Hall, October 23.
From Milhaud's Creation of the World to Messiaen's Quartet for the End of Time, with a soupçon of antiquity in the form of Debussy's Syrinx, the New York–and–Israel–based ensemble adopts a modern French sensibility on the question of how it all began and how the final curtain drops. —J.D.
The Eye Is the First Circle
An interdisciplinary production.
PEAK Performances, Montclair, New Jersey, October 14 to 17.
Pianist Simone Dinnerstein's latest project involves performing Charles Ives's panoramic Concord Sonata accompanied by a video incorporating The Fulbright Triptych, a large-scale '70s realist artwork by her father, Simon Dinnerstein. —J.D.
Takács Quartet and Garrick Ohlsson
Playing chamber-music masterpieces.
92nd Street Y, October 23.
The Takács, founded in Budapest in 1975, remains one of the last of the Old Guard. Like an oft-renovated house, only a quarter of the quartet (cellist András Fejér) is original (or even Hungarian), but it retains its Central European flair. Pianist Garrick Ohlsson joins for an all-Brahms program. —J.D.