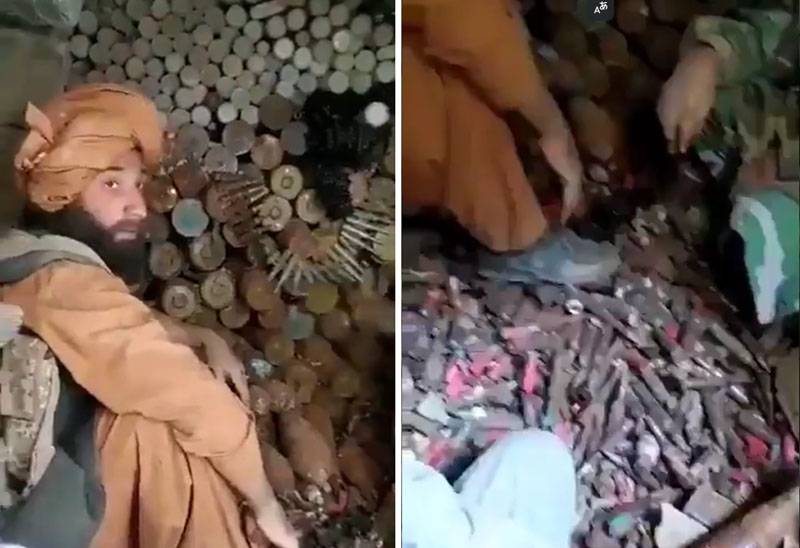 Fighters of the Taliban terrorist group (* banned in the Russian Federation) are spreading information about the seizure of another large arsenal of weapons and ammunition in the Panjshir province. This arsenal, according to the Taliban *, is located in the Khinj area, which came under their control about a week ago after brief fighting with the militia of Ahmad Massoud.
It is noted that on the territory of Khinj there are over 10 tons of ammunition, including grenade launcher shots and mines, as well as several hundred units of small arms.
weapons
of various models and manufacturers. These are both Soviet-style weapons and American assault rifles.
On the eve of the Taliban * announced the capture of another large arsenal in the Panjshir
Valley
, which was abandoned by the Front of the Afghan National Resistance - FANR.
In this regard, it should be noted that Massoud's militia, which retreated into the mountains and promised the Taliban a "guerrilla war," may simply not have enough weapons and ammunition left to conduct any productive military operations against the Taliban militants. At the same time, Massoud also has problems with the fact that the Taliban have recently controlled almost all entrances to Panjshir and key transport infrastructure, including the Salang tunnel. In such a situation, the FANR clearly decreased the number of opportunities for obtaining supplies from outside.
The Taliban (a terrorist organization banned in the Russian Federation) took control of another large arsenal in Panjshir. Weapons and ammunition pic.twitter.com/DyXh24gd5o

- Volodin-Topwar (@VolodinTopwar) September 12, 2021