How to Identify Different Types of Termites
There are over 40 species of termites in the United States alone. Although they have distinct characteristics, most look similar.
Size & Length: they typically measure between 1/4 and 1/2 of an inch long.
Body: The pests have soft bodies and straight antennae.
Color: Colors range from white to light brown in color. Worker termites often appear lighter, while swarming termites are darker.
Differences in Species
There are variations in size and color between termite species. For example, western subterranean termite soldiers have yellowish heads, while western drywood termite soldiers have reddish brown heads. Dampwood and drywood termites tend to be larger than subterranean termites.
Differences in Castes
Termites have three different castes, each of which performs different roles within the colony. Each caste has unique physical features to help it fulfill its role in the colony.
Even within the same species, termites that belong to different castes can look very different.
Workers Worker termites tend to be lighter in color. Workers are the smallest of the castes. In general, workers and nymphs are soft-bodied and look like larvae.

Soldiers
Soldiers tend to have worker-like bodies, but with hard heads that are often dark in color and have large jaws. Soldier termites have soft bodies with hard, enlarged heads and large jaws (mandibles) that help them protect the colony. Fully mature, reproductive termites have wings and hard bodies that prepare them for leaving the nest to start new colonies.

Alates Or Flying Termites
Alates (swarmers) have wings and hard exoskeletons that may be very dark in color. Additionally, flying and swarming termites can be recognized by their prominent wings. Flying termites have two sets of wings of equal length, and these wings are almost twice the size of the termite's body. Termite swarmers appear to have two body segments with a straight abdomen, and straight antennae.

Subterranean Worker and Soldier

Termite Look Alikes
Some homeowners may confuse flying ants and flying termites. Pest control experts are trained to distinguish between these two insects based on differences in their appearance.
Can You See Termites with the Human Eye?
While the pests are small, termites are visible with the human eye. Winged termites, or swarmers, are somewhat larger than workers and can be more easily spotted. This is helpful since homeowners are most likely to encounter swarmers, which take flight during mating season to look for new nesting sites.
Identifying Termites by their Habitats
Knowing where termites live helps homeowners identify infestations.
Dampwood termites, for example, are found in areas with moist climates; however, these termites can be found in areas of the home where water leaks occur. They typically set up colonies in damp basements or bathrooms.
Nevada Dampwood Soldier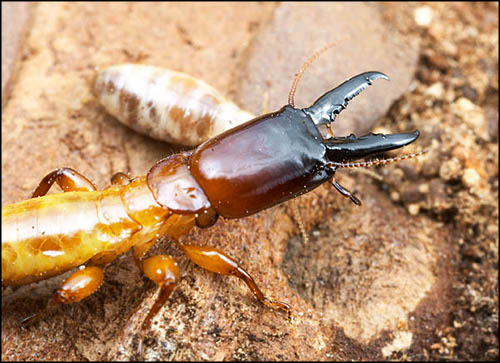 On the other hand, drywood termites are found in dry environments of the coastal, southeastern and southwestern portions of the U.S. Drywood termites typically live in undamaged, dry wood of houses and apartments.
Drywood Termite Worker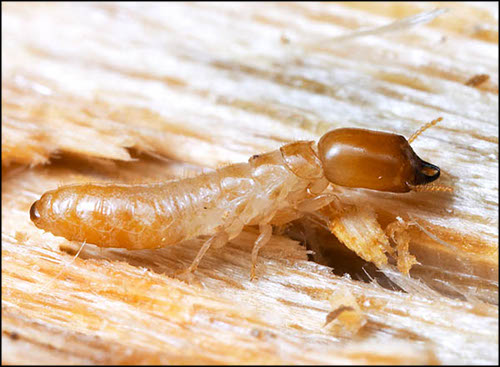 Identifying Damage
Since the pests eat cellulose found in wood, termites destroy, walls, furniture, and other wooden materials in homes. The damage they do may appear in the form of sagging floors and ceilings or infested wood might look water damaged. Additionally, homeowners may find piles of sawdust, mud tubes or the shed wings of swarmers.
Professional Identification
While you should regularly monitor for pest activity, you should contact a trained professional for termite identification, prevention and treatment. Pest control experts can distinguish between termites and other insects, and identify termites by species to make sure prevention and treatment techniques target that specific species- unique behavior.
More Information
Difference Between Ants & Termites
More Pictures of Termites
What Color Are Termites?