Brief overview of termites
Living in large colonies below the soil, subterranean termites are a serious threat to structures. Why? The answer is simple, because they eat them or rather they feed on the wood that makes the structure. In North Texas, this type of termites actively eats wood 24/7/365, making them a very problematic pest for property owners.
What do termites look like?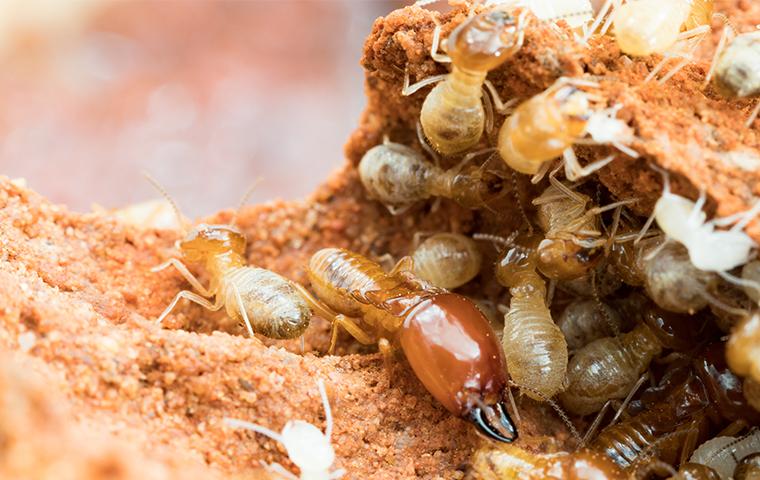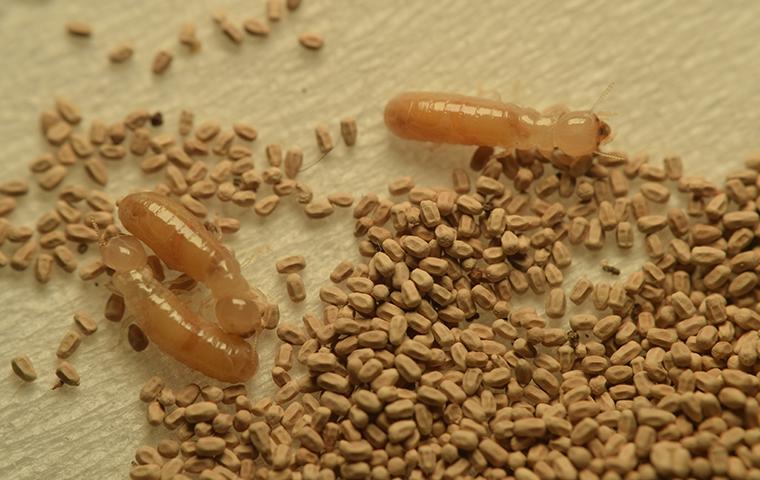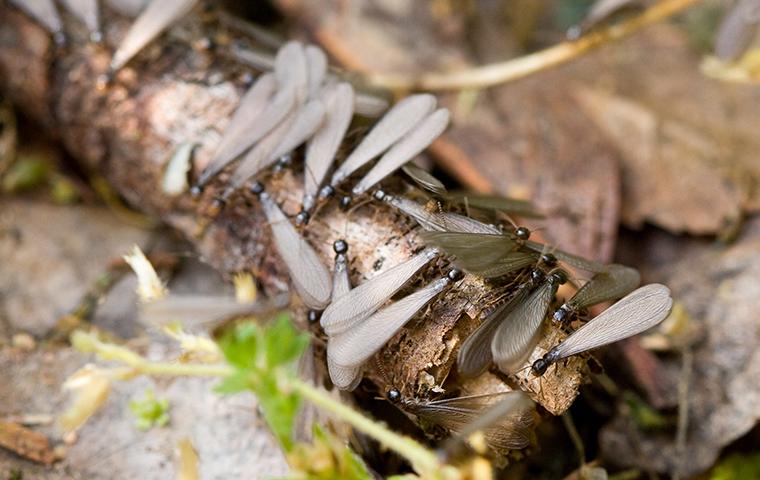 Every subterranean termite colony has a caste system. The different castes are workers, soldiers and reproductive. Each group has a unique appearance but the ones property owners see the most are workers, and when termites are swarming, reproductives.
Workers - These termites make up the largest part of a colony. They have soft creamy white bodies and are wingless. They are also blind.
Soldiers - Very similar in appearance to workers, soldiers have elongated yellow heads and large, strong jaws, and short legs. They are a bit bigger than workers.
Reproductives - The reproductive members of the colony are the largest in size. They are dark brown in color and have wings. Their wings allow them to leave an existing colony to find a mate and start a new colony nearby. Also called termite swarmers, the reproductive members are often mistaken for winged carpenter ants. Visit our carpenter ant identification page for a comparison of these two wood-destroying pests.
Are termites dangerous?
Termites do not sting or bite and are not a health threat to people or pets. They are very dangerous to structures and products made from wood. Because their food source is cellulose, which is contained in wood, termites will feed on wood. Though they prefer rotting or dead wood, these wood-destroying insects will move on to sound wood if the opportunity arises. The result is significant damage. In fact, termites are responsible for millions of dollars' worth of damages to properties all across the country each year.
Why do I have a termite problem?
Termites are attracted to moist soil and to wood that has been damaged by water. Termites feed on cellulose from wood, leaf litter, soil and excrement; properties that have large amounts of organic debris and large amounts of moist soil can attract termites. Also, termites are attracted to properties that have moisture issues; leaky pipes, fixtures, and clogged gutters can allow water to seep inside and damage the structural wood found inside.
How do I get rid of termites?
If you've witnessed a termite swarm inside your home or on your property, or have discovered termite mud tubes (see image above) on your foundation or have identified termite damage, contact Adams Exterminating of North Texas right away. A professional solution is required if you want to get rid of the foraging termites and the entire colony. Our North Texas termite control pros have the knowledge and tools to get rid of termites and to make sure they don't re-establish elsewhere on your property. Learn more about our termite control services and the Sentricon® System. We also encourage homeowners to review the programs below to find out how you can protect your home against termites AND other pests all year long.
Bundle And Save On Pest & Termite Control
HOME GUARDIAN
Pest & Termite Control
If you have ants in the house, roaches under the dishwasher, or other pests trying to take up residence inside your home and among your family, you might consider our Home Guardian program. Designed to eliminate common house-infesting pests with exterior services every other month, this residential pest and termite program also includes termite monitoring to stop these wood-destroying insects from damaging your home and hurting your wallet.
Service Every Other Month
6 Exterior Services
Interior Service & Guarantee
Exterior Spider Web Removal
Exterior Wasp & Hornet Control
(Up to 15 feet off the ground)
Exterior Fire Ant Control
Sentricon® Termite Monitoring
Termite Service Warranty
Home in sq. ft
HOME GUARDIAN +
Pest & Termite Control + Mosquitoes
Adams Exterminating Company's most comprehensive home pest control solution, the Home Guardian+ includes all the same services as our Home Guardian (pest control and termite monitoring) program PLUS seasonal mosquito control! With this program, you don't have to worry about bugs, mice, and other pests taking over your home or mosquitoes driving you indoors while you try to enjoy your backyard!
Service Every Other Month
6 Exterior Services
Interior Service & Guarantee
Exterior Spider Web Removal
Exterior Wasp & Hornet Control
(Up to 15 feet off the ground)
Exterior Fire Ant Control
Sentricon® Termite Monitoring
Termite Service Warranty
Seasonal Mosquito Treatments
(March - October)
Home in sq. ft