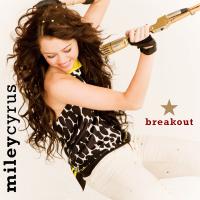 'Wake up America' se estrenó el . Esta canción está incluida dentro del disco Breakout.
LETRA
'Wake up America'
Oh, oh
Can you take care of her
Oh, oh
Maybe you can spare her
Several moments
Of your consideration
Leading up
To the final destination
Oh, oh
The Earth is calling out
I wanna learn
What it's all about
But everything I read
Is global warming
Going green
I don't know
What all this means
But it seems
To be saying
Wake up America
We're all
In this together
It's our home
So let's take care of it
You know that you want to
You know that you got
To wake up America
Tomorrow
Becomes a new day
And everything you do
Matters
Yeah
Everything you do
Matters
In some way
Stand up
I'll try if you will
Wake up
It's not a fire drill
All she needs
Is a little attention
Can you give her
Just a little attention?
Oh, oh
It's easy to look away
But it's getting harder
Day by day
Everything I read
Is global warming
Going green
I don't know
What all this means
But it seems
To be saying
Wake up America
We're all
In this together
It's our home
So let's take care of it
You know that you want to
You know that you got
To wake up America
Tomorrow
Becomes a new day
And everything you do
Matters
Yeah
Everything you do
Matters in some way
I know that you
Don't want to hear it
Especially coming
From someone so young
But in the back seat Yeah
They want to hear it
(They want to hear it)
So come on (Turn it up)
Come on (Turn it up)
So come oooooooon (Turn it up)
Wake up America
We're all
In this together
It's our home
So let's take care of it
You know that you want to
You know that you got to
Wake up America
Tomorrow
Becomes a new day
And everything you do
Matters
Yeah
Everything you do
Matters in some way
Apoyar a Miley Cyrus
Miley Cyrus está en la posición 288 del ranking de esta semana, su mejor puesto ha sido el 1º, siendo su primera vez en septiembre de 2013 y la más reciente en enero de 2014.

¿Apoyar a Miley Cyrus?

Ranking SemanalMedallero