Getting Started With Twitch Studio
Hello there! This is your guide to setting up Twitch Studio so you can familiarize yourself with the program and start your wonderful streaming experience.
Getting Started
Before you get started, you'll need to download Twitch Studio Beta from here.
Once you have downloaded Twitch Studio Beta, you're ready to get started!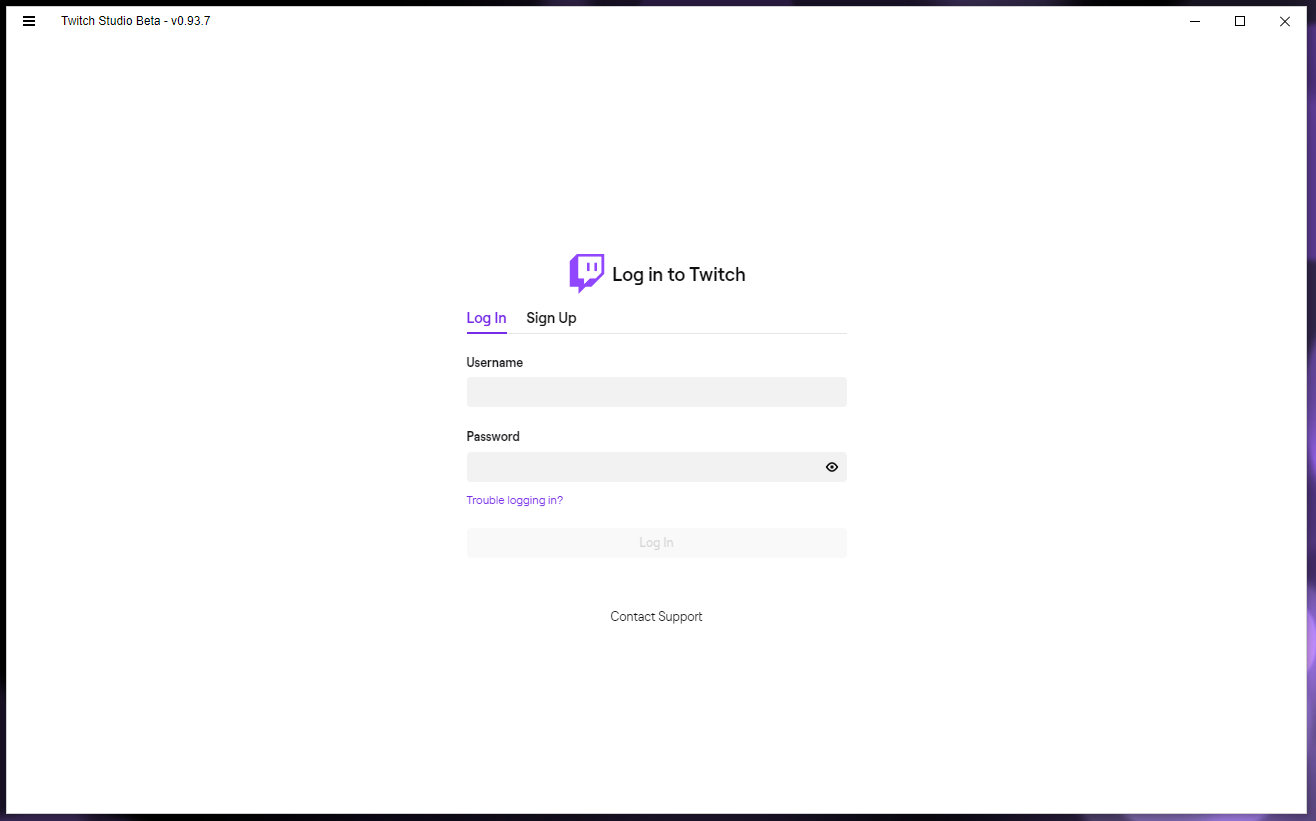 After you have installed and opened the Twitch Studio app, you will go through the initial setup process. You'll start by logging into your Twitch account.
If you have Two-Factor Authentication activated, you will be prompted to input your security code in order to log in successfully.
You may also be prompted to Activate Your Device, and a browser will direct you to Twitch page to do this.
After you've logged in, you'll be greeted by the welcome prompt and you will be ready to proceed with your setup!
First, you'll set up your audio and mic so your viewers will be able to hear you when you start streaming.
If you do not want to use the default microphone setup, click Change Mic and select the microphone you wish to use from the drop down menu.
If you click
Personalize
you have the option to adjust the preset personalization that was automatically set for you. To read more about the audio options check out our
Twitch Studio Audio Overview
article.
After you're satisfied with your audio setup, you're ready to move on to setting up your video camera. Please select the camera you wish to use from the drop down menu.
If you do not see your desired camera at first, you can hit the Refresh button in order to refresh the drop down menu list.
Once you have selected your camera, you're ready to customize your scenes. You can begin to do so by clicking on Continue to Scenes.
Twitch Studio has an array of Twitch-branded assets at your disposal to make your scene design one-of-a-kind. Click Customize Scenes or any of the 3 default scenes to customize them. You can change all of these details later after the first time setup, so don't worry about getting everything perfect right away.
Once you're satisfied with your customized scenes, click on Continue to Settings to set up your Stream Quality.
By default, Twitch Studio runs a test to choose the most optimal settings for you which are displayed on this step. If you want, you can customize these. Once you have set up your stream quality settings, click Continue to App. You're almost ready to start streaming on Twitch Studio. Now that you've finished the initial setup, let's edit the Scenes that you'll be using when you stream.
How To Edit Scenes
Once you're on the main screen of the app, in the Stream Scene panel, right-click on the name of the scene you wish to edit. Select Edit from the dropdown that appears. Additionally, you can delete and rename the layer using the same dropdown menu.
From here you can edit and add layers to your scene to create a unique look. In order to add layers, you can click on the + icon next to Layers.
Once you have clicked the + icon, you'll be presented with various layers that you can add to your scene such as Twitch Alerts, Screen Share, Text, Image, Media, etc.
What Are Layers
Layers are visual elements that you can add or remove to your stream scene in order to customize what is displayed to your viewers when you broadcast. There are a variety of layers that you can add to your stream scene.
Capture Layers
Layer

Description

Screen Share

Capture any app, window, monitor, or capture card.

Main Screen Share

This is similar to Screen Share but can be shared across multiple scenes. Changes to your Main Screen Share will be reflected on each scene using this layer.

Webcam

Capture a webcam in your scene. Make sure it's plugged in before adding this layer.
Additional Layers
Layer

Description

Twitch Alerts

Use responsive follow, subscribe, cheer, host, and raid alerts in your scenes to instantly engage with your viewers.

Browser Source

Embed a webpage in your scene, like Twitch.tv!

Text

Add customizable text to your scene.

Image

Place images in your scene. Most common image file types are supported. For animated .PNGs and .GIFs, use a Media layer instead of an Image layer.

Media

Place any media files in your scene. Most common media file types are supported.

Solid Color

Add a solid color to your scene to hide or enhance your other scene elements.

Color Gradient

Add a color gradient to your scene when solid colors don't have enough personality for your design.

Chat Box

A chat widget that displays incoming chat messages from your channel.

Countdown

A timer that can count downward from a specified duration.
Editing/Deleting Your Layers
Editing Layers
You have the ability to edit the layers you've selected to be a part of your stream scene. Simply click on the layer you wish to edit and the customization options will appear on the right side of the screen.
The following options can be enabled/edited for the selected layer:
Options

Description

Size & Position

X/Y - You can specify the X and Y axis/location
W/H - Specify the width and height

Sizing

A drop down menu is available with additional options

Fit - The captured source is centered on the screen, maintains its ratio aspect, and fully displays on the layer. It may not fully fill out the specified layer size.
Fill - The captured source is centered, maintains its ratio aspect, and will completely fill out the specified layer size. Parts of the source may go past the specified layer size.
Stretch - The source is centered, and fills the specified layer size both horizontally and vertically. It does not maintain its aspect ratio.

Flip

You can flip your source either horizontally or vertically.

Cloned Properties

Clicking Edit brings up the following:

All layers that currently exist on all scenes will be edited to reflect the specified source.

Border

You can add a persisting border around your layer, and edit the color, opacity, size, and rounding of the edges on the border.

Chroma Key

Visual-effects / post-production technique primarily used for green screens, that allows you to replace the actual background behind a subject with something else.

To adjust the chroma key settings, you can click on Edit Chroma Key. You can then click Auto-Detect Color to detect your green screen with a single click, or change the color code and change similarity, edge transparency and color correction manually for a more precise fit.

Color Filter

Different types of color filters can be added to your specified layer.
Deleting Layers
If you wish to delete a layer, simply right-click the layer and from the drop down menu, select Delete.
Now you're ready to start your streaming experience with Twitch Studio!
If you would like to learn more details about Twitch Studio, you can refer to our Twitch Studio FAQ article for more information.
Feel free to join our Discord server to chat directly with other Twitch Studio users and some of our developers!
Going Live
Once you've set up all your scenes, click Start Stream at the bottom of the app. Enter your stream title and the category you are streaming in (such as "Just Chatting" or "Fortnite") so that viewers can find you, then click Go Live. That's it!
Frequently Asked Questions
How do I capture a source or display?

You can refer to our comprehensive article on Capturing Sources.

How do I set up and configure my audio sources?

If you're not familiar with setting up your audio sources, check out Twitch Studio Audio Overview for more tips!

How do I set up a green screen?

Looking to spice up your stream background? Read more here: How to Setup a Green Screen with Twitch Studio.

I have a Stream Deck! How do I use it with Twitch Studio?

A Stream Deck is a very useful tool for any streamer, you can see Twitch Studio specific instructions for it in our Using a Stream Deck with Twitch Studio article.

Configuring alerts? Help!

Alert configuration is pretty customizable, see all your options in our Adding Alerts & Browser Sources to your Twitch Studio Stream article.

What are the requirements for running Twitch Studio?

Twitch Studio Minimum Requirements

OS: 64-bit OS
GPU: DirectX 11 compatible
RAM: 4+ GB (2GB free)
CPU: 4 core Intel or AMD

Twitch Studio Recommended Specifications:

OS: Windows 10 64-bit/ MacOS Mojave 10.14 or newer
GPU: NVIDIA GTX 10 series or newer
RAM: 8GB+
CPU: 8 thread Intel or AMD

The requirements may change based on your selected encoder, stream quality settings, and the game you are trying to capture. More intensive games will require better hardware in order to achieve good stream quality.