Temporary Dumpster Rental on Vancouver Island, BC
Waste Management has a variety of roll-off dumpster options for your next construction, demolition or renovation project on
Vancouver
Island
. We offer affordable pricing and rent many different sizes including 20-yard, 30-yard and 40-yard dumpsters. Your "near me" search has brought you to the right place. Reserve your rental dumpster now. Ask us about bear-proof containers, too!
We rent dumpsters across Vancouver Island, including the nearby areas of:
Courtenay
Cumberland
Port Alberni
Cowichan Valley
Capital Regional District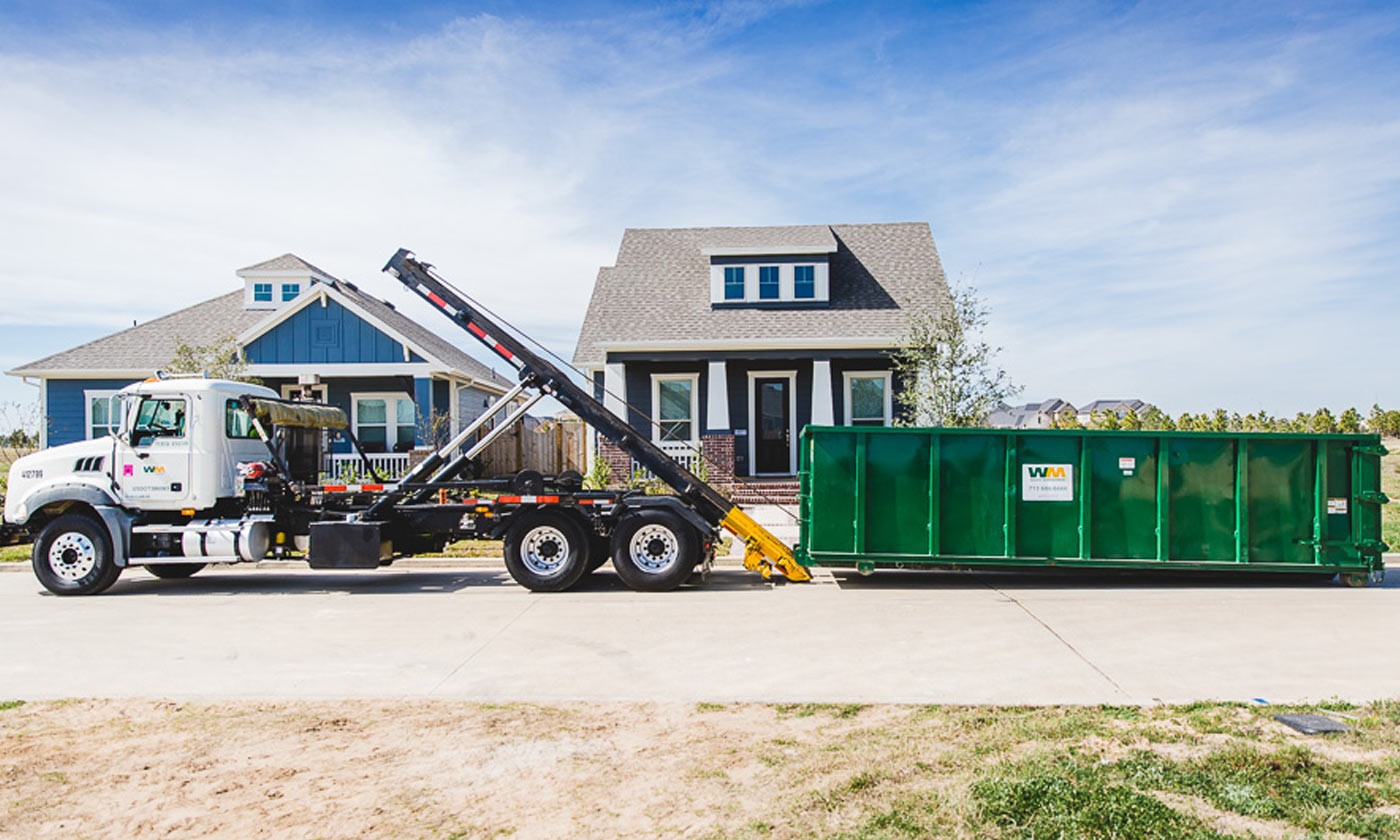 Reliable and leave the area clean
I've had a very good experience with Waste Management. They are reliable and leave the area clean. They have many options to assist with special projects or hard to dispose of items.
Never had issues, billing always correct
Waste Management Customer
I never have issues of any kind with this service. The billing is correct, they send out a notice of any changes in service due to holiday, weather, etc., I put the trash out and they pick it up. I wish other companies were this well managed.
Find a Dumpster
Dumpster sizes and pricing vary by location
Where do you need the dumpster?
TEMPORARY DUMPSTER RENTAL ON VANCOUVER ISLAND, BC
Let Waste Management provide just the right size dumpster for your project. With 24/7 online pricing, ordering and scheduling, you can have your dumpster professionally delivered or picked up in no time.
Product

20 Yard Dumpster30 Yard Dumpster 40 Yard Dumpster

Dimensions

7' 0" W 3' 6" H 21' 11" D
7' 0" W 5' 2" H 21' 11" D
21'11" W 7'0 H" 7'0" D

Holds

10 tons /8 pickup loads
10 tons / 14 pickup loads
10 tons / 16 pickup loads

Rental Days Included

7-day rental
7-day rental
7 day rental

Recommended Use

Ideal for heavy-debris home clean-outs and remodeling cleanup
Ideal for office or large home renovation projects or junk removal
Ideal for large construction projects & large remodeling projects
Waste Management | Vancouver Island, British Columbia
Have a question? Our professionals on Vancouver Island are ready to help. If you need assistance with temporary dumpster rentals, give us a call.
888-618-7293
DROP-OFF LOCATIONS
Enter your address below to find the nearest drop-off locations.
Dumpster Rental 101 - Vancouver Island, BC
Learn the basics of renting and using temporary roll-off dumpsters for your Vancouver Island home or business.
A roll-off dumpster is a heavy-duty waste container used for big cleanup projects. This large, sturdy refuse container is rectangular in shape and made of welded steel with an open top for easy, on-location loading of junk, waste and debris. Its large capacity makes it ideal for a cleanup, remodel, renovation or demolition. The industry name for these garbage containers is "roll off dumpster" because they are delivered by a truck that rolls the dumpster off the back of the truck.

A roll-off dumpster is the workhorse of any home or business construction or remodeling project. It's the perfect way to centrally and safely collect garbage and debris. The size and depth of a roll-off dumpster makes it perfect for large cleanups, junk and waste removal, managing remodeling, demolition and construction debris, roofing and driveway replacements, yard cleanups, and renovations after a hurricane, fire or flood. There are many uses for a roll-off dumpster.

Spruce Up Property to Sell

Declutter for a spacious look
Throw out junk and broken items
Pare down to just what you plan to pack

Enhance Curb Appeal

Tear out overgrown landscaping
Clear out yard debris and clutter
Haul off plant waste in one load

Spring Cleaning

Clear out attics (those boxes of old papers are fire hazards)
Clear out basements (trade junk for more space)
Reclaim your garage (toss clutter and park in a clean garage)

Large Repairs or Remodels at homes or business locations

Carpet and flooring tear-outs
Re-roofing
Demolitions and rebuilds after a disaster event
Security enhancements

DIY Projects

Kitchen updates
Bath remodeling
Door and window replacements

Contract Jobs

Detailed remodeling
Major renovations
New construction
Tear-downs and rebuilds

Dumpster Size

The first choice to make when renting a dumpster is deciding what size you need. Dumpsters are sized based on how many cubic yards of waste they hold.

A 10-yard dumpster is 8 feet wide x 12 feet long x 3 ½ feet high. It holds 10 cubic yards of waste.
A 20-yard dumpster is 8 feet wide x 22 feet long x 4 feet high. It holds 20 cubic yards of waste.
A 30-yard dumpster is 8 feet wide x 22 feet long x 6 feet high. It holds 30 cubic yards of waste.
A 40-yard dumpster is 8 feet wide x 22 feet long x 8 feet high. It holds 40 cubic yards of waste.

*A cubic yard is 3 feet wide x 3 feet long x 3 feet wide. Weight will vary for a cubic yard. For example, a cubic yard of popcorn will weigh significantly less than a cubic yard of housing shingles.

Extra Options

Wheels are a popular rental choice. They are ideal if your debris container needs to move between or around job sites.
Locking devices can be part of your rental, too. They make sense when child safety or animal control is a concern. They also deter people who may be tempted to add their waste to your dumpster.
A roll-off dumpster can also be equipped with a rear swing door. This feature lets workers carry heavy items through the rear door at ground level, rather than having to lift that object high enough to toss it into the dumpster's open top.

Rental rates vary across the country, but all rates are dependent on:

Type of debris
Dumpster size for the job
Length of rental
Extra options ordered

In weighing your purchase decision for a dumpster rental, consider efficiency and effectiveness. Workers can be much more efficient on a roofing project or driveway replacement at your home or business with access to a centrally located, deep-capacity dumpster to safely contain shingles, sharp and broken debris, garbage, clutter and junk. Waste Management wants you to be a well-informed customer. This is critical to making good rental decisions.

Use these 5 easy steps to estimate your dumpster rental cost.

Know the contents of the load to collect and haul away. This helps with estimating volume and weight. Here's an example: Storm damage covered your property with fallen limbs. You rent a 10-yard dumpster for one week. When the job is done, the volume of debris almost fills the 10-yard. The weight of debris you take to the landfill is under 3 tons. This job is on budget: under the limits for weight and volume.
Choose the right size dumpster. Visit our Support Center to speak with one of our friendly team members if you have questions about the right size for your rental.
Estimate how long you plan to have your dumpster on site. Daily, weekly and monthly rentals are available at a wide range of prices from various rental companies. We strive to work with your project's needs, even if they change as your job unfolds. Shop around for what you need. And watch out for hidden fees that can drive up a rental that looks like a bargain!
Select options of wheels, locks, plastic liners, rear entry doors and other add-ons that may be helpful for your project.
Ask about permitting that may be required in your area. City or county permitting costs will not be included in the cost of your dumpster rental, in most cases.

A word of caution! Some rental companies charge extra fees that can add up fast.

Delivery Fee: Charged for dumpster delivery to the site.
Removal Fee: Charged for dumpster haul-off from the site.
Shorter Rental: For example, you may be charged full one-week price even if you don't use the dumpster for a full week.
Extra Days: Extra day charge may be as little as $5 - $10 per day, or significantly more. Check with the service providers you are considering.
Overflow Fee: Any debris not beneath the Maximum Fill Line on an open top dumpster may incur this charge.
Overload Fee: Loads above the Maximum Capacity Weight of a roll-off dumpster are fined for each additional ton.
Special Items Fee: For electronics and bulky household items. Regulations vary across local and state sites.
Taxes: You will be charged federal and state taxes, in most cases, for your dumpster rental.

With millions of customers across the US and Canada, Waste Management is the leading provider of comprehensive waste management in the country. Our 45,000+ employees are reliable, focused on safety and committed to our environment. We place our customers at the center of what we do and aspire to delight them every day.

Waste Management is committed to environmental stewardship and only users certified waste disposal facilities. Our past accolades include recognition as one of the World's Most Ethical Companies, 100 Best Corporate Citizens, Environmental Gold Leader, and the Corporate Conservation Leadership Award. Waste Management stands by our guarantee of environmental responsibility. We deliver every load of refuse to only certified disposal facilities and landfills. No shortcuts. No illegal dumping. Our commitment to the environment is not only the right thing to do, it's the law. When you work with Waste Management, you're not only protecting the beauty of your area, you're protecting your company's brand and guarding against potential fees.

Waste Management is proud to support and follow hazardous waste precautions. Environmental safety is important to us. Batteries, asbestos, harmful chemicals, flammable liquids and more are considered environmental hazards and should not go in any dumpster. You will be asked to remove these items if you put them in a rented dumpster. Hazardous materials are classified differently by country, state, county and city. Be familiar with, or ask one of our team members, what is acceptable in your area's recycling centers and landfills. Additional fees may be charged for some materials. Be clear and up-front on what you will be putting into a dumpster to ensure you will not be penalized for hazardous content.

What about coronavirus-related items? Many people are purchasing N95 masks to combat COVID-19. Are you wondering if these masks can be recycled on Vancouver Island? The answer is yes. Most masks are made of polypropylene and can be recycled. Latex gloves on the other hand, are generally not recycled. Biohazardous materials should always be disposed of in a proper manner, following the guidelines of your local health department. Even more importantly, make sure that disposal of any haul-off from your jobsite goes only to certified recycling centers and landfills.

Roll-off containers are used by construction, demolition and remodel businesses, as well as those that generate large waste loads, such as manufacturing plants. Many different sizes of roll-off dumpsters are available from Waste management. Most popular sizes include dumpsters with 20-, 30- and 40-cubic-yards of capacity. Roll-off dumpsters and bins can be placed in safe locations. Waste Management trucks will need to be able to access the dumpster in order to remove it. Once emptied, it can be replaced in its original or other designated location. Some types of waste, especially hazardous, are not allowed in roll-off dumpsters and/or require an additional fee. Contact us to order your roll-off dumpster to ask about what materials can and cannot be placed in a roll-off container. Roll-off dumpsters are ideal for manufacturers, large retailers, commercial or residential renovations, construction and demolition firms, land, yard or tree clearing trimming and removal, festivals and large events, and agricultural harvests.

If you don't think you'll have enough waste to fill a dumpster, or if you're trying to minimize costs, you may be interested in our lower-price dumpster alternative — the Bagster. This is a 3 cubic yard heavy-duty bag, able to hold 606 gallons of debris or 3,300 pounds of refuse. The bag is 8' long x 4' wide x 2'6" tall, large enough to hold full sheets of plywood or drywall. You can purchase this bag at places like Home Depot, Amazon or Lowe's, then arrange for special pickup when you are ready.