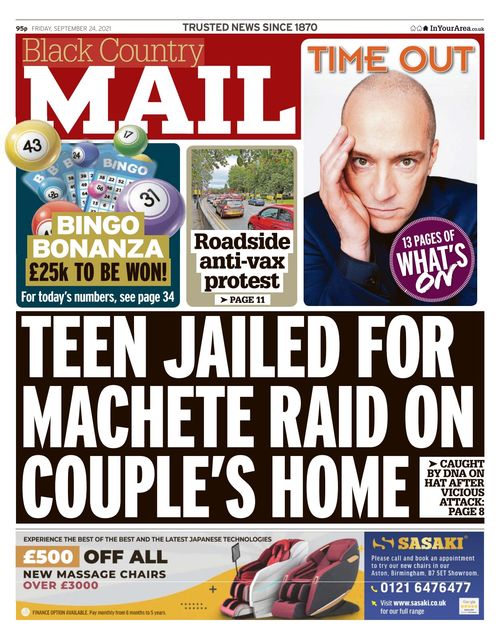 95p FRIDAY, SEPTEMBER 24, 2021 trusted news since 1870 Black Country TIME OUT BINGO BONANZA £25k TO BE WON! For today's numbers, see page 34 roadside anti-vax protest 13 PAGES OF WHAT'S ON ➤ PAGE 11 TEEN JAILED FOR MACHETE RAID ON COUPLE'S HOME ➤ CAuGht by DNA oN hAt AftEr VICIouS AttACk: PAGE 8 ExpEriEncE ThE BEsT Of ThE BEsT And ThE LATEsT JApAnEsE TEchnOLOgiEs £500 OFF ALL NEW MASSAGE CHAIRS OVER £3000 FINANCE OPTION AVAILABLE. Pay monthly from 6 months to 5 years. Please call and book an appointment to try our new chairs in our Aston, Birmingham, B7 5ET Showroom. 0121 6476477 Visit www.sasaki.co.uk for our full range
2 BirMinGHaM Mail FRIDAY, SEPTEMBER 24, 2021 @birmingham_live News insiDe Hunt for gunman and victim after shooting Nostalgia ...............12-13 What's On...............27-35 Letters ......................... 36 Puzzles & Stars ....38-39 TV ............................40-41 Sport .......................47-56 ContaCts Newsdesk: 0121 234 5528 Email: newsdesk@birminghamlive.co.uk Editor-in-Chief: Graeme Brown 0121 234 5316 Pictures: 0121 234 5251 Sport: 0121 234 5748 Online: www.birminghamlive.co.uk Photosales: reachphotosales.co.uk/Reach Advertising: 0121 234 5785 Subscriptions & Home Delivery 0333 2028000 Birmingham Mail, Embassy House, 60 Church St, Birmingham B3 2DJ. Price: 95p ClarifiCations & CorreCtions If we have published anything factually inaccurate, contact Editor Graeme Brown on 0121 234 5316, email graeme.brown@ reachplc.com or at Birmingham Mail, Embassy House, 60 Church Street, Birmingham B3 2DJ and, once verified, we will correct it as soon as possible. The Birmingham Mail newspaper is published by Reach Midlands Media Ltd, a subsidiary company of Reach PLC, which is a member of IPSO, the Independent Press Standards Organisation. We adhere to the Editors' Code Of Practice as enforced by IPSO, who are contactable for advice at IPSO Gate House, 1 farringdon Street, London e EC4M 7LG. Website www.ipso. Weather Country co.uk, telephone: 0300 123 2220, email advice@ipso.co.uk Saturday Around °C °F If you have the a complaint Country °C °F concerning a potential breach of 22 the 72 Friday Code of overcast Practice, we 20 will deal 68 Saturday °C °F °C °F 20 with 68your complaint overcastdirectly 20 or 68 IPSO can cloudy refer your 22 complaint 72 overcast 20 68 19 66 to us. Go cloudy overcast to www.reachplc. 20 68 19 overcast 66 20 68 t 19 com/how-to-complain 66 cloudy overcast 19 where 66 19 overcast 66 19 66 21 you 70can view overcast our Complaints 19 66 19 overcast 66 19 66 Policy and cloudy Procedure. 21 A 70 "How overcast 19 66 22 To 72 Complain" pcloudy overcast pack is 22also 20 72 68 overcast 20 68 19 available 66 cloudy by writing 19 to the 66 21Legal cloudy 70 21 70 and Compliance Department, t 19 66 overcast cloudy 19 20 66 68 cloudy 20 68 Reach PLC, sunny One Canada 22 72 Square, overcast 21 70 22 Canary 72 Wharf, overcast London E14 215AP. 70 overcast 18 64 cloudy 20 68 t 18 If 64you have cloudy any issues sunny 22 20 72 68 cloudy 21 70 regarding the use of 22 your 72personal pcloudy data, 21 email 70 21 overcast 70 21 70 21 datarequests@reachplc.com. 70 cloudy overcast 18 64 21 cloudy 70 18 64 overcast 19 66 overcast 18 64 18 64 cloudy 18 64 t Around 19 66 overcast the World 18 64 Friday Saturday e World Saturday °C °F °C °F staff rePorter POLICE are hunting a gunman after a drive-by shooting on a Birmingham street - and searching for a suspected victim who left the scene. Shots were fired from a dark coloured car on Westhorpe Grove, Newtown, just before 7.30pm on Wednesday. West Midlands Police said someone was injured - but they have so far been unable to locate them. Witnesses said armed police with dogs had conducted a search around Mosborough Crescent, off Great Hampton Row and Unett Street. A West Midlands Police spokesman said: "We're investigating a shooting. Shots were fired from a dark coloured car on Westhorpe Stoke-on-Trent Derby Birmingham Coventry Sun & Moon Grove just before 7.30pm. "We believe that someone was injured, but so far haven't been able to find them. "Reports suggest they ran off in the direction of Mosborough Crescent and were picked up in a car. "Local hospitals have been alerted and we're doing everything we can to locate the victim and everyone else involved. "Detectives and forensic scene investigators are carrying out enquiries in Mosborough Crescent, Westhorpe Grove and Great King Street. "CCTV is being reviewed as we try to piece together exactly what happened." Witnesses or anyone with information should contact police via Live Chat at www. west-midlands.police.uk or Crimestoppers anonymously on 0800 555 111. Today's toDaY's Weather WeatHer Today's Weather Skies will be partly cloudy to cloudy today. Afternoon highs will range from 20 to 23C. Stoke-on-Trent Derby 6:57 a.m. Nottingham Burton-on-Trent Birmingham Leicester Coventry Nottingham Burton-on-Trent Leicester Northampton Northampton Cambridge Cambridge Four-Day Outlook Four-Day Outlook Sun & Moon °C °F °C °F 6:57 a.m. 7:00 p.m. River Levels pcloudy 19 66 overcast 19 66 rain 21 69 rain 19 66 Skies will be partly cloudy to cloudy today. Afternoon highs will range from 20 to 23C. 8:25 p.m. 10:39 a.m. Sep. 28 Oct. 6 Oct. 12 Oct. 20 Overcast. Saturday Cloudy. Sunday Saturday 20°C/ 68°F 13°C/ 55°F Overcast. 20°C/ 68°F 13°C/ 55°F Sunday Cloudy. 20°C/ 68°F 13°C/ 55°F 20°C/ 68°F 13°C/ 55°F Monday Monday Scattered light showers. 17°C/ 63°F 10°C/ 50°F Scattered light showers. 17°C/ 63°F 10°C/ 50°F Tuesday Scattered light showers. Police at the scene of the drive-by shooting in Newtown Evacuation at brewery after car workshop blaze Crews at the car workshop fire WORKERS at a brewery in Aston were forced to evacuate after a fire broke out at a nearby car workshop. Fire crews were called to Cheston Road where a blaze had broken out close to Aston Manor Cider yesterday. Incident commander Andy Shakespeare said the unit which went up in flames was being used as a car workshop. There were no injuries and the brewery which neighbours the unit was evacuated before the workers were allowed back in. Incident Commander Shakespeare said "We've had four appliances attend with 20 personnel. The cause is yet unknown. "The fire is out and we are damping down, looking for hot spots. There has been substantial fire damage. "No one was hurt. "The brewery was evacuated as a precautionary measure but everyone is back in." Tuesday 16°C/ 61°F 10°C/ 50°F Scattered light showers. 16°C/ 61°F 10°C/ 50°F Current (m) Flood Current (m) Flood River Trent River Leen 0.07 0.43 A West Midlands Fire Service spokesman added: "Crews discovered a severe car fire and 20 firefighters used three main jets and a hose reel jet to extinguish the fire, working with colleagues at West Midlands Police to implement road closures in the area to keep the public safe. "Electricity in the area was also isolated while our firefighters tackled the fire. Our fire investigation teams are investigating the cause." SIGN UP FOR OUR NEWSLETTERS Every day we'll keep you bang up to date with the latest breaking Birmingham news www.birminghamlive.co.uk/signup
www.birminghamlive.co.uk FRIDAY, SEPTEMBER 24, 2021 BIRMINGHAM MAIL 3 Veronica Sawyer (far left and pictured below) – News played by Rebecca Wickes – is taken under the wings of the three beautiful and impossibly cruel Heathers HELL'S BELLES! HIGH SCHOOL CLASSIC IS A RIOTOUS CARNIVAL OF COLOUR AND CHAOS HEATHERS Alexandra Theatre, Birmingham HHHHI FRESH from the commercial and critical juggernaut of Everybody's Talking About Jamie, the city's Alexandra Theatre has now welcomed Heathers onto its stage for a week-long run. A cult behemoth which has seeped from screen and onto stage, the story of Heathers remains one of the finest lampoonings of high school life, with its razor sharp dialogue as quotable as it is witty. And the attributes which have lent the film such a frenzied and enduring fanbase ooze into the stage show, directed by Brummies promised bite of the Big Apple in new 'all-day party' venue A NEW York-themed bar is promising to bring an 'all day party scene' to the city centre - with supersize cocktails on offer. New venue Manahatta will open its doors to party-goers and diners next month with a launch for walk-in guests on Saturday, October 16. Located on Temple Street, the bar will boast live entertainment from Andy Fickman using music and lyrics from Kevin Murphy and Laurence O'Keefe. The 1988 movie - starring a preposterous the beautiful and cool Winona Ryder and Christian Slater - is seen by some as a forerunner to Mean Girls and Clueless, but while the latter two have a varnished fingernail in reality, Heathers has always prided itself on the absurd. It is a feature The reaction of the audience upon seeing the central trio is something akin to an Ariana Grande concert. which makes the musical as rude, riotous and raucously hilarious as at is, telling the tale of Veronica Sawyer, just another "nobody" dreaming of a better day. Veronica, played by the charming Rebecca Wickes, is unexpectedly DJs and musicians to "truly celebrate the weekend in style". On the menu, party-goers can enjoy supersize sharing cocktails, cocktail trees and Manahatta Spritz magnums. And the bar says those looking for a classic cocktail can enjoy their freshly made Pornstar and Espresso Martinis on tap. By day, the kitchen will serve a taken under the wings of the three beautiful and impossibly cruel Heathers, with her attempts at popularity finally bearing fruit. But Simon Gordon's J.D - one part John Bender, one part Morrissey with a garnish of Holden Caulfield - changes her seemingly simple high revamped brunch and lunch menu, featuring "fully loaded fresh bagels, hand-folded pretzels, fluffy bao buns and American style pancakes". And for special occasions, the bosses recommend the "eye-catching Empire-State Chicken" or the "8oz rump Steak Frites". Bottomless Brunches are set to run until 4pm, and Bottomless Party school headaches into something far more monstrous. Maddison Firth plays Heather Chandler note perfectly and with and enough flair to separate her from anybody else you have seen in the role. There are star turns for Liam Doyle and Rory Phelan, as Kurt and Ram, two jocks whose misfortune give ways to the most memorable musical number of the evening (My Dead Gay Son), and also Bayley Hart, whose dainty innocence as Ms Fleming offers respite from the coruscating one liners. While the coarseness of dialogue can occasionally jar, and the musical numbers at times bleed into one, the preposterousness of the plot is an unruly riot. The escapism manifests itself in a carnival of sound and colour - the Heathers' matching outfits and outrageous entrance is the piece de resistance, all flouncing skirts, swaggering blazers, and strutting croquet from 4pm - with promises of an 'uncontainable party atmosphere'. It is the seventh Manahatta in the group with other bars in Manchester, York and Leeds. But it will be the chain's first bar in the Midlands. General manager Matt Sharp said: "Our atmosphere is unstoppable. We promise the beat of New York every weekend." mallets (the costume and set design are exquisite). The reaction of the audience upon seeing the central trio - Firth, Lizzy Parker's Heather McNamara and Merryl Ansah's Heather Duke - is something akin to an Ariana Grande concert, and the latter's later reveal of a red tartan skirt under her initial green number leads to audible gasps all around. Over the course of the evening, Heathers touches upon date rape, suicide ideation, gun control, loneliness, virginity, homosexuality, bullying and bulimia. The themes are not dealt with in great detail - some last only a mere scene - but perhaps that is the point. Dysfunctional, unstable, silly? Heathers is - and always has been - all those. But so is adolescence. What this musical reminds you is the fact that, whatever lunch table you are sitting at, these days will pass. It runs until September 25 James RodgeR Manahatta is coming to the Midlands
4 BIRMINGHAM MAIL FRIDAY, SEPTEMBER 24, 2021 @birmingham_live News 70 firefighters battle huge warehouse fire ALEXANDER BROCK News Reporter SEVENTY firefighters tackled a huge warehouse blaze in Birmingham. The building, in Highgate was engulfed in flames early yesterday. Firefighters from across the city fought the fire, with some using aerial appliances to combat flames tearing through the roof of the property in Great Charles Street. Sixteen crews were involved in the operation with local roads being sealed off, diversions set up and residents urged to keep windows and doors shut. Nearby residents said they saw "really high flames" and others heard firework-like sounds at around 3am. The blaze was later brought under control, with crews remaining on standby and fire experts searching for the cause. There were no immediate reports of any casualties. A West Midlands Fire Service spokesman said: "At 2.37am, we were called to a severe fire at a warehouse on Charles Henry Street in Highgate. "Initial crews arrived on scene in under five minutes. 16 appliances and over 70 firefighters tackled the fire. "Our drone team were also in attendance and using our drones' thermal imaging capability, we were able to identify hot spots in the building and direct resources appropriately. "Crews worked tirelessly to contain the fire to the building in which it BIRMINGHAM Pride is bringing a touch of luxury and class to the city's annual LGBTQ+ celebrations for its 2021 comeback this weekend. Mercedes-Benz dealer LSH Auto has announced that it will be taking part in the carnival parade and then giving chauffeur-driven rides to the main stage for all the performers. LSH Auto colleagues and Mercedes-Benz vehicles will join the iconic Birmingham Pride Parade before making their way to a Mercedes-Benz stand in the main festival area for the duration of the celebrations. Ian Williams, head of Human Resources for LSH Auto, said: "We are delighted to support We heard popping, like fireworks, at around 3am. We looked out the window and saw huge flames. Eye-witness started, using high volume pumps from the nearby River Rea, covering jets and main jets. "We have now scaled down to a watching brief, with some crews remaining on site monitoring for smoke and fire hotspots. Fire investigation crews are on site and the cause of the fire is unknown at this time." Mercedes treat for Pride performers Birmingham Pride in its aim to build a community where all people are free to live without fear or prejudice. "The Birmingham Pride team runs year-round projects and partnerships to improve the lives of the LGBTQ+ community in Birmingham and the wider West Midlands and we hope we can grow and develop our relationship with them." Birmingham Pride held its first event in 1997 and has grown to become the biggest two-day LGBTQ+ festival in the UK, attracting more than 40,000 people over the course of the weekend. Crews battle the fire in Highgate Road closures were expected to remain in place throughout yesterday. A resident who lives nearby said: "My son woke up me around 3am in the morning and by then the building was blazing, it was engulfed in flames. They were really, really high flames, it was mad. When I woke up this morning you could still see smoke, it looks like it's been gutted." Anohter resident, who lives opposite the scene of the fire, said: "We heard popping, like fireworks, at around 3am. We looked out the window and saw huge flames. "It was a bit shocking, to see flames that high and the brightness of it. "There were a small group of people gathered outside and you could see the fire in the building's windows, like an orange glow. "The roof is just gone." Staff at LSH Auto supporting this year's Birmingham Pride Two injured on rail lines in one night A MAN and a woman were left with serious lifechanging injuries after being found on railway lines in separate incidents. The man was found near Hampstead train station in Old Walsall Road shortly after 9pm on Wednesday. In the other incident a woman was left with major injuries after being found on tracks near to Barnt Green station at 10.30pm on the same night. A West Midlands Ambulance Service (WMAS) spokeswoman said: "We were called at 9.15pm to reports of an incident at Hamstead Railway Station, Old Walsall Road. We sent one ambulance, two paramedic officers, the HART team and two MERIT trauma doctors and a critical care paramedic to the scene. Crews treated one patient, a man, for serious injuries and he was conveyed to hospital on blue lights and sirens for further treatment." A British Transport Police said: "The incident is not being treated as suspicious." Three ambulances, five paramedic crews and two doctors, along with police officers and firefighters were sent to the Barnt Green scene. Using lighting and thermal imaging cameras, fire crews located the woman lying on the tracks a short distance from the platforms. A WMAS spokeswoman said: "We sent three ambulances, two paramedic officers, HART, the Warwickshire and Northamptonshire Air Ambulance Critical Care Car and two MERIT trauma doctors and critical care paramedic. Crews found a woman in a serious condition. She was treated for potentially life-changing injuries and was conveyed to hospital on blue lights and sirens." A British Transport Police spokesman said: "This incident is not being treated as suspicious." n Samaritans (116 123) operates a 24-hour service available every day of the year. If you prefer to write down how you're feeling, or if you're worried about being overheard on the phone, you can email Samaritans at jo@ samaritans.org
www.birminghamlive.co.uk FRIDAY, SEPTEMBER 24, 2021 BIRMINGHAM MAIL 5 Ex-councillor accused of grabbing chunk of woodland as his own gurdip thandi Local Democracy Reporter A DEFIANT former councillor has refuted accusations he "land grabbed" a large chunk of historic Streetly woods for his own property – claiming the authority had full knowledge of the work. Walsall Council planners said Amers Kudhail had fenced off a large plot of Foley Woods, which they say is public land, to incorporate into his own private garden, resulting in an enforcement notice being served on him. The disputed land measures approximately 11.7m by 60m and is around 702 square metres in size. But in a strong statement to a public inquiry, Mr Kudhail said the work was done correctly with officers and council leader Mike Bird aware of the development. He also said he had appealed the action taken against him rather than go down "back door channels" to settle it. The inquiry, held at Walsall Town Hall, was due to last two days but was adjourned for undisclosed reasons. Mr Kudhail – who represented the Streetly ward from 2015 to 2019 bought the property when it was a bungalow in 2002. He was granted permission to demolish this and build a five-bedroom family home which was completed in 2013. Album for Teletubbies' anniversary THE Teletubbies have reunited ahead of their 25th anniversary to release a new album. The popular children's TV characters Tinky Winky, Dipsy, Laa-Laa and Po, will celebrate the milestone in 2022. The new album, Ready, Steady, Go!, will feature 10 songs, including the title track single and Peekaboo, which are due to be released tomorrow. The Teletubbies will release eight singles and their music videos every subsequent Saturday, with the full album available from October 15. The fence erected by Amers Kudhail, right, in Foley Woods photo: Walsall Council He said a barbed wire fence was already in use on the disputed area when he bought it. A new fence was erected in 2003 before this was eventually replaced with the current structure in 2018 due to disrepair. The enforcement notice, served in November last year, said he had changed the use of open space woodland into a private residential garden without planning permission. It orders him to stop this use and remove all materials including the fence, paving slabs, bricks, posts and other domestic paraphernalia. Mr Kudhail brought the appeal on a number of grounds with the main one being the enforcement notice was served too late as he has been using the whole land continuously as residential since 2002. But Walsall Council said there was no house on the land for at least 22 months up to June 2013 and therefore was not in use by Mr Kudhail. Giving evidence, Mr Kudhail said: "It was never my intention to upset any fellow residents in Streetly. I sincerely apologise. But hopefully, they will see I've done things in the right way. KEEP YOUR We have everything for your purr'fect pet Large Choice of Pet Foods and Accessories We cater for Small Animals, Wild Birds, Reptiles, Apply for our neW LoYALTY CARD in store now and SAVE £££££'s FinD uS on FACeBook Call us now to find out about our loCal delivery serviCe ask our friendly staff for advice Open Mon - Sat 9am - 5.30pm, Sunday 10am - 4pm Kings Heath Pet Centre, 43 York Road, Kings Heath, Birmingham, B14 7SA 0121 444 1880 | www.kingsheathpetcentre.co.uk 90 mins FRee PARkinG at Lidl, Silver Street "Everything I have done has been with the guidance and advice of individuals in this council and with full knowledge of what we were doing all the way through and they know the history of the woods." He added: "I took guidance from the leader of the council, Mike Bird. He stood on my property and he was there when he said I'd done everything in the right way. "I asked [officers] to come and have a look at all of my property and say what I have done wrong. "Please judge me on my qualities. I was a councillor for four years, I had a heart attack in 2019. "A year later, I raised £3,600 for Walsall Heartcare. I've done everything for the public and for my people in this constituency that I serve. I feel aggrieved." Halesowen Fireplaces AT THE HEART OF YOUR HOME Complete Fireplace Packages from £499 (including fi re) News Man 'wanted buffer to keep his family safe' KATE Olley, representing Mr Kudhail, said: "He takes exception to the smearing or mudslinging comments along the lines of land grab. He wanted a buffer between his house and the woodland, being so close up against it." She said a serious sexual assault which took place in the woodland in or around 2017 also caused him to fear for his family's safety. Jonathan Clay, representing Walsall Council, said: "There can be no doubt encroachment of use devalues the open space and changes its natural dense wooded character to a domestic suburban character with clutter and domestic paraphernalia with ugly high fencing. "He effectively seeks to confiscate an area of long established mature woodland for personal and private use. "The headmistress of Blackwood School describes it as a land grab. At the risk of being accused of mudslinging, I would say that is exactly what it is." Steve Randerson, chairman of the Foley Woods Residents' Association, said there had also been other attempts by residents to claim huge chunks of the woods, which are subject to separate enforcement actions. He said: "The actions of the appellant and two residents are causing a great deal of distress to residents and there is huge concern if the developments are not ended it would mean the end of Foley Wood." The inquiry will resume at a date to be decided. For a range of Gas and Electric Fires and Surrounds visit our showroom (opposite Tyre City on Long Lane) ☎ Telephone 0121 559 9985 Worth a Visit Unit 14, Long Lane Trading Estate, Long Lane, Halesowen B62 9LD www.halesowenfireplaces.co.uk
6 BIRMINGHAM MAIL FRIDAY, SEPTEMBER 24, 2021 @birmingham_live News Duo jailed for 'sadistic' attack on man in park ROSS McCARTHY Court Reporter Reece Kelly MIND OVER MUSCLE: ZERO NEGATIVITY TOUR A NEW AGE OF THINKING SAT 20 NOVEMBER 2021 BIRMINGHAM UTILITA ARENA GIGSANDTOURS.COM | TICKETMASTER.CO.UK ANTMIDDLETON.COM M ANTMIDDLETON N ANTMIDDLETON AN SJM CONCERTS PRESENTATION BY ARRANGEMENT WITH YMU GROUP TV FRONT MAN, BESTSELLING AUTHOR AND MOTIVATIONAL SPEAKER TWO armed thugs who subjected a vulnerable victim to a "sadistic" park attack have been jailed for a combined 18 years. The victim, who had tried to get away, was twice stabbed and pinned to the ground before his chin was "split open" with a knife and he was robbed, Birmingham Crown Court heard. Reece Kelly, 25, of Beaumont Gardens, Winson Green, was jailed for ten years after being found guilty of robbery and possessing a knife. Andrew Holmes, 27, of Hartshill Road, Shard End, who had previously admitted the same charges, was sentenced to eight years. Judge Avik Mukherjee told them: "There are bullies and people that are greedy and people like you who take that into another stratosphere. "Your victim was young and vulnerable and why the two of you decided to set him up and do what you did, as a team, is something only you will know. "You, Holmes, decided to gratuitously injure him, stabbing him in the gut and you, Kelly, split his chin open. "He will have to live with the consequences of what you did to him. "This is a very serious robbery, the use of a weapon and significant force by the two of you who punched and kicked him. "You caused significant injury and serious psychological harm. "What you took was of high value to him. "You set him up on the pretext of wanting to meet him LAUGHS WITH MIKE LOCKLEY – PAGE 21 for tobacco. He was targeted because he was vulnerable." The victim had gone to meet his attackers in Kingfisher Country Park, Shard End, in the early hours of June 19 last year, for tobacco. Michael Tanney, prosecuting, said: "It was a violent and sadistic attack. He had been restrained to the floor, tried to Andrew Holmes escape, was captured and brought back." Afterwards the pair, who had taken an iPhone and an Armani watch, had gone back to Holmes's address and washed their blood-stained clothes. Suzanne Francis, for Holmes, said that, while on remand, he had been a "model prisoner", getting a job as a chef. "He had been a chef for seven years before becoming embroiled with people who lead him down a different route." Lee Masters, for Kelly, said he had a highly supportive family and at the time he had been effectively homeless. Huge area of park burned in arson FIRE crews battled a huge blaze believed to have been started by arsonists in one of Birmingham's most popular parks. Flames tore through a large area of Sutton Park – close to Boldmere Gate – on Wednesday. Drone footage released by West Midlands Fire Service shows a huge area of grass destroyed by the fire, which is believed to have been started deliberately. Sixteen firefighters, along with park rangers, battled the fire, which took hold just before 3pm. By 7pm, one fire engine remained at the scene, with the area still being dampened down. A West Midlands Fire Service spokeswoman said: "The incident is believed to have been arson." The aftermath of the fire, which destroyed a huge area of greenspace Disney dismay as store shuts Bullring doors DISNEY fans are dismayed that the Birmingham's Bullring store has closed its doors for the last time. Fans gathered on the final day of opening on Monday to grab a bargain and to thank staff and wave goodbye to them. Disney is set to close a fifth of its stores before the end for the year as it shifts towards e-commerce. The branch at the Merry Hill shopping centre will pull down its shutters on tomorrow. Michelle Pugh posted: "So sad so many lovely people have worked there over the years will miss the shop so much." Daniel Hindhaugh said: "Real pity for kids. It was like a bit of Disney magic for them." Driver hunt after girl hurt POLICE are searching for a Range Rover driver after a schoolgirl was seriously injured in a hit-and-run crash in Dudley. The 12-year-old victim was struck by a white cloned Range Rover Evoque in Stourbridge Road at around 7.20pm on August 24. It is believed the driver fled the scene and the child was left seriously injured at the side of the road. She was taken to hospital for treatment and is now recovering from her injuries at home. A West Midlands Police spokesman said: "It's been identified as a cloned vehicle that was using registration FJ63 HZV at the time of the hit and run." Christmas tree shortage A CHRISTMAS tree retailer says that prices on real trees are likely to rise this year given a potential shortage. A number of issues, including import regulation changes, a lack of labour and the rise in raw material prices are likely to cause a shortage, say ChristmasTrees.co.uk. According to the British Christmas Tree Growers Association, the UK buys around eight to 10 million a year, importing up to three million from other European countries.
www.birminghamlive.co.uk FRIDAY, SEPTEMBER 24, 2021 BIRMINGHAM MAIL 7 Kadeena Cox and Laura Muir at the Alexander Stadium It's looking News Classes online in Covid outbreak A SOLIHULL school is to switch two of its year groups to online learning following a "significant" rise in coronavirus. Smith's Wood Academy informed parents and carers it would be closed to students in years 7 and 10 for the rest of the week following the outbreak. Headteacher Richard Cornell said pupils would instead learn online using Microsoft Teams. amazing Olympic and Paralympic stars pay visit to the new Alexander Stadium HUSNA ANJUM News Reporter ELITE athletes Kadeena Cox and Laura Muir have visited the Alexander Stadium to inspect building progress and announce their goal to compete at next year's Commonwealth Games. The athletes even tested out the new warm up track installed on the site - and were impressed. Athletes and councillors also urged people to apply for tickets through the main ballot which closes September 30. The venue is having a £72 million makeover and will showcase the opening and closing ceremonies and the athletics and para-athletics programme. Now the stands and grounds are almost near completion. The warm up track, a bold blue and red colour, was tested by the stars along with young aspiring athletes from Birchfield Harriers. Muir, 28, from Scotland, won a silver medal in the Tokyo 2020 1500m event. She is determined to follow that up with a Commonwealth medal. She said: "It has been eight years since I competed in Glasgow 2014 Commonwealth Games so I am really excited for next year. "The stadium looks so different in a good way, it will create a fantastic atmosphere. Its always great to race on a new track and see how it feels. "The Olympics were crazy and so special, but it was a shame there were no crowds. "Having my family and friends come and support me on British soil will be so nice. "Tickets are still available for next The stadium looks so different in a good way, it will create a fantastic atmosphere Laura Muir year, so let's crack out as many as possible and give our athletes support. This is a multi-sports game so just try the ballot and see what you get. Be in it to win it. It would be a shame to miss such a great event in Birmingham." Kadeena Cox, 30, is a Paralympic athlete targeting the T38 100m at Birmingham 2022. The athlete had to withdraw from the Gold Coast Games in 2018 because of injury. Impressed by the stadium Kadeena said: "I am excited for the games which are just down the road from my hometown in Leeds. I am excited for that support from our fans. "I am expecting the best crowd ever next year and a great stadium which is already looking amazing. "I have competed here many times and it did need a lick of paint! "Its exciting to have this in Birmingham where it will bring in more young athletes. What it means for the next generation is more important." Cllr John O'Shea, Cabinet Member for Street Scene and Parks at Birmingham City Council, who own the stadium and are overseeing the redevelopment, said: "What we will see next year is a fantastic games event. "This venue is part of the legacy of the Commonwealth Games. This will be here for the future and a home for athletics. "There is huge pressure on us to get the stadium right for next year, I am confident we will." Apply online for tickets for the Games which start at £8 for under 16s and £15 for adults. Applicants will find out in October if they have been successful.
8 BIRMINGHAM MAIL FRIDAY, SEPTEMBER 24, 2021 @birmingham_live News Fans warned over M6 closure TRAVELLING football fans have been urged to avoid a major M6 junction this weekend due to predicted traffic mayhem. Junction 10 will be closed from 8pm tonight as major work takes place on the installation of a second four-lane bridge spanning the whole width of the motorway. The M6 southbound will close at the junction at 8pm while the northbound carriageway will close at 11pm. Over the weekend, huge 44m-long steel bridge beams weighing up to 120 tonnes will be lowered into place as part of a £78m improvement scheme. With Manchester Utd hosting Aston Villa tomorrow, Villa fans were urged to find alternative routes. Annie Myett, National Highways Project Manager, said: "We only shut motorways if absolutely necessary and appreciate the impact closures have on people." The ongoing M6 junction 10 project enters a key phase at the weekend Teen jailed WELCOME TO THE BACKSTAGE WHERE YOU LEARN AND ON THE JOB WORK PAYS OFF Earn from £10 /hour as Warehouse Operative near you Apply now at jobsatamazon.co.uk for violent home raid THUG WAS SNARED BY DNA ON HAT OPRAH FLASH A TEENAGER has been jailed for almost five years after repeatedly hitting a homeowner with a machete during a terrifying armed robbery in Bloxwich. The youth and two accomplices smashed their way into the Harden Road home of a couple in their 60s. The youth, aged 16, repeatedly struck the homeowner with the machete. As the man attempted to fight off the armed robber he was pushed through a door leaving him with head injuries and a shattered arm, West Midlands Police has said. During the dreadful ordeal, another robber put a knife near the throat of the woman as the property was searched and cash and jewellery were taken. A woolly hat had been pulled from the teen during the scuffle with the homeowner and was recovered. But analysis at that stage showed there was no match to anyone currently on the police database. West Midlands Police launched a public appeal for information following the robbery which happened at around 10.10pm on November 28 and earlier this year received information identifying a suspect. Following further enquiries the youth was arrested but denied any involvement. However, after taking his DNA officers were able to prove he had been wearing the hat that night. The youth – who cannot named for legal reasons – went on to plead guilty to aggravated burglary and causing grievous bodily harm at Wolverhampton Crown Court. He was sentenced to four years and six months at a youth offenders' institution. Detective Constable Steve Trotman, from force CID, said: "This was a terrifying ordeal for the victims in their own home and will sadly have an impact on them forever. "This boy was particularly violent but we knew we had a real forensic opportunity once the right person was identified. The information we received from the public then helped us track him down. "He was then picked out in an ID parade as the weight of evidence built up and led to the guilty pleas. He has now lost his freedom and has a criminal record. We still need to trace his accomplices and I would urge anyone with information to contact us."
www.birminghamlive.co.uk FRIDAY, SEPTEMBER 24, 2021 BIRMINGHAM MAIL 9 News Business Secretary joins leading figures for GKN plant talks GKN in Erdington jonathan walker Political Editor BUSINESS Secretary Kwasi Kwarteng has been in talks with owners of the under-threat GKN plant in Erdington, ministers have revealed. It came as local MP Jack Dromey said negotiations about the future of the Chester Road site, where 519 jobs are at risk, had reached a "critical stage". GKN owners Melrose have announced plans to close the plant. But it appears efforts to save jobs may have made progress following a meeting between representatives Melrose and trade union Unite, where it was agreed that there would be an moratorium on work and machinery being taken out of the factory. Melrose has agreed to attend a meeting of stakeholders involved in seeking a way forward to keep the factory open, Unite said. As a result, Unite has agreed to delay strike action, due to begin on Monday, until at least October 18. Talks to save the plant are taking place behind closed doors, but West Midlands Mayor Andy Street, a Conservative, and Erdington Labour MP Jack Dromey are understood to be involved. It's hoped the plant could play a role in the UK car industry's transition to electric vehicles. The Department for Business, Energy and Industrial Strategy is also believed to be involved in the talks. Speaking in Parliament, Mr Dromey asked the Government to give a public undertaking that it will support plans to keep the factory open. He said: "If the closure of the GKN plant in Erdington goes ahead, it will be a blow to the automotive industry's transition to an electric future and a betrayal of the British national interest, with 519 workers sacked in an area of high deprivation, and with production exported to Poland and France." Mr Dromey pointed out that the Government had previously suggested it might invest in the plant. He asked: "As talks reach a critical stage, will the Minister confirm that the Government stand ready to continue to play an active role in seeking a resolution?" Kwasi Kwarteng Family without the faff FIGHT FOR BRITISH JOBS AND PARTS BUSINESS Minister Greg Hands told Mr Dromey: "This Government and this Department have the national interest very much at our core, as he will have heard from the Secretary of State and the rest of the ministerial team." Referring to Business Secretary Kwasi Kwarteng, Mr Hands said: "We are engaging with GKN – my right honourable friend has met GKN – and we will continue to engage with it at this difficult time." Mr Dromey said afterwards: "It is vital that all those involved in these talks now do all they can to keep the plant open and to stop 519 well-paid, skilled jobs being lost in one of Britain's most deprived communities. "The role of Government will be key to prevent closure and the export of production to Poland and France. The British automotive industry needs high-quality components made here in Britain." In January Melrose announced it intended to close the factory and transfer work to mainland Europe. In May an alternative plan by a team of union officers, senior management at the plant, shop stewards was put forward but turned down. Unite and automotive experts believe the GKN factory is strategically important to the success of the electrification of the UK automotive sector and should be provided with funding and support to develop drivelines that will be required for electric vehicles. Kids stay and eat free * Only available at premierinn.com *T&Cs apply, please head to our site for details.
www.birminghamlive.co.uk FRIDAY, SEPTEMBER 24, 2021 BIRMINGHAM MAIL 11 News Anti-vaxxers in protest against vaccines for teenagers Anti-vaxxers in Wolverhampton Image: aaron HumpHrIss ANTI-VAXXERS with placards lined a ring road for a protest directed at queuing traffic. Around 20 protestors gathered on Ring Road St Andrews, in Wolverhampton, holding placards which read "Why vaccinate teens?", "These vaccines are harming our teens" and "Honk if you're vaccinated" They mounted the demonstration on Wednesday night. Aaron Humphriss, who was walking past, said: "It seemed somewhat organised by the people that were there. "I counted about 20 or so protestors." Emily Hasson 'Lost for words' Every pledge today helps secure life-saving research for tomorrow. boyfriend of crash victim speaks of his heartbreak at her death JANE TYLER News Reporter THE heartbroken boyfriend of a "beautiful" young mum who was killed in a car crash has spoken of his devastation. Emily Hasson was 25 with a three-year-old son when she died in a road crash in Warwickshire earlier this month. Her boyfriend Ryan McDonagh, from Worcester, has said her death had left him "devastated and lost for w o r d s". Emily was originally from Alcester, near Redditch, but was living in Meon Vale in Warwickshire at the time of her death. She died in an accident in Lower Clopton, near Stratford-upon-Avon, on Thursday, September 9. Her Nissan Micra was involved in a collision with a Land Rover Discovery at 1.40pm. Three other people were taken to hospital after the collision, which saw the air ambulance and two land ambulances attend the scene, along with an off-duty nurse who was passing the scene. Emily was driving the Micra and was Words can't describe how I feel and miss you right now. Ryan McDonagh pronounced dead at the scene. A man from the Discovery also suffered serious injuries and was taken by air ambulance to hospital. In a poignant Facebook post, Ryan told of his heartbreak and posted pictures of himself cuddling Emily and her three-year-old son. He wrote: "Coming home from work to that dreaded knock on the door from the police that one of your loved ones has passed away in a car accident. "Absolutely lost for words, we had such a bright future together and for it all to be taken away so quickly. "Devastated. I love you Emily Ann. "Words can't describe how I feel and miss you right now. I love you." In a statement released through Warwickshire Police Emily's family also paid tribute to her. They said: "Taken from us too early, our beautiful daughter Emily leaves behind a three-year-old son." Warwickshire Police are appealing for information as they continue their enquiries into the collision. Anyone with information is asked to call 101 quoting incident 201 of September 9. West Midlands, play your part. Get your free Gifts in Wills Guide, visit cruk.org/pledgewestmidlands Together we will beat cancer Cancer Research UK is a registered charity in England and Wales (1089464), Scotland (SC041666), the Isle of Man (1103) and Jersey (247).
12 BIRMINGHAM MAIL FRIDAY, SEPTEMBER 24, 2021 @birmingham_live OUR DAILY DELVE INTO THE PAST Tragedies as Midlands car maker chased grand prix glory ON 12 CRAFT WINES Plus 2 FREE wine glasses worth £18, & FREE delivery direct to your door! Luxury Craft Wine Selection 12 CRAFT WINES NOW £65.88 WAS £136.38 Plus FREE WINE GLASSES AND DELIVERY! To order, visit virginwines.co.uk/VE2221 or call 0343 224 1001 quoting VE2221 JUST £5.49 Terms and Conditions: Please allow between 1-3 working days for delivery, however 85% of orders are arriving next working day. Also available as an all-red or all-white case. New customers only. UK Delivery only. You must be 18 years of age or over to buy alcohol. Strictly one case per customer. Not to be combined with any other promotion. By redeeming this offer you agree to try the Virgin Wines WineBank. WineBank uses easy monthly top-ups to save for your wine and rewards you with £1 for every £5 you deposit, plus free delivery on all future purchases. There's no obligation to buy any more wine. Your default monthly payment is £25 which you can change on Virgin Wines' website. You can cancel your WineBank membership at any time and withdraw any funds you've added. Offer is unavailable to existing WineBank members. Calls may be monitored or recorded for training purposes. Images for illustration purposes only. For full terms and conditions, visit www.virginwines.co.uk/terms DRINKING IS ONLY FUN WHEN YOU DON'T OVERDO IT death of sunbeam mechanic changed motor racing rules THE name Tom Barrett will mean little – even to those many fans of motor racing. Yet it was Tom's horrific death, on the dirt tracks of Spain in 1924, that led to a fundamental change in the sport's rules. Following the Wolverhampton mechanic's terrible death – he was decapitated after being flung from his car – engineers were banned from riding as passengers in the souped-up machines. Drivers had to go it all on their own. To an extent, Tom paid the price for Wolverhampton car company Sunbeam's bid to be the very best on the Roaring Twenties' racing circuit. And he was not the firm's only victim at the San Sebastian Grand Prix. His driver, Kenelm Lee Guinness, suffered severe head injuries and committed suicide on April 10, 1937. An inquest into the tragedy recorded a verdict of "suicide while of unsound mind". Formula One is today considered dangerous. Back then the risks were cranked up tenfold. Just three weeks before Tom lost his life, Dario Resta died when Sunbeam's new, powerful six-cylinder car turned into a fireball at the Brooklands track. Tom was born in Prestwood Road, Wolverhampton, on November 21, 1891. He was one of nine children and his dad, George, was a factory worker. Young Tom began his working life alongside his father at pump-makers Joseph Evans and Sons. During World War One, Tom was an employee of Guys Motors, famous makers of buses and lorries. During the conflict he was making depthcharge fuses at the Wolverhampton factory – a job considered so important he was excused military service. In 1915, Tom – devoutly religious and a member of St John's Church choir – married local girl Lillian Ivy Worthington-Roberts and they set up home in Burleigh Road. Three years later, Tom took on a new job, working for the company on aero-engines. When Guys stopped the aeroengine branch of their business, Tom moved to Sunbeam, involved in making engines for airships. High-profile crashes pretty much destroyed public interest in airships and the young mechanic was switched to Sunbeam's "experimental department", tasked with building the brand's motor racing empire. Sunbeam's interest in the sport had been fuelled by Frenchman and chief engineer Louis Herve Coatalen, who saw the advertising opportunities of making sure the Wolverhampton manufacturer was featured in the The damaged Sunbeam car after the fatal crash and (above) driver Kenelm Lee Guinness world's top races. Coatalen had, himself, raced cars. And Sunbeam certainly made their mark. In 1923, they registered their biggest success when Henry Segrave won the French Grand Prix while his team-mate, Albert Divo, came second. Sunbeam's other driver, Kenelm Lee Guinness, of the famous brewing family, crossed the line in fourth place. In those days, it was vital a mechanic took the passenger seat because there were no pit-stops and running repairs on the road were often needed. The Gods were against Tom at San Sebastian on September 27, 1924. He was not supposed to share Guinness' car, but was drafted in when the driver's usual mechanic, Bill Perkins, was injured in the Brooklands fatal crash. It rained heavily before the San Sebastian race and the organisers, in the hope of making the many curves less treacherous, ordered that sand be scattered across the course. Unfortunately, no sand was available locally and instead clay from the surrounding field was spread on the circuit. This only
www.birminghamlive.co.uk FRIDAY, SEPTEMBER 24, 2021 BIRMINGHAM MAIL 13 www.memorylane.co.uk ON THIS DAY 1776: The oldest of the classic horse races, the St Leger, was first run at Doncaster. 1848: Branwell Bronte, brother of the Bronte sisters, died. He was the inspiration for the violent drunk, Hindley Earnshaw, in Emily Bronte's Wuthering Heights (1847). 1852: The first hydrogenfilled airship, powered by a 3hp steam engine built by Henri Giffard, made its maiden flight at Versailles in France. 1853: The Northern Daily Times became the first provincial newspaper in England. 1896: American writer F Scott Fitzgerald was born. He became an alcoholic in his early 20s and died aged 44 after having two heart attacks. He wrote the definitive 1920s novel The Great Gatsby in 1925. 1930: The first performance of Private Lives by Noel Coward took place at the New Phoenix Theatre, London. served to make the course even more slippery and dangerous. Disaster struck on the 11th lap. Guinness lost control of his car, probably after hitting a rut in the road, and it left the track. Both driver and mechanic were thrown clear and landed in a railway cutting. Guinness received severe head injuries but survived, but Barrett was not so fortunate. Speaking about the traagedy, Tom's great-nephew, Philip Tonks, of Wombourne, Staffordshire, recalled: "The story that my dad always told me was that his mum was playing at their home and Tom suddenly appeared to her. "He told her he had come to say goodbye. It was several days before the family learned he had been killed, but it was at the moment he was killed that he had appeared." Sunbeam's other driver on the day, Henry Segrave, was oblivious to the tragedy and went on to win the race, with Italian mechanic Luigi Marocchi sitting next to him. Tom's remains were brought back to England and his funeral was held at Holy Trinity Church, Heath Town. Kenelm Lee Guinness was unable to leave hospital so he was represented by his brother, Sir Algernon Lee Guinness, at the service. Sir Algernon had set his own world land speed record in 1908. Tom's headstone reads: "In sacred memory of my beloved husband Thomas Barrett who was accidentally killed in the Grand Motor Circuit of San Sebastian, Spain, on September 27th, 1924, aged 32 years." Kenelm Lee Guinness' physical injuries meant he could never race again – and the brain damage he received altered his personality. He was also deeply traumatised by Tom Barrett's death, although he could never remember how he came to lose control of the car in the race. In 1937, suffering with delusions, Guinness was admitted to a nursing home. He returned home, but on April 10, 1937, he was found dead in his bedroom, having apparently gassed himself. Tom's death may have saved many other lives. Because of the accident, the sport's governing body reassessed the rules and decided mechanics should never ride in the cars during races. His widow was given a job at Sunbeam and later worked as an auxiliary nurse at Wolverhampton's Royal Hospital. Sunbeam paid a heavy price for ploughing a fortune into its motor racing dreams. In 1924, they borrowed cash for their Grand Prix programme and, with sales slowing, admitted a decade later that they could not repay the loan. A receiver was appointed and the company – set up in 1905 – was snapped up by Rootes Brothers. It was a huge fall from grace for a company that, at its 1920s height, employed 3,500 workers at the 50-acre Moorfield plant. The manufacture of Sunbeam cars ceased, but Sunbeam trolleybuses continued to roll off the production line. In 1938, Rootes added the Sunbeam name to their range of Talbot vehicles. In 1954, they changed the Sunbeam-Talbot brand to simply Sunbeam. Under that banner, the firm produced a truly iconic vehicle, The Alpine – a two seater roadster that became one of THE cars of the Swinging Sixties. Formula One is now synonymous with glamorous locations. But it was Wolverhampton – and Tom Barrett – who helped make it what it is today. Louis Coatalen Henry Segrave 1953: The Robe, the first film made in CinemaScope, was premiered in Hollywood. 1960: The first nuclearpowered aircraft carrier, the USS Enterprise, was launched in Newport, Virginia. 1975: Everest was climbed by the south-west face for the first time by Dougal Haston and Doug Scott. 2020: A tiny but playable Rubik's Cube – so little it fits on your fingertip – went on sale in Japan to mark the 40th anniversary of the 3D puzzle. BIRTHDAYS Brian Glanville, football writer and novelist, 90; Helen Lederer, actress and writer, 67; Theo Paphitis, entrepreneur (Dragons' Den), 62; Jack Dee (pictured) comedian and actor, 60; Ally McCoist, broadcaster and former footballer, 59; Victoria Pendleton, former track cyclist, 41. Get everything you need to know about where you live with our app or via the InYourArea.co.uk
www.birminghamlive.co.uk FRIDAY, SEPTEMBER 24, 2021 BIRMINGHAM MAIL 15 Paralysed driver was punched and kicked Shoppers use cards to pay for 80% of purchases CARD payments accounted for more than £4 in every £5 spent in 2020, British Retail Consortium (BRC) figures show. Debit and credit card transactions accounted for 81% of the value of spending last year, up from 78% in 2019. Debit cards accounted for more than half (54%) of all transactions by volume for the first time. The impact of the coronavirus pandemic and the longer term shift towards digital transactions meant cash accounted for just 15% of the value of total spending in retail, down from 20% in 2019. People also tend to be making fewer shopping trips but buying more when they do make purchases. The total number of transactions fell by 13% last year, from 19.1 billion in 2019 to 16.7 billion in 2020. But consumers spent 20% more per transaction on average. And retailers spent £3 billion just to accept card payments from customers in 2020, the BRC said. News Life expectancy numbers drop Life expectancy for males in the UK has fallen for the first time since current records began, new figures show. A boy born between 2018 and 2020 is expected to live until he is 79.0 years old, down from 79.2 years for the period 2015-2017, according to the Office for National Statistics (ONS). Estimates for females are broadly unchanged, with a baby girl born in 2018-20 likely to live for 82.9 years, the same as in 2015-17. The figures reflect the impact of the coronavirus pandemic, which led to a greater number of deaths than usual last year, the ONS said. In the West Midlands, there was a fall of three months for males and two months for females. THE 20th ANNIVERSARY UK TOUR Phil McIntyre Entertainment, Queen Theatrical Productions and Tribeca Theatrical Productions present Craig Robins JORDAN REYNOLDS News Reporter A WITNESS who came to the aid of a paralysed man who suffered an attack in a car that led to his death 13 years later has described hearing the commotion outside her home. The eyewitness said she heard a noise from outside the front of her flat and saw about 20 people surrounding a car in Lomax Road, Hednesford, on October 30, 2006, Stafford Crown Court heard. She shouted at the group before coming to the man's aid when she realised how seriously injured he was. Craig Robins was attacked in his car outside a house party after driving around with a machete to find out who was responsible for damaging his car, Jeremy Benson, prosecuting, said. Mr Robins, who was wheelchairbound after being left paralysed from the chest down in a car crash, spent weeks in hospital then years at home with 24/7 care from his family but never woke up. He died in 2019. Brothers Bernie Smith, 30, of Rowley Close, Hednesford, and Kyle Smith, 33, of Pebble Mill Drive, Cannock, both deny manslaughter. The witness said: "There were approximately 20 people surrounding the front and both sides of the front of the vehicle. A male was holding something behind his back and he had a white T-shirt on but it was very dark. I thought it was possibly a pellet gun. I went outside my property and shouted at them all. They were about 20 metres away. "There were several people around the driver's side, someone sitting in the car. The car was running, the lights were on. One went around the passenger door. It looked like they were punching and kicking the driver. The driver's door was open. "Everything just happened so fast. When I shouted they all ran away." The witness said the punching and kicking went on for a few minutes before she shouted "have you finished?" She added: "One person made their way around the car and opened the door and held onto the roof of the car kicking their legs in. "I initially went down to the car thinking it was a scenario of 'are you OK? Yes I am, thanks, ta-ra'. "Clearly an ambulance was needed so I went back to the flat and rang an ambulance. Two other men have admitted charges in the case. On September 7, James Milligan, 42, of Cannock, admitted manslaughter at Stafford Crown Court. Gavin Brown, 36, of HMP Lancaster Farm, admitted the murder of Mr Robins in June. (proceeding) 'A NEW BREED OF MUSICAL - BRILLIANT' BBC Newsnight 'A KIND OF MAGIC. SPECTACULAR. MAGNIFICO!' The Sun YOUR FINAL CHANCE TO SEE THE ROCK PHENOMENON BOOK WEWILLROCKYOU.CO.UK TICKETS NOW AT MON 4 JUL – SAT 30 JUL 2022 BIRMINGHAM HIPPODROME
OCT SEP 16 BIRMINGHAM MAIL FRIDAY, SEPTEMBER 24, 2021 @birmingham_live News Tributes to traffic cop who died in road crash PC Stephen Harris jane tyler News Reporter Tributes have been paid to a West Mercia police officer who died in a Birmingham road crash. PC Stephen Harris was off duty when he was killed in the traffic accident in Erdington. It is believed he suffered a medical episode whilst driving along the A38 Tyburn Road. His family have spoken of their devastation, saying he was "loving and caring". The accident happened at around 6pm on August 28 at the junction of the A38 Tyburn Road and Stoneyhurst Road. No other vehicles were involved with the crash and West Midlands Police said he appeared to have suffered a medical episode at the wheel. He worked as a traffic We cannot believe that our adored, selfless, funny, spirited Stephen will no longer walk through the door. Family statement officer, stationed in Bromsgrove at the time of his death, and had been married to wife Lisa for 29 years, and had a daughter, Elisabeth. They said he had joined the police force 12 years ago at the age of 41 and worked within the Operational Police Unit. In a statement, his family said: "Stephen was a loving, caring person and we are heartbroken that we will no longer see his cheerful, cheeky face. "We cannot believe that our adored, selfless, funny, spirited Stephen will no longer walk through the door. "Never to be replaced and never to be forgotten." They added that he had switched careers late in life, becoming a police officer at the age of 41. "He was the ultimate professional and although he did not join the service until he was 41, he proved it was never too late to change direction in life," the statement said. "He always wanted to be a traffic officer and finally achieved his dream in 2019." PC Harris's death has now been referred to the coroner. West Mercia Police paid tribute to their office, adding: "Our thoughts and deepest condolences continue to be with his family, friends and colleagues." ➤ GET YOUR COPY OF THE MAIL DELIVERED TO YOUR DOOR... FOR HALF-PRICE: SEE PAGE 37 PHIL MCINTYRE LIVE LTD & BABY COW PRODUCTIONS ALAN PARTRIDGE starring STEVE COOGAN writ ten by STEVE COOGAN NEIL GIBBONS & ROB GIBBONS FOR FURTHER DATES SEE OUR WEBSITE Autumn Tribute Shows Fri 24th UB40 RATS IN THE KITCHEN £28 Sat 25th ABBA & 70's £28 Fri 1st JERSEY BOYS £28 Sat 2nd MICHAEL JACKSON £28 Fri 8th MOTOWN £28 Fri 15th TAKE THAT & BOY BANDS £28 Fri 22nd SOUL & MOTOWN £28 Fri 29th ABBA & 70's £28 Sat 30th SOUL & MOTOWN £28 Fri 5th JERSEY BOYS £28 Fri 12th FREDDIE MERCURY £28 ALL TICKET PRICES INCLUDE 3 COURSE DINNER, LIVE ENTERTAINMENT, DJ AND LATE BAR 'STRATAGEM' The brand new live show EXTRA DATE ADDED DUE TO OVERWHELMING DEMAND UTILITA ARENA 27 – 29 MAY 2022 DON'T MISS OUT-BOOK NOW ALANPARTRIDGELIVE.COM | TICKETMASTER.CO.UK Fri 19th Nov ABBA & 70's £28 Sat 20th Nov SOUL & MOTOWN £28 Fri 26th Nov RATS IN THE KITCHEN - UB40 £35 Sat 27th Nov FASCINATION PARTY NIGHT £35 Fri 3rd Dec JERSEY BOYS £40 Sat 4th Dec TAKE THAT & BOY BANDS £40 Fri 10th Dec SOUL & MOTOWN £40 Sat 11th Dec SOUNDATIONS PARTY NIGHT £40 Fri 17th Dec FASCINATION PARTY NIGHT £40 Sat 18th Dec 'RANG A TANG' PARTY BAND £40 Fri 31st Dec JERSEY BOYS £65 TO BOOK CALL US ON: 01675 444 890 www.thelakeatbarston.co.uk Located between Meriden & Balsall Common Marsh House Farm Lane, Barston, Solihull B92 0LB
18 BIRMINGHAM MAIL FRIDAY, SEPTEMBER 24, 2021 @birmingham_live News Iconic city pub is being rebuilt brick-by-brick ISABELLE BATES News Reporter A WELL-known pub knocked down 20 years ago is being rebuilt brick-by-brick. The Elephant and Castle, which once stood on the corner of Stafford Street and Cannock Road in Wolverhampton, will be part of the Black Country Living Museum's new 'Forging Ahead' project. It will make up part of a 1940s-60s town centre at the Dudley site. Tim Darrall, who is working on the restoration, was shocked when he realised he used to drink in the pub in the 1980s. "It's a great honour to be working on the Black Country Living Museum's Forging Ahead project," the site supervisor for AFB Ltd said. "I was so pleased when I heard I would be working on the Elephant and Castle, a pub that I used to frequent. It is a much-missed landmark. "Back in 2001, when it was knocked down, I would have never thought I'd be involved in its recreation, let alone be one of the people to lay the first bricks and I can't wait to have my first pint in the finished build" Built in 1905, the Elephant and Castle was once a grand Edwardian pub, and a landmark for those coming into Wolverhampton. In 1910, it became part of the Banks's estate who were rapidly becoming one of the largest breweries in the Midlands. Typical of its era, it had a public bar for the working class and for the middle class it had a separate smoking room with slightly higher prices. John Hughes and Tim Darrall are helping with the reconstruction of the Elephant & Castle, below The pub's clientele was known to be diverse, with Wolverhampton home to many thousands of Irish immigrants during the 19th century. After World War Two, both the Irish and Commonwealth citizens from India, Pakistan and the Caribbean could be found enjoying a drink in the Elephant and Castle. Little is known about The Elephant and Castle's licensees in the post-war period. The Museum believes a Sydney Jones was in charge in the 1940s, and Doris May Davies in the 1960s. The pub's decline in later years was capped by its unexpected demolition in 2001 – shortly before it could be considered for listing. John Hughes, project lead for Forging Ahead at the Black Country Living Museum said: "The pub will play a pivotal role in the Museum's community and welcome thousands of visitors once again. "When the build is complete, the next stage will be 'set dressing' the interior, so that we are able to tell the story of this beautiful building." Optician's joy at new move AN optician has spoken of his joy as he moves on from "dreadful" premises which are plagued by damp. Ian Hadfield, who has practised at Kingshurst Parade in Solihull for 44 years, said the council had provided him with a more up-to-date unit as part of redevelopment plans. The move, Ian hopes, will be completed shortly and he could see his first patients on September 23. It come amid the longawaited regeneration of the precinct, which will see millions invested to develop the area over the next four years. Ian said: "When I moved in I took over from another optician and the premises were already in a dreadful state. They could have done with being demolished then. "It's not the best shopping centre in the world. But they are going to make it quite nice." MON 13 JUNE 2022 BIRMINGHAM RESORTS WORLD ARENA THURSDAY 28 OCTOBER BIRMINGHAM SYMPHONY HALL billybragg.co.uk gigsandtours.com ticketmaster.co.uk an SJM concerts presentation by arrangement with paradigm an SJM concerts and friends presentation by arrangement with paradigm GIGSANDTOURS.COM LIVENATION.CO.UK THETICKETFACTORY.COM TICKETS ON SALE TODAY AT 9.30AM PRESENTED BY SJM CONCERTS & LIVE NATION BY ARRANGEMENT WITH ICM PARTNERS 40 TH ANNIVERSARY GREATEST HITS TOUR RESCHEDULED DATE - ORIGINAL TICKETS REMAIN VALID FRI 12 NOV 2021 O2 INSTITUTE GIGSANDTOURS.COM TICKETMASTER.CO.UK
OPEN DAY DATES 18TH–20TH AUGUST LIVE THE LIFE YOU LOVE IN THE MIDLANDS Hagley Rd A456 Birmingham City Centre Bath Row B4127 Harborne Rd Calthorpe Rd Birmingham New Street Islington Row Middleway Five Ways Westbourne Rd The Birmingham Botanical Gardens Highfield Rd † Hallfield School Church Rd Audley St George's Place St James Rd Charlotte Rd Edgbaston Cricket Ground A450
20 BIRMINGHAM MAIL FRIDAY, SEPTEMBER 24, 2021 @birmingham_live News Fellowship honour for Patricia staff reporter PROFESSOR Patricia Thornley from Aston University has joined the Royal Academy of Engineering as a Fellow. The Director of the Energy and Bioproducts Research Institute (EBRI), which is based at Enjoy Movie Nights for Choose 2 medium pizzas* the University, joins a total of 69 leading figures in the field of engineering and technology to the fellowship. Each individual has made exceptional contributions to their sectors in their own way, as innovation leaders, inspiring role models, or through remarkable achievements in business or academia. This year's new Fellows are the first to reflect the Academy's Fellowship Fit for the Future initiative announced in July 2020, to drive more nominations of outstanding engineers from under- represented groups £ 5 With our meal deal ahead of its 50th anniversary in 2026. This initiative will see the Academy strive for increased representation from women, disabled and LGBTQ+ engineers, those from minority ethnic backgrounds, non-traditional education pathways and emerging industries, and those who have achieved excellence at an earlier career stage than normal. Professor Thornley said: "It is such an honour to be admitted to the Academy and be able to represent Aston University, EBRI and females within engineering." Aston University Professor Patricia Thornley has joined as a Fellow of The Royal Academy of Engineering + 1 drink 1 Sky Store Movie Voucher + OR 1 Vue Cinema 2D Voucher Selected Asda stores. Subject to availability. Medium thin & crispy stonebaked pizzas: cheese meltdown £3 358g (£8.38 per kg)/ pepperoni feast £3 354g (£8.47 per kg). Coca-Cola classic bottle £2 1.25 litre (£1.60 per litre). UK,18+ only. Open from 0:01 02/08/2021 – 23:59 01/11/2021. To claim, purchase a qualifying pizza meal deal from Asda and go to www.movienightsin.co.uk, enter your name and email address then upload your receipt. Requires registration, internet access and a valid email address. Products in offer: Medium Thin & Crispy Stone baked and Deep Pan Pizzas in any 4 topping flavour or 4 topping Create Your Own. Pizza's £3 each. Includes Coca Cola 1.25L each, Diet Coke and Coca-Cola Zero Sugar 1.75L each, Sprite 1.5L each, FANTA 1.5L each. Drinks £1.88 to £2.10 each. Reward: Either 1x Sky Store Movie Voucher worth £5.49 to redeem at Sky Store website/app OR 1x Vue 2D ticket to redeem at Vue website/Box Office. Must redeem within 7 days of purchase and keep receipt to be validated. One claim per person, per receipt. For full Ts & Cs visit www.movienightsin.co.uk. Promoter: Asda Stores Limited, Southbank, Great Wilson St, Leeds LS11 5AD, UK. **upto 50% off mega lingerie** Here, at Angels we carry a wide range of sex toys, fetish clothing, lingerie, costumes, wigs, Shoes, bondage, Electric stimulation, sex machines, CBT, R18 DVDs, adult novelties, games, Lubricants, massage oils, lotions and potions, room odourisers, CBD products and magazines in Our bricks and mortar store as well as our online shop. We stock the latest quality adult gadgets from all the major manufacturers with new stock constantly updated at competitive prices both in store and online. Our staff are friendly and knowledgeable and will put you at ease. They are Always happy to help, regardless of your gender or age. As we situated within half a mile from the M42 and A5 Junction and m6 links and the toll road we are easy accessible from Derby, Birmingham, Leicestershire, Coventry, Cannock, Lichfield and Solihull and surrounding areas. Our store is discreetly located and has free onsite parking. We offer a click and collect service on items in stock and all of our web orders are sent out in discreet packaging with free postage on orders £30 or more. Please see website for opening times for store. www.angelsoftamworth.co.uk 01827 265551
www.birminghamlive.co.uk FRIDAY, SEPTEMBER 24, 2021 BIRMINGHAM MAIL 21 Mike Lockley THE HICK FROM THE STICKS... GETS TO GRIPS WITH LIFE IN THE BIG CITY OCTOBER – the wet and windy month of drowned dogs – is not yet with us, but already a drizzle of festive press releases glisten in my email account. The tinsel propaganda has begun very early. Already this paper and its online site has informed readers of the first shops selling Christmas trees, the Yuletide events in our region and the seasonal fare on offer in supermarkets. Warnings about buying puppies at Christmas and articles on what lags will be tucking into in Her Majesty's prisons on December 25 will soon be pinged my way. It is a thoroughly depressing state of affairs and I fear that infernal Christmas single by Slade will be heard in the first days of November. I have just received a PR misletoe missive entitled, "Food to freeze ahead of Christmas supply chain concerns." It informs me parsnips can be placed on ice for a very long time: "This honey covered Christmas staple will stay good to eat for around nine months. You can freeze them in small cubes, or chunks. Blanching parsnips before freezing them will lock in their flavour and texture." It urges me to deep freeze my Brussels sprouts, which misses the point of the much maligned vegetable. The general public only buy them on Christmas Eve. Very few folk desire to snack on sprouts during summer. They are not a barbecue staple. The email seems to avoid the bleedin' obvious. If all the ingredients that comprise Christmas dinner can remain in the bowels of a fridge for months, why not cook the banquet in April, plate it up and bung it in the freezer until December 24? Alarmingly, a man known as the Chicken King has warned readers Christmas may be cancelled through a CO2 shortage. Poultry farmers must be fuming over the lack of festive fumes. Ranjit Singh Boparan, owner of Bernard Matthews and 2 Sisters Food Group, has slammed the decision by two of Britain's biggest CO2 producers to halt production. The business mogul said: "The supply of Bernard Matthews turkeys this Christmas was already compromised as I need to find 1,000 extra workers to process supplies. "Now with no CO2 supply, Christmas will be cancelled." That's bad news for consumers, What? Xmas is cancelled? but a relief for chickens and turkeys. I knew they suffered the ignominy of being stuffed. I had no idea they were gassed, too. Perhaps CO2 canisters will become the "must have" Christmas present of 2021. A dark cloud gathered over my work station as I devoured our guide to Birmingham's grottos. It was not so much the content, more the fact the article was placed online on September 12. "You can complete a Christmas quest, making your way through 10 magical rooms in Magic Alley before meeting Santa Claus," the piece reveals. "On the way, you'll meet characters and magical creatures, then all children receive a present. At the end you can even have a 'snowball fight' in the Enchanted Forest". The vast majority of youngsters visiting those grottos, will, I'm sure, have seen through the Father Christmas fable. They simply stay schtum for fear failure to go along with the preposterous chain of events will negatively impact on the haul of presents received. And they're quite right to do so. Admit Father Christmas doesn't exist and you start getting jumpers. The real question is, how – and when – parents reveal the truth. I was three. We were poor. Dad ran excitedly into the living room thrusting a sheaf of creased paper aloft. "It's from the North Pole," he grinned. We gathered round him, giggling nervously. He scrutinised the letter, then read allowed: "Dear children, I'm afraid Santa has been involved in a horror sleigh accident. He did not pull through, so, obviously, won't be visiting you. Sorry. "PS: Rudolph died, also." Writing in the Lancet, leading psychologist Christopher Boyle warned of the perils attached to the Christmas "fib". Professor Boyle, of the University of Exeter, said: "The morality of making children believe in such myths has to be questioned. "All children will eventually find out they've been consistently lied to for years, and this might make them wonder what other lies they've been told. "Whether it's right to make children believe in Father Christmas is an interesting question, and it's also interesting to ask whether lying in this way will affect children in ways that have not been considered." Poppycock. I've yet to meet an addict who's mumbled: "Then I found out Mum and Dad had lied about Father Christmas and just hit the crack." Today, children are savvy enough to see through North Pole propaganda at a very early age. "Have you written your letter to Santa?" I asked a seven-year-old nephew last year. "There's no such thing," he lisped. "You don't believe in Santa?" I gasped, feigning surprise. "I don't believe in letters." fuNNIes n MY mate reckons he can down 20 shots of tequila in 15 minutes. I take that with a pinch of salt n WHEN I win the lottery I'm going to make sure no one in my street is poor. I'm moving n MY car conked out and when I opened the bonnet there was a bat inside. It said: "You are looking fantastic today!" Bat flattery n I ENTERED a weather pun competition and beat the raining champ n SINCE I gave my Burt Bacharach LP collection to a charity shop, I just don't know what to do with my shelf MORE LAUGHS WITH MIKE LOCKLEY IN THE
22 BIRMINGHAM MAIL FRIDAY, SEPTEMBER 24, 2021 @birmingham_live News £50k donation helps dog charity hit its halfway target to fund veterinary clinic ANIMAL INSURANCE FIRM GIVES APPEAL A MASSIVE BOOST We buy any house! WE BUY HOUSES FOR CASH Sell in days – or in your timescale No fees & no obligation Any condition or location NAPB approved & RICS regulated GET UP TO £30,000 CASH ADVANCE Call us FREE today for a cash offer available 24/7 0800 031 9071 goodhousemove.co.uk BEST PRICE PAID CHARLOTTE REGEN BIRMINGHAM Dogs Home is half way to starting its new veterinary clinic after receiving a whopping £50,000 donation. The charity is aiming to raise £100,000 to help fund new equipment for the clinic through its Healing Hearts campaign. It comes after BDH spent more than £230,000 on essential medical care for the 2,500 dogs it took in last year. The charity says this level of veterinary costs is not sustainable as it receives no government funding. So in a bid to curb costs, the dogs home Building our own in-house clinic is one of the most important decisions in the development of the charity. Giles Webber decided to start its own clinic. Animal Friends Insurance has donated £50,000 towards a dedicated x-ray room and equipment for the clinic. However, another £50,000 still needs to be raised. The charity has made a list of how donations will help fund the clinic. The new veterinary facility is predicted to increase the survival rates of dogs taken into the centre's care in a life-critical condition and shorten the length of time that dogs need to remain in Birmingham Dogs Home's care. It is also hoped it will also boost the rehoming rate, with faster rehabilitation. Giles Webber, chief executive at Birmingham Dogs Home, said: "The cost of this care is now reaching over £200,000 a year. "Building our own in-house clinic is one of the most important decisions in the development of the charity." How donations can help: n £8 can pay for antibiotic ointment, gauze wipes and towels. n £44 can pay for an orthopaedic recovery bed to help keep dogs comfortable after surgery. n £135 can pay for a stretcher trolley. n £360 can pay for kennel mattresses for the wards. n £500 can pay for an examination table. n £1,495 can pay for a medical anaesthetic system. n £9,000 would pay for advanced orthopaedic equipment to mend broken bones. Could Razor or Dane be the perfect pooch for you? THE longest residents at Birmingham Dogs Home have been in kennels for almost a year - but there's a reason they keep getting overlooked. Razor, an American Bulldog cross, has been at the Wolverhampton Centre since September 28, 2020. The eight-year-old became deaf after undergoing double TECA surgery, which involves removing a dog's ear canals. However, Razor has been described as a playful dog who loves going on walks with his fourlegged friends. He is a sweet boy who will roll on his back for a fuss. Razor is full of character and is a big, slobbery dog who needs someone who has the time and patience for him. Razor He can live with children who are over the age of 13. Another dog who has been living at the Birmingham Centre for nine months now is Dane, who found himself in kennels after his owner died. Dane is three years old and has guarding instincts so it will take time for his new family to get to know him, with multiple visits to the centre. This is down to a lack of socialisation. He does like other Dane Birmingham Dogs Home spent over £230,000 caring for 2,500 dogs last year dogs and could potentially live with another female dog. He has a lot of love to give but is not suitable for living with other children. Rachel Frost, the digital marketing officer at Birmingham Dogs Home, explained why dogs like Razor and Dane often get overlooked. "They are often overlooked because of their size. Bigger dogs take a bit longer to rehome," she said. "A lot of people also get frustrated when the dogs aren't suitable to live with other dogs and children. "We have to make sure the family and home match to the dog and the dog matches to the family." You can also keep up to date with all the news by following the Mail's TeamDogs social pages.
www.birminghamlive.co.uk FRIDAY, SEPTEMBER 24, 2021 BIRMINGHAM MAIL 23 News Missing river rescue kit replaced at drowning site EQUIPMENT WAS PLACED THERE AFTER STUDENT'S TRAGIC DEATH JANE TYLER News Reporter LIFE-SAVING equipment near the River Severn spot where a Bromsgrove student drowned is now back in place after going missing for several months. The rescue pole disappeared from the river bank in Worcester in July - but it has now been replaced. It was placed there after 18-year-old student Thomas Jones died in 2018 after falling into the water on a night out. The PortSafe station is located by the steps on Bromwich Parade near the swan sanctuary, on the banks of the River Severn in Worcester city centre. There is a long pole with a buoyancy aid and hook at the end to help pull people to shore if they get in difficulties in the water. Also inside the station is a throwline which can be used in any rescue to haul those in need to the bank. The equipment is released when a code is entered, given when a caller contacts the emergency services. The long pole went missing in July of this year and it is not known if it was stolen or was used in an emergency by someone and never replaced. But now a new long pole has been put in its place by Worcester City Council. There are now two PortSafe rescue stations along the River Severn in memory of Thomas. He drowned after falling into the river while walking home after a night out in September 2018. He was missing for nine days before his body was discovered in the river. An inquest heard it was "more than likely" Thomas, a West Bromwich Albion fan, went into the water to try and assist somebody who cried for help. His parents Vicki and Ian Jones, from Bromsgrove, backed water safety campaigns and equipment being placed along the River ern last summer. West Mercia Sev- Police PCSO Steve Freeman said: "There are many hidden dangers in open water - including cold water tempera- tures that can lead to cold water shock and hidden currents." The PortSafe station is located by the river where student Thomas Jones (inset) died McDonald's to reduce plastic toys McDONALD'S plans to "drastically" reduce the plastic in its Happy Meal toys worldwide by 2025. The burger giant said it was working with toy companies to develop new ideas, such as threedimensional cardboard superheroes children can build or board games with plant-based or recycled game pieces. McDonald's said it was also exploring using recycled plastic toys to make new restaurant trays. McDonald's sells more than one billion toys each year. The company says the new goal will reduce virgin plastic use by 90% compared to 2018 levels. In the United Kingdom and Ireland, McDonald's restaurants are already only offering soft toys, paper-based toys or books. Burger King removed plastic toys from children's meals in the UK in 2019. SCHOOL LEAVERS IT'S NOT FREE METRO TRAVEL COME IN, TALK TO US & MEET YOUR TEACHERS 100s OF COURSES APPRENTICESHIPS T LEVELS talk to us! CALL 0800 622 006 OR VISIT SANDWELL.AC.UK CENTRAL CAMPUS, SPON LANE, WEST BROMWICH B70 6AW OR FREE BUS TRAVEL (with option to top-up to both) for all 16-18 full-time students See website for conditions and details.
24 BIRMINGHAM MAIL FRIDAY, SEPTEMBER 24, 2021 @birmingham_live News Bus interchange closes A BUS interchange at Perry Barr One Stop Shopping Centre is to close as a part of bus route regeneration works. The closure takes place on Sunday, September 26 until April 2022 with temporary bus stops for several services being put in place. Bus services into Birmingham city centre are not affected by the closure of the interchange. It is part of the Perry Barr masterplan to revamp the area, with £700 million invested into better infrastructure, new homes and improved community space. Changes include the redevelopment of the Perry Barr train station near One Stop Shopping Centre. More details can be found on National Express West Midlands website. Car parts theft POLICE warned residents to be vigilant after armed thugs attempted to steal cars amid a spate of catalytic converter thefts. Catalytic converters were stolen in Tividale, Brierley Hill and Pedmore, with failed attempts in Quarry Bank, Halesowen and Wolverhampton. Catalytic converters contain precious metals which makes them a target for criminals. Narendra Parmar An uplifting celebration of Britain's most inspirational pets Scientist is honoured after death from Covid PETS ARE FOR LIFE, NOT JUST LOCKDOWN NOMINATE NOW THEPEOPLESPETAWARDS.CO.UK TAKE THE DOGS TRUST SURVEY NOW 68-year-old had worked for nhs for more than 50 years STAFF REPORTER A BIRMINGHAM scientist who died from Covid after more than half a century of devoted service to the NHS has been honoured. Narendra Parmar, 68, worked in every department of the NHS Blood and Transplant (NHSBT), near Queen Elizabeth Hospital, in a career spanning 52 years. The father-of-three, who was a specialist biomedical scientist in Red Cell Immunohaematology (RCI), died in April after contracting Covid. His widow, Manjulla, 70, cut the ribbon at a poignant ceremony to unveil a meeting room dedicated to his memory at the centre. A rose bush was also planted. His daughter Reena Mianger, 42, said: "He was our legend. He did everything for his family, nothing was too much trouble. He was a happy soul, so easy to get on with. "He was a father figure to people at work. He was very knowledgeable and willing to help others in his department. He was amazing and when he passed away, it was a shock." Mr Parmar was a grandfather-offour and lived in Dickens Heath in Solihull. His colleagues said he loved playing the harmonica at community and Diwali functions and would do so at every opportunity. Ian Skidmore, head of RCI laboratory, paid tribute in April, saying: "Narendra had the biggest heart and was so generous. "Whilst he was still doing nights, everyone used to want to be on shift with him as he would invariably bring enough of one of Manjulla's famous curries to share with all. "No task too much, always the first person to offer help, lend a shoulder to cry on in tough times, he was the glue to our RCI family. His big smile was infectious and the perfect start to the working day. "You couldn't help but be enthralled listening to one of the many tales he had about life in NHSBT over the last 50 years. "There are people in this world who bring a light so great that even after they have gone, the light remains. Narendra is one such light."
26 BIRMINGHAM MAIL FRIDAY, SEPTEMBER 24, 2021 @birmingham_live News Tributes paid to 'popular and creative' Tess JAMIE BRASSINGTON News Reporter A WOMAN who was found dead in Staffordshire has been described as "popular, kind and creative" by her heartbroken family. The body of 30-year-old Theresa Steele, known as Tess, was discovered on open land near Wolseley Bridge, close to Rugeley, on September 14. Staffordshire Police said it was not treating her death as suspicious. A report is being prepared for the coroner. Tess, from Rugeley, was an artist, writer and video gamer who made videos on broadcasting platforms Twitch and YouTube. Her sister-in-law Amy, 31, described her death as "very shocking and tragic". A "celebration of life" event has been organised for Tess while a fundraising page has also been launched in her memory, raising £1,100 so far. Amy, who is married to one of Tess's five brothers, and had known her for 13 years, said: "Tess was private and she was quiet but she was caring. "She was well liked by people. "We have had a lot of people say what a lovely person she was, which has been really nice to hear. "She was very much into gaming. She was a gamer, she did streaming on Twitch and made YouTube videos of her stream. "She was an artist, she liked to write, she was a creative person. "There is a lot of artwork and writing that has been left behind. "It has been very shocking for everybody." Amy, who set up the fundraising page, described Tess's death as "unexpected and deeply tragic for all who knew her". Amy added: "We have chosen to have a celebration of life rather than a wake. "It will be a celebration rather than a funeral. It has been very shocking and tragic, we are trying to celebrate her Theresa Steele life rather than making it any more tragic. It will focus on people coming forward and sharing their stories of Tess." 'West Midlands Three' are free THREE West Midlands Sikh men facing extradition to India over a murder have been told there is insufficient evidence to bring the case against them. Brothers Amritivir Singh Wahiwala, 40, Gursharanvir Singh Wahiwala, 37, from Coventry, and Piara Singh Gill, 38, from Wolverhampton, were accused of conspiracy to murder Rulda Singh in India. He was shot in 2009. The trio, branded the West Midlands Three by supporters, claim they were targeted by the Indian government for political reasons. Outside Westminster Magistrates' Court, protesters gathered to support the men. The court was told the UK will not be pursuing extradition due to a lack of evidence. Concluding the hearing, District Judge Michael Snow released the three men and ordered they be compensated for their travel costs. SMITH'S WOOD ACADEMY OPEN EVENING THURSDAY 30 SEPTEMBER 2021* 3:30PM - 6:30PM The curriculum is thoughtfully planned and contributes well to pupils' personal development. Ofsted 2019 *SUBJECT TO CHANGE. PLEASE VISIT OUR WEBSITE FOR DETAILS. www.smithswood.co.uk CONNECT. RESPECT. EXCEL. We would like to invite you to visit us on our Open Evening, Thursday, 30 September. You will have the opportunity to find out about our amazing journey and what we can offer your child. You will be able to talk to the Head of Academy, staff and students to find out what it is really like to be part of our school. OPEN MORNING 8 OCTOBER 9:00AM - 11:00AM Come and see us in action! APPOINTMENT ONLY CONTACT MAIN RECEPTION TO BOOK YOUR PLACE PART OF THE FAIRFAX MULTI-ACADEMY TRUST
TIME OUT » 13 PAGES OF MUSIC, FILM, THEATRE, COMEDY, DANCE, COMMENT & PUZZLES mind bender derren brown is coming to birmingham on his first tour in 6 years Are you excited about going on tour with Showman? I'm sure anyone looking at touring this year is unusually excited. It's a particular privilege to be doing it given what an impossibly disheartening time it's been for people who worked in theatre. The show was originally due to open the first day of lockdown, so it's been a long pause. The thought of finally getting it on the road, let alone seeing a crowd of people in an auditorium… all of that seems bizarre and exciting and extraordinary. So yes, it's going to be a huge treat. Has the direction of the show changed as a result of the pandemic? Strangely, the show pre-Covid was, at its heart, about how the tough things in life that we feel isolate us, tend in fact to bring us together, and be the very things that we share. And then lockdown happened, which was a strangely literal playing out of that theme. So although the benefit of extra time has allowed us to re-work the show a little and change some aspects of it, its heart has remained the same. Your live shows are known for bold theatrics and the strong, personal connection you make with your audiences. Will Showman follow suit? Well I hope so! We – my little team and I – try to provide a kind of experience you wouldn't get anywhere else. Not at a play, not at a magic show, not anywhere. That's always been a driving force. And I try to make the shows about the audience rather than about me. My manager once mentioned that the shows were unusual in that they weren't all about the magician on stage. I liked that and we now keep that consciously in mind when we put the show together. What have you missed the most about being on tour? The headspace. My old rhythms of finding coffee shops, writing all afternoon and then heading out to do the shows in the evening. And spending time with my small crew: And there is something liberating in having just the one clear thing – the show – to be concerned with. The first few weeks it might be finding its feet, but after that it's just tweaks and Lockdown was a strangely literal playing out of the show's themes Derren Brown the greatest Showman improvements and the pleasure of doing it and finding out how to enjoy each moment. And I get to be this well-rehearsed, charismatic version of myself night after night, which will also be liberating after a year and a half of lockdown and the deflated sense of self that has unavoidably brought. You've brought out a new book, A Book of Secrets: Finding Solace in a Stubborn World. What is it about and what was your inspiration? The themes of the book have fed into this show. I wrote Happy a few years ago which set out Stoicism for a modern audience, offering a powerful approach to navigating difficulties in life. A Book of Secrets continues the theme, but without the underpinning of Stoicism, and leans more into compassion and solidarity than Stoicism tends to. If Stoicism is looking for robustness, this book is searching for compassion. If we can nail both, we're in a good place… One of your flourishing passions is your art. Your portrait paintings have been widely praised and are now available to buy from your website. What draws you to your subjects? It's been a lifesaver during lockdown. I've painted these most of my life, but never had the time to properly think about selling them and producing enough of them. Turns out a global pandemic is very conducive to painting. I've always painted people I wanted to have on my walls, but I quickly ran out of space. So now people are buying them for their own walls, I can think more widely and paint anyone I admire or who I think will make for a great picture. If you're going to spend a week or so staring at a giant rendering of a face, you've got to find the person appealing too. Are there any plans to return to TV? I've quite enjoyed the break from it and exploring other projects. But sooner or later – maybe after this tour – we'll be working on a new show, I'm sure. It's been an odd year for TV commissioning, and a couple of ideas have come and gone and then had nowhere to go, so they're on the back burner until things go back to normal. This will be your 16th year on tour. Does it get any easier? Not really. Each show has to be built from scratch, and although each show teaches us something about structure that can be carried into future shows, you also don't want things to feel too familiar for an audience. The challenge of finding ideas we haven't done before both gets harder, of course, but therefore more interesting. They're always a mountain to climb, but the views are terrific. n Derren Brown is at Birmingham's Alexandra Theatre from October 26-30. Derren Brown friday £1,000 AL4 8JE BA5 1PF CF44 8UG CV6 2BP GL1 5LW SHOWBUZZ n DiSney On ice is returning to Birmingham as part of its new Find Your Hero national tour. The show will be at the NEC's Resorts World Arena during half term week, October 28 to 31, with two shows on each day. Find Your Hero is described as an adventure filled with tales of heroism from your favourite Disney stories, including Moana, Frozen, Tangled, Beauty and the Beast and The Little Mermaid. Of course, there'll also be Mickey, Minnie, Donald and Goofy. n The eDgbaStOn FireWOrkS Spectacular is returning for 2021 - and tickets are now on sale. Bosses at Edgbaston Stadium, home of Warwickshire County Cricket Club, say the event on Saturday, November 6, will feature a large funfair, face painters, balloon modellers and a wide variety of street food stalls. The night will culminate with the showstopping fireworks display, which will be the biggest the venue has ever had. n WarWick caStle is trading its chainmail for lederhosen as it hosts its first ever Oktoberfest event. Bringing a taste of Germany's renowned autumn festival to Warwick, the evening events on October 1, 2, 8 and 9 will feature entertainment from an Oompah band and DJ, street food and authentic beer. Day visitors on October 2 and 9 will also be able to get a small, family-friendly taste of the celebrations, included with their ticket price. HG1 4JT HR1 1GX HU12 9GE LL65 2AJ LN4 2PF for every ticket in these winning postcodes LS1 4PQ ME16 8SG NE25 9NU PA4 9BX S66 7DJ SA11 2HW SA31 3PQ TF2 9UT TQ10 9DE W1H 4AT
28 BIRMINGHAM MAIL FRIDAY, SEPTEMBER 24, 2021 @birmingham_live FILMS THE GREEN KNIGHT (15) HHHII The Green Knight is a fantastical odyssey torn from Arthurian legend that casts Dev Patel as a drunken disappointment to himself. A frail King Arthur (Sean Harris) presides over Camelot with Queen Guinevere (Kate Dickie) as knights tuck into a Christmas feast. A hulking emerald-skinned warrior on horseback gate-crashes and issues a challenge. The Green Knight (Ralph Ineson) offers HHHII KNEBWORTH 1996 In 1996, Oasis announced two shows at Knebworth House in Hertfordshire. All 250,000 tickets sold out in less than a day. Director Jake Scott's nostalgic documentary relives the weekend of August 10 and 11 through the eyes of fans, incorporating extensive concert footage. The recollections of Madeleine Hamilton are poignant. Then 14 years old, she secured two tickets and only attended because her KNIGHT MARE: Dev Patel his axe as a prize to any man who can land a blow in combat. The challenger must agree to receive a blow of comparable ferocity the following December. The king's nephew Sir Gawain (Patel) accepts and one year hence, he honours his promise, embarking on an epic LIVE FOREVER: Oasis's Knebworth gigs are immortalised journey north to the Green Chapel. Cinematographer Andrew Droz Palermo helps conjure nightmarish encounters with a Lord (Joel Edgerton) and Lady (Alicia Vikander) and a scavenger (Barry Keoghan). Patel is compelling as a young man gripped by selfdoubt, who discovers armour can't protect him from life's most devastating blows. Nor should it, because pain, regret and acceptance are steps on the path to nobility. ■ In cinemas from Friday brother agreed to chaperone. She describes it as a perfect moment with her sibling before his cancer diagnosis. Don't Look Back In Anger oscillates between Noel singing and Liam rudely gesticulating into a roving camera, while Stone Roses guitarist John Squire energises Champagne Supernova. Backstage footage of Liam canoodling with Patsy Kensit is a distraction from an impressive wall of sound that boasts many of the hits, including a rousing Wonderwall finale. ■ Out now Movie prequel to the SopranoS plotS teenage future Mob leader tony'S firSt StepS in the new JerSey Mafia LEFT: Michael Gandolfini as Tony Soprano TIME BOss BABY GET YOUR FAVOURITE PAPER AT HALF PRICE * ORDER YOUR COPY DELIVERED STRAIGHT TO YOUR DOOR OR SUBSCRIBE TO PURCHASE AT A RETAILER OF YOUR CHOICE AND YOU WILL SAVE 50% THERE ARE TWO EASY WAYS TO ORDER YOUR SUBSCRIPTION AND CLAIm THIS GREAT OFFER 1. You can order online at newspapersubs.co.uk/BIM It's a quick and simple process that can be done 24 hours a day. Enter the offer code DAILYCP21 when prompted. 2. If you would prefer to speak to someone, please call us on 0333 202 8000 and one of our customer care advisers will be happy to assist you to arrange your home delivery or retail subscription. Don't forget to mention the offer code DAILYCP21 to claim your additional discount. If you want to arrange home delivery from a local newsagent, the 50% discount is also available using the same offer code as above and you can give the retail subscription vouchers we send you to the newsagent as payment. If you have any other questions, please email newspapersalesteam@reachplc.com Terms and conditions: This offer is for new customers only and redeemable by direct debit. NEWS COLLECTED: *The price is £2.88 per week (50% discount) for the first 13 weeks and then £4.60 per week (20% discount) moving forward. NEWS DELIVERED *The price is £3.48 per week (50% discount) for the first 13 weeks and then £5.20 per week (20% discount) moving forward. After this period you will be given a 20% discount unless you decide to cancel. Offer ends: 31/10/2021 *Offer details correct at the time of printing.
www.birminghamlive.co.uk FRIDAY, SEPTEMBER 24, 2021 BIRMINGHAM MAIL 29 OUT the GUiLty (15) PREVIEW Jake Gyllenhaal headlines director Antoine Fuqua's English language remake of the nail-biting 2018 Danish thriller of the same name. Troubled police detective Bill Miller (Gyllenhaal) has been embroiled in controversy and he is removed from active duty to a desk job that he clearly doesn't enjoy. Miller transfers to emergency services, where he is part of a plUS frEE EXclUSivE OK! vip BEAUTY And lifESTYlE mAgAzinE! team of controllers, who take calls from the public and decide if police or an ambulance should be dispatched. As the night begins, Miller coldly passes judgement on some of his callers. Out of the blue, he connects a call from a distressed woman, who appears unable to talk freely. Miller employs his training to ascertain that the woman might be in trouble and he is sucked into her living nightmare. ■ In cinemas from Friday TOUGH CALL: Jake Gyllenhaal # OKBEAUTYBOX BAD INFLUENCES: Jon Bernthal, second left, Ray Liotta and Alessandro Nivola, far right, are all in the young Tony's orbit the many saints of newark (15) HHHII reviews by Damon smith Pride comes before two falls – one horribly intentional, the other accidental – in the feature-length prequel to sprawling crime drama The Sopranos. The film explores racial tensions in 1960s New Jersey as a vivid backdrop to the awkward rites-of-passage of the series' lead character, Anthony Soprano, played on the small screen by James Gandolfini. The actor's son Michael portrays a socially awkward younger incarnation of the sociopathic mob boss in director Alan Taylor's film. The Many Saints Of Newark opens with the diMeo crime family led by dickie Moltisanti (Alessandro Nivola) struggling to maintain a vice-like grip on the neighbourhood as black citizens loot stores and set streets ablaze in response to police brutality. dickie's loyal lieutenants Silvio dante (John Magaro), Walnuts (Billy Magnussen) and Big Pussy (Samson TENSIONS: Leslie Odom Jr as Harold McBrayer and Germar Terrell Gardner as Cyril Moeakiola) follow their boss's lead as Harold McBrayer (Leslie Odom Jr), a small-time runner in the operation, ignites a turf war by setting up a rival numbers racket with his cousin Cyril (Germar Terrell Gardner). impressionable teenager Anthony Soprano (Gandolfini) idolises dickie, more so than his father Johnny Boy (Jon Bernthal), who has just returned home to wife Livia (Vera Farmiga) after a four-year stretch behind bars. Tony watches intently as rival gangsters jostle for supremacy and blood ties are severed. Meanwhile, dickie clashes with his father (ray Liotta) and secretly covets the old man's young bride Giuseppina (Michela de rossi). The script penned by series creator david Chase and Lawrence Konner strains fraternal bonds like The Godfather and Goodfellas, nodding to the latter film's wise guys by casting Liotta. There are few concessions to audiences unfamiliar with the awardwinning TV show. Screenwriters occasionally foreshadow events in the series, like when Tony's nephew Christopher Moltisanti, who appears briefly as a mewling infant here and will be choked to death by his uncle in adulthood, bawls when he stares into the eyes of teenage Tony. "i don't know what it is. it's like i scare him or something," chuckles the adolescent Soprano. Gandolfini possesses some of his father's mannerisms, tethering the two timelines as superb production design and costumes step return us to an era of sharp suits and bouffant updos. Characters take tragic tumbles but Chase and Konner's script maintains a solid footing. ■ In cinemas now SUBScriBE TOdAY And gET ThiS SignEd, limiTEd-EdiTiOn BEAUTY BOX cUrATEd BY SUpErmOdEl JOdiE Kidd fOr juSt £7.50 AvAilABlE OnlY WhilE STOcKS lAST! London botanicaL LaboratorieS Bright me Up Serum (full size) rrP £55 revitaLaSh Advanced Eyelash conditioner (luxury sample size) rrP£31 dr. PawPaw rich mocha Balm (full size) rrP £6.95 eyeko Sport Waterproof mascara (luxury sample size) rrP £5 SubScribe and Save today at okbeautybox.co.uk *£7.50 offer is only available to new customers. OK! Beauty Box subscription is £15 per month thereafter. onLy £7.50* worth over £120 free p&p Monu Skin micellar Water (full size) rrP £23.95 Brought to you by
30 BIRMINGHAM MAIL FRIDAY, SEPTEMBER 24, 2021 @birmingham_live TIME OUT COMEDY You're finally heading out on tour with your postponed stand-up show Audience Precipitation. Have you had to change it much postlockdowns? (LAuGHS) I'm dying to get back on stage before I kill someone. I'm like a house on fire. I'm planning to start the show with a little two-and-a-half minute montage of all the things I've got up to since March last year. I have a photo of me at the beginning of it all in a supermarket in Ireland with empty shelves – that's how crazy things were. People thought all the food was going to go. I also invented a quiz show in my toilet. I had a 'guess the movie or TV show' round using only things around me. A razor and some trainers became Blade Runner and I used a heart and a gravy boat for Love Boat. Some people started moaning to me about the last one. The show was planned to start last year to mark your 25 years of consecutive Edinburgh Fringe shows and tours. How did you cope when everything came to a halt? I was ready to go to Australia on tour. People think it's like a beach holiday, but it's three weeks of festivals and shows and travelling around performing to thousands of people. That got cancelled, then festival gigs disappeared and I had soldout 800-seater Edinburgh shows for three weeks, but everything went. What helped is that I had been studying meditation and have had therapy. I can't rate that highly enough. If I could I'd marry my therapist, I would. She's in her 60s and might not be keen though. I had already been to therapy to help deal with the stress of work before the pandemic and I learned the best way of dealing with everything was to keep your brain busy, but therapy is expensive, so we started doing online stuff with podcast Mind Your Loaf. (Laughs) Half of my fans would be watching with a glass of wine saying 'Go on , Jason'. It was great fun. I also did Check In Sundays for anyone who was living alone so they could have a bit of contact. Then there was The Good Room with people like Ardal O'Hanlon and Father Ted writer Arthur Mathews talking about growing up in Ireland. Jason at The Edinburgh Festival Fringe in 2013 Jason Byrne tells Marion It never rains McMullen but it pours: Comedian how toilet Jason Byrne's Audience humour Precipitation show was due and a tiktok to celebrate 25 years of Ban have consecutive Edinburgh done wonders Fringe shows for his career feel the Byrne How did you feel being banned from TikTok for impersonating Body Coach Joe Wicks? The funny thing is I've been doing Joe Wicks comedy sketches for ages. He's a lovely man and I think he is amazing, but I had a pair of tights with a sock sort of hanging from the gym shorts ... and TikTok deleted my whole account. Not even a rebuke first. Mind you, I can highly recommend being banned by TikTok for any comedian. The publicity has been great for ticket sales. How tough has the year been for you? My dad, Paddy, passed away last year in February before all the restrictions. When we had the funeral, everyone was talking about him and telling stories, so many stories. Friends and family and fake uncles I didn't even know were telling me all these tales so I now have something online called the Paddy Lama with quotes of all the things he said like 'It's healthy to be mental'. I think older people have handled the pandemic best, but we don't follow rules well in Ireland. People see arrows on supermarket floors and deliberately go the wrong way. My dad would not have followed My dad would not have followed the rules and stayed put either. He would have been driving for miles for a pint of Guinness somewhere. Jason on his late father, Paddy the rules and stayed put either. He would have been driving for miles for a pint of Guinness somewhere. Has the vaccine made a big difference to the return of live shows? I've heard all the conspiracy theories about the pandemic. All I can say is if it is a conspiracy theory it's a good one. Most of this stuff comes from people who don't know what they are talking about. I've a friend who has nearly died three times from heroin, sniffing glue, aerosols and the like. He's in recovery now, but said he didn't want to take the vaccine because he didn't want to put poison into his body. I'm like 'but you used to take heroin'. I've even been accused of being sponsored by Pfizer. (Laughs) I don't think they need to pay an Irish comedian to speak for them. Another friend called me the other day and said 'You're on Mastermind'. I switched on and there was this young lad in his 20s and John Humphrys asked 'Who was the referee of the over-75s match in Father Ted?' And he nodded his head and said 'Sean Byrne'. What was it like performing in a multi-story car park for your first Edinburgh Festival shows this summer? (Laughs) I never thought I'd be playing in a car park, but then I never thought I'd be doing a quiz show and playing the trumpet in my toilet and accidently flushing things down it. I would have said no to a car park in the past, but now anything goes. It's also great being able to stand on a stage and talk for a couple of hours without being interrupted. My two sons just tell me 'Shut up, Dad'. What's really lovely is that when the tour was postponed not a single person asked for a ticket refund. They were like, 'We'll wait for you Jason.' That's really touching. Mind you, it's been a year without income. The venues still have hold of all the cash. ■ Jason Byrne is at Town Hall, Birmingham, on October 2. SHOWBUZZ Back to Stand-up for Stirling Love Island narrator Iain Stirling made his debut TV sitcom this summer with Buffering and is now back on the road with rescheduled stand-up tour Falling Upwards. It sees him explore his inability to function in the most basic of public settings and social media's constant pressure to "live your best life". Iain is at the Kasbah, Coventry, on October 17, the Old Rep, Birmingham on October 24 and April 17 and Bilston Town Hall on March 12. peter kay'S Sound of laughter Peter Kay has finally recorded an audio version of his bestselling nautobiography The Sound Of Laughter – 15 years after it was published. The comedy favourite recorded everything at home and says: "I'd never read the book since I wrote it in 2006. It was fascinating, like reading something that somebody else had written. Although weirdly, even though I knew what was coming next, I'd forgotten so much of what I'd written." It is now available to download from Audible. More chuckleS froM chowdhry Paul Chowdhry is returning to the stage with his new adult stand-up tour Family Friendly Comedian. He says he has two years' worth of pent-up killer material to unleash, adding: "We're living in troubled times, so once again I must put my cape on and save humanity." Paul is at Symphony Hall, Birmingham, on October 25 and Dudley Town Hall on November 4 and 5. pop twiSt to an auSten claSSic Pride & Prejudice* (*sort of) offers a pop musical version of Jane's Austen's classic love story with men, money and microphones being fought over in this irreverent but affectionate adaptation by Isobel McArthur. It features pop songs like You're So Vain and I Got You Babe and is heading to London's West End with previews at the Criterion Theatre from October 15.
www.birminghamlive.co.uk THEATRE FRIDAY, SEPTEMBER 24, 2021 BIRMINGHAM MAIL 31 TIME OUT Are you likely to spook some theatre ghosts with the new tour of The Legend Of Sleepy Hollow? (Laughs) We might well do. There are supposed to be a lot of them about, but I don't really believe in all that. This is a good play to welcome audiences back to the theatre though. It's something a bit different from watching a big happy, clappy musical. I actually love musicals, but this is quite spooky and we have a team of technical experts involved as well to help with the illusions. You never know, the headless horseman himself might possibly make an appearance. Who do you play? I play the Widow – the oldest person in the play – yes, I've got to that point now. I'm not just the mother in the company, I'm the grandmother. My character has seen it all and done it all and she's slightly mad. She wants to know everything that is going on and takes Ichabod Crane under her wing when he arrives. What' is it like to be working with your former Coronation Street co-star Bill Ward again? We were in Corrie together and he was around almost the same time period I was. He started a month after me and he left about a month before me. Having said that our characters never really crossed paths much. He played a bit of a villain, Charlie Stubbs, whereas my character Cilla was more of a panto villain. Bill is such a nice guy and it's lovely to reconnect with him for this tour. There are only six of us in the company and we play multiple parts. At one point all the guys play the ladies of the village. What were you doing before the first lockdown hit? I was on tour with the John Cleese farce Bang Bang! It was about three weeks into the tour and we were doing a Saturday night performance in Windsor. There was a From Corrie Cobbles to Collywobbles ...wendi Peters tells Marion McMullen things are about to get sPooky I'll be happy if I never do a Zoom call again scheduled one week break after that and on the Monday I had planned to go on holiday to New York, but quickly realised that was not going to happen and in the middle of the week I got a call saying the tour was going to shut down. It was such a shame. We were having a lovely time on tour and we kept hoping Wendi Peters it would restart, but then realised it was never going to happen. I've kept busy with my home recording studio. (Laughs) That sounds very grand – it is the cupboard. I do a lot of voiceover work and I put all my sound equipment in there. I can be watching an advert now and think 'Blimey, I did the voice for that in my cupboard'. Wendi Peters stars with Bill Ward in The Legend Of Sleepy Hollow How else have you kept busy during all this? I do a lot of touring and we realised during all this that we didn't have to be near London so we've just moved to the countryside. There are fields and horses outside the window and I can take my five dogs out on lovely country walks. It's lovely. I've always baked and normally I bake cakes and brownies for the acting company, but I turned to more savoury things during lockdown, although I recently baked a four-tier wedding cake for a friend that I was very proud of. I've been reading and we've also been watching box sets like Schitt's Creek, The Handmaid's Tale and 1970s comedies from our youth. Our daughter Gracie is 21 and graduated from the Musical Theatre Academy (MTA) during all this. Normally you'd be looking to get an agent and going to auditions and that was not possible. Luckily she has now got an agent and she did a live Halloween horror play for three nights on Zoom. Your career has spanned television, theatre and radio. What have been some of your favourite stage moments? I loved played Big in the West End. It was joyous and a lovely company. I did White Christmas for three years and there was something so magical about performing on Christmas Eve with real snow falling down on the stage. Early in my career I did Sondheim and loved that and I also did a tour of Salad Days, which was great fun. I've worked with Northern Broadsides and Hull Truck theatre company and did Hatched 'n' Dispatched at the Park Theatre. It was a very small theatre that only sat 90 and we all shared the same dressing room with just a curtain down the middle. It's been a real magical mix of roles. What's next after the tour? I'll be doing panto at the De Montfort in Leicester. It was supposed to open last year, but is finally happening now. I've been playing the goodie in panto for the last few years, but I'm back to being bad in Sleeping Beauty playing the Wicked Fairy. I'm going to be staying with a friend who I did my first show with back in 1988 so I'm really looking forward to a catch up with her in person. (Laughs). Honestly, I'll be very happy if I never do another Zoom call again. ■ The Legend Of Sleepy Hollow is at Malvern Theatres from November 2-6. Go to tiltedwigproductions.com jOIN US AT SNOW cITY DO YOU WANT TO BUILD A SNOWMAN? FESTIVE FEELINGS! SNOW PLAY SESSIONS cHRISTMAS SPIRIT! WWW.SNOWCITYEVENTS.CO.UK INFO@SNOWCITYEVENTS.CO.UK
32 BIRMINGHAM MAIL FRIDAY, SEPTEMBER 24, 2021 @birmingham_live ThEaTrE SHOWBUZZ TIME Uplifting show after lockdown n Joanne Clifton will play Morticia Addams when THe AddAmS FAmily, A mUSicAl cOmedy comes to The Alexandra Theatre, Birmingham, from January 18-22. The former Strictly Come Dancing champion previously starred at The Alexandra as Janet in The Rocky Horror Show and elsewhere as Alex Owens in Flashdance. n drAyTOn mAnOr PArk has announced its popular Magical Christmas event will be returning for 2021. Last year the event was cancelled because of Covid restrictions. But this year it will be back "bigger and better than ever before" with live entertainment, dazzling decorations, falling snow, a new magical grotto experience and an a new festive show in the 4D cinema. It starts on November 13. n Kirk Brandon has now been leading rockers SPeAr OF deSTiny for over 38 years. The band has re-recorded perhaps their best known album, 1985's WorldService, and their upcoming WorldService @35 tour arrives at KK's Steel Mill in Wolverhampton on October 9 and 10. n THe cHArAlATAnS are bringing their 30th anniversary tour to Birmingham's O2 Academy on November 27. Over the years, the band have notched up 13 top 40 studio albums – three of them charttoppers – and 22 hit singles. n BRIT and Grammynominated, multi-platinumselling quintet Bring me THe HOrizOn are at Birmingham's Utilita Arena on Saturday. n Rap star dAve is bringing his We're All Alone In This Together UK tour to Resorts World Arena, NEC, on February 17. It's the famous Dirty Dancing lift – but in reverse. Watch in awe as a slip of a girl, barely five feet tall, easily lifts a man a foot taller than her over her head. then gasp as another dancer balances on a pole, 12 feet up on the top of a metal cage, and falls backwards. there are plenty of these 'wow' moments in Motionhouse's spectacular new production, Nobody, which finally premieres in London this week, a year later than planned. UK dates include Birmingham's MAC – co-commissioners of the production – Birmingham Hippodrome and Warwick Arts Centre. "It's important to teach women how to lift men over their heads," explains Motionhouse's founder and artistic director Kevin Finnan. "With Nobody, we've taken a huge step forward. We're absorbing partnering techniques from circus, like throwing and catching and people flying over heads. the dancers are developing these fantastic skills and what we're now capable of is way beyond anything we've done before." Kevin is talking in rehearsals at Motionhouse's new home. they've Centenary square will come alive with a spectacular free show to launch six months of cultural events around next year's Commonwealth Games, writes Roz Laws. the Birmingham 2022 Festival, the £12 million programme begins in March, four months before the Games. It will feature hundreds of creative commissions across the region from art and dance to photography, theatre and more. the opening show, Wondrous stories, will first be performed in a transformed Centenary square on March 17, playing seven performances until March 20. Expect a giant book to come flying down from the roof of the Library of Birmingham and a huge globe to rise up from the ground. Look out for the Busby Berkeley-style formation dancing in the fountains and phoenixes whizzing over the a show merging dance and circus skills is full of 'wow' moments, writes Roz Laws been based in Leamington spa for 33 years but recently built a rig in the Assembly Hall, part of the historic town Hall – an appropriate use for a grand room which used to hold dances. Nobody is a fast-moving, highly physical show with seven dancers. It uses digital projections and a shapeshifting set to create visual magic, and a story shaped by Covid. Kevin explains: "I was going to make a show about identity and the difference between our inner selves and how we present ourselves to the world. then Covid hit and I changed most of it. I began to think about the shared experience of being on your own in lockdown, listening to your inner voice. "Each dancer plays an ordinary person and a crow, the embodiment audience's heads on zip wires. the show is choregraphed by Kevin Finnan, founder and artistic director of Motionhouse based in Leamington spa. His full dance-circus company will be part of the production, alongside 300 young dancers from the Critical Mass 2022 project and community choirs from across the region. Kevin says: "We want to make a show that's an immersive spectacle and really engaging, that will take place above and all around you. there will be all sorts of mayhem created in the crowd.'' Kevin, who choreographed the Paralympics opening ceremony for London 2012, adds: "I'm really excited to have the opportunity to do a large scale work in this beautiful square, between the Library, the REP, symphony Hall and Birmingham University's the Exchange. Junior Cunningham of the voice in your head and selfdoubt. the first act is about the raw emotion of isolation and dealing with the voices, so it's quite dark. But in the second act there's a sense of coming together and the strength we get from human contact. It ends with a positive, uplifting message. People who've seen it in rehearsal say it's very moving." Like many, Kevin has not had an easy time in the last 18 months, but he remains positive. "trying to plan anything during lockdown was a disaster and really stressful. Having to make some of our dancers redundant was absolutely awful. "When we came back, I was passionate about the content and the dancers, having been robbed of a year of their careers, were passionate to work "We have a fantastic history of great writers in the Midlands, going back to shakespeare. I'll acknowledge that while wanting to bring out the point that every person who lives here is themselves a story. I want to tell their Wondrous stories.'' Birmingham 2022 Festival will be even bigger than the Commonwealth Games, aiming to engage with 2.5 million people compared with 1.7 million tickets for sporting events. Raidene Carter, the festival's senior producer, says: ''the cultural scene in the region is so vibrant and rich, and at least 95 per cent of the work will be made by artists from here. We can't wait to share all of our extraordinary festival programme in what is set to be a landmark year for the region." the full festival programme will be revealed in January, but some projects have already stepped into again. there was a fantastic power and energy in the studio." some may find it surprising to discover a world-class dance company in Leamington spa, but it makes sense. "It was very useful not to have to pay London prices when we came in 1988," remembers Kevin. "the creative industries make a huge contribution to the local economy. the town is full of games companies like sega and Codemasters. It's a great atmosphere and being an anchor in a new creative hub is very exciting." Career highlights include choreographing 3,000 people at the Paralympics opening ceremony in 2012, bringing a life-sized ocean liner to Birmingham's Victoria square for the Voyage, and performing at the team GB Homecoming Concert at Wembley last month. Rehearsal director Junior Cunningham has been with Motionhouse since 2002, working his way up from an apprentice. He reveals that dance helped him to turn his life around, after he blagged his way into a career through a combination of luck and charm. Junior grew up in Handsworth Cultural celebration will be the spotlight. Critical Mass 2022 will give 300 young people a chance to dance on the world stage in what Raidene calls "an epic act of collaboration and a lightning bolt of participation". there's still time to sign up, and they're particularly keen to get more boys involved. Almost 40 proposals have already been successful, but there are more Creative City Grants of up to £20,000 still available for communities to create their own art projects. Newly-launched projects include Wonderland by Birmingham's Flatpack Festival. It will tell the story of Birmingham through film, from fairground shows to multiplex. Photographer Julian Germain is continuing his Generations project with the help of families in the West Midlands who have roots in
www.birminghamlive.co.uk FRIDAY, SEPTEMBER 24, 2021 BIRMINGHAM MAIL 33 OUT Nobody by Motionhouse Wood in Birmingham and went, when he wasn't playing truant, to Kingsbury School in Erdington. "I was quite a bad kid," he admits. "I was a petty thief, I got into trouble and was hanging out with the wrong people. I didn't do very well in my GCSEs. At 16 I was stopped by a police officer who gave me a chance, because he knew me from Little League football. He told me that I'd dodged a bullet but next time I'd be arrested. It was a wake-up call. "My older sister Chantelle made 'bigger than the Games' Commonwealth countries. He's looking for around 30 families with five generations who want to tell the stories of their journeys, and whose pictures will feature in public settings throughout the region. Birmingham 2022 Festival is being funded by a variety of sources including the Arts Council, the National Lottery Heritage Fund, Birmingham City Council, the British Council and Spirit of 2012. Martin Green, chief creative oOfficer of Birmingham 2022 Commonwealth Games, says: "This spectacular festival will feature over 300 brand-new creative works. I couldn't think of a better way to begin than with Motionhouse's awe-inspiring spectacle, which will be free for everyone to enjoy." ■ For more details and to register to be first to hear the latest news, go to birmingham2022.com/festival. me promise that if she could find me a course at a college away from the bad influences, I would do it no matter what it was. So she enrolled me to do a BTech in Dance at Walsall College. "I just laughed at the idea of people going to college to learn how to dance. I'd never had a dance class, but I would always enter the dance competitions at Handsworth Carnival. "At college I exaggerated how many GCSEs I'd got. They kept How Wondrous Stories by Motionhouse will look in Centenary Square asking to see my certificate and I made excuses. Eventually they gave up and let me graduate. "I auditioned at the Northern School of Contemporary Dance, but I didn't get in. My family assumed I would and threw a congratulations party to welcome me home. I didn't have the heart to tell them I hadn't got in. I sent the school a letter saying 'I have to come; I'll turn up on the first day anyway'. Somehow it worked. "I didn't get into Motionhouse at first, either. But instead of going home, I asked Kevin if I could stay to watch the rest of the auditions. I made an impression! Then I begged to be an apprentice and later joined the company. I do what I do in the hope that I'll inspire young people in a similar situation to do something with their lives." ■ Nobody plays Birmingham's MAC from October 22-25, Birmingham hippodrome on February 4 and Warwick Arts Centre on April 27-30. See www.motionhouse.co.uk curtain rises after drama of lockdowns A theAtre is looking to forward to offering a full season of shows after a tough 18 months. It's all systems go for the 120 members of highbury theatre in Sutton Coldfield after a stop-start period caused by Covid-19. the theatre first opened on May 22, 1942 and continued to welcome audiences until March 2020 when it was forced to shut – one day before a new show was due to start. theatre chairman Steve Bowyer has been at the helm for some 20 years – and has steered the Sheffield road venue through the most difficult of times. the 65-year-old explained: "I was watching Boris on tV telling people 'Don't go to cinemas and theatres' a week before the lockdown began. "We were due to perform Deep Cut by Philip ralph and had had a dress rehearsal the day before on Sunday, March 15. We were due to open on the tuesday, but we decided to close, despite not having to. "I am absolutely thankful we made that choice." Luckily the theatre was in a "strong position" with properties it rented out able to cover the £2,000 monthly ongoing costs. the venue reopened to the public at the end of July last year but it was by no means back to normal. Steve said: "We also decided we would perform local playwright David tristram's play Lockdown in Little Grimley. the idea was we would be the first theatre in the country to show it. "But because of the second lockdown in November that didn't happen and the first company to show it was one in New Zealand." the November lockdown morphed into a ban on hospitality venues opening in Birmingham and Sutton and then the third national lockdown, which lasted until mid-May for theatres. highbury theatre opened again in May, with Lockdown in Little Grimley performed in June, before it closed for the summer in July and August. And now there is hope for a full programme of shows, which started last week with Nell Gwynn, running until tomorrow. the venue has CO2 monitors which indicate if the air is not circulating. Steve said: "the monitors have shown the venue is absolutely fine. We have the vents open all the time too." "But we will have special shows for those who are still a bit wary. Our socially distanced Wednesdays will have all the measures in place that were there before. there will be a spare seat in front, behind and on both sides." tickets for Nell Gwynn cost £10 (£9 for concessions) and are available on 0121 373 2761 or online at www.highburytheatre.co.uk
34 BIRMINGHAM MAIL FRIDAY, SEPTEMBER 24, 2021 TIME OUT SMALL MERCIES Former M People lead singer Heather Small talks to ALex Green about returning to live gigs 33 67 22 30 78 12367 78815 44120 85277 67761 54897 56056 24717 52248 48319 Heather Small has one of British music's most striking voices. Since the late 1980s, the West London-raised singer has enjoyed success as part of millionselling dance outfit M People and as a solo artist. Now after an enforced period away from live shows due to the pandemic, she is finally back performing to audiences. "It's what I do and it's where I am most happiest," she explains of a recent clutch of concerts around the UK. "I have missed it so very much. It's hard to explain because it's intrinsic to who I am – singing, performing. I have done it for such a long time and for it to be taken away from you... "When you see how a lot of people in the creative industries have been treated, it's so sad and disappointing more than anything." heather, now 56, was still a teenager when she found her voice while listening to the music of legends like Gladys Knight and aretha Franklin. her first brush with fame came when she sang the vocals on Black Box's smash hit ride On time. the song topped the UK singles chart and soon heather was working with Manchester DJ Mike Pickering on a project they called M People, producing hits including testify, Moving On Up and One Night In heaven. a decade and more than 10 million record sales later, the group went on hiatus and heather released a solo album, Proud. there was another solo album and a stint on Strictly Come Dancing (she placed ninth) and time spent away from the spotlight raising her son, James, from her relationship with former rugby league player Shaun edwards. Despite nearly three decades on stage, heather still admits to suffering nerves. "It's just so exciting," she offers. "I mean, also terrifying. everybody knows I'm a bit of a nervous performer but when I get the mic in my hand, I stride forth." heather is emotional as she reflects on the last few months, following the lifting of restrictions. "When I first got back (to performing live), there were people in the audience who were crying... because my performance was so bad," she quips. "No! Just the relief and the release and the joy to be doing something that equated to a usual behaviour. there is nothing like music and live performance outside – singing, dancing, music, that festival aura. It is amazing." During lockdown, heather launched a clothing brand with her younger sister, Cheryl, who has bipolar disorder. through Proud Sista, the duo aim to celebrate both biological and non-biological sisters and raise awareness of mental health issues. Cheryl was diagnosed with bipolar aged 14 and credits her older sister with helping her through. heather may not have produced much new music in the past decade but she has made up for it with a hectic touring schedule and charity work for the likes of Barnardo's, asthma UK and BeatBullying. In the first months of the pandemic, she took part in a campaign with the World health Organisation promoting global solidarity, offering up a cover of Sister Sledge's We are Family. there are times when her instincts as a mother and activist cross over. She advises: "there will be a situation where a parent might think, 'Oh, my child's just going through a rough patch'. But even so, it might be the start of the their first episode. "there are so many things to watch out for, and so it's best to talk and also go to the doctor, but not be embarrassed or ashamed." ■ Heather is at Town Hall, Birmingham, on April 8
www.birminghamlive.co.uk FRIDAY, SEPTEMBER 24, 2021 BIRMINGHAM MAIL 35 TIME OUT MUSIC Engelbert Humperdinck is touring the UK or the first time in several years After losing my wife it took a while before I could sing again EngElbErt HumpErdinck tElls Marion McMullen EvEry lovE song on His tour will bE for His latE wifE "I Humperdinck. COULDN'T sing after my wife died earlier this year," admits Engelbert He and Patricia – who he affectionately called Popea – had been married for almost 60 years and she sadly passed away in February after contracting Covid- 19. She had been by his side throughout his long career but had been suffering from Alzheimer's disease for more than a decade. "It's been tough, it's a tough thing. She stood by me all these years. She was very special," the Leicesterborn singer says. "She was fantastic and always helped me to make the right decisions. I think she is helping me now. I think she would want me to do what I love." Engelbert, 85, has also come through his own brush with Covid. "It's been quite difficult for me. I got it in February. I had long Covid and it had an extremely bad effect on me, I think. "I couldn't swallow or walk properly and it went into my back. "It's all come together now and I think I'm good and about ready to hit the stage. It was very scary, not just for me, but for everybody in that situation. "I just kept saying, 'I'm going to be fine. I think I'll be alright.'" In a career spanning more than 50 years, Engelbert has generated sales in excess of 140 million records, including 64 gold albums and 35 platinum, four Grammy nominations, a Golden Globe, and stars on the Hollywood Walk of Fame, Las Vegas Walk of Fame, and Leicester Walk of Fame. Engelbert with Patricia in 2011 Now based in Los Angeles, he is returning to the UK next month for the start of an autumn tour and says he is dedicating every concert to his wife. He admits performing again will be emotional. "I know it has changed some of the songs I sing," he says. "I'm reading new meaning into the lyrics. It's a lot different to the way I've sung them before. "When I lost my wife I couldn't quite handle it right at the beginning. It took a while before I could sing again. The lyrics of the songs have always affected me but it is in a different way now. I'm trying to handle it and I'm sure my audience will rally if I do have an emotional moment on stage. I'm sure they will understand it." The singer, born Arnold George Dorsey, was persuaded to adopt Engelbert Humperdinck as a memorable stage name. "Not good if you want to sign an autograph," he chuckles. "I would start today and finish tomorrow. "You know there are two Engelbert Humperdincks? One who composed a version of Hansel and Gretel and me. People would get us mixed up all the time and tell me they loved my arrangement of Hansel and Gretel. "I even thought of putting an initial like E or H in between the first and last name, but her Majesty did me a big, big favour recently and awarded me an MBE for services to music so now I can put MBE at the end of my name. "No one ever calls me by my real name. They call me Engs. My parents called me Engels, which I quite like, it means Angel in German – although I'm not an angel." Release Me was his breakthrough single in 1967 and went into the Guinness Book of Records for achieving 56 consecutive weeks in the charts. It was number one in 11 countries. "The song has been sung around the world, it's given me a career, and it's a favourite on karaoke machines. Everyone always sings that song. It's so wonderful that people like it. "Back in 1967, I was doing 300 shows a year. It was an incredible time for me. I was building a name for myself and Release Me stopped the Beatles from having their 13th number one. "The most exciting part of my career was right at the beginning when I was first on the London Palladium stage. "Release Me had been out for a while without any success and had sold about 3,000 copies and then I appeared on TV on Saturday Night At The London Palladium and the next day the record started selling 80,000 and 90,000 copies a day and that went on for a number of weeks. "It was unbelievable. It changed my life. A shooting star landing in my garden." Engelbert reveals that he bought his parents a home before buying his own house and was able to get a nice car, adding that he "appreciated the success when it came along. I never took my success for granted". He is now counting down to his biggest UK tour in years. "I was supposed to do it last year and the pandemic happened and I didn't do anything. Now it's possible and I want to fulfil the task. People want the songs that made me and I'm going to give them that, but it is also contemporary as well. It's exciting." n Engelbert is at Symphony Hall, Birmingham, on November 10 UK Breaks SOUTHPORT SPECIAL BREAKAWAY 4 DAYS BY COACH ONLY £149 Departing Fri 22 Oct '21 Enjoy a wonderful four-day break as we take in the seaside resort of Southport, renowned for its long promenade and spectacular beaches. Our special getaway is complete with visits to the bustling city of Liverpool and the charming Ormskirk Market. National Holidays is part of the JG Travel Group and is a leading specialist in great-value coach holidays across the UK, Ireland and Europe. What's Included z Return coach travel from Birmingham & Solihull z 3 nights at the 2-star Scarisbrick Hotel, Southport with dinner & breakfast z Free excursions to Liverpool & Ormskirk Market Single Supplement £25 Operated by Just Go Holidays Ltd trading as National Holidays. Coach package holidays and short breaks are subject to National Holidays terms and conditions. Your booking is protected by Bonded Coach Holidays (BCH) and the Association of Bonded Travel Organisers Trust Limited (ABTOT); this is a government approved consumer protection scheme. Tours offered subject to availability and government guidelines. Errors and omissions excepted. Prices per person, based on two people sharing a double/twin room. Calls to 033 numbers are free within inclusive minutes packages otherwise standard rates apply. Call 03332 342 515 (quoting RCH) or visit nationalholidays.com/RCH 033 numbers are free within inclusive minutes packages otherwise standard rates apply.
36 BIRMINGHAM MAIL FRIDAY, SEPTEMBER 24, 2021 @birmingham_live OPINION We're all responsible for carbon dioxide MOST people are keen to blame the Government and large companies or organisations for the volumes of carbon dioxide released into the atmosphere – but how many realise how much as individuals we contribute through waste, excess and laziness? How many families run more than one car? How many pieces of technology are left on standby? How many lights are left on in rooms without occupation? How many clothes are purchased to be used once only? How many share a car for work? How many buses run virtually empty? How many leave their vehicles' engines running idle? How many extra journeys are made to deliver fast food? How many people waste heat through poor management or lack of insulation? How many people cook individually rather than for a family? With a so-called paperless society, how much is still generated unnecessarily? How much of the technology produced is necessary and relevant? How many will afford the technology designed to reduce emissions and what will the disposal of electric car batteries cause if not regulated and dumped into landfill, causing chemicals to leak into our streams and rivers? Then we have the felling of the rainforest to raise coffee and beef cattle to meet the demands of our fast-food restaurants. Tony Morris, by email Dorries will damage democracy in the UK CORRESPONDENT G Brooking should know Nadine Dorries MP is a very dangerous libertarian populist politician who will do damage to the UK's democracy as if it is not severely damaged already ('Nadine will be a huge breath of fresh air', Talkback, September 21). The BBC was set up in Britain, and replicated in English-speaking colonies, to bring national and international news to the people. Today, the BBC's function is to keep private broadcasters honest rather than in competition, which is why right-wing broadcasters want to stifle its voice. For instance, on Thursday, September 16, Nigel Farage, broadcasting on behalf of GB News, stated that Brexit Party supporters NotIces Find the latest information on planning proposals, traffic notices, goods vehicle operator licences, licences to sell alcohol and probate notices, from page 43 PIctURe oF tHe DAY Bridgnorth Castle, by Richard Postill, Flickr www.birminghammail.co.uk/flickr had 'lent their vote to Boris Johnson in 2019'. That was a lie. Sir Alan Duncan, a former foreign minister, wrote in his diary, 'In the Thick of It', on Monday, November 11, 2019: "Farage will not contest the 317 seats which the Conservatives won in 2017". In the event, the Brexit Party did not contest 349 seats to funnel Brexit support directly to Conservative candidates and to corrupt the democratic process. Farage had no faith in his supporters freely voting tactically for Boris. Farage also stated on that day, 'it was UKIP which destroyed the Labour Party'. Apparently, he had forgotten that on a Channel 4 documentary he had thanked Prime Minister Blair for giving him a platform. He was referring to the fake proportional voting system used to elect Members of the European Parliament. The system is fake because proportional voting systems are conditional on being regulated by mandatory attendance at polling stations which is why Australia and "The truth is, if we did not act, then by this weekend, or certainly by the early part of next week, some of the poultry processing plants would need to close, and then we would have animal welfare issues - because you would have lots of chickens on farms that couldn't be slaughtered on time and would have to be euthanised on farms. We would have a similar situation with pigs." Environment Secretary George Eustice defends spending taxpayers' money on CF Fertilisers' running costs to prevent a food supply shortage at Britain's supermarkets TIME OUT Get in touch: Email letters@birminghammail.co.uk Belgium have mandatory attendance. The average low turnouts of 35% favoured the minor parties by putting the Conservative and Labour parties on par with UKIP, the Lib Dems, Greens and BNP. For instance, in the 2009 EPE, Labour turnout fell from 21% to 15% which let in two BNP candidates. Kenneth R Jarrett, Bournville Nat's fantastic record is the best for England JIMMY Greaves was a magnificent goal poacher, but the Birmingham Mail is incorrect when it claims that his goal-to-game record for England is unsurpassed. Greaves played 57 times for his country and scored 44 goals. The Bolton Wanderers legend Nat Lofthouse has the best post-1940s goal-to-game ratio of any England player. His tally of 30 goals came from just 33 caps. For England, Lofthouse averaged almost a goal-agame. A fantastic record. QUotes OF THE DAY "After 2,000 days of disappointments and let-downs, I do sometimes wonder what will get the Government to bring Nazanin and the others home? What will end the years of drift, or get the Prime Minister to deliver on his word?" Richard Ratcliffe, the husband of Nazanin Zaghari-Ratcliffe, who is detained in Iran In 1990, former Wolves and England captain Billy Wright described Nat Lofthouse as 'England's greatest ever striker'. Eddie Sanders, Pheasey Estate Time to put country before party, Boris SURELY the fuel crisis we are now witnessing across our nation is the ultimate reason for a change of heart from Boris Johnson and his plan to cut back Universal Credit. I'm a Boris super fan but even I can see the ticking time bombs here. Now is your chance to get rid of the 'nasty party' tag once and for all Prime Minister. It's time to put country before party. Geoffrey Brooking, by email The small print: Letters will not be included unless you include your name, full postal address and daytime telephone number (we prefer to use names of letter writers but you can ask for your name not to be published if you have a good reason). The Editor reserves the right to edit all letters. George Eustice LETTERS FROM THE ARCHIVES BLAST from the past From November 12, 1992 Women's Lib too much I AGREE with Dame Barbara Cartland that men feel frustrated when not wanted (You Say, November 5). I think Women's Lib has gone too far. In the past it was understood that the husband was the breadwinner. I now wonder – since when was a housewife classed among the unemployed? Thos Sheerin, Newtown Dame's romantic view WHY men should be more mentally frustrated than women by unemployment is hard to understand, especially when Dame Barbara Cartland includes unmarried women in this national order she wishes to promote. Many unmarried women are breadwinners, some with homes and relatives to support. Dame Barbara seems in danger of believing her own romantic novels. Mrs Beryl Hunting, Great Barr Living in Dark Ages DAME Cartland still lives in the Dark Ages. I've never heard anything so ridiculous in my life. Why should you be made to stay at home just because you are a woman? What about women who are single and have no children to stay at home for? If she ventured out into the real world she'd probably understand women have to work nowadays to keep their heads above water. Mrs V Johnson, Hall Green Book deal is required I HEARTILY agree with the comments of Dame Barbara Cartland. Perhaps she would like to point the proceeds of her next book in my direction and I will gladly leave the workplace to men only. M rs B Wa r re n , Castle Bromwich Blame game is wrong WHO does Dame Barbara Cartland think she is? Women have the right to work and it's not their fault that kids are running wild. Don't blame women. E Francis, Aston ORDER PHOTOS ■■If you want to order photographs from today's Birmingham Mail or any classic images from our archives, please go online to reachphotosales.co.uk/Reach
www.birminghamlive.co.uk FRIDAY, SEPTEMBER 24, 2021 BIRMINGHAM MAIL 37 TIME OUT COMMENT Underfire Duke is adding to Queen's annus horribilis ChriSTopher BUCKTIN US Editor After what can only be described as a difficult year following the loss of her beloved husband, Prince Philip, you would have thought the Queen would be due a well-earned rest. Instead, as she continues to adjust to life without her companion and trusted adviser, she has had to sit in silence as her grandson and his wife, Prince Harry and Meghan Markle, launch a series of toxic attacks from their £11 million California mansion. But while Harry and Meghan's petulance is one thing, her favourite son, Prince Andrew, presents the Queen with a bigger headache. following several weeks of cat-andmouse games between the Duke of York and lawyers for his sex abuse accuser Virginia Giuffre, beleaguered 'Papa York' as his daughters call him, was this week served with his US lawsuit. Both sides are playing out the circus surrounding the case. Giuffre's American lawyers, led by former Harvey Weinstein defender David Boies, use every opportunity to maximise publicity, including a picture of them posting the lawsuit to the Duke at a royal Mail letterbox. The Duke finally received the papers through his US lawyers from Giuffre, a woman he "can't remember" ever meeting, who is suing him for allegedly sexually assaulting her when she was a teenager. She claims she was trafficked by Andrew's billionaire former friend Jeffrey epstein to have sex with him when she was aged 17 and a minor under US law. The Prince has vehemently and repeatedly denied her allegations, but after being served the lawsuit, he now has less than three weeks to respond. A failure to do so could see the case awarded to Giuffre. She is seeking damages which could run into millions. The case matters for two very different but linked reasons. The first is that the conduct alleged against the Duke would, if proved true, be an abuse requiring a punishment in a civil or criminal court. The second is that the case affects the reputation not only of The firm but the UK as a whole – it already looks set to overshadow the Queen's platinum jubilee next year. You see, her Majesty is not just a mother and not Prince Andrew just a monarch. She is also the embodiment of the UK – a constitutional state governed by law, including mutual arrangements with foreign countries with her as its head. Prince Andrew's awkward responses to the accusations against him have already inflicted reputational damage to the Queen, her governing institutions and her relations with a critical ally, the US. The Duke of York cannot stay silent. royal experts say there will be no way back into public life – who could take him seriously? But the Queen would do well to ensure her decades of dedication are not tarnished by her son's terrible judgement. Andrew must do the thing his mother most prides herself on doing – his duty. time to speak up Andrew and end this sorry saga you have inflicted on your mum. Welcome to land of fake news The long-overdue decision by the Biden administration to lift restrictions on travellers from the UK will come as a huge relief. The move will benefit struggling airlines and businesses but, most of all, the thousands who have been separated from their families for more than a year because of the ban. The new rules, which will require all foreign nationals arriving in the States to prove they have been fully vaccinated, take effect in early November. Those refusing to be immunised will be effectively joining a no-fly list. With so many conspiracy theories and theorists spreading false information about vaccines though, it makes you wonder who the hell will want to come to America? Central Saint Michael's Sixth Form A UNIVERSITY-STYLE SIXTH FORM ANNUs horrIBIlIs: The Queen SCHOOL LEAVERS IT'S NOT TOO LATE TO ENROL COME AND TALK TO US, WE HAVE OVER 30 A LEVEL & BTEC OPTIONS ENROL NOW! FREE METRO TRAVEL OR FREE BUS TRAVEL (with option to top-up to both) for all 16-18 full-time students Dr MATT LAMB, BA MA PhD PRINCIPAL We offer excellent examination results and are passionate in our support of students to realise their ambitions. We take pride in preparing and encouraging students to gain the independence, maturity and skills they will need to succeed. centralstmichaels.ac.uk 91% PROGRESS TO UNIVERSITY 100% PASS THEIR EXAMS NEW SQUARE, WEST BROMWICH, B70 7PG See website for conditions and details. 0121 667 5100 talk to us!
38 BIRMINGHAM MAIL FRIDAY, SEPTEMBER 24, 2021 @birmingham_live PUzzlEs & sTars TIME Cryptic crossword Quick crossword Gogen 1 2 3 4 5 6 7 8 10 11 12 13 9 14 15 16 17 18 19 20 21 22 23 24 25 Stuck on today's puzzle? Call 0905 789 4220 to hear individual clues or the full solution. Calls cost 80p per minute plus network extras. Service Provider: Spoke Ltd, helpline 0333 202 3390 YESTERDAY'S SOLUTIONS 24/09/2021 Across: 1 Cache; 4 Cold tap; 8 Cabaret; 9 Valse; 10 Tans; 11 Bobtails; 13 Snow; 14 Stag; 16 Ponytail; 17 Silo; 20 Rhine; 21 Bouquet; 22 Yule log; 23 Sheer. Down: 1 Cocktail party; 2 Cabin; 3 Earn; 4 Cotton; 5 Levitate; 6 Telling; 7 Press reporter; 12 Soft sell; 13 Sundial; 15 Kit bag; 18 Inure; 19 Bugs. YESTERDAY'S SOLUTIONS Across: 3 Lines; 9 Hyphen; 10 Tanner; 11 Odour; 12 Aria; 15 Idlers; 17 Luggage; 19 Rut; 20 Opens; 22 Strop; 24 Easel; 25 Watch; 27 Tom; 29 Hopeful; 32 Enamel; 34 Site; 35 Aired; 37 Corona; 38 Sedate; 39 Trite. Insert letters to form the listed words, moving between adjacent cells horizontally, vertically or diagonally in any direction. Insert all the remaining letters of the alphabet (except Z) in the grid so all the listed words are spelt out in this way. 1 W N B Y V C E T I F X H S L J G U A R O ACROSS 7. Pledged to 12's mate? (6) 8. Persuade Jo to be wrapped in torn lace (6) 10. Carry out with head rolling (7) 11. Lifted, we hear, to be utterly destroyed (5) 12. "They are not, in short," say kin (4) 13. A bit heard between wars (5) 17. Dismissed at gun point? (5) 18. Beeline on the top of the hill (4) 22. The utmost in a cult rationalised (5) 23. Passage for alternative television (7) 24. Large girl needed for two spouses (6) 25. Chartered accountant with twisted coil takes the cloth (6) ACROSS 3. Bear-like mammal (5) 8. Wild (5) 10. Upright (2,3) 11. Close friend (3) 12. Incorrect (5) 13. Country (7) 15. Warning of danger (5) 18. Rend (3) 19. Hi-fi (6) 21. Stillness (7) 22. Chrysalis (4) 23. Crossbow arrow (4) 24. Non-metallic element (7) 26. Small cupboard (6) 29. Hill (3) 31. Hairdresser's shop (5) 32. Pinchpenny (7) 34. Reasoned thought (5) 35. Falsehood (3) 36. In motion (5) 37. Tired, worn out (5) 38. Challenges (5) DOWN 1. Fast animal pulls a fast one, we hear (7) 2. Where in the cinema to find shelter. Some riddles! (7) 3. Primate about with mule. Right? (5) 4. 20th century breed of vermin (3,4) 5. Drink to the sound of jeers (5) 6. For grass widows? (5) 9. The arbiter has North Carolina in authority (9) 14. Relieves of gun. Use mess – said R.S.M. (7) 15. Tossed in craft, wildly excited (7) 16. Accept this incredible bird (7) 19. Fat as a vat (5) 20. Arrange gates for the theatre (5) 21. South African by birth (5) DOWN 1. Warehouse (5) 2. Mosquito-bite disease (7) 4. Atmosphere (4) 5. Give (6) 6. Corner (5) 7. Mr Agassi, tennis star (5) 9. Tup (3) 12. Destroy completely (4,3) 14. Nothing (3) 16. Mistake (5) 17. Molar, for example (5) 19. Unbeliever (7) 20. Glasses (5) 21. Bobbin (5) 23. Housebreaker (7) 24. Married Spanish woman (6) 25. Domesticated pig (3) 27. Lariat (5) 28. Compact (5) 30. Clean feathers (5) 32. Famous river (4) 33. Assist (3) Down: 1 Shoal; 2 Sprig; 3 Leo; 4 Indigo; 5 Etui; 6 Sardine; 7 Sneer; 8 Wrist; 13 Ruction; 14 Aglow; 16 Rule out; 18 Epoch; 21 Sates; 23 Pageant; 26 Honest; 27 Teach; 28 Marry; 30 Final; 31 Level; 33 Liar; 36 Dee. Q M K P D BENT FJORD FLORA IVY JIBE MUGHAL PARSE PORK QUASH SEXUALITY WENCH A B C D E F G H I J K L M N O P Q R S T U V W X Y 2 H C P F D Y R T E L J O K X B Codeword This puzzle has no clues. Instead, every number printed in the grid represents a letter, with the same number always representing the same letter. For example, if 8 turns out to be a V, you can write in V wherever a square contains 8. Using your knowledge of words, complete the puzzle. A B C D E F G H I J K L M N O P Q R S T U V W X Y Z 1 2 3 4 5 6 7 8 9 10 11 12 13 C 14 15 16 17 18 19 20 21 22 23 24 25 26 A Need a little help getting started? Then call 0901 293 6261 to hear four random extra letter clues. Or text CODE and send to 64343 to receive 4 clues. Calls and texts cost £1 plus any network extras. Service Provider: Spoke Ltd, helpline 0333 202 3390 YESTERDAY'S SOLUTIONS 1 2 3 4 5 6 7 8 9 10 11 12 13 L J D X Q N Z R E B U Y V 14 15 16 17 18 19 20 21 22 23 24 25 26 S M P W H G O F C I T A K Split Decision Cross out one of the two letters in each divided square to reveal a completed crossword grid. W S Y O R P W T H R U V I M A A E U T I I Q S N G W R O D E R A R R A A E W N W D E W D G A N L V L S R BET FETCH JOKING LEFT MISQUOTED NIMBLE PROVING PRY SIX WAXED A B C D E F G H I J K L M N O P Q R S T U V W X Y YESTERDAY'S SOLUTIONS B L A S T I R O T I G H T E U A S T E E L YESTERDAY'S SOLUTIONS F P S W V C H O M K N A H K O N S V P L G D L R C J E B A R M E T U I D U X T W X Y B J Q Q Y G I F
www.birminghamlive.co.uk ARIES TAURUS GEMINI CANCER ARIES TAURUS GEMINI CANCER FRIDAY, SEPTEMBER 24, 2021 BIRMINGHAM MAIL 39 OUT LEO VIRGO LIBRA SCORPIO LEO VIRGO LIBRA SCORPIO In association with teamdogs.co.uk SAGITTARIUS CAPRICORN AQUARIUS PISCES Sudoku 4 5 7 5 7 6 8 1 3 8 3 7 8 5 2 5 7 2 6 7 4 3 9 5 8 6 7 1 YESTERDAY'S SUDOKU: Easy Circlegram Niner 1 2 6 9 3 7 8 5 4 7 4 9 6 1 3 5 8 2 4 7 1 3 6 8 2 9 5 Each row and each column must contain the numbers 1 to 9, and so must each 3 x 3 box. EASY 9 3 8 4 1 5 5 4 8 3 7 5 8 4 3 9 4 6 2 8 5 1 9 1 3 7 6 2 8 2 6 3 1 5 5 7 4 9 2 8 1 3 9 6 7 4 3 9 5 2 8 6 2 4 1 5 9 7 6 8 7 1 4 3 9 8 5 6 YESTERDAY'S SUDOKU: Hard 2 1 7 9 8 2 3 1 3 4 2 HARD 7 1 9 2 6 8 9 5 1 8 2 3 4 6 7 5 9 2 1 4 9 3 7 8 6 5 5 7 3 4 2 8 6 9 1 3 7 4 3 5 9 6 1 9 5 2 8 7 2 8 6 1 3 4 9 6 8 7 5 3 4 5 2 6 1 8 3 7 1 4 2 9 8 2 4 9 6 1 6 1 9 3 7 5 5 3 7 8 4 2 Replace the question mark with a letter so that the letters within the circle can be rearranged to form words with a common theme. What are the three words, and the letter represented by the question mark? R B G E N Y A A A ? S C C L U U I S YESTERDAY'S SOLUTIONS The letter represented by the question mark is O. Kangaroo, potoroo, opossum, all marsupials. Alphamuddle Wordsquare Rearrange the letters in the top grid to make five words that read both across and down. Five letters have been placed in the bottom grid to start you off. H E R T H S T I S T S E R M O G A S E T A M O S E O ARIES E S S M C R A F T R E F E R A F O R E ARIES F E R N S T R E S S ARIES SAGITTARIUS CAPRICORN AQUARIUS PISCES RUSSELL GRANT LEO VIRGO LIBRA SCORPIO ARIES TAURUS GEMINI LEO LEO CANCER VIRGO LIBRA SCORPIO SCORPIO VIRGO LIBRA arIEs March 21–April 20 SAGITTARIUS SAGITTARIUS CAPRICORN AQUARIUS PISCES SAGITTARIUS CAPRICORN AQUARIUS PISCES You're feeling apprehensive and wonder if CAPRICORN AQUARIUS PISCES LEO VIRGO LIBRA SCORPIO TAURUS GEMINI CANCER ARIES TAURUS GEMINI CANCER ARIES TAURUS GEMINI CANCER SAGITTARIUS CAPRICORN AQUARIUS (80p/min PISCES + network TaUrUs April 21-May 21 GEMINI May 22-June 21 caNcEr June 22-July 23 lEo July 24-Aug 23 scorPIo Oct 24-Nov22 SAGITTARIUS CAPRICORN AQUARIUS PISCES TAURUS GEMINI CANCER ARIES TAURUS members GEMINI of your CANCER household it might LEO VIRGO LIBRA SCORPIO (80p/min + network (80p/min + network LEO VIRGO LIBRA access SCORPIO charge) For more call 0905 789 4278 access charge) LEO VIRGO LIBRA SCORPIO ARIES TAURUS GEMINI CANCER LEO VIRGO SAGITTARIUS LIBRA CAPRICORN SCORPIO AQUARIUS PISCES LEO VIRGO LIBRA SCORPIO SAGITTARIUS CAPRICORN AQUARIUS PISCES Scan from SAGITTARIUS CAPRICORN LEO AQUARIUS VIRGO SAGITTARIUS PISCES LIBRA CAPRICORN SCORPIO AQUARIUS DINGBATS®, PISCES 2009: vector trace ARIES milestone TAURUS DINGBATS® on the GEMINI 1987 path towards CANCER understanding SAGITTARIUS CAPRICORN AQUARIUS PISCES DINGBATS® original logotype, 1987 game board ARIES ARIES ARIES TAURUS GEMINI CANCER TAURUS GEMINI CANCER TAURUS GEMINI CANCER LEO VIRGO ARIES LIBRA TAURUS SCORPIO GEMINI CANCER ARIES TAURUS GEMINI CANCER LEO LIBRA SCORPIO VIRGO LEO VIRGO LIBRA SCORPIO SAGITTARIUS CAPRICORN AQUARIUS PISCES LEO VIRGO LIBRA SCORPIO SAGITTARIUS CAPRICORN LEO AQUARIUS VIRGO PISCES LIBRA SCORPIO ARIES LEO VIRGO LIBRA SCORPIO ARIES TAURUS GEMINI CANCER F ind as many words as possible using the letters in the grid. Each word must use the central letter and at least 3 others, and letters may be used only once. You cannot use plurals, foreign words or proper nouns, but verb forms ending in 's' are permitted. There is one 9-letter word to be found. SAGITTARIUS CAPRICORN LEO AQUARIUS VIRGO PISCES LIBRA SCORPIO P H O Y L R ARIES E E B HOW YOU RATE 15 Good; 20 Very Good; 25 Excellent. YESTERDAY'S SOLUTIONS SAGITTARIUS SAGITTARIUS CAPRICORN CAPRICORN AQUARIUS AQUARIUS PISCES PISCES ARIES TAURUS GEMINI CANCER ARIES TAURUS GEMINI CANCER SAGITTARIUS CAPRICORN AQUARIUS PISCES GEMINI CANCER TAURUS lIBra Sept 24–Oct 23 LEO VIRGO LIBRA SCORPIO SAGITTARIUS CAPRICORN AQUARIUS PISCES ARIES TAURUS GEMINI CANCER saGITTarIUs Nov 23-Dec 21 SAGITTARIUS CAPRICORN LEO AQUARIUS VIRGO PISCES LIBRA SCORPIO G=0 G=0 (80p/min + network (80p/min + network For B=0more call 0905 B=0 789 4273 access charge) For more call 0905 789 4279 access charge) LEO VIRGO LIBRA SCORPIO ARIES TAURUS GEMINI CANCER TAURUS GEMINI CANCER SAGITTARIUS CAPRICORN AQUARIUS PISCES DINGBATS® SAGITTARIUS Red CAPRICORN AQUARIUS PISCES ARIES TAURUS GEMINI CANCER ARIES ARIES TAURUS GEMINI CANCER ARIES TAURUS GEMINI CANCER your LEO VIRGO LIBRA SCORPIO LEOtalent. An VIRGO advertising LIBRA initiative SCORPIO could pay caPrIcorN Dec 22-Jan 20 LEO VIRGO LIBRA SCORPIO SAGITTARIUS CAPRICORN AQUARIUS PISCES LEO VIRGO LIBRA SCORPIO ARIES TAURUS GEMINI CANCER TAURUS GEMINI CANCER cautious ARIES approach TAURUS to responsibilities. GEMINI CANCER Some LEO VIRGO LIBRA SCORPIO (80p/min + network LEO VIRGO LIBRA SCORPIO LEO VIRGO LIBRASAGITTARIUSSCORPIOCAPRICORN AQUARIUS PISCES SAGITTARIUS CAPRICORN AQUARIUS PISCES TAURUS GEMINI CANCER ARIES LEO VIRGO LIBRA SCORPIO BOYCOTTED bode, booed, booted, byte, code, coed, cote, coyote, debt, decoy, dote, obey, oboe, octet, tooted, tote, toyed. Each number from 1 to 9 represents a different letter. Solve the clues and insert the letters in the appropriate squares to discover a word which uses all nine letters. 567 gives to set up; 86918 gives a setback; 9432 gives a mistake. YESTERDAY'S SOLUTION: PSEUDONYM YESTERDAY'S SOLUTIONS Find the familiar phrase, saying or name in this arrangement of letters. DINGBATS® iPhone logotype, 2009 YESTERDAY'S SOLUTION: Solitaire ring THINGBATS logotype, 1999(?) SAGITTARIUS CAPRICORN AQUARIUS PISCES KINGBATS logotype, 1999(?) 1 2 3 4 5 6 7 8 9 TAURUS GEMINI CANCER SAGITTARIUS CAPRICORN AQUARIUS PISCES ARIES TAURUS GEMINI CANCER LEO VIRGO LIBRA SAGITTARIUS SCORPIO CAPRICORN AQUARIUS PISCES LEO VIRGO LIBRA SCORPIO SAGITTARIUS CAPRICORN AQUARIUS PISCES LEO VIRGO LIBRA SCORPIO ARIES TAURUS GEMINI CANCER this is a good time to launch a new venture. Something is telling you to wait and spend more time building the foundations of this project. There are a few important matters that need attention but the timing, as usual, ARIES is not great. For more call 0905 789 4271 If you're looking for work, talking with a friend of a friend could put a few different ideas your way. Ask questions if you find yourself interested in a different line of business. This could be your chance to take a new career direction. Make the most of ARIES networking opportunities. SAGITTARIUS CAPRICORN AQUARIUS PISCES www.dingbats.net 24/09/2021 For more call 0905 789 4272 Publication of a report marks an important recent events. Your services are in demand and you will be making it a priority to promote off. Work planned for later in the year will be brought R=255 forward. R=185 SAGITTARIUS CAPRICORN AQUARIUS PISCES There's a spirit and sense of togetherness in a team you have never experienced before. Your contribution is fundamental. You are operating at a high level and taking a people might want to rush things but you are leaving nothing to chance. For more call 0905 789 4274 SAGITTARIUS CAPRICORN AQUARIUS PISCES TAURUS GEMINI CANCER For more call 0905 789 4276 LEO VIRGO LIBRA SCORPIO (80p/min + network access charge) For more call 0905 789 4277 access charge) DINGBATS®, 2009: for normal use SAGITTARIUS CAPRICORN AQUARIUS PISCES DINGBATS®, 2009: thicker stems. Only for use at very small sizes, optionally without ring. (80p/min + network access charge) For more call 0905 789 4280 access charge) (80p/min + network LEO VIRGO LIBRA SCORPIO Some people are all talk and no action. You're ready to step in and resolve an ongoing problem. Don't worry about what anyone will think. Just do what is necessary to remedy the situation. Once things get moving you will feel relieved and there will be appreciation coming your way. Household expenses are creeping up. A lot of small bills are adding up to quite a large total. If you can point this out to other persuade them all to start cutting back on their own spending. You all need to work together on this. You're starting to question someone's feelings. They might say all the right things but there is no evidence to show they really feel that way. Questions are being asked about how rules are being applied when it is becoming clear some people aren't abiding by all guidelines set out. Don't let a good relationship fall apart because you aren't giving it time, effort or attention. You never know when people in your life you take for granted might suddenly disappear. That's when you are left grasping at the fading tendrils of good, happy memories. Don't let it get that far. aQUarIUs Jan 21-Feb 19 You are having to step up to deliver a job you Anything less than total honesty and have agreed to carry out and you are well sincerity in relationships makes you feel as if R=60 R=0 aware that there's a busy time ahead. you've been cheated – especially in romance. Progress G=212 has been G=130 remarkable so far but you You aren't expecting a lot but this is LEO VIRGO LIBRA SCORPIO are B=0not one to underestimate B=7 ARIES the huge scale TAURUS important GEMINI to CANCER you and it might be time to let a of the TAURUSjob you GEMINI have taken CANCER THINGBATS Green on. Don't be scared new partner know this. The next step will be to seek support. up to them. THINGBATS, 2009 (80p/min + network (80p/min + network For more call 0905 789 4275 access charge) For more call 0905 789 4281 access charge) VIrGo PIscEs Aug 24-Sept 23 Feb 20-Mar 20 R=148 R=94 You G=0might hardly G=27 recognise someone you Workmates and housemates are taking it for bump B=207 into who B=109 at one time was a big part of granted that if they ignore everyday chores, your life. They've changed a lot since you last you will get them done. They need to start KINGBATS Purple SAGITTARIUS CAPRICORN AQUARIUS PISCES ARIES TAURUS GEMINI CANCER saw each other, not only in appearance but realising how much effort it takes to run a as you get talking you will realise their views, home. If they made a little effort and did KINGBATS, 2009 opinions and outlook on life have also their fair share, it would save you a lot of changed considerably. time. (80p/min + network access charge) For more call 0905 789 4282 access charge) Calls cost 80p per minute plus your telephone company's network access charge – maximum of 5 minutes duration. You must be over 18 and have the bill payer's permission. SAGITTARIUS CAPRICORN AQUARIUS PISCES Service provider Uploading, Spoke. 2009 Helpline 0333 202 3390 SAGITTARIUS CAPRICORN AQUARIUS PISCES
40 BIRMINGHAM MAIL FRIDAY, SEPTEMBER 24, 2021 @birmingham_live
www.birminghamlive.co.uk FRIDAY, SEPTEMBER 24, 2021 BIRMINGHAM MAIL 41 Best buys to make your garden great Fragrant Gardenia 'Crown Jewel' Beautiful Hybrid Shrub Gardenia 'Crown Jewel' is a sensational shrub that has enjoyed immense popularity in recent years and it's easy to see why. Gardenia jasminoides 'Crown Jewel' produces double ruffled white flowers that appear in early summer and continue through to the autumn. This compact shrub is easily managed, growing to only 60cm tall with a spread of 100-120cm. • Flowers June to October. • Best results when placed in a partially shaded spot and watered freely. • 9cm pot plants supplied. Order one Gardenia 'Crown Jewel' for £13.99 (Code H8200), or buy two for only £19.98 (Code H8201) and save £8. BUY TWO AND SAVE £8 Call 0843 922 5000 (quoting BM750) or visit www.GardenOffers.co.uk Offer subject to availability and UK Mainland readers only. If you are not fully satisfied return undamaged within 7 days for a full refund. These goods are sold and supplied by J. Parker Dutch Bulbs (Wholesale) Ltd. with whom you contract when you accept this offer. Calls cost 7 pence per minute, plus your phone company's access charge. ALTERNATIVELY COMPLETE THE COUPON IN BLOCK CAPITALS AND SEND IT BACK TO: Birmingham Mail, Gardenia 'Crown Jewel' Offer (BM750), PO Box 64, South West District Office, Manchester, M16 9HY TITLE INITIAL SURNAME ADDRESS DOB TEL NO (for queries only) EMAIL POST CODE PLEASE SEND ME CODE QTY PRICE TOTAL GARDENIA 'CROWN JEWEL' H8200 £13.99 £ 2 GARDENIA 'CROWN JEWEL' - SAVE £8 H8201 £19.98 £ I enclose a cheque/PO for the amount of £ made payable to 'Garden Offers' (name and address on the back, please use BLUE/BLACK INK) or debit my credit/debit card for the sum of £ CARD NO. MAESTRO 16+ NOS VALID / EXPIRY / MAESTRO ISSUE NO. NAME ON CARD SIGNATURE Calls cost 7p per minute plus your phone company's access charge. These goods are sold and supplied by J. Parker Dutch Bulbs (Wholesale) Ltd. with whom you contract when you accept this offer. Please note delivery to England, Scotland and Wales only. Please allow 28 days for delivery. All prices include postage and packaging. P&P TOTAL £ FREE
www.birminghamlive.co.uk FRIDAY, SEPTEMBER 24, 2021 BIRMINGHAM MAIL 43 BLAKE Margaret Sadly passed away on Tuesday 14th September, 2021 aged 88 years. "Gone but never forgotten" The funeral service for Margaret will take place at Birmingham Crematorium on Wednesday 6th October, 2021 at 2. 30 p.m. Family flowers only please, donations if so desired to Dementia UK may be sent to: Thomas Brothers, The Funeral Directors, Birchfield House, 494 Evesham Road, Redditch. B97 5JF 01527 547777 BLAKE Noreen Sadly passed away on September 8th 2021 at home. Mother to Frances, John, Michael, Andrew and Bernadette. Reunited with her beloved husband Edward. Requiem Mass at the Holy name of Jesus on Wednesday 29th September 2021 at 10.30, followed by burial at Handsworth Cemetery. Noreen will be greatly missed by all her family and friends. Family Flowers only please. BLOOMER EILEEN Passed away 8th September 2021.Greatly missed by her devoted family. Reception into Sacred Heart and Holly Souls RC Church, Acocks Green on Tuesday 5th October at 6.00pm. Requiem Mass on Wednesday 6th October at 11.30am R.I.P CARLIN Patricia Ann Passed away peacefully on 11th September 2021, aged 79 years. Heartbroken family of beloved Pat, Mother to son Simon, daughterin-law Brenda, Sister to Margaret and Peter, Sister-in-law to Linda. Loving Nanny to Laura Kate, Aimee May & Thomas James, also Aunty to Andrew & Joanne, Great Aunty to Jacob, Ethan and Harper. Funeral to be held at Birmingham Crematorium on 30th September 2021 at 12.30pm. CLARKE Janette In loving memory of Janette Clarke previously Brown, maiden name Whittingslow. Dear Jan, I loved you so much, you have been such a beautiful and loving wife. Thank you so much for the gift of 21 years you have given me, such wonderful years. Rest in peace, your ever loving husband Ron. Robin Hood - 28th September at 11.30. CLARKE Karen Isabella Passed away on 6th September 2021 aged 64 years. Much loved wife to Anthony, mum to Louise, Michelle, Michael and Anthony and loving grandma to Katy, Josh, Jodie, Sophie, Leanne, Liam and Lilly-May. Funeral Service on 4th October at Lodge Hill Crematorium at 1.45pm. Flowers welcome. DRYBURGH Patricia Ann nee Masterson Sadly passed away on 14th September 2021 aged 65 years. Much loved Mother to Patrick, Stuart and Jamie. Nan to Georgie, Harry and Evie. Will be dearly missed by all. We welcome you to attend her Funeral service at Holy Cross & St Francis Catholic Church, Walmley at 10.30am on 1st October 2021 and then to be reunited with her husband George at New Hall Cemetery. EDKINS Edna Patricia Passed away September 10th 2021 aged 93 years. Beloved wife of Ron, loving mother of Susan, Sandra, Steven, David, Robert and Jayne, much loved grandma of eleven grandchildren and ten great grandchildren, sister of Hazel, John and Martin. Funeral service at Woodlands Crematorium Coleshill B46 1DP on Wednesday 6th October 2021 at 1.00pm. Family flowers only please, donations in lieu payable to P.D.S.A. or Midlands Air Ambulance Service sent c/o Gascoignes of Coleshill Ltd, 100 High Street, Coleshill, B46 3BL. EDKINS Edna Patricia Passed away September 10th 2021, aged 93 years. Beloved wife of Ron, loving mother of Susan, Sandra, Steven, David, Robert and Jayne, much loved Grandma of 11 grandchildren and 10 great-grandchildren, sister of Hazel, John and Martin. Funeral service at Woodlands Crematorium, Coleshill B46 1DP on Wednesday 6th October 2021at 1pm. Family flowers only please, donations in lieu payable to PDSA or Midlands Air Ambulance Service sent c/o Gascoignes of Coleshill Ltd, 100 High Street, Coleshill B46 3BL. PLOWS Alan Raymond Passed away 5th September 2021, aged 91 years. Much loved father, grandad and great grandad. He will be sadly missed by his family and friends. Funeral Service to be held at Yardley Crematorium on Friday 8th October 2021 at 3.15 p.m. No flowers, donations in lieu for 'Dementia UK' c/o C.Bastock Ltd., 67 - 71, Warwick Road, Olton, Solihull. B92 7HP POOLE Francis Reginald Frank Passed away peacefully on 14th September aged 96 years. Much loved dad to Stephen, Philip and Helen and husband to the late Mary, he will be much missed by all his family and friends. Funeral Mass at Our Lady and Saint Rose of Lima on 4th October at 10.00am followed by committal at Lodge Hill Crematorium at 11.30am. Family flowers only but donations may be gifted on the day or directly to Age UK (Birmingham). PRICE Anthony Charles 'Tony' Lately of Fieldon Close, Shirley sadly passed away on 29th August 2021 aged 83. Beloved husband of Maureen. He will be sorely missed by family and friends. Service and Cremation at Robin Hood Crematorium on 28 September 2021, 2pm. Family Flowers only. Any donations to Guide dogs for the Blind. Enquiries to Dyson Richards, Shirley. RICKERBY Pauline Mary Sadly passed away on the 4th September aged 79. Will be sadly missed by Husband Tel, Daughter Sharon & Grandchildren Lauren, Callum. All Family & Friends. Service to take place at Lodge Hill Crematorium on Wednesday 29th September 2021 at 1.00pm. All Donations To St Mary's Hospice SCHELLENBERG Eugene (Gene) Rudolf, Died peacefully on 9 September 2021, aged 88 years. His funeral and celebration of life will be held at 1.00pm, Thursday 30 September 2021 at St Nicolas Parish Church, Kings Norton, Birmingham B38 8RU. Family flowers only. Donations, if desired, to the Ifakara Bakery Project (www.bakeryfund.org). TAYLOR Joseph Lawrence 'Joe' Sadly Passed Away Monday 6th September. Loving Husband of Sue, always in my heart. Much loved Brother of Jimmy and Pat. He will be sadly missed by all of his family and his many friends from over the years. Funeral service to be held Thursday 7th October 13.45 at Lodge Hill Crematorium. funeral-notices.co.uk Announce, share and remember forever Funeral Notice Partners The following Funeral Directors have chosen funeral-notices.co.uk to provide notices on their website meaning you may view their current and past notices on their own websites. Check out your local Funeral Notice Partners below: Visit: cbastock.co.uk Visit: jukesfuneralservices.com Visit: stephenandphilippainter.com Interested in becoming a preferred parter to funeral notices? Funeral Directors can be added free to this advert by calling 03444 060 276 BRENNAN Thomas Francis 24th September 2017 R.I.P Father of the late Veronica. Greatly missed by Wife Mary and Son Ambrose. QUINN Paul Beloved son of the late Maureen and much loved brother to Gary and Michael. Sadly missed by all friends and family. 15 years today kid and it still seems like yesterday, but you are in the safe arms of mum now and we remember both of you today. Sleep well and rest easy. Shine on you crazy Diamond.
852 Chester Road, Chelmsley Wood, Birmingham B37 7WG 0121 667 2907 797b Bristol Road South, Northfield, Birmingham B31 2NQ 0121 667 6992 3b Oxford Road, Moseley, Birmingham B13 9EJ 0121 314 9092 1048 Yardley Wood Road, Yardley Wood, Birmingham B14 4BW 0121 667 7845 1017 Alcester Road South, Maypole, Birmingham B14 5JA 0121 667 4519 62 High Street, Harborne, Birmingham B17 9NJ 0121 667 9512 1735 Coventry Road, Yardley, Birmingham B26 1DT 0121 314 0620 295 Fox Hollies Road, Acocks Green, Birmingham B27 7PS 0121 667 3914 180 Robin Hood Lane, Hall Green, Birmingham B28 0LG 0121 667 5638 156 Weoley Castle Road, Weoley Castle, Birmingham B29 5QL 0121 314 9644 1290 Pershore Road, Stirchley, Birmingham B30 2XU 0121 667 2604 137 Quinton Road West, Quinton, Birmingham B32 2RE 0121 314 7818 36 East Meadway, Kitts Green, Birmingham B33 0AP 0121 667 3815 339 Chester Road, Castle Bromwich, Birmingham B36 0JG 0121 667 2510 103 High Street, Coleshill B46 3BP 01675 678213 19 Great Brook Street, Nechells, Birmingham B7 4EN 0121 314 0945 Enterprise House, Kingsbury Road, Minworth B76 9AG 0121 667 5633 Fox and Goose Shopping Centre, 14 Washwood Heath Road, Ward End, Birmingham B8 2EP 0121 314 3743 155a New Road, Rubery, Birmingham B45 9JW 0121 667 5912 616 Walsall Road, Great Barr, Birmingham B42 1EZ 0121 667 2920 57 Hobs Moat Road, Solihull B92 8JJ 0121 314 9534 313 Marsh Lane, Erdington, Birmingham B23 6JD 0121 667 6821 295 Pershore Road, Kings Norton, Birmingham B30 8EX 0121 392 6857 200-204 Hawthorn Road, Kingstanding, Birmingham B44 8PP 0121 314 9842 Ambler Brothers Funeral Directors A choice of memorials • Floral arrangements • A range of funeral plans 350 Alcester Road, Moseley, Birmingham B13 8LJ 0121 667 2844 www.amblerbrothers.co.uk
www.birminghamlive.co.uk FRIDAY, SEPTEMBER 24, 2021 BIRMINGHAM MAIL 45 Classified LOCAL GARDENER • All Aspects of gardening work undertaken • Summer tidy ups • Regular maintenance • Pressure washing • Fencing • One off jobs • Excellent plant knowledge • Plants supplied & planted in your garden Affordable, reliable & friendly. 7 Days 07514 415 639 COCKER SPANIEL PUPPIES WANTED WANTED FOR CASH THE FOLLOWING ITEMS MOTORCYCLES AND MOPEDS ANY CONDITION ANY AGE ANY SIZE BIG OR SMALL. RUSTY OR NEW OLD MOTOR SCOOTERS OLD MOTORCYCLE PARTS OLD RACING BIKES GARAGE EQUIPMENT OLD JAGUAR PARTS OLD ADVERTISING AND ROAD SIGNS SPEEDY COLLECTION AND FAIR PRICE PAID O779O168224 O7790168224 WANTED WANTED MODEL RAILWAYS & DINKY TOYS WANTED MODEL RAILWAYS, HORNBY,HORNBY DUBLO,ANY MAKE AGE OR GAUGE BOXED OR UNBOXED,ALSO DINKY,CORGI TOYS. PRIVATE COLLECTOR. will pay up to £500 07980409847 WANTED F O O T B A L L P R O G R A M M E S WANTED PRE - 1969 , TICKETS , BADGES , PHOTOS , OLD SHIRTS , ALSO SPEEDWAY & RUGBY ****CASH PAID **** cornerprogrammes@ gmail.com 07427 746 806 2 Pedigree Golden boys. Vet checked and microchipped. Wormed to date. Lovely pups Each £850 07967417675 WANTED EMPTY RED GAS BOTTLES Must be 47kg. Any make. Cash paid on collection. Call 07748 050163 WANTED CLASSIC CAR Looking for classic car Triumph, Ford, MG, Jag etc, condition not important, running or not, anything considered, cash paid, private sellers please phone Ron with details. 07733784015 Stairlift Straight reconditioned stairlifts available from £699 fitted with a years warranty. Brand new straight stairlifts available from £1400 with 3 years warranty. Brand new curved stairlifts priced on quotation. Call now for a FREE quote. All secondhand lifts are reconditioned to a high standard and fitted with new batteries. Installed by a qualified stairlift engineer with over 15 years experience. £699 07388508148 VINYL RECORDS WANTED ROCK/INDIE/PUNK/SOUL/ REGGAE/PSYCH LP'S/7" SINGLES/EP'S FANTASTIC CASH PRICES PAID £500 07780360187 WANTED ACCORDION CASH BUYER LOOKING TO BUY AN ACCORDION CAN CALL TO VIEW OR ARRANGE A COURIER TO PICK UP. TEL 07763 919621 will pay up to £1000 0121 476 1533 Services Roofs 'R' Us THE PROFESSIONAL ROOFING COMPANY ROOFING SERVICES, GUTTERING SERVICES, FLAT ROOFING TILED ROOFING CHIMNEY REPOINTING NEW ROOFS RE-TILING RIDGES REPAIRS UPVC FASCIAS & SOFFITS DOWNPIPES REPLACED LEAKS REPAIRED GUTTERS CLEARED GUTTER CLEANING GUTTERING CLEANED FROM £20.00 ALL WORK GUARANTEED CALL FOR FREE QUOTES & ADVICE Office: 0121 608 0902 | Direct: 07954 585531 ROOF REPAIR SERVICE ROOF REPAIRS FROM £30 GUTTERING CLEANED FROM £20 NEW ROOFS FROM £2500 Flat Roof Specialists Small Jobs Welcome Vetted by Age Concern Birmingham 07956 228842 / 01216 042 104 Your TV Reception Fixed Today! Bad Reception? No Signal? Picture Freezing? Friendly local fully insured engineers in your area today - Call now! Aerial & Satellite Specialists Free Estimates - TV Wall Hanging 0121 817 2079 07868 809 796 Birmingham Aerial & Satellite RUBBISH REMOVALS Garden & House Clearances CHEAPER THAN A SKIP "We load, clean up, we go" Registered Waste Carriers Reg No. CBUM3386MT Free No Obligation Quotation Freephone 0800 955 2923 Mob 07882 771120 Entertainment MEASHAM CAR BOOT OPEN EVERY SUNDAY OPEN FROM 6AM Masks must be worn until 7.15am. Find us off Bosworth Road, Mesaham DE12 7HA. *********************************************** For full details see Facebook Meashamcarboot Tel Tara or Mick 07747 052878 Antique, Collectors & Vintage Fair SUNDAY 26th SePtember Sky BlueS SportS Connexion ryton on DunSmore CV8 3Fl 80 indoor/outdoor stalls Open 9am till 2pm Entry £3 Under 16's free Contact: 07939 445024 Free Parking & Dogs Welcome www.gjfairs.co.uk
46 BIRMINGHAM MAIL FRIDAY, SEPTEMBER 24, 2021 @birmingham_live Property Motors Motors WANTED TOURING CARAVAN Any make, model, year or condition. With or without damp. Same day collection. Payment of your choice. Please contact Martin with further details. MJ RECOVERY LTD ALL SCRAP VEHICLES WANTED WE PAY UP TO £500 Up to £25,000 paid for runners BIGGER CARS = MORE CASH! MOT Failures - DVLA Notified Cheap Breakdown Service • Fully Insured Registered Waste Carrier FAST • HONEST • RELIABLE Tel: 07766 540 401 Freephone: 08000 778 328 T & C'S Apply www.mjrecoveryltd.co.uk SCRAP CARS & VANS WANTED WE PAY BETTER PRICES Insurance write offs & MOT failures Don't get caught out by DVLA Scrap your car the Slater's Way 0121 440 5665 0121 789 8553 (Evenings) DVLA Approved Company WE ISSUE DVLA DESTRUCTION NOTES www.slaterbrothers.com Public Notices *PER TONNE Reliant Scimitar Gte E Odve 3ltr V6, Manual, Blue, 3 doors, 1975 historic vehicle, MOT and TAX exempt. A running project. £2000 ono 01902219156 or 07896482219 07388448303 K1 KSA WANTED TOURING CARAVAN Any make, model, year or condition. With or without damp. Same day collection. Payment of your choice. Please contact Martin with further details. 07388448303 WANTED TOURING CARAVAN Hi I'm looking to buy a caravan for family holidays please call me if you're selling one I'm a genuine buyer- ring Scott Registration plate on retention. £4000 ono 07980371948 Paris Independent British mixed race beauty! Come into my bubble and relax for a while AvAilAble every FridAy b90 till lAte. AlternAte SundAy Solihull b90 eArly evening And birminghAm b1 eArly evening. oFFering A no ruShed mASSAge Service with A Smile! Call 07733475408 www.xratedparisescort.co.uk 07810377562 WANTED C OAC H B U I LT MOTORHOME Any make/model/year or condition. Anything considered. Cash paid. Private buyer. 07376 393703 BIRMINGHAM CITY COUNCIL (SOMERVILLE ROAD, SMALL HEATH) (TRAFFIC REGULATION) ORDER 202* NOTICE is hereby given that the above named Council propose to make these Orders under Sections 1(1), 2(1) to (3), 4(2), 32, 35, 45, 46, 49, 53,101 and 102 and Part IV of Schedule 9 of the Road Traffic Regulation Act 1984, (as amended) the effect of which will be as follows: To introduce No Waiting at any time on SOMERVILLE ROAD, SMALL HEATH at its junction with Aubrey Road. HIGHWAYS ACT 1980 INSTALLATION OF SPEED CUSHIONS NOTICE is hereby given that the above named Council intends under Section 90A of the Highways Act 1980 (as amended) to install speed cushions, approximate dimensions (75mm high, 1800 to 1900mm wide and 2500mm in length) at the approximate locations specified in the Schedule to this Notice, for the purpose of reducing speed. SCHEDULE LOCATION No. of Speed Cushions SOMERVILLE ROAD to the side of No 180 Aubrey Road 2 SOMERVILLE ROAD west of the junction with Aubrey Road 2 SOMERVILLE ROAD east of the junction with Aubrey Road 2 SOMERVILLE ROAD outside No's 261 & 263 Somerville Road 2 Full details of these proposals, together with the plans and a statement of the Council's reasons for the proposals, will be made available on request. (Contact Garry Dalton Tel 0121 3035405 email: garry.dalton@ birmingham.gov.uk). Any person wishing to object to the proposals should write to the Assistant Director – Transport & Connectivity at Inclusive Growth Directorate, 1 Lancaster Circus Queensway, PO Box 14439, Birmingham B2 2JE stating the grounds for objection by the 15th October 2021 Dated this 24th day of September 2021 Phil Edwards, Assistant Director – Transport & Connectivity www.birmingham.gov.uk DiD you know? you can now book your Public notice by visiting bookanad.com For help booking online call our team on 01227 907972 9am-5pm Mon-Fri Self-Serve online BIRMINGHAM CITY COUNCIL (RESERVOIR ROAD, ERDINGTON) (FOOTPATH) (TEMPORARY PROHIBITION OF THROUGH TRAFFIC) (T2122306) ORDER 2021 NOTICE is hereby given that Birmingham City Council has made an Order the effect of which prohibits anyone to enter or proceed within that length of footpath that exists on the south side of RESERVOIR ROAD between the vehicular access to Elwood Centre and the YMCA. The Temporary Order is required to enable utility works to be carried out in safety. The proposed prohibition and restriction shall apply only during such times and to such an extent as shall from time to time be indicated by traffic signs prescribed by The Traffic Signs Regulations and General Directions 2016. The proposed Order will come into operation on 29th September 2021 and will remain in force for a period of FOUR WEEKS or until the works are complete, whichever is the sooner. Dated the 24th day of September 2021 Phil Edwards, Assistant Director – Transport & Connectivity, Inclusive Growth Directorate, Birmingham City Council, 1 Lancaster Circus Queensway, PO Box 14439, Birmingham, B2 2JE (Sat Nav B4 7DJ) www.birmingham.gov.uk
FRIDAY, SEPTEMBER 24, 2021 BIRMINGHAM MAIL 47 www.birminghamlive.co.uk Calscost65pperminplusyourtelephonecompany'snetworkaccesscharge.18+only. SP:Spoke.Helpline:03332023390 OFFICIALHORSERACING COMMENTARY AND RESULTS Cal09016094248 Get everything you need to know about where you live with our app or via InYourArea.co.uk Racing WORCESTER TODAY HAYDOCK TODAY NEWMARKET TODAY YORK TODAY Going: Good Going: Good to firm Draw: In 5f & 6f races on soft ground high numbers have an advantage. Going: Good Draw: Inconsistent. Going: Good-good to firm in places Draw: Low numbers best on the straight track, especially when soft Getabuck 2.17 Whoshotwho Thistle Do Nicely 2.52 Supremely Lucky Makety 3.27 makety Chapmanshype 4.02 Shetland Bus Renardeau 4.35 roque It Burristo 5.07 London Eye Bascule 1.00 bascule Miss Britain 1.30 Kimngrace Captain's Bar 2.00 Captain's Bar Reversion 2.35 Come Quick Super Superjack 3.10 Thai Terrier Geremia 3.45 Moliwood Sibaaq 4.20 Noble Patron Al Jaddaf 1.15 Spinaround Fooraat (nb) 1.50 fooraat Sea La Rosa 2.25 Forbearance Oscula 3.00 Girl On Film Benbatl (nap) 3.35 Master Of The Seas Alignak 4.10 Highland Chief Alhezabr 4.40 Rebel Territory Cairn Island 2.05 Cairn Island Challet 2.40 Danzan Nickleby 3.15 Roach Power Invincibly 3.50 A Boy Named Ivy Emaraty Hero 4.25 Byron Hill Rhythm 4.55 rhythm Cozone 5.25 Mount Marcy Miracle Eagle 4.50 Colonial Love Fossos 5.30 Sestriere Twisted Dreams 6.00 Good Humor River Tweed 6.30 Cape Columbus Gold Wing 7.00 vanitas Brazen Bolt 7.30 Daany Musahaba 8.00 Acquisitor Hail Sezer 8.30 Hail Sezer NEWCASTLE TODAY 4.50 ARC WEEKEND ON SKY SPORTS RACING FILLIES' HANDICAP (5) 1m 4f Winner £2,862 (8 run) SSR 1 (7) 451 Golden Hind (11) D O'Meara 4 10-3 (CD)............. D Tudhope 70 2 (8) 9/2 Joie De Vivre M Todhunter 6 9-11 (D)...........................G Lee 96 3 (4) 551 Colonial Love (13) H Palmer 3 9-8 (D)......................T Eaves 99 4 (5) 230 Hipsway (12) K Dalgleish 3 9-7.......................... C Rodriguez — 5 (3) 232 Miracle Eagle (17) J O'Keeffe 4 9-5 (BF)................J Garritty — 6 (1) -D3 Cherokee Dance (174) I Williams 3 9-2..Elisha Whittington (5) 75 7 (6) 513 Hellenista (5) T Easterby 3 8-10 (D)....................... P Dennis — 8 (2) 036 Tykenwear (25) J J Davies 3 8-4................ Miss A Waugh (5) — BETTING: 9-4 Colonial Love, 7-2 Golden Hind, 4 Miracle Eagle, 5 Hellenista, 8 Joie De Vivre, 16 Hipsway, Cherokee Dance, 25 Tykenwear. 5.30 SKY SPORTS RACING SKY 415 APPRENTICE HAND- ICAP (6) 5f Winner £2,322 (12 run) SSR 1 (12) 425 Lord Of The Glen (12) J Goldie 6 9-9 (BF, CD5)..................... ................................................................... Miss A Waugh (3) 70 2 (3) 726 Lola Rebel (12) C Teague 3 9-7 (BF)........................H Russell 83 3 (2) 763 Fossos (8) T Easterby 3 9-6 (D).........................Ella McCain (6) 90 4 (8) 47- Sestriere (296) R Fell 5 9-2...............................B Harris (10) 81 5 (7) 099 Khulu (27) D Thompson 5 9-1..............................A Beech (3) 99 6 (9) 030 Twelve Diamonds (11) M Herrington 4 9-0..........G Buckell — 7 (6) 238 Elzaal (40) P Midgley 3 9-0 (BF).............................B Garritty 94 8 (5) 948 Red Stripes (26) L Williamson 9 8-12 (D12).......G Ashton (5) 75 9 (10) 767 Brazen Lady (49) L Williamson 4 8-12... Elisha Whittington (3) — 10 (1) 906 Tiltilys Rock (18) A Crook 4 8-12 (D2)................. C Murtagh 78 11 (11) 434 Sheila's Legacy (26) A Brown 3 8-11...................... C Noble 87 12 (4) 866 Lancashire Life (5) Mrs Stella Barclay 3 8-11..................... ...................................................................... F McManoman 87 BETTING: 3 Fossos, 7-2 Elzaal, 6 Lord Of The Glen, 7 Sheila's Legacy, 8 Lola Rebel, 10 Sestriere, Khulu, 14 Twelve Diamonds, 20 Others. 6.00 CAZOO HANDICAP (5) 1m Winner £4,347 (11 run) SSR 1 (5) 439 Good Humor (27) R Varian 4 9-11...................... C Noble (3) — 2 (1) 254 Bringitonboris (7) K Dalgleish 4 9-8 (BF, CD2)...J Fanning 90 3 (3) 950 Soaring Star (20) K Ryan 4 9-8..................................S Gray 91 4 (6) 146 New Dynasty (21) J Tate 3 9-7 (C).......................... A Mullen 94 5 (11) 120 Makeen (77) J Camacho 4 9-7 (BF, D)..............................G Lee 89 6 (10) 408 Tiger Touch (15) D O'Meara 4 9-6....................... D Tudhope 76 7 (9) -79 Harry George (46) B Ellison 7 9-6 (CD3)...........H Russell (3) 82 8 (8) 709 Wild Hope (38) K Ryan 5 9-4 (D2)..............................T Eaves 99 9 (2) 623 Twisted Dreams (21) R Menzies 4 9-3 (BF, CD)...P J McDonald 91 10 (4) 905 Fennaan (16) Phillip Makin 6 9-3 (CD)................ C Rodriguez — 11 (7) 144 My Thought (35) T Easterby 4 9-0 (D).............Ella McCain (5) 70 BETTING: 3 Bringitonboris, 4 Twisted Dreams, 6 Makeen, 7 New Dynasty, My Thought, 8 Good Humor, 10 Soaring Star, 20 Harry George, Wild Hope, Fennaan, 25 Tiger Touch. 6.30 KENDO NAGASAKI WESTLINEUK.COM NOVICE STAKES (5) 6f Winner £3,672 (12 run) SSR 1 (6) 0 Barney Too (20) L Williamson 4 9-5........................C Hardie — 2 (9) 232 Stalingrad (107) G Tuer 4 9-5 (BF)..................B Garritty (3) 99 3 (7) 93 Storm Master (113) J Riches 4 9-5....................B Harris (7) — 4 (11) 32 Abbey Heights (30) D & C Kubler 3 9-3........... P J McDonald 94 5 (2) 33 Cape Columbus (118) R Guest 3 9-3.................... R Dawson — 6 (4) 60 Gaerwen (21) E Bethell 3 9-3...................................A Elliott 70 7 (3) 223 Maywake (25) R Fahey 3 9-3....................................D Nolan 94 8 (10) 3 River Tweed (192) C Hills 3 9-3........................... D Tudhope 86 9 (5) 45 Crofters Green (10) R Fahey 3 8-12..................B McHugh 87 10 (12) 8- Forever's Lady (364) G Oldroyd 3 8-12....................T Eaves — 11 (8) Highest Wave G Oldroyd 3 8-12..............F McManoman (3) — 12 (1) 6 Miss Connaisseur (21) R Carr 3 8-12................ JP Sullivan 84 BETTING: 3 Abbey Heights, 7-2 Stalingrad, 4 River Tweed, 5 Cape Columbus, Maywake, 14 Crofters Green, 20 Forever's Lady, Highest Wave, 33 Others. 7.00 FILLIES' HANDICAP (5) 7f Winner £2,862 (8 run) SSR 1 (7) 547 Daphne May (15) A West 3 9-13 (CD).............................G Lee 92 2 (6) 441 Vanitas (28) D O'Meara 3 9-13 (D2)...................... D Tudhope 99 3 (3) 628 Heavenly Rose (37) M Botti 3 9-7.................. P J McDonald 99 4 (1) 234 Lead Story (12) K Burke 3 9-6 (D).................. Alan Persse (7) 99 5 (2) 462 Gold Wing (18) S bin Suroor 3 9-4.........................J Fanning 94 6 (8) 336 Hostelry (21) R Carr 4 8-11......................F McManoman (3) 97 7 (5) 6-0 Wrea Green (149) J Camacho 3 8-11.......................C Hardie 70 8 (4) 571 Key Look (11) G Harker 4 8-8 (D2).................................S Gray 96 BETTING: 9-4 Key Look, 3 Vanitas, 7-2 Gold Wing, 7 Lead Story, 10 Hostelry, 14 Heavenly Rose, 16 Daphne May, 20 Wrea Green. 7.30 FOLLOW ATTHERACES ON TWITTER HANDICAP (DIV 1) (6) 7f Winner £2,322 (10 run) SSR 1 (10) 121 Brazen Bolt (3) J J Quinn 4 10-4 (CD3)................ D Tudhope 74 2 (5) 742 Moonbootz (21) K Burke 4 9-10..................... P J McDonald 99 3 (7) 566 Class Clown (35) T D Barron 4 9-8 (CD)................ R Dawson 80 4 (9) 231 Asmund (10) D Carroll 4 9-8 (C, D)....................Z Wheatley (7) — 5 (4) -57 Sands In Time (42) R Fahey 3 9-5.........................B McHugh 77 6 (8) 709 Bobby Joe Leg (21) R Carr 7 9-4 (CD3).................. JP Sullivan 78 7 (2) 901 Daany (8) A West 4 8-12..................... Elisha Whittington (5) 76 8 (3) 067 Mac Mccarthy (13) R Carr 4 8-5 (D)......................J Gormley 80 9 (6) 638 Cool Dandy (7) K Dalgleish 3 8-3..........................J Fanning — 10 (1) 707 French Red (11) I Jardine 3 8-2.............................. A Mullen 70 BETTING: 5-2 Daany, 11-4 Brazen Bolt, 4 Asmund, 5 Moonbootz, 14 Cool Dandy, 20 Class Clown, Sands In Time, French Red, 25 Others. 8.00 FOLLOW ATTHERACES ON TWITTER HANDICAP (DIV 2) (6) 7f Winner £2,322 (9 run) SSR 1 (3) 357 Confrontational (14) J Candlish 7 10-0 (C2, D3)......S Gray 96 2 (7) 113 Acquisitor (48) P Kirby 3 9-11 (BF, D2).............B Garritty (3) 86 3 (6) 302 Musahaba (21) D O'Meara 4 9-9..............................D Nolan 94 4 (2) 667 George Scott (30) G Scott 3 9-7...........................J Fanning 99 5 (5) 766 Redesdale Rebel (46) S Corbett 5 9-6 (CD)......... C Noble (3) 70 6 (4) 264 Enderman (21) P Midgley 3 9-3...................................G Lee 96 7 (8) 440 Khazaf (21) R Carr 6 8-9 (CD)................................ JP Sullivan 94 8 (1) 404 Charlemaine (31) N Mechie 4 8-6............ Miss A Waugh (5) 78 9 (9) 690 Rose Of Lancashire (35) Mrs Stella Barclay 3 8-3....F McManoman (3) 90 BETTING: 5-2 Acquisitor, 3 Musahaba, 4 Confrontational, 7 Enderman, 10 Khazaf, George Scott, 12 Redesdale Rebel, 20 Charlemaine, 66 Rose Of Lancashire. 8.30 WATCH FREE REPLAYS ON ATTHERACES.COM HANDICAP (5) 6f Winner £2,862 (12 run) SSR 1 (9) 005 Blackheath (10) M Dods 6 9-10 (D).............................G Lee — 2 (3) 256 Kapono (28) R Fell 5 9-10 (CD).............................. D Tudhope 82 3 (7) 155 Tathmeen (25) A Brittain 6 9-7 (C5, D3)....................C Hardie 85 4 (1) 317 Thornaby Pearl (7) Adrian Nicholls 3 9-7 (D2)...B McHugh 70 5 (6) 120 Aunt Agatha (27) K Ryan 3 9-5.................................T Eaves 82 6 (12) 090 Royal Advice (21) K Dalgleish 3 9-4 (CD2)......... C Rodriguez 90 7 (8) 079 Gowanbuster (41) S Corbett 6 9-4 (CD2)....... P J McDonald — 8 (10) 212 Hail Sezer (27) G Harker 4 9-4 (BF, D)........................D Nolan 72 9 (11) 734 Captain Vallo (10) Phillip Makin 3 9-4 (D).................S Gray — 10 (5) 351 Canford Bay (25) A Brittain 7 9-3 (C, D2)............. R Dawson 99 11 (2) 359 Water Of Leith (5) R Menzies 3 9-2 (D2)................ P Dennis 94 12 (4) 848 The Armed Man (27) C Fairhurst 8 9-1 (CD)..............A Elliott — BETTING: 9-2 Hail Sezer, 6 Blackheath, Thornaby Pearl, 7 Canford Bay, Captain Vallo, 10 Kapono, Tathmeen, 12 Water Of Leith, Royal Advice, Aunt Agatha, 16 Others. 2.17 BOB LOVE KING OF THE DIRT HANDICAP CHASE (4) 2m 110yds Winner £3,594 (7 run) SSR 1 321 Cousin Oscar (39) D McCain 9 12-3 (D3)................... T Gillard (5) — 2 641 Away For Slates (5) M Harris 11 11-13 (D2).........M Bastyan (3) 89 3 64U Whoshotwho (29) Dr R Newland 10 11-12 (D)...... C Hammond 87 4 -46 Sarasota Star (108) M Keighley 5 11-12 (D2)..............R Dingle 70 5 -25 Getabuck (68) A Stronge 8 11-4 (BF)..............................J Bowen 94 6 140 Captain Cobajay (16) Justin Landy 8 10-10 (D4)..Sean Quinlan 95 7 593 Cawthorne (29) O Greenall 7 10-1 (BF, D)............... Craig Nichol 99 BETTING: 6-4 Cousin Oscar, 7-2 Whoshotwho, 5 Away For Slates, 8 Cawthorne, 10 Captain Cobajay, Getabuck, 14 Sarasota Star. 2020: No corresponding meeting. 2.52 NOVICES' LIMITED HANDICAP CHASE (GBB RACE) (3) 2m 7f Winner £5,882 (5 run) SSR 1 12F Thistle Do Nicely (33) J Snowden 7 11-8 (C)............ G Sheehan 70 2 32- Supremely Lucky (155) C Longsdon 9 11-7 (D).............J J Burke 99 3 14- Aimee De Sivola (155) Nick Williams 7 11-0 (BF)........ D Noonan — 4 08- Present Chief (155) Jonjo O'Neill 7 10-13 (C, D)...... R McLernon — 5 -64 Canyon City (111) N King 8 10-13 (D2).........................J Quinlan — BETTING: 11-8 Thistle Do Nicely, 2 Supremely Lucky, 9-2 Aimee De Sivola, 8 Canyon City, 16 Present Chief. 3.27 MUCKLOW & HARRIS ANNIVERSARY MARES' HCAP CHASE (4) 2m 4f Winner £3,594 (6 run) SSR 1 112 Pardon Me (22) M & D Easterby 8 11-12 (BF, D2)...... H Bannister 94 2 344 Diva De Vassy (39) J Candlish 5 11-9 (D).................Sean Quinlan 99 3 -32 Makety (71) O Sherwood 7 11-4.....................................J J Burke 87 4 5-2 Bleue Away (126) A Honeyball 7 10-12 (D).....................R Dingle — 5 F4- Stupid Cupid (287) S Lewis 10 10-5 (C, D).......Sean Houlihan (3) — 6 633 Silvretta Schwarz (57) M Young 6 10-0........................ J Best 70 BETTING: 5-4 Pardon Me, 7-2 Makety, 4 Bleue Away, 10 Stupid Cupid, Diva De Vassy, 12 Silvretta Schwarz. 4.02 SKY SPORTS RACING SKY 415 HANDICAP HURDLE (3) 2m 4f Winner £4,956 (6 run) SSR 1 345 Chapmanshype (34) J Snowden 7 11-12.................. G Sheehan 70 2 12S Shetland Bus (9) Justin Landy 8 11-6 (BF, D2)......Sean Quinlan 95 3 270 Pagero (56) Jonjo O'Neill 6 11-2...........................Jonjo O'Neill Jr. 99 4 -47 Reve (81) M Keighley 7 10-9 (BF).................................... S Bowen — 5 311 Calvinist (16) K Frost 8 10-3 (D2)...................................J J Burke 97 6 121 October Storm (22) D McCain 8 10-3 (D)...... P J Kavanagh (10) 91 BETTING: 7-4 October Storm, 3 Calvinist, 7-2 Shetland Bus, 5 Pagero, 14 Chapmanshype, 16 Reve. 1.00 BETWAY APPRENTICE HANDICAP (5) 1m 2f 100yds Winner £3,132 (5 run) RTV 1 (2) 545 Tele Red (54) K Burke 4 9-8....................Sophie Clements (7) 87 2 (4) -53 Lockerbie (81) W Haggas 3 9-7 (BF)................C Howarth (5) 93 3 (1) 242 Bascule (53) R Hughes 3 9-7.........................Elinor Jones (5) 99 4 (5) 119 Sky Bright (33) E Walker 3 9-6 (D2)..........Hannah Fraser (7) 96 5 (3) 190 Swinton Noon (118) M Appleby 3 9-1 (D).. Erika Parkinson 70 BETTING: 13-8 Lockerbie, 2 Bascule, 4 Sky Bright, 7 Tele Red, 14 Swinton Noon. 1.30 BETWAY EBF MAIDEN FILLIES' STAKES (GBB RACE) (4) (2-Y-O) 6f Winner £5,400 (10 run) RTV 1 (10) 08 Arriannie (25) C Kellett 9-0.................................D Costello 70 2 (2) Barbanera R Fahey 9-0.....................................T Hamilton — 3 (3) 76 Basholo (17) B Meehan 9-0...................................M Dwyer 83 4 (5) 3 Eesha Meesh (11) M Botti 9-0............................. D E Hogan — 5 (9) 75 Glittering Choice (21) T Dascombe 9-0...........Jane Elliott 93 6 (8) 402 Kimngrace (23) R Hughes 9-0 (BF)........................D Probert 99 7 (4) Miss Britain T Dascombe 9-0...........................R Kingscote — 8 (7) 7 Origintrail (69) B Haslam 9-0.................................... C Lee 89 9 (1) Ramadhaan S bin Suroor 9-0.................................D O'Neill — 10 (6) Rousay R Hannon 9-0.........................T Hammer Hansen (3) — BETTING: 11-4 Kimngrace, 9-2 Ramadhaan, 5 Eesha Meesh, 6 Rousay, 7 Barbanera, 8 Miss Britain, 12 Glittering Choice, Origintrail, 20 Others. 2020: CLOUDY DAWN 9 0, Cieren Fallon 13-2 (W Haggas), drawn (8), 8 ran. 2.00 BETWAY EBF MAIDEN STAKES (COLTS AND GELD- INGS) (4) (2-Y-O) 6f Winner £5,400 (5 run) RTV 1 (2) 432 Buckshaw Village (19) R Fahey 9-0................T Hamilton 99 2 (5) 34 Captain's Bar (21) R Hannon 9-0...........................D O'Neill 88 3 (4) 0 City Vaults (21) D O'Meara 9-0...........................J P Spencer — 4 (1) 58 Darbucks (22) C Kellett 9-0..................................D Costello 70 5 (3) Speranzoso E Walker 9-0.......................................L Morris — BETTING: 6-4 Buckshaw Village, 7-4 Captain's Bar, 4 Speranzoso, 12 City Vaults, 14 Darbucks. 2020: HELMONT 9 0, Richard Kingscote 5-1 (T Dascombe), drawn (8), 8 ran. 2.35 LEE THOMAS CHRISTY MEMORIAL NURSERY (2) (2-Y-O) 5f Winner £8,640 (9 run) RTV 1 (7) 542 Instinctive Move (13) C Cox 9-7 (D)........................ A Kirby 87 2 (1) 576 Kingboard Star (25) E Walker 9-5 (D)....................L Morris 70 3 (3) 170 Korker (14) K Burke 9-5 (D2)........................................ C Lee 81 4 (4) 106 Devious Angel (13) T Dascombe 9-4 (CD)......K Schofield (5) 99 5 (8) 010 Bellarena Lady (42) E Dunlop 8-13 (D2).............D Probert 75 6 (5) 712 Come Quick (26) K Burke 8-13 (D).......................R Kingscote 87 7 (6) 515 Sisters In The Sky (37) R Teal 8-12..........R Clutterbuck (5) 87 8 (2) 021 Russellinthebushes (13) P Evans 8-10 (D)..........J F Egan 87 9 (9) 731 Reversion (14) A King 8-8 (D)................................M Harley 81 BETTING: 7-2 Come Quick, 9-2 Reversion, 5 Instinctive Move, 6 Russellinthebushes, 7 Sisters In The Sky, 8 Devious Angel, 10 Kingboard Star, 12 Korker, 14 Bellarena Lady. 2020: ATALIS BAY 9 9, Stefano Cherchi(5) 5-1 (M Botti), drawn (7), 7 ran. 1.15 MAIDEN STAKES (COLTS AND GELDINGS) (4) (2-Y-O) 7f Winner £5,400 (5 run) RTV 1 (4) 32 Al Jaddaf (21) C Appleby 9-0....................................W Buick — 2 (1) 83 Spinaround (17) J & T Gosden 9-0........................ L Dettori 99 3 (2) 74 Superstar Dj (15) R Spencer 9-0......................K Shoemark 70 4 (3) 0 Tezees (122) D P Quinn 9-0.......................................J Haynes — 5 (5) Thomas Equinas D Ivory 9-0...............................S W Kelly — BETTING: 4-7 Al Jaddaf, 2 Spinaround, 16 Superstar Dj, Thomas Equinas, 66 Tezees. 2020: RAINBOW FIRE 9 0, Robert Havlin 11-2 (J & T Gosden), drawn (1), 11 ran. 1.50 ROSEMARY STAKES (FILLIES' AND MARES' LISTED) (1) 1m Winner £30,907 (13 run) ITV4/RTV 1 (3) 156 Declared Interest (35) R Beckett 4 9-2 (D3).......R Hornby 95 2 (9) 121 Don't Tell Claire (20) D & C Kubler 4 9-2 (D3).. Rossa Ryan 89 3 (8) -34 Dubai Love (218) S bin Suroor 4 9-2 (D2)................O Murphy — 4 (13) 263 Fooraat (63) R Varian 4 9-2 (D)................................ A Atzeni 99 5 (4) 416 Lalania (34) W Stone 6 9-2 (D)..................................H Doyle 90 6 (2) 852 Maamora (19) S & E Crisford 5 9-2 (D4)..............James Doyle 99 7 (10) 267 Serenading (20) J Fanshawe 5 9-2...................... D Muscutt 82 8 (5) 1-5 Ummalnar (255) R Charlton 6 9-2 (BF, D4)............R L Moore — 9 (6) 61 Adabbah (30) K Burke 3 8-12................................P-L Jamin 70 10 (12) 232 Baby Alya (20) K Ryan 3 8-12 (D)............................S M Levey 83 11 (7) 826 Ready To Venture (20) W Haggas 3 8-12........T Marquand 93 12 (11) 150 Soft Whisper (181) S bin Suroor 3 8-12 (D3)......... L Dettori — 13 (1) 12- Wedding Dance (419) C Appleby 3 8-12..................W Buick — BETTING: 7-2 Wedding Dance, 4 Fooraat, 5 Dubai Love, 6 Maamora, 8 Ummalnar, 10 Soft Whisper, 12 Declared Interest, 14 Don't Tell Claire, 16 Others. 2020: CLOAK OF SPIRITS 3 8 12, Andrea Atzeni 4-1 (R Hannon), drawn (15), 15 ran. FORM GUIDE: WEDDING DANCE 2-1 Led to 2f out, headed and stayed on final furlong, 2nd of 6, 3/4l behind See The Rose at Deauville(FR) 7f 2yo Grp 3 gd in Aug '20. FOORAAT 9-2 Prominent, ridden over 3f out, lost place over 2f out, not much room over 1f out, ran on strongly final furlong, 3rd of 7, hd behind Aristia at York 1m 2f fll lst stks (1) gf in Jul. DUBAI LOVE 4-1 Slowly into stride, mid-division, ran on same pace final 2f, 4th of 10, 4l behind Summer Romance at Meydan(UAE) 1m 1f Grp 2 fst in Feb. MAAMORA 4-1 Chased leader,effort 2f out, kept on inside final furlong, 2nd of 8, 1 1/4l behind Varkesha at ParisLongchamp(FR) 1m Listed stks gs. UMMALNAR 5-4fav Led until 3f out, weakened from 2f out, last of 5, 12l behind Bless Him at Newcastle 1m cnd stks (4yo+) (2) in Jan. SOFT WHISPER 5-1 Tracked leaders, in touch with leaders after 2f, lost touch, finished lame, last of 14, 49l behind Rebel's Romance at Meydan(UAE) 1m 1f 3yo Grp 2 (1) in Mar. DECLARED INTEREST 10-1 Tracked leader, ridden over 2f out, faded final furlong, 6th of 12, 3l behind The Flying Ginger at York 1m 2f fll hcp (2) gf in Aug. 2.25 PRINCESS ROYAL STAKES (FLLS' & MARES' GROUP 3) (1) 1m 4f Winner £45,368 (11 run) ITV4/RTV 1 (4) 532 Albaflora (36) R Beckett 4 9-3 (D).................... Rossa Ryan 94 2 (1) 221 By Starlight (26) H Candy 4 9-3 (D2)....................R Hornby 70 3 (2) 324 Domino Darling (27) W Haggas 4 9-3 (BF)......T Marquand 99 4 (7) 313 Forbearance (13) J Harrington (IRE) 4 9-3 (D)......... S Foley 99 5 (11) 182 Golden Pass (15) H Palmer 4 9-3 (D2)...................R L Moore 87 6 (6) 533 Glenartney (36) E Walker 3 8-10 (C).....................O Murphy 93 7 (5) 225 Lady Hayes (44) R Varian 3 8-10.............................. A Atzeni 94 8 (8) 436 Mystery Angel (33) G Boughey 3 8-10 (C2)............. B Curtis 88 9 (3) 210 Pennymoor (36) J & T Gosden 3 8-10 (D)...........James Doyle 70 10 (9) 124 Sayyida (40) C Appleby 3 8-10 (CD)............................W Buick 86 11 (10) 121 Sea La Rosa (14) W Haggas 3 8-10 (D2).....................C Fallon 79 BETTING: 5-2 Albaflora, 5 Sayyida, 6 Forbearance, 7 Golden Pass, 8 Mystery Angel, Domino Darling, 10 Lady Hayes, 14 Glenartney, Pennymoor, 20 Others. 2020: ANTONIA DE VEGA 4 9 3, Harry Bentley 16-5 (R Beckett), drawn (5), 4 ran. FORM GUIDE: ALBAFLORA 16-1 In rear, pushed along 3f out, ridden and headway 2f out, chased clear winner over 1f out, kept on one pace, 2nd of 7, 4l behind Snowfall at York 1m 4f flls Grp 1 (1) gd in Aug. SAYYIDA 4-1 Chased leaders, headway 2f out, faded final furlong, 4th of 9, 2 1/2l behind Free Wind at Deauville(FR) 1m 4f 3yo Grp 3 gd in Aug. FORBEARANCE 13-2 Chased leaders, took keen hold, ridden in 3rd 2f out, disputed 2nd inside final furlong, stayed on well, 3rd near line, 3rd of 9, 1/2l behind Camorra at Leopardstown 1m 4f Grp 3 (1) gd. GOLDEN PASS 8-1 Tracked leaders in 4th, pushed along went 2nd over 1f out, never any chance with impressive winner, 2nd of 8, 7l behind Free Wind at Doncaster 1m 6f Grp 2 flls (1) gf. DOMINO DARLING 3-1fav Chased leaders on outside, ridden 3f out, no extra, 4th of 8, 6l behind Teona at Windsor 1m 3f Listed stks (1) gf in Aug. MYSTERY ANGEL 14-1 Led to 2f out, headed and weakened final furlong, last of 6, 14l behind Raabihah at Deauville(FR) 1m 4f Grp 2 gs in Aug. LADY HAYES 10-3 Mid-division, nudged along over 2f out, ridden over 1f out, no extra final 100yds, 5th of 7, 6l behind Lilac Road at Salisbury 1m 2f fll lst stks (1) gd in Aug. 3.00 UNIBET ROCKFEL STAKES (FILLIES' GROUP 2) (1) (2-Y-O) 7f Winner £54,498 (10 run) ITV4/RTV 1 (3) 337 Cachet (15) G Boughey 9-0 (C)............................James Doyle 94 2 (1) 314 Femme Friendly (34) R Varian 9-0 (BF)............. C Shepherd 70 3 (6) 1 Girl On Film (48) R Beckett 9-0 (D)........................ L Dettori 73 4 (9) 364 Hello You (27) D Loughnane 9-0........................ Rossa Ryan 95 5 (5) 11 Jumbly (21) R Charlton 9-0 (D)..................................H Doyle 70 6 (8) 221 Kawida (49) E Walker 9-0 (D).................................... A Atzeni 83 7 (7) 211 Majestic Glory (48) A Balding 9-0 (D).................R L Moore 94 8 (10) 413 Oscula (34) G Boughey 9-0 (BF, D).............................W Buick 99 9 (4) 181 Romantic Time (22) W Stone 9-0..........................M Ghiani 93 10 (2) 834 Sunstrike (48) J & T Gosden 9-0............................O Murphy 87 BETTING: 10-3 Majestic Glory, 4 Girl On Film, 9-2 Jumbly, 6 Oscula, 8 Hello You, 10 Romantic Time, Cachet, 14 Sunstrike, 20 Others. 2020: ISABELLA GILES 9 0, Adam Kirby 11-5 (C Cox), drawn (2), 5 ran. 2.05 WILLIAM HILL EXTRA PLACES RACES HANDICAP (2) 6f Winner £12,885 (11 run) ITV4/RTV 1 (3) 080 Lampang (14) T Easterby 4 9-10 (D3)..........................D Allan 70 2 (4) 063 Mr Wagyu (6) J J Quinn 6 9-9 (CD2)..............................J Hart 92 3 (6) 071 Nomadic Empire (4) D O'Meara 3 9-8................... J Watson 83 4 (11) 000 Lahore (6) Phillip Makin 7 9-4 (C, D2)......................... R Scott 99 5 (1) 481 Cairn Island (28) K Ryan 3 9-2 (CD).......................... K Stott 85 6 (5) 553 Chairmanoftheboard (14) M Channon 5 9-0 (D3).......... ............................................................................ David Egan 85 7 (9) 284 Treacherous (13) E De Giles 7 9-0 (D9)................. J Mitchell 87 8 (2) 480 Music Society (6) T Easterby 6 8-13 (D2)..........P Mulrennan 92 9 (10) 505 Abate (13) Adrian Nicholls 5 8-10 (CD).................................... ...........................................................C allum Hutchinson (5) 87 10 (7) 093 Internationaldream (19) R Fahey 3 8-8 (D2).................. .............................................................................P Hanagan 85 11 (8) 087 Muscika (12) D O'Meara 7 8-7 (CD)......................... C Beasley 78 BETTING: 7-2 Cairn Island, 4 Mr Wagyu, 6 Treacherous, Chairmanoftheboard, 7 Nomadic Empire, 12 Lampang, Internationaldream, Abate, 16 Others. 2020: No corresponding meeting. FORM GUIDE: CAIRN ISLAND 3-1 Tracked leader, pushed along over 2f out, ridden and every chance over 1f out, stayed on to lead towards finish, won at Newmarket 6f 3yo hcp 0-95 (3) gf in Aug beating Operatic by 1 1/4l, 5 ran. MR WAGYU 18-1 Tracked leader, led 2f out, ridden and headed over 1f out, kept on well inside last, 3rd of 24, 2 3/4l behind Bielsa at Ayr 6f hcap (2) gd. CHAIRMANOFTHEBOARD 6-1 In touch, headway over 2f out, ridden over 1f out, hung left and pressed winner inside final furlong no extra and lost 2nd towards finish, 3rd of 12, 3/4l behind Able Kane at Doncaster 6f hcp 105 (2) gd. TREACHEROUS 14-1 Rearing in stalls, chased leaders, pushed along halfway, weaved through and ran on inside final furlong, not quite pace to challenge, 4th of 16, 1 3/4l behind Hurricane Ivor at Doncaster 6f hcp (2) gs. 2.40 WILLIAMHILL.COM BEST ODDS GUARANTEED HCAP (3) 7f Winner £10,308 (13 run) ITV4/RTV 1 (7) 119 La Trinidad (36) R Fell 4 9-7 (BF, C2, D)...................... R Scott 87 2 (1) 1-7 Colour Image (260) S bin Suroor 4 9-2..................... K Stott — 3 (4) 121 Lion Tower (35) G Tuer 4 9-1 (D2)............................S James 85 4 (3) 321 Able Kane (14) B Millman 4 9-1 (D)...................P Mulrennan 85 5 (12) 508 Tadleel (13) R Fahey 6 9-0 (D4)............................P Hanagan 99 6 (11) 451 Firmament (22) D O'Meara 9 8-12 (CD2)................. J Watson 70 7 (9) 637 Silver Samurai (20) M Botti 4 8-12 (D)............. David Egan 87 8 (13) 333 Danzan (7) T Easterby 6 8-11.....................................D Allan 85 9 (8) 132 Poet's Magic (8) J J Quinn 5 8-8 (BF, D4)......................J Hart 85 10 (2) 334 Safran (10) D O'Meara 4 8-8 (D)...................... S B Kirrane (5) 83 11 (10) 713 La Rav (3) M & D Easterby 7 8-8 (D2)........... Joanna Mason (3) 85 12 (5) 140 Challet (6) M Dods 4 8-7 (C)................................... C Beasley 87 13 (6) 433 Astrogem (12) Harry Eustace 4 8-6 (D2)..................H Turner 99 BETTING: 4 Able Kane, 9-2 La Trinidad, 7 Danzan, 8 Lion Tower, 10 Firmament, Poet's Magic, Colour Image, 12 Astrogem, 14 Others. 3.15 RESTRICTED NOVICE STAKES (GBB RACE) (4) (2-Y-O) 6f Winner £8,100 (11 run) RTV 1 (10) 810 Object (25) M Meade 9-5 (D)............................... David Egan 96 2 (11) 1 Trust Bertie (27) N Tinkler 9-5 (D)........................... R Scott 92 3 (2) 70 Another Investment (14) N Tinkler 9-3............ J Mitchell 89 4 (3) Glory Hallelujah N Tinkler 9-3........................ R Ffrench — 5 (4) 028 International Boy (12) R Fahey 9-1...............P Hanagan 94 6 (8) 533 Nickleby (30) C Hills 9-1...................................P Mulrennan 99 7 (6) 24 Roach Power (13) T Easterby 9-1.............................D Allan 95 8 (1) Sezaam M Dods 8-13.............................................. C Beasley — 9 (7) 98 Alagiah (27) P Midgley 8-11............................... B Robinson 70 10 (5) 34 Sixstar (38) T Easterby 8-11........................................J Hart 94 11 (9) 7 Ventura Tease (37) B Smart 8-6............................H Turner 91 BETTING: 3 Trust Bertie, 4 Roach Power, 9-2 Object, 6 Nickleby, 8 Sixstar, International Boy, 14 Sezaam, 16 Glory Hallelujah, 20 Others. 3.50 WILLIAM HILL LEADING ON-COURSE BOOKMAKER HCAP (3) (3-Y-O) 1m Winner £10,800 (8 run) RTV 1 (3) 217 Surprise Picture (70) H Palmer 9-7 (D2)...................... ................................................................... Louis Steward 94 4.35 CAZOO NOVICES' HURDLE (GBB RACE) (4) 2m 4f Winner £4,084 (9 run) SSR 1 1U1 Golfe Clair (29) P Kirby 5 11-5 (D)..............................T Dowson 95 2 513 Renardeau (37) A Stronge 5 11-5 (C).......................... D Noonan 93 3 2-2 Brorson (143) M Keighley 5 10-12............................... S Bowen — 4 2-7 Dragoon Springs (23) A Carroll 5 10-12............... N Slatter (5) 80 5 P-U Family Pot (138) Sheila Lewis 6 10-12............Sean Houlihan (3) — 6 34- Fantomas (186) N Twiston-Davies 5 10-12........................... ................................................................... S Twiston-Davies — 7 -5P Father John (16) N Henderson 6 10-12.........................J Bowen 70 8 P4- Roque It (166) P Nicholls 7 10-12.................................H Cobden 99 9 626 Don't Stop Now (23) F O'Brien 4 10-9............................C Brace 81 BETTING: 7-4 Golfe Clair, 7-2 Roque It, 5 Renardeau, 7 Brorson, 12 Don't Stop Now, Father John, 16 Fantomas, Dragoon Springs, 25 Family Pot. 5.07 CAZOO CONDITIONAL JOCKEYS' HANDICAP HURDLE (4) 2m Winner £3,159 (12 run) SSR 1 31 London Eye (23) C Dwyer 5 12-1 (CD)............................K Brogan 92 2 44F Theocrat (31) N Hawke 4 11-12 (D)........................K Buckley (6) 93 3 U15 Man Of Light (96) P Hobbs 4 11-12.....................Sean Houlihan 96 4 -35 Iron Heart (19) D Pipe 4 11-12 (D)........................... F Gillard (3) 95 5 485 Glimpse Of Gold (39) S Humphrey 10 11-10 (D6).............. .............................................................................. A Thorne 95 6 022 Long Call A Carroll 8 11-9 (D)..................................... J Dixon (3) 99 7 PP- Aronius (155) M Harris 6 11-2 (D)..........................M Bastyan (3) 97 8 755 Colonel Lesley (24) B Leavy 5 10-11 (D)......................... C Ward 86 9 213 Burristo (61) F O'Brien 3 10-7 (D)......................... L Harrison (3) 93 10 9/6 Hackbridge P Phelan 6 10-6.................................N F Houlihan 89 11 7P- North Point (199) O Greenall 4 10-4.......................R Turner (3) 70 12 323 Oneonechop (19) D Pipe 3 10-4 (BF)...................... P Armson (6) 94 BETTING: 3 London Eye, 4 Burristo, 9-2 Theocrat, 11-2 Long Call, 10 Iron Heart, 12 Man Of Light, 14 Oneonechop, Glimpse Of Gold, 20 Others. 3.10 RAY TURNER MEMORIAL HANDICAP (4) 1m 6f Winner £4,752 (5 run) RTV 1 (1) 063 Stargazer (18) P Kirby 8 9-8 (CD).............................. A Kirby 74 2 (3) 063 Thai Terrier (13) M Johnston 5 9-7....................... F Norton 70 3 (5) 471 Dreamweaver (21) E Walker 5 9-5 (CD)...................L Morris 74 4 (4) 443 Eagle Court (20) D O'Meara 4 9-5.......................J P Spencer 72 5 (2) 122 Super Superjack (12) M Harris 4 8-2................ T Heard (5) 99 BETTING: 15-8 Dreamweaver, 10-3 Super Superjack, 4 Eagle Court, 9-2 Thai Terrier, 6 Stargazer. 2020: BILLY NO MATES 4 9 6, Clifford Lee 5-1 (M Dods), drawn (9), 9 ran. 3.45 F&T TERRIX SYSTEMS HANDICAP (3) (3-Y-O) 1m 6f Winner £11,596 (8 run) RTV 1 (7) 821 Solent Gateway (34) T Dascombe 9-7...............Jane Elliott 95 2 (1) 371 Bandinelli (41) C Appleby 9-4................................. A Kirby 84 3 (5) 511 Moliwood (27) M Botti 9-3 (D).........................S Cherchi (3) 88 4 (4) 211 Geremia (21) M Botti 9-1 (D)................................. D E Hogan 70 5 (3) 102 Charging Thunder (16) D O'Meara 9-0...........J P Spencer 99 6 (6) 146 Tynwald (20) R Hughes 8-12...................................L Morris 88 7 (8) 171 Spirit Mixer (35) A Balding 8-8 (D).......................D Probert 91 8 (2) 611 Saratoga Gold (17) C Hills 8-6............................. F Norton 91 BETTING: 7-2 Saratoga Gold, 4 Geremia, 5 Moliwood, 6 Bandinelli, 7 Solent Gateway, Spirit Mixer, 8 Charging Thunder, 12 Tynwald. 2020: PRINCE ALEX 8 8, Rossa Ryan 3-1 Fav (R Beckett), drawn (8), 8 ran. 4.20 BETWAY HANDICAP (3) 1m Winner £7,731 (7 run) RTV 1 (2) 603 Piece Of History (21) S bin Suroor 6 9-11 (D3)...P Cosgrave 86 2 (6) 510 One Small Step (33) B Meehan 4 9-7....................M Dwyer 99 3 (3) 215 Sibaaq (27) M Johnston 3 9-6...................................D O'Neill 99 4 (1) 167 Rains Of Castamere (27) M Channon 4 9-5 (CD).. R Kingscote 99 5 (4) 311 Noble Patron (27) S & E Crisford 3 9-5 (D2)..........D Probert 99 6 (7) 729 Star Shield (8) D O'Meara 6 9-2 (CD)...................J P Spencer 99 7 (5) 513 Delgrey Boy (10) T Easterby 4 8-12 (BF, D2).......D Fentiman 70 BETTING: 11-4 Noble Patron, 7-2 Sibaaq, 4 Piece Of History, 6 Delgrey Boy, 8 One Small Step, Star Shield, 10 Rains Of Castamere. FORM GUIDE: MAJESTIC GLORY 5-1 Tracked leaders, not much room 2f out, pushed along to lead entering final furlong, ran on, won at Newmarket 7f 2yo Grp 3 (1) gd in Aug beating Wild Beauty by 1l, 10 ran. GIRL ON FILM 7-4fav In rear, pushed along 2f out, headway approaching final furlong, led inside final furlong, ran on, won at Newmarket 7f 2yo fll mdn (4) gd in Aug beating Bellstreet Bridie by 1 1/2l, 10 ran. JUMBLY 8-13fav Raced in third, headway and pushed along to lead over 1f out, soon quickened clear, comfortably, won at Kempton 7f (3) pol beating Siamsa by 4l, 4 ran. OSCULA 2-1fav Led to 2f out, hard ridden final furlong, no extra, 3rd of 5, 1 1/4l behind Accakaba at Deauville(FR) 7f 2yo Grp 2 gs in Aug. HELLO YOU 6-1 Held up in mid-division, raced keenly, headway over 2f out, not much room briefly 75 yards out, held by front pair, lost 3rd post, 4th of 9, 2l behind Mise En Scene at Goodwood 7f 2yo fll Grp 3 (1) gd in Aug. CACHET 7-1 Slowly away, chased leaders 2f out, weakened, 7th of 9, 6l behind Fleur D'iris at ParisLongchamp(FR) 1m 2yo Grp 3 gs. ROMANTIC TIME 28-1 Slowly into stride, behind on far rail, still plenty to do when headway over 1f out, stayed on inside final furlong, led final 110 yards, won going away, won at Salisbury 6f 2yo fll Grp 3 (1) gf beating Pearl Glory by 1l, 12 ran. SUNSTRIKE 13-2 Held up, ridden and headway over 1f out, one pace final furlong, 4th of 10, 4 1/2l behind Majestic Glory at Newmarket 7f 2yo Grp 3 (1) gd in Aug. KAWIDA 4-9fav Raced in 3rd, went 2nd 2f out, ridden and strong challenge 1f out, led inside final furlong, stayed on to assert final 101 yards, won at Haydock 7f 2yo fll mdn (4) sft in Aug beating Lady Caroline by 1 1/2l, 8 ran. FEMME FRIENDLY 4-11fav Tracked winner 4f out, ridden and unable to quicken over 1f out, weakened inside final furlong, 4th of 10, 1 3/4l behind Unfinishedsympathy at Chelmsford City 6f (5) pol in Aug. 3.35 UNIBET 'YOU'RE ON' JOEL STAKES (GROUP 2) (1) 1m Winner £65,216 (8 run) ITV4/RTV 1 (7) 172 Accidental Agent (22) E J-Houghton 7 9-4 (C, D2).C Bishop 70 2 (3) 3-2 Benbatl (27) S bin Suroor 7 9-4 (BF, CD).................O Murphy 92 3 (6) 563 Pogo (27) C Hills 5 9-4 (CD)..................................K Shoemark 73 4 (5) 243 Sir Busker (9) W Knight 5 9-4 (D3).................... C Shepherd 70 5 (1) -10 Queen Supreme (237) A Balding 5 9-1 (D3)..........R L Moore 82 6 (4) -23 Laneqash (13) R Varian 3 9-0 (BF)......................... J Crowley 73 7 (8) 212 Master Of The Seas (146) C Appleby 3 9-0 (CD)......W Buick 99 8 (2) 354 Perotto (2) M Tregoning 3 9-0 (D)........................... A Atzeni 70 BETTING: 11-8 Master Of The Seas, 3 Benbatl, 6 Laneqash, 8 Sir Busker, 14 Pogo, Perotto, 16 Queen Supreme, 20 Accidental Agent. 2020: KAMEKO 3 9 5, Oisin Murphy 85-40 (A Balding), drawn (5), 6 ran. FORM GUIDE: MASTER OF THE SEAS 6-1 Held up towards rear, wide and headway entering final 2f, ridden and joined winner inside final furlong, led briefly close home, lost on the nod, 2nd of 14, shd behind Poetic Flare at Newmarket 1m 3yo Grp 1 (1) gf in May. BENBATL 9-4fav Awkward start and slowly away, recovered to chase leaders on outside over 6f out, led over 1f out, hard pressed final 100 yards, headed close home, 2nd of 9, shd behind Lavender's Blue at Goodwood 1m Grp 2 (1) gf in Aug. LANEQASH 9-4fav Tracked leaders in 3rd, went 2nd inside final 2f until over 1f out, stayed on same pace in 3rd, 3rd of 6, 2 1/2l behind Glorious Journey at Doncaster 7f Grp 2 (1) gs. SIR BUSKER 11-4 Held up, asked for effort at 2f, kept on inside final furlong, not reach leaders, 3rd of 7, 2l behind Mostahdaf at Sandown 1m Listed stks (1) sft. POGO 18-1 Led, pushed along over 3f out, headed over 1f out, held inside final furlong, kept on, just held onto 3rd, 3rd of 9, 2 1/4l behind Lavender's Blue at Goodwood 1m Grp 2 (1) gf in Aug. PEROTTO 7-2 Steadied start, held up in last pair, headway and switched right to inside over 1f out, stayed on same pace pace inside final furlong, 4th of 7, 1 3/4l behind Victory Chime at Goodwood 1m 2f Listed stks (1) gd. 4.10 GODOLPHIN STAKES (LISTED) (1) 1m 4f Winner £29,489 (6 run) RTV 1 (6) 1-4 Alignak (13) Sir M Stoute 5 9-5 (D2).......................R L Moore 83 2 (5) 333 Fox Tal (20) A Balding 5 9-5...................................O Murphy 99 3 (4) 3-5 Highland Chief (112) P & O Cole 4 9-5.............James Doyle 70 4 (2) 637 Star Safari (47) C Appleby 5 9-5 (D).........................W Buick 96 5 (1) 841 Without A Fight (22) S & E Crisford 4 9-5 (D2)........ A Atzeni 96 6 (3) 937 John Leeper (19) E Dunlop 3 9-1 (C).........................H Doyle 90 BETTING: 11-4 Star Safari, 4 Fox Tal, 9-2 Alignak, 5 Highland Chief, Without A Fight, 6 John Leeper. 2020: WALTON STREET 6 9 5, James Doyle 6-1 (C Appleby), drawn (5), 6 ran. 4.40 UNIBET CASINO DEPOSIT 10 AND GET 40 BONUS HCAP (3) 1m 1f Winner £13,500 (10 run) RTV 1 (6) 593 Ananya (6) Sir M Prescott 4 10-2..................................R Tate 70 2 (8) 264 Celtic Art (20) P & O Cole 4 9-10...............................W Buick 99 3 (7) 231 Rebel Territory (55) A Perrett 3 9-7 (D).............R L Moore 95 4 (2) -21 Fireworks (27) W Haggas 3 9-5.......................T Marquand 79 5 (3) 234 Mashhoor (50) Sir M Stoute 3 9-5 (BF).................. J Crowley 79 6 (10) 206 Turntable (42) C Wall 5 9-5 (C).......................... C Shepherd 99 7 (5) 518 Sevenal (22) J & T Gosden 3 9-5............................... R Havlin 89 8 (1) 3D1 Alhezabr (15) R Varian 3 9-2.................................. A Atzeni 79 9 (9) 617 Diffident Spirit (50) T Kent 3 8-12........Josephine Gordon 95 10 (4) 114 Glen Esk (39) C Wall 4 8-9.........................................H Doyle 82 BETTING: 11-4 Fireworks, 9-2 Rebel Territory, 5 Alhezabr, 7 Mashhoor, 10 Celtic Art, Ananya, Sevenal, Glen Esk, 16 Others. 2020: BREATH CAUGHT 5 9 12, Rob Hornby 4-1 (R Beckett), drawn (2), 7 ran. 2 (4) 320 Third Kingdom (22) J & T Gosden 9-6 (BF)........ David Egan 74 3 (1) 522 A Boy Named Ivy (20) M Dods 9-2 (D)..............P Mulrennan 99 4 (5) 621 Invincibly (8) K Burke 8-12(6ex) (D)......................... K Stott 70 5 (6) 107 Headingley (28) M Johnston 8-11 (D3).......................J Hart 94 6 (8) 217 Power Station (27) R Hannon 8-10 (BF, D).......... J Mitchell 99 7 (7) 112 Cosmos Raj (28) D O'Meara 8-8 (D3)....................... J Watson 86 8 (2) 744 Captain Cooper (28) K Ryan 8-8............................S James 86 BETTING: 11-4 A Boy Named Ivy, 3 Cosmos Raj, 11-2 Invincibly, 6 Third Kingdom, 7 Power Station, 8 Surprise Picture, 14 Captain Cooper, 20 Headingley. FORM GUIDE: A BOY NAMED IVY 14-1 In touch, not clear run 2f out, switched right over 1f out, headway soon after, ridden and ran on, not quite reach winner, 2nd of 7, shd behind Noble Dynasty at Thirsk 1m 3yo hcp 0-95 (3) gd. COSMOS RAJ 13-2 In touch, ridden and headway 2f out, chased winner approaching final furlong, stayed on one pace, 2nd of 7, 1 1/2l behind Tasfeeq at Newmarket 1m 3yo hcp 0-85 (4) gf in Aug. 4.25 WILLIAM HILL PICK YOUR PLACES HANDICAP (4) 2m Winner £7,452 (9 run) RTV 1 (6) 961 Notation (18) M Johnston 4 9-12 (D)............O Stammers (5) 70 2 (9) 220 Autumn War (20) I Williams 6 9-12................... David Egan 95 3 (7) 813 Dance To Paris (28) L Wadham 6 9-7 (CD)............. C Beasley 89 4 (4) 112 Emaraty Hero (12) G Tuer 4 9-6 (BF, C)....................S James 95 5 (3) 741 Master Milliner (19) E Lavelle 5 9-5 (CD).............H Turner 92 6 (8) 514 Byron Hill (21) C Fellowes 4 9-2 (D)..................... L Steward 99 7 (2) 118 Gift Of Raaj (19) R Fell 6 8-7.................................... R Scott 89 8 (5) 741 Bollin Neil (13) T Easterby 5 8-7 (D).........................D Allan 89 9 (1) 253 Ghadbbaan (19) B Ellison 5 8-6..............................K O'Neill 95 BETTING: 5-2 Emaraty Hero, 4 Master Milliner, 6 Dance To Paris, 7 Bollin Neil, 8 Notation, Byron Hill, 10 Autumn War, 14 Ghadbbaan, 20 Gift Of Raaj. 4.55 WILLIAM HILL FREE OR FOUR FILLIES' HANDICAP (4) (3-Y-O) 6f Winner £7,452 (11 run) RTV 1 (4) 050 Genetique (12) D O'Meara 9-7 (D)........................... J Watson 75 2 (10) 721 Hello Me (17) Joseph Parr 9-7 (D3)........................ J Mitchell 87 3 (2) -91 Rhythm (102) R Carr 9-5 (D)...................... Joanna Mason (3) 87 4 (11) 551 International Girl (23) R Fahey 9-2 (D).........P Hanagan 81 5 (9) 152 Deny Knowledge (21) J J Quinn 8-13 (D)...................J Hart 81 6 (6) 324 Rabat (10) Mrs I G-Leveque 8-11................................G Wood 81 7 (7) 143 Anjella (17) Muir & Grassick 8-9 (D3)................S Osborne (5) 99 8 (5) 694 Run This Way (37) P Midgley 8-8....................... B Robinson 70 9 (8) 126 Velocistar (40) Steph Hollinshead 8-7 (BF, D4).................... ......................................................................Megan Nicholls 81 10 (1) 288 Soller Bay (12) T Easterby 8-4........................... David Egan 93 11 (3) 225 Iris Dancer (5) T Davidson 8-4 (BF, D)....................... R Scott 87 BETTING: 3 Hello Me, 7-2 International Girl, 5 Deny Knowledge, 7 Iris Dancer, 8 Rhythm, 12 Rabat, Anjella, 14 Velocistar, 16 Others. 5.25 WILLIAM HILL BUILD YOUR ODDS APPRENTICE HANDICAP (4) 1m 4f Winner £7,452 (7 run) RTV 1 (5) 222 Cozone (29) J Ferguson 4 9-7.............................S Osborne (3) 93 2 (6) 342 Mount Marcy (14) J & T Gosden 4 9-7.............. Georgia Cox 93 3 (3) 499 Kasperenko E Alston 7 9-6 (D2)............... O McSweeney (5) 70 4 (7) 252 Topanticipation (19) Harry Eustace 4 9-3...........M Crehan 93 5 (4) 127 Markazi (12) Liam Bailey 7 9-0...................... S B Kirrane (3) 93 6 (1) 455 Lucky's Dream (27) I Williams 6 8-13 (D)............................. ...........................................................C allum Hutchinson (5) 87 7 (2) 071 Galidermes (42) W Bethell 4 8-11 (D4)......... Joanna Mason 99 BETTING: 9-4 Mount Marcy, 3 Cozone, 7-2 Topanticipation, 5 Galidermes, 10 Lucky's Dream, 16 Markazi, 20 Kasperenko. Going: Standard to slow. Draw: High numbers have a slight advantage over 5f. CAPTAIN BECHER THE MARQUIS CAPTAIN BECHER THE MARQUIS CAPTAIN BECHER THE MARQUIS CAPTAIN BECHER THE MARQUIS CAPTAIN BECHER THE MARQUIS
48 BIRMINGHAM MAIL FRIDAY, SEPTEMBER 24, 2021 @birmingham_live Sport motorsport Max pressure is telling – Lewis Lewis Hamilton has claimed Max Verstappen is struggling to cope with the pressure of fighting for his maiden world championship – as the war of words between Formula One's rivals escalated in Russia. Hamilton and Verstappen will go head-to-head at Sochi's Olympic Park on Sunday, a fortnight after their second coming together of the sport's hottest title battle in recent memory. Verstappen will serve a threeplace grid penalty for the Monza collision. Hamilton, 36, is in the midst of his 10th serious challenge for top honours, while Verstappen, 13 years the Briton's junior, is a real contender for the first time in his seven-season career. Asked if cracks were beginning to show in his rival's armoury, seventime world champion Hamilton said: "He won't admit to it and I'm not going to make an assumption, but I'm just saying that I remember what it was like battling for my first championship. "The pressure definitely mounted up. It was difficult. "It was intense. I was going through a lot of different emotions and I didn't always handle it the best and that's to be expected." boxing Joshua up for any challenge Anthony Joshua insisted he is ready and willing to take on all challengers ahead of his world heavyweight title showdown against Oleksandr Usyk, saying: "If you told me I was fighting King Kong, I would give it a go". Joshua puts his WBA, IBF and WBO titles on the line against his fellow London 2012 gold medallist, an unbeaten opponent who is a former undisputed world cruiserweight champion, at the Tottenham Hotspur Stadium this weekend. The pair were brought together following the collapse of Joshua's all-British contest against Tyson Fury, with the Watford fighter then ordered by the WBO to fulfil his mandatory obligation against the Ukrainian southpaw. Joshua, though, is adamant he had no intention of vacating one of his belts in order to swerve Usyk and is relishing a fight where more than 60,000 fans are set to swarm on north London tomorrow night. The 31-year-old said: "It's not complicated, if you told me I was fighting King Kong I would give it a go, honestly. It's an opportunity for me to work, this is my job." CRICKET SCOREBOARD LV= INSURANCE COUNTY CHAMPIONSHIP (Third day of four. Today: 10.30) DIVISION ONE LANCASHIRE v HAMPSHIRE At Liverpool Overnight: Hampshire 143 & 158-7 (J M Vince 69, T E Bailey 5-19), Lancashire 141 (Mohammad Abbas 5-48, K H D Barker 4-51) HAMPSHIRE Second innings B T J Wheal not out 13 F S Organ lbw b Bailey 8 K H D Barker c Davies b Bailey 4 M Abbas c Davies b Balderson 6 Extras (lb8, w1, nb2, pens, 0)11 Total (74.2 overs)193 Fall of wickets: 1-0, 2-2, 3-15, 4-24, 5-78, 6-158, 7-158, 8-176, 9-186. Bowling: Bailey 24-9-37-7; Blatherwick 7-1-27-0; Balderson 21.2-4-49-2; Lamb 4-0-21-0; Wood 5-0-22-0; Parkinson 10-3-18-1; Wells 3-0-11-0. LANCASHIRE Second innings G P Balderson b Dawson 12 A L Davies c Crane b Barker 44 L W P Wells c Vince b Wheal 39 J J Bohannon c Vince b Crane 18 D J Vilas not out 47 S J Croft lbw b Crane 20 D J Lamb c Weatherley b Crane 5 L Wood c Weatherley b Crane 3 T E Bailey run out 0 J M Blatherwick c Weatherley b Crane 1 M W Parkinson not out 0 Extras (b5, lb4, pens, 0)9 Total (9 wkts, 66.2 overs)198 Fall of wickets: 1-55, 2-57, 3-112, 4-118, 5-151, 6-177, 7-187, 8-193, 9-194. Total Bonus Pts: Lancashire 3 Hampshire 3 Bowling: Barker 13-1-47-1; Mohammad Abbas 16-3-40-0; Dawson 14.2-5-35-1; Wheal 7-1-26-1; Crane 16-3-41-5. Lancashire (19pts) beat Hampshire (3pts) by 1 wkt NOTTINGHAMSHIRE v YORKSHIRE At Trent Bridge Overnight: Nottinghamshire 296 (J M Clarke 109, J D M Evison 58). Yorkshire 73 (J D M Evison 4-13) and 169-3 (A Lyth 74 no). YORKSHIRE Second innings A Lyth c Moores b Evison 153 W A R Fraine lbw b Hutton 3 H C Brook c Hutton b Paterson 42 J A Thompson c Duckett b Mullaney 31 M L Revis c Clarke b Paterson 34 D M Bess lbw b Hutton 8 H G Duke lbw b Hutton 7 B O Coad not out 3 Extras (b20, lb12, pens, 0)32 Total (142.2 overs)396 Fall of wickets: 1-65, 2-168, 3-169, 4-182, 5-261, 6-335, 7-347, 8-356, 9-368. Bowling: Fletcher 23-7-68-0; Hutton 34-8-101-3; Evison 28-6-78-1; Paterson 21.2-5-39-3; Mullaney 19-3-50-1; Patterson-White 17-6-28-1. NOTTINGHAMSHIRE Second innings B T Slater not out 15 Hameed c Lyth b Coad 4 B M Duckett not out 23 Extras (pens, 0)0 Total (1 wkt, 11 overs)42 Fall of wickets: 1-9. To Bat: J M Clarke, S J Mullaney, T J Moores, L A Patterson-White, J D M Evison, B A Hutton, L J Fletcher, D Paterson. racing RESULTs today's racecards: page 47 NEWMARKET Going: Good to firm-good in places 1.00 (1m, £5,400): 1, SUBASTAR (A Atzeni) 14-1; 2, Dawn Of Liberation 11-8 Fav; 3, Symbol Of Light 9-2. 10 ran. 1½l, nk. (R Varian). Tote: Win £13.50; Pl £2.90, £1.10, £2.20. Exacta: £43.70. Trifecta: £178.00. CSF: £32.74. 1.35 (1m, £10,800): 1, DESERT ANGEL (R L Moore) 16-1; 2, Bastogne 17-2; 3, Mr Professor 5-1. Also: 11-4 Fav Sed Maarib. 7 ran. 1¼l, 1¼l. (R Hannon). Tote: Win £11.10; Pl £4.20, £4.40. Exacta: £104.40. Trifecta: £519.40. CSF: £132.32. 2.10 (6f, £23,193): 1, GALE FORCE MAYA (A Farragher) 9-2; 2, Gellhorn 9-2; 3, Restless Endeavour 14-1. Also: 11-4 Fav Lovely Breeze. 7 ran. nk, 1l. (M Dods). Tote: Win £5.30; Pl £2.90, £2.30. Exacta: £22.20. Tricast: £245.87. Trifecta: £144.60. CSF: £23.22. NR: Queen Kahlua. 2.45 (7f, £34,026): 1, MODERN GAMES (W Buick) 3-1; 2, Trident evens Fav; 3, Harrow 11-2. 6 ran. 2½l, 1¼l. (C Appleby). Tote: Win £4.30; Pl £1.80, £1.20. Exacta: £8.30. Trifecta: £22.60. CSF: £6.54. NR: Ribhi. 3.20 (2m, £29,489): 1, NAYEF ROAD (A Atzeni) 9-2; 2, Roberto Escobarr 6-1; 3, Max Vega 9-5 Fav. 8 ran. 6l, 3¾l. (M Johnston). Tote: Win £4.70; Pl £1.60, £1.70, £1.20. Exacta: £21.60. Trifecta: £70.50. CSF: £30.95. NR: Bowling: Coad 5-0-24-1; Fisher 3-1-5-0; Thompson 2-0-12-0; Bess 1-0-1-0. WARWICKSHIRE v SOMERSET At Edgbaston Overnight: Warwickshire 367 (S R Hain 83, W M H Rhodes 60, D P Sibley 56, D R Briggs 53 no; C Overton 5-88). Somerset 239-5 (Azhar Ali 60, T A Lammonby 59). SOMERSET First innings S M Davies c Burgess b Bresnan 52 L Gregory lbw b Woakes 68 C Overton lbw b Bresnan 2 M J Leach c Rhodes b Briggs 49 J H Davey c Bresnan b Woakes 16 J A Brooks not out 8 Extras (b6, lb20, nb8, pens, 0)34 Total (136.3 overs)389 Fall of wickets: 1-36, 2-104, 3-132, 4-167, 5-187, 6-247, 7-271, 8-325, 9-381. Bowling: Woakes 30.3-6-100-3; Norwell 26-12-63-1; Bresnan 20-8-35-3; Miles 24-4-61-0; Briggs 27-6-77-3; Rhodes 6-2-21-0; Lamb 3-1-6-0. WARWICKSHIRE Second innings R M Yates not out 72 D P Sibley c Green b Davey 50 W M H Rhodes not out 42 Extras (lb9, w4, nb2, pens, 0)15 Total (1 wkt, 36 overs)179 Fall of wickets: 1-119. To Bat: S R Hain, M Lamb, M G K Burgess, C R Woakes, T T Bresnan, D R Briggs, C N Miles, L C Norwell. Bowling: Overton 8-1-18-0; Davey 7-1-32-1; Leach 5-0-34-0; Brooks 6-0-17-0; Lammonby 5-0-27-0; Abell 5-0-42-0. DIVISION TWO SURREY v GLAMORGAN At The Kia Oval Overnight: Glamorgan 672-6 dec (C B Cooke 205 no, D L Lloyd 121, K S Carlson 69, J M Cooke 68, D A Douthwaite 59). Surrey 45-0. SURREY First innings J L Smith c C B Cooke b Byrom 138 R Patel c Lloyd b Byrom 62 H M Amla not out 87 O J D Pope not out 95 Extras (b2, lb1, nb2, pens, 0)5 Total (2 wkts, 114 overs)387 Fall of wickets: 1-140, 2-247. To Bat: B T Foakes, W G Jacks, R Clarke, J Clark, D Moriarty, R J W Topley, A Virdi. Bowling: Hogan 19-7-46-0; McIlroy 18-4-75-0; Salter 20-2-67-0; Lloyd 7-1-14-0; Taylor 26-3-71-0; Byrom 12-0-52-2; Douthwaite 4-0-23-0; J M Cooke 6-0-24-0; Rutherford 2-0-12-0. DIVISION THREE KENT v MIDDLESEX At Canterbury Overnight: Kent 138. Middlesex 147 (M D Stoneman 59; D I Stevens 4-21) and 298-6 (M D Stoneman 109). MIDDLESEX Second innings J A Simpson b Milnes 46 L B K Hollman c Gilchrist b O'Riordan 29 T S Roland-Jones c Leaning b Milnes 6 E Bamber b Milnes 25 T J Murtagh not out 5 Extras (b25, lb5, nb2, pens, 0)32 Total (86.4 overs)363 Fall of wickets: 1-47, 2-115, 3-199, 4-223, 5-243, 6-248, 7-304, 8-319, 9-336. Bowling: Milnes 19.4-3-87-5; Stewart 10-3-29-0; Gilchrist 18-3-93-0; Stevens Noonday Gun, Rhythmic Intent. 3.55 (1m 4f, £10,800): 1, BOLTAWAY (James Doyle) 2-1 Fav; 2, Lexington Knight 8-1; 3, Lostwithiel 11-4. 6 ran. 2¾l, ¾l. (R Charlton). Tote: Win £2.70; Pl £1.70, £2.80. Exacta: £13.80. Trifecta: £43.10. CSF: £17.15. 4.30 (1m, £5,400): 1, CAROLUS MAGNUS (O Murphy) 15-8 Fav; 2, Bucephalus 9-2; 3, Shouldering 13-2. 8 ran. 2l, ¾l. (A Balding). Tote: Win £2.70; Pl £1.40, £1.60, £2.00. Exacta: £11.20. Tricast: £44.19. Trifecta: £59.80. CSF: £9.96. NR: Bake, Eminent Hipster. 5.05 (1m 2f, £10): 1, RHEBUS ROAD (Jane Elliott) 8-1; 2, Babindi 5-2 Fav; 3, Dr T J Eckleburg 17-2. 7 ran. ½l, 1¾l. (R Beckett). Tote: Win £8.70; Pl £4.20, £2.00. Exacta: £40.60. Trifecta: £292.80. CSF: £27.29. JACKPOT: Not won, pool of £14,892.78 carried over. PLACEPOT: Dividend: £135.60. PERTH Going: Good to soft-good in places 1.25 (2m, £4,193): 1, IT'S GOOD TO LAUGH (Sean Quinlan) 5-4; 1, SUPER SIX (S Twiston-Davies) 11-10 Fav; 3, If Not For Dylan 20-1. 9 ran. Dht; 12l. (J Candlish, N Twiston-Davies). Tote: Win It's Good To Laugh £1.00, Super Six £1.00; Pl It's Good To Laugh £1.20, Super Six £1.10, If Not For Dylan £3.90. Exacta: It's Good To Laugh, Super Six £1.90, Super Six, It's Good Warwickshire's Rob Yates pulls the ball to the boundary on his way to an unbeaten 72 5-1-18-1; Bell-Drummond 13-2-47-3; O'Riordan 16-3-44-1; Leaning 5-0-15-0. KENT Second innings Z Crawley lbw b Roland-Jones 47 J M Cox c White b T J Murtagh 1 D J Bell-Drummond c Eskinazi b Bamber 15 J A Leaning lbw b Andersson 7 O G Robinson c Simpson b T J Murtagh 112 T Muyeye not out 76 Extras (lb15, nb2, pens, 0)17 Total (5 wkts, 81 overs)275 Fall of wickets: 1-9, 2-48, 3-69, 4-103, 5-275. To Bat: D I Stevens, M K O'Riordan, G Stewart, M E Milnes, N N Gilchrist. Bowling: T J Murtagh 17-10-23-2; Bamber 19-4-63-1; Roland-Jones 15-4-39-1; Andersson 13-0-61-1; Hollman 14-0-68-0; Robson 3-0-6-0. SUSSEX v DERBYSHIRE At Hove Overnight: Derbyshire 465 (W L To Laugh £1.80. Trifecta: It's Good To Laugh, Super Six, If Not For Dylan £11.40, Super Six, It's Good To Laugh, If Not For Dylan £9.00. CSF: It's Good To Laugh, Super Six £1.57, Super Six, It's Good To Laugh £1.45. NR: Ibbenburen. 1.55 (2m, £4,139): 1, ALIOMAANA (M Bastyan) 11-8 Fav; 2, Chica Boom 8-1; 3, Nastasiya 7-2. 5 ran. 29l, 13l. (M Harris). Tote: Win £2.30; Pl £1.30, £3.70. Exacta: £11.70. Trifecta: £34.40. CSF: £12.07. 2.30 (2m 4f, £6,317): 1, MINELLA TRUMP (B Hughes) 15-8 Fav; 2, Pay The Piper 4-1; 3, Corach Rambler 14-1. 6 ran. 3l, 4l. (D McCain). Tote: Win £2.50; Pl £1.40, £1.80. Exacta: £9.30. Trifecta: £34.70. CSF: £9.92. NR: Roi De Dubai. 3.05 (2m, £4,193): 1, CLONDAW HOLLOW (S Bowen) 5-4 Fav; 2, Punxsutawney Phil 7-4; 3, Findthetime 10-3. 9 ran. 4l, 24l. (J McConnell (IRE) ). Tote: Win £2.10; Pl £1.10, £1.10, £1.30. Exacta: £4.50. Trifecta: £10.30. CSF: £4.01. NR: San Fermin. 3.40 (2m 4f, £4,139): 1, O CONNELL STREET (J Gainford) 11-10 Fav; 2, Pat's Pearl 12-1; 3, Boy's On Tour 9-2. 5 ran. 16l, 1¾l. (G Elliott (IRE) ). Tote: Win £1.70; Pl £1.10, £4.40. Exacta: £12.80. Trifecta: £37.90. CSF: £12.06. 4.15 (2m, £3,594): 1, BEENO (C O'Farrell) 6-1; 2, Spark Of Madness 16-1; 3, Uncle Henry 3-1 Fav. 9 ran. 1¾l, Madsen 111, M J J Critchley 85, B A Godleman 52; J Atkins 4-117, H T Crocombe 4-92). Sussex 255-6 (B C Brown 150 no, O J Carter 51). SUSSEX First innings B C Brown c McKiernan b Aitchison 157 J J Carson not out 64 H T Crocombe lbw b Critchley 0 S F Hunt b Critchley 0 J Atkins b Critchley 0 Extras (lb1, nb8, pens, 0)9 Total (84.4 overs)300 Fall of wickets: 1-0, 2-36, 3-44, 4-46, 5-188, 6-188, 7-275, 8-276, 9-300. Bowling: Aitchison 21-2-80-4; Melton 14-2-57-3; Dal 17-1-36-0; Moulton 11-2-50-0; Critchley 17.4-1-60-3; McKiernan 4-0-16-0. SUSSEX Second innings A G H Orr c Guest b Moulton 21 T J Haines run out 26 B C Brown b Moulton 0 H Ward b Critchley 19 D Ibrahim lbw b Melton 29 ½l. (D Sayer). Tote: Win £7.30; Pl £2.10, £3.30, £1.80. Exacta: £118.10. Tricast: £345.76. Trifecta: £650.80. CSF: £91.88. NR: Cancan. 4.50 (3m, £4,139): 1, WYE AYE (J Williamson) 12-1; 2, Lex Talionis 8-1; 3, Slainte Mhor 11-1. Also: 8-11 Fav Head On. 5 ran. hd, 20l. (P Kirby). Tote: Win £11.60; Pl £3.60, £2.60. Exacta: £83.30. Trifecta: £229.20. CSF: £82.42. NR: Dr Des. 5.20 (3m, £2,505): 1, FAIRLAWN FLYER (J Bowen) 9-2 Fav; 2, Emirat De Catana 15-2; 3, Permission Granted 9-1. 10 ran. 5l, 1l. (P Bowen). Tote: Win £5.10; Pl £1.70, £2.90, £3.00. Exacta: £43.40. Tricast: £292.39. Trifecta: £512.90. CSF: £38.23. NR: Oscar Blue. PLACEPOT: Dividend: £12.30. PONTEFRACT Going: Good to firm-good in places 1.45 (6f, £4,158): 1, ELDRICKJONES (M Crehan) 2-13 Fav; 2, Crypto Quest 66-1; 3, Kodebreaker 10-1. 4 ran. 2l, 1¾l. (R Fell). Tote: Win £1.10; Exacta: £11.50. Trifecta: £28.70. CSF: £13.89. NR: Overdraft. 2.20 (1m, £5,400): 1, MY SILENT SONG (P Mulrennan) 14-1; 2, Turn Back Time 9-4 Fav; 3, Fuente Ovejuna 5-2. 6 ran. ns, 1l. (E Dunlop). Tote: Win £11.70; Pl £4.30, £1.60. Exacta: £54.50. Trifecta: £167.00. CSF: £43.74. 2.55 (1m 2f, £6,185): 1, LIVING LEGEND (J Fanning) O J Carter lbw b Melton 4 D M W Rawlins st Guest b Madsen 58 J J Carson c Guest b Dal 16 H T Crocombe b Madsen 2 S F Hunt c Aitchison b Dal 0 J Atkins not out 0 Extras (b4, lb1, w1, nb6, pens, 0)12 Total (50.3 overs)187 Fall of wickets: 1-11, 2-43, 3-43, 4-51, 5-92, 6-105, 7-168, 8-172, 9-173. Bowling: Aitchison 12-3-22-0; Melton 8-1-40-2; Critchley 19-6-71-1; Moulton 5-2-24-2; Dal 4-0-17-2; Madsen 2.3-0-8-2. DERBYSHIRE Second innings M J J Critchley not out 15 H R C Came b Crocombe 4 J L du Plooy not out 4 Extras (pens, 0)0 Total (1 wkt, 3.4 overs)23 Fall of wickets: 1-9. Did Not Bat: B A Godleman, W L Madsen, B D Guest, M H McKiernan, B Aitchison, D R Melton, E H T Moulton. Total Bonus Pts: Sussex 6 Derbyshire 8 Bowling: Crocombe 2-0-8-1; Ibrahim 1.4-0-15-0. Derbyshire (24pts) beat Sussex (6pts) by 9 wkts WORCESTERHIRE v LEICESTERSHIRE At New Road Overnight: Leicestershire 222 (L Kimber 71). Worcestershire 378-6 (J D Libby 77, O B Cox 52 no, C A J Morris 50). WORCESTERSHIRE First innings E Barnard c Bates b Wright 48 O B Cox c Bates b Sakande 59 J Leach c Wright b Sakande 12 J Baker c Rhodes b Sakande 3 D Pennington not out 10 Extras (b9, lb12, nb18, pens, 0)39 Total (119.2 overs)422 Fall of wickets: 1-14, 2-139, 3-153, 4-210, 5-265, 6-270, 7-386, 8-398, 9-411. Bowling: Wright 31-6-97-3; Sakande 21.2-1-66-3; Mike 17-1-75-0; Barnes 14-1-70-1; Parkinson 31-7-70-3; Rhodes 5-0-23-0. LEICESTERSHIRE Second innings Azad c Cox b Leach 4 R K Patel b Leach 0 G H Rhodes c Cox b Pennington 90 L J Hill c Haynes b Leach 2 L Kimber c Barnard b Morris 4 B W M Mike lbw b Barnard 58 S D Bates c Haynes b Barnard 6 E Barnes b Baker 5 C F Parkinson c Barnard b Pennington 21 C J C Wright not out 10 A Sakande c Barnard b Pennington 4 Extras (lb5, nb2, pens, 0)7 Total (81 overs)211 Fall of wickets: 1-3, 2-16, 3-28, 4-35, 5-123, 6-131, 7-146, 8-192, 9-207. Bowling: Leach 18-7-25-3; Pennington 13-1-59-3; Morris 13-1-45-1; Barnard 12-2-41-2; Baker 20-9-26-1; D'Oliveira 2-1-4-0; Mitchell 3-1-6-0. WORCESTERSHIRE Second innings D K H Mitchell not out 9 J D Libby not out 3 Extras (pens, 0)0 Total (0 wkts, 2.4 overs)12 Did Not Bat: G H Roderick, J A Haynes, B L D'Oliveira, E Barnard, J Leach, J Baker, C A J Morris, D Pennington. Total Bonus Pts: Worcestershire 7 Leicestershire 3 Bowling: Wright 1.4-0-11-0; Barnes 1-0-1-0. Worcestershire (23pts) beat Leicestershire (3pts) by 10 wkts 7-2; 2, Highwaygrey 85-40 Fav; 3, Tiger Beetle 9-4. 4 ran. 4½l, 2½l. (M Johnston). Tote: Win £3.80; Exacta: £11.50. Trifecta: £20.30. CSF: £11.00. 3.30 (6f, £4,860): 1, OSO RAPIDO (J Hart) 3-1; 2, Bossipop 14-1; 3, Cottam Lane 85-40 Fav. 8 ran. ¾l, hd. (R Fell). Tote: Win £3.90; Pl £1.60, £3.00, £1.30. Exacta: £39.50. Tricast: £107.18. Trifecta: £169.50. CSF: £43.66. 4.05 (5f, £6,480): 1, SALUTI (P Mulrennan) 15-2; 2, Rayong 11-2; 3, Indian Sounds 11-4 Fav. 8 ran. ½l, nk. (P Midgley). Tote: Win £7.80; Pl £2.20, £1.60, £1.50. Exacta: £56.00. Tricast: £144.56. Trifecta: £265.20. CSF: £49.52. 4.40 (1m, £3,888): 1, APPROACHABILITY (J Fanning) 10-1; 2, Testing Faith 20-1; 3, Themoonsaballoon 5-1. Also: 5-6 Fav Wakey Wakey. 12 ran. 3¼l, ¾l. (M Johnston). Tote: Win £8.70; Pl £2.20, £6.30, £2.00. Exacta: £163.30. Trifecta: £3254.80. CSF: £190.28. 5.15 (5f, £2,700): 1, MUATADEL (Z Wheatley) 9-2; 2, Gorgeous General 5-1; 3, Equate 11-1. Also: 16-5 Fav Young Tiger. 7 ran. 1½l, hd. (J Wainwright). Tote: Win £5.00; Pl £3.00, £2.90. Exacta: £29.60. Tricast: £231.08. Trifecta: £276.10. CSF: £26.86. NR: Twelve Diamonds. PLACEPOT: Dividend: £402.20. SORRY! The results from Wolverhampton were too late for publication
www.birminghamlive.co.uk FRIDAY, SEPTEMBER 24, 2021 BIRMINGHAM MAIL 49 Cup glory would be a perfect end to amazing year – Jon golf By phil casey WORLD number one Jon Rahm will let his clubs do the talking as he bids to end an extraordinarily eventful year with a Ryder Cup triumph. Rahm became a father for the first time just days before the Masters in April, then led the Memorial Tournament by six shots after 54 holes before being told on the 18th green he had tested positive for Covid-19 and had to withdraw. Fifteen days later Rahm birdied the last two holes at Torrey Pines to win his maiden major title in the US Open, but in July tested positive for Covid again and had to miss the Olympic Games in Tokyo. "It just dawned on me that it's only been five-and-a-half months since my son was born and there's been so many things that happened since weekend FIXTURES TODAY RUGBY PREMIERSHIP: Gloucester v Leicester (7.45). MIDLANDS TWO WEST (NORTH): Longton v Stafford (7.45). SPEEDWAY CHAMPIONSHIP: Glasgow v Birmingham (7.30). TOMORROW (3.00 unless stated) FOOTBALL FA WOMEN'S SUPER LEAGUE: Everton Women v Birmingham City Women (11.30). VANARAMA NATIONAL LEAGUE NORTH: AFC Fylde v Kidderminster Harriers; AFC Telford United v Brackley Town; Boston United v Guiseley; Chester v Blyth Spartans; Curzon Ashton v Bradford (Park Avenue); Darlington v York City; Farsley Celtic v Alfreton Town; Gateshead v Gloucester City; Hereford v Leamington; Kettering Town v Spennymoor Town; Southport v Chorley. SOUTHERN LEAGUE, PREMIER CENTRAL: AFC Rushden & Diamonds v Hitchin Town; Alvechurch v Biggleswade Town; Banbury United v St Ives Town; Bromsgrove Sporting v Royston Town; Leiston v Hednesford Town; Lowestoft Town v Stratford Town; Nuneaton Borough v Coalville Town; Redditch United v Peterborough Sports; Rushall Olympic v Barwell; Stourbridge v Needham Market. NORTHERN PREMIER LEAGUE, PREMIER: Bamber Bridge v Matlock Town; Buxton v Morpeth Town; Gainsborough Trinity v Radcliffe; Grantham Town v Scarborough Athletic; Lancaster City v Ashton United; Nantwich Town v Basford United; South Shields v Warrington Town; Stafford Rangers v Atherton Collieries; Stalybridge Celtic v FC United of Manchester; Whitby Town v Hyde United; Witton Albion v Mickleover. MIDLANDS: Bedworth United v Loughborough Dynamo; Coleshill Town v Chasetown; Histon v Soham Town Rangers; Spalding v Cambridge City; Sutton Coldfield Town v Ilkeston Town; Wisbech v Carlton Town; Yaxley v Corby Town. Sport then," Rahm said on the final practice day at Whistling Straits. "It almost feels like it's been a couple years' worth of experiences in those five months. The good moments, the great experiences, the happiness vastly outweighs the setbacks, and that's all I can say about this year. "I became a dad. We're in a really good place, family-wise. I'm very happy at home. It's been amazing. Got my first major and played really good golf all year round. "It would be a very nice end to what has been a wonderful year (to retain the Ryder Cup). That win in France, you create a bond that's unforgettable and it would be a really good feeling to be able to do it in my first try, in FA TROPHY, First Qualifying Round: Kempston Rovers v Newcastle Town; Sporting Khalsa v Dereham Town; Stamford v Daventry Town. FA VASE, Second Qualifying Round: AFC Bridgnorth v Lye Town; Ashby Ivanhoe v Romulus; Boldmere St Michaels v Shifnal Town; GNG Oadby Town v Loughborough Students; Heath Hayes v Highgate United; Heather St John's v Darlaston Town; Hinckley LR v Hinckley AFC; Ingles v Harrowby United; Lichfield City v Uttoxeter Town; Lutterworth Town v Skegness Town; Melton Town v Aylestone Park; Nuneaton Griff v Bewdley Town; Racing Club Warwick v Chelmsley Town; Rugby Town v AFC Wulfrunians; Sandbach United v Dudley Town; Wednesfield v Hereford Pegasus; Whitchurch Alport v Pershore Town; Wolverhampton Casuals v Ellesmere Rangers; Worcester City v Bilston Town Community; Worcester Raiders v Atherstone Town. MIDLAND LEAGUE, PREMIER DIVISION: Stourport Swifts v Walsall Wood. DIVISION ONE: OJM Black Country v Khalsa Football Federation; Stapenhill v Shawbury United. DIVISION TWO: Alcester Town v Kenilworth Sporting; Bolehall Swifts v Coton Green; Cadbury Athletic v Boldmere Sports & Social Falcons; Earlswood Town v Knowle; Fairfield Villa v Redditch Borough; Hampton v Coventry Alvis; Lane Head v Barnt Green Spartak. DIVISION THREE: AFC Solihull v Sutton United; Bartley Reds v Leamington Hibernian; Castle Vale Town v AFC Coventry Rangers; Central Ajax v Birmingham Tigers; Continental Star v Balsall and Berkswell; Enville Athletic v Coventrians; Upton Town v AFC Birmingham; WLV Sport v DSC United. RESERVE DIVISION: Bewdley Town Res v Kidderminster Harriers Res; Boldmere St Michaels Res v Gresley Rovers Res; Leamington Res v Sutton Rangers; Solihull Sporting v Gornal Colts Res; Stratford Town Res v Redditch United Res; Walsall Wood Res v Racing Club Warwick U23. UNDER-21 NORTH EAST: Birmingham Tigers v Rushall Olympic (10.30); Boldmere St Michaels v Shrewsbury Development Centre (10.00); Brocton v Stafford Rangers (10.30); Chasetown v Allscott Heath (12.30); Dream The good moments, the great experiences, the happiness vastly outweighs the setbacks and that's all I can say about this year. Jon Rahm Chaser Youth v Stafford Town (10.30); Lichfield City v Sutton Coldfield Town (10.30). UNDER-21 SOUTH WEST: Droitwich Spa BG v Stourport Swifts (10.30); Gloucester City v AFC Birmingham (12.30); Gornal Youth v Silhill (10.30); Halesowen Town v Hampton (10.30); Redditch United v Stourbridge (10.45). WEST MIDLANDS (REGIONAL) LEAGUE, DIVISION ONE: Allscott Heath v AFC Bentley; Bromyard Town v Wyrley United; Bustleholme v Gornal Athletic; FC Darlaston v Wellington Amateurs; Gornal Colts v Tipton Town; Old Wulfrunians v Team Dudley; Sikh Hunters v Willenhall Town; Wrens Nest v Droitwich Spa. DIVISION TWO: Bloxwich Governors v Dudley Athletic; Edgbaston Spartans v Wednesfield Res; Gornal Athletic Res v Sikh Hunters Dev; Kidderminster Harriers U23s v Wellington Amateurs Dev; Norton Canes v Bilbrook Santos (2.00); Saltley Stallions v Warstone Wanderers. BIRMINGHAM LEAGUE , SENIOR CUP, Preliminary Round: Sporting Futures v Sky Force. INTERMEDIATE CUP, First Round: MOTD v Bilston Town Community. VETS LEAGUE: Old Hill v Hampton. PREMIER DIVISION: BNJS v Wake Green Ams; Boldmere Sports & Social v Amanah; CPA v Birmingham Medics; Naija v Sporting Elite; Polesworth North Warwick v Old Wulfrunians; Silhill v AFC Somers; Village v Crown CR. DIVISION ONE: Birmingham Tigers v FC Premier; Sportsco v Silhill B; Sutton United v Cresconians; Wake Green Ams B v Uni of Birmingham. DIVISION TWO: Desi v Old Wulfrunians B; HGU v Henley Forest of Arden; Real Aston v Sutton Select; Lodgefield Park v Northfield Town; South Redditch Eagles v Flamengo. DIVISION THREE: Birmingham Medics B v St Johns Rangers; Leafield v Silhill C; Sutton United B v Claverdon; Wake Green Ams C v Kings Heath Shooters; Warstones Wanderers v Doe Bank Rangers. DIVISION FOUR: Bartley Reds v Village C; FC Premier B v Kings Heath Rangers; Glades v Castlecroft Rangers; Kingston Alliance v Kingstanding Phoenix; Wake Green Ams D v Hillfields Athletic. DIVISION FIVE: Armada v Cannock United; BRS v Polesworth North Warwick B; Nechells my case on US soil as well." Rahm won just one of his three matches on his debut in Paris, but it was Europe's first singles victory as the United States attempted a fightback and came against a certain 15-time major winner, Tiger Woods. The 26-year-old was ranked eight in the world at the time but his victory in the Memorial Tournament in 2020 took him to world number one for the first time. Asked if his position as Europe's Jon Rahm is ready to take on a leading role for Europe Athletic v Sutton United C; Real Aston B v Hopwood Swifts; Silhill D v Handsworth GSOB; Village D v North Solihull. DIVISION SIX: Bournville v Kings Heath Rangers B; Kingstanding Phoenix B v Bluepool FC; Olton Ravens v Armada B; Red Lion Utd v Wake Green Ams E; Warstones Wanderers B v Village E. CRICKET BIRMINGHAM AND DISTRICT PREMIER LEAGUE (11.00 start) COUNTY LEAGUE PLAY-OFFS: Lichfield v Stourbridge; Stratford v Worfield. RUGBY PREMIERSHIP: Bath v Newcastle; Exeter v Northampton; Harlequins v Worcester; Wasps v Bristol. CHAMPIONSHIP: Ampthill v Coventry; Doncaster v London Scottish (2.30); Hartpury RFC v Cornish Pirates (2.30); Jersey Reds v Bedford (2.30); Richmond v Nottingham. NATIONAL LEAGUE ONE: Birmingham Moseley v Chinnor; Bishop's Stortford v Taunton Titans; Blackheath v Caldy; Cinderford v Cambridge; Darlington Mowden Park v Rosslyn Park; Rams v Leeds Tykes; Sale FC v Plymouth Albion (2.30). NATIONAL TWO NORTH: Blaydon v Rotherham Titans; Bournville v Wharfedale; Fylde v Harrogate; Hull v Chester (2.00); Hull Ionians v Huddersfield; Luctonians v Loughborough Students; Sheffield Tigers v Sedgley Park; Stourbridge v Tynedale. MIDLANDS PREMIER: Bridgnorth v Burton; Broadstreet v Bromsgrove; Paviors v Nuneaton; Sandbach v Newport (Salop); Scunthorpe v Dudley Kingswinford; Sheffield v Doncaster Phoenix; Syston v Oundle. MIDLANDS ONE WEST: Droitwich v Lichfield; Hereford v Kenilworth; Stratford-upon-Avon v Old Halesonians; Sutton Coldfield v Newbold on Avon; Whitchurch v Malvern; Wolverhampton v Ludlow; Worcester v Stoke on Trent. MIDLANDS TWO WEST (NORTH): Camp Hill v Walsall; Crewe & Nantwich v Uttoxeter; Leek v Tamworth; Moseley Oak v Stourbridge Lions; only player in the world's top 10 meant he would now be a leader in the team room, Rahm said: "I'm ready for that. It's a challenge I look forward to. "There are a lot of players with experience in my team who know how to get it done and I'm ready to add my name into that group. I'm not going to actively go and make myself 'Hey, I'm a leader now,' as I don't have that massive an ego. "I'll let my ball do the talking and leave the speeches to the guys who have been doing it for a long time." Newcastle (Staffs) v Old Saltleians. MIDLANDS TWO WEST (SOUTH): Barkers Butts v Spartans (Midlands); Berkswell & Balsall v Silhillians; Earlsdon v Pinley; Evesham v Old Laurentians; Kidderminster v Old Coventrians; Leamington v Nuneaton Old Edwardians. MIDLANDS THREE WEST (NORTH): Aldridge v Veseyans; Burntwood v Telford Hornets; Clee Hill v Shrewsbury; Eccleshall v Harborne; Edwardians v Handsworth. MIDLANDS THREE WEST (SOUTH): Bromyard v Tenbury; Burbage v Stoke Old Boys; Ledbury v Rugby St Andrews; Manor Park v Old Leamingtonians. MIDLANDS FOUR WEST (NORTH): Aston Old Edwardians v Yardley & District; Barton- Under-Needwood v Wednesbury; Essington v Warley; Market Drayton v Trentham; Oswestry v Rugeley; Willenhall v Birmingham Exiles. MIDLANDS FOUR WEST (SOUTH): Bedworth v Upton-on-Severn; Chaddesley Corbett v Pershore; Claverdon v Old Yardleians; Coventrians v Old Wheatleyans; Harbury v Kings Norton. MIDLANDS FIVE WEST (SOUTH): Atherstone v Stourport; Bloxwich v Redditch; Cannock v Keresley; Five Ways Old Edwardians v Greyhound; Stone v Birmingham & Solihull. SUNDAY FOOTBALL FA WOMEN'S SUPER LEAGUE: Brighton Women v Aston Villa Women (2.00). RUGBY PREMIERSHIP: London Irish v Sale (3.00). WATERS The following waters are booked for contests TOMORROW Canals: Staffs. / Worc. Br. 37 - 38. SUNDAY Pools: Nordley Pools No. 4 Canals: Staffs. / Worc. Br. 17 - 18,; 36 - 39. Sport MATCH GUIDE (3.00 unless stated) Ht Ft TONIGHT CHAMPIONSHIP .......Coventry v Peterborough (7.45).... ............. West Brom v QPR (8.00)........... LEAGUE TWO ..............Barrow v Newport (7.45)........... SCOTTISH CHAMPIONSHIP ......... Arbroath v Kilmarnock (7.45)....... TOMORROW PREMIER LEAGUE .......... Brentford v Liverpool (5.30)........ ............Chelsea v Man City (12.30)......... ................... Everton v Norwich................. ................... Leeds v West Ham................. ...................Leicester v Burnley................ ......... Man Utd v Aston Villa (12.30)....... ................. Watford v Newcastle............... CHAMPIONSHIP ........... AFC Bournemouth v Luton......... ................Birmingham v Preston............. ...................Blackburn v Cardiff................ .................Blackpool v Barnsley.............. ................. Bristol City v Fulham............... ............... Nottm Forest v Millwall............. ......Reading v Middlesbrough (12.30)... ....................Sheff Utd v Derby................. ..........................Stoke v Hull....................... .............. Swansea v Huddersfield............ LEAGUE ONE .......... Burton Albion v Lincoln City........ .......... Cambridge Utd v Fleetwood........ ...............Charlton v Portsmouth............ ..................Ipswich v Sheff Wed............... .................MK Dons v Wycombe.............. .............Morecambe v Accrington.......... .............. Oxford Utd v Gillingham............ ................Plymouth v Doncaster............. ..................Rotherham v Crewe............... ........ Shrewsbury v AFC Wimbledon...... ................. Sunderland v Bolton............... ................. Wigan v Cheltenham............... LEAGUE TWO ............. Crawley Town v Bradford........... ............. Forest Green v Tranmere........... ......... Harrogate Town v Stevenage....... .................. Hartlepool v Exeter................ ............ Leyton Orient v Mansfield.......... .................. Rochdale v Oldham................ ...........Salford City v Northampton........ ...............Scunthorpe v Port Vale............ ................. Sutton Utd v Carlisle............... ................ Swindon v Colchester.............. ...............Walsall v Bristol Rovers............ VANARAMA PREMIER ................Aldershot v FC Halifax............. ........... Altrincham v Notts County......... ..................Barnet v Weymouth............... .............. Boreham Wood v Yeovil............ .........Chesterfield v Torquay (5.20)...... ........... Dag & Red v Solihull Moors......... .....................Dover v Bromley.................. ...................Eastleigh v Woking................ .............King's Lynn v Wealdstone.......... ........... Maidenhead Utd v Grimsby......... ................ Stockport v Wrexham.............. SCOTTISH PREMIERSHIP ................... Dundee v Rangers................. .................. Hearts v Livingston................ ............ Motherwell v Ross County.......... SCOTTISH CHAMPIONSHIP ........................ Ayr v Morton...................... .............. Dunfermline v Hamilton............ ....... Inverness CT v Queen of South..... SCOTTISH LEAGUE 1 .........Cove Rangers v Airdrieonians...... ...................Dumbarton v Alloa................ .....................East Fife v Clyde.................. ................... Montrose v Falkirk................. ............ Queen's Park v Peterhead.......... SCOTTISH LEAGUE 2 ...... Annan Athletic v Edinburgh City.... .......................Forfar v Albion.................... ..............Kelty Hearts v Stranraer........... ............... Stenhousemuir v Elgin............. ...............Stirling v Cowdenbeath............ SUNDAY PREMIER LEAGUE ...........Arsenal v Tottenham (4.30)........ .........Southampton v Wolves (2.00)...... SCOTTISH PREMIERSHIP ..................Celtic v Dundee Utd............... .............Hibernian v St Johnstone.......... ......... St Mirren v Aberdeen (12.00)....... SCOTTISH CHAMPIONSHIP .......................Raith v Partick.................... MONDAY PREMIER LEAGUE ...... Crystal Palace v Brighton (8.00)....
50 BIRMINGHAM MAIL FRIDAY, SEPTEMBER 24, 2021 @birmingham_live Sport Bears need Som-thing special in race for title cricket By brian halford WARWICKSHIRE are one powerful day's cricket away from lifting the LV= Insurance County Championship title after a strong fightback against Somerset on the third day at Edgbaston. Lancashire's amazing win over Hampshire at Liverpool has left the Bears with a very simple equation. Victory (but nothing less) will bring the title to Edgbaston for the eighth time in the club's history. The equation is simple, but forcing victory will be a far from simple business for Will Rhodes' side on an excellent batting pitch. They closed the third day on 179 for one, 157 ahead, so need to press on briskly with the bat this morning to give themselves time to try to take 10 wickets. "What's happened at Liverpool has put it back in our hands so now we have got to try and set something up and take ten wickets,'' said Rhodes. "Fair play to Heaven 17 as Mitchell bows out with win cricket The last session swung it back in our favour a little bit and we are going to have to play well to come up with a target. Will Rhodes DARYL Mitchell ended 17 seasons as a Worcestershire player on a successful note after victory against Leicestershire at New Road. Joe Leach, who is standing down as club captain, also played a major role in the 10-wicket win. Mitchell was presented with prints marking his achievement by club chairman, Fanos Hira, and club Somerset, they came out and did what they needed to do and took a lot of time out of the game. "The last session has swung it back in our favour a little bit and we are going to have to play well in the morning to come up with a target with a suitable amount of overs we think we can bowl them out on. "When you have had 13-and-threequarter games and are still in the hunt for a County Championship that's a great feeling. "There is a lot of excitement in the dressing room and we just know we have all got to make it as hard as possible for Somerset tomorrow." If Warwickshire can pull that off against a Somerset side who, to their great credit, have scrapped every inch of the way, they will deserve to be champions. The title-chasers spent the first two sessions of the third day in the dirt as Somerset, replying to 367, gritted onward from their overnight 239 for five to reach 389. The visitors' head coach Jason Kerr stated the previous evening that "whoever wins the title is going to have to earn it" and his players showed a degree of resolve which matched his words. president, Cynthia Crawford, during the lunch interval on the third day. By then Worcestershire were already well on the way to victory. Worcestershire extended their overnight total from 378 for six to 422 all-out – an overall advantage of 200. Then a deadly opening three-wicket burst by Leach helped reduce Leicestershire to 35 for four. A career-best 90 from former Pears batsman, George Rhodes, enabled the Foxes to avoid an innings defeat. But Steven Davies (52, 90 balls, eight fours) fell in the second over of the day when he edged Tim Bresnan to Michael Burgess. Bresnan then struck again when he trapped Craig Overton lbw, though his two-run stay had eaten up 43 minutes. Somerset's batting has not overachieved of late but this time they delivered some important partnerships. After Davies and Lewis Gregory (68, 139 balls) added 60, Gregory and Jack Leach (49, 140 balls) put on 54 and Leach and Josh Davey added 56. On an unforgiving pitch, there was little the depleted Warwickshire attack (without the injured Olly Stone, Olly Hannon-Dalby and Henry Brookes) could do but persevere. The indefatigable Bresnan was the pick, the Pears were left only a 12-run target, which Mitchell and Jake Libby knocked off in double-quick time. "Daryl Mitchell deserved it (to be at the wicket when victory was completed). He has been an amazing cricketer for this club for a long, long time," said head coach Alex Gidman. "He is a wonderful man who put his heart and soul into this club for so long. It was very fitting he managed to be there at the end and get the send-off he deserved." Warwickshire's Chris Woakes, left, celebrates with team-mates after taking the wicket of Josh Davey to end Somerset's first innings finishing with three for 35, supported by Danny Briggs (three for 77) and Chris Woakes (three for 100). Trailing by 22, the Bears had a session to regain the initiative and fully seized the opportunity. Rob Yates (72 not out, 119 balls) and Dom Sibley (50, 69 balls) batted enterprisingly to add 119 in 28 overs and Rhodes added late impetus with 42 in 29 balls Together the trio supplied their side with a springboard to a potential victory – and championship title – today. "I think whether we chase a target is whether it is realistic,'' said Gregory. "We always want to win games of cricket, but the chase has to be realistic. They need to give themselves time to bowl us out." Pears' stalwart Daryl Mitchell rugby Baldwin aims to be a Quins party pooper By paul bolton WORCESTER hooker Scott Baldwin is relishing a return to The Stoop to face his former club Harlequins tomorrow. The Wales international departed at the end of last season having helped Quins to win the Premiership with his farewell appearance coming in the final against Exeter at Twickenham. By that stage Baldwin had already been recruited by Warriors for this season, linking up again with head coach Jonathan Thomas – who he played alongside at Ospreys – and using his experience to help develop the crop of talented youngsters at Sixways all factors in his decision. Baldwin still has friends in the Harlequins camp, including England prop Joe Marler and scrum coach Adam Jones, but will return to The Stoop aiming to spoil the celebration party in their first home match since being crowned champions. "There was no better time to go than winning the league. I have still got a lot of friends there so it's going to be a fun weekend," said Baldwin. "There will be a lot of smiles on faces and I am really looking forward to going back to play at a packed-out Stoop. "Adam Jones has texted me this week – I won't say what he said – and I've also had some banter with Joe and a few of the boys down there." Having started his Warriors' career with a 36-24 win over London Irish at Sixways last weekend, Baldwin believes solid defence will be the key to frustrating Harlequins. "If you look at how Harlequins played last year, everyone knew how they played, it's how you stop it," he said. "Our focus this week is how we stop them playing. We need to shut them down. They have some dangermen we will target going into the game. "But we have to focus on ourselves and when we have the ball it will be about executing our gameplan." Warriors await a late fitness check on full-back Melani Nanai, who suffered a sore Achilles tendon against London Irish, but Wales centre Ashley Beck is available having recovered from the concussion suffered in the friendly against Glasgow Warriors two weeks ago.
www.birminghamlive.co.uk FRIDAY, SEPTEMBER 24, 2021 BIRMINGHAM MAIL 51 Sport Top-six dream hangs on taming the Tigers SPeedwAy By NIGeL PeARSoN BIRMINGHAM need two points from tonight's trip to Glasgow to pip Scunthorpe to the Championship play-offs. It's a daunting prospect for the Perry Barr side against one of the favourites for the league title but they have given themselves a chance after Wednesday's 55-35 home win over Newcastle. Brummies skipper Chris Harris scored a brilliant 15-point maximum to head up a solid all-round team display to keep alive their hopes of sneaking into the top six with one match remaining. A draw or win this evening would elevate them into sixth place at the expense of the Scorpions. 'Bomber' put on another spectacular exhibition of track craft at Perry Barr, with his Heat 1 effort arguably the ride of the night as he recovered from a slow start to reel in and pass the Diamonds' duo, getting the better of Ben Barker with a trademark outside move. Reserves Paco Castagna and Jack Thomas gave the hosts control with a 5-1 in Heat 2, and the latter was involved again in Heat 4, this time with Erik Riss as the German saw off Adam Roynon and guest Leon Flint on the first lap. Barker was the Diamonds' first winner in Heat 5 as he surged inside Ashley Morris going into the second lap, but the Brummies then collected back-to-back 5-1s with Valentin Grobauer enjoying his best home display of the season. Birmingham continued to build their lead mid-meeting with a string of advantages, and Heat 10 provided another Harris special as he got the better of Max Clegg and James Wright to team up with Grobauer. Brummies led by 24 points at the interval before Newcastle provided a spirited end to the meeting, including race wins for Barker, James Wright and Roynon, the latter riding strongly to hold off Morris in Heat 14. Riss suffered mechanical trouble at the start of Heat 11 and then found the door firmly shut by Barker when he looked to swoop around the outside in Heat 13, but the Diamonds had no answer to Harris, who completed his maximum with some masterful firstbend moves. Morris was also in double figures with another impressive home display, and all seven Brummies posted at least one win or paid win. Harris said: "Newcastle had some riders who are good here, Ben and Flinty, so it was nice to get a comfortable win, and it was a good confidence boost for some of the boys. I'm feeling good, I've got a fairly good set-up here – I wanted to go one way, but the mechanic said we'll go the other, and it seemed to work so he knew better! "We'll go to Glasgow now with a bit of confidence, and a win or a draw will get us in. It's going to be tough, they're a good side at home, but if we can carry this form through, there's no reason why we can't do it." Regardless of the outcome against the Tigers, the Brummies are back at Perry Barr on Wednesday looking to overturn an 18-point deficit against Edinburgh in their KO Cup quarter-final. BIRMINGHAM: Chris Harris 15, Ashley Morris 10, Paco Castagna 8+2, Valentin Grobauer 7+2, Erik Riss 6, Jack Thomas 5+2, James Shanes 4+1. NEWCASTLE: Ben Barker 10, James Wright 8+2, Adam Roynon 8, Leon Flint 6+1, Max Clegg 3+1, Archie Freeman 0, Connor Mountain r/r. Chris Harris believes the Brummies can go into tonight's must-not-lose clash with Glasgow confident of sealing a place in the play-offs
52 BIRMINGHAM MAIL FRIDAY, SEPTEMBER 24, 2021 @birmingham_live ALBION v QPR Formation is not an issue... it's the lack of goals – Val By JosePH CHAPMAN VALERIEN Ismael insists he has no intention of moving away from his favoured 3-4-3 system as West Brom prepare to welcome Queens Park Rangers to The Hawthorns tonight. Though still unbeaten in their first eight matches of the Championship campaign, there are some concerns among the fanbase that opposing sides are figuring out how to disrupt Albion, following successive draws against Millwall, Derby and Preston. QPR will provide the latest test – and opportunity – for Ismael and his players to prove they can adapt and clinch victory, even when the opposition set up to nullify them. "I played this formation for three years, and this is the most flexible formation I've played," Ismael explained. "Everything moves in one direction. We don't need to change anything in our formation, we need to score more goals. "This is the topic for us. We create a lot of chances in other games. We concede the lowest number of shots THE HAWTHORNS, TONIgHT, 8pM on target in the league. We have the highest xG (expected goals) in the league. There is nothing wrong, the main focus is just to make sure we are more ruthless in the box." One player who hasn't yet been seen in action since arriving in the summer transfer window is Jayson Molumby. The Republic of Ireland international immediately joined up with compatriots Dara We have the highest xG in the league. There is nothing wrong, the main focus is just to make sure we are more ruthless in the box. O'Shea and Callum Robinson earlier this month after arriving and it has taken him a little while to catch up with Ismael's methods. Still, Molumby has been part of the Albion squad in the last three matches without making an appearance. With Jake Livermore and Alex Mowatt tying down the two midfield spots, chances haven't been too forthcoming but the head coach considers Molumby a genuine option and expects it won't be too long before he is called upon to make his debut. "He's really close,'' said Ismael. "For sure, when you think that his time is not long with us, because he signed but he went straight away with the national team and has come back Valerien Ismael Valerien Ismael is happy with the way Albion are set up and been with us in full the last two weeks maybe, in time, he'll get his chance. "He needs to be patient, train well, and he will have his chance to prove his quality. There are still a lot of games but it's clear – we want to see all the players all the time, but we have only three substitutes and it's difficult to give all the players minutes. No issue – he is ready." Football woLves Lage not so easy-going about loss BRUNO Lage admits Wolves must stop gifting their opponents 'easy chances' after their Carabao Cup exit to Tottenham. Spurs raced into a 2-0 lead before the hosts fought back, but Nuno Espirito Santo's side eventually won 3-2 on penalties. Despite a spirited fightback, Lage said: "The first 30 minutes, the way we conceded chances to the opponent is very frustrating. "The first goal, a Tottenham player won four or five rebounds and in the second one he ran through to our goalkeeper – a striker went alone against our goalkeeper. It's very easy chances for the opponent. We are still making bad mistakes. "The way we are creating chances and the way we are playing is the positive thing, but the way we are conceding chances to the opponent is the most disappointing thing. "We need to work so we don't concede very easy chances to the opponent." Wolves' cause wasn't helped by an injury to debutant Yerson Mosquera, who departed on a stretcher after just five minutes and now faces another spell on the sidelines. "Maybe a muscular problem," Lage reflected. "It happened too in pre-season. It was a big surprise and disappointment for him. He's a great kid. We have a good player for us and he didn't deserve that.'' LADBROKES LADBROKES LADBROKES LADBROKE DBROKES GET OUR LADBROKES LADBROKES LADBROKES L LADBROKES BEST EVER LADBROKES ACCALADBROKES LADBROKE DBROKES LADBROKES LADBROKES LADBROKES L Boost Edit Track Insure LADBROKES LADBROKES LADBROKES LADBROKE DBROKES LADBROKES LADBROKES LADBROKES L 18+. UK&IRE only. Online, Mobile. ACCA Insurance: Min selection odds 1/10. ACCA Odds 3/1. Pre-match straight line accas only. 1 free bet up to £/€10 per customer/day, valid for 7 days, stake not returned. Odds Boost: Up to £/€50 at boosted odds. Min 1 boost per day. T&Cs Apply. PLEASE BET RESPONSIBLY begambleaware.org – Need Help? Call the National Gambling Helpline on 0808 802 0133
www.birminghamlive.co.uk FRIDAY, SEPTEMBER 24, 2021 BIRMINGHAM MAIL 53 Football Three decisions and a £35m issue not of Bruno's making By ALex dIckeN WOLVES scored the first Molineux goals of the Bruno Lage era, but were again on the wrong side of a tight result. Tottenham claimed a 3-2 penalty shoot-out win after their Carabao Cup third-round tie had ended 2-2 in normal time. Wolves fought back from 2-0 down before the drama from 12 yards, where Ruben Neves, Leander Dendoncker and Conor Coady all missed. Here are our findings. n Two reliable performers fail to deliver It's rare indeed for Coady and Neves to look so uneasy. Irrespective of what happened in the shootout, because the very best players have crumbled, Coady and Neves were uncharacteristically sloppy. It must be said Coady was thrown in after the injury to Yerson Mosquera and was asked to play in an unfamiliar right-sided centre-back position to begin with, which certainly didn't help. But the one thing you ANALYSISfirst goal associate with Coady is the ability to organise and Wolves were all over the place in the first half. He was far too easily beaten in a 50/50 challenge for Spurs' first goal and stepped up to allow Harry Kane in for the second. Precise and crisp passing is what you expect from Neves but there was nothing of the sort here. In the space of 15 first-half seconds, he gifted Spurs the ball twice, the second misplaced pass leading to Kane making it 2-0. He didn't improve much after half-time and it was typical of his performance that the usually reliable penalty-taker produced the worst effort of the shoot-out. n Decisions to make A number of players have given Lage food for thought ahead of the the trip to Southampton on Sunday, not least Dendoncker. The Belgian midfielder scored and assisted Daniel Podence for Wolves' second before missing the fourth spot-kick in the shoot-out. Penalty miss aside, it was an excellent night for Dendoncker, particularly given how poorly Neves played. Whether it's with Neves or instead of him, Dendoncker has given Lage a decision to make. The same can be said for Podence, but it's trickier to fit him into the starting XI in Lage's 3-4-3 system. Francisco Trincao is most at risk, but whether Lage would drop the onloan Barcelona man so early into his Wolves career remains to be seen. A simpler choice surely comes at centre-back after Willy Boly came through 90 minutes unscathed. If the Ivorian is fit, he is the best defender at the club and must come into the team. n Mosquera's rotten luck Everyone was excited to witness the debut of Mosquera, the Colombian centre-back who won lots of admirers in preseason. On paper the 20-year-old looks the perfect fit for the position on the right side of defence, but we're still waiting to judge him in a competitive environment. It looks as though Mosquera has suffered another muscular problem in his leg, just weeks after returning to training following a hamstring injury. n Silva isn't winning Lage over Fabio Silva was hooked at halftime and Lage has been keen to stress the club's youngsters need to start producing. At the end of last season chairman Jeff Shi took it upon himself to 'own' the £35 million transfer which brought Silva to Wolves, so he's desperate for Lage to get the best out of the 19-year-old. That in itself is creating a problem for the head coach, who is better served using Ruben Neves reacts after missing in the penalty shoot-out Hwang Hee-chan as deputy to Raul Jimenez at the moment.
54 BIRMINGHAM MAIL FRIDAY, SEPTEMBER 24, 2021 @birmingham_live Villa's Kortney Hause keeps Timo Werner on his toes Villa goalscorer Cameron Archer gets away from Ruben Loftus- Cheek at Stamford Bridge By AsHLey pReece VILLA were beaten by Chelsea for the second time in 10 days but it took the lottery of a penalty shoot-out to see off Dean Smith's valiant second string at Stamford Bridge. Cameron Archer's brilliant header cancelled out Timo Werner's opener before Ashley Young and Marvelous Nakamba were the unfortunate ones to miss their spot-kicks as Reece James booked Chelsea's place in the last 16 of the Carabao Cup. Here are the main talking points. n Archer on target... in the end The sign of a good striker is one who keeps plugging away and, in the end, Archer got his rewards. The 19-year-old tried to dink Chelsea keeper Kepa on two occasions but failed to hit the mark. However, Archer kept probing away up front as he chased lost causes and occupied both Trevoh Chalobah and Malang Sarr in a performance that would have made relentless presser Ollie Watkins proud. Archer's goal was right out of the top drawer and, again, he has put himself in the shop window and clubs will no doubt be queuing up in January to take him. It remains to be seen if Archer will get minutes in the Premier League over the winter while a loan move looks likely in the upcoming transfer window. His Villa deal is set to expire next summer so a decision will need to be made as to what they do next with him. As assistant Craig Shakespeare said afterwards, Archer has "come from nowhere" with the Walsall hot-shot continuing to take his opportunities in the first team. n Mr Dependable How often have we praised Kortney Hause for coming into the side from the cold and putting in a rocksolid performance? It was another at Stamford Bridge as the centre-back looked strong and physically imposing. Hause even bossed Romelu Lukaku when the Belgian came on, while the former Wolves man has now put himself right in the mix to replace Axel Tuanzebe at Old Trafford tomorrow. Hause was excellent. What a snip at £3 million, by the way. Hause even bossed Lukaku, while the former Wolves man has now put himself right in the mix to replace Axel Tuanzebe at Old Trafford. ANALYSIS Valiant Villa receive a Royal seal of approval n How's your luck, Morgan? A penny for Sanson's thoughts as the Frenchman lasted all of 42 minutes on his big return to action after almost six months out. Prince William cheers on Villa The 27-year-old was great value in Villa's engine room and classy in both defensive and attacking thirds as he tracked back, while he also put Archer in with a fine weight of pass. Sanson, who was confident and assured, pulled up with what was no doubt a fatigue injury as he tweaked his hamstring knowing just how hard he had run after the likes of N'Golo Kante and Saul. Villa have a real player on their hands here – if they get the £14 million man fully fit and firing. n Shakespeare's knowledge Villa's bench was a really interesting watch, with Austin MacPhee, Neil Cutler, Aaron Danks and Shakespeare all getting their points across to Smith on the touchline. However, it was the latter who caught the eye with 'Shakey' even coaching in-game, telling Villa's youngsters from the bench how they should go and do things out on the pitch. He turned to the likes of Caleb Chukwuemeka and Jaden Philogene- Bidace and offered them pointers with the action still going on at 100mph behind him. MacPhee also got his iPad out to show the teenagers where they needed to be if and when they came on. n Prince William out of his seat You may as well have had the Duke of Cambridge among the 3,000 crazy Villa fans, such was his reaction to Archer's glorious header. 'Wills' was up and out of his seat celebrating alongside Villa chief executive Christian Purslow, sporting director Johan Lange and club legend Brian Little. The Duke had a blue shirt and claret jumper on as he wore his colours with pride in west London. n The Polish Cafu Still on the topic of wild celebrations, those in the away end sang their hearts out for the lads at the Bridge. They made a right racket and fully appreciated the players' efforts, but the best song of the bunch was Matty Cash's new one. He has now inherited the famous chant from former favourite Alan Hutton: 'The Polish Cafu; the Polish Cafu; Matty Cash, the Polish Cafu!' Sport You did the club proud says Craig CRAIG Shakespeare admitted Villa were disappointed to be knocked out of the Carabao Cup on penalties, having taken Chelsea all the way. Head coach Dean Smith made a host of changes for the visit to Stamford Bridge, as youngsters Cameron Archer, Jaden Philogene-Bidace and Carney Chukwuemeka all got minutes. Archer's fourth goal in the competition chalked off Timo Werner's opener and assistant head coach Shakespeare believes the team can hold their heads high following a spirited display. He said: "We're disappointed to go out. We came here with a gameplan and we picked a team that needed minutes. "Chelsea's superiority in terms of possession meant we had to hang in there at times in the second half. "The overall performance and chances we created, the lads can be very, very pleased with. However, they're disappointed in the changing room to go out." Archer, who scored a hat-trick in the second round against Barrow, sent the game to spot-kicks after clinically converting Matty Cash's cross in the 64th minute. Shakespeare was happy to see him grabbing his opportunity once again. "Cameron's come from nowhere. From catching the eye in pre-season to scoring the hat-trick at Barrow," he said. "He can be really pleased with his overall performance – the work he did without the ball and the work he did to stop them playing through the lines. "He scored a great goal and he can be happy with that." Chelsea boss Thomas Tuchel was also full of praise for the visitors. "It was a good game full of energy, good chances on both sides between two teams who tried everything to win," he said. "Aston Villa played very strong, like they did 10 days ago, and again today. We also did very good. "It was a nice game to watch, to be in the stadium for. This is also part of what we do, to have entertainment. "I'm happy because we won, it was a hard one, and now we have some competitive minutes in more players' legs. "It's a nice win because it was a tough match, a hard cup fight, and it's a good feeling.''
www.birminghamlive.co.uk FRIDAY, SEPTEMBER 24, 2021 BIRMINGHAM MAIL 55 Gardner's suspension provides benchmark for Bowyer By BRIAN DICK LEE Bowyer admits one of Birmingham City's promising Under-23s group is going to have to step up to cover for the suspended Gary Gardner. The midfielder has been banned for three matches following his red card for a rash challenge at Peterborough last weekend. That means regulars Ivan Sunjic and Ryan Woods are certain to start against Preston tomorrow – and potentially on Tuesday at QPR and then again next weekend against Nottingham Forest. But Gardner's place on the bench is up for grabs after Blues unsuccessfully tried to add more depth to the position in the summer transfer window. "The only central midfielders we have are Gary, Ryan and Ivan," Bowyer said. "It's OK when you have got the three because you can rotate them a little bit. It's 'You come off, you go on' if someone's booked or struggling. We don't even have the sub to Football bring on now to take a bit of pressure off. It might be a case of bringing a couple of the young lads up. "I think they have done alright in the cup games but it's completely different against a big powerful Preston side. It's something to think about." Uppermost in Bowyer's thoughts will be two 19-year-olds, Tate Campbell and Alfie Chang, plus Remi Walker, who is a year younger, and who have just two League Cup appearances between them. "I think Tate's done well, Remi, Changy have all done well. Chang did well when he came on against Fulham,'' said Bowyer. "You have got the three young lads who are all good in different ways, they will all bring different things. It's definitely something we will have to look at because otherwise we won't fill the bench. It was an area we tried to strenghten but I said we had to cut back a little bit and that was something we had to sacrifice. Lee Bowyer "It was an area we tried to strengthen but I said we had to cut back a little bit and that was something we had to sacrifice. We bought Troy [Deeney] and strengthened that area, which also needed strengthening. "Sometimes you have to take a hit somewhere and that was the position we chose to do it, knowing we have Gary Gardner will miss the next three Blues matches got some good young lads in the background. "And three seniors whose fitness and injury record is pretty good. It's not like Gary's injured. He's suspended. These are the things that happen in the season, you just hope they don't come all at once. "Let's just hope in the next game one of the two midfielders doesn't get injured because those young lads will either be jumping up and down – or hiding, 'Don't pick me'." efl Football Rams owner 'disrespectful' says Rooney DERBY manager Wayne Rooney has accused owner Mel Morris of a lack of sincerity and honesty when telling the players and staff at the club that administration was likely. Rooney also labelled Morris disrespectful for the way he has conducted himself, having not spoken to him for more than six weeks. The Rams officially entered administration earlier this week, triggering an automatic 12-point deduction that sunk them to the bottom of the Championship table, with the possibility of losing more points. Rooney hit out at Morris for the way the businessman delivered the news and subsequently handled the situation. "It wasn't sincere enough, it wasn't heartfelt enough, and it wasn't done with enough honesty. He has moved on and we have to move on and put Mel Morris to the back of our minds," he said. "I haven't spoken to Mel Morris since August 9. I still haven't had a one-on-one conversation, no phone call, no text message. Nothing. "I find it a bit disrespectful. Communication is so important, whether it's good news or bad news, so we can deal with it." The joint administrators say they have held conversations with "genuine, credible" buyers and hope to have a new owner in place in time for the January transfer window opening.
birminghamlive.co.uk/sport SPORT Gary Gardner's red card at Peterborough and subsequent threematch ban has left Blues short of options PAGE 54 bridge only just too far for villa PAGE 52 albion system has not failed, says val STAND UP AND PAGE 55 BE COUNTED Published by Reach Midlands Media Ltd, Embassy House, 60 Church Street, Birmingham B3 2DJ. Printed by Reach Printing Services Limited. Registered at the Post Office as a newspaper. blues boss reveals he will turn to the kids to plug gap