Welcome to the Tensei Shitara Slime datta ken Wiki!

Warning! Articles in this wiki are likely to contain spoilers from the series! Read at your own risk!
Synopsis

| | |
| --- | --- |
| Lonely thirty-seven-year-old Satoru Mikami is stuck in a dead-end job, unhappy with his mundane life, but after dying at the hands of a robber, he awakens to a fresh start in a fantasy realm...as a slime monster! As he acclimates to his goopy new existence, his exploits with the other monsters set off a chain of events that will change his new world forever! | |
Characters

Featured Article

Shizue Izawa

---

Shizue Izawa (井沢静江 Izawa Shizue), also known as just "Shizu" (シズ), was the companion of the previous Hero and a Japanese Summoned One.

She is also known as the "The Conqueror Of Flames", an A ranked Adventurer of the Freedom Association's Headquarters and the formal homeroom teacher of the Freedom Academy's S Class students.
Contribute to this Wiki!

We have a lot of content on this wiki. With your help, we can make it even better.
Anonymous editing has been disabled for this wiki. To contribute, you must login or sign up for a free account. After that, you can get started and help out by editing typos, work on article stubs or leave feedback in comments and talk pages. You may also consider creating wanted pages.
If you need help, you can refer to the Help pages, FANDOM University or ask an admin.
Are you an experienced editor? Check out the Community Page or Special pages to see which areas of the wiki are in need of help.
Affiliated Sites

Please read the requirements before requesting affiliation with the wiki.
Poll

How was the Tensura anime?
Official Channels

The Tensei Shitara Slime datta ken Wiki has its own official Discord and Subreddit server. Click on the respective icons below to join us or connect using the server.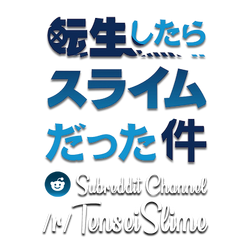 Latest Episode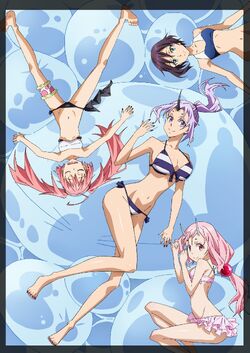 Extra: The Tragedy of M?
One day, Shuna and Shion are fighting over Rimuru's squishy slime body as usual. Rimuru figures that giving them each a body double of himself would solve the conflict, but when he imagines some of his other friends asking him to do the same for them, he quickly drops that plan.
Latest Chapter

Latest Volumes

Twitter Feed

Community content is available under
CC-BY-SA
unless otherwise noted.