"
I met him when I was 19. We have loved and adored and respected each other since the beginning, since before we even met, just because we were fans of each other's talent. We weren't ready at all, though, to be together. It's just timing.
"

– Ariana talking to Cosmopolitan on Mac.[1]
Malcolm James McCormick (January 19, 1992 - September 7, 2018), best known by his stage name Mac Miller, was an American rapper. He had worked professionally with Ariana Grande multiple times, most notably as a featured artist on "The Way". Grande and Miller had been close friends for years and began dating in August 2016, before breaking up in May 2018.
He died from an accidental drug overdose on September 7, 2018.[2]
Relationship with Ariana
2012-2015
Ariana and Mac met in the second half of 2012 when she was 19. In an interview with Cosmopolitan, Ariana said they were fans of each other's music and talent before they met. They become good friends and recorded a cover of "Baby It's Cold Outside" in December 2012 which Ariana posted on her YouTube channel.
The following year in March, Ariana released her debut single titled "The Way". Mac was featured in the song and rapped one verse. In an interview, Ariana detailed that they baked cookies while they recorded the song.[3] Ariana said she wanted Mac to be on the song as soon as she heard it. At the end of the music video for the song, Mac and Ariana kiss. This caused a lot of speculation about a romantic relationship between the two. Even more, rumors circulated when Ariana and her boyfriend Jai broke up briefly after the song was released. Ariana denied all of this saying that the kiss was directed and that she and Mac were just friends. In April 2013, Mac said of Ariana, "Well [Ariana is] a very, very talented singer like she can sing incredibly. And, that's awesome and she's a great person. She's one of the nicest just people I've ever met in my life."[4] On September 2013, Ariana said in an interview with Hot 97 that Mac is one of her "best friends in the world, like in the whole world".[5] Throughout 2013, Mac would appear sometimes during Ariana's live performances for "The Way".
During the next two years, Ariana and Mac did not collaborate and were not seen out together very often. It is assumed they still kept in touch.
2016-2018
On July 15, 2016, (a few days after her breakup with Ricky Alvarez) Grande went to Disneyland with Miller and Victoria Monét.[6] In the same week, they went out with some more friends to play Pokemon Go.[7] In early August, a remix of "Into You" was released with an added verse by Mac Miller.[8] Mac performed "The Way" with Grande again at the Hot 100 Music Festival on August 20.[9]
On August 21, 2016, Grande and Miller were spotted kissing after going to a sushi restaurant.[10] This was the first confirmation of a romantic relationship. Grande and Miller were seen walking out of a tattoo parlor together on August 26. Grande is featured on the third single off The Divine Feminine, "My Favorite Part". Grande also recorded an intro for the album on the first track, "Congratulations" featuring Bilal.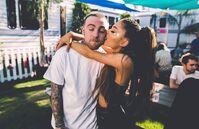 Sometime in 2016, Grande filmed a music video for "Dang" by Mac Miller, but it was never released and only a short snippet of the two in the video was leaked. During a Q&A, Grande confessed that she recorded a new song with Mac Miller. On April 1, 2017, Mac Miller joined Grande onstage at Dangerous Woman Tour and they performed "The Way". Later in April, Grande and Miller went to Coachella together.
Miller offered to cancel the rest of his tour so that he could spend time with Grande after the Manchester attack, and performed at her benefit concert One Love Manchester.
Break Up
On May 10, 2018, Grande confirmed that she and Miller had broken up, although they remained best friends.[11] Grande responded to a fan that her relationship with Miller was "toxic", "hard" and "scary" on May 23, 2018.[12]
Death
On September 7, 2018, Miller died from an accidental drug overdose at his San Fernando Valley home.[2] The coroner's report concluded that his cause of death was "mixed drug toxicity" of fentanyl, alcohol, and cocaine.[13] his personal assistant found him face down in his Hollywood hills rental home. A day later, Grande broke her silence by sharing a photo of Miller on her Instagram with no caption.[14][15] She later posted a video of Miller with the following caption:
"i adored you from the day i met you when i was nineteen and i always will. i can't believe you aren't here anymore. i really can't wrap my head around it. we talked about this. so many times. i'm so mad, i'm so sad i don't know what to do. you were my dearest friend. for so long. above anything else. i'm so sorry i couldn't fix or take your pain away. i really wanted to. the kindest, sweetest soul with demons he never deserved. i hope you're okay now. rest."[16]
Collaborations
Trivia
Mac was the son of Karen Meyers, a photographer, and Mark McCormick, an architect.
Ariana's first collaboration with Mac was recorded in 2012 (before The Way was released in 2013).
Ariana's last collaboration with Mac was recorded in spring 2018.
Ariana and Mac have a lot of unreleasedsongs they made together, some of them were meant for albums but most of them were just for fun.
He was Jewish-American on Karen's side and Irish-American on Mark's side.
Miller's song from The Divine Feminine (2016), "Cinderella", is about Grande.
Mac Miller's last performance was at The Hotel Café.[17]
He is mentioned in "Thank U, Next", which is also partly about him, alongside three of Grande's other exes.
Ariana adopted his dog Myron after his death.
The producer of Miller's posthumous album, Circles, believes that Grande's vocals are featured (uncredited) on the song "I Can See".
Ariana and Mac's unreleased song "Talk To Me" leaked in July 2020. This song was scrapped from Mac's album The Divine Feminine. Another one of those unleaked songs is "Sit It Upon It".
Mac and Ariana collaborated on seven songs, "Baby It's Cold Outside", "The Way", "Into You", "Congratulations", "My Favorite Part", "I Can See" and "Talk To Me".
Ariana wrote a song titled Remember about Mac after his passing which was supposed to be featured on the Thank U, Next album. However, the song was scrapped prior to the album's release
Gallery
"Love how my face fits so good in your neck"
To view the
Mac Miller
gallery, click
here
.
References