Types of Cake Pans
Last updated on 8/10/2020
From birthdays to weddings and holidays, we celebrate life's milestones over a slice of cake. Selecting the proper cake pan is as essential as using the appropriate type of flour for achieving ideal baked good consistency, flavor, and appearance. The wide variety of available cake pan shapes and styles make it difficult to know which is the best type of baking pan for your task. To help you make your selection, below is information on the most common types of cake pans and their uses.
These are the top 10 types of cake pans. Click on any of the cake pan types to learn more.
Once you've discovered the right type of cake pan for your recipe, achieve the optimal serving size and professional presentation by learning how to cut cakes without damaging them.
1. Traditional Cake Pans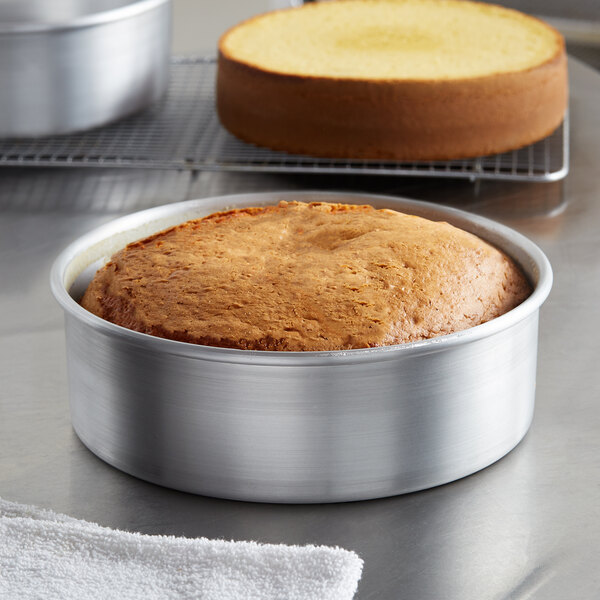 Typically square, rectangular, or circular, traditional cake pans are the standard choice for baking many different kinds of cakes. While traditional cake pans come in a variety of sizes, they all have high, straight sides and flat bottoms, yielding cakes that you can torte or trim to make level, and then layer. Cakes baked in traditional cake pans are ideal canvases for cake decorators and those learning how to frost a cake.
Traditional Cake Pan Uses
Wedding Cakes
Layered Cakes
Strawberry Shortcake
Tiered Cakes
Olive Oil Cake
Shop All Round Cake Pans
Shop All Square Cake Pans
Shop All Rectangular Cake Pans
---
2. Springform Pans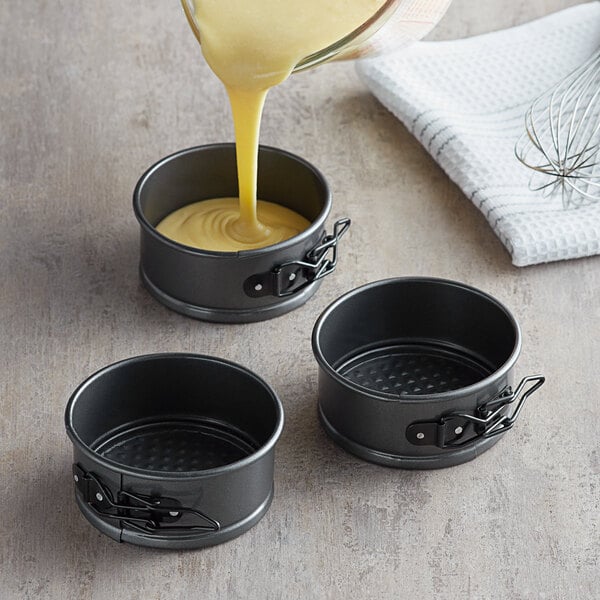 Springform cake pans have a removable bottom and adjustable sides that are secured with a clamp. Once the cake is cooled, you simply open the clamp to release the sides. You can then leave the bottom of the pan under the cake while serving or remove it carefully.
Springform Pan Uses
Cheesecake
Crumb Cake
Ice Cream Cake
Delicate Tortes
Shop All Springform Cake Pans
---
3. Silicone Cake Molds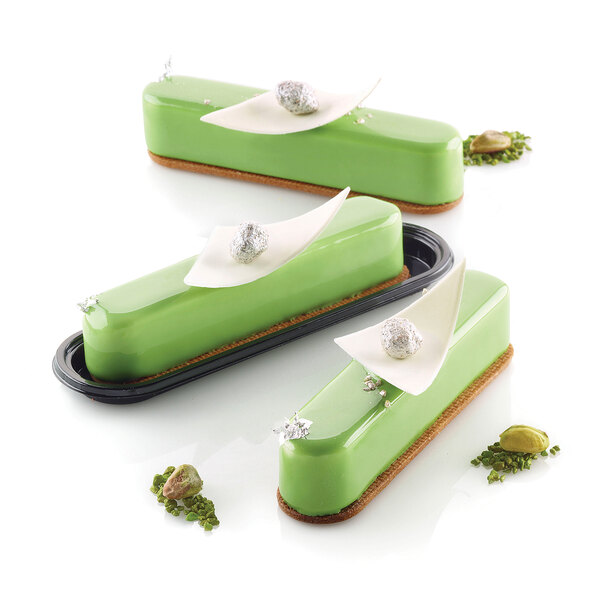 Silicone molds are used for making small cakes and other pastries and are an excellent way to make several uniform desserts at one time. Their flexible silicone material allows you to easily remove your desserts from the mold once they have cooled. This silicone is oven safe and doesn't require lining like many other cake pans, but lightly greasing the mold before baking may benefit some recipes.
Silicone baking ware comes in a variety of shapes and sizes and you can even invest in silicone baking mats to optimize all of your oven-baked recipes.
Silicone Baking Mold Uses
Entremets
Mini Pies
Quiches
Eclairs
Candies
Cupcakes
Canele
Novelty Shaped Cakes
Shop All Silicone Molds
---
4. Bundt Pans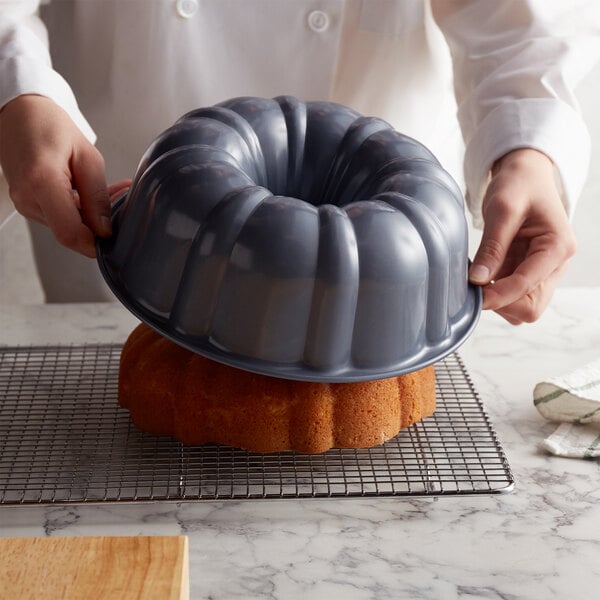 Bundt pans have holes in their centers for making ring-shaped cakes. These cakes are baked upside-down in the pan and turned over for removal once they are cooled. As a result, Bundt pans usually have either domed bottoms to make a rounded cake, or angular bottoms to create cakes with intricate designs. The hole in the center of the pan also causes deep cakes to bake faster and more evenly than standard round cakes of the same size.
Like novelty cake pans, Bundt pans typically have many corners for your cake to stick to. Baking sprays are ideal for coating every angle of these unique pans, so your cake doesn't come out with pieces missing.
Bundt Cake Pan Uses
Coffee Cakes
Monkey Bread
Rum Cake
Bundt Cakes
Figgy Pudding
Alternate Bundt Cake Pan Uses
Bundt cake pans are versatile tools and are effective as molds and for preparing savory dishes.
Breakfast Casserole
Whole Roasted Chicken
Meatloaf
Shop All Bundt Cake Pans
---
5. Cupcake Pans or Mini Cake Pans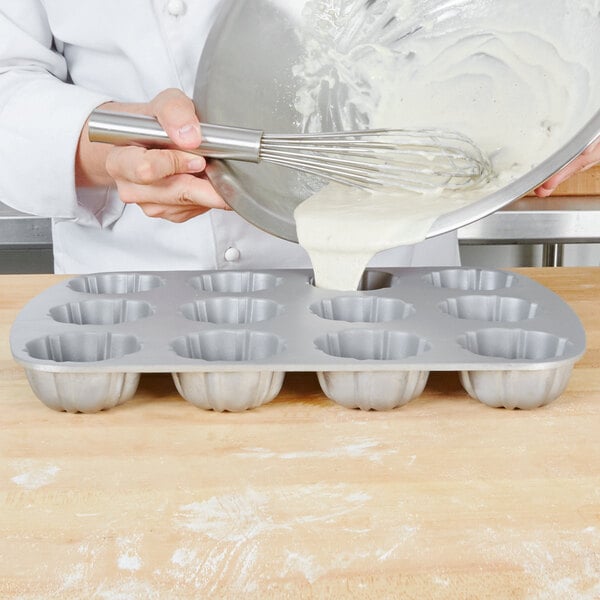 With several indentations for the batter, cupcake and mini cake pans allow you to bake multiple small cakes at once. While servings vary, a standard muffin pan has space to make a dozen cupcakes. When paired with baking cups, these pans can help you produce several identical portions that release easily. For this reason, caterers or pastry chefs may select cupcake or mini cake pans to create dessert displays for events and meal services.
Cupcake Pan or Mini Cake Pan Uses
Round Cupcakes
Personal Cakes
Muffins
Shop All Cupcake and Mini Cake Pans
---
6. Cake Rings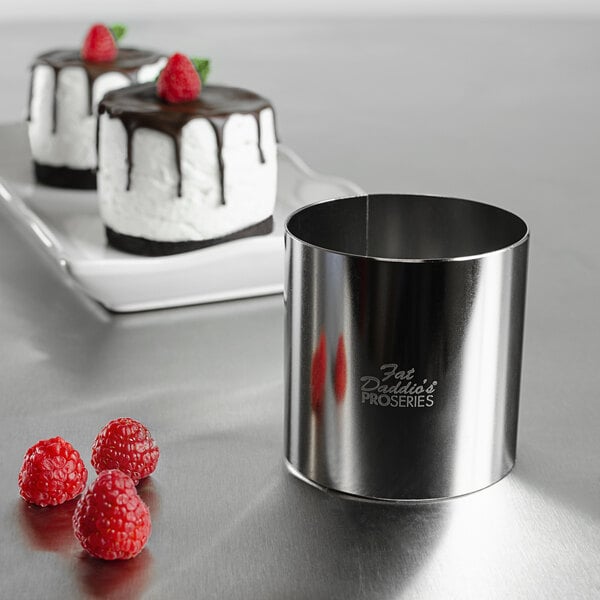 Like traditional cake pans, cake rings have tall sides that are great for making layered cakes. Cake rings, however, are bottomless, allowing bakers to simply slide the ring up and off once the cake is completely cooled. Cake rings are the precursor to the springform pan, but they are not antiquated. Cake rings remain the best choice for cakes with extremely wet ingredients.
Alternatively, cake rings can be used as cookie cutters to cut shapes out of sheet cakes. Made of thin metal, they can slice through the cooled cake to create a neat edge for intricate pastries and sweets. To bake with a cake ring, place it on a sheet cake pan and then fill the ring with batter. Pouring your batter slowly helps to prevent leaking where the ring meets the bottom pan.
Cake Ring Uses
Mousse Cakes
Pudding Cakes
Custard Cakes
Shop All Cake Rings
---
7. Angel Food Cake Pans or Tube Pans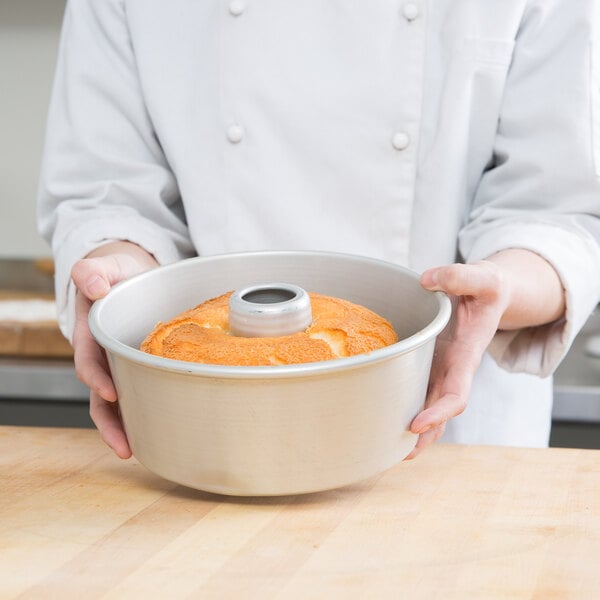 Angel food cake pans, also called tube pans, are ring-shaped and have high sides that can be straight or tapered. These pans are usually made of two separate pieces that fit together when baking and separate for easy removal of your cooled cake. The center tube and bottom make up one piece and the sides of the pan are another. Similar to Bundt pans, this center tube allows for faster baking because heat can surround the inner portion of the cake.
Additionally, many tube cake pans are not coated with a non-stick material so that airy recipes can cling to the sides of the pan while they rise in the oven. Generally equipped with feet on their upper rim, angel food cake pans are also designed to be rested upside-down during cooling to keep the cake from collapsing. Angel food cake pans are specifically designed to achieve perfect, ultra-light baked goods.
Angel Food Cake Pan Uses
Chiffon Cakes
Genoise Cakes
Angel Food Cakes
Pineapple Upside Down Cakes
Shop All Angel Food Cake Pans
---
8. Sheet Cake Pans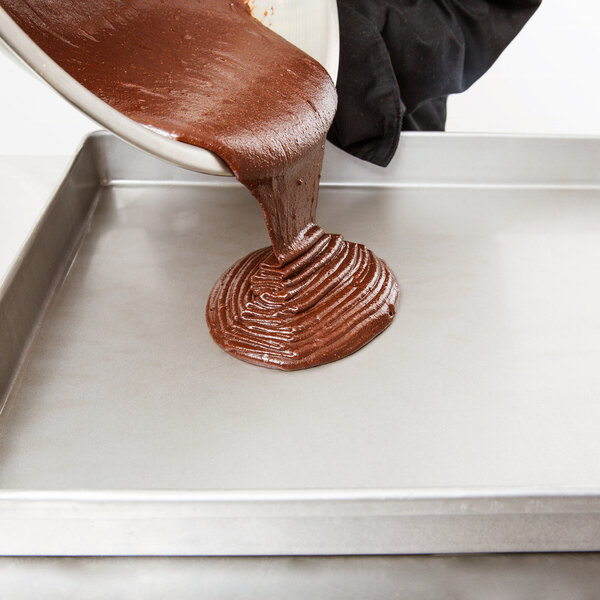 Sheet cake pans are shallow, rectangular pans with upturned edges. Typically around 1 inch deep, these pans can be used for making sheet cakes or as the base under cake rings. There are multiple sheet can pan size options making them a versatile option for feeding groups of all sizes.
Sheet Cake Pan Uses
Shop All Sheet Cake Pans
---
9. Novelty Cake Pans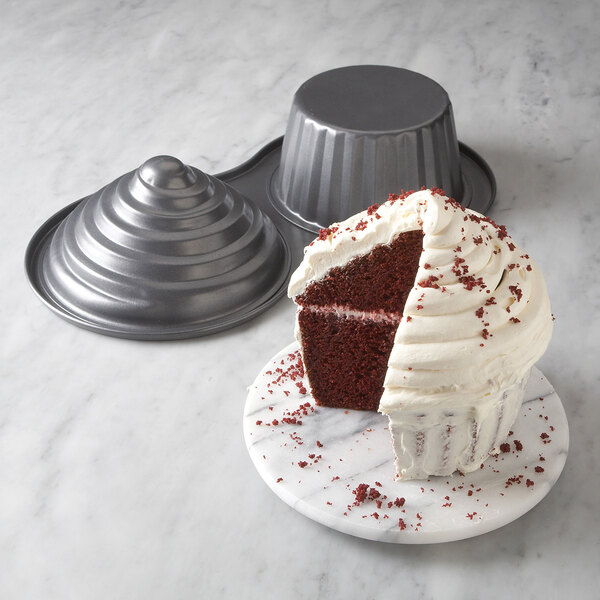 Novelty cake pans have tall sides and flat bottoms. They come in a variety of unique shapes like heart, pillow, diamond, and petal. With more corners or sides for the cake to stick to, most novelty cake pans need to be carefully greased or floured to help your cake release neatly. Novelty cake pans are excellent for baking creative cakes without the added time, difficulty, and waste of cake sculpting.
Novelty Cake Pan Uses
Holiday Themed Cakes
Character Themed Cakes
Novelty Cakes
Shop All Novelty Cake Pans
---
10. Jelly Roll Cake Pans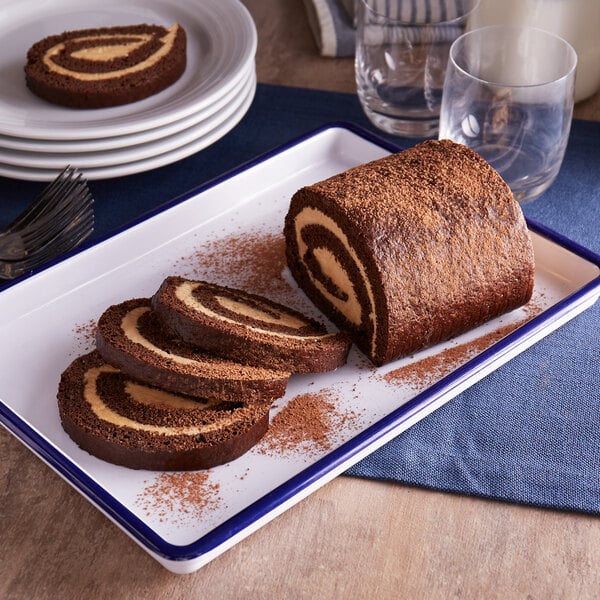 Jelly roll cake pans are flat sheet pans with a 1-inch rim designed for baking study, thin cakes which can be rolled. Using parchment paper and pan liners helps prevent rolled cakes from sticking to the bottom of the pan and aids in the rolling process. While they were designed to meet a niche need, jelly roll pans are a versatile tool, aiding a variety of cooking needs.
Jelly Roll Cake Pan Uses
Swiss Rolls
Yule Logs
Petit Fours
Pumpkin Rolls
Cookies
Shop All Jelly Roll Cake Pans
---
Next time you add a new dessert to your menu, this guide can help you narrow down all the types of cake pans to find the best option for your dish. Even a tried and true recipe can be ruined by baking in the incorrect pan, so it's important to know the characteristics of the cake pan type you plan to use. By familiarizing yourself with both your recipe and the different types of cake pans, you'll be able to find the perfect tool for the job.
Cake Pan Definition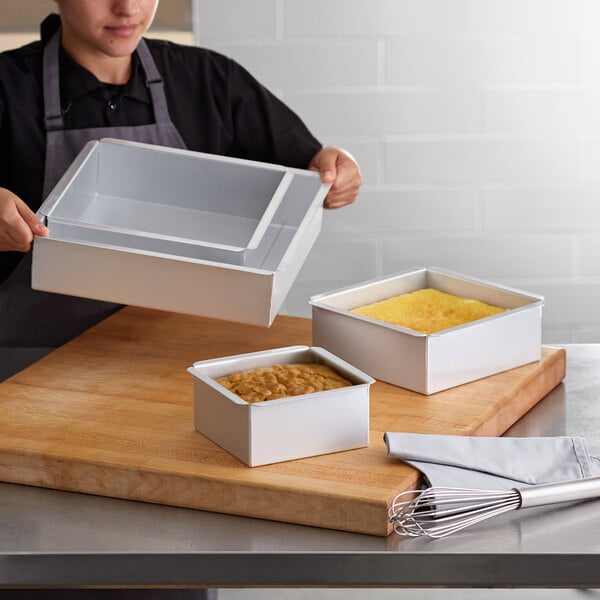 A cake pan is defined as a pan composed of metal, silicone, heat-proof glass, ceramic, or enameled metal that is safe for baking in the oven. The vast majority of metal cake pans now offer non-stick surfaces for easy release. Cake pans are engineered to yield ideal textures in baked goods.
As we've learned, there are a wide variety of cake pan types to achieve different cake styles and serving sizes. Beyond baked goods, cake pans are effective tools for making everything from casseroles and layered party dips to sheet pan meals and meatloaf.
Now that you have the tools you need to make the perfect cake, it's time to start frosting! Just like there are multiple types of cake pans to accommodate texture and presentation preferences, there are numerous types of frostings to garnish your beautiful cake with. Discover all the different types of frostings and finish your perfect cake in scrumptious style.