Quacks: Season 1 (2017)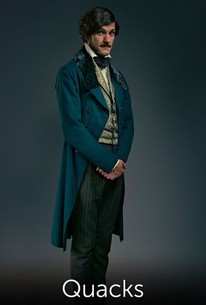 Rate And Review
Audience Reviews for Quacks: Season 1
Jan 17, 2021

I run a Victorian podcast, called the Devil's Dinner Hour and I found this by chance while researching Dr. Robert Liston. I binged the entire show, am watching it now, for the second time. It's darkly funny with great acting. The stories in each episode are actually based on actual cases that Liston encountered. They even got his bravado, apron and tools correct. I was absolutely crushed to find out that the show was cancelled after it's first season. Figures that an actually funny, excellently written show with some semblance of historical accuracy would be cancelled. I wish they would bring it back. It is superb- and I'm a tough audience when it comes to anything about the Victorian Era. Watch it, you will not regret it!!!

Mar 17, 2018

Absolutely hilarious. Brilliantly written characters, and great gory special effects. The comedy is always spot-on, and I do hope that there'll be another series in the future.

Jan 21, 2018

Brilliantly funny show about medical people in the mid Victorian era. Reminiscent of Blackadder. Ensemble cast shine.