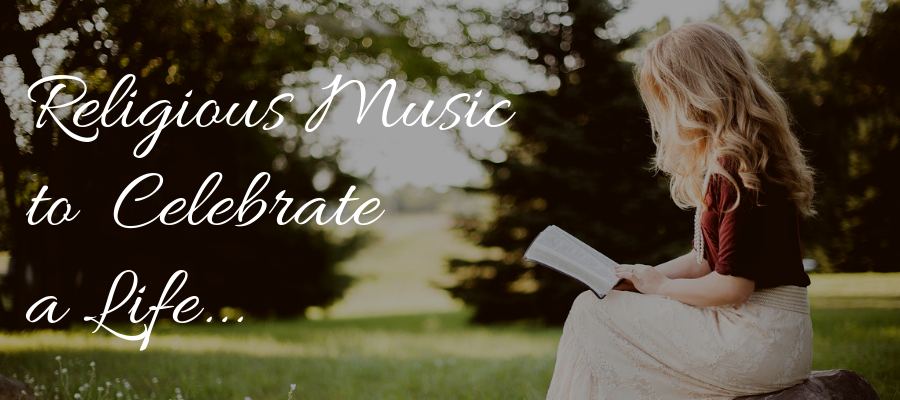 With inspiring and uplifting lyrics and melodies, gospel funeral songs are a meaningful way to mourn someone's passing and ask for God's strength during a sad time.
Gospel hymns for funerals are also a wonderful way to personalize your loved one's funeral, memorial service or celebration of life service, and to remind us all that God promises eternal life to all those who believe in Him.
We've created the Ultimate List of the best gospel funeral songs — which includes the subcategories of traditional black funeral songs, southern gospel funeral songs, and urban contemporary gospel hymns for funerals — to help you easily find the kind of gospel music that you are looking for:
All gospel funeral songs in our list are available for purchase and download today. (So you can cross 'funeral music' off your funeral planning 'to do' list.)
Have a listen, view the lyrics and easily purchase your favourite gospel funeral songs to include in a loved one's service.
Let's get started…

Gospel Funeral Songs
The gospel hymns for funerals included in this section are more traditional songs such as "Jerusalem the Golden" and "A Mighty Fortress is Our God," making any of these hymns suitable choices for a traditional, religious funeral service.
Gospel hymns for funerals (and other religious occasions) usually have dominant vocals and a strong use of harmony.  Musical accompaniment is usually with instruments such as piano, organ, guitar, drums and tambourine.
The best gospel hymns for funerals provide us with hope and comfort during a time of deep sadness.  They also remind us of our faith and give thanks to God for His enduring love.  The gospel funeral songs listed here definitely reflect these powerful sentiments.

Black Gospel Funeral Songs
Black gospel funeral songs have a long and proud history.  The Golden Age of Gospel music dates back to the 1960's and the civil rights movement.  This style of music was adopted by African-Americans during their struggle against oppression where the church served as a sanctuary for those who enjoyed praising the Lord.
Many black gospel funeral songs are performed a cappella, or performed in a "call and response" pattern that is repeated several times.  You may also hear hand clapping or foot stomping as rhythmic accompaniment to black funeral songs, giving this type of music a distinctive style and joyousness, even in times of sorrow.
Black funeral songs continue to be popular choices for funeral music as a moving way to remember a loved one who has passed away and to honour God.  This collection of black funeral songs by some of the greatest black vocalists of all time are sure to give you peace, hope and comfort.

Southern Gospel Funeral Songs
Southerners in the United States are known for their spirituality, often speaking of death in their music not as the end of life but as the beginning of a return journey back home to God.
Southern gospel funeral songs — like all Southern gospel music — was traditionally sung by four men accompanied by piano and was commonly referred to "quartet music."  However, the style of southern gospel music has since evolved to include more solos and duos, and a broader range of instrumental accompaniment.
Several secular artists have expressed their love for and influence of the genre by recording southern gospel albums or performing gospel songs in concert. Among them are Johnny Cash, Patsy Cline, Jerry Lee Lewis, Loretta Lynn, Reba McEntire, Willie Nelson, Brad Paisley, Dolly Parton, Leann Rimes, Carrie Underwood, Hank Williams and Elvis Presley.
Here is a collection of Southern gospel funeral songs that are commonly heard at funeral services in the South.

Related Articles


Urban Contemporary Gospel Hymns for Funerals
Urban contemporary gospel music is a recent sub-genre of gospel music, though early forms can be dated back to the 1970's when songs like The Clark Sisters's "You brought the sunshine," Edwin Hawkins's "Oh Happy Day" and Andrae Crouch's "Take Me Back" became mainstream hits.
Urban contemporary gospel hymns for funerals can also trace it's origins to traditional black gospel music.  The sub-genre has kept the spiritual focus of traditional black gospel songs, but uses modern musical forms.
Characterized by dominant vocals, usually performed by a soloist, urban contemporary gospel hymns for funerals are dominated by themes of one's personal relationship with God and His love for mankind.
If you are planning a contemporary funeral service, here are some gospel hymns that would be suitable.

Additional Resources
Did you know that Love Lives On has a comprehensive library of articles on funeral planning, grieving, and celebrating your loved one's life in unique ways?
Here are some other popular posts on our website:
It Helps to Share…
If you found this post on gospel funeral songs helpful, follow Love Lives On on Facebook or subscribe to our YouTube channel for more inspiring ideas to help you celebrate his or her wonderful life and legacy.
You can also check out our funeral songs Pinterest Board for more stunning images (with quotes) that you can keep and share online with family and friends. We made them for you and all our readers to enjoy.
Use the comment box below to let us know if you have a suggestion of gospel funeral songs that you think that we should add to this post. At Love Lives On, we're always listening.