With smartphones significantly reducing the demand for consumer cameras, the old adage, "everyone's a photographer" has never been more true. But to make a living at photography, you'll need a variety of skills and equipment to meet the specific needs of your clients.
Beyond investing in cameras, lenses, tripods, lights, and accessories, a professional photographer needs to know the right gear to use in each situation and how to adjust settings and equipment for the best possible shot. A portrait photographer has to make subjects feel at ease, while product photographers need a strong understanding of light, reflections, and angle.
With knowledge and experience, you can set yourself apart from other photographers as you build your photography career.
How Much Do Photographers Make on Average?
The average photographer salary varies widely based on experience level, location, and the type of work they perform. Photographers who are hired as assistant photographers and second shooters typically earn an hourly wage anywhere from $25-$100 per hour, while those who work with organizations like universities and corporations can earn $35,000 to $100,000 per year, sometimes with benefits.
But how much do photographers get paid? Well, in addition to who you work for, there are different answers based on location, too. Differences in cost of living between cities and rural areas cause fluctuations in photographer pay.
If you intend to create your own photography company or work as a freelance photographer, you'll have some control over your earnings. Many freelancers start out charging low rates to build experience and credibility. Once they have a few gigs under their shoulder straps, they may raise their rates to what the local market allows.
It can be scary to raise your rates, but once you realize you can make just as much from one shoot as from four, you'll feel OK with turning down lower-paying work.
Even though photographer salaries vary significantly, here are some of the jobs that will consistently offer the highest pay scales in the industry.
The Best Paid Photography Jobs in 2021
If you're seriously considering pursuing a career in photography, know that the industry has become very challenging to navigate. Photography is an incredibly saturated industry and requires some serious work to break into. But if you have the talent and the effort, it can lead to a highly creative and profitable career.
Listed here are some of the highest paying photography jobs in the world:
Freelance Photographer
Fashion Photographer
Fine Art Photographer
Medical Photographer
Product Photographer
Film Set Photographer
White House Photographer
Wedding Photographer
Freelance Photographer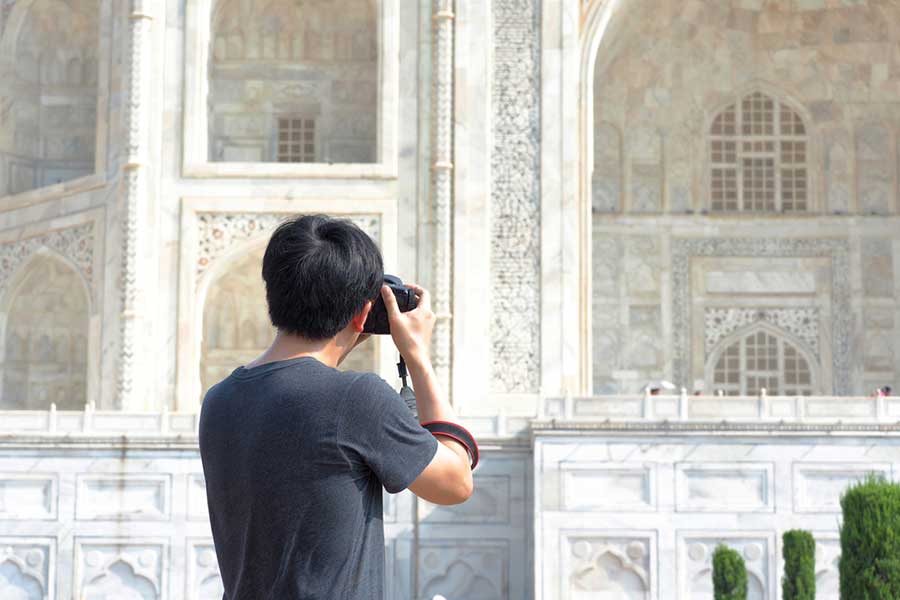 Here's something to think about: The highest paying photography job doesn't exist. In the year 2000, we took 86 billion photos. In 2019, that number grew to more than 1.4 trillion. The exponential rise of digital technology has put all but the most dedicated and established film processing labs out of business and brought the power of technically advanced SLRs into the hands of the average consumer. Alas, photography was not just for professionals anymore.
According to the U.S. Bureau of Labor Statistics, there were just under 132,100 photography job openings in 2018. Collectively, this offered a median income of $36,280 annually. Compare that to something like accounting and auditing, a role that boasted over 1.4 million jobs with a median annual salary of over $71,550 for the same year. After investing three to four years of time and money into professional camera gear, education, and practice, the reward suddenly doesn't seem so great.
What does all of this tell us? One way to work your way up the "best paid photography jobs" list is to start your own photography business. Some of the most creative (and lucrative) photographs of the modern age were shot by freelancers, so as long as you have a camera and some supplementary gear, you're sure to find a way to make money as a photographer.
Success in this area is less about camera skills and more about a mix of strong business acumen and great sales experience. Ironically, avoidance of the latter is commonly what drives people to want a career in photography in the first place.
Below are some of the most common photography jobs for freelance shooters:
Fashion Photographer
Sports Photographer
Product Photographer
Events Photographer
Assistant Photographer
Stock Photographer
How to Become a Freelance Photographer
There are many ways to earn money as an independent photographer. Sometimes, it's just a matter of finding your forte—basically what you've been practicing the longest for or are really good at—and then looking for potential clients. You'll probably need to build your portfolio first, and then offer your services to people you know so you can build your confidence and increase your asking rate.
Pros: Freelancing allows you to be your own boss (sort of), so you can take any kind of photography assignment you like and get paid directly by the client.
Cons: Working for multiple clients can sometimes be a handful and not working for a specific company can give you a pretty unstable income, unless you become established and popular enough to get consistent bookings.
Fashion Photographer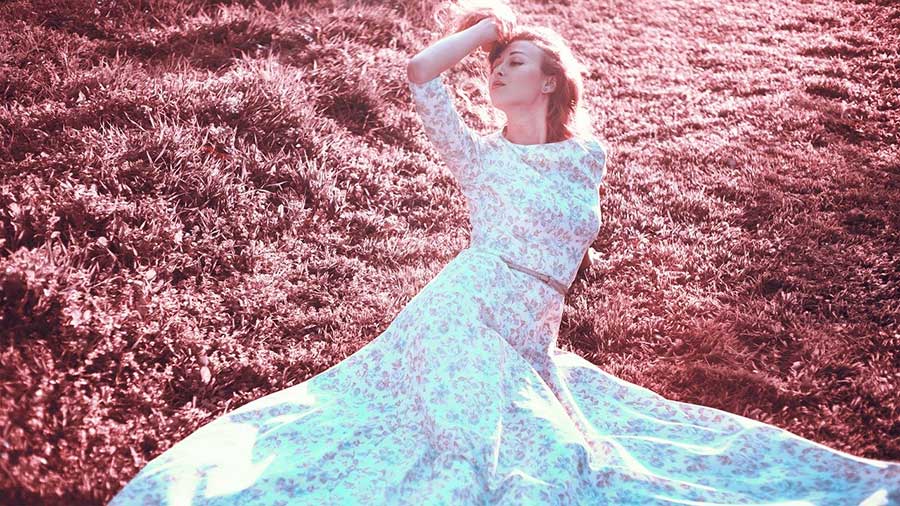 Being a fashion photographer is one of the most desirable jobs in the industry. Unknown to many, it involves more than just capturing high-fashion poses on the catwalk—one must also be prepared to take photos in virtually any location.
For many photographers, it's a dream job to be shooting for big magazines, fashion catalogs, and even billboards. Former Allure magazine photo editor Clio McNicholl told Fashion.net that she gets around 50 unsolicited portfolio submissions per month. After all, Allure has an exceptionally large monthly circulation of almost 900,000, making it one of the most sought-after publications for both aspiring and professional fashion photographers.
But like sports photography, professional fashion photography requires connections to other photographers, designers, and other high profile people in the industry, aside from requiring a signature style and a strong portfolio.
"If I don't know who the person is, I ask them to send me some promotional material. Generally I only see people who are coming with a direct recommendation from somebody I know," McNicholl revealed.
How to become a fashion photographer
Focus on improving your qualifications and building your network. Consider moving to cities where there is a demand for fashion photographers and tapping friends or family who may have connections to the industry.
Pros: Meeting creative people, travel opportunities, and creative freedom.
Cons: Highly competitive, and often not as glamorous as it looks.
Fine Art Photographer
Making a living with Fine Art Photography, as explained by Ted Forbes on YouTube.
Among the jobs on this list, doing fine art photography allows you to exercise your creativity the most. However, it also takes a lot of luck to become a successful fine art photographer.
In his interview with Fstoppers.com, prolific fine art photographer Ted Forbes revealed that his fellow photographer, Peter Lik, has sold more than $500,000,000 worth of prints from his more than 15 galleries despite not being regarded as one of the best in the field. Stephan Brigidi, on the other hand, admitted to Pacific Standard that he had to take photography teaching jobs, commercial photography projects, book publishing, and even wait on tables for a short period of time to support his passion for fine art photography.

How to become a fine art photographer
While aspiring fine art photographers will most likely have to hope and wait before getting their big break, having a degree in fine arts adds value to your credibility, provides you with the necessary technical skills to improve your work, and helps expand your network of fellow artists.
Pros: There's always the fulfillment that comes with selling your first photo. And with the growing demand for fine art photography, there's more chances of people actually appreciating your work as well as greater influence for growth as an artist.
Cons: Fine art involves featuring work that is not exactly commercial in nature, so you'll have to be persistent in trying to make a name for yourself as you pursue this career.
Medical Photographer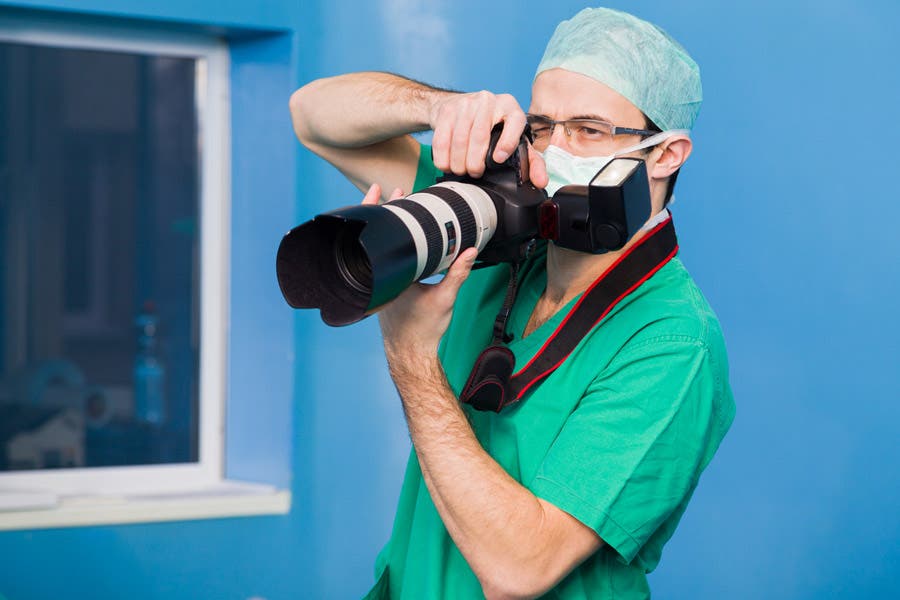 Much like any other job in the medical field, being a medical (or biomedical) photographer pays very well, but not before undergoing some serious training, acquiring high levels of technical skill, and gaining detailed knowledge in scientific processes.
You may be tasked to document or photograph anything that is health-related, which normally includes surgical procedures and even autopsies. Other assignments include digitizing images, creating prints of statistical data on charts and graphs, and doing some photomicrography, sometimes for use in educational materials like pamphlets, textbooks, teaching models, instructional films, and exhibits. Your work may also be used as evidence in legal procedures.
How to become a medical photographer
Depending on the targeted position, formal photography studies (a full-blown degree) and medical training may be needed, on top of being detail-oriented and creative.
Pros: It's highly lucrative, plus it allows you to take part in the improvement of the medical field.
Cons: Aside from the often graphic content, there's not much room for creative freedom.
Product Photographer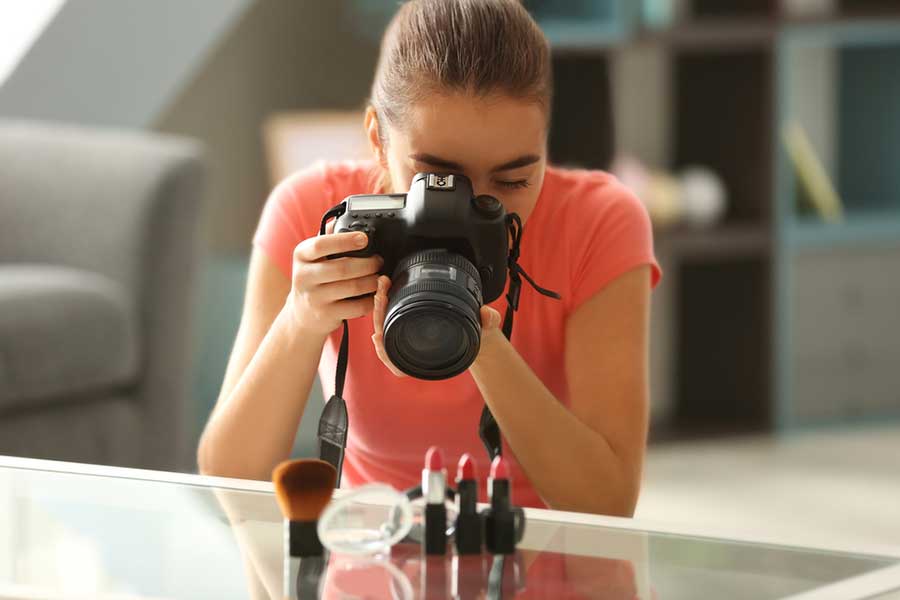 Although it may seem to be a trivial job, product photography can rake in a decent amount of cash depending on the project and the photographer's experience. Clients also vary—from artisans and businesses to big-time advertising agencies—but they generally need professional-quality images of their products for promotional purposes.
The resulting images taken can directly affect sales, which is why it's crucial for companies to get an experienced product photographer. Whether you're shooting food and beverage items, gadgets, cosmetics, furniture, and even industrial materials, it's usually up to you to make them look as attractive and appealing as possible.
Many photographers in this field work freelance, which works well for companies that prefer to hire multiple photographers with varying creative styles for different types of projects. Work hours can be as long as 40 hours per week on average, depending on the number of clients, the product, and the contract.
How to become a product photographer: Photographers entering this field don't necessarily require formal photography training, but they do need to be very skilled and experienced in product photography. Knowledge in photo post-processing is also a major plus.
Pros: There's a steady increase of clients and products that will need your services.
Cons: You won't always get to exercise your creativity as much as the other photography jobs here do.
Film Set Photographer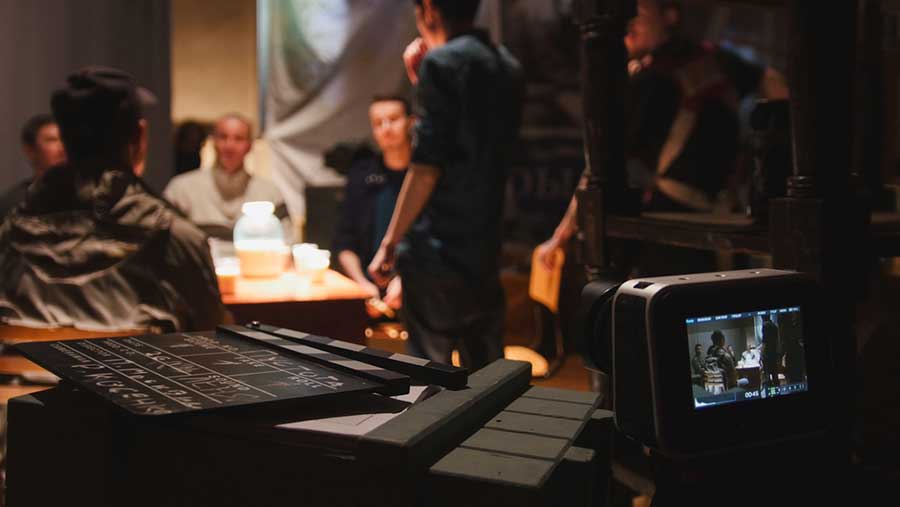 Known for his celebrity portraits and promo posters of prolific TV shows like Homeland and Californication, Los Angeles-based freelance photographer Patrick Ecclesine is one such person. A self-professed "gun for hire in Hollywood," Ecclesine takes photos of actors on set to produce posters and promotional material for film and television. However, being a film set photographer is not all glitz, glamour, and six-figure salaries, Patrick admitted in an interview with Shutterbug.

"When I first considered shooting stills for film and television shows, I was warned that still photographers are routinely humiliated and fired by hypersensitive, prickly actors, often on a whim," says Ecclesine.

You'd be forgiven for thinking all the $$$ you're raking in from this work would ease the burden of a high-stress work environment. While it's not the lowest paying photography job out there, it isn't the highest paying either.
"The pay isn't staggering. It's just under $50 an hour. However, it's very good if you're working long hours on a feature film. After eight hours you get paid time and a half; over 12 hours and you get double time. Considering that most feature films are pulling 12 to 14 hour days for a two to six month period, you can do the math and see that it adds up. Television is less lucrative because they put you on an eight-hour day. The upside to this is that, while the crew continues to slave away, you get to go home early," Ecclesine added in the interview.
But before you turn up to your favorite director's office with a portfolio, there is a significant number of hoops you'll have to jump through first—more so compared to the majority of other photographic jobs out there.
"In order to work as a photographer on a film or television show, you have to get into the union. The I.A.T.S.E. (International Alliance of Theatrical Stage Employees). The bad news is that not only does it cost $6000 to join, but it's very difficult to get in."
How to become a film set photographer: According to Ecclesine, there are three ways to qualify as a photographer on a film or television show.
Work and get paid for 100 days on a non-union show where you earn at least $50 a day;
Work on a non-union show that happens to go union;
Be "grandfathered in" by a producer or director who insists upon working with you, and you only.
For Patrick, it was a combination of perseverance and being in the right place at the right time.
Pros: Compensation can be very generous if you work long hours
Cons: Can be particularly hard to get into, especially for beginners
White House Photographer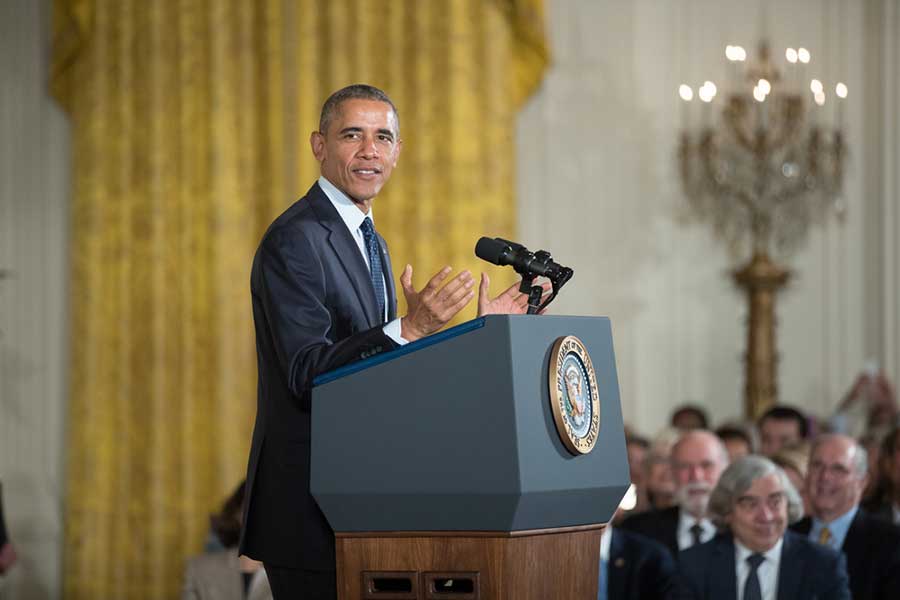 Photographing the most powerful people in the world would be a dream for most aspiring photographers. But for former Chief Official White House photographer Pete Souza, it's just another day.

From capturing portraits of the first dogs of the United States, Bo & Sunny, to covering tense moments in the situation room, Pete Souza's job as President Obama's personal photographer and "fly on the wall of the White House" was so coveted, he became an online celebrity.
So how did he get it? Turns out it wasn't his two degrees (a B.S. in Public Communications and an M.A. in Journalism and Mass Communication), or his three-decade long photojournalism career at renowned publications like the Chicago Tribune, Life, and National Geographic—it was whom he knew.
In 2005, Pete was asked to take on a project documenting the inaugural year of a new US Senator named Barack Obama. Documenting Obama's rise to the presidency in 2008, the two established a strong relationship and Pete was asked to be the Chief Official White House photographer because of it.
"The job of presidential photographer is all about access and trust, and if you have both of those, you're going to make interesting, historic pictures," Souza says.
To take the best possible images, the photographer has to develop a kind of invisibility. "For a presidential photographer, there's no higher praise than being utterly ignored, so the subjects pay you no attention and you get the most natural shots," says Souza
John F. Kennedy was the first president to hire his own photographer, so such a role has only existed for a little over 40 years. During the Obama Administration, Pete Souza oversaw a whole team of White House photographers who took up to 20,000 photos of the president's administration in a week.
How to become a White House photographer: You have to know someone from the White House and, more importantly, to earn the president's trust.
Pros: It pays significantly big to be working in the White House, plus you get to meet the president and his family.
Cons: Can be a difficult field to enter, and requires long hours.
Wedding Photographer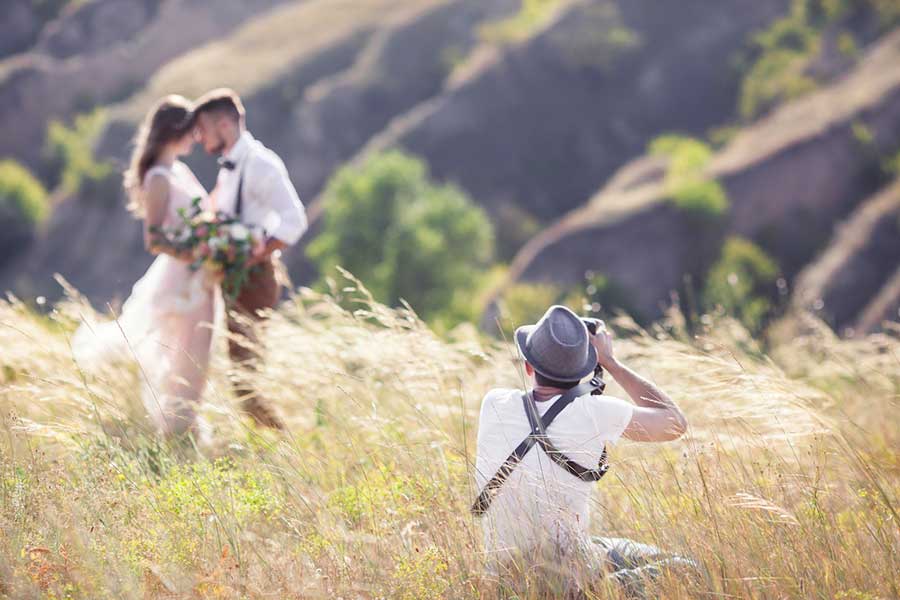 Not many understand why wedding photographers do what they do, especially when it's at the expense of a more stable career. After all, it doesn't really start paying all that well until word gets out about your experience, talent, and most of all, stunning images. That's what happened to Alan Kirwin, who made a career shift to wedding photography despite already being successful in the computer industry and was once disappointed by his own wedding photographer in 2002.
"At the time, people couldn't understand why I was giving up such a successful and lucrative career to take wedding pictures," Kirwin told The Guardian. "Without looking at the whole context, they thought I was crazy."
Like many wedding photographers, Kirwin worked with his current set of skills to his advantage, particularly marketing and computing, and aims to meet clients' demand for more candid photos that captured the essence of their weddings.
How to become a wedding photographer: After earning a photography degree, the wisest route is to first apply as a second shooter to several weddings before even dreaming of being a main or only shooter. Being under the wing of a more experienced photographer while solving technical problems on the job will really sharpen your skills and boost your confidence.
Pros: With the increasing demand for priceless wedding photos, there are more opportunities to increase income.
Cons: High equipment and occasional space cost when you start venturing out on your own or shoot in studios.
What Type of Photography Makes the Most Money?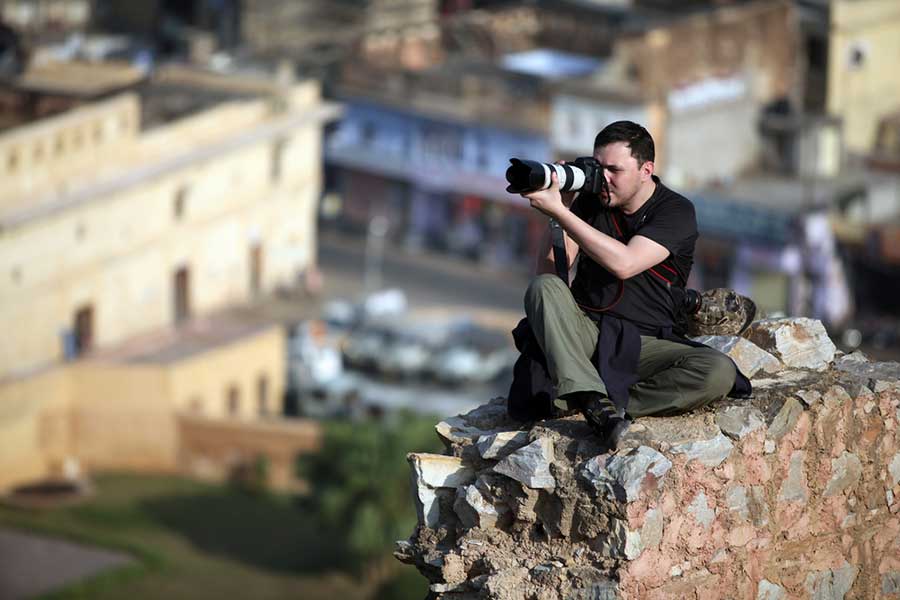 You can trawl the Internet and read list after list of "The 10 Highest Paid Photographers" in search of an answer, but your efforts will always be in vain. None of this information ever mentions sums (or even sources for that matter!). As we've seen, the most successful photographers among us are those who can sniff out and exploit the compelling array of opportunities made available with rapidly changing technologies on a daily basis.
If you've trudged through the years of learning how to operate a camera, enduring constant criticism as you struggle to find your "vision," and suffered inevitable rejection as you try to prove yourself worthy of a career that leads the charts in its severe shortage of job prospects, I'm willing to bet you didn't get into photography for the money—and that's okay. A true revolutionary of the photographic art form shouldn't be loving the exorbitant living he can make from it, but rather, making a living from what he loves.