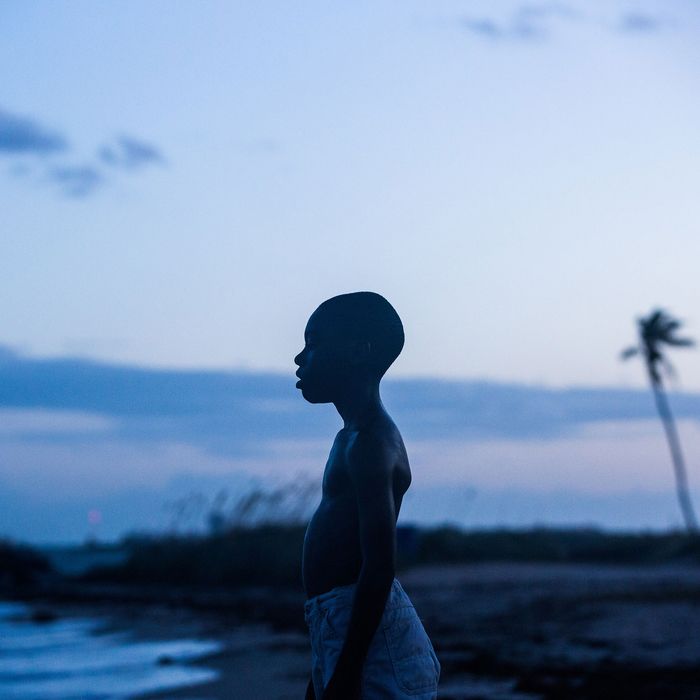 Moonlight. Photo-Illustration: A24
This post is updated regularly to reflect the latest movies to leave and enter Netflix. *New additions are indicated by an asterisk.
With thousands of movies to choose from, and a navigation system and algorithm that don't always make the right choice easy to find, it can be difficult to know what to watch on Netflix. That's why we're here, breaking down the 100 best movies on the service at this minute, with regular updates for titles that have been removed and when new ones are added. We've done the hard work, so now the only thing you have to do is sit back and, uh, watch all 100 movies. (And if you're more of a TV person, check out the 50 best TV shows on Netflix.)
Ava DuVernay's documentary is named after the 13th Amendment to the U.S. Constitution, which ended slavery, and it's a film that gained added resonance thanks to it being highlighted by the Black Lives Matter movement in 2020. Her brilliant nonfiction work outlines the way that slavery has simply been reshaped and reformed in other societal elements, particularly imbalanced prison sentences and enforcement of laws that more directly impact minorities. It's a searing, powerful piece of work.
Mike Mills wrote and directed this very personal piece about the powerful women that shaped his life. Set in 1970s California, it features one of the best performances of Annette Bening's career, and she's ably supported by a wonderful cast that includes Elle Fanning, Greta Gerwig, and Billy Crudup. It's a smart, tender film about family.
Andrea Arnold's 2016 teen epic about a runaway (Sasha Lane) who finds herself a part of a crew of young people bouncing their way across the country — including Shia LaBeouf and Riley Keough — is the best movie on Netflix that you probably haven't seen. With propulsive energy, an amazing soundtrack, and beautiful cinematography of the heart of America, this is a fascinating movie that deserves a look.
A dramatization of the final years of the life of Vincent Van Gogh, Julian Schnabel's 2018 drama is not a typical biopic, finding the artistic register of its subject more than chronologically detailing his life. It's anchored by a phenomenal performance from Willem Dafoe as the troubled painter, a turn which earned him his fourth Oscar nomination.
Mati Diop's directorial debut is a tender, mesmerizing study of life on the coast of Senegal, where men often venture out for more prosperous shores, leaving the women behind. It's a delicate, beautiful film that plays like a romance, ghost story, and study of inequality all at the same time. See it before someone recommends it to you.
Joel and Ethan Coen's Western anthology series was a part of Netflix's brand-redefining 2018. Sure, Netflix still has a bunch of junk, but it also landed the latest from Alfonso Cuaron, the Coens, and even Orson Welles. This brilliant Western works as comedy, drama, and even a commentary on the Coens themselves. Don't miss it.
Ethan Hawke really can do it all. The incredible actor can also direct, as evidenced by the 2018 Sundance entry about the life of the musician Blaze Foley, a famous folk artist who died too young. Ben Dickey is excellent as the title character, and the supporting cast includes Alia Shawkat, Sam Rockwell, Steve Zahn, and Kris Kristofferson. It's a film that really gets the makeshift communities and families that form around musicians.
Sofia Coppola directed this 2013 true story about a group of young people in Los Angeles who decided to start robbing celebrities. It's an underrated dramedy about privilege and desire, filtered through the vibrant viewpoint of its filmmaker and talented young cast, including Emma Watson and Taissa Farmiga.
Screen violence changed forever with Arthur Penn's 1967 telling of the story of the famous lovers turned criminals starring Faye Dunaway and Warren Beatty. Often considered one of the movies that ushered in the creative era of filmmaking that would follow in the late '60s and through the '70s, what really shocked audiences was the film's ending, something more violent than mainstream film had ever really delivered. Anyone who thinks this work was designed to glorify murderers wasn't paying attention.
The best foreign-language film of 2018 is already on Netflix, hopefully indicating a deeper commitment by the company to present the best of international cinema to American audiences. Lee Chang-dong adapts a novella by Haruki Murakami into a riveting dissection of class and gender in modern Korea. Steven Yeun is mesmerizing as the mysterious Ben, someone who our protagonist starts to think might be a killer. Don't miss this one.
Cate Blanchett and Rooney Mara star in Todd Haynes' poignant and heartbreaking drama about a love affair between two women at a time when that wasn't allowed. It's a beautifully made film with phenomenal performances from the entire cast, but it's Blanchett and Mara that make the film.
As No Time to Die has been delayed multiple times due to COVID, Netflix is here to satisfy your 007 needs with the first outing for Daniel Craig as the most famous movie spy of all time. This is easily one of the best Bond movies, a flick that redefined the character with more intense stakes and realistic action sequences. It's a legitimately great movie, not just for what it did for its genre and the future of its legendary super spy.
A Clockwork Orange
It's been a half-century since Stanley Kubrick made one of the most controversial films of its era in this adaptation of the 1962 Anthony Burgess novel of the same name. It's lost none of its power, capturing a vision of a violent dystopian future in a way that, over the decades, thousands have tried to copy but no one has matched.
Cool Hand Luke
Certain movies just find stars at the right point in their career, throwing up their magnetic charisma in all its glory. Such is the case with Stuart Rosenberg's 1967 hit, which is exhibit A in why Paul Newman was one of the biggest stars of his generation. Newman plays Luke, a prisoner in a Florida prison camp, and the lead in a film that not only delivered one of his best performances but stands as an early entry in the counter-culture dramas that would define the late '60s and '70s.
Is this the biggest horror movie of the 2010s? Not only did it make James Wan into a major director, but it spawned its own multiple title franchise with spin-offs like The Nun and Annabelle. Go back to the beginning and watch the first and arguably still best film in the series, a fantastic haunted house movie that revitalized the genre. And then follow it up with the excellent sequel, also on Netflix.
Look at that cast! The collection of talent in this 2011 rom-com hit was impressive when it came out, but it looks even more remarkable now. Steve Carell, Ryan Gosling, Julianne Moore, Emma Stone, Marisa Tomei, and Kevin Bacon star in an ensemble piece about the ups and down of trying to build and maintain a relationship in the modern era.
Barack and Michelle Obama executive produced one of 2020's best documentaries in this Netflix exclusive that originally premiered at Sundance. It's the story of Camp Jened, a summer camp in New York in the '70s that was described as a "loose, free-spirited camp designed for teens with disabilities." This isn't just a time capsule but a look at how support and community can change people's lives forever.
Clive Owen broke through in this 1998 noir in which he's so smooth that people immediately began suggesting he should be the next 007. Owen plays a writer who gets a job as a croupier — a fancy word for a dealer in a casino — and falls into the wrong scene. Smart and thrilling, it's one of the more underrated movies of the late '90s, and a perfect vehicle for Owen's charm.
Spike Lee's first Original Netflix movie is one of the master filmmaker's best works to date. The story of five men searching for gold in the jungle is more of a commentary on two wars that never ended – the Vietnam War and the struggle for civil rights.
It's hard to believe there was a time when a historical drama like this could be such a phenomenon, but it shows you how much our times have changed in the three decades since its release. This movie made over $400 million worldwide on its way to seven Academy Awards, including Best Picture and Director. Known more now as the movie that stole deserving Oscars from GoodFellas, this is a better movie than its reputation.
Christopher Nolan's landmark superhero sequel is over a decade old now and its influence shows no signs of diminishing. If anything, the story of the Batman, the Joker, and Two-Face feels more relevant today than it did when it was released. Most of all, the movie's breakneck momentum and unforgettable performance from Heath Ledger haven't aged a day. For some reason, Netflix doesn't have the entire trilogy right now, but Batman Begins is available.
Netflix has a habit of cycling Martin Scorsese in and out of their streaming service. Right now, his Best Picture winner is on the service. Watch it while you can.
The wonderful Kirsten Johnson followed one of the best documentaries of the 2010s in Cameraperson with a deeply personal and moving Netflix exclusive. When Johnson's father Richard discovers that he has dementia, he works with his daughter to stage a series of fake accidents to really analyze how we die and, more importantly, how we live to the very end.
Quentin Tarantino's Oscar winner reimagines both the Old West and the Italian film series Django into something that only QT could make. It features one of Jamie Foxx's best performances as the title character, a slave who escapes and teams up with a bounty hunter played by Christoph Waltz, who won an Oscar for his amazing work here.
In a year when there were too many Netflix original movies every week to watch them all, one of the few true surprises was this wonderful family action film that further proves that Millie Bobby Brown is going to be a massive star. She plays the title character, the teenage sister of the famous Sherlock Holmes, who gets involved in a mystery of her own. Give us a sequel!
One of the best films of the 2010s is this heartbreaking character study from Sean Baker, a story of people on the edge of the Happiest Place on Earth as seen through the eyes of a child. It's a beautiful movie with unforgettable performances and poetic realism throughout.
Michael Keaton plays Ray Kroc, an average guy who really changed the entire world when he bought a fast-food restaurant from Richard and Maurice McDonald, played by Nick Offerman and John Carroll Lynch, and gave the world the Golden Arches of McDonald's. John Lee Hancock's biopic can be a little dry at times but the great cast, especially Keaton, elevate it this interesting look at the formative days of an iconic American brand.
Long before he joined the MCU or played Creed, the great Michael B. Jordan starred in this true story of the death of Oscar Grant, a young man who was killed by a police officer of the Bay Area Rapid Transit system in 2009. Ryan Coogler's debut, this is a powerful drama that examines issues of systemic violence in a way that still resonates.
The Vulture choice for the Best Netflix Original Horror Movie has to be on this list too, right? Especially viewed in the wake of the phenomenon that was The Haunting of Hill House, this movie really works. It's one of the best Stephen King adaptations on any platform, anchored by a phenomenal Carla Gugino performance.
It's still hard to believe that Chadwick Boseman is gone. Take the chance now that this biopic is on Netflix to see one of his best performances as the late, great James Brown. The film around Boseman is a bit mediocre in traditional biopic ways, but Boseman throws his all into the role, as he always did, and gives Brown the tribute he deserves.
David Lowery's experimental film is one of the most unusual movies you could watch on Netflix tonight. It stars Rooney Mara as a grieving widow after her husband, played by Casey Affleck, suddenly dies, but it becomes something much stranger and more ambitious when it becomes a decades-spanning look at a lost soul in a world filled with grief and trauma. It's a beautiful movie about loss.
When Netflix backs a filmmaker like they did with David Fincher's Mank, they often cycle through that director's older titles too. And so Fincher flicks have been rotating in and out. Right now, you can watch his underrated adaptation of the Stieg Larsson thriller that became a worldwide phenomenon. Rooney Mara is fearless and fantastic in this movie.
If you loved Uncut Gems like most people (or even if you hated it, you monster), then you should check out the Safdie brothers' previous venture, this crime drama starring Robert Pattinson. The actor plays a guy whose brother gets caught after a bank robbery and so he spends the rest of the night trying to get the money together to bust him out. Like Sandler, Pattinson has a nervous energy that fits the Safdie aesthetic perfectly. It's stressful and exhilarating in equal measure.
Alice Wu wrote and directed a delightful coming-of-age dramedy that spins the norms. A loose retelling of Cyrano de Bergerac, it features a star-making performance from Leah Lewis as Ellie Chu, a girl who starts writing love letters for the awkward Paul Munsky (Daniel Diemer). The object of his affection, Aster Flores (Alexxis Lemire), turns out to be more than just a typical unrequited love. It's a sweet and smart film.
Debate among yourselves if this should be on the movie or TV list, but it's still basically the same venture that was released in theaters, only slightly reedited by Quentin Tarantino into episodes, so we say it's a movie. And it's an underrated one, overshadowed by the way it deals with race and gender when it was released. Just a few years later, it looks almost prescient about how divided the country would become, and it contains some of the best performances in Q.T.'s entire filmography.
Steven Soderbergh very rarely makes bad movies and he's not about to start with Andre Holland and Zazie Beetz in his court. The two star in the first excellent Netflix movie of 2019, an analysis of the game on top of the game that makes the NBA work. The man who almost directed Moneyball crafts a razor-sharp, incredibly entertaining, and humane basketball/corporate-media/labor drama that will appeal to hoops fanatics and the sports-averse alike. And the entire thing was shot on an iPhone!
His House
One of the best horror movies on Netflix, this Sundance darling is the tale of a pair of Sudanese refugees who flee to London only to discover ghosts have fled with them. It's a harrowing, terrifying piece of work, elevated even further by its impressive commentary about how much people bring with them when they leave. Houses aren't haunted; people are.
How to Train Your Dragon 2
Any conversation about the best cinematic trilogies ever simply must include the DreamWorks films about Hiccup and his dragon Toothless. The original is still the undeniable masterpiece, but both sequels are nearly as good, including this 2014 story of how Hiccup reunites with his mother, voiced by Cate Blanchett. It's a gorgeous, moving story of family and legacy.
Young film lovers may not know why Sir Anthony Hopkins and Emma Thompson are so beloved in the film community. This is a good place to start. Both are at the top of their game (Thompson won an Oscar, as did Ruth Prawer Jhabvala for her screenplay) in this gorgeous Merchant/Ivory adaptation of the E.M. Forster classic.
Netflix keeps cycling Martin Scorsese movies in and out of its collection, and one of the latest additions is this 2011 adaptation of Brian Selznick's novel that was originally released in 3-D. Nominated for 11 Oscars (and winning five), this is one of Scorsese's most acclaimed and beloved films, which should further put to rest any of those dumb insinuations that the legendary director only knows how to make mob movies. This is a whimsical, delightful film that you can watch with the entire family. It may not be in 3-D on Netflix, but you can still enjoy its endless visual glory.
Hunt for the Wilderpeople
Before he made Hemsworth your favorite Chris in Thor: Ragnarok, Taika Waititi wrote and directed this adaptation of Barry Crump's Wild Pork and Watercress. Ricky Baker (Julian Dennison) has a new foster family, including a sweet foster mother. Sadly, he's stuck with the surly husband when his new mom passes away, leading Ricky and Hec (Sam Neill) on an unforgettable adventure. Funny and truly heartwarming, this is a comedy that's almost impossible to dislike.
The events in Minnesota and elsewhere in 2020 brought viewers back to this stunning 2016 documentary that works from an unfinished manuscript by the brilliant James Baldwin. Narrated by Samuel L. Jackson, it's an exploration of racial issues in America that digs back through the civil rights leaders through Baldwin's personal experiences and beyond. It's a must-watch.
Charlie Kaufman wrote and directed one of the biggest and best Netflix movies of 2020, the story of a woman (Jessie Buckley) who travels with her boyfriend (Jesse Plemons) to meet his parents (David Thewlis & Toni Collette). Of course, being by the writer of Being John Malkovich, there's a lot more to this than a simple description can convey. Trippy and deeply symbolic, it's a Netflix movie that people are going to be talking about for years.
Bryan Fogel's 2017 Sundance premiere was a surprising winner for the Oscar for Best Documentary the next year. It's a look at one of the most shocking drug scandals in history, one that destroyed the Russian Olympic teams, and it plays like a thriller with the filmmakers there as every revelation comes to light.
Sean Penn wrote and directed an adaptation of the non-fiction book of the same name by Jon Krakauer, which introduced the world to the story of Christopher McCandless. The young man, played in the film by Emile Hirsch, left everything behind, basically wandering into the Alaskan Wilderness, from which he never returned. It's a lyrical drama with great performances.
Netflix's most ambitious and expensive project to date is this 3.5-hour epic based on the life of Frank Sheeran, errand boy for the Mafia and friend of Jimmy Hoffa. Martin Scorsese directs living legends like Robert De Niro, Al Pacino, and Joe Pesci to some of the best work of their career. It is epic, elegiac, and unforgettable — a commentary on a violent life and, really, the filmmaker's entire body of work.
Julie & Julia
Nora Ephron wrote and directed this Oscar-nominated adaptation of the true story of Julie Powell (Amy Adams), a New Yorker who set out to make all 524 recipes in one of the most famous cookbooks ever published by Julia Child (Meryl Streep). Ephron balances Powell's story with Child's, creating a comedy of dual personalities and revealing how inspiration can come from the most unexpected places.
A man who likes to play God meets a boy who likes to play Satan in this twisted horror film from Yorgos Lanthimos, the daring director of The Lobster and The Favourite. Colin Farrell and Nicole Kidman head the cast of a film that owes more to '70s psychological horror than slasher pics. It's unforgettable.
Greta Gerwig's Oscar nominee is one of the most personal and striking coming-of-age films of the 2010s. Saoirse Ronan stars as a young Californian who longs for someplace cooler than her own hometown. It's a heartfelt and very smart film, buoyed by great performances throughout, including Ronan, Tracy Letts, Timothee Chalamet, Lucas Hedges, Beanie Feldstein, and Laurie Metcalf, who was robbed of that Oscar.
The brilliant Liz Garbus moved from her traditional form of documentary filmmaking to direct this 2020 thriller based on the book of the same name by Robert Kolker. Amy Ryan plays Mari Gilbert, the mother of a young sex worker who disappeared on Long Island, leading to the revelation that a serial killer has been prowling the location. It's a unique true crime story in that it centers the victims and their relatives instead of the killer, who remains unidentified.
As far as our country still has to go, it's worth considering how far it's come at the same time. Take this true story of an interracial couple — played with beauty and grace by Joel Edgerton and Ruth Negga — who had to go all the way to the U.S. Supreme Court for their marriage to be legal. And that was in 1967. Jeff Nichols wrote and directed this nuanced, moving drama.
Chadwick Boseman is electric in his final film role in this adaptation of the beloved play by August Wilson. Viola Davis matches him beat for beat in this story of the recording of an album by the legendary Ma Rainey, but it's knowing Boseman's personal struggle, particularly in two emotional monologues, that makes this unforgettable.
There's something about George Miller's breakthrough 1979 action flick that feels even more current today than it did four decades ago. Maybe it's because of how many movies have copied its look and feel in the years since? No one expected this low-budget flick to become an international sensation and spawn three sequels, but people always underestimated Max Rockatansky.
David Fincher returned in 2020 after a six-year hiatus from filmmaking and delivered one of his most ambitious works, an accounting of the controversy over who actually wrote Citizen Kane. Gary Oldman plays Herman Mankiewicz, the disgraced writer who was hired by Orson Welles, and, if one believes the movie, channeled his personal history with William Randolph Hearst into Kane. It's a lavish production with incredible cinematography, costumes, and art direction.
Noah Baumbach returns to Netflix with his best film to date, the story of the dissolution of a marriage between a theatre director (Adam Driver) and his lead actress (Scarlett Johannson). The two leads also do the best work of their careers in a smart, moving piece of work about how divorce turns you into a person you never thought you'd become, and how you have to move on as that new person. It's one of the best films of 2019.
The 2017 Noah Baumbach's film didn't premiere in theaters, instead going the Netflix route in 2017. Adam Sandler does arguably the best work of his career in this drama about how family can both connect and divide us, sometimes in the same moment. Sandler is joined by Ben Stiller, Dustin Hoffman, and Emma Thompson in this must-see dramedy. Forget the Sandler Netflix Originals — watch this one instead.
Middle of Nowhere
Before they worked together on the stellar Selma, writer/director Ava DuVernay and David Oyelowo made this phenomenal drama in 2012, the winner of the Directing Award for U.S. Dramatic Film that year. Emayatzy Corinealdi is excellent as a woman visiting a husband (Omari Hardwick) behind bars when she meets a new man who could end that chapter in her life.
There are so few great sports movies that audiences really embrace the ones that do come along like this underrated 2004 film from Gavin O'Connor. Kurt Russell gives a truly fantastic performance as Herb Brooks, the coach of the U.S. Men's Hockey team that made everyone believe in miracles when they defeated their heavily favored Russian counterparts.
Movies don't get much funnier than the best offering from the Monty Python troupe, a comedy that spawned a quoting fandom that still roams the hills saying, "Not dead yet," and, "I fart in your general direction." It's possible there's a young generation yet to appreciate the comedic brilliance of the men of Monty Python. Start here and then move on to the sketches and other movies, some of which are also on Netflix.
Barry Jenkins' 2016 drama might be the most shocking Best Picture winner of all time, and not just for the way it went down on Oscar night. Envelope-gate somewhat overshadowed how crazy it is that such a small, gentle, personal film won the biggest prize in movies. If you have somehow never seen it, correct that oversight now. And, if you have, watch it again. It's a movie that grows richer with each viewing.
Remember the McConaissance? Now that it appears to be over, we can appreciate the tentpoles of Matthew McConaughey's comeback to be taken seriously as an actor, including True Detective, Dallas Buyers Club, and this indie gem, in which McConaughey plays a drifter stumbled upon by a couple of Arkansas kid. Jeff Nichols' coming-of-age drama is a great example of a filmmaker who uses setting as a character and how good McConaughey can still be in the right material.
Arguably Netflix's first masterpiece, Dee Rees's period drama is an epic portrait of racism, trauma, and injustice in the post-WWII South. You won't find a better ensemble in a Netflix Original, anchored by Jason Mitchell, Carey Mulligan, Garrett Hedlund, Jason Clarke, and the amazing Dee Rees.
The Muppets
Most of Muppet Culture has found its way to Disney+ but the modern takes from the '10s, this one and Muppets Most Wanted, have escaped onto Netflix for some reason. The 2011 musical by James Bobin is easily one of the best Muppets movies ever and one of the better family films all around of its era. It's funny, smart, and really understands why people still love Kermit, Ms. Piggy, Fozzie Bear, and the rest of the gang.
*My Fair Lady
One of the most popular classic movie musicals of all time dropped on Netflix, a streaming service not exactly known for a deep catalog of movies from previous generations. This 1964 musical adapts the 1956 play of the same name, a riff on George Bernard Shaw's classic Pygmalion. It features Audrey Hepburn and Rex Harrison at their most charismatic, and won eight Oscars, including Best Picture.
It doesn't have to be the holiday season to enjoy the antics of the Griswolds in one of the most beloved Christmas movies ever made. Written by John Hughes, it's the third film in the Vacation series, but it's arguably the most popular, a movie that people around the world watch every year.
Jake Gyllenhaal gave arguably the best performance of his career in this excellent 2014 thriller about a man who rises to fame by recording violent events in Los Angeles in the middle of the night. Ahead of its time in terms of how journalism has become embedded with opportunism, Dan Gilroy's film is a riveting look at a subculture of major cities that only comes out at night.
Movies don't get much darker than this Tom Ford 2016 noir thriller with an incredible cast. The narrative folds in on itself in a way that makes explaining it here but trust that Amy Adams, Jake Gyllenhaal, Michael Shannon, Aaron Taylor-Johnson, Isla Fisher, Armie Hammer, Laura Linney, Andrea Riseborough, and Michael Sheen know what they're doing here.
Martin Scorsese directed this masterful documentary, one of the best music films ever made. It's the story of the life of Bob Dylan, told over more than 200 minutes of interviews, archival footage, and analysis of Dylan's impact on pop culture and even politics. Even if you don't like Dylan, you'll like this.
God bless Bong Joon-ho. The director of The Host, The Mother, and Snowpiercer — all of which you owe it to yourself to see — brought arguably his weirdest movie yet to Netflix in this sci-fi dramedy about a giant pig. Say what you will about the film's flights of fancy — or Jake Gyllenhaal's truly committed performance — there ain't nothing else like it on Netflix.
Charlie McDowell directed a brilliant little sci-fi gem, a movie that features two of the best performances in the careers of Mark Duplass and Elisabeth Moss. The two play a couple whose therapist (Ted Danson) suggest they take a retreat to find themselves as partners again. From the beginning, something seems just a bit off about the retreat, but the pair discovers something straight out of The Twilight Zone that we wouldn't dare spoil here.
Arguably more fantasy than horror, Guillermo Del Toro's masterpiece has just enough nightmare fuel to qualify, and that's not even including the incredibly dark "real-world" themes with which GDT is playing here. Del Toro's first Oscar winner blends the fantasy world of a girl named Ofelia and the abject cruelty of her stepfather, a Captain during the Spanish Civil War. Even in a movie that features a child-eating creature called the Pale Man, the real monster may be human.
Paranorman
We don't deserve Laika. The geniuses at the best stop-motion animation studio in the world delivered the goods with films like Coraline and Kubo and the Two Strings, but their best work remains this 2012 gem about a kid who can see ghosts. As Norman tries to end a centuries-old curse, this visually striking and ultimately moving work never falters once.
Some of Stephen Frears's 2013 drama can be a bit trite, but then there's the Oscar-nominated performance at the center from the great Judi Dench to ground it. She plays Philomena Lee in this true story of a decades-long search for a son she gave up for adoption. This emotional crowd-pleaser was also nominated for Best Adapted Screenplay and Best Picture.
Adrien Brody won the Oscar for Roman Polanski's true story of the life of Wladyslaw Szpilman, a Polish-Jewish pianist who survived the Holocaust. Moving and gripping, The Pianist captures something rarely seen in historical documents — how much survival was often dictated by chance encounters and downright luck. Polanski also won the Oscar for Best Director.
Platoon
Oliver Stone's deeply personal and powerful film about the Vietnam War remains his best work, winning the filmmaker an Oscar for Best Director and nabbed Best Picture too. It stars Tom Berenger, Charlie Sheen, and Willem Dafoe in a story that cast a light on morality in wartime in a way that hadn't really been seen before.
Tamara Jenkins returned to filmmaking for the first time since The Savages with this personal portrait of the struggle faced by people going through fertility procedures. With an amazingly truthful performance by Kathryn Hahn, this is the kind of film that feels both delicately specific and universal to the struggle of so many couples.
Will Smith did some of the best acting work of his career in 2006 and earned himself an Oscar nomination for his efforts. He plays Chris Gardner in this true story of a homeless salesman, and stars alongside his son Jaden. It's heavily melodramatic, but Smith grounds it in emotions that feel genuine.
Rain Man
Barry Levinson directs Tom Cruise and Dustin Hoffman in the story of a man who learns he has a brother who is an autistic savant after the death of his father. Both gentlemen are fantastic in a movie that's arguably a little manipulative but should be watched (or rewatched) purely for the strength of its performances. The movie won four Oscars, including Best Picture, Best Director, and Best Actor for Hoffman.
Alfonso Cuaron's deeply personal story of the domestic worker who really helped raise him is Netflix's first nominee for Best Picture and a movie that has really altered the way the streaming service will be seen on the film landscape. It's also a masterpiece, a heartbreaking, mesmerizing piece of filmmaking that really operates on Roger Ebert's belief that great cinema is an "empathy machine," a way to experience lives that you otherwise never would.
War movies haven't gone anywhere, a prominent part of film history from its early days through 1917. There are certain tentpoles in that history of war movies that feel like game changers, and one came in 1998 when Steven Spielberg returned to World War II to tell a different story of history, reminding everyone in the world about the sacrifices that were made that day, and the obligation we all have to make them worthwhile.
The great Steven Zaillian directed this excellent adaptation of the book of the same name by Fred Waitzkin. Did you like The Queen's Gambit? Check out one of the most beloved dramas about a chess prodigy named Josh Waitzkin, whose talents are nurtured at a young age, even as those around him worry about this young genius losing sight of what's important. It's got a great ensemble that includes Joe Mantegna, Joan Allen, Laurence Fishburne, and Ben Kingsley.
Sure, we all know how much fun Edgar Wright's adaptation of Bryan Lee O'Malley's graphic novels is, but has anyone else noticed how many careers this movie helped launch? It's amazing to watch it nearly a decade after it was released and consider how much people like Anna Kendrick, Alison Pill, Aubrey Plaza, Chris Evans, Brie Larson, Mae Whitman, and Jason Schwartzman have done since then.
There aren't a lot of great kids movies on Netflix, especially as so many family subscribers are moving over to Disney+, so we should take the chance to watch the best ones as much as possible. And maybe if you watch this very funny, clever Aardman movie over and over again, they'll make more of them. The great silent comedy of Shaun the Sheep meets science fiction in this riff on E.T. that's very sweet and very funny.
In 2010, Martin Scorsese released his adaptation of Dennis Lehane's best novel, the story of a U.S. Marshal who investigates a missing patient at a legendary mental hospital. Scorsese is in full command of his skill as a craftsman in this riveting thriller that also co-stars Mark Ruffalo, Ben Kingsley, and Michelle Williams. It's one of the most underrated films of the last decade.
Netflix added both of Tom Ford's first two films in Nocturnal Animals and this excellent premiere, which features one of Colin Firth's best performances. The Oscar winner (who was also nominated for this) plays George Falconer, a British professor living in Southern California in 1962. A study of sexual politics in the '60s, it's a wonderful performance piece for Firth, Julianne Moore, Nicholas Hoult, and Matthew Goode.
One of the best movies of the 2010s has returned to Netflix to remind people how wildly far ahead of its time this movie was when it was released. With a razor-sharp screenplay by Aaron Sorkin and some of the best direction of David Fincher's career, this is a flawless movie, one that resonate even more now in the era of constant internet than it did a decade ago.
Bong Joon-ho had a major cultural moment with the release of his Palme d'Or-winning Parasite. Why not go back and check out what is arguably his most popular movie to date, this 2013 adaptation of a groundbreaking French graphic novel? The concept is wonderfully simple — an always-moving train is divided into class with the 1% at the front and the poorest people in the back. Those in the caboose, including Chris Evans and Song Kang-ho, plan to move up a few train cars. It's smart, action-packed, memorable sci-fi action, and it's the kind that also has something to say.
One of the most surprising Best Picture winners of all time was Spotlight, a simple but powerful drama from 2015 directed by Tom McCarthy. An amazing ensemble that includes Mark Ruffalo, Michael Keaton, Rachel McAdams, Liev Schreiber, John Slattery and Stanley Tucci holds this drama together as it tells the story of how the reporters at the Boston Globe uncovered the systemic child abuse in the Catholic Church.
Noah Baumbach's personal 2005 drama dissects the impact of divorce on an average family and offers the suggestion that the flaws of parents will only be amplified in their children. Jeff Daniels, Laura Linney, and Jesse Eisenberg all give excellent performances in a film that feels both specifically revealing and universal in its themes.
This movie is a fascinating litmus test as to how people read cinema. Invite some friends over, put it on, and then discuss what Paul Verhoeven is going for with his story of interstellar killer aliens and, more importantly, the space force of beautiful people put together to stop them. Suggest that maybe there's more going on than just sci-fi/action. Or just sit back and enjoy the ride provided by one of the most purely entertaining genre pics of its era.
Long before he tackled The Trial of the Chicago 7, Aaron Sorkin told at least part of the life story of Steve Jobs, the legendary co-founder of Apple, in this 2015 biopic. Michael Fassbender gives one of his best performances in the title role, but the ensemble really makes this piece, including Kate Winslet and Seth Rogen in two of the best performances of their respective careers.
Greg Mottola's 2007 comedy became so beloved for a generation that it's already a reference point. Written by Seth Rogen and Evan Goldberg, Superbad turned Michael Cera and Jonah Hill into stars overnight, and introduced the world to future Oscar winner Emma Stone. Some of its gender issues already seem a little dated, but there's an innocent charm to the film that holds up.
One of the best films of the '00s, Paul Thomas Anderson's adaptation of Upton Sinclair's Oil! won Daniel Day-Lewis his second Oscar as the unforgettable Daniel Plainview. As detailed and epic as great fiction, Anderson's movie is one of the most acclaimed of its era, a film in which it's hard to find a single flaw. Even if you think you've seen it enough, watch it again. You'll find a new reason to admire it.
Paul Verhoeven directed this 1990 blockbuster that unleashed Arnold Schwarzenegger on a short story by Philip K. Dick called "We Can Remember It for You Wholesale." Ah-nuld plays a construction worker who becomes involved in a crazy power struggle on Mars…or does he? Verhoeven's blend of social commentary and undeniable craft with action have allowed this to hold up better than most thirty-year-old action movies.
Training Day
Denzel Washington won his second Oscar for a role that would help define his onscreen persona in this Antoine Fuqua flick that is somehow already two decades old. Washington plays Alonzo Harris, a corrupt LAPD cop who is accompanied by a new partner, played by Ethan Hawke. More thriller than traditional action, it's still an intense, unforgettable experience and a reminder of how much Washington can be a force of nature when he's allowed to be.
Fernando Meirelles (City of God) directs this fascinating two-hander starring Jonathan Pryce and Anthony Hopkins as the last and current Popes. The majority of Anthony McCarten's script is a conversation between the two in the days when Pope Benedict handed off papal duties to Pope Francis, using that context to examine modern faith and how it has to change in the new century. Hopkins is very good but the real draw here is arguably the best performance of Jonathan Pryce's remarkable career.
Adam Sandler earned some of the best reviews of his career for this tense drama/thriller about a New York jeweler who has a little bit of a gambling problem. As he spirals the drain of life, he tries to sell a rare gem and make money on a Celtics playoff game. Vibrant and anxiety-inducing, it's one of the best movies of 2019, and it's already on Netflix.
It's hard to believe it's been over a quarter-century since Johnny Depp starred with a young Leonardo DiCaprio in this truly beloved drama, a film that didn't make a lot of money in theaters but has developed a following over the years. Whenever anyone asks about Depp or DiCaprio's best performances on social media, this is a film that comes up in the conversation, in no small part because it earned a very young Leo his first Oscar nod.
Actor Paul Dano directed this masterful drama, co-written with his partner Zoe Kazan from the book by Richard Ford. Carey Mulligan stars as a woman in 1960 Montana whose husband (a subtle Jake Gyllenhaal) leaves for a low-paying job fighting a forest fire. Stuck with her only son (an excellent Ed Oxenbould), she has to figure out how to make ends meet on her own. It's a lyrical, moving portrait of those days in which one first realizes their parents are flawed creatures too.
Both versions of the Roald Dahl classic are on Netflix but take Gene Wilder over Johnny Depp every time. This movie is a beloved classic for a reason, carried effortlessly by Wilder's charm and the Dahl's unforgettable story. Everyone has seen this at some point in their life. It's a rite of passage in childhood for a reason.