Every New Movie and TV Show Coming to Netflix in April
What you'll be watching during the next month.
A new month means a new crop of licensed and original movies and shows arriving on Netflix, and saying farewell to many others. We present the full list of titles for the upcoming month below, but first, let's scan for highlights. If you want more viewing options, check out our rankings of the best Netflix Original shows of 2020 and best Netflix Original movies of 2020, as well as our lists of great movies currently streaming on Netflix and binge-worthy TV shows currently streaming on Netflix.
Get excited, sci-fi and fantasy fans, because you're about to have a good April with the number of genre shows and movies headed to Netflix. Not only does Stowaway, the outer-space thriller starring Anna Kendrick and Toni Collette, arrive, the streaming service is filling out its big-budget fantasy series slate with the premiere of Shadow and Bone, an adaptation of Leigh Bardugo's popular Grisha book series. Plus, the highly anticipated anime Yasuke, about a Black samurai (who actually existed!) and featuring voice work from LaKeith Stanfield, becomes available. If adventure stories aren't the vibe, you'll also be able to stream new star-studded movies like the horror flick Things Heard & Seen starring Amanda Seyfried and the Western Concrete Cowboy featuring Idris Elba and Stranger Things' Caleb McLaughlin, as well as popular favorites like Legally Blonde. See what else you can watch in April below.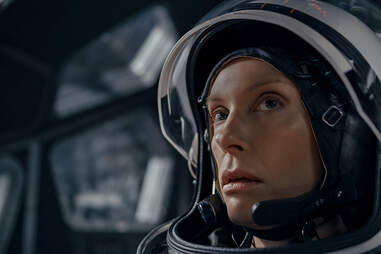 'Stowaway' | Netflix
Everything coming in April
Available 4/1
Cop Out
Friends with Benefits
Insidious
Legally Blonde
Leprechaun
Magical Andes
, Season 2 (
Netflix
docuseries)
Prank Encounters
, Season 2 (
Netflix
original)
The Pianist
The Possession
Secrets of Great British Castles
, Season 1
Tersanjung the Movie
(
Netflix
film)
The Time Traveler's Wife
2012
Tyler Perry's Madea's Big Happy Family
White Boy
Worn Stories
(
Netflix
docuseries)
Yes Man
Available 4/2
Concrete Cowboy (Netflix film)
Just Say Yes (Netflix film)
Madame Claude (Netflix film)
The Serpent (Netflix original)
Sky High (Netflix film)
Available 4/3
Escape from Planet Earth
Available 4/4
What Lies Below
Available 4/5
Coded Bias
Family Reunion, Part 3 (Netflix original)
Available 4/6
The Last Kids on Earth: Happy Apocalypse To You (Netflix original)
Available 4/7
The Big Day, Collection 2 (Netflix original)
Dolly Parton: A MusiCares Tribute (Netflix documentary)
Snabba Cash (Netflix original)
This Is A Robbery: The World's Biggest Art Heist (Netflix documentary)
The Wedding Coach (Netflix original)
Available 4/8
The Way of the Househusband (Netflix anime)
Available 4/9
Have You Ever Seen Fireflies? (Netflix film)
Night in Paradise (Netflix film)
Thunder Force (Netflix film)
Available 4/10
The Stand-In
Available 4/11
Diana: The Interview that Shook the World
Available 4/12
New Gods: Nezha Reborn (Netflix film)
Nicky, Ricky, Dicky & Dawn, Seasons 1-4
Available 4/13
The Baker and the Beauty, Season 1
Mighty Express, Season 3 (Netflix original)
My Love: Six Stories of True Love (Netflix docuseries)
Available 4/14
The Circle, Season 2 (Netflix original)
Dad Stop Embarrassing Me! (Netflix original)
Law School (Netflix original)
The Soul (Netflix film)
Why Did You Kill Me? (Netflix documentary)
Available 4/15
Dark City Beneath the Beat
The Master
Ride or Die (Netflix film)

Available 4/16
Arlo the Alligator Boy (Netflix original)
Ajeeb Daastaans (Netflix film)
Crimson Peak
Fast & Furious Spy Racers, Season 4: Mexico (Netflix original)
Into the Beat (Netflix film)
Rush
Synchronic
Why Are You Like This (Netflix original)
The Zookeeper's Wife
Available 4/18
Luis Miguel - The Series, Season 2 (Netflix original)
Available 4/19
Miss Sloane
PJ Masks, Season 3
Available 4/20
Izzy's Koala World, Season 2 (Netflix original)
Available 4/21
Zero (Netflix original)
Available 4/22
Life in Color with David Attenborough (Netflix docuseries)
Stowaway (Netflix film)
Available 4/23
Heroes: Silence and Rock & Roll
Shadow and Bone (Netflix original)
Tell Me When (Netflix film)
Available 4/27
August: Osage County
Battle of Los Angeles
Fatma (Netflix original)
Go! Go! Cory Carson, Season 4 (Netflix original)
Available 4/28
Sexify (Netflix original)
Headspace Guide to Sleep (Netflix docuseries)
Available 4/29
Things Heard & Seen (Netflix film)
Yasuke (Netflix anime)
Available 4/30
The Innocent (Netflix original)
The Mitchells vs. The Machines (Netflix original)
Pet Stars (Netflix original)
The Unremarkable Juanquini, Season 2 (Netflix original)
April TBA
The Disciple (Netflix film)
Searching For Sheela (Netflix documentary)
'The Dark Knight' | Warner Bros. Pictures
Everything that arrived in March
Available 3/1
Batman Begins
Biggie: I Got a Story to Tell
(
Netflix
documentary)
Blanche Gardin: Bonne Nuit Blanche
Crazy, Stupid, Love
Dances with Wolves
The Dark Knight
DC Super Hero Girls
, Season 1
I Am Legend
Invictus
Jason X
Killing Gunther
LEGO Marvel Spider-Man: Vexed by Venom
Nights in Rodanthe
Power Rangers Beast Morphers
, Season 2
The Pursuit of HappynessRain Man
Step Up: Revolution
Tenacious D in The Pick of Destiny
Training Day
Two Weeks Notice
Year One
Available 3/2
Black or White
Word Party, Season 5 (Netflix original)
Available 3/3
Moxie (Netflix film)
Murder Among the Mormons (Netflix documentary)
Parker
Safe Haven
Available 3/4
Pacific Rim: The Black (Netflix Anime)
Available 3/5
City of Ghosts (Netflix original)
Dogwashers (Netflix film)
Nevenka: Breaking the Silence (Netflix docuseries)
Pokémon Journeys: The Series, Part 4 (Netflix original)
Sentinelle (Netflix film)
Available 3/8
Bombay Begums (Netflix original)
Bombay Rose (Netflix film)
Available 3/9
The House Boat (Netflix original)
StarBeam, Season 3 (Netflix original)
Available 3/10
Dealer (Netflix original)
Last Chance U: Basketball (Netflix docuseries)
Marriage or Mortgage (Netflix original)
Available 3/11
The Block Island Sound
Coven of Sisters (Netflix film)
Available 3/12
Love Alarm, Season 2 (Netflix original)
The One (Netflix original)
Paper Lives (Netflix film)
Paradise PD, Part 3 (Netflix original)
YES DAY (Netflix film)
Available 3/14
Audrey
Available 3/15
Abla Fahita: Drama Queen (Netflix original)
Bakugan: Armored Alliance
The BFG
The Last Blockbuster
The Lost Pirate Kingdom (Netflix original)
Zero Chill (Netflix original)
Available 3/16
RebellComedy: Straight Outta the Zoo (Netflix comedy special)
Savages
Waffles + Mochi (Netflix original)
Available 3/17
Operation Varsity Blues: The College Admissions Scandal (Netflix documentary)
Under Suspicion: Uncovering the Wesphael Case (Netflix docuseries)
Available 3/18
B: The Beginning Succession (Netflix anime)
Cabras da Peste (Netflix film)
Deadly Illusions
The Fluffy Movie
Nate Bargatze: The Greatest Average American (Netflix comedy special)
Skylines
Available 3/19
Alien TV, Season 2 (Netflix original)
Country Comfort (Netflix original)
Formula 1: Drive to Survive, Season 3 (Netflix original)
Sky Rojo (Netflix original)
Available 3/20
Jiu Jitsu
Available 3/22
Navillera (Netflix original)
Philomena
Available 3/23
Loyiso Gola: Unlearning (Netflix comedy special)
Available 3/24
Seaspiracy (Netflix documentary)
Who Killed Sara? (Netflix original)
Available 3/25
Caught by a Wave (Netflix film)
DOTA: Dragon's Blood (Netflix anime)
Millennials, Season 3
Secret Magic Control Agency (Netflix original)
Available 3/26
A Week Away (Netflix film)
Bad Trip (Netflix film)
Big Time Rush, Seasons 1-4
Croupier
The Irregulars (Netflix original)
Magic for Humans by Mago Pop (Netflix original)
Nailed it! Double Trouble (Netflix original)
Available 3/29
Mandela: Long Walk to Freedom
Rainbow High, Season 1
Available 3/30
Octonauts & the Ring of Fire (Netflix original)
7 Yards: The Chris Norton Story
Available 3/31
At Eternity's Gate
Haunted: Latin America (Netflix original)