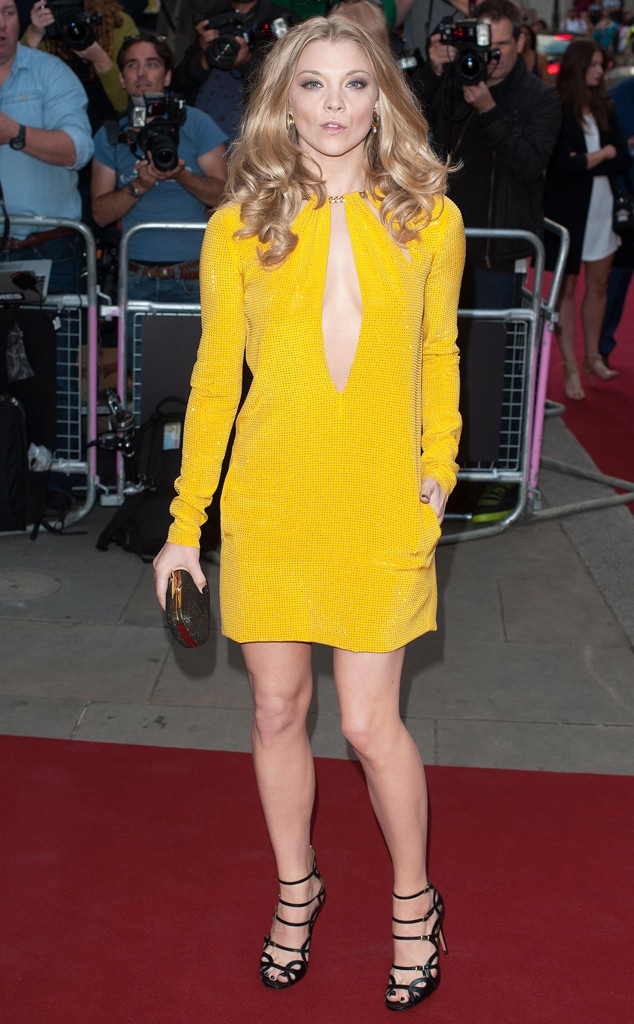 REX USA/Rex
Should Game of Thrones raise it up a notch when it comes to male nudity? Actress Natalie Dormer has weighed in on this longstanding issue many viewers see as a double standard.
In comments made to The Daily Beast, she also talks about a scene she felt uncomfortable about filming for the popular, sexually explicit and violent HBO show.
The fantasy-adventure series, based the A Song of Ice and Fire books by George R.R. Martin, often features steamy (and also horrifying) sex scenes (not to mention highly questionable ones). Dormer, who plays Margaery Tyrell, is one of many actresses who has bared her breasts on the show, which shows far more female nudity than male, and has also used stunt doubles and prosthetics.
"Well, during the first season Alfie [Allen], Richard [Madden], and several of the men got naked—although not all the way," Dormer told The Daily Beast in an interview posted on Friday, adding, "I think Thrones has been better than your average show with the equality, but they could definitely ramp it up! Absolutely."
Earlier this year, Kit Harington, who plays Jon Snow, revealed in an interview with GQ magazine that his character's bare butt seen on the show, as he dives into a pool, was not his. A crew member took his place after the actor suffered a leg injury.
When asked about whether he would show full-frontal nudity "if so commanded," he said, "It would have to be f--king well deserved." 
Frazer Harrison/Getty Images
Actor Kristian Nairn. who plays Hodor ("Hodor!"), said his full-frontal scene in season 1 involved the use of a prosthetic.
"I unfortunately had a nude scene to do where I had to hide in a bush until the correct moment and young Isaac [Hempstead-Wright] was sitting, waiting for me. I had a huge, prosthetic penis strapped onto me, in a very, very uncomfortable way," he said in a video posted on the YouTube page of CBC talk show host George Stroumboulopoulos in February.
Male Nudity on Game of Thrones
While Dormer has herself stripped down on the show, there was one scene she wasn't OK about filming.
(Spoiler alert)
In the recent season 4, Dormer's character sneaks into the bedroom of her betrothed, the 12-year-old King Tommen Baratheon, played by Dean-Charles Chapman, who is now 17. She chats with him while sitting on his bed. Nothing sexual happens, but the innuendo is there, and she urges him to keep their meeting a secret.
Dormer told The Daily Beast the scene was "altered" after she told the executive producers that she was "not comfortable doing this." They have not commented.
"It's the nature of the beast that I'm four years into playing Margaery Tyrell and the big plot points of the book are in stone," she said. "You can't change them. George R.R. Martin wrote a particular plot line, so on the specifics of Margaery and Tommen getting married, there's nothing I can do. On the show, we had to find a way to navigate that in a sensitive way. There's more of it next season too, and we're trying to handle it with intelligence, and integrity."
Game of Thrones' fifth season is expected to premiere in the spring of 2015.
Dormer can also be seen in The Hunger Games: Mockingjay - Part 1, which hit theaters on Friday.