Everyone Is Talking About How Weird "Wild Mountain Thyme" Is, So I Had To Watch It
It's like if Normal People and Bee Movie had a baby.
🚨This post contains spoilers for Wild Mountain Thyme — strap in, because it's a hell of a ride.🚨
Wild Mountain Thyme is a romance written and directed by Oscar-winner John Patrick Shanley, set in Ireland and starring Jamie Dornan, Emily Blunt, and perhaps the most bizarre plot twist of all time.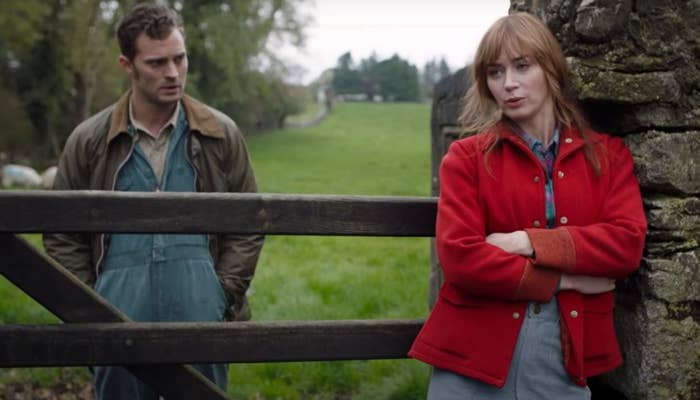 When I saw the trailer for Wild Mountain Thyme I was struck first of all by the terrible Irish accents, and second of all by how it felt like it was created in about 2004.
The movie opens with soaring music and stunning shots of Ireland that reminded me how much I want to travel and how very much that's not a possibility right now. But my eyes enjoyed all the green!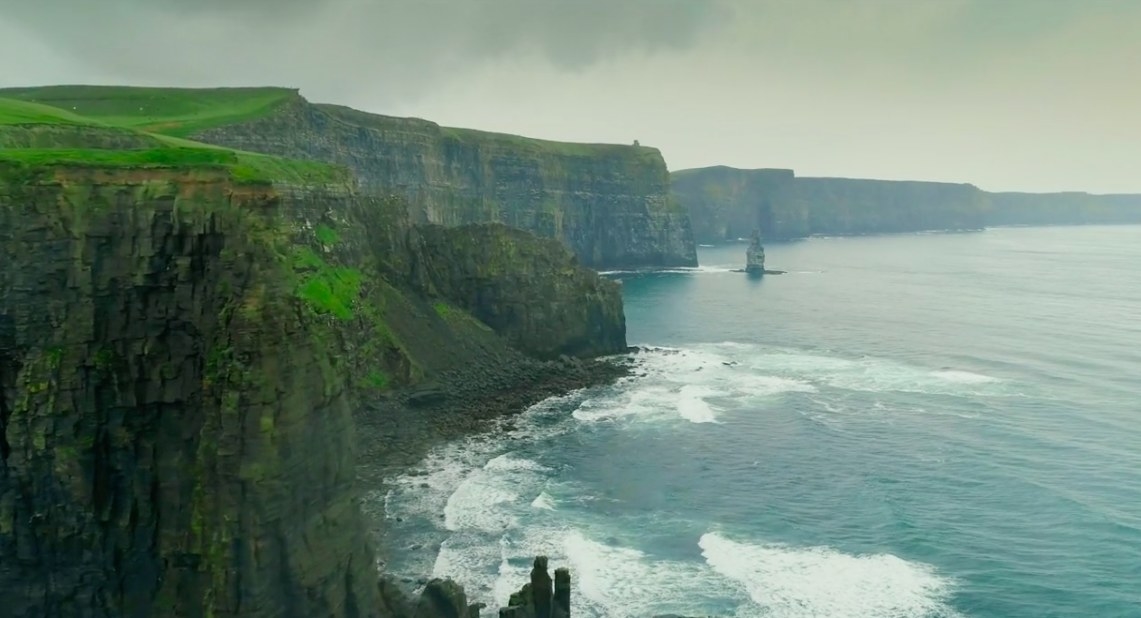 Then Christopher Walken, in whatever accent he is doing (certainly not any kind of recognizable Irish one), chimes in with his narration, and perhaps the most iconic opening line of the last decade at least.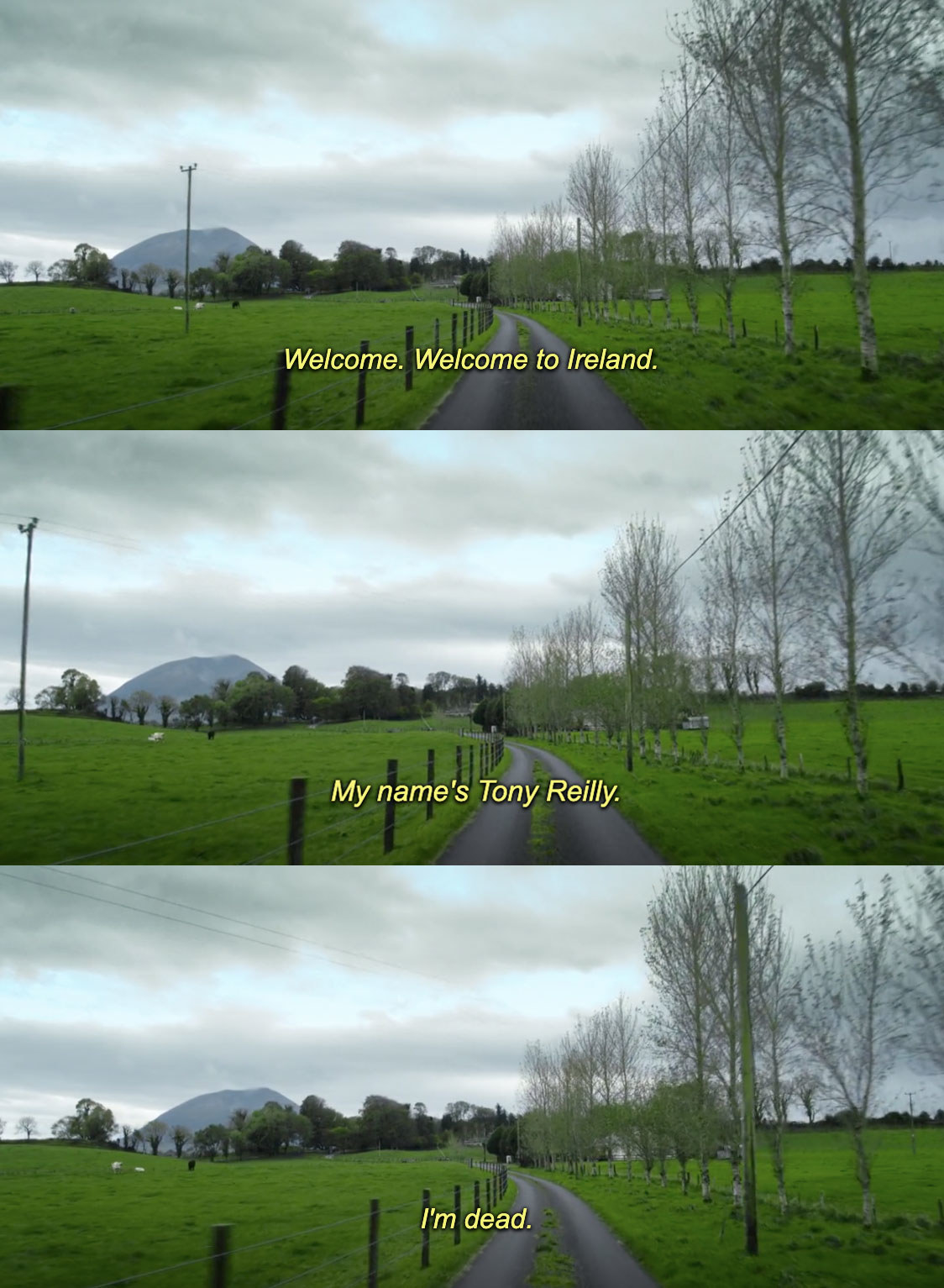 Dead Christopher Walken tells us about two adjoining farms and the families that live on them — the Muldoons, including their daughter Rosemary (Emily Blunt as an adult), and his own, the Reillys, including his son Anthony.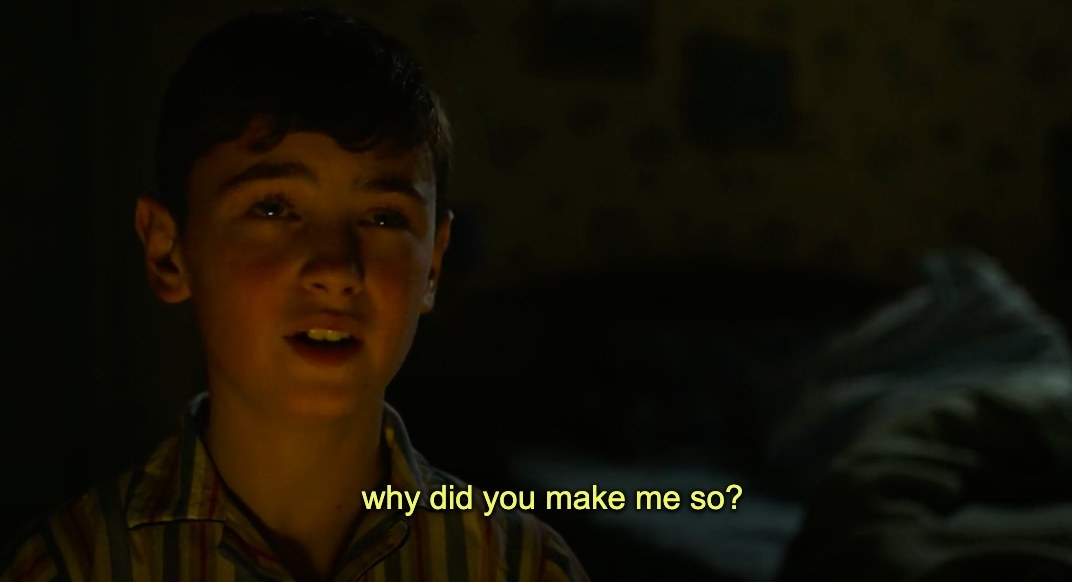 Here's another piece of foreshadowing, presented without comment: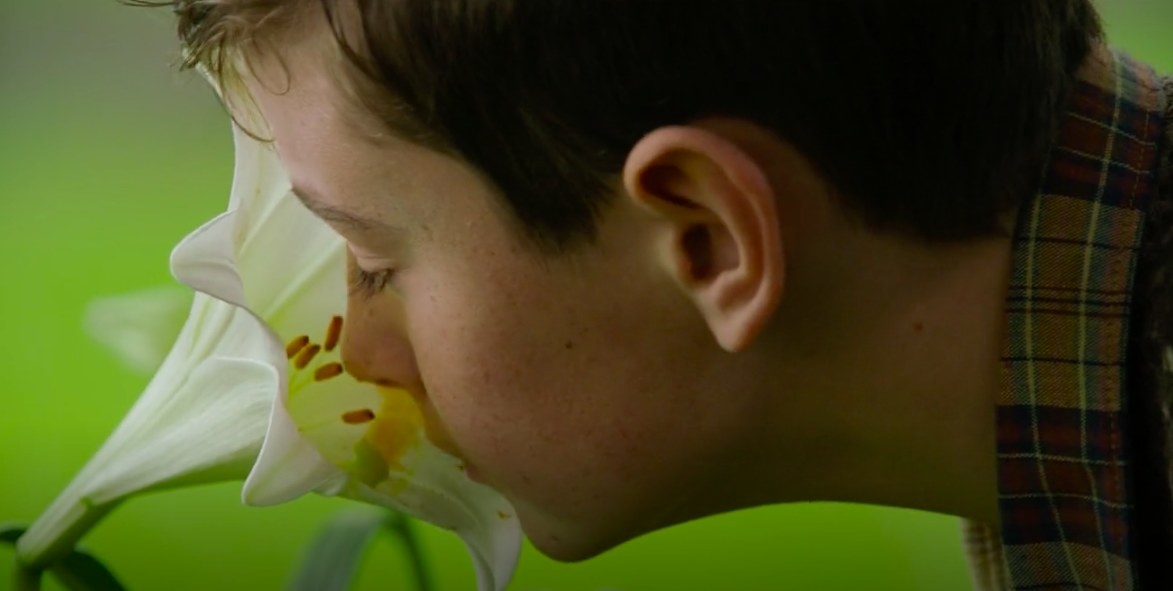 We then meet a grown Anthony opening some gates in the rain. These gates belong to the Muldoons, but the Reillys need to use them to access their own property, and there is a significant amount of screentime dedicated to opening, closing, and discussing these gates, which never really goes anywhere.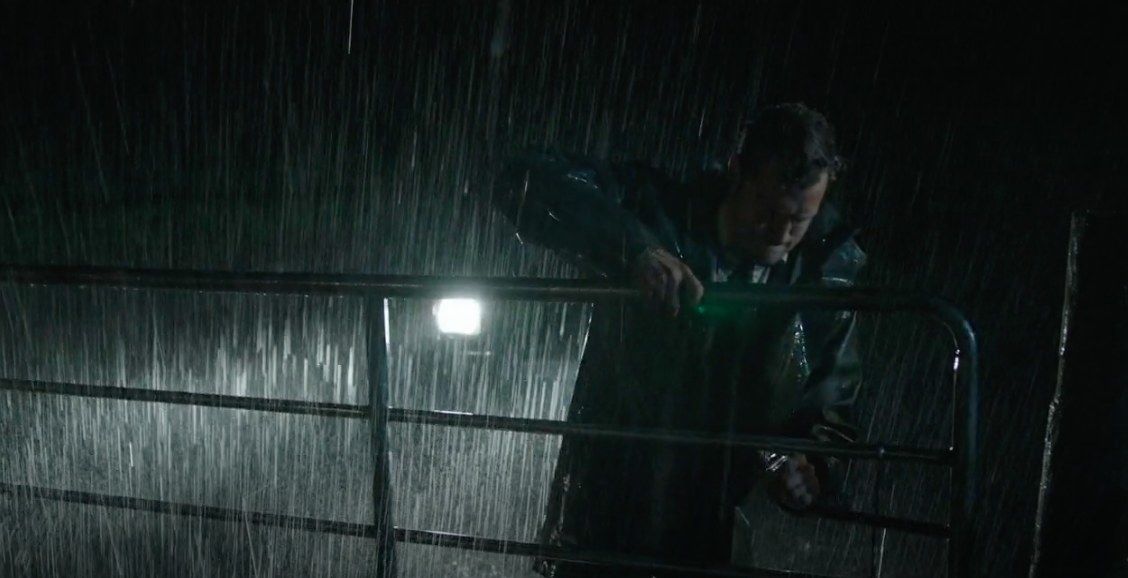 Next, in a sequence that makes the movie's origins as a play very apparent, we spend a good portion of the first act in the Reillys' kitchen, as characters walk in and out of it and have various conversations.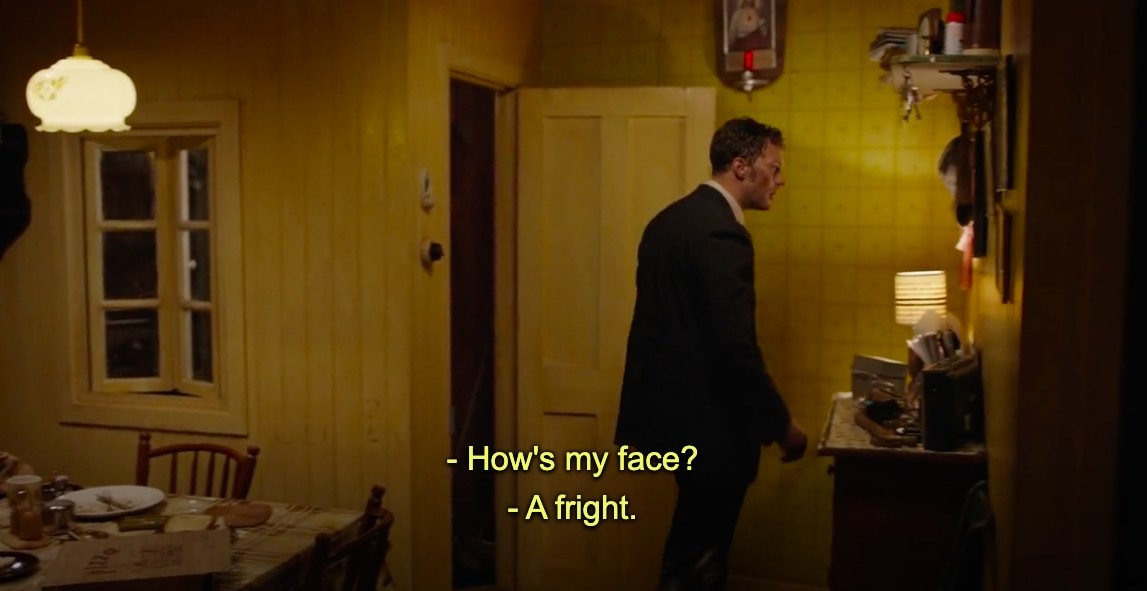 That night, Rosemary's horse escapes — a recurring theme — and when she finally catches it, she happens upon Anthony in a boat on the nearby river.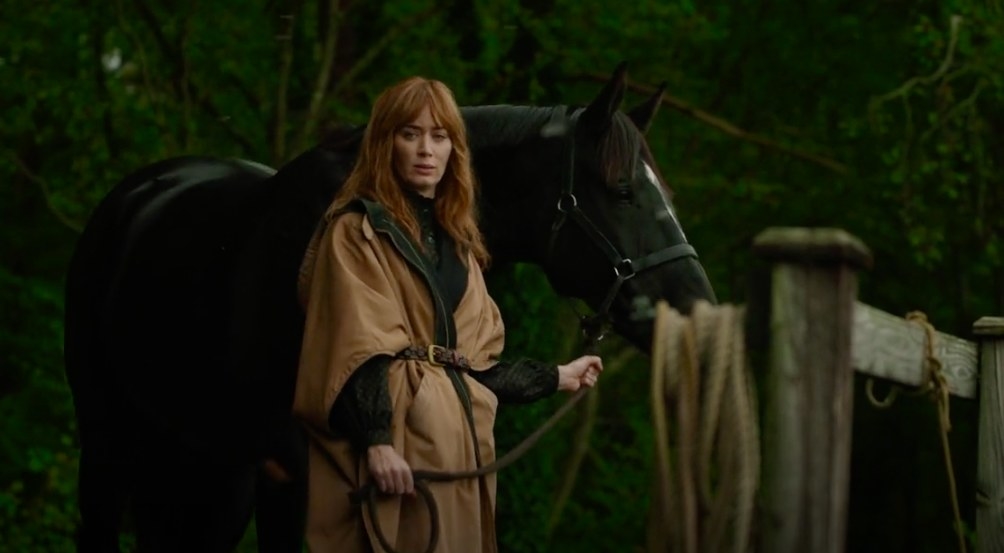 He appears to be talking to thin air. This is important for Plot Twist reasons.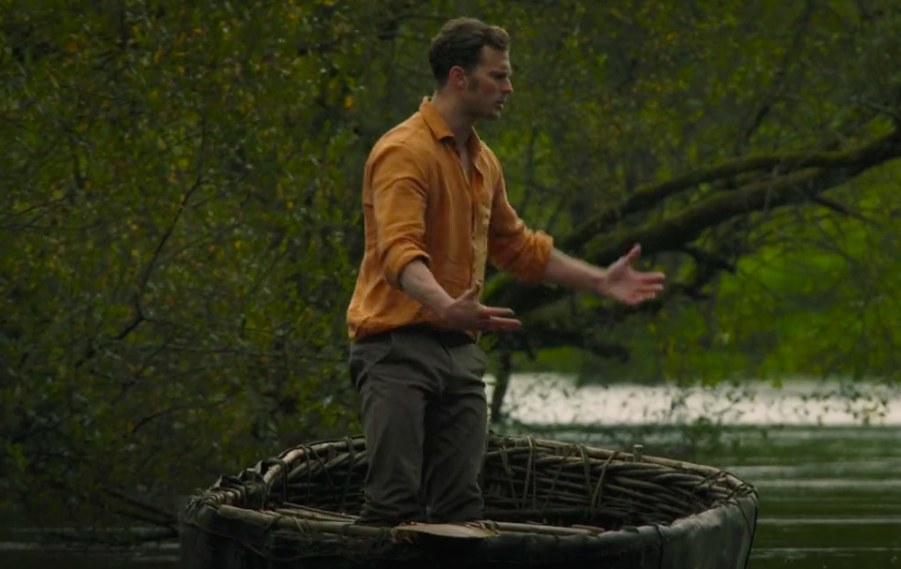 Then he swats at the air (FORESHADOWING) with his oar and falls into the river, because he's been dry for about 30 seconds and that just isn't on.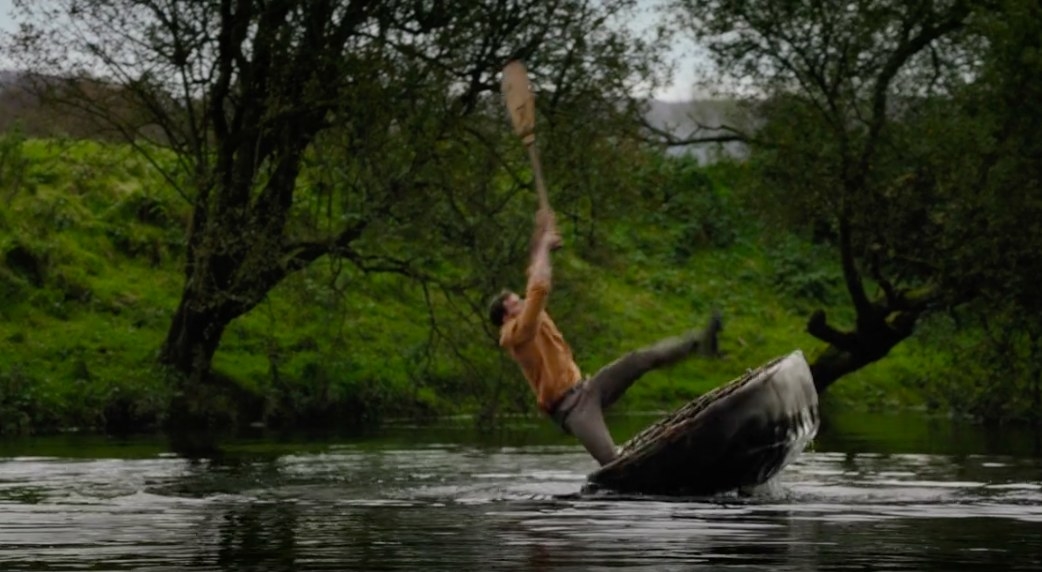 To his credit, and good luck due to how often he is damp in this movie, Jamie Dornan looks very good wet.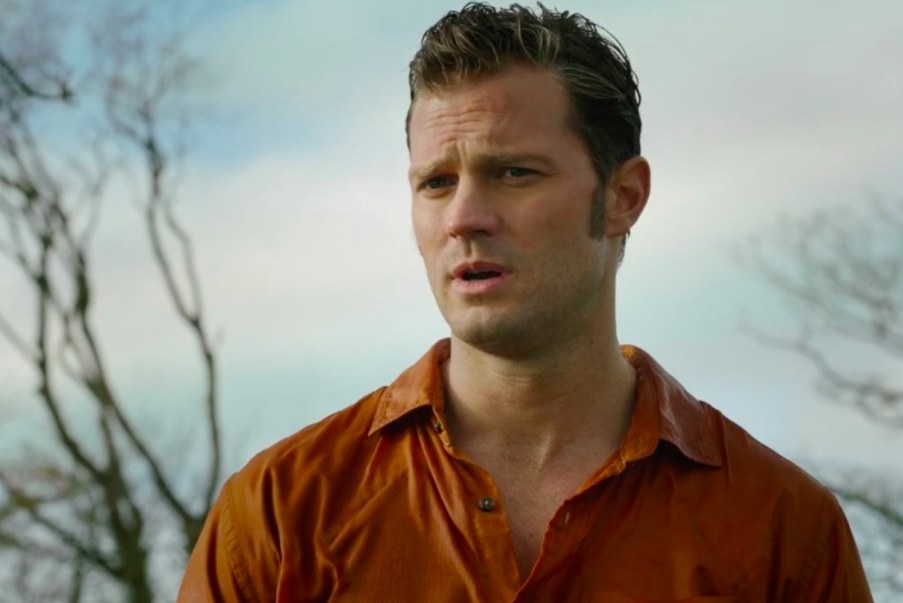 Rosemary is extremely horny for all of it.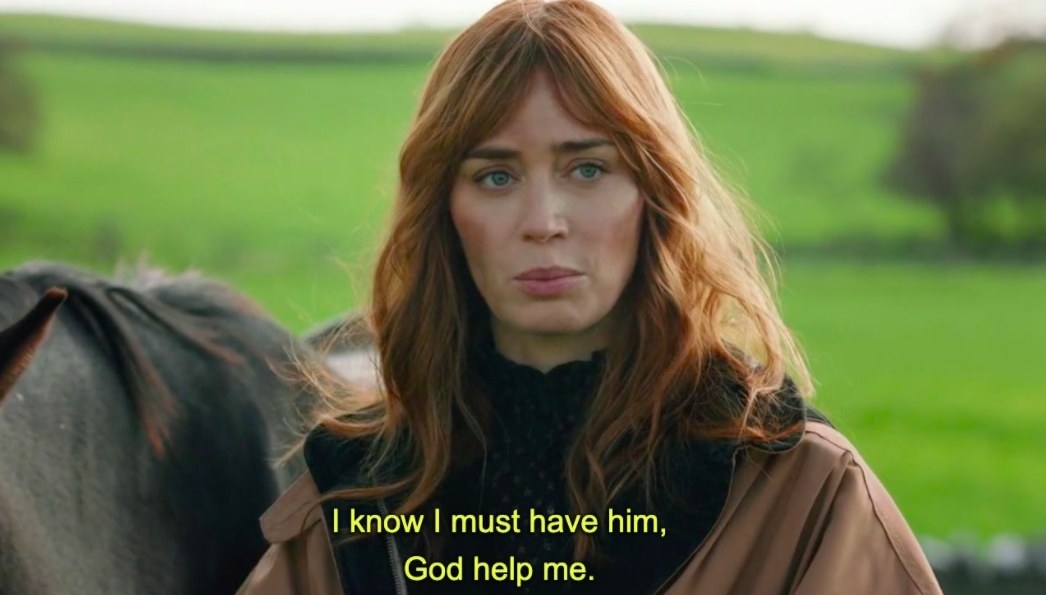 We get some more FORESHADOWING when Anthony sees a bee in his kitchen and uses a glass and some letters to gently escort it outside (if you don't already know it, have you guessed the Plot Twist yet?).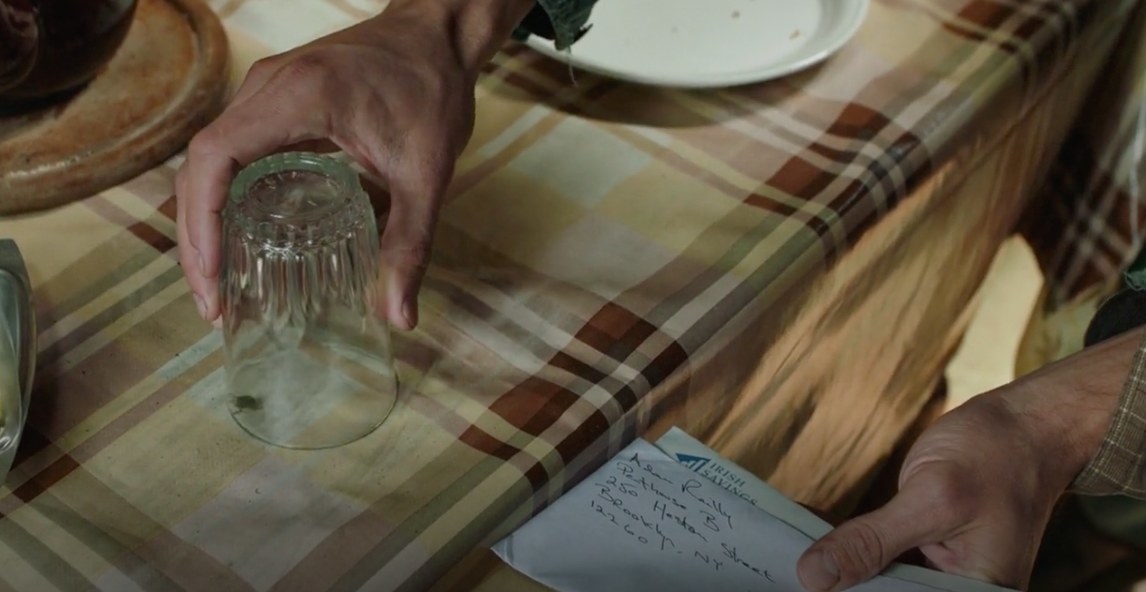 Anthony decides to get over whatever is holding him back with Rosemary, and practices proposing with a donkey. A neighbor spots him, and news spreads through the village that this weirdo is actually in love with the donkey.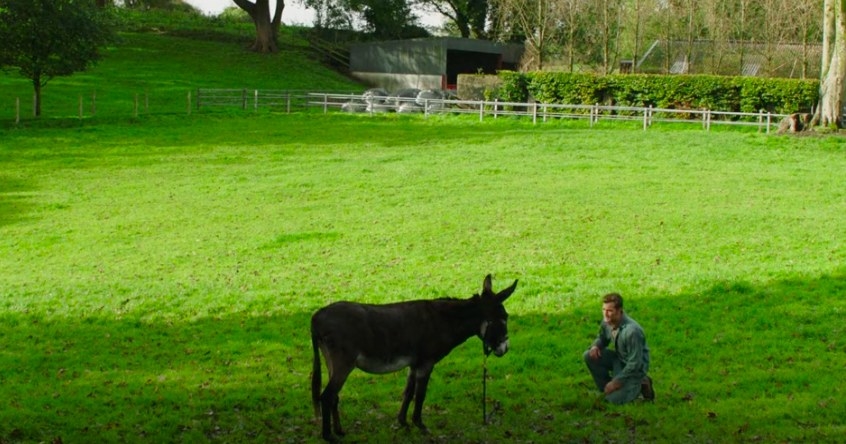 Rosemary finds out Not-Yet-Dead Christopher Walken is selling the farm, and yells at him, asking him to just wait forever for Anthony to propose to her like she is doing. She even offers to freeze her eggs to ensure the family line.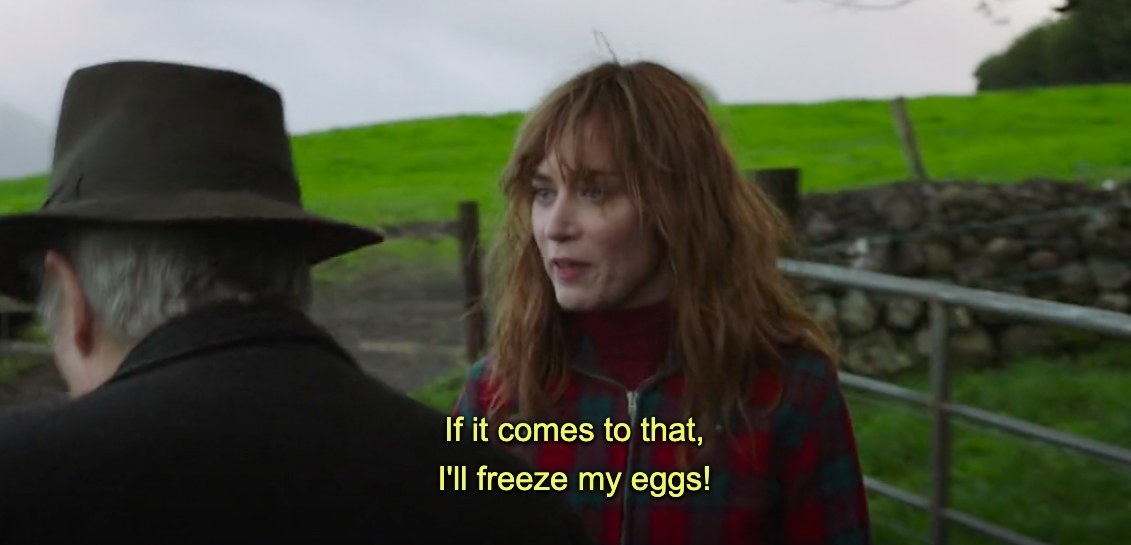 Anthony goes to Rosemary's house but walks away before he can muster the courage to propose, and then, as a documentary about bees plays in the background (FORESHADOWING), he tells his father to sell the farm because he never will marry.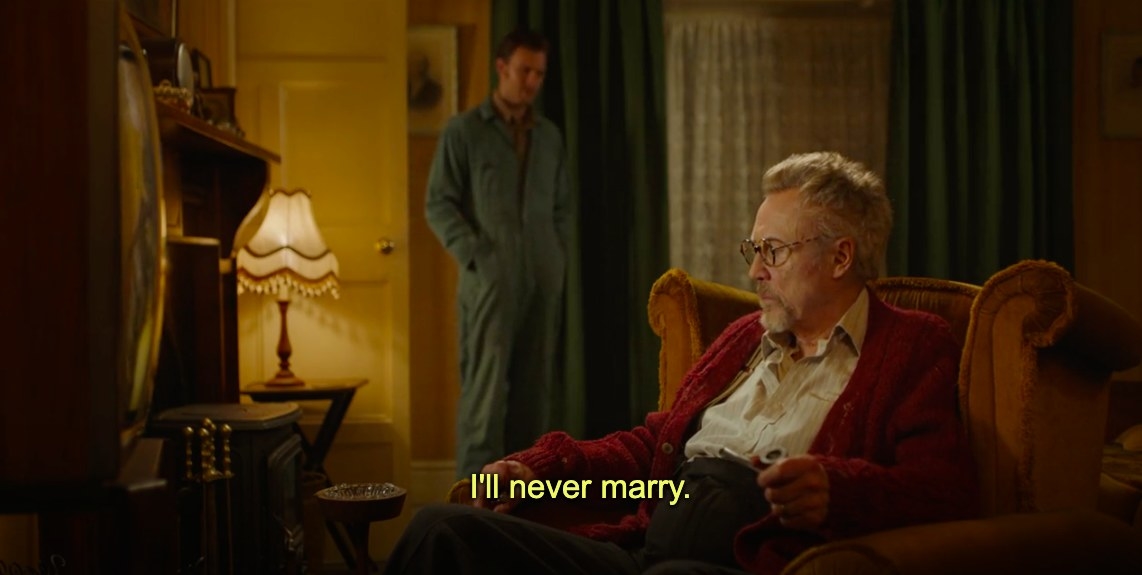 At the pub, Rosemary sings a song about wild mountain thyme that I guess gave the movie its title. It was Anthony's mother's favorite song.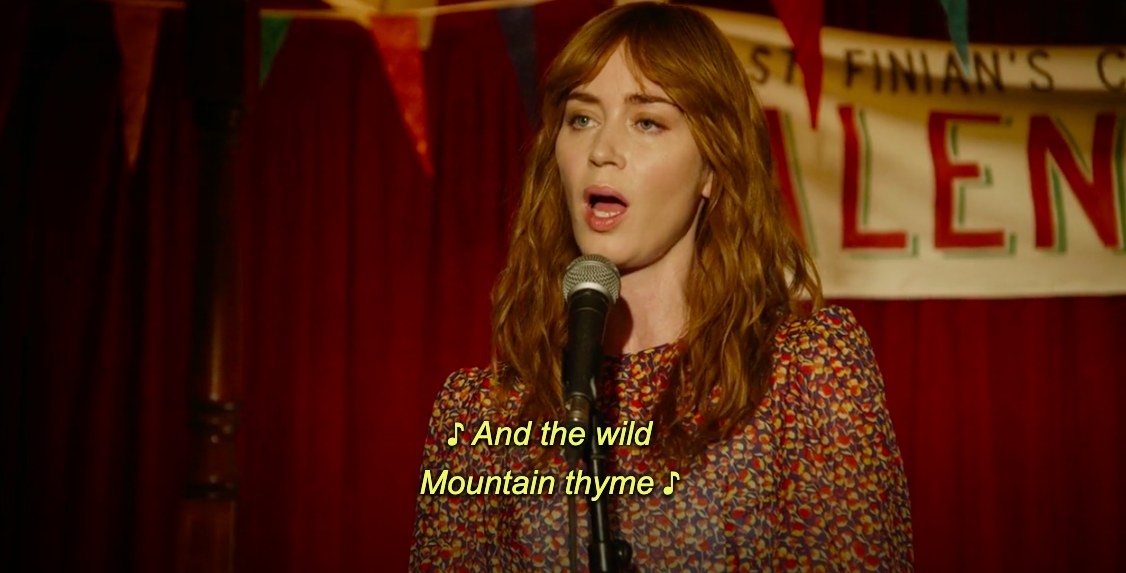 Anthony's American cousin Adam shows up, and it turns out he's Jon Hamm!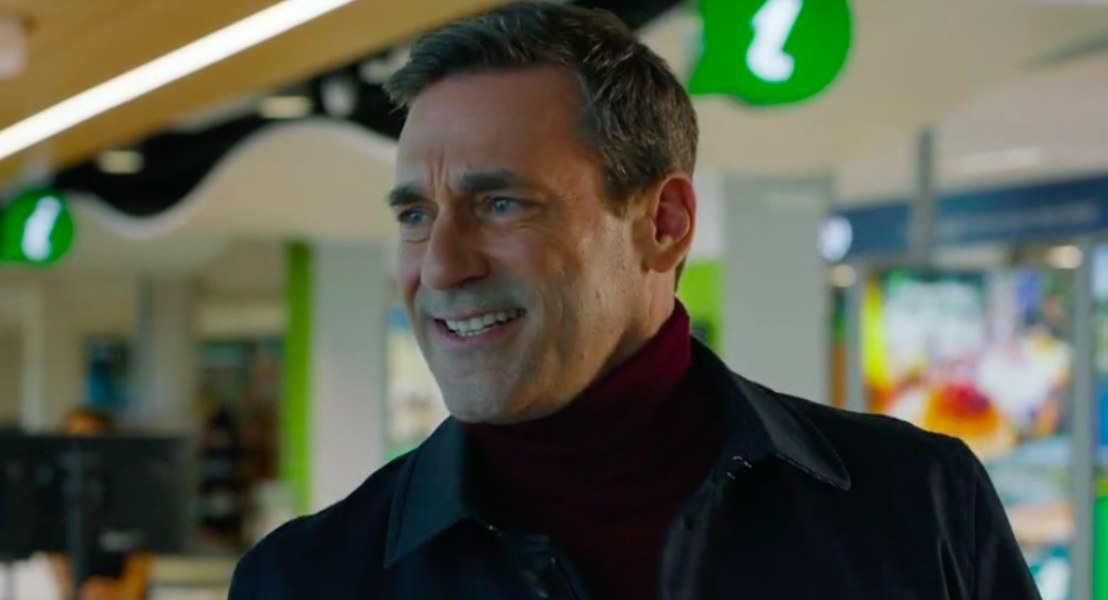 Anthony dons the white raincoat and walks through the green fields with a metal detector. We do not yet know why. It's chalked up to just another weird thing he's doing.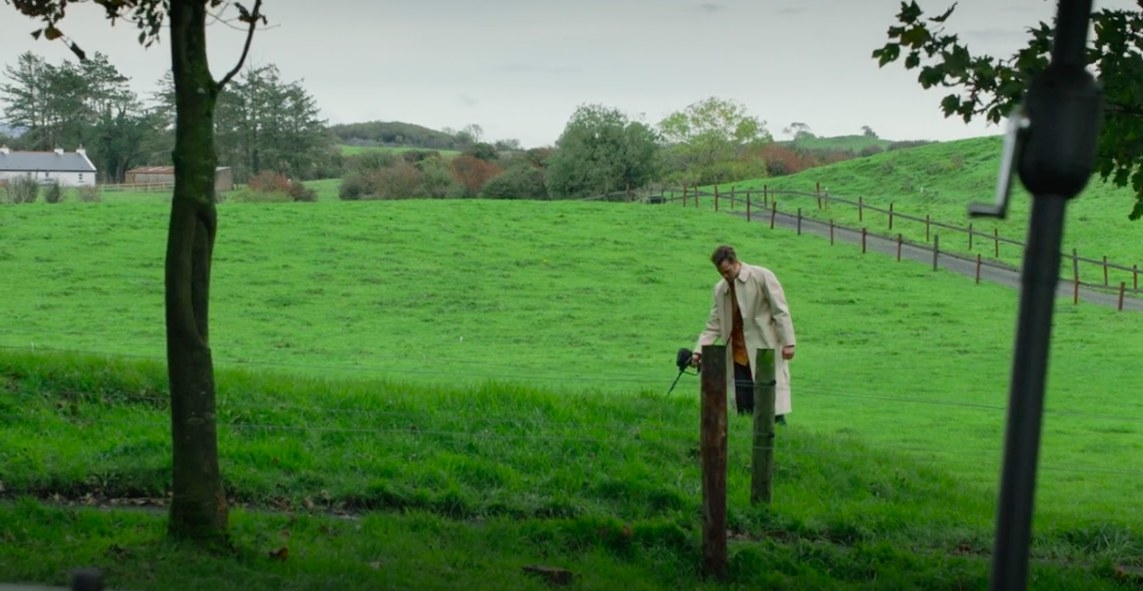 Anthony's American cousin Adam puts pressure on Rosemary to sell him the land with the gates, presumably so that when he owns the Reilly farm he won't have to deal with said gates.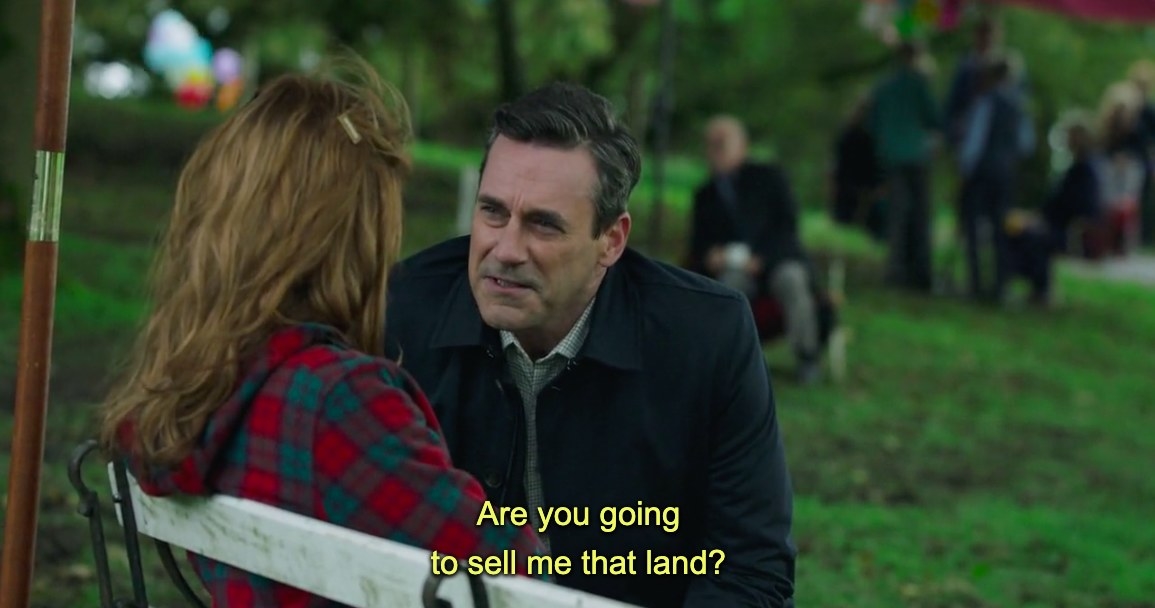 Rosemary's mother's death is immediately followed by Not-Yet-Dead Christopher Walken becoming Actually Dead.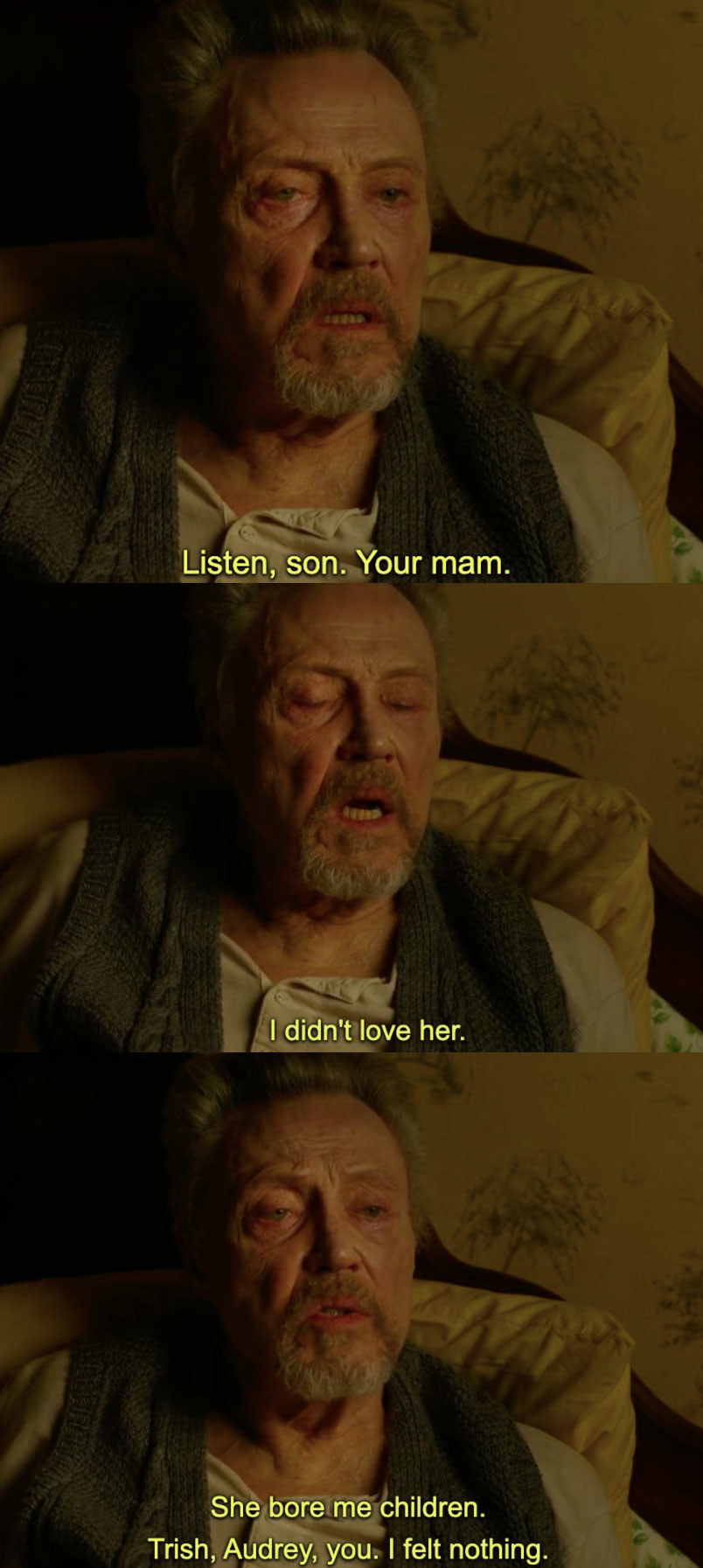 Rosemary and Anthony have a long chat and he tells her to leave town and stop waiting for him, and she's all MAYBE I WILL, and then she does.
Adam calls Anthony and tells him he's coming to Ireland to propose to Rosemary. We then move to a very, very long conversation between Rosemary and Anthony, in which they say SO MANY words but only manage to attach clear meaning to about 30% of them.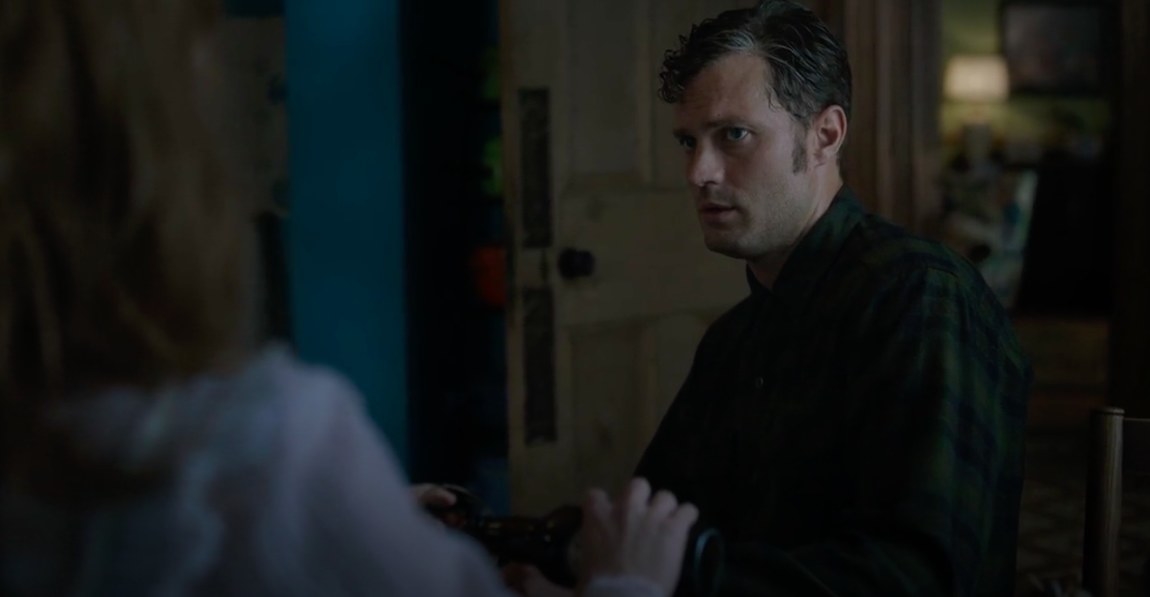 Rosemary tells Anthony she is extremely depressed and suicidal, basically because of him, and he's like "we all have anxiety" and what follows is the most bananas piece of dialogue (at least, until the Plot Twist):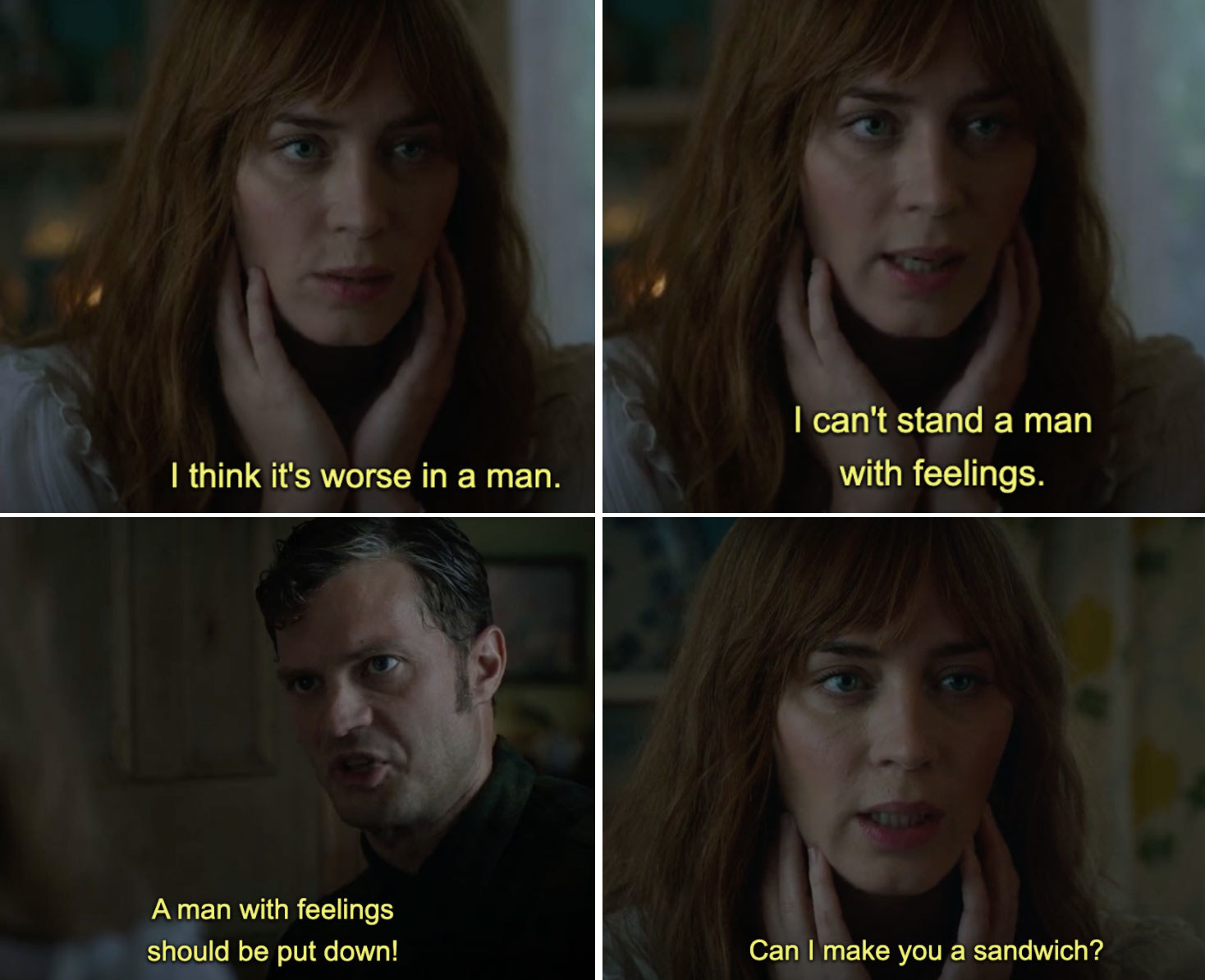 Anthony swiftly moves on from the whole Rosemary-is-suicidal portion of the conversation to tell her that he's thinking of giving her away to his American cousin Adam, like she's some kind of prize cow.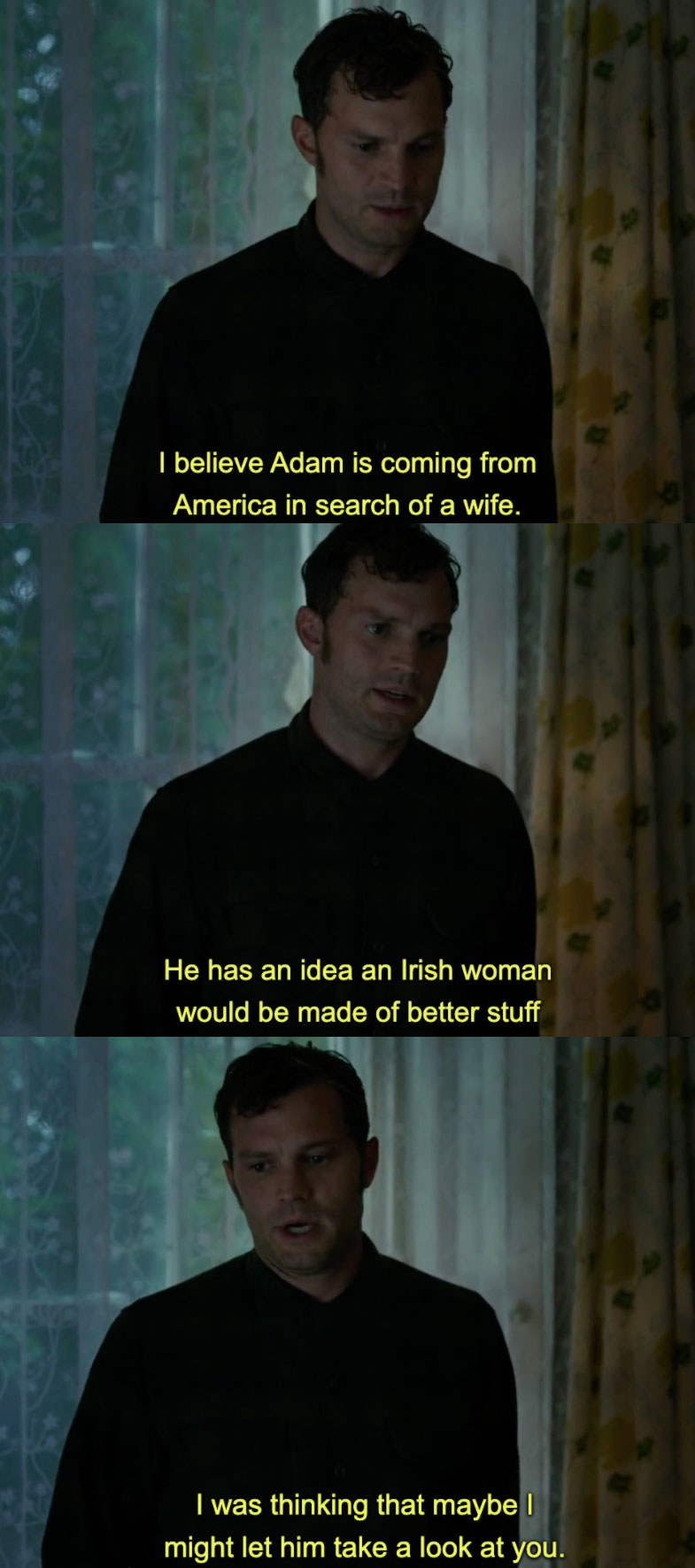 Rosemary is, understandably, not impressed.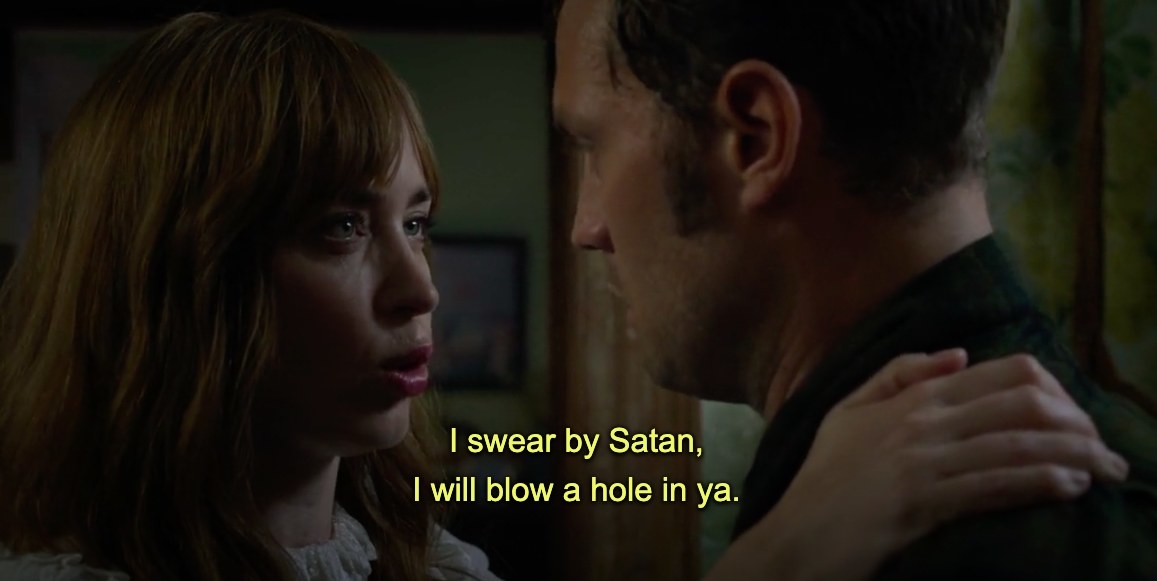 A lot more words with very little meaning are exchanged. By this stage, I had the distinct sensation I was having a fever dream. I did not in fact have a fever. But this movie was three lines of dialogue away from giving me one.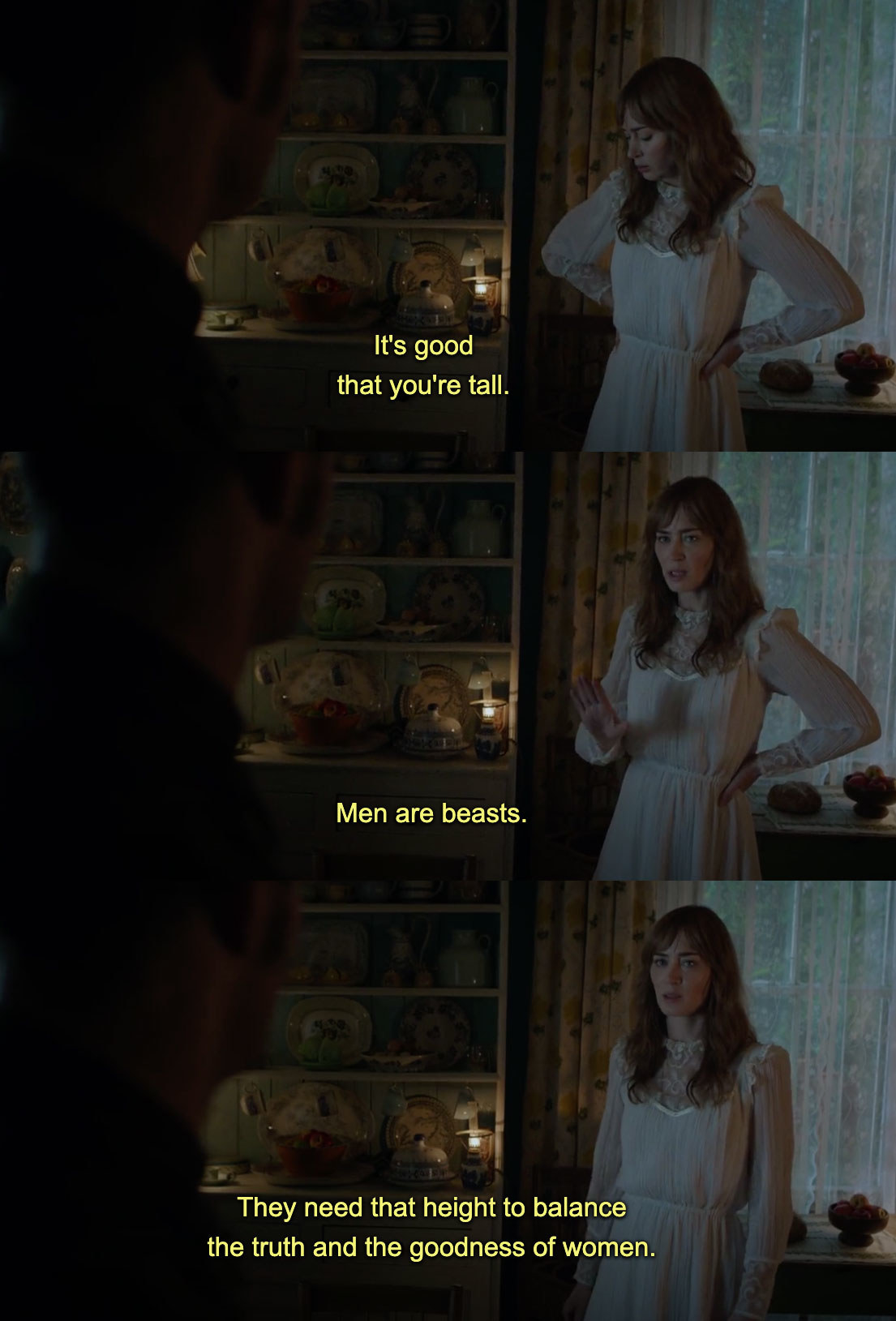 Okay. Let's take a moment to pause. Because we're about to reach the Plot Twist. THE PLOT TWIST. Rosemary first asks Anthony if he's gay or in love with the donkey, to which he gives two horrified "nos".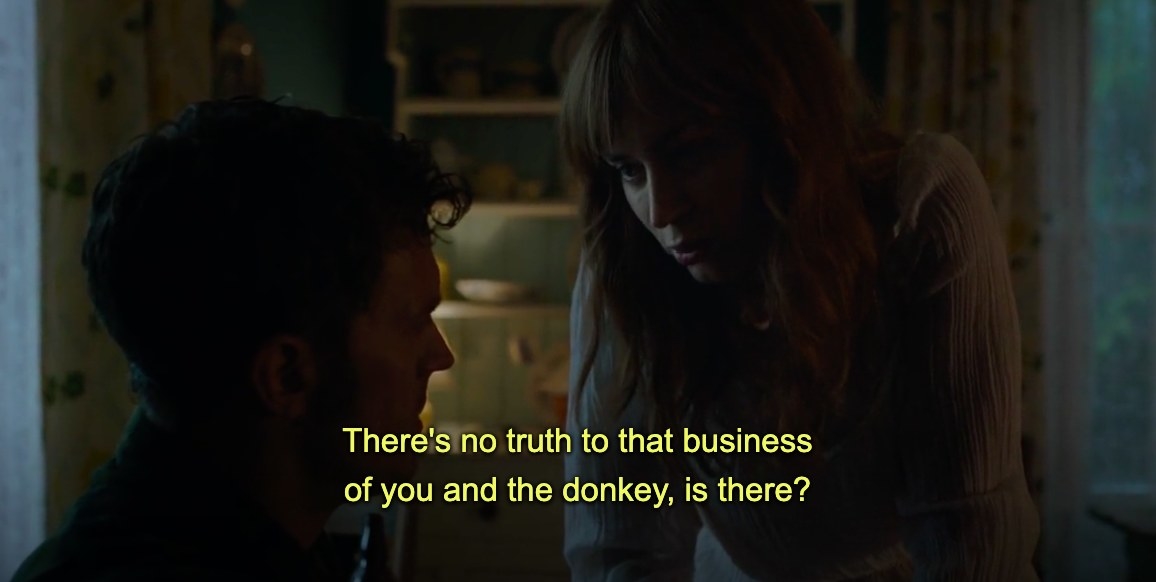 And then...drumroll please...we finally get there. The Twist. Rosemary gets Anthony to admit why he's been avoiding a relationship with her his whole life. We've waited an hour and 20 minutes for this moment. It must be seen to be believed:
Rosemary's immediate response is "lol wtf is wrong with you" and "you're killing me".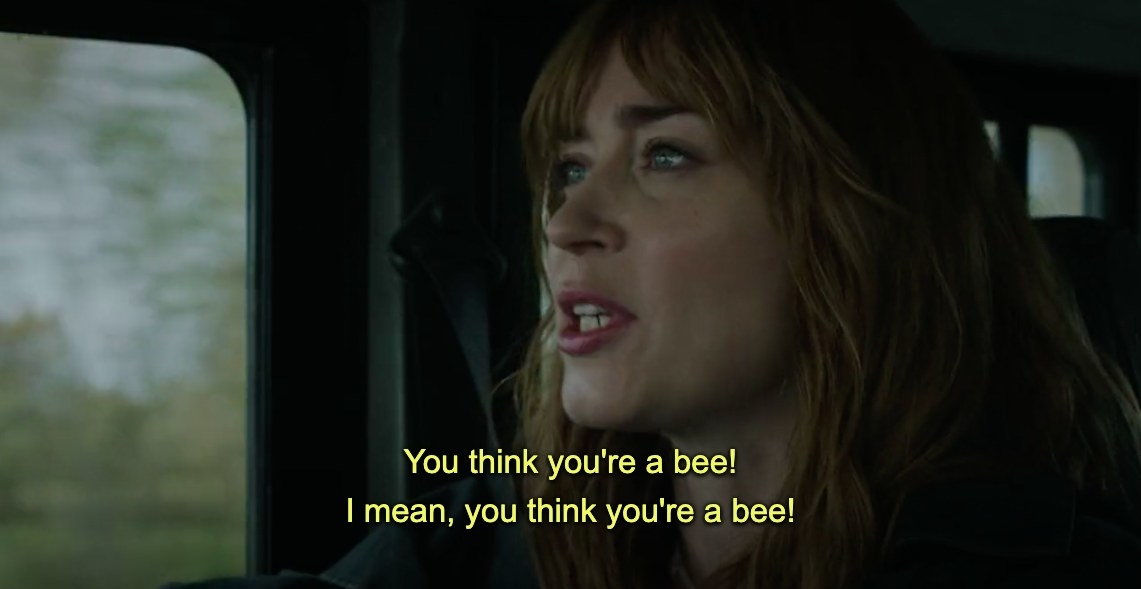 But then Anthony says she's the flower to his bee and she comes around pretty quickly.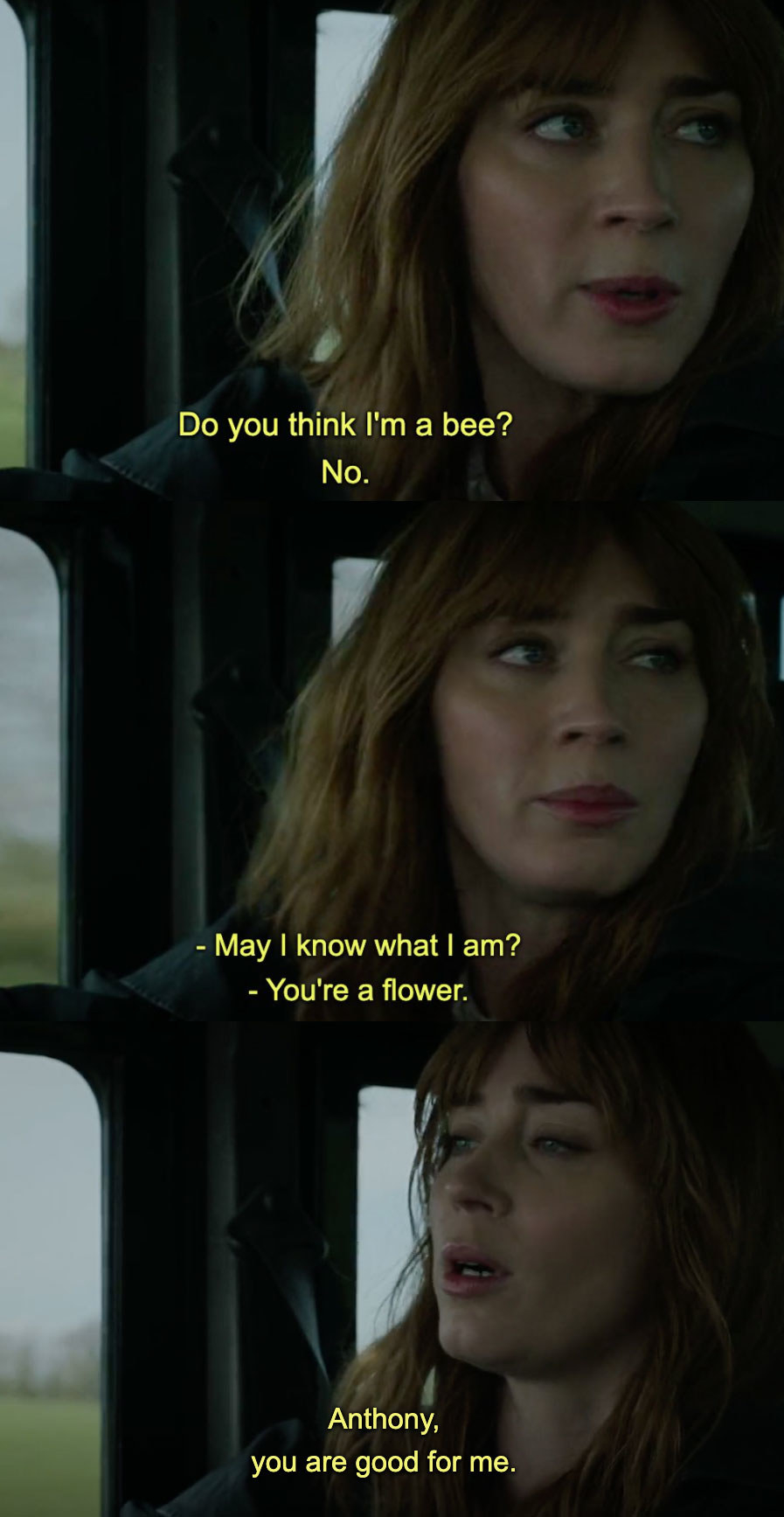 Rosemary then...tries to tell him he's normal? And everyone is weird? And he's like, oh no I'm a special kind of weird. AND HE IS RIGHT. But Rosemary tries to match his weirdness with the whole swan thing and honestly by this stage I felt like I was the one who had lost my mind.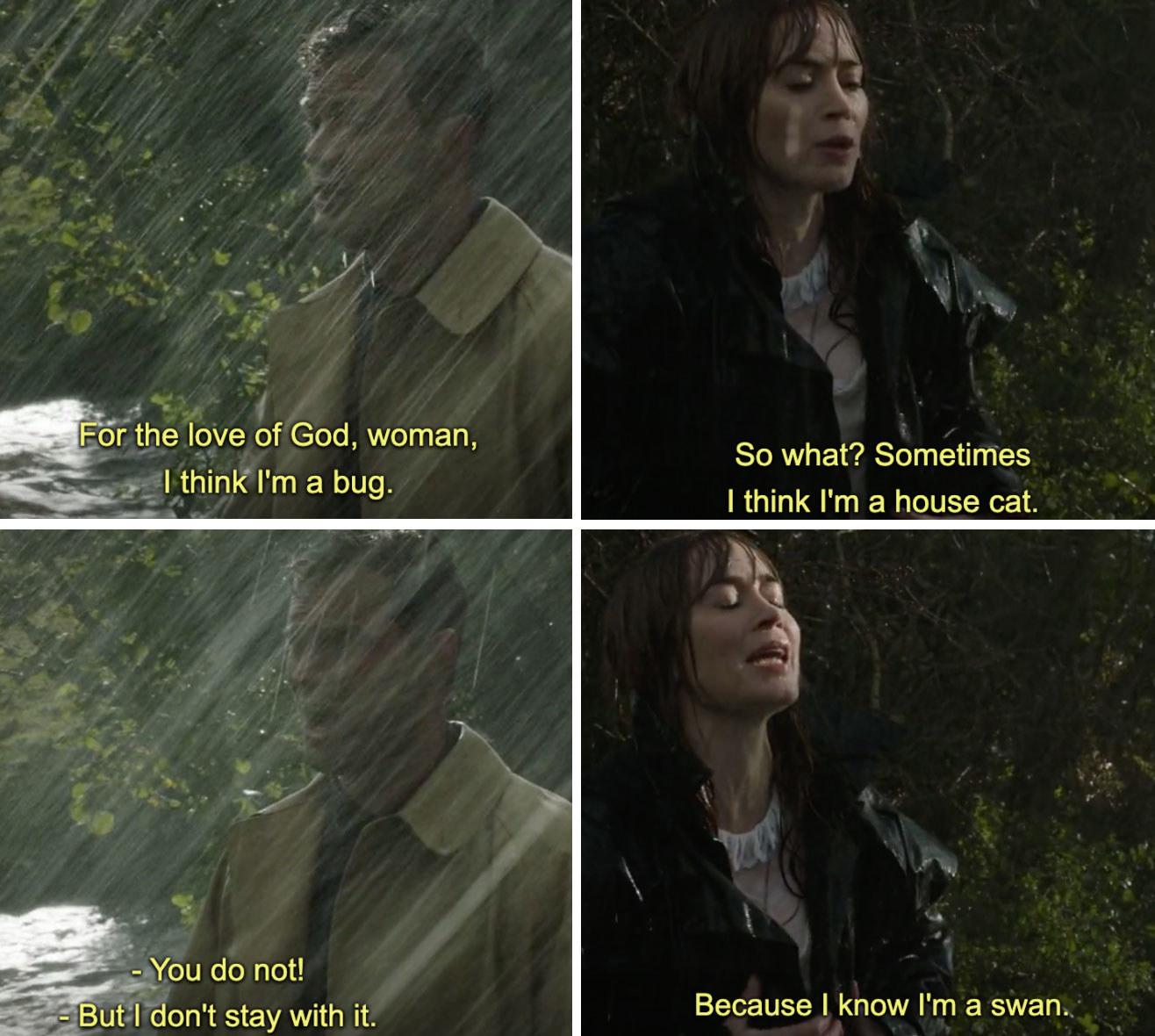 Rosemary spends a few more minutes convincing Anthony to marry her — because somehow, he is the one who still needs convincing in this situation. And then she reveals she has his mother's ring, and he takes that as a positive sign, and they kiss, and he carries her towards a patch of dry land because after 90 minutes he has had enough of being wet.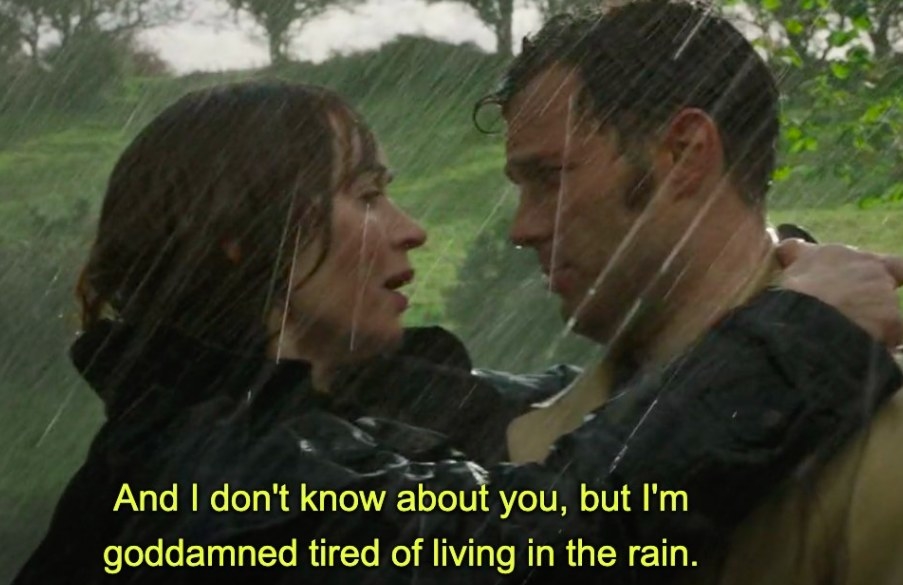 The movie ends with a finally-dry Anthony singing the Wild Mountain Thyme song at the pub with Rosemary, and the camera pans around the room to show that every dead person is there to enjoy the singalong too, including Dead Christopher Walken, the narrator.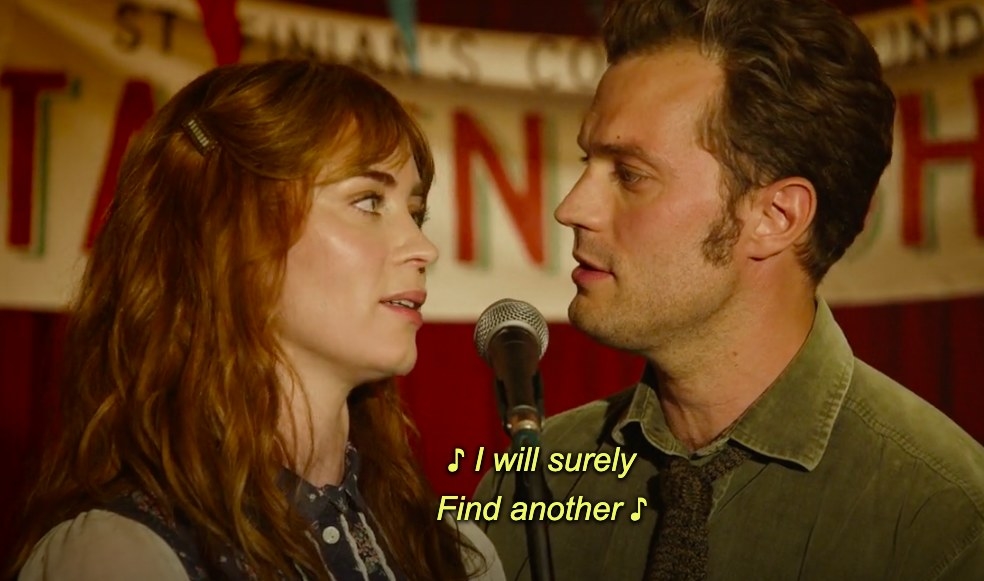 And so ends the actual strangest movie I have ever seen. Questions about it will haunt me for the rest of my life.