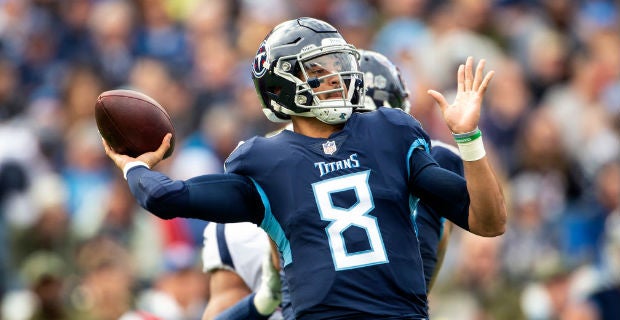 After almost a week of knowing that Marcus Mariota will be a Las Vegas Raider, we now know the contract terms. Last Monday it was reported that the Mariota had come to terms with the Raiders but terms of the deal had not been released for over a week.
Earlier today, NFL Network's Mike Garafolo reported that the team gave Mariota a two-year contract.
"Raiders gave Marcus Mariota a two-year, $17.6 million deal that includes $7.5m in the first year as a fully-guaranteed base salary," Garafolo tweeted. The NFL Network reporter then followed up with the structure of Mariota's deal, which is heavily incentivized on his performance.
"Mariota gets up to $2.4 million if he plays 60% of the snaps in 2020. Another $1.5m is available in per-game playing time and win incentives. Has $10m in those incentives available in 2021. Also $2 million in playoff/Super Bowl incentives each year + $12m in 2021 salary escalator"
NFL Network's Tom Pelissero calculated the maximum value of the deal could be worth around $45 million if Mariota hits all of his incentives.
The news of the Raiders agreeing to terms with Mariota was originally broken by Garafolo, who posted the news last week, saying "The #Raiders are pushing to close out a deal with QB Marcus Mariota, sources tell me and @RapSheet."
Ian Rapoport added in a reply to Garafolo's original report, "The #Raiders have had eyes on Marcus Mariota, the former #Titans first-round pick, for some time. Sounds like he has a landing spot." Rapoport later reported that Mariota and the Raiders had agreed to a contract.
ESPN's Adam Schefter joined the network's NFL free agency special last week to discuss the news of the Raiders coming to terms with the Las Vegas Raiders.
"He'll go in there and hope to do what Ryan Tannahill did in Tennessee," Schefter said. "Get a chance at some point in time, prove that he can play, revive his career and get a chance to prove that he is the man that people thought he was when (Tennessee) drafted him out of Oregon."
Former NFL executive Mike Tannenbaum thinks that Mariota can mesh with what the Raiders bring offensively. First off, Tannenbaum knows that the Raiders are looking for production and Mariota could bring that.
"When you look at their offense, they did a lot of good things but they couldn't score points. They were under 20 points per game and they were 24th in the league," said Tannenbaum.
The Jets general manager from 2006-2012 and the Miami Dolphins' Executive Vice President of Football Operations from 2014-2018, Tannenbaum now works for ESPN as their NFL front office insider. Tannenbaum agreed with Schefter that Mariota could replace Carr, especially with the Raiders offense under Jon Gruden.
"I think Derek Carr is on a really short leash. And what you look at what Jon Gruden has done in his past, having some athleticism at quarterback, which Mariota has, I think that's a good fit," said Tannenbaum.
Mariota finished up his five-year rookie contract with the Tennessee Titans this past season. The former Oregon quarterback was benched in favor of Ryan Tannehill, who the Titans re-signed during this year's free agency.
One of the biggest questions Mariota faced this offseason was if teams would sign the former Oregon quarterback to be a starter or backup for the 2020 season. With the two-year contract, it looks like the Raiders are going to hope that Mariota can bring some competition to the quarterback spot with Derek Carr.