Quad nations join for second phase of Malabar naval exercise off India's coast
by
Wyatt Olson
Stars and Stripes
October 14, 2021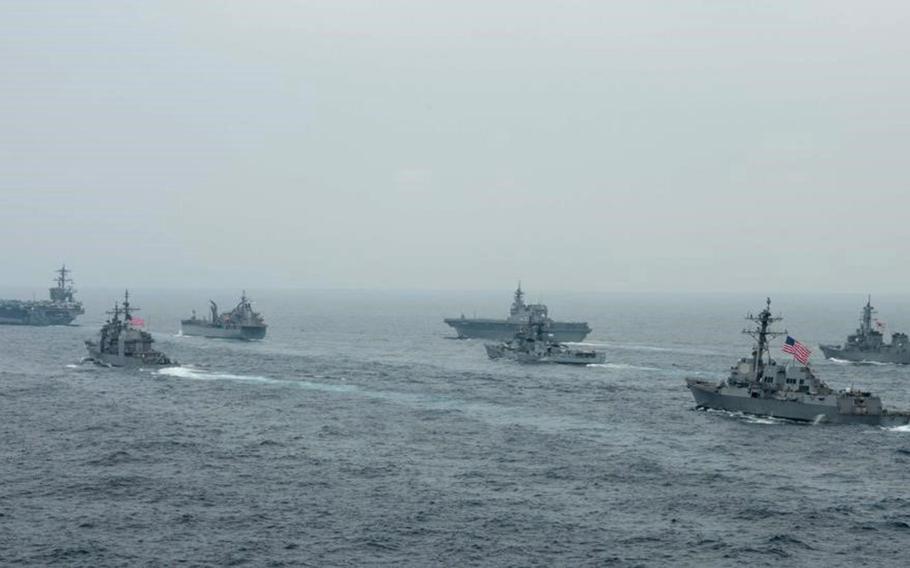 Naval forces from the United States, India, Australia and Japan kicked off the second phase of Exercise Malabar in the Bay of Bengal this week with an armada led by the aircraft carrier USS Carl Vinson.
The annual exercise is a chance for the countries to share tactics and procedures to better prepare for operating together under any contingency.
The first portion of the exercise took place in the Philippine Sea in late August. The second began on Monday.
The four nations have increased their cooperation through participation in the Quadrilateral Security Dialogue, or Quad. Its stated purpose is to promote "a free-and-open Indo-Pacific," but it is essentially a means of countering China's growing economic, political and military influence in the region.
President Joe Biden hosted the first Quad Leaders Summit at the White House in September. Adm. Mike Gilday, chief of naval operations, is meeting with senior naval leaders in India this week.
During an online news conference with Indian media Tuesday, Gilday said the Malabar exercise could expand to include, for example, Great Britain.
"In the future, that exercise may expand," he said. "I think it's up to our partners in the Quad to discuss it. Remember that like-minded allies and partners are working together."
In late September, Australia, the United Kingdom and United States announced a newly formed security partnership, dubbed AUKUS, which would deliver a fleet of nuclear-propelled submarines to Australia as a first step.
The Royal Navy carrier HMS Queen Elizabeth and its strike group deployed to the Pacific late this summer and has been operating on and off with U.S. and Japanese vessels.
The second phase of Malabar includes anti-submarine warfare training target exercise, cross-deck helicopter operations, a surface gunnery drill and replenishments-at-sea.
Vessels participating from the Carl Vinson strike group are the guided-missile cruiser USS Lake Champlain, the guided-missile destroyer USS Stockdale, Carrier Air Wing 2 and a P-8A Poseidon maritime patrol and reconnaissance aircraft, the Navy said.
The Indian Navy has brought the guided-missile destroyer INS Ranvijay, multirole stealth frigate INS Satpura and a P-8I maritime patrol and reconnaissance plane.
Japan is participating with the helicopter carrier JS Kaga and the destroyer JS Murasame.
Australia is operating the frigate HMAS Ballarat and the tanker HMAS Sirius.
"Close cooperation with key partners with India, Japan, and the United States fosters our professional mariner relationships and enhance our interoperability," Cmdr. Antony Pisani, commander of the Ballarat, said in the news release.
Interoperability is a military buzzword that means the ability of one country's armed forces to use another country's training methods and military equipment.