The Lands End Hiking Trail in San Francisco is a perfect morning or afternoon spent hiking in San Francisco with kids! Read this before you go to the Lands End Hike in San Francisco with kids so you can be prepared! Lands End in San Francisco has been our favorite hike with our kids – and before we had kids! We took our engagement pictures here, and now we love to bring our kids and visitors. It's a perfect hike for everyone of all ages because it's easy and flat. Check out the map, tips, and guide to this place before you go so you know what to expect on the hike!
Disclosure: This post contains affiliate links, which means at no additional cost to you, I may receive a small amount of commission if you purchase something. You will pay the same amount as anyone else would be paying for the product, but you will help us keep this website up! Even with these affiliate links, all opinions are of our own, and none were provided or influenced by the companies or individuals that we are affiliated with.
Map of Lands End with Kids
Check out this map for different length hiking options and points of interest in Lands End in San Francisco!
What to Bring & Wear to the Lands End Hike in San Francisco
You can wear your normal hiking gear – or wear your normal clothes! You can make Lands End hike as easy as you want, or as long as you want (you can walk all the way to Golden Gate Bridge and beyond if you want to!) so what you wear really depends on how long you want to hike for. An easy, shortest visit to Lands End will be parking at the USS San Francisco Memorial Parking Lot. If you park here and go down the stairs, your "hiking" time will be about 5 minutes. You can do that in your heels!
We do recommend wearing your baby in a baby carrier if you are planning on hiking for more than 30 minutes, or want to go up and down stairs. You can go all the way down to the Sutro Baths and back with a stroller on the dirt path, but you will save some time if you can go down or up the stairs. We also take our travel stroller (our favorite – through 2 kids and trying over 5 strollers – is the Mountain Buggy Nano) and a carrier, since if we feel like carrying Andrew (who still goes in a carrier at 13 months), we can carry him and the stroller without any issues. If your kid likes to scoot, Henry loves to scoot here! We just carry the scooter when the surface is uneven or dangerous.
Besides a carrier, stroller, or scooter, don't forget your:
Camera – the view here is unreal
Rain boots/boots – if it rained recently, it could get muddy
The usual – diapers, wipes, bottles, sanitizer, etc.
Snacks for keeping them moving (or just preventing from meltdowns)
Snacks & Food Options at the Lands End Hike in San Francisco
There is a Visitor Center at the corner of the Main Parking Lot, right off of the main road – Point Lobos Avenue that has a cafe with usual cafe fare – it's an easy grab and go option when you are with kids. You can use the bathrooms there, and get your souvenir shopping done at the same stop! The souvenirs are super chic, and not cheesy at all – really cool San Francisco themed kids books, puzzles, and toys and nice California made gifts for adults are there too.
Within short (paved) walking distances from both parking lots, there are 3 restaurants. The Cliff House, Seal Rock Inn, and Louis.
The Cliff House and Louis have direct ocean views. Louis is a down-to-earth breakfast diner type of place. Open super early – 6:30 am! (Want to check out other things to do in San Francisco super early? Check out this post here.) Cliff House is a little fancier and the views to match it! Sutro's is more upscale than the Bistro (both at the same location). Seal Rock Inn Restaurant has breakfast and lunch items – including Greek lunch!
Parking at the Lands End Hike in San Francisco
There are 2 main parking lots in Lands End area. The Main Parking Lot, which is close to the Visitor Center, Sutro Bath, and the main streets leading to Louis and Cliff House. The USS San Francisco Memorial Parking Lot has a long stretch of spots from Point Lobos Avenue and ends up closest to the Eastern Coastal Trail Overlook, where you can see the Golden Gate Bridge. We like to park in the spots closest to Point Lobos Avenue, because that's where the Lands End Trail begins, and you can experience both the Coastal Trail and Sutro Bath easily from there.
We've gone there over the years at many different times, weekend and weekdays – we've never ever had problems parking there! (Just be on the lookout for events at Ocean Beach. Those are the only days we've encountered traffic getting to Lands End.)
Hiking Trails at Lands End San Francisco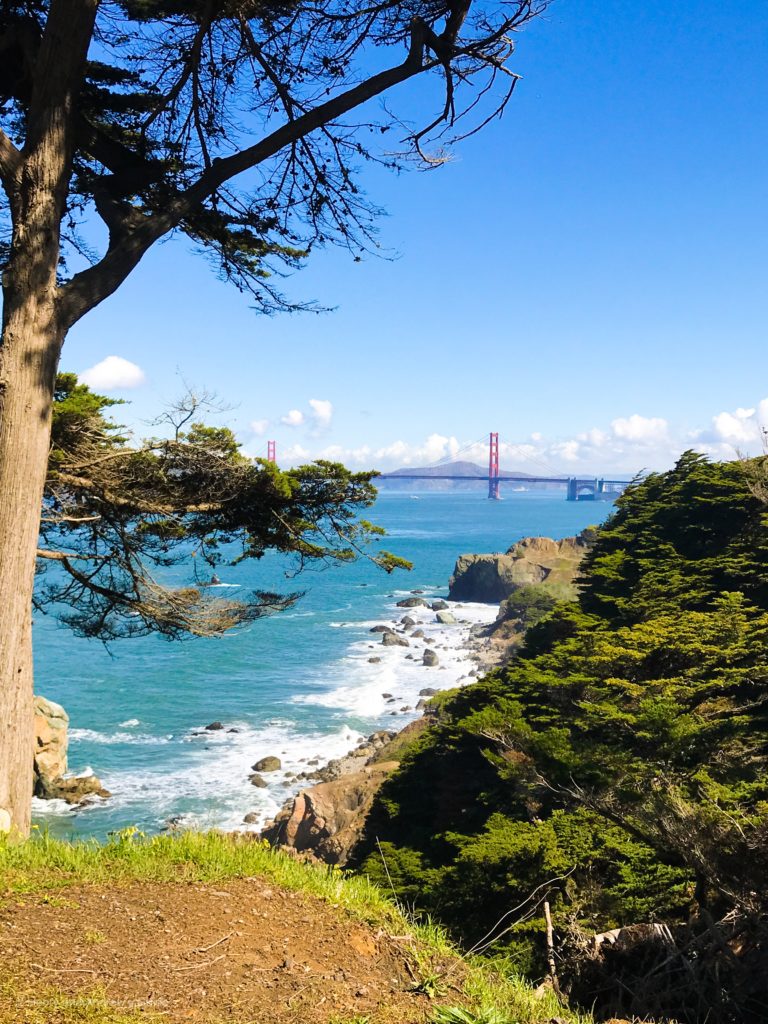 If you start your adventure at Lands End San Francisco with kids at the edge of Lands End Trail near Point Lobos Avenue, you can walk down to the Eastern Coastal Trail Overlook. This path is all stroller friendly and very easy. You can probably go another 5-10 minutes with a stroller, and it won't be so bumpy. The Lands End trail goes on and on for a while, including a big flight of steps. You can veer off to go check out the Mile Rock Beach, Lands End Labyrinth (which is a cool small labyrinth on the edge of the land made with rocks), and Lands End Smile. Some of these require going on steep hills and stairs. You will also pass by Legion of Honor up the hill and the Holocaust Memorial. When you come to the end of the Lands End trail, you can keep walking on El Camino Del Mar past China Beach, Baker Beach, and eventually to Golden Gate Bridge. We used to do this long hike, and make it all the way through the Marina to the Fisherman's Wharf! We haven't done that with the kids yet. Bucket list!
(If you happen to make it to Fisherman's Wharf and need ideas of free things to do there – check this post!)
The stroller-friendly hike that you can do in about 45 minutes (depending on how fast you and any kids walking with you walk) is highlighted in our map above. If you don't want to end your hike after 45 minutes and you have a stroller, you can always walk across the Point Lobos Avenue, towards the Seal Rock Inn, and go to the other side of the park! There you will have stroller and scooter friendly walks that extend this gorgeous ocean views.
As we mentioned before though, you can make this adventure a 5 minute one – or an all-day excursion!
Have you gone to Lands End in San Francisco with your kids? Tell us what you thought! Did we miss anything?