FREE Kentucky DMV Practice Test 2022 | KY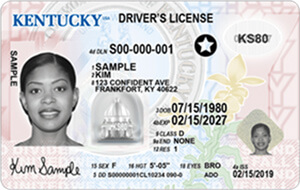 4.39 out of 5 • 4208 votes.
Based on 2022 KY driver's license manual
Available in English, Spanish and Russian
Instant feedback
This Kentucky KSP practice test has just been updated for February 2022 and covers 40 of the most essential road signs and rules questions directly from the official 2022 KY Driver Handbook. On the Kentucky written permit test, you must achieve a score of 80% to pass, which means that you must answer 32 questions correctly out of the 40 questions on the exam. The exam itself is available in several languages and can be administered as an oral exam for those who cannot read the exam in English. However, you must answer the section of the tests on road signs based on your "own knowledge and understanding," according to the Kentucky Driver Manual. If you fail the test, you can try again on the next available test-taking day. There is a $10 fee for your Kentucky learner's permit. In addition to normal requirements to receive your learner's permit, such as passing your vision and knowledge tests, providing proof of identification, and Kentucky residency, if you are under 18 you must have parental consent. You must also have your school complete a School Compliance Verification Form, required due to Kentucky's No Pass/No Drive Law.
Perfect for:
Kentucky Learner's Permit
Kentucky Driver's License
KY Senior Citizens' Refresher Test
KY Driver's License Renewal.
What to expect on the actual KY KSP exam:
40 questions
32 correct answers to pass
80% passing score
Minimum age to apply: 16
How does it work?
This practice test is a part of our comprehensive program, our best attempt at replicating the actual DMV permit/driver's license test you will be taking. The best part? A lot of the tests are free - just like this one! We recommend using them to get a feel for the format and the style of the DMV tests, and then checking out our Premium program if you want to take your studying to the next level (and dramatically increase your chances of passing the real test the first time around.)
KY KSP Driver's Handbook
View the most recent (2022) official KY KSP Driver's License Handbook.
Explore
More KY KSP Written Exam Resources
List of questions (classic view)
When passing a large vehicle, do not merge back in front of the vehicle until you can see its
If you are already moving through an intersection when the traffic light changes from green to yellow, you must
To guard against glare from the headlights of a vehicle behind you, you must use __________ and adjust it before you drive.
This warning sign indicates
You must dim your headlights whenever you come within _________ of an oncoming vehicle.
If you plan to turn beyond an intersection, you must
Before entering a curve, you should
What does this sign mean?
While driving, you should focus your eyes at least _________ ahead.
When exiting an interstate highway, do not start to slow down until you have moved into
When following a large vehicle that blocks your view ahead, you will need _________ to see around the vehicle.
What does this symbol mean?
When you come to a school bus or church bus that is stopped to load or unload passengers, you must
According to Kentucky law, you must complete a pass when
Hydroplaning may occur when your tires
This sign indicates
You must never turn your ignition key to the lock position while your vehicle is in motion, because it will cause
When two cars reach an uncontrolled intersection at about the same time,
In a skid, the most important vehicle control device is
What does this sign mean?
In Kentucky, you are considered intoxicated if your blood alcohol concentration (BAC) is at least
In Kentucky, the legal speed limit on state highways is
A flashing yellow arrow means
This emblem on the rear of a vehicle means that
You may only make a left turn on a red light
What should you do if you miss your exit on an expressway?
A turnabout is a legal way to turn your vehicle around. It is also known as
What does this traffic signal mean?
In bad weather when visibility is poor, you should use _________ to make it easier to see ahead.
When an emergency vehicle is approaching you from either direction, displaying flashing red lights or sounding a siren, you must
_________ are large areas around trucks or other large vehicles where cars may disappear into blind spots.
What does this sign mean?
In a roundabout, you must keep to the right of the central island and drive in
If you are parallel parked on the right side of a street, you should _________ before you pull out into traffic.
You are parking against the curb and facing uphill. Which way should you point your front wheels?
What does this sign indicate?
At railroad crossings that are only marked with a stop sign, you should stop and then proceed only when
To avoid causing a rear-end collision, you must maintain at least a _________ following distance.
According to Kentucky law, _________ must wear safety belts or suitable child restraints.
What does this sign mean?