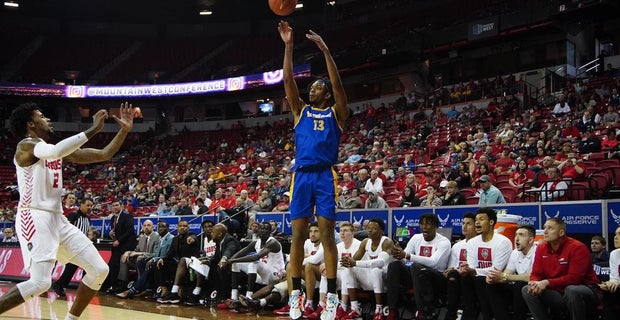 BYU has been dabbling in the transfer portal for the last several months and they finally landed the wing player that they have been looking for. Former San Jose State and LSU wing Seneca Knight announced that he has committed to Mark Pope and BYU for this season. He will join the Cougars and fill a big role this season.
New Beginnings?? #gocougs pic.twitter.com/GJIaHoVazc

— ???????????? ???????????? (@sen_13_) July 19, 2021
Knight joins Te'Jon Lucas as BYU's two additions from the transfer portal this season. They will be welcomed by Alex Barcello, who was also heavily recruited by BYU before he decided to take advantage of an extra year of eligibility and come back for one more season. Those three along with the rest of BYU's roster have the makings of one of BYU's best basketball teams since Jimmer Fredette was in Provo.
Knight can score, and he is still just scratching the surface of how good he can actually become. As a sophomore at SJSU, Knight averaged better than 17 a game while shooting 40% from the field and hovering around 30% from three-point range throughout the season. BYU believes he can continue to improve this season and they are confident that the combination of his new teammates and Pope's offense will bring out even more in what he can bring to the floor.
Knight's new teammates might be excited that he is coming to Provo, but they certainly aren't willing to roll over and simple concede their playing time to him. He is going to have to earn his minutes on a deep, talented BYU roster.
Knight will compete with Gideon George, Trevin Knell, and Spencer Johnson for starting time. The rest of the likely starting lineup will consistent of Barcello, Lucas, Caleb Lohner and Richard Harward. Knight appears to fit in nicely with those other four starters, but there is no denying that the outside shooting threat of Johnson or Knell will be appealing for the coaching staff. George also brings a defensive versatility and a scorer's mentality that will prevent Knight from simply being guaranteed a starting position. The competition will be tough.
The 6-7 Knight has drawn comparisons to UCLA's Johnny Juzang, according to Cougar Sports Insider basketball expert Steve Pierce. He has the length and the slashing ability that makes that comparison seem really accurate. He fills what BYU desperately needed during their NCAA Tournament game against UCLA last season - a guy who can score without relying on the three.
BYU's roster now stands at 16 players. Pope has proven in the past that he is willing to dig deep into his bench, but it is incredibly unlikely to see a scenario where all 16 guys are playing this year. Barcello, Lucas, Lohner and Harward are likely starters. Knight, who has two years of eligibility left, isn't being brought in to sit on the bench and he will certainly see time, as will George, Knell, Johnson and, if he's healthy, Gavin Baxter. That would give BYU 10 players who round out all five positions really well. Those 10 players are likely the players who will lead BYU in minutes played at the end of the season.
There is still a chance for a guard to step up. Hunter Erikson and Trey Stewart could both work their way into the back end of the rotation by the end of the season.
Atiki Ally Atiki and Fousseyni Traore are both highly talented freshman. Both of those bigs could also work into the rotation as the year goes on as well. Harward and Baxter are clearly the favorites to start at the five when the season is new, but if they struggle to score and struggle to stay on the floor (like they have in the past) then the opportunity for one of BYU's talented freshman to steal their playing time is there.
All things considered, this BYU basketball lineup is looking deep and it is looking dangerous.