Sign In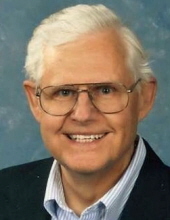 John Nelson Tunstall
John Nelson Tunstall, age 77, of Knoxville and formerly of Oak Ridge, passed away Wednesday, May 9, 2018 at the University of Tennessee Medical Center. He was born May 10, 1940 in Raleigh, North Carolina, the son of George Ellis Tunstall Sr., and Lena Mae Ferrell Tunstall. Nelson came to Oak Ridge in 1964 from Raleigh and began working at Union Carbide Nuclear Corporation. He retired from SAIC where he was a computer scientist. He was a long-time member of First Baptist Church in Oak Ridge, where he had served as deacon and was active in many of the church activities. Nelson's interests included Toastmasters, Ball Room dancing, hiking, music and community services. Nelson is survived by wife, Jo Ann Duckett Tunstall, with whom he would have celebrated 18 years of marriage on October 14th; son, Brian Tunstall and wife Robin of Powell and their children Bethany and Madison; daughter, Rachel Berry and husband Jonathan of Woodbury, MN and their children Kenan, Nora and Ingrid; step-daughters, Shannon Lain and daughter Sheridan and Allison Hobbs and daughter Rayne, all of Toone, TN; brothers, George Ellis Tunstall Jr., and wife Jeanie of Mechanicsville, VA and David Tunstall of Greene County, TN. Nelson and Jo Ann were also the legal guardians of grandsons, Joseph Lain and John Hobbs, whom he considered to be his children. Also surviving are many close friends, colleagues and church family. The family will receive friends on Monday, May 14, 2018 from 5 – 7pm at First Baptist Church of Oak Ridge. The funeral will follow at 7pm with Rev. Rory Naeve officiating. Friends and family will gather on Tuesday at 9am at Oak Ridge Memorial Park for a graveside service. The family asks that any memorials be made to First Baptist Church Youth Ministries, 1101 Oak Ridge Turnpike, Oak Ridge, TN 37830; St. Jude Children's Hospital or the American Diabetes Association. Weatherford Mortuary is handling the arrangements. An online guest book can be signed at www.weatherfordmortuary.com.
May 10, 1940 - May 9, 201805/10/194005/09/2018
Recommend John's obituary to your friends.
R
Robert W. Browell
May 16, 2018
I am sorry I was unable to attend Nelson's reception. I enjoyed working with him over the years and wish his family well.
Robert W. Browell
N
Northwest Middle
May 14, 2018
Keeping Brian and the entire family in our thoughts and prayers.
~Staff at Northwest Middle
T
Tribute Store
May 14, 2018
K
Karen Jenkins
May 13, 2018
Brad and I are so saddened to hear of Nelson's passing. We met Nelson several years ago and were so blessed to have known him. He was an intelligent and funny man and always looked forward to seeing him each week for that hour. Our prayers to all of you. -Brad and Ka...
Continue Reading
C
Carol (Thomas) Huber
May 12, 2018
I'm so sorry to hear about Mr. Tunstall. I was so lucky to have had him as a Sunday School teacher when I lived in Oak Ridge and went to FUMC. He was a wonderful man. Thoughts and prayers to all of his family and friends.
T
Tribute Store
May 11, 2018
Mr Nelson, I will remember you in so many positive ways. You are always wearing a big smile, and you possess a great sense of humor. I am grateful for you sharing with me how things were in your college days and your early professional career. I could have had lunch with...
Continue Reading
T
Tribute Store
May 11, 2018
T
Tribute Store
May 11, 2018