First Generation 1948 – 1952
1948 – In January 1948, a new era began at the Ford Motor Company with the release of an all-new line of trucks that Ford dubbed the "F-Series."
This new series, which Ford promoted as its "Bonus Built Line," covered a wide range of models with different cab and chassis combinations. The line started out with light-duty 1/2-ton-rated pickup trucks and ran all the way up to the Extra Heavy-Duty, three-ton-rated F-8. These trucks used a completely redesigned cab with all-new front-end sheetmetal. And in a departure from previous practice, the same cab served both conventional and Cab-Over-Engine models.
Along with the fresh styling given 1948 Ford trucks came new model designations; this 1/2-ton was labeled the F-1. Squared-off front fenders wrapped smoothly into the front fascia, which contained a prominent horizontal-bar grille. Rear fenders were styled to match the profile of the fronts. Also new was a one-piece windshield.
1951 – Ford trucks received a number of revisions for 1951. Restyled for the first time since their 1948 debut, Ford's F-Series received modified front fenders, grille cavity, and grille. Also changed were the hoods and cabs, along with the dashboard and rear window, which was now substantially larger for better visibility.

Also for 1951 — and for the first time since the late 1930s — Ford offered truck buyers two levels of cab trim: the standard Five Star Cab and the deluxe Five Star Extra Cab. The latter came with such niceties as foam seat padding, extra sound-deadening material, bright metal trim around the windshield and vent windows, an argent-finished grille bar, locks and armrests on both doors, two-toned seat upholstery, a dome light, and twin horns.
Pickup beds now had a wood floor rather than steel, and note the larger rear window that accompanied the 1951 redesign. As advertised on its nose, this truck carries Ford's 239-cubic-inch flathead V-8, still rated at 100 horsepower.
1952 – Ford truck styling was altered little for 1952, with the most noticeable change affecting the nose and side trim on the trucks' hoods. Beneath the hood was a different story, however, as a new six-cylinder engine boasting overhead valves was introduced. Sized at 215 cubic inches, it produced 101 horsepower, six more than the 226-cid flathead six it replaced. The flathead V-8 continued to be used in Ford pickups as before, although cars and heavy-duty trucks offered overhead-valve V-8s.
While the Grilles are the same for 51 & 52, the main difference is that FORD is spelled out in block letters across the panel that separates the fenders.
Then, the trim on the front of the hood, is where V8 (if so equipped) appears.
Second Generation 1953 – 1956
1953 – Ford Motor Company celebrated its Golden Anniversary in 1953 by introducing a totally redesigned line of F-Series trucks. It was the first redesign of the truck since 1948. 1953 trucks received a longer hood that flowed into the front fenders, along with horizontal grille bars. Cabs were also new, boasting more glass area. Instead of calling these trucks the "Bonus Built" models, as they had been from 1948 to1952, Ford now referred to them as the "Economy Truck Line." Joining the new name was a new hood emblem: a gear cog bisected by a lightning bolt below the Ford script. And for the first time in Ford-truck history, an automatic transmission was offered as an option, though initially only on F-100s. This would prove to be the final year for the flathead V-8.
The company also took this opportunity to change its model designations, adding "00" to the end of the existing monikers. Thus the F-1 became the F-100, and so on. These designations are still used today.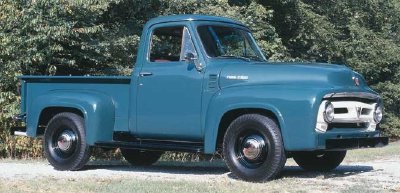 1954 – The 1954 model year brought the end of Ford's famous flathead V-8 engine, replaced in trucks that year by the overhead-valve V-8 already two years old in Ford's car line. Referred to as the "Y-Block" engine, it displaced the same 239 cubic inches as the flathead, but produced nearly 15 percent more horsepower. Also for that year, the automatic transmission option was expanded to include F-250 and F-350 trucks.
Another grille change marked Ford's 1954 trucks, this time adding a pair of prominent vertical guards. The V-8 badge on the grille indicates this pickup has Ford's new overhead-valve V-8. At 239 cubic inches, displacement was the same as the flathead's, but horsepower rose from 110 to 130.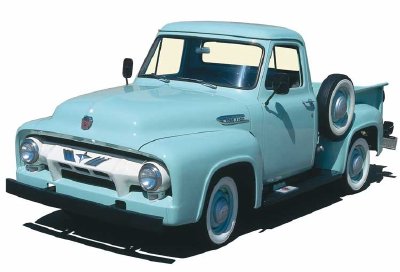 A cross in the center of this 1954 Ford F-100's grille (above) indicates that the truck carries the revised six-cylinder engine Ford issued for 1954. A bore increase brought it up to 223 cubic inches and 115 horsepower from 215 cid/101 hp.
The six chrome hash marks that flank the cross indicate this is a Deluxe model, which had fancier trim. Adopted with the 1953 redesign (and featured on this vehicle) was a new hood badge featuring a lightning-bolt/gear-wheel motif below the famous Ford script.
1955 – Yet another change to grille design differentiated the 1955 Ford trucks from the 1954s. The vertical guards were dropped in favor of a V-shaped dip in the upper bar, which again carried an indicator of a six-cylinder or V-8 engine. Less obvious were the switch to tubeless tires on F-100s and the newly optional power brakes. Not surprisingly, the F-100 with the 6-1/2 foot bed was Ford's most popular truck in 1955.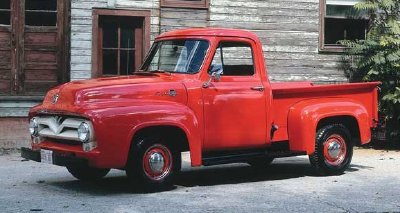 1956 – In an effort to match the redesigned Chevrolet trucks that had appeared for 1955, Ford attempted to modernize its F-Series trucks by giving them wraparound windshields and restyled dashboards. Ford's 1956 truck grilles got the customary annual update, and now boasted a "Back to the Future" look very similar to that of the 1953 Ford truck models.
Third Generation 1957 – 1960
1957 – Ford's F-Series trucks now sported a completely new look that was more square and modern, while at the same time featuring a wider cab, hidden running boards, flush-mounted front fenders, and a wider, full-width hood. The 1957 model year also brought a choice of two pickup beds: the traditional Flareside, with a narrow bed and attached rear fenders, and the new Styleside, with straight-through fenders. A straight-sided bed was nothing new to the industry, but unlike other manufacturers, Ford offered its Styleside pickup box at no extra charge. pickup beds were offered in 6-1/2 and 8-foot lengths for the 1957 Ford F-Series trucks. Engine choices included a 223-cubic-inch six, with 139 horsepower, and a 272-cid V-8 with 171 hp.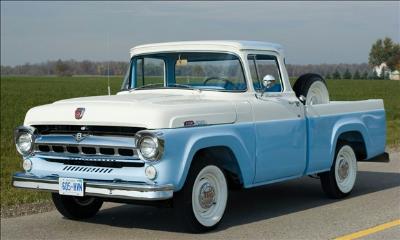 1958 – nearly all Ford trucks were restyled to accommodate quad headlights. For the F-Series trucks, that meant a restyled grille — which they had been getting every year anyway. But the big change — literally — was a new line of heavier-duty model trucks called Super Duty, which came equipped with new V-8 engines of up to a whopping 534 cubic inches. By this time, interiors were beginning to show some style themselves, with contoured dashboards and car-like instrument panels.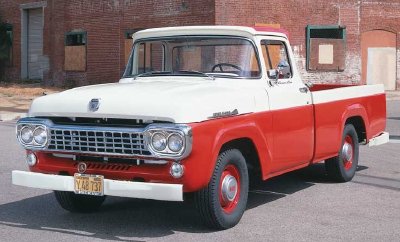 1959 – For the first time in Ford history, a light-duty truck buyer could buy a factory-built 4×4 Ford truck. Previously, Ford trucks had been converted to four-wheel drive by outside manufacturers such as Marmon-Herrington, Napco, or American-Coleman. Although more buyers still chose the 6-1/2 foot bed for their F-100 trucks, the 8-foot bed was gaining in popularity and would eventually surpass its shorter sibling in sales. Likewise, the smooth-sided Styleside bed sales would soon top those of the "traditional" Flareside.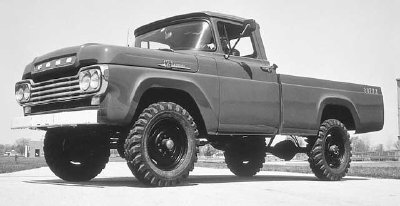 1960 – Ford trucks would have the same body for 1960, but the grille would extend down to the bumper and was joined by slots in the hood's leading edge.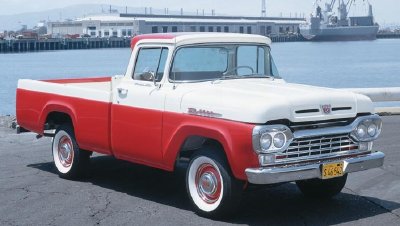 Fourth Generation 1961 – 1966
1961 – Ford F-100 Styleside pickup beds were integrated with the cabs in an F-Series redesign for 1961. Traditional Flareside beds continued to be offered as well, and both styles were available in 6-1/2 and 8-foot lengths.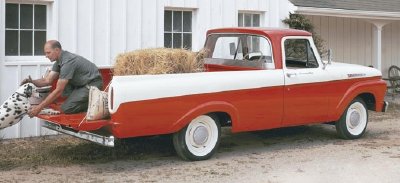 1962 – The Ford F-Series' grilles were slightly revised for 1962, replacing the FORD lettering in the middle with cross bars. Also for 1962, F-Series Styleside 4x4s came with a separate cab and bed, as shown here.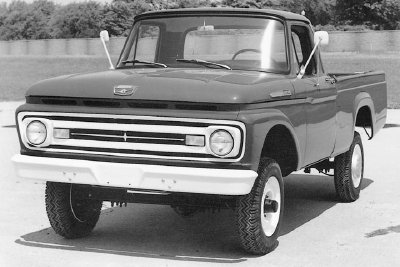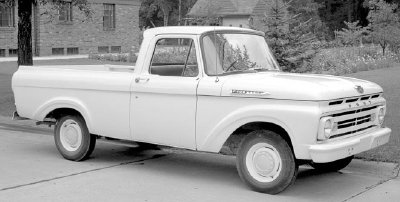 The cab and bed remained integrated on 1962 F-Series 4×2 models (as shown here), although these trucks also would offer the separate cab and bed by midyear.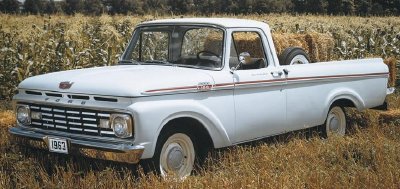 1963 – The 1963 F-100s were offered with three different bed designs: a separate Styleside; a traditional Flareside; and a Styleside integrated with the cab, a version that would be dropped after 1963.
1964 – 1964 brought a separate box for Styleside models, rendering the "unibody" pickup trucks a thing of the past. Also new was a brace of gas engines for the medium and heavy-duty Ford truck lines.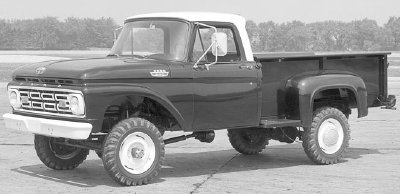 Grilles changed a bit on the popular Ford F-Series trucks in 1964, as shown on this F-250 4×4, which sports an eight-foot Flareside bed.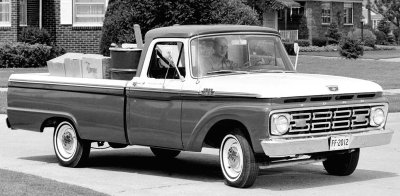 By 1964, an F-Series pickup could be fitted with such car-like features as two-tone paint and air conditioning.
1965 – In 1965, the Twin I-Beam front suspension was introduced with coil springs.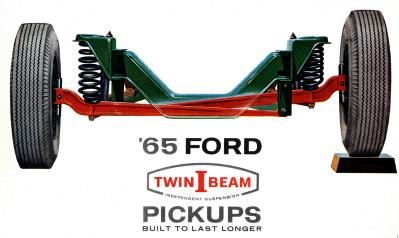 The 1965 and 1966 trucks have a "TWIN I-BEAM" emblem on the front fender.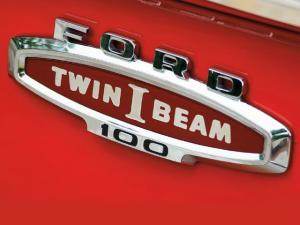 It was offered only on light-duty two-wheel-drive F-Series pickup trucks, giving them a softer ride and better handling characteristics. Also in 1965, the name "Ranger" is first introduced as a styling package for the F-Series pickup trucks.
Ford started offering a 4-door crew cab on the F-250 and F-350 in 1965. Before 1965, Ford farmed out trucks to a number of coachworks across the country to convert the regular cab trucks to crew cab trucks. These trucks were sold at the Ford dealerships (or even directly through Ford for large orders of vehicles) and many of them still carried a Ford warranty since they were authorized builds. Ford, however, never actually started normal in-house production until 1965.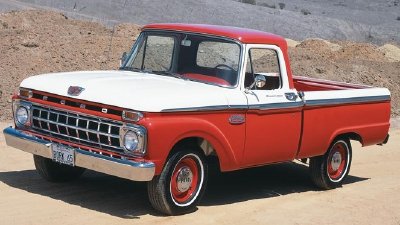 1966 – A restyled grille was the only change of note to the 1966 F-series pickup trucks. This restored example boasts upscale Custom Cab trim.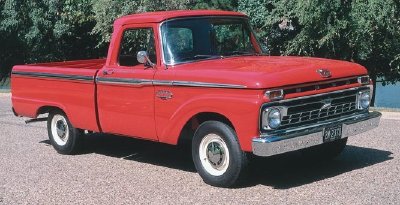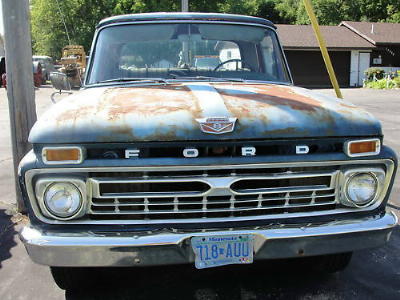 Fifth Generation 1967 – 1972
1967 – Ford's F-Series trucks were restyled for the 1967 model year, although the extra-heavy-duty models still used the earlier 1961-1966 cab and front sheetmetal.
1968 – In 1968, federal regulations required all automotive manufacturers to add side marker reflectors or lights, so Ford redesigned the hood emblems to incorporate reflectors.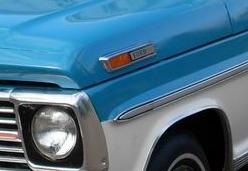 (Side marker reflector on hood)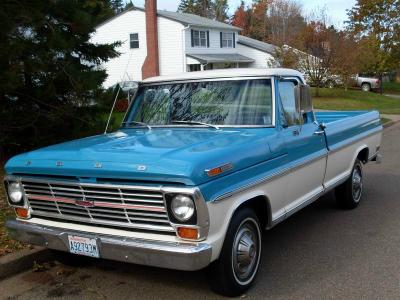 The same year the trucks received larger versions of Ford's FE engine family with the introduction of the 360 and 390 cubic inch engines. Also changed for 1968 were the heater controls, arm rests, interior door handles and window cranks, and the upper trim moulding on models so equipped. Rear side marker reflectors were also added to the lower bed side panels in 1968, per government regulations.
1969 – A Contractors Special package was offered on 1969 Ford F-Series pickups, which included side boxes for the bed and an optional underhood 110-volt generator. F-Series grilles were changed only slightly for 1969.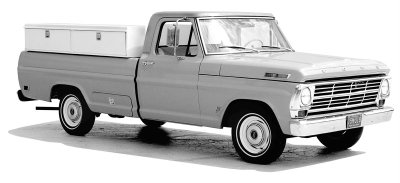 1970 – The gradual push toward comfort and luxury in light trucks gained added momentum at Ford with the arrival of Ranger XLT trim for certain F-Series models. The Ranger XLT was the top trim package with Ranger, Sport Custom and Custom rounding off the rest of the line. XLT equipment bested Ranger gear with items like a woodgrained tailgate appliqué, full-length lower-body moldings, cloth-and-vinyl upholstery, carpeting, and other conveniences. This 1970 Ford F-100 Ranger XLT also sports an extra-cost vinyl roof covering.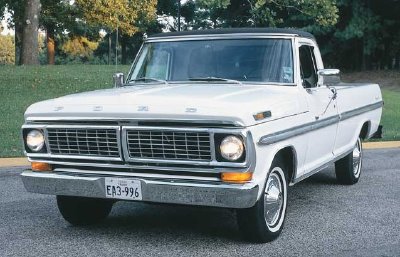 The 1970 Ford F-Series Ranger with four-wheel drive rode high off the ground. A chrome front bumper was newly standard on Ford pickup trucks.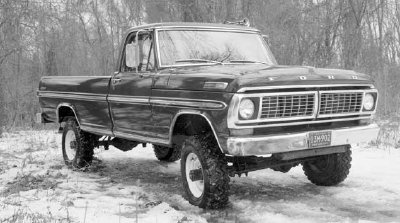 1971 – Other than minor trim updates, the 1971 Ford truck lineup was little-changed from 1970. Ford concentrated instead on its new subcompact Pinto and a redesigned Mustang.
1972 – The extremes of the 1972 1/2-ton F-100 range: a full-dress Ford Explorer (trim package added this year) with lots of bright trim and colorful upholstery…
…and an all-business entry-level 1972 Ford Custom.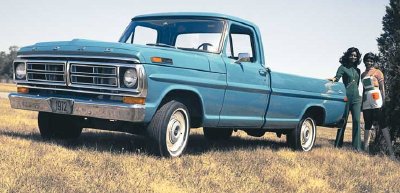 Four-wheel-drive Ford F-250s got a beefier Spicer front axle for 1972.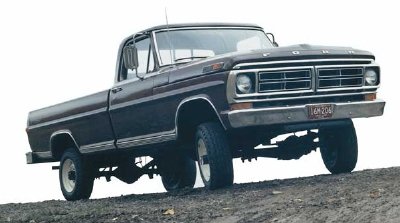 Sixth Generation 1973 – 1979
1973 – The truck was redesigned in 1973; the grille for the 1973 model year featured two silver-metallic plastic inserts divided by an aluminum bar that was part of the main grille frame, with the letters "F O R D" spaced out in a thin rail in the upper part of the grille. Large round headlights were on either side of the grille with the park/turn signal lamps placed above in the same rail where the "FORD" lettering was. The new cab design incorporated behind-the-seat storage for incidental items.
In 1973, a new model was offered, the F350 SRW (single rear wheel) pickup. These were a new heavy duty pickup with contractors and camping enthusiasts in mind. The trucks rode on a longer wheel base chassis but were the same overall length as an F250 pickup. If you ordered the Camper Special package on an F350 SRW it became a Super Camper Special which was designed for the much heavier slide-in campers coming on the market at that time.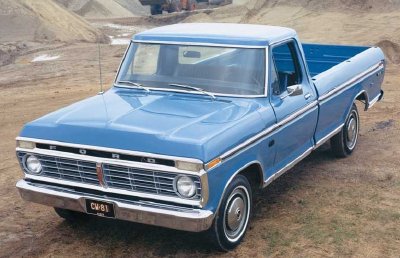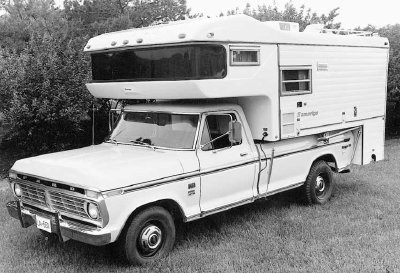 1974 – New for the F-Series that year was its first extended cab. The 22-inch-long extension was large enough to accommodate an optional forward-facing bench or side-facing jump seats. This was Fords response to Dodge's 1973 extended cab.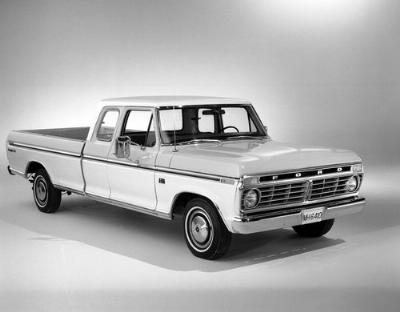 1975 – The F-Series pickup line changed little for 1975, with one exception: added was an F-150 model, which was intended to split the difference in payload capacity between the F-100 and F-250. Although hardly a major event at the time, the Ford F-150 would eventually take over from the F-100 as Ford's base full-size pickup, and it would go on to become the best-selling vehicle in the United States.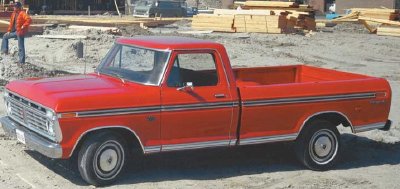 1976 – In 1976, the F-series became the best-selling truck in America, a position it has continued to hold since. This generation is noted for the durability of the body panels as Ford used extensive amounts of galvanized sheet metal to fight corrosion. 
The first styling facelift to the 1973-generation Ford F-Series light-duty trucks showed up for 1976, when a new grille and squarish headlamp bezels appeared. F-100s with four-wheel drive, like this long-bed Ranger XLT, came with a standard 360-cubic-inch V-8 engine and four-speed transmission.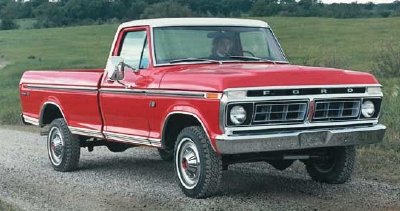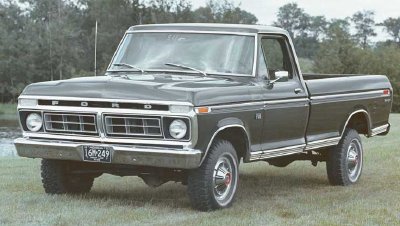 1977 – Although touched on only lightly in the 1977 F-Series pickup truck catalog, four-wheel-drive models were attracting enough interest to warrant a brochure of their own. image. 1977 was the first year for smaller cowl insignias moved near the windshield.
A Ford F-100 "Shorty Flareside" with four-wheel drive shows off the flashy graphics and abundant accessory choices that were aimed at younger buyers who wanted to personalize their trucks. The 117-inch-wheelbase Flareside featured a 6-1/2 foot cargo bed.
1978 – In 1978, the round headlight design was retained for the regular Ranger and Custom trim levels. The XLT and "Lariat" trim level incorporated rectangular headlights with optional chrome headlight doors and chrome grille insert. The split grille design was overhauled in favor of a single-piece grille insert design. The headlights were also placed in a more stylized "insert" themselves, and the park/turn signal lamps were now placed below the headlights. A luxury Lariat trim was also introduced for 1978.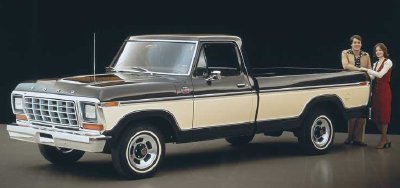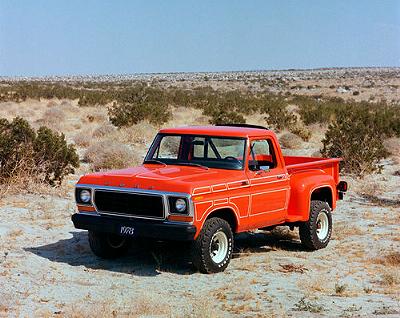 1979 – Ford's 1979 model year brought a new promotional campaign for trucks: the famous "Built Ford Tough" slogan. The round headlights were replaced by rectangular headlamps across all the trim levels and the surrounding grille insert that framed the headlamps was now available in either black, or chrome to match that of the aluminum grille frame. Additionally, an optional chrome-plated "F O R D" letterset could now be seen on the hood immediately above the grille.
A 1979 Ford F-150 Ranger Lariat could get optional Combination Tu-Tone paint and bright box rails.
A two-wheel-drive 1979 Ford F-150 Ranger XLT Super Cab shows its length.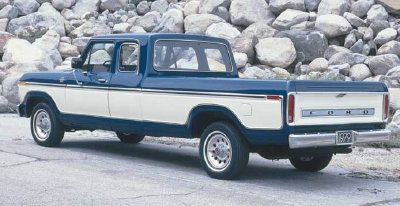 Seventh Generation 1980 – 1986
1980 – F-Series pickups got a new face for 1980, and pickup trucks continued to offer both Styleside and Flareside beds. Bronco and F-Series four-wheel-drive truck models adopted Twin-Traction Beam independent front suspension for 1980. Rival GM 434s wouldn't get independent front suspension until 1988.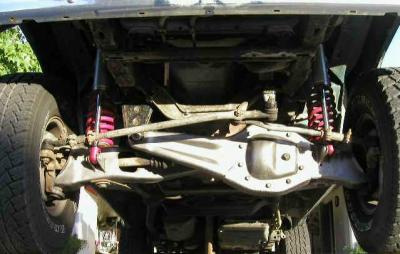 (Ford Twin Traction Beam suspension – shown with aftermarket lift)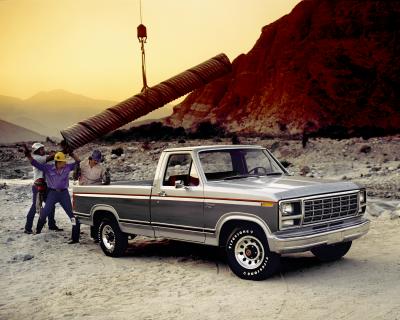 1980 Ford F-150 Ranger: Ford's diesel pickups debut with 6.9-liter V-8. (09/27/2007)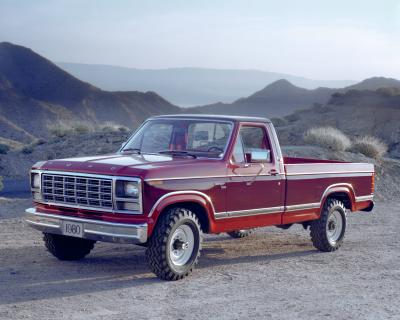 1980 Ford F-250 Ranger: In 1980 completely redesigned F-150 and F-250 models were introduced.(09/27/2007)
1981 – In 1981, all Ford truck lines carried over virtually unchanged, although Ford added the F-100 option with a "downsized" 255-cubic-inch V-8 engine. Smaller than even the standard 300-cubic-inch six, this engine may have been more marketing hype than fuel-economy help, but it showed Ford's commitment to increasing gas mileage.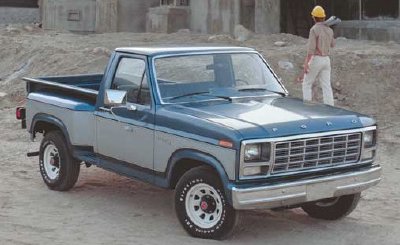 F-Series Ford trucks had long received an annual styling update — even if it only amounted to a slight change in the grille — but that practice ceased with the 1981 models, which were virtually identical to 1980's. By this time, the Ford F-Series was on a roll as the best-selling truck in the land, so there was little incentive to mess with success. Besides, the 1980-81 was a good-looking design, as evidenced by this two-tone F-150 Flareside.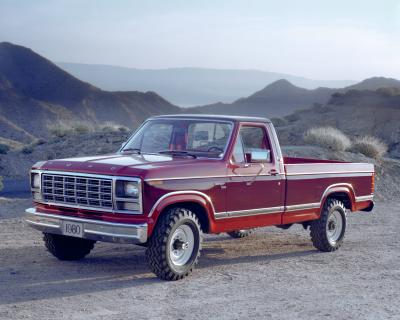 Several custom decor packages were available for light-duty pickups in the early Eighties, one of which included the two-tone paint and white-painted wheels shown here.
Flareside beds, once considered more utilitarian than the smooth-sided Styleside versions, were now considered more stylish. This Ford truck illustrates another example of the custom-decor packages available in 1981.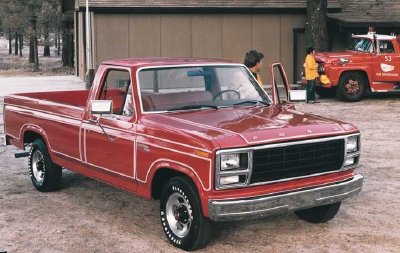 (This customized 1981 Ford truck features a blackout grille and aluminum wheels.)
In 1980 and 1981, the trim packages were:
Custom– Base model with manual locks/windows, vinyl seat, and black rubber floor mat.
Ranger– Intermediate trim that added a color-keyed floor mat, extra chrome, and woodtone dash trim.
Ranger XLT– A step up from the Ranger that added better seat trim, a color-keyed headliner, color-keyed carpeting, aluminum tailgate trim and optional power windows/locks.
Ranger Lariat– a step above the XLT that added a plusher interior.
1982 – Ford introduced a mildly restyled front end for F-Series pickup trucks. The Ranger trim line was dropped from the F-Series in 1982, since that name was to be applied to the new Ford Ranger compact pickup, which replaced the Ford Courier mini-pickup line. Trim options became XL, XLS, XLT, and XLT Lariat.
The 1982 F-series differed in appearance from an ´81 courtesy of a Ford blue oval that was placed in the center of a grille with fewer vertical bars. This prompted the deletion of the Ford lettering that previously graced the leading edge of the hood. In a further bow to fuel economy, the F-100 came standard with a new 232-cubic-inch V-6 for 1982.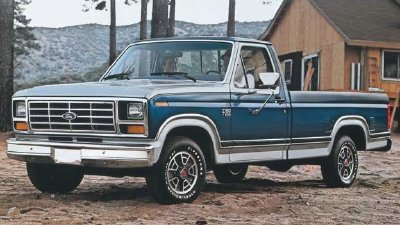 SuperCab Ford trucks had a longer cab that allowed for a three-passenger rear bench seat or a pair of jump seats. The divided rear side window first appeared in Ford trucks for 1980.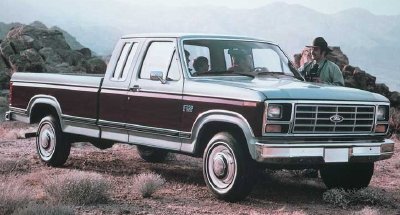 Spoked wheels and tape stripes continued to dress up F-Series trucks, with some new designs being offered for 1982. During this time, pickups were becoming more popular for regular passenger use, largely replacing high-performance cars — long since regulated out of existence — as trendy transportation.
For 1982–1986 the trim packages were:
Base – basically the same as the Custom of the previous years.
XL – replaced the intermediate Ranger trim for 1982 as the Ranger name would be used for Ford's new compact truck.
XLS– a new trim level that featured a blacked-out grille, bumpers, headlight bezels, and windshield trim. It also featured a stripe graphics package and black and silver dash trim. Available exterior colors were red, silver, and black.
XLT Lariat– featured floor carpeting, color-keyed headliner, a standard chrome grille, and optional power windows/door locks. In 1985 the tailgate trim was changed to a "flat" full width aluminum with a red "reflector" towards the bottom with chrome FORD letters.
Explorer – Was basically a step up from the XL line. The "Explorer" trim line received a higher geared rear end, an AM/FM radio, Chrome bumpers, Chrome fender well trim, and a chrome grill. The Explorer Line would later be dropped to introduce the Ford Explorer SUV in 1991.
1983 – Among F-Series pickups, only the F-350 was available in a four-door, six-passenger crew-cab body style for 1983. All 350s also came with an eight-foot bed, meaning the truck pictured above stretched more than 237 inches — just shy of 20 feet — bumper-to-bumper.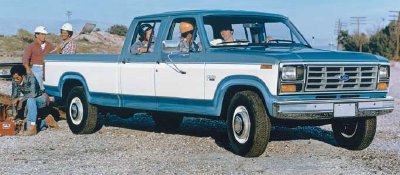 1984 – The F-100 was dropped as the base model at the end of 1983 and the now-familiar F-150 took its place as the base model F-Series truck for 1984. The Ford F-100's GVW rating put it below the threshold that allowed heavier pickups to get by with meeting "looser" truck emission standards, the model was unceremoniously dropped for 1984 — after 30 years on the market. With that, the F-150 became Ford's base full-size pickup truck. Options included Explorer special-value packages that provided numerous uplevel features at a discounted price.
This was more of a historical loss than a sales one, as the slightly beefier F-150, which had been introduced in 1975, absorbed those buyers — as evidenced by the fact it would soon become the nation's best-selling full-size pickup, and soon after the best-selling vehicle of any type.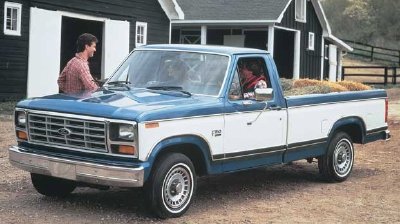 1985 – Ford F-Series pickups offered an optional fuel-injected 5.0-liter engine for 1985, and F-350 crew cab trucks got a dual-rear-wheel option, but otherwise the line saw few changes. Other gas engines in Ford trucks remained carbureted.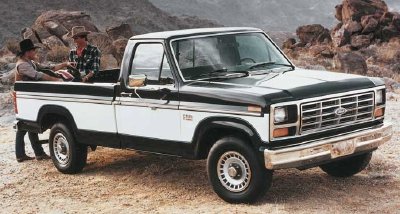 1986 – With the F-150 firmly ensconced as the best-selling vehicle in the U.S., there was little reason to change it for 1986 — and Ford didn't.
Eight Generation 1987 – 1991
1987 – A new front end featured flush headlights (which required only the bulb, not the whole headlight to be replaced), wraparound parking lights and a simple grille with 12 rectangular openings. New front fenders, hood and bumper added to the new, more streamlined look. A revised instrument panel had more legible gauges and a bigger glove box. Maintenance was made easier via an easy-access fuse box and simplified belt replacement for the alternator, power steering pump and A/C compressor. Safety took a leap forward with antilock rear brakes, as Ford was the first company to make this feature standard on trucks. The 4.9-liter inline six received fuel injection and a healthy 20 percent increase in output, for a total of 150 horsepower. And later in the year, the 7.5-liter V8 also benefited from the fitment of fuel injection.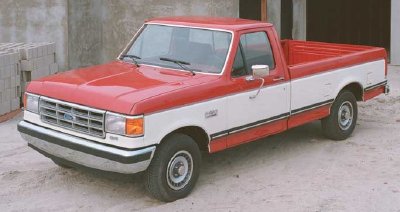 1988 – A new line of Super Duty Ford F-350 trucks was introduced for the 1988 model year. These trucks filled a gap between the regular F-350s and the medium-duty F-600s. Standard was a 7.5-liter V-8 engine, while a 7.3-liter diesel was optional. 
F-Series also dropped its available Flareside bed, although it would return a few years later, meaning all pickups carried the Styleside bed shown on the F-150 pictured below.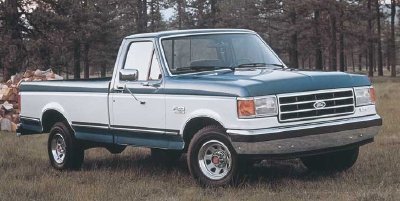 All engines now boasted fuel injection, but otherwise, the F-Series was little-changed after its 1987 facelift.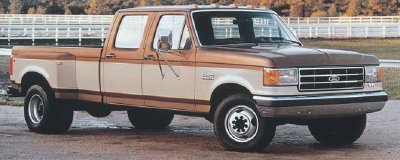 F-350s were offered with GVW ratings of up to 14,500 lbs. for 1988, made possible with the addition of available four-wheel disc brakes, heavy-duty axles, and 16-inch wheels. The optional diesel V-8 grew from 6.9 liters to 7.3.
1989 – Two-wheel-drive versions of the 1989 F-150 wore "EFI" (Electronic Fuel Injection) badges below the left-side headlight as shown above. Four wheel drive improvements included the addition of automatic locking hubs for the F-150 in 1989.
Expanded availability of the four-speed automatic transmission to heavy-duty two-wheel-drive models was the only change of note to Ford F-Series pickups for 1989.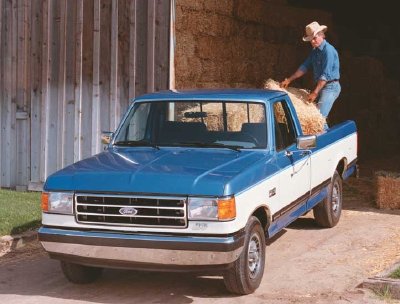 Four-wheel drive versions of the 1989 F-150 had a "4×4" badge below the left headlight, as shown above.
The F-Series was established as the nation's best-selling vehicle,
1990 – 1990 was the year of the Package. A heavy-duty service package, ideal for snowplow operators, consisted of a heavy-duty battery, high-capacity radiator and skid plates. And a sport appearance package included fancy wheels and a large tape stripe adorning the pickup's flanks. An electronically controlled, four-speed unit was now offered which promoted better fuel economy and reduced engine wear
1991 – Automatic hub locks were made standard for F-250 and F-350 trucks for 1991. And as with the F-150 the year before, the manual hubs were optional. Helping to make the transition from two-wheel to four-wheel drive even easier was an optional (on models with the 5.0-liter V8/automatic overdrive transmission) "Touch-Drive" electronic transfer case control that put the truck into four-wheel drive with the press of a dash-mounted button. Two-sided galvanized steel was adopted for the hood, tailgate and doors to help fend off body cancer (rust). The oddly named "Nite" package debuted this year as an option for the XLT Lariat and featured blackout trim, alloy wheels with 235/75/15 white-lettered tires, sport suspension and the obligatory decals.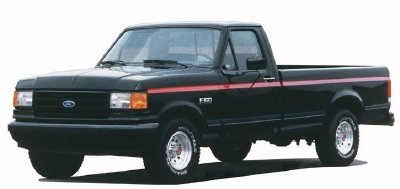 (rename 1991 F-150 Night)
Ninth Generation 1992–1996/1997
1992 – Ford F-Series pickups were also treated to a front-end restyle for 1992 that resulted in a smoother face. The F-Series received a smoother nose that had the front light clusters and bumper ends angled back slightly. "Aero" mirrors and a revised tailgate completed the fresh look. A new instrument panel contained easier-to-use controls and a power point. Plusher seats and door trim made the interior more inviting, and SuperCab models offered a large, optional console in addition to standard three-point rear seatbelts. And after a four-year hiatus, the Flareside version returned in 1992.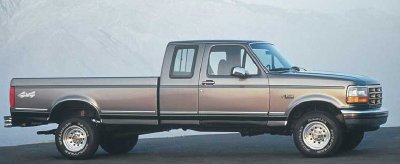 1993 – Replacing the Ford F-150's Nite package for 1993 was the performance-oriented Lightning, which lived up to its name with a special version of the 5.8-liter V-8 engine packing 240 horsepower, vs. 200 for other 5.8s. Like the Nite, Lightning featured blackout trim, to which was added a sport suspension with 17-inch alloy wheels, front spoiler, and specific bucket seats. 
The Custom model was dropped, as the XL became the new base model. The Sport Appearance was also axed. Raising the seat cushion and adding padding improved rear seat comfort in SuperCab models.
(Ford F-150 Lightning)
1994 – Light-duty F-Series pickups got a driver-side airbag for 1994, but there were few other changes of note. Safety upgrades took place for 1994 when a driver's side airbag (except on heavy-duty models), side door beams and a high, center-mounted third brakelight debuted. A couple of new options showed up this year: a CD player and a 40/20/40 front seating arrangement that had a center seat which converted to an armrest with a built-in storage compartment and cupholders.
1995 – 1995 saw the the introduction of the Eddie Bauer edition. Named after the outdoor gear and apparel company favored by yuppies, the Eddie Bauer F-Series was the most luxurious Ford pickup available, with features such as two-tone paint, air conditioning, power everything, stereo with cassette, alloy wheels and the 40/20/40 front seat. A new 7.3-liter, "Power Stroke" turbodiesel became optional on F-250 Heavy Duty pickups and F-350′. This new direct-injection turbodiesel engine produced 210 horsepower and a whopping 425 pound-feet of torque — both up significantly over previous versions. Matched to a four-speed automatic gearbox, the new engine put out 210 horsepower and 425 foot-pounds of torque, making it ideal for heavy hauling and towing applications.
1996 – Ford F-Series pickup trucks continued with few changes for 1996. F-150 Flareside and Lightning models met their demise and shorter-wheelbase versions of the F-250 Heavy Duty SuperCab and Crew Cab debuted. The short-wheelbase versions had a bed length of 6.75 feet versus the 8-foot bed of the longer-wheelbase trucks.
Tenth Generation 1997 – (2004)
1997 – Arriving in the 1997 Ford trucks lineup was a completely redesigned full-size truck that featured the most radical changes yet seen from one generation of Ford pickups to the next. Introduced early in the 1996 calendar year, only certain models of the new F-Series trucks were offered at first, so some versions of the 1996-style trucks continued to be sold alongside them.
Among others, these included all the heavy-duty pickups (Ford F-250 HD and F-350), which wouldn't be redesigned until the 1999 model year. Among the Ford F-Series' many early accolades was the coveted Truck of the Year award from Motor Trend magazine
In its most radical change since 1980, the F-Series was redesigned for 1997. At first offered only in F-150 form — and even then with a limited lineup — it arrived early in the 1996 calendar year and was sold alongside the 1996 models. Both Flareside (shown here) and Styleside beds were available.
Early production focused on SuperCab (extended cab) versions, which featured a rear-hinged back door on the passenger side. These were sometimes called "half doors," as they were smaller than conventional ones. Also, they hinged at the rear and could only be opened after the corresponding front door was opened.
As production ramped up, regular-cab versions of the Ford F-150 truck became more plentiful. Grilles came in either body color (as shown here) or chrome, depending on trim level. Power came from a trio of new engines: a 4.2-liter overhead-valve V-6, and overhead cam V-8s of 4.6 and 5.4 liters. All produced more horsepower than the larger engines they replaced.
Trim levels consist of base XL, midlevel XLT and plush Lariat.
Ford didn't waste any time entering the sleek new F-150 in the NASCAR Craftsman Truck Series.
1998 – Ford Motor Company reached a milestone in 1998 when it celebrated the 50th anniversary of the F-Series brand. The NASCAR F-150 marked the Golden Anniversaries of both the stock-car racing association and Ford's F-Series pickups. The dual side exhausts shown on this prototype were moved to the rear on production versions.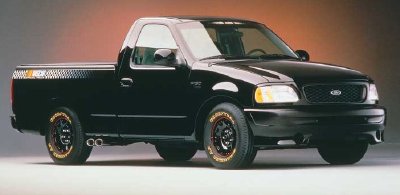 Ford didn't let the 50th Anniversary of the F-Series pass unnoticed, with numerous promotions depicting the inaugural 1948 version beside a new 1998 model.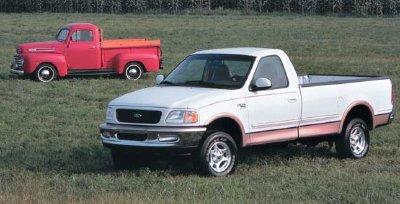 1999 – Midway through the 1998 model year, Ford finally introduced new heavy-duty F-Series pickup trucks based on the redesigned light-duty versions that had appeared for 1997. Tagged as 1999 Ford truck models, the F-250 HD and F-350 carried a similar but brawnier look, befitting their load-lugging status.
Returning in 1999 after a three-year hiatus was the high-performance Lightning truck, and it returned with a vengeance. Again based on the Ford F-150, it now carried an exclusive supercharged version of the 5.4-liter V-8 packing a mighty 360 horsepower. As before, a lowered sport suspension and special trim was included in the package.
Also in 1999, a loaded "King Ranch" edition with two-tone paint and a cabin that would make a Texan proud with its abundance of saddle leather trim was introduced.
Ford F-250 Heavy Duty and F-350 had lost out when the lighter-duty F-Series models were redesigned for 1997, but these trucks made up for it with a redesign of their own for 1999. Now called Super Duty, they arrived early in the 1998 calendar year, and like their lighter-duty linemates, offered a SuperCab with dual rear-hinged back doors. Styling touches included grilles incorporating vertical "nostrils" at each edge.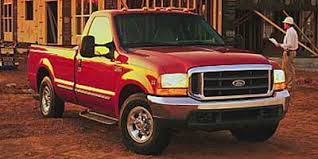 (Super Duty)
The 1999 Super Duty F-250 HD and F-350 also were available in crew cab form with four conventional side doors. Engine choices ranged up to a 6.8-liter V-10 with 275 horsepower, and a 7.3-liter V-8 turbodiesel with 235 hp and a stump-pulling 500 pound-feet of torque.
New for SuperCab versions of the F-150 were dual rear doors; previously, only the passenger side had a rear door. Other changes for 1999 included a revised grille and 25 more horsepower for the available 5.4-liter V-8, now with 26.
In 1999, the Ford Super Duty line included even heavier-duty F-450 and F-550 truck models that could be fitted with a variety of bed styles.
With the addition or redesign of several important vehicles and the deletion of its long-standing heavy-duty truck lines, it can never be said that Ford didn't close out the 20th century with a bang. In combination, these changes helped position the company for the next century — and its second hundred years.