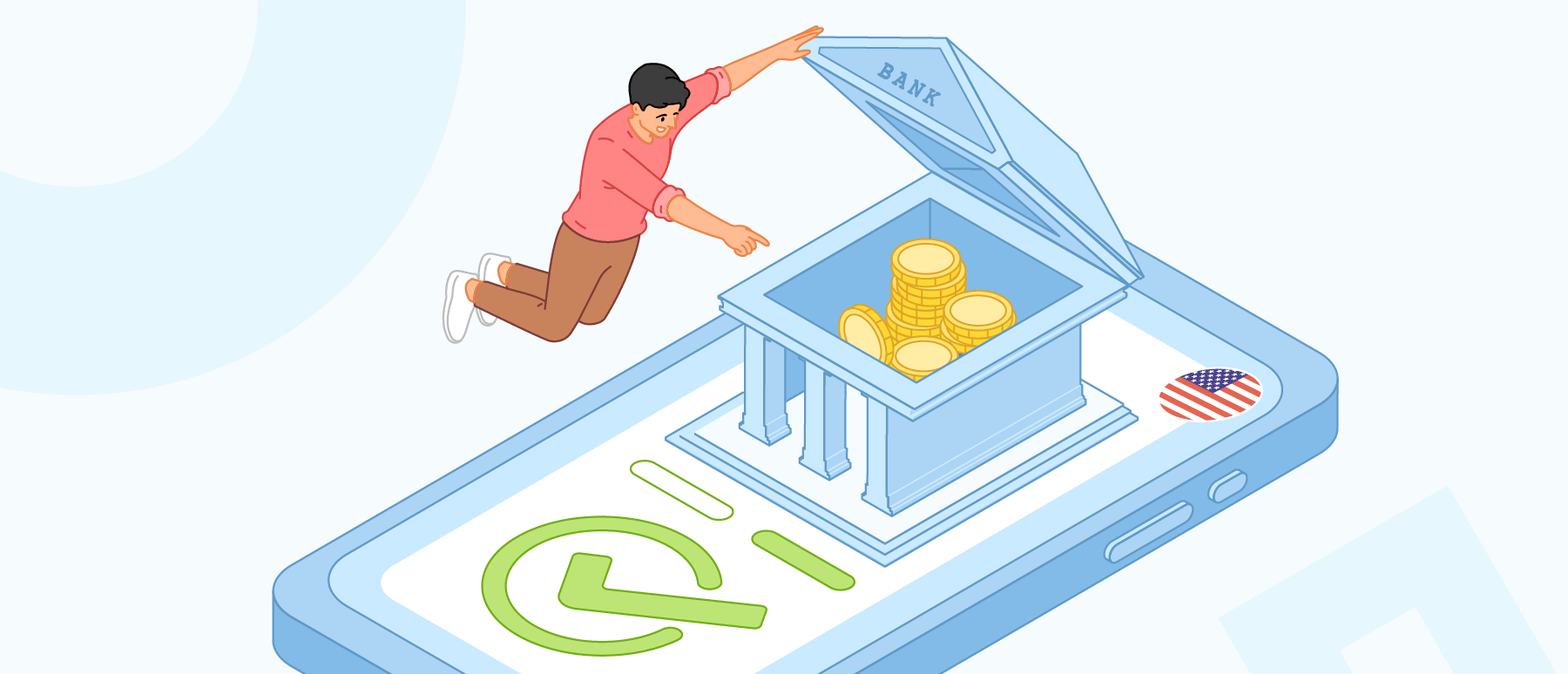 How To Open a Bank Account Online in the US (Even Without Proof of Residency)
If you're planning to move to the United States, opening a bank account online before you arrive there could be a smart option, as it will allow you to spend quickly and flexibly right from the get-go. And while it can be tough to open a bank account in the US if you're not a resident, that doesn't mean it's impossible. We've got a few options you can use to get a bank account in the United States.
Whether you'll be studying at university, working, or moving to the US on a semi-permanent basis, you'll find key information in this guide about opening a bank account in the, even if you're not yet a resident.
Monito's Recommendation
Open a Wise Multi-Currency Account which gives you US bank details, among others, and a debit card to spend in multiple currencies (including US dollars.) You can even open the account before arriving in the US, but you'll need to verify your address before receiving your debit card.
Opening a US Bank Account as a Non-Citizen
Most US banks require you to be an American citizen or permanent resident before they allow you to open an account. That means you'll typically need to submit a Social Security Number (SSN), an Individual Taxpayer Identification Number (ITIN), and proof of address in the United States. You'll also be required to submit an identity document such as a passport, driver's license, government-issued photo ID, and, when applicable, immigration documents.
If you're able to meet these requirements, you can open an account. Here are the various options you have when it comes to opening an account with a bank in the US:
Use a "correspondent" bank: This is where the bank in your home country has a relationship with a US bank and helps you to open an account there. Not all banks have these relationships, and a US bank may not allow you to open an account.
Open an international account: This is where you open an overseas account with a bank. You will need to deposit a large amount of money and maintain a high balance in the account.
Visit the US to open an account: Not ideal, but you can visit the US, go to a bank, and open an account with them. You will need certain documentation, so always call ahead to see the requirements before you make the journey. 
Open a Wise Multi-Currency Account: Often the easiest option, a Wise Multi-Currency Account allows you to create a virtual account with fully-fledged banking details in the US that you can use as a regular bank account.
Open an Account with Remitly Passbook: A new offering from Remitly geared towards immigrants, Remitly Passbook allows you to create an all-online, American bank account without providing an SSN.
Types of US Bank Accounts
Most US bank accounts are checking or savings accounts. Checking accounts work like current accounts in other countries and provide services like:
Online banking access;
Bills and other payments;
Account transfers;
Bank transfers and direct debits;
Recurring payments;
Debit cards;
ATM withdrawals.
Savings accounts allow you to save over time and will pay interest on your savings. There are often restrictions on how often you can withdraw money from a savings account. Both checking and savings accounts will come with:
A routing number that identifies your bank
An account number that identifies your account
Gathering the Required Identity Documents
While many US banks will require you to have an SSN/ITIN and proof of address, the exact documents needed to open an account are not set and stone and can vary significantly from state to state and branch to branch.
To obtain an SSN/ ITIN, you'll need to apply through the IRS's website and to obtain temporary proof of address, it's worth asking your bank if they'd be able to accept a letter from your university, employer, or prospective landlord that notes your place of residence. You will also need to provide proof of identity documents such as a passport or driving license. Most banks will also require you to make an initial deposit.
Correspondent Bank Accounts in the US
One way to get a bank account in the US could be through a "correspondent banking relationship." This is where a bank in your country of origin collaborates with a bank in the United States. In these circumstances, your "home" bank may be able to help you set up an account with their partner bank. Contact your home bank to find out if they have relationships or partnerships with any US banks and what you need to do to open a US account. 
International Bank Accounts
Some banks have an international presence and may allow you to open an international account. These can include the big banks in the US listed below and other banks such as HSBC. These international options are specialized accounts, and you can sometimes open them even if you don't have a US address. They do come with some downsides:
You will likely have to make a large initial deposit, sometimes in excess of $100,000;
You will need to maintain a high minimum balance in the account;
There are likely to be ongoing monthly fees to maintain the account.
This does put international accounts out of the reach of most people. 
Visiting the US to Open an Account
In many cases, your best option for opening an account is going to be visiting the US and starting your bank account face-to-face. It's very difficult to open a bank account online without proof of residency, so you should contact the bank, first of all, to check what their requirements are for opening accounts for people who intend to become temporary or permanent residents. 
We've listed contact details for each of the popular US banks below, together with the requirements for opening an account, so you can get in touch and talk through your options.
Wells Fargo
"A checking account can be opened individually or jointly, and you'll need your basic information, Social Security number, driver's license, and a minimum opening deposit amount. The account can usually be linked to a debit card – giving you quick access to cash – and can be managed online, as well as at ATMs."
Contact Details for Wells Fargo
You can contact Wells Fargo by phone through one of their international access numbers. You can find other contact options for Wells Fargo here. 
Citibank
"To apply, you must be a US citizen or resident and at least 18 years old. You'll need to provide a physical address in the US, date of birth and Social Security number for all applicants. Federal law requires us to obtain, verify, and record information that identifies each person that opens an account."
Contact Details for Citibank
You can contact Citi internationally on 210-677-3789. You can find other contact options for Citibank here.
JPMorgan Chase
Chase requires you to have a Social Security Number / ITIN and a mailing address in the US before you can open a checking account with them.
Contact Details for Chase
You can contact Chase internationally on 1-713-262-3300.
Bank of America
"For a faster application process, please have the following information on hand when you begin your application:
Your Social Security number
Your current residential address
Your email address
Your account number or debit card number to make your opening deposit into your new Bank of America account
Co-applicant's personal information (if applicable)
If you're missing one of these pieces of information, you can also schedule an appointment with an associate at your local financial center for a day and time that works best for you."
Contact Details for Bank of America
You can contact Bank of America internationally on 1-315-724-4022.
US Bank
"You need to be 18 or older and a legal US resident to open a checking account at USBank. You'll also need a Social Security Number and a driver's license or state/military ID. Once approved, you'll be asked to submit your opening deposit to activate your account."
Contact Details for US Bank
You can contact US Bank internationally 1-503-401-9991
Using a Wise Multi-Currency Account
For many people, the fastest and easiest way to open a US bank account without residency will be the Wise Multi-Currency Account.
Wise is a popular online currency exchange provider offering low-cost ways to send money overseas. They also provide a Multi-Currency Account option. This provides some of the advantages of a bank account in the US without the residency requirements. You get a US account and routing number and can easily exchange money between different currencies. You can also get local bank details with a Wise Multi-Currency Account for Canada, the UK, Eurozone, Australia, and New Zealand. 
It's important to note that Wise's Multi-Currency Account does not function exactly like a checking account, and you won't get all of the choices you would from a regular bank, but it can be a good option until you open a full checking account.
The Remitly Passbook Account
Another fast and easy way to open a US bank account without residency is the Remitly Passbook account.
Remitly is a popular online remittance service that provides currency exchange services worldwide at a low cost. They recently launched Remitly Passbook, an all-digital financial service that allows customers to store, spend, and send money by opening an American, FDIC-insured account. Like European neobanks, Remitly Passbook gives you all the perks and freedom of an all-digital bank account. It stands out from many American banking options for immigrants because it does not require you to provide a Social Security Number to open an account.
Remitly Passbook does require you to provide a US address and a government-issued ID, so we wouldn't recommend it if you temporarily need a US bank account, but it would be a strong recommendation if you are living in the United States but don't have an SSN.
Opening an Account Online: Citizenship or Permanent Residency Required
There are several banks and financial service businesses that will allow you to open an account online. Note that each of these will require you to be a US citizen or have permanent residency status. You could apply for these accounts if you once lived in the US and want to open an account before going back there, although you will need a mailing address in addition to citizenship or residence. 
Chime: US Citizenship Required
Chime is an online-only bank account that you can access through a mobile app. It's free to sign up, and applying for an account is quick and easy. You will need to be a US citizen and at least 18 years old. Chime cards do work all over the world. Chime requires you to provide your name, address, email address, Social Security Number and some other verification data when you're signing up. 
Discover: Social Security Number or ITIN required
Discover is a popular financial services provider and lets you open a US account entirely online. To open an account with Discover, you will need a Social Security Number or an ITIN and a US mailing address. 
Ally Bank: Requires You to be a Citizen or Permanent Resident
Ally Bank provides a fully featured checking account that you can easily access online or through their mobile app. They only offer accounts to permanent residents or US citizens.
Capital One: Requires You to be a Citizen or Permanent Resident
Capital One provide a 360 checking account in addition to credit cards. They require you to be a permanent resident or citizen and provide a Social Security Number to sign up for their services. 
Why Trust Monito?
You're probably all too familiar with the often outrageous cost of sending money abroad. After facing this frustration themselves back in 2013, co-founders François, Laurent, and Pascal launched a real-time comparison engine to compare the best money transfer services across the globe. Today, Monito's award-winning comparisons, reviews, and guides are trusted by around 8 million people each year and our recommendations are backed by millions of pricing data points and dozens of expert tests — all allowing you to make the savviest decisions with confidence.
Learn More About Monito
Monito is Trusted by 15+ Millions Users across the globe.

Monito's experts spend hours researching and testing services so that you don't have to.

Our recommendations are always unbiased and independent.