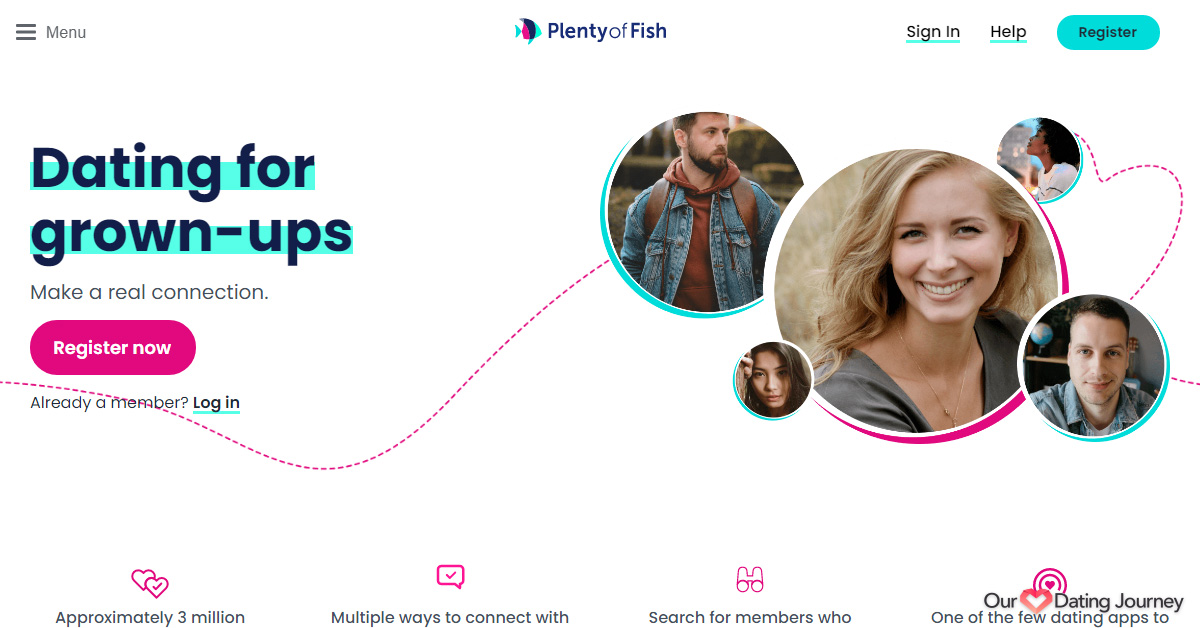 Matching System
Searching
Ease of Use
Popularity
Profile Quality
Customer Service
Cost
Comments Rating
( review)
Overview
What's Plenty of Fish?
Plenty of Fish is a popular, free dating website for adult online daters of various ages. It's commonly know as POF for short and you can use it online or on its app.
It has a variety of features that make it easier to seek out viable matches. However, before diving in, this Plenty of Fish review will provide you with all of the necessary details so that you can get the most out of your time on the website if you decide to use it.
Popularity
Plenty of Fish launched in 2003, approximately 150 million people have signed up on the website. As of 2021, statistics show that about three million people are active members on any given day. Approximately 500,000 members are estimated to have a paid membership on the website. The mixture of men and women is mostly equal. Most members are under age 40 on this website. Its features and setup are geared more towards younger people.
However, there are some members who are age 50 and older on the website. This website is based in Canada, but you can access it from 20 different countries. It is available in nine languages. Because of this, you can explore people locally and internationally as you look for love. Every day, about 65,000 new people sign up on the Plenty of Fish website. This gives you a constant stream of new people with who you might have some chemistry. Each day, about 2.5 million conversations take place on this website. Since members of all levels are able to send messages for free, you are not limited to the members that you want to exchange a few messages.
POF Scams
As I wrote this Plenty Of Fish review I wanted to learn more about scams found on the site. There are many people that claim that Plenty Of Fish is full of scammers.
According to the POF website, they work hard to make sure all scammers are deleted from their site. However, since they don't do any ID confirmation, it's very easy for dating scammers to use the site.
The one thing POF does do is make a new user verify their phone number so this does help with some form of scam protection. Dating scammers can be found on any dating website but sites like POF have even more. The site is very large so they cannot possibly police all of these scammers. This means it's up to you to make sure that you take all precautions to avoid being taken by these unscrupulous people.
First Impressions
Quick & Easy To Use
As I compiled this POF review, several things stood out to me. The Plenty of Fish website is easy to navigate from the minute you sign up to using the advanced search. Once you complete the quick signup process, you have the option to fill out additional information to make finding potential partners easier. Within about five minutes of getting started, you are ready to start searching and communicating with members.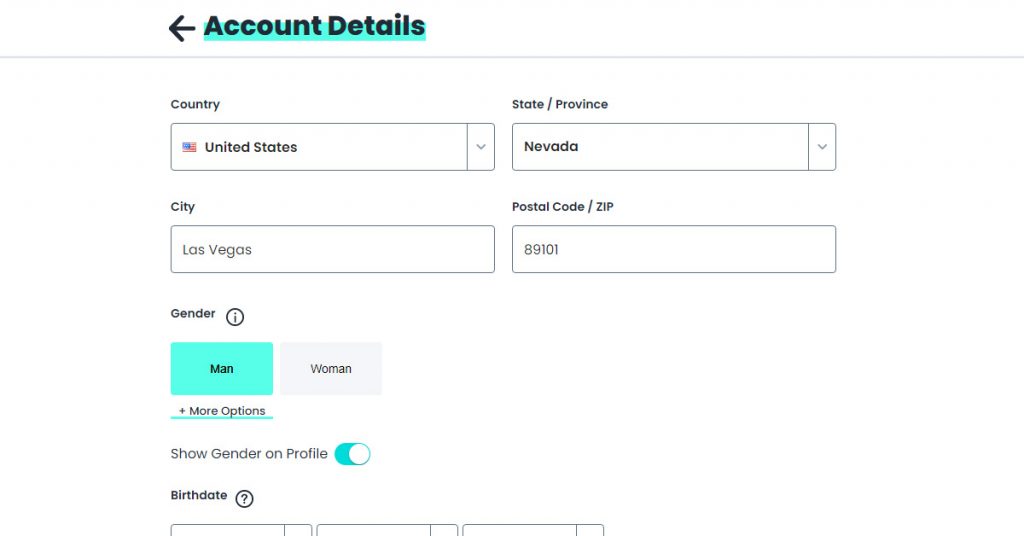 Design and Functionality
The Plenty of Fish website is easy to use from when you sign up to when you start looking for matches. You start out by putting in some basic information about yourself. The description area is short, allowing you to keep it simple and to the point. Then, you upload some photos and you are ready to start exploring the website. If you opt for a free membership, you can perform some basic searches, send messages and respond to messages from others. Should you choose a paid membership, you can do all of this.
However, the search features that become available to you are more advanced. This makes it easier to narrow down the people that come up so that you have a better chance at making a meaningful connection. You can see how many people are chatting, making it easy to see how active the website is at any given time. This allows you to make plans regarding what is the best time to check out the website. Overall, the design of the interface is simple. There is a lot of blank space on the main screen.
If you choose a free membership, you will see some ads in the free spaces. However, with a free membership, these just remain blank. It is nice that the messaging features are right there when you login and go to the main screen. This makes it easy to see if you have new messages or to send a message to a person with who you are already communicating.
The search feature is also easy to find and use, allowing you to quickly start looking for new matches. Both the website and the mobile app are relatively similar. This allows you to use both without having to learn two completely different interfaces.
Features
A variety of essential features to find your match
Plenty of Fish has a variety of features that you can use to expand your profile, find new people, and communicate with other members.
Search Feature
You can search for several factors to narrow down the list of potential matches. Below are the same exact search filters you'll find at PoF:
Spark
As you find people that you want to meet, if there is something specific on their profile that caught your attention, you can use the Spark feature. This allows you to highlight the profile area that interested you and put it into a message so that you can use this as a conversation starter.
Messaging
The messaging system is quite good on this website. What is especially nice is that you do not have to pay for a membership to use it. Because of this, it is easy to see if this website will be a good fit for your dating goals. Once you upgrade to a paid plan, you have some additional options that you can use when you are messaging people. First, you can see if they actually read your message. You also can learn if they deleted it.
These two features help you to know when it is time to move onto a new match. If you talked with someone previously and you do not wish to speak with them again, you will be able to tell if the two of you have exchanged messages before. This is a feature that is available with all of the paid plans. While the message system is not as fancy or extensive as some other dating websites, it is easy to use. It allows you to interact with people and there are plenty of ways to ensure that there is always a good conversation starter to use.
Tokens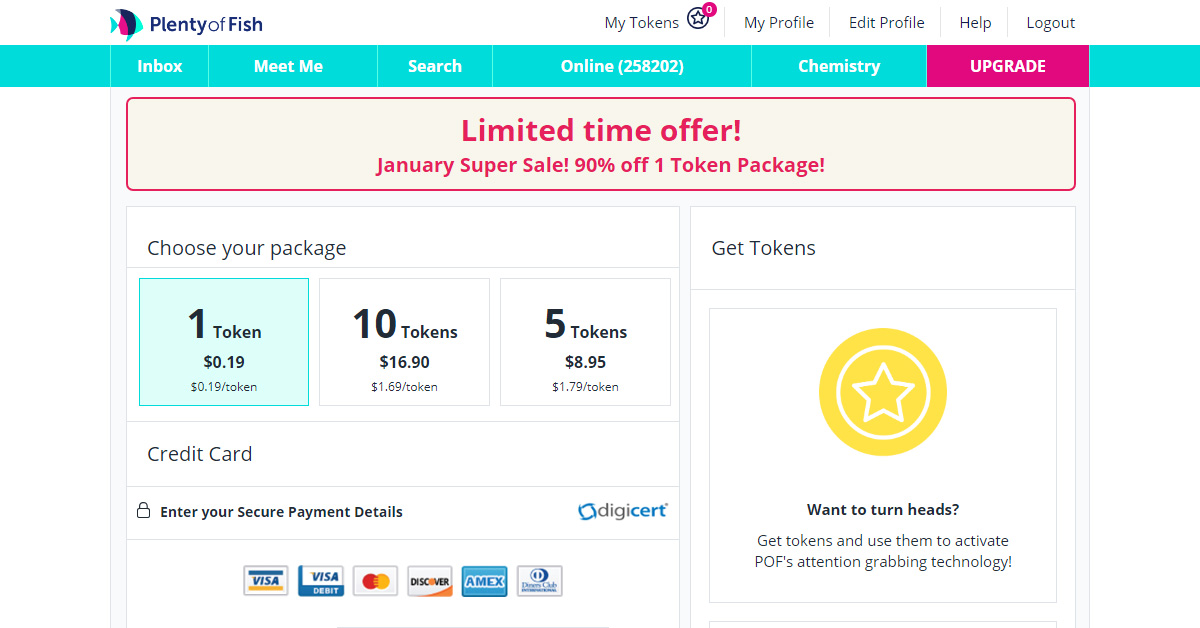 This website offers Tokens that you can buy to get more out of certain elements on the website. You have to pay for these in addition to the paid membership that you chose to use all of the features on this website.
With Tokens, you have the option to boost your profile. This will make it easier for people to find you when they are searching the website looking for potential matches. The Tokens can also be used as part of the messaging feature. For this part, you can use some Tokens to make sure that the messages that you send end up at the top of the person's inbox.
Customer Service
How Good Is Their Support?
As I performed research for this POF review, I wanted to see how good the customer service was. You can contact customer service via email or their phone number. When you email them, they tend to respond within one to two business days. On the phone, as long as you call during their business hours, you can talk to someone that day. However, wait times vary greatly. Sometimes you can get in touch with a Plenty of Fish representative right away and other times you may be waiting for 30 minutes or longer.
Weekend wait times tend to be longer than earlier in the day on weekdays. The representatives are friendly and knowledgeable. They were able to answer all of my questions and provide answers that made it easy to find a solution to my issues. At the end of the call, they ask if you need more assistance and offer a polite goodbye.
There are times when the search function lags. It seems that the more factors you fill out, the higher the right of some lagging occurring. How fast your internet speed is can also impact this. In most cases, it seemed to move faster on the mobile app versus on a computer. However, when you do a search, it is better to do it from a computer, especially if you have a free membership. On a mobile device, the ads on the website can cover some of the profiles.
Cost of Plenty of Fish
Free To Use With Purchasable Memberships
At the time of this Plenty of Fish review, there were three paid plans. All of these have the same features. The paid plans have different price points, allowing you to determine how long you want to be a member and they give you some control over how much you pay. You can explore some elements of the website for free. However, you are able to message people without creating an upgraded account. A free account allows you to upload eight photos to your profile. With a free profile, it is possible to meet people and have some basic conversations with them.
Payment Plans
The following Plenty of Fish payment plans are available: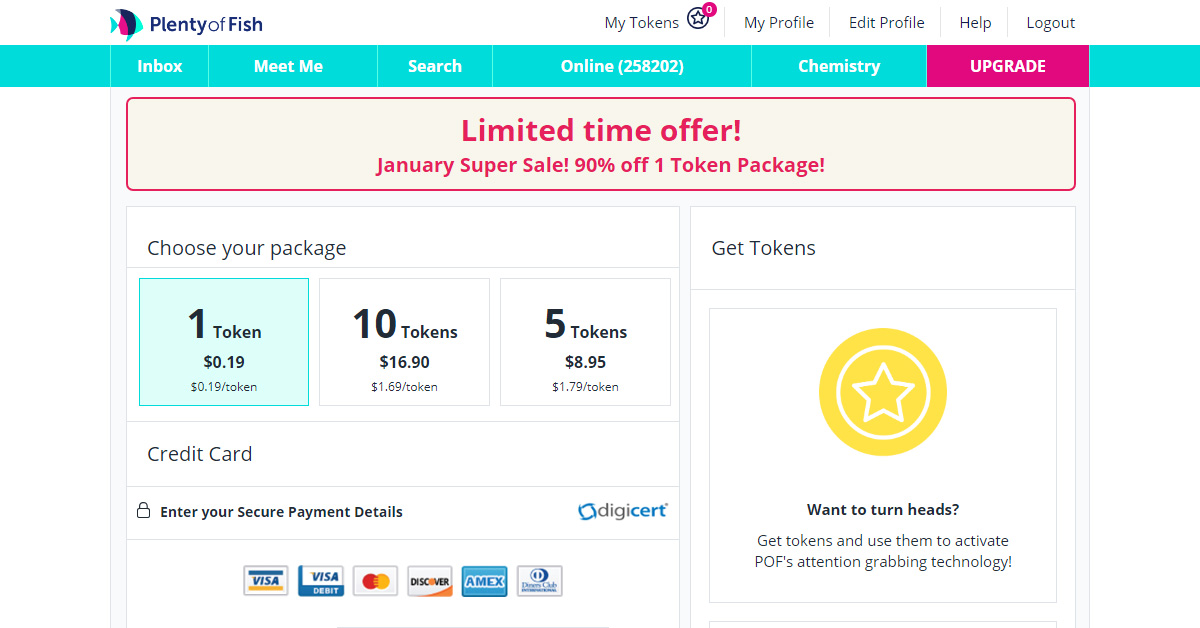 | Monthly Plan | Cost | Cost Per Month |
| --- | --- | --- |
| 12 | $81.40 | $6.78 |
| 6 | $51.00 | $8.50 |
| 3 | $38.70 | $12.90 |
Upgraded Member Features
With any of these paid plans, you have access to upgraded features, including:
Preferential placement on Meet Me
You can see if members delete or read your emails
Know exactly when a person looked at your profile (time and date)
Triple the amount of people who will see your profile
Each day, you can send up to three gifts
You have the capacity to add 16 images instead of eight
The Extended Profile features become available
There will be no ads on the website
Paid members get more emails
In all of the searches, your profile will stand out
You double your chances of meeting someone that you are compatible with
Pros and Cons
How Does POF Stand?
Positive
One of the most popular free dating sites in the world
Wide range of members wanting dating, hook ups, marriage, and more
Messaging is free
Advance filter options
Has both website and app
Negatives
Fake profiles and scammers can be found
Must upgrade to get rid of ads and to see if someone viewed your messages
No phone number at customer service
Review Conclusion
Is Plenty of Fish Worth It?
Now that I have finished this POF review, I can say that it is a free, good site for online dating but you'll have to do some work to find your potential match. While it does not go as extensively into compatibility matching as other sites, this website is fun and makes it easier to seek out a variety of connections, from romance to friendship. It is easy to use, and your profile has plenty of information to determine if you have things in common with the members that interest you.
You have the option to use the website for free at first. While the functions are limited, you can browse and communicate via messages for free. This makes it possible to determine if getting a paid membership on Plenty of Fish will be beneficial for your dating goals.
---
What do you think? Please let us know by commenting below on your experiences with using Plenty of Fish!


Plenty Of Fish Review January 2022 (Good Site For Matches Or Full Of Scammers?)