The Beale Wagon Road Historic Trail is accessible at Laws Spring in the Kaibab National Forest — this rare water supply was used by the prehistoric Cohonina people from AD 700 to 1100. The rock walls surrounding the spring have several petroglyphs dating from this time as well as many names inscribed of unknown immigrants who passed by the area during the 1800's.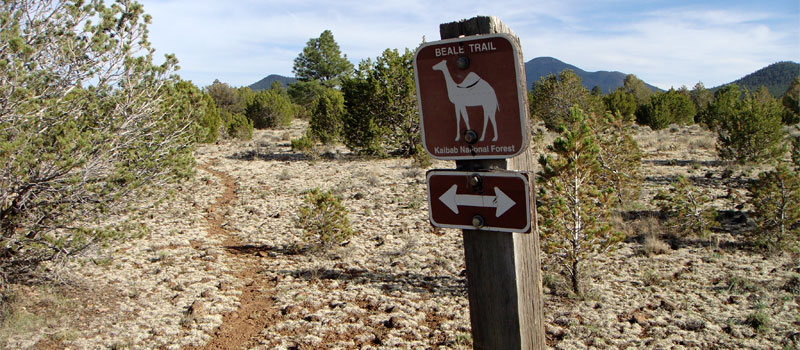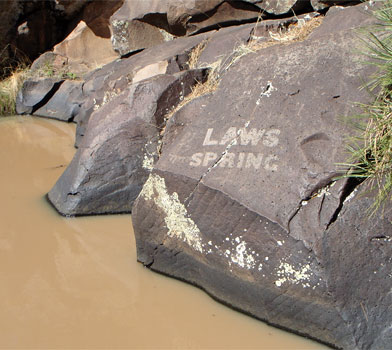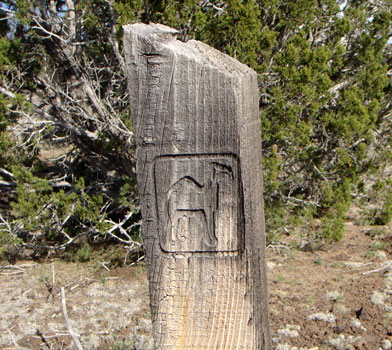 The trail is named after Edward Fitzgerald Beale who was a retired navy lieutenant hired by congress during 1857 to chart and build a transcontinental wagon road. The road provided pioneers with access to new territories gained after the 1848 Mexican-American war. With a team of 50 men, 22 camels and supplies of food and water, Beale endeavored to build a modest road that stretched 1,240 miles from Fort Smith, Arkansas to the Colorado River of Southern California.
Major W.L. Laws was a member of the military that escorted Lt. Beale and his men across the new land. As a sign of respect for the major, Lt. Beale named the spring after him in July 1859. The letters for "Laws Spring" were etched by Peachy Breckenridge, a tombstone carver who was also traveling with Beale's team. Peachy was the son of the then Vice President John C. Breckenridge who served under President Buchanan.
Laws Spring was listed on the National Register of Historical Places on July 5th, 1984. The spring has changed very little since Lt. Beale and the unknown immigrants passed by the area in the 1800's — the remains of the old wagon road are still faintly visible.
Please respect the area and do not deface the rocks — all artifacts on public lands are protected by federal and state laws. Note, trail metrics on this page cover a 2 mile section of the trail beginning at Laws Spring.