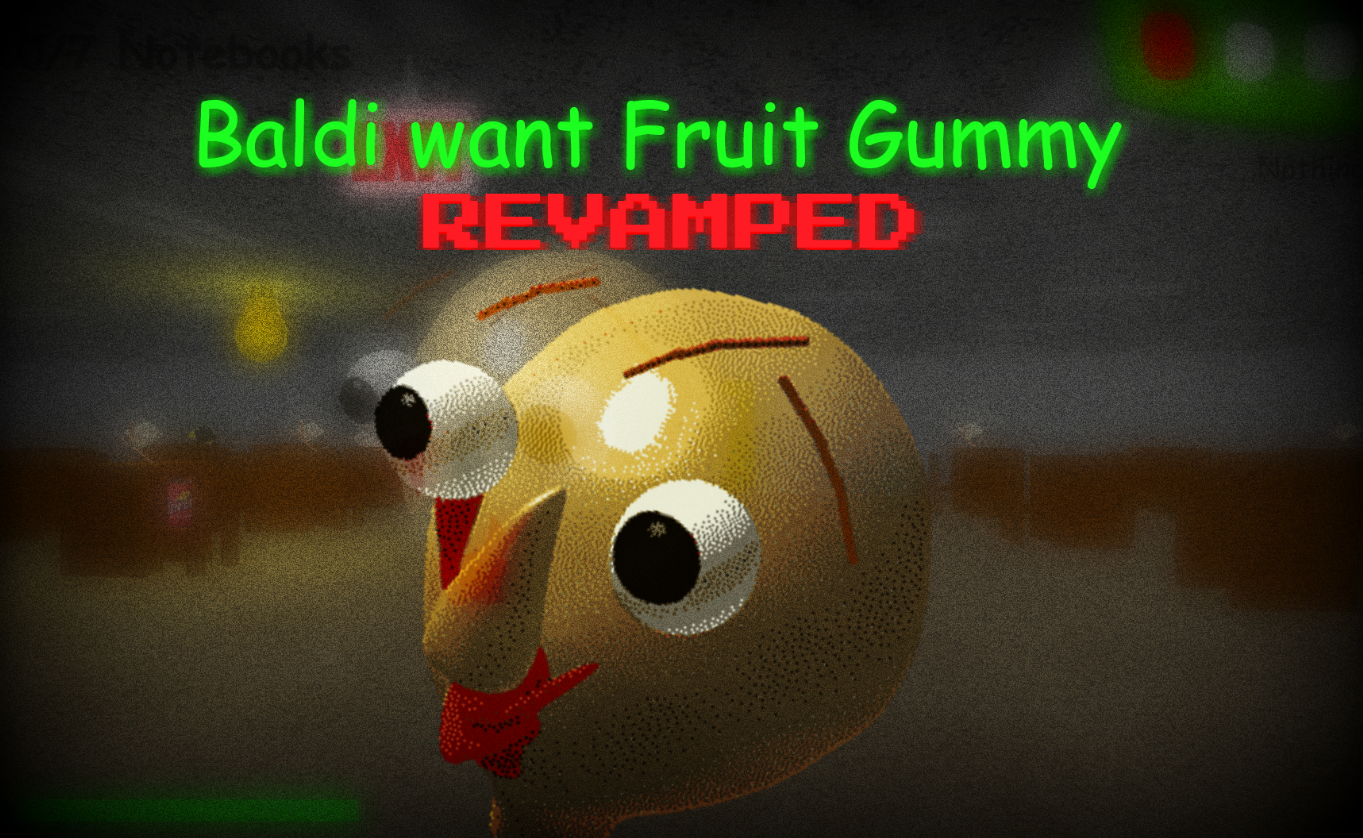 Baldi want Fruit Gummy REVAMPED
Well, Remember this nightmare? Or are new to this Nightmare? You're about to experience an insane Mod, If you have any Map or Character suggestions, Leave them in the comments please.
Enjoy this insane mod, And try to beat all of the maps!
~~Credits~~
Original Game: Mystman12
Voices by: Ambusher, Digibirddude, And me
Original meme creators: Class Clown and BaldiKay
People who helped me make the Characters: Slicee, Digibirddude, Class Clown.
One of the characters' inspiration from: rapparep lol
Intro Music (I edited it but I still want to give credit anyways.): wl041204 YT
Open source Baldi Project by: MissingTextureMan101
Decompile by: TheEmeraldLegendURL
Download
Comments
Log in with itch.io to leave a comment.
Aprill 1st of the joke mod
Alright, here's my character: Mr. Crumble! I made the sprites and audio already. Basically, he would ask you to get him a Zesty Bar, and you have to grab one and give it to him within 3 minutes. If you don't give it to him within the time limit, he will get very mad...
Thanks for letting me submit a character, and I'm excited to see it in the game!
Go to this link to get the folder: https://drive.google.com/drive/folders/14wmSUw0duOrqR0EXCjZq7o_2_DBzxNRX?usp=sha...
Hey, this is one CRAZY mod! Saw it on YouTube and thought it was insane. So recently I came around to Itch.io and have been submitting characters for Baldi mods. I would love to send you a character to be featured in this mod! It will take me a couple weeks, so you'll have to wait a bit. Are you still taking submissions though?
I can add in one of your Character Ideas if you want!
I will give you my idea by Wednesday.