The Financial District is in Lower Manhattan and encompasses a large portion of the southern area of the island. Its most famous site is probably the New York Stock Exchange on Wall Street.
The district is the second largest business district in the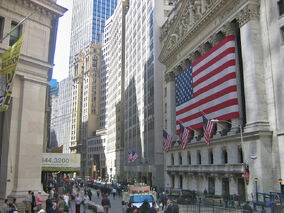 United States, after Midtown Manhattan (approximately 34th Street up to 42nd Street). In recent years, the Financial District, known commonly as FiDi, has shed its reputation as merely a destination for daytime traders and office workers from around New York City. The area's burgeoning residential status – as evidenced by more apartments within the district itself, as well as several hotels and luxury condominiums, such as The Exchange at 25 Broad, a property built by Swig Equities LLC in 2006 – owes its success in part to the local tourist attractions, such as the South Street Seaport, located in Civic Center.
The Financial District features a bustling street life by day, and is relatively quiet at night. Boasting the first large-scale skyscraper development in human history, and the mostly pre-1950s skyline is very impressive even by today's standards.
The financial district operates on largely on a routine work schedule, and the nightlife (as of April 2005) caters more to an after-work than late-night crowd. The night life may be more exciting for many people in neighboring Tribeca, easily within walking distance. Largely devoid of clubs, there are places that might greatly please those looking for a quiet place to sip a beer or indulge in a well-cooked pub meal.
As with streetlife, the eateries of the Financial District tend not to be very busy after the stock market closes. There are countless delivery services in the area, including many ethnic restaurants.
A large number of restaurants can be found at the South Street Seaport, but few remain open after midnight.
The Financial District is very convenient from most of the city by subway.
Fulton Street Station is one of the major hubs in the city. It's serviced by the A,C, 4, 5, 2, 3, J, M, and Z trains.
Brooklyn Bridge-City Hall Station is convenient from the financial district. The 4, 5, 6, J, M, and Z trains amy all be accessed here.
The PATH train is located at the World Trade Center.
A downtown transportation hub is planned within the next decade.
Community content is available under
CC-BY-SA
unless otherwise noted.