FIFA 19
VOLTA FOOTBALL
Gameplay
Unrivaled Authenticity
Career Mode
Player Ratings
CONMEBOL Libertadores
Accessibility
The Groundbreakers
FIFA 20 Demo
Tips & Tricks
Club Packs
Standard Edition
Champions Edition
Ultimate Edition
Features
FUT Friendlies
Season Objectives
More Ways to Play
DIVISION RIVALS
FUT Web App
Item Types
ICONS
Ratings Hub
Top 100 Players
Team Of The Year
Team Of The Season So Far
Future Stars
Road To The Final
Ultimate Scream
Ones To Watch
Goals of the Week
Creator's Hub
Forums
Pro Clubs
EA Sports FIFA Talent Scout
Pitch Notes
Premier League Club Packs
FIFA News
Pitch Notes
Email Updates
Global Series Home
Overview
Official Rules
Rankings
VOLTA FOOTBALL
Gameplay
Unrivaled Authenticity
Career Mode
Player Ratings
CONMEBOL Libertadores
Accessibility
The Groundbreakers
FIFA 20 Demo
Tips & Tricks
Club Packs
Standard Edition
Champions Edition
Ultimate Edition
Features
FUT Friendlies
Season Objectives
More Ways to Play
DIVISION RIVALS
FUT Web App
ICONS
Ratings Hub
Top 100 Players
Team Of The Year
Team Of The Season So Far
Future Stars
Road To The Final
Ultimate Scream
Ones To Watch
Goals of the Week
Creator's Hub
Forums
Pro Clubs
EA Sports FIFA Talent Scout
Pitch Notes
Premier League Club Packs
FIFA News
Email Updates
Global Series Home
Overview
Official Rules
Rankings
GET FIFA 20 Learn More
TEAM OF THE SEASON SO FAR
From title challenges to relegation scraps, there's still lots to play for this season. Get ready for the return of The World's Game by celebrating the best players from 2019/20 with the FIFA 20 Team of the Season So Far.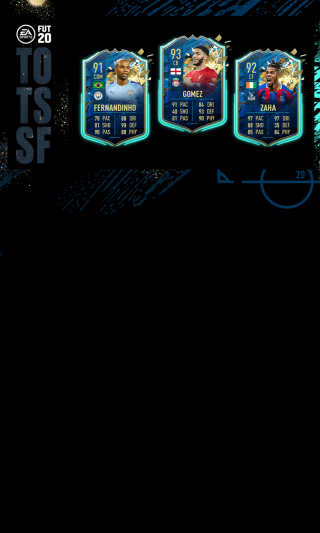 See the Teams
EA Play
Join Now
THE BEST WAY TO PLAY FIFA 20
Play FIFA 20 and other great games now with EA Play!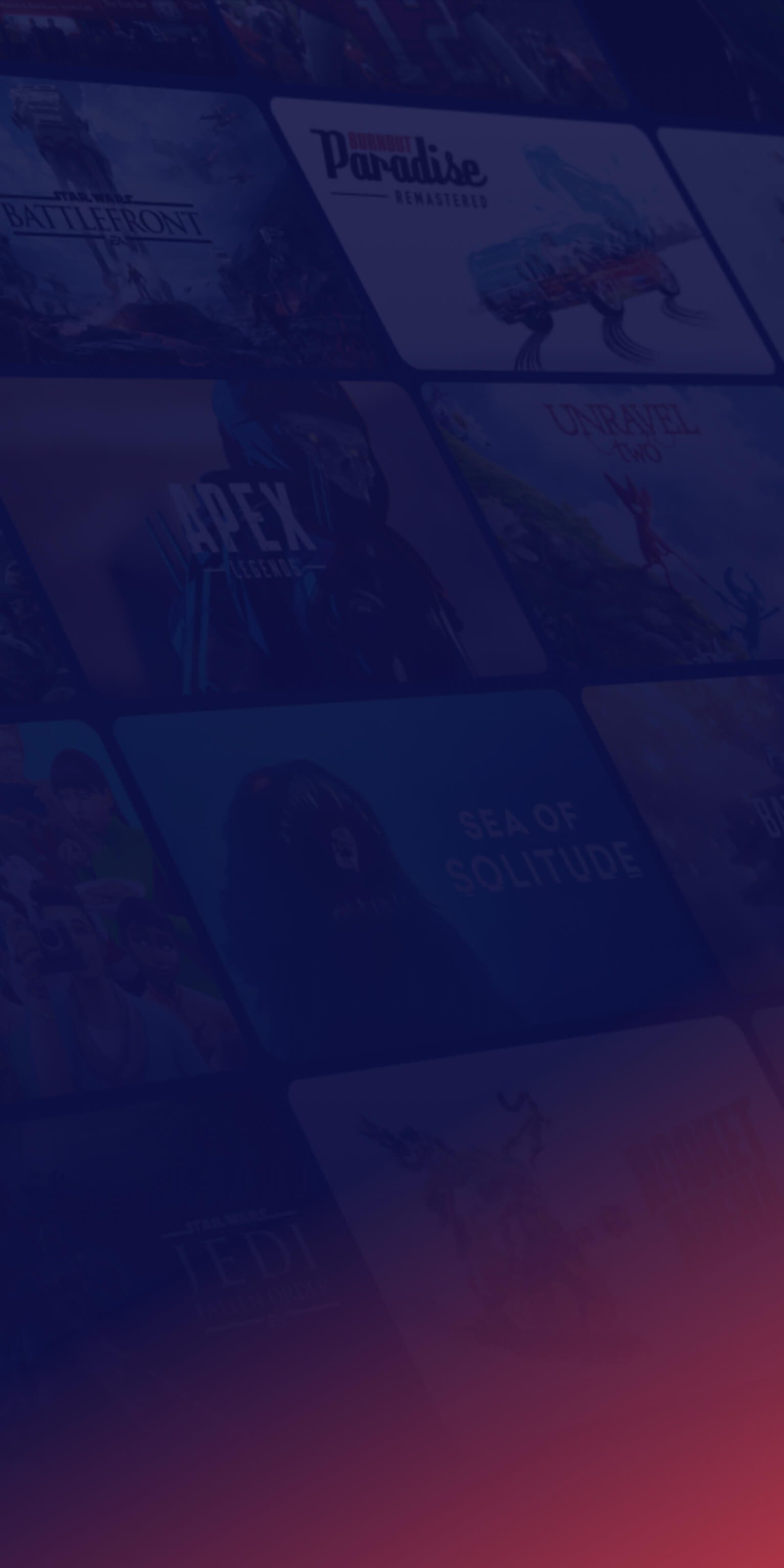 Join Now
INTRODUCING EA SPORTS VOLTA FOOTBALL
Build your player, pick your gear, and express your style on the streets in football playgrounds all over the world.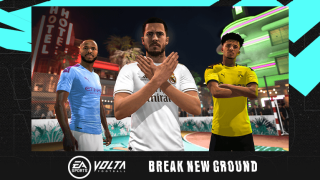 Discover VOLTA FOOTBALL
BUILD YOUR DREAM SQUAD
The most popular mode in FIFA is back for a new season!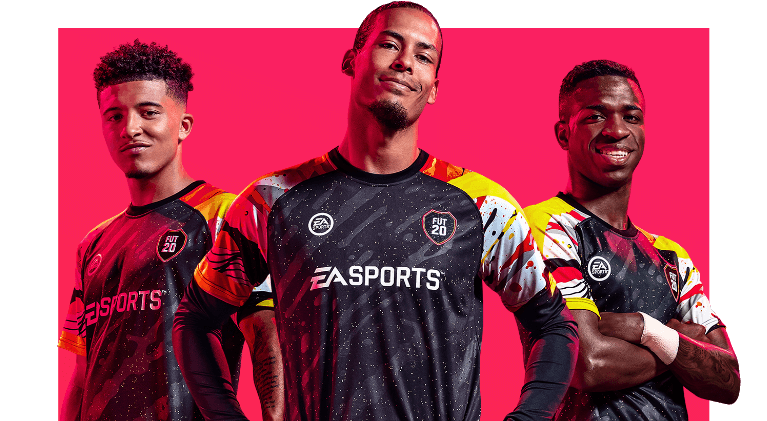 See Player Ratings
Discover FUT 20
Experience Football Intelligence
FIFA 20 Gameplay Features put you at the centre of every match.
Learn More
CONMEBOL Libertadores
Feel the passion of an entire continent's footballing obsession. Play South America's biggest club competitions in FIFA 20 now!*
See Features
FIFA 20 PLAYER RATINGS
From the top 100 players in world football to 5* skillers and FUT ICONS, check out the official FIFA 20 Player Ratings.
See Player Ratings
* REQUIRES FIFA 20 ON APPLICABLE PLATFORM (SOLD SEPARATELY), ALL GAME UPDATES AND INTERNET CONNECTION.



FIFA 20 NEWS
Pitch Notes: FIFA 20 Game Data Centers - Deep Dives: New Location Process +…
Jul 31, 2020
The latest updates about FIFA 20 online connectivity and responsiveness efforts.
Learn More
FIFA 20 Ultimate Team - FUT Pre-Season - EA SPORTS Official Site
Jun 29, 2020
Kick start your progress in FUT 21 while celebrating the return of European football with FUT Pre-Season.
Learn More
FIFA 20 Ultimate Team - FUT Summer Heat - EA SPORTS Official Site
Jun 17, 2020
Celebrate the best of FUT 20 with Summer Heat.
Learn More
See More News

United States
Argentina
Australia
Austria
Belgium
Brazil
Canada
Chile
China
Colombia
Czech Republic
Denmark
Finland
France
Germany
Greece
Hong Kong
Hungary
India
Ireland
Israel
Italy
Japan
Korea
Mexico
Netherlands
New Zealand
Norway
Poland
Portugal
Russia
Saudi Arabia
Singapore
Slovakia
South Africa
Spain
Sweden
Switzerland
Taiwan
Thailand
Turkey
Ukraine
United Arab Emirates
United Kingdom
I can unsubscribe at any time by changing my email preferences, contacting privacyadmin.ea.com, or writing to Electronic Arts Inc., ATTN: Email Opt-Out, 209 Redwood Shores Pkwy, Redwood City, CA, 94065, USA.
Sign In and Join
Sign Up
Refresh Page
Already have an EA Account? Check your Email Preferences here.
Sign up today to receive the latest EA SPORTS FIFA news, videos, offers, and more via email (including other EA news, products, events, and promotions).
You must sign in and sign up for FIFA and EA emails before you can redeem your FIFA.
You must sign up for the FIFA newsletter before you can redeem your item.
You've successfully signed up to receive emails about FIFA and other EA news, products, events and promotions. Unsubscribe at any time by changing your email preferences.
You've already signed up for FIFA newsletters with the above email. Please check your spam folder for the above email. If you still have troubles receiving the emails, please contact EA.
Sorry, you are ineligible to sign up for this newsletter.
Sorry, something has gone wrong. Please try again later.
About FIFA 20
News
Competitive FIFA
FIFA Mobile
Get FIFA Now
facebook
twitter
instagram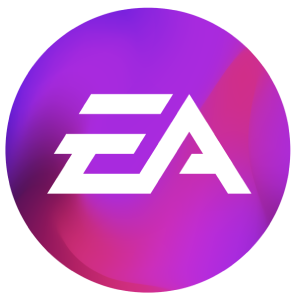 Browse Games
Latest News
Help Center
EA Forums
About Us
Careers
United States
United Kingdom
العربية
Australia
Brasil
繁體中文(香港)
Česká republika
Danmark
Deutschland
España
France
Italia
日本
대한민국
México
Nederland
Norge
Polska
Россия
Sverige
Türkiye
Legal
Online Service Updates
User Agreement
Privacy & Cookie Policy (Your Privacy Rights)