LGBTQ elder care facilities open nationwide, but discrimination persists
Advocates say seniors face challenges despite groundbreaking advances
Marsha Wetzel, an out lesbian, shared her life with her partner of 30 years, Judith Kahn, at the couple's home in Illinois until Kahn died in 2013 of colon cancer.
As is the case with some same-sex couples who never married, Kahn's family took legal possession of the couple's home several years later, forcing Wetzel, who suffered from severe arthritis, to move into the Glen St. Andrew Living Community, a retirement and assisted living facility in Niles, Ill.
According to a lawsuit filed on her behalf in 2016 by the LGBTQ litigation group Lambda Legal, when word got out that Wetzel was a lesbian after she disclosed her sexual orientation to a fellow resident, she was called homophobic slurs, spat on, and assaulted on several occasions by other residents of the facility. The lawsuit, which later resulted in a court ruling in Wetzel's favor, charged that officials at the Glen St. Andrew facility illegally failed to take action to prevent Wetzel from being subjected to abuse and threats by fellow residents and retaliated against her when she complained.
Lambda Legal announced one year ago, on Nov. 20, 2020, that Wetzel passed away at the age of 73 of natural causes after a landmark 2018 appeals court ruling in her favor affirmed that residential facilities such as the one in which she lived are legally responsible for the safety of tenant residents.
"Marsha spent the rest of her days in a senior living community where she was out and affirmed," said Lambda Legal attorney Karen Loewy, who represented Wetzel in the lawsuit.
Advocates for LGBTQ seniors were hopeful that the 2018 U.S. Court of Appeals for the Seventh Circuit ruling in the Wetzel case would speed up the gradual but steady advances in the rights of LGBTQ elders in long-term care facilities and in society in general.
A short time later, the New York City-based national LGBTQ elder advocacy group SAGE expanded its programs providing cultural competency training for the nation's long-term care residential facilities. And in some cities, including New York, Los Angeles, and San Francisco, LGBTQ specific retirement and long-term care facilities began to open to provide LGBTQ elders with a wide range of "wrap around" services in addition to a safe place to live.
But LGBTQ elder advocates were taken aback in October of this year when news surfaced that transgender U.S. Army veteran Lisa Oakley, 68, was denied placement in more than two-dozen long-term care facilities in Colorado in 2020 and earlier this year.
"When they found out I was transgender, a lot of the facilities didn't want me," Oakley told USA Today. "A lot of transgender people, I'm sure, face the same thing," she said. "We're humans, just like everybody else."
Oakley told other media outlets her ordeal in trying to gain admission to a residential care facility began in October 2020, when she became unable to care for herself due to complications from diabetes. Her first choice was a facility in her hometown in rural Craig, Colo., where she had lived for the previous 25 years. She believes that facility turned her down because of her gender identity.
A social worker who assisted in Oakley's applications for long-term care facilities said the facility in Craig said Oakley would have to be placed in a private room, which was at the time unavailable, "because she still has her 'boy parts' and cannot be placed with a woman" in a shared room.
Many other Colorado facilities to which Oakley applied for admission, according to social worker Cori Martin-Crawford, cited the COVID pandemic as the reason for not accepting new residents. But as COVID related restrictions began to subside, other facilities continued to deny Oakley admission.
With Martin-Crawford's help, Oakley finally found a facility that is LGBTQ supportive in Grand Junction, Colo., which is nearly three hours away from her hometown of Craig, where she had hoped to remain.
LGBTQ activists expressed concern that the discrimination that Oakley faced took place in the state of Colorado, which has a state law that bans discrimination based on sexual orientation and gender identity. Experts familiar with long-term care facilities for older adults have said many private elder care facilities can get around state LGBTQ nondiscrimination laws by claiming other reasons for turning down an LGBTQ person.
Michael Adams, the CEO of SAGE, told the Blade that the wide range of programs and initiatives put in place by SAGE and other groups advocating for LGBTQ elders in recent years have resulted in significant changes in support of LGBTQ seniors.
"It is the case now that in almost all states there are one or more elder care facilities that have been trained through our SAGECare program," Adams said. "But it's nowhere near what it needs to be," he said. "It needs to be that there are welcoming elder care facilities in every single community in this country" for LGBTQ elders.
Adams was referring to the SAGE program started recently called SAGECare that arranges for employees and other officials at elder care facilities throughout the country to receive LGBTQ competency training. The facilities that participate in the program are designated "SAGECare credentialed," and are included in SAGE database lists available to LGBTQ elders looking for a safe facility in which to reside.
SAGE spokesperson Christina Da Costa provided the Blade with data showing there have been 136,975 professionals trained at a total of 617 SAGECare credentialed organizations nationwide. Out of 617 organizations, 172 are residential communities. Also, out of the total of 617 are 167 Area Agencies on Aging, Aging and Disability Resource Centers, Senior Centers, and senior Ombudsman offices.
Da Costa said 278 of the credentialed entities that have received the SAGECare training throughout the country are "other aging focused nonprofit and for-profit businesses."
According to SAGE, there are 12 SAGECare credentialed elder care facilities or service providers operating in the D.C. metropolitan area, with two located in D.C. One of the D.C. facilities is Ingleside at Rock Creek, located in Northwest D.C., which is a residential facility. The other is Options for Senior America, a company that provides in-home care services for seniors, including seniors living in D.C.
A SAGE list of the D.C.-area SAGECare credentialed facilities shows that three are in Rockville, Md.; two are in Gaithersburg, Md.; and one each are in Bethesda, Md.; Arlington, Va.; and Alexandria, Va. The list shows that one of them that provides services to elders in the D.C. area is based in North Carolina.
SAGE has a separate list of the 15 elder care residential facilities in the U.S. created specifically to serve LGBTQ residents.
None are in D.C., Maryland, or Virginia. However, SAGE says it has been working in cooperation with Mary's House for Older Adults, a D.C.-based LGBTQ organization that advocates for LGBTQ seniors and is in the process of opening LGBTQ elder residential facilities in D.C. and others in the surrounding suburbs.
Mary's House founder and CEO Dr. Imani Woody couldn't immediately be reached to determine when the organization expects to open its first residential facility.
While a residential LGBTQ elder facility has yet to open in the D.C. area, activists note that in addition to Mary's House, services and amenities for LGBTQ elders in the area are currently being provided by the D.C. Center for the LGBT Community and Whitman-Walker Health, the LGBTQ supportive health center, which also has a legal services branch.
Adams of SAGE said the Los Angeles LGBTQ Center opened the nation's first LGBTQ elder residential facility over eight years ago called Triangle Square. He said the L.A. Center opened a second LGBTQ elder residential facility a short time later. And this week, the L.A. Center announced it has opened a third LGBTQ elder residential facility in Hollywood that is part of a larger "intergenerational campus" that will bring together LGBTQ seniors and LGBTQ youth.
SAGE, meanwhile, operates two LGBTQ elder long-term care residential facilities in New York City, one in Brooklyn called the Stonewall House and one in the Bronx called Pride House.
The other U.S. cities with LGBTQ elder residential facilities include: Philadelphia, Minneapolis, Chicago, Cleveland, San Francisco (which has two such facilities), San Diego, Houston, Fort Lauderdale, and Islip, N.Y.
Adams said the LGBTQ elder residential facilities range in size, with the largest – New York's Stonewall House – having 143 apartments that can accommodate 200 residents. He said others vary from 40 or 50 residential units to 120.
Advocates for LGBTQ elders point to what they consider another important breakthrough for LGBTQ elders this year in the release of a joint SAGE-Human Rights Campaign Long-Term Care Equality Index report for 2021. Adams said the report is the first of what could become an annual report and rating and scorecard for long-term care elder residential facilities and other elder facilities.
The 2021 report includes a self-reporting assessment of elder care facilities that the facilities themselves completed through a questionnaire in which many disclosed they have LGBTQ nondiscrimination policies for elders around admission to the facility and for practices by staff for those residing in their facilities.
The report includes a chart showing that 158 elder care facilities in 31 states responded positively to the outreach to them by organizers of the Long-Term Care Equality Index.
"We are thrilled to be working with SAGE and to be working with the Human Rights Campaign who are developing the Long-Term Care Equality Index," said Nii-Quartelai Quartey, who serves as senior adviser and LGBTQ liaison for the American Association of Retired Persons or AARP.
"There is a great deal of work that we're doing in the area of LGBTQ older adults nationwide," Quartey told the Blade. "And AARP has been engaged with the LGBTQ community nationwide for many years now," he said.
"In recent years, we've turned up the volume in working more closely with organizations like SAGE and Lambda Legal and the Victory Fund Institute, the Center for Black Equity, the National Queer Asian Pacific Islander Alliance, and the Hispanic Federation."
According to Quartey, a recent AARP study of LGBTQ elders called Maintaining Dignity shows that longstanding concerns of discrimination remain despite the many advances in support for LGBTQ seniors in recent years.
He said a survey that was part of the study found that 67 percent of the LGBTQ elders who responded, "were concerned about neglect in a long-term care setting." Over 60 percent feared verbal or physical harassment in a long-term care setting and over half "felt forced to hide or deny their identity" as an LGBTQ person, Quartey said.
Another recent survey of LGBTQ elders conducted by SAGE asking them how they feel about the use of the word "queer" in descriptions of LGBTQ people yielded findings that came as a surprise to some, according to Adams. A large majority of those surveyed from across the country said they are "comfortable at this point using that word and reclaiming that word, which is different from what we had heard historically," Adams said.
He said in response to those findings SAGE will now as an organization gradually shift to using the term LGBTQ instead of its past practice of using LGBT.
Although Congress has yet to pass the Equality Act, last year under the Trump Administration, Congress acted in a rare bipartisan way to approve the required five-year reauthorization of the U.S. Older Americans Act with new language supportive of LGBTQ older adults. President Trump signed the legislation.
The language includes a mandate for outreach to and reporting about services provided to LGBTQ older adults in federally funded programs. It also opens the way for LGBTQ older adults to be designated in a category of "greatest social need." Under that category, older adults receive a higher priority in the allocation of resources by the federal government.
"We've come a long way, but we still have a way to go to get over the finish line," said the AARP's Quartey. "And aside from passing legislation federally and on the state and local level, we absolutely need to continue the hard work of changing hearts and minds," he said.
Longtime gay activist and writer Brian McNaught, whose latest book, "On Being Gay and Gray – Our Stories, Gifts, and the Meaning of Our Lives," was just released, says his own very informal survey of LGBTQ elders found there is a need for intimacy that may be too controversial for the establishment LGBTQ elder groups.
"I'm a SAGE volunteer and the 81-year-old man with whom I was working after his husband of 47 years died, said after his grieving process, 'I want to be hugged and kissed. Does that make me a bad person?'"
McNaught told the Blade he assured the man those feelings do not make him a bad person. McNaught said the man's comment prompted him to conduct further research, in which he found that some gay male elders in the Fort Lauderdale, Fla., area who often need assisted living support would like to patronize gay bathhouses or seek the services of an escort agency. He said he determined that any LGBTQ elder group providing such services would trigger "a huge uproar of protests" and most likely a loss of funding.
"We don't want to talk about sexuality and aging," McNaught said.
Arizona lawmaker proposes two anti-Trans bills for 2022
The laws would have potential to inflict considerable harm on Transgender Arizonans and the medical professionals who treat them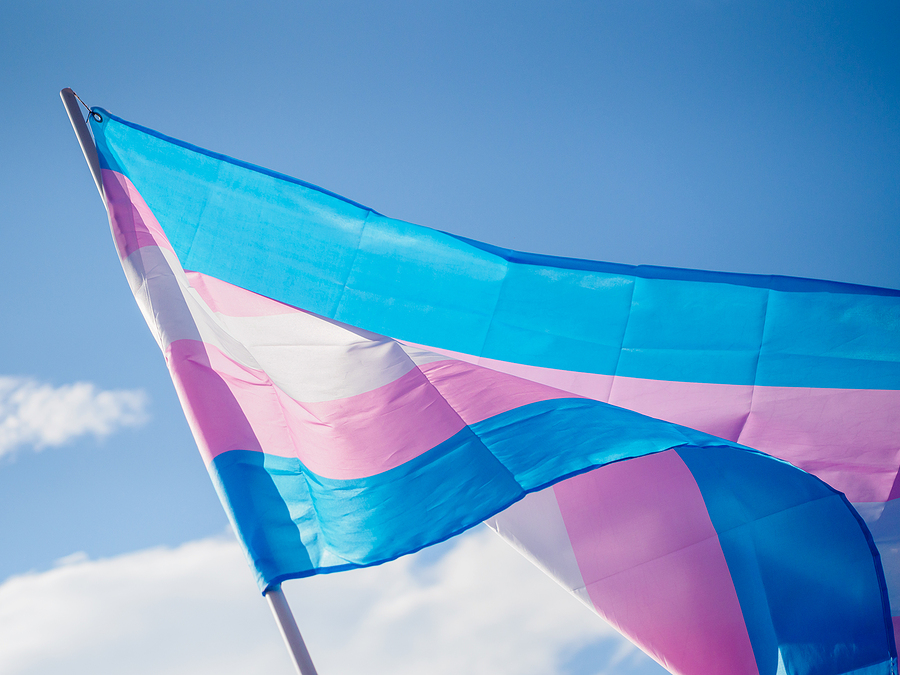 FLAGSTAFF, Az. – Two proposed laws would have potential to inflict considerable harm on young Transgender Arizonans and the medical professionals who treat them LGBTQ+ activists say.
The author of both proposed measures is Republican state Senator Wendy Rogers (R-SD6), an outspoken supporter of Donald Trump and a member of the Oath Keepers, an anti-government militia organization whose members took part in the January 6, 2021 attack on the U.S. Capitol. This past Fall in October 2021, Rogers spoke at a QAnon-linked political conference in Las Vegas, Nevada.
Rogers first measure, Senate Bill 1045 would prohibit medical procedures that affirm the gender identity of children and teens who are transgender. The law would ban medical professionals in Arizona from performing gender affirming surgeries on Trans minors and also would forbid prescribing testosterone to Trans male youth or estrogen to Trans female youth who are under 18. Any Health professional found guilty would be convicted as a Class 4 felony offender, with a prison sentence of one to three years.
Her second measure, Senate Bill 1046 would restrict transgender children from participating in sports at public and private schools, community colleges and universities. The measure would divide all interscholastic and intramural sports teams into male, female and co-ed teams "based on biological sex."
Under that definition, the measure prohibits transgender girls from participating in girl's sports. It would also mandate a medical review of a student's anatomy, hormone levels and genetics if the student's biological sex is disputed while seeking to participate in sports programs at public and private schools, community colleges and state universities.
State Representative Daniel Hernandez, (D-HD2), a member of the Arizona Legislative LGBTQ Caucus told the Blade Wednesday, "State Senator Rogers is using her power to target the most vulnerable children in our communities. The discriminatory and unjust efforts to stop transgender youth from receiving medical care shows Senator Rogers is trying to get in between patients, their doctors and their families. She once again is trying to ban our children from participating in school sports based on nothing more than hate. It pains me to see another attack made on the transgender community."
Speaking to the Arizona Mirror, a local Arizona media outlet, Ryan Starzyk, a board member of Phoenix Pride noted; "It is dangerous and it is deadly because if (children) don't have the foundational information, if they have nobody they can turn and oftentimes is the only one they can turn to is the professional at school before, (the legislature) is laying the foundation for students suicides."
The Arizona Interscholastic Association has policies and guidelines in place that govern Trans youth participation in sports across the state: "All students should have the opportunity to participate in Arizona Interscholastic Association (AIA) activities in a manner that is consistent with their gender identity, irrespective of the sex listed on a student's eligibility for participation in interscholastic athletics or in a gender that does not match the sex at birth."
Rogers has a history of anti-LGBTQ+ animus. In October she expressed her extreme displeasure over a new comic book storyline debuted by DC Comics-Warner Brothers Media on National Coming Out Day.
"Superman loves Louis Lane. Period. Hollywood is trying to make Superman gay and he is not. Just rename the new version Thooperman so we can all know the difference and avoid seeing it," Rogers tweeted.
Commenters on social media were quick to point out that in the DC Multiverse canon it is 'Lois Lane not Louis while others took umbrage with her use of the word 'Thooperman,' labeling it an offensive phonetic characterization of a stereotyped gay man's lisping in speech patterns.
Starzyk is opposed to SB1046. He said it reminds him of the bullying he constantly faced in the military for being gay.
"The legislators are bullying our youth, the same way I was bullied in the military," he said. "It's heartbreaking to see that instead of encouraging our young people who are finding themselves sooner, the legislature is classifying our young future generation as not being good enough."
Starzyk told the Arizona Mirror that youth should be celebrated for affirming their gender identity, instead of being deprived of an important opportunity for growth that sports provide.
"We should be embracing that as a society, to know who you are at such a young age," Starzyk said. "Years ago you couldn't even be yourself." He added that Rogers has "some radical view of the gay community."
Top 10 national news stories of 2021
Capitol insurrection, COVID cancellations, and a new president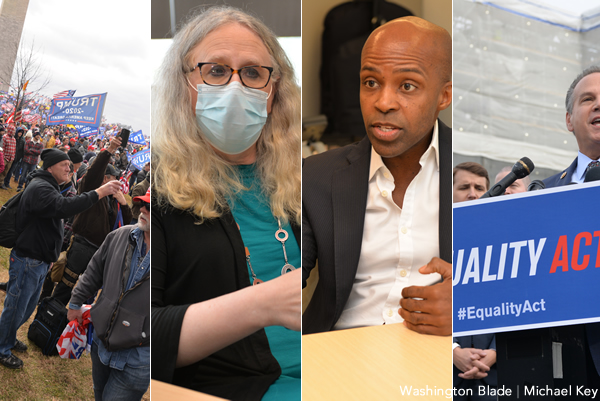 #10: RNC creates Pride outreach coalition
Republican National Committee chair Ronna McDaniel, in a video announcement at a Log Cabin Republicans dinner honoring Melania Trump and attended by former President Trump, announced the creation of the LGBTQ outreach Pride coalition — much to the consternation of internal critics.
Following calls on her to resign from anti-LGBTQ conservatives like Family Research Council's Tony Perkins, McDaniel defended the coalition by saying it was a continuation of the LGBTQ initiative set up with Trump's 2020 re-election campaign — which had enjoyed success by doubling the LGBTQ vote for the Republican candidate after the previous election.
McDaniel wrote an apology letter for poor communication over the creation of the new initiative, which led Democrats to criticize Republicans over the perceived backtracking on LGBTQ outreach.
#9: Caitlyn Jenner makes waves as gubernatorial candidate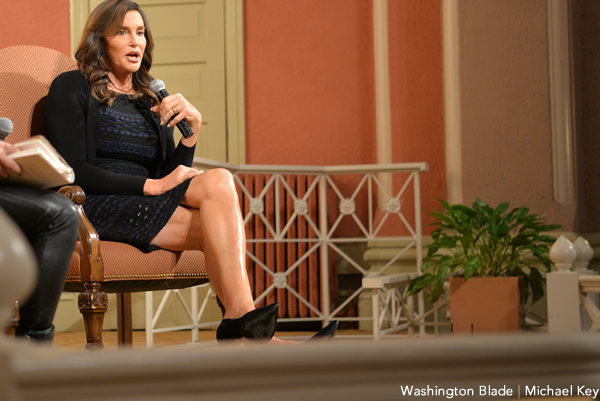 Caitlyn Jenner, in a free-for-all recall election in California seeking to unseat Gov. Gavin Newsom, made waves as a Republican gubernatorial candidate, breaking new ground as a transgender candidate while facing criticism for being out of touch.
Early on in her candidacy, the former Olympic champion said she was against transgender kids in sports, citing a need to protect women in athletics. Jenner later modified her position by saying potential players who had gone through the transition process should "of course" be allowed to compete.
Jenner became an unlikely popular figure in conservative media, appearing on Fox News and Newsmax. At the end of the day, Jenner performed poorly at the polls, taking two percent of the vote as Newsom survived the recall effort.
#8: Supreme Court issues non-ruling in Fulton case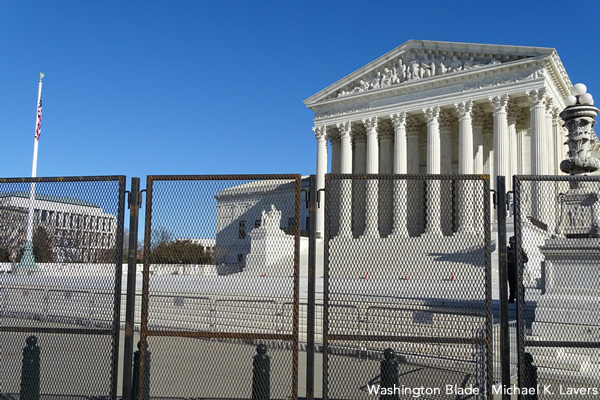 The U.S. Supreme Court, amid fears it would render a decision this year that would enable sweeping discrimination against LGBTQ people, instead handed down a ruling in Fulton v. City of Philadelphia limited to the facts of the case at hand and with no major impact.
In a unanimous ruling, justices issued a decision in favor of Catholic Social Services, which sought a First Amendment ruling to refuse child placement with same-sex couples over a religious exemption, but it was based on the approach of the City of Philadelphia enforcing its contract with the foster care agency.
Both sides claimed a small victory. The American Civil Liberties Union, which had argued before the Supreme Court in the case and sided with the City of Philadelphia, said the ruling "will not affect any foster care programs that do not have the same system for individualized exemptions that were at issue here."
#7: In grim record, at least 46 trans people killed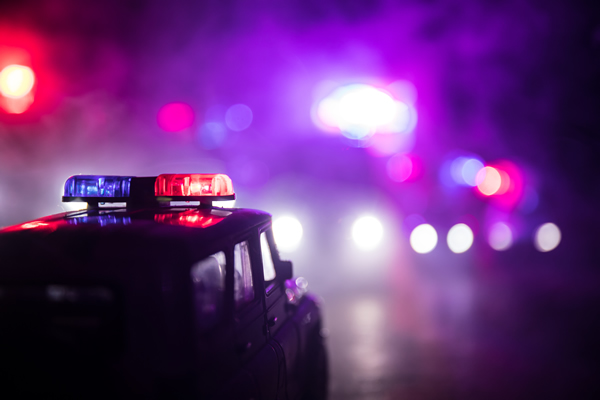 In a grim milestone, at least 46 trans people were killed by the time of the Transgender Day of Remembrance, reaching a new record in the time the deaths have been recorded.
The violence has consistently had a disproportionate impact on transgender women of color. Among the deaths that brought the tally to a new record was Marquiisha "Quii" Lawrence, a 28-year-old Black transgender woman who was shot and killed in her home in Greenville, S.C.
President Biden, who had brought attention to the issue of anti-transgender violence as a presidential candidate, issued a statement recognizing the 46 deaths and was briefed on the issue in the days preceding the Transgender Day of Remembrance.
#6: HRC president fired after being ensnared in Cuomo affair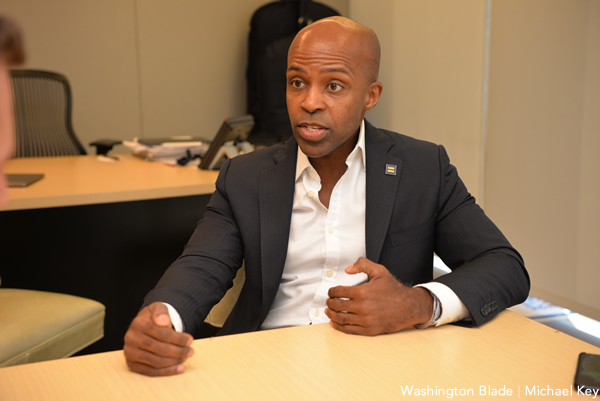 The president of the Human Rights Campaign was terminated from his role this year following a public dispute with the board after being ensnared in the damning report detailing accusations of sexual misconduct against former New York Gov. Andrew Cuomo.
Alphonso David, who had previously served as counselor to Cuomo, was revealed in the report by New York Attorney General Letitia James to have kept a personnel file of one of the female employees alleging sexual misconduct, then having assisted in efforts to leak that file to the media in an attempt to discredit her.
Although the Human Rights Campaign board initially stood by David, the organization later announced an independent review of the matter, which David said he welcomed. David took to Twitter and criticized the board for having privately asked him about resigning, which prompted his termination.
#5: Equality Act all but dead in Congress
Although LGBTQ rights advocates had hoped President Biden would be able to deliver a campaign promise to sign into law a long-sought update to federal civil rights law that would include LGBTQ people, legislation known as the Equality Act is all but dead in Congress.
The U.S. House, acting quickly on Biden's campaign promise to sign the Equality Act into law within the first 100 days of his administration, approved the legislation in February, although it had fewer Republican votes compared to when the chamber last passed the measure.
But the Equality Act, contorted by critics who claim it endangers women's rights and privacy, went no further in Congress. In the Senate, where Sen. Joe Manchin has declined to support the bill and Sen. Susan Collins has withdrawn her support, the legislation never got a vote — either on the floor or in committee. No route appears open for the bill.
#4: Buttigieg, Levine confirmed by Senate in historic firsts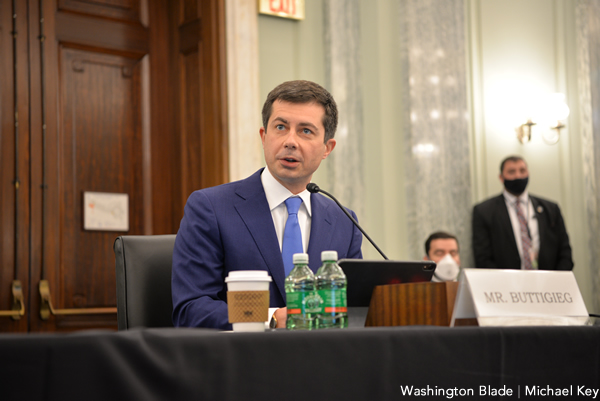 In a pair of historic votes, the U.S. Senate this year confirmed two presidential appointees — Pete Buttigieg and Rachel Levine.
Buttigieg was confirmed as transportation secretary, making him the first openly gay person to win Senate confirmation for a Cabinet-level role, while Levine was confirmed as assistant secretary for health, making her the first openly transgender person to win Senate confirmation for any position.
Although Buttigieg was confirmed with bipartisan support, that quickly faded as the supply chain crisis emerged and Buttigieg faced criticism for his approach to the issue.
For Levine, the road was different. During her confirmation hearing, Sen. Rand Paul (R-Ky.), began his inquiries with the words "genital mutilation," which formed the basis of his rude, invasive questioning. Levine was confirmed by a narrow vote of 52-48.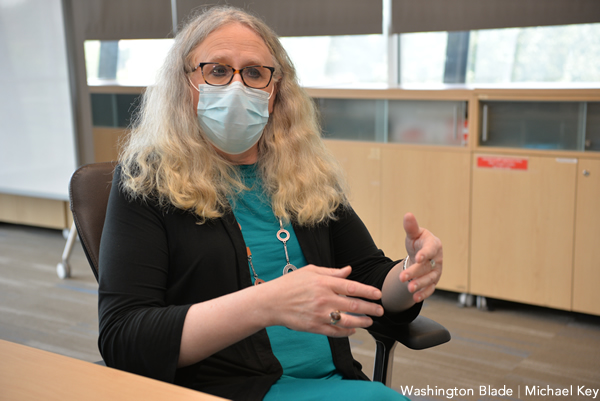 #3: States enact measures against trans kids in sports, health care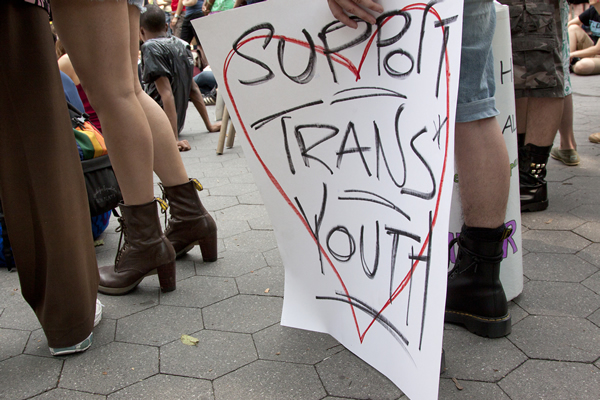 Drawing on anti-trans fears, states defied federal laws against discrimination and enacted measures against transgender kids in sports and access to health care, leading to a wave of litigation in the next battleground for the LGBTQ movement.
Among the most stringent measures was a law in Arkansas, enacted by the legislature overriding a veto of Gov. Asa Hutchinson, instituting criminal penalties for providing transition-related care to youth. Other states, including Florida, Texas, and West Virginia, enacted laws prohibiting transgender girls from participating in school sports consistent with their gender identity.
LGBTQ legal advocates were quick to file litigation against the measure in court, arguing they violate the prohibition on discrimination based on sex in schools under Title IX of the Education Amendments of 1972. Judges have blocked measures from going into effect as litigation moves forward.
#2: Coronavirus continues to rage, nixes LGBTQ events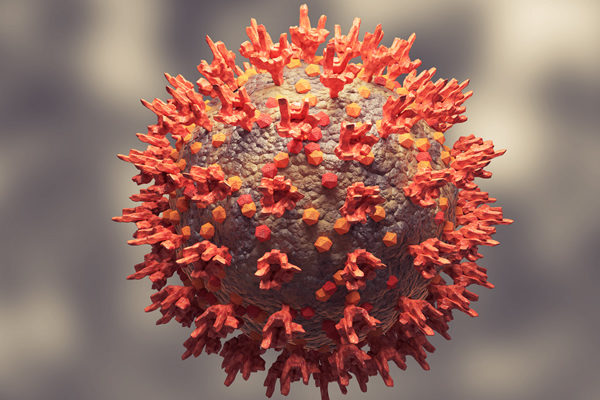 Despite hopes the coronavirus would fade with the emergence of vaccines, the pandemic continues to rage amid breakthrough infections and refusal of a large percentage of Americans to get the shot, leading to additional deaths and cancellation of LGBTQ events.
More than 386,000 deaths due to coronavirus were reported this year, making it deadlier than the previous year in terms of sheer numbers, as hospitalization rates continued to climb to new highs.
Pride celebrations were among the events cancelled as the pandemic continued through the summer. Large cities like Los Angeles and Boston opted not to have not to have events at all, while D.C. had a much scaled-down event in which Vice President Kamala Harris participated.
#1: After insurrection, Biden inaugurated and reverses Trump anti-LGBTQ policies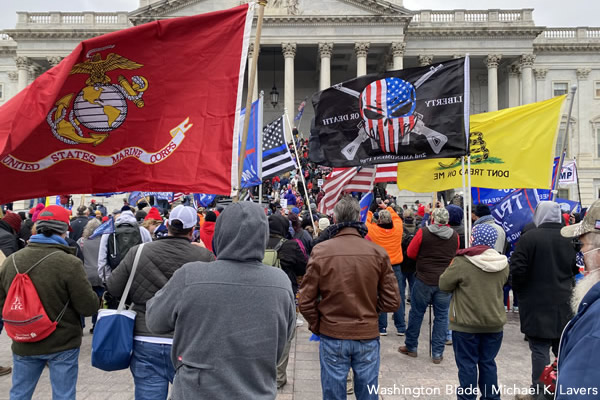 After a bloody insurrection on Jan. 6 at the U.S. Capitol incited by President Trump, Joe Biden brought with him a sense of renewal and a promise of unity after was sworn in as the 46th president of the United States, reversing anti-LGBTQ policies early on during his administration.
Biden on his first day in office signed an executive order requiring federal agencies to implement the U.S. Supreme Court's decision against anti-LGBTQ discrimination in Bostock v. Clayton County to fullest extent possible. Days later, Biden signed an executive order reversing President Trump's ban on transgender people serving in the military, leading to a policy that would enable transgender people for the first time ever to enlist in the armed forces.
In another reversal, Biden issued a White House proclamation to recognize Pride month after Trump failed to issue an official notice for each of his four years in office, with the exception of a solitary tweet in 2019. In the proclamation, Biden urged LGBTQ people to "accept nothing less than full equality."
CDC still falling short on LGBTQ data collection for COVID patients: expert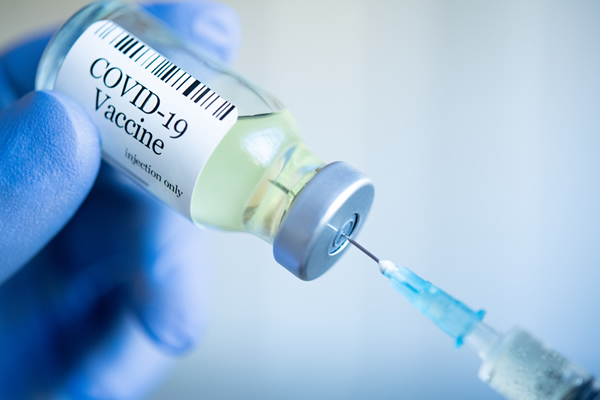 Despite requests since the start of the COVID pandemic for the U.S. government to enhance data collection for patients who are LGBTQ, the Centers for Disease Control & Prevention is still falling short on issuing nationwide guidance to states on the issue, a leading expert health on the issue told the Blade.
With a renewed focus on COVID infections reaching new heights just before the start of the holidays amid the emergence of Omicron, the absence of any LGBTQ data collection — now across both the Trump and Biden administrations — remains a sore point for health experts who say that information could be used for public outreach.
Sean Cahill, director of Health Policy Research at the Boston-based Fenway Institute, said Wednesday major federal entities and hospitals have been collecting data on whether patients identify as LGBTQ for years — such as the National Health & Nutrition Examination Survey, which has been collecting sexual orientation data since the 1990s — but the CDC hasn't duplicated that effort for COVID even though the pandemic has been underway for two years.
"It's not like this is a new idea," Cahill said. "But for some reason, the pandemic hit, and all of a sudden, we realize how little systematic data we were collecting in our health system. And it's a real problem because we're two years into the pandemic almost, and we still don't know how it's affecting this vulnerable population that experiences health disparities in other areas."
The Blade was among the first outlets to report on the lack of efforts by the states to collect data on whether a COVID patient identifies as LGBTQ, reporting in April 2020 on the absence of data even in places with influential LGBTQ communities. The CDC hasn't responded to the Blade's requests for nearly two years on why it doesn't instruct states to collect this data, nor did it respond this week to a request for comment on this article.
Cahill, who has published articles in the American Journal of Public Health on the importance of LGBTQ data collection and reporting in COVID-19 testing, care, and vaccination — said he's been making the case to the CDC to issue guidance to states on whether COVID patients identify as LGBTQ since June 2020.
Among those efforts, he said, were to include two comments he delivered to the Biden COVID-19 Health Equity Task Force in spring 2021, a letter a coalition of groups sent to the Association of State & Territorial Health Officers asking for states to collect and report SOGI in COVID in December 2020 as well as letters to HHS leadership and congressional leadership in spring and summer 2020 asking for them to take steps to encourage or require SOGI data collection in COVID.
Asked what CDC officials had to say in response when he brought this issue to their attention, Cahill said, "They listen, but they don't really tell me anything."
"We've been making that case, and to date, as of December 22, 2021, they have not issued guidance, they have not changed the case report form. I hope that they're in the process of doing that, and maybe we'll be pleasantly surprised in January, and they'll come up with something…I really hope that's true, but right now they're not doing anything to promote SOGI data collection and reporting in surveillance data."
Cahill, in an email to the Blade after the initial publication of this article, clarified CDC has indicated guidance on LGBTQ data collection for COVID patients may come in the near future.
"HHS leaders told us this fall that CDC is working on an initiative to expand SOGI data collection," Cahill said. "We are hopeful that we will see guidance early in 2022. Key people at CDC, including Director Walensky, understand the importance of SOGI data collection given their long history of working on HIV prevention."
In other issues related to LGBTQ data collection, there has been a history of states resisting federal mandates. The Trump administration, for example, rescinded guidance calling on states to collect information on whether foster youth identified as LGBTQ after complaints from states on the Obama-era process, much to the consternation of LGBTQ advocates who said the data was helpful.
The White House COVID-19 Health Equity Task Force has at least recognized the potential for enhancing LGBTQ data collection efforts. Last month, it published an implementation plan, calling for "an equity-centered approach to data collection, including sufficient funding to collect data for groups that are often left out of data collection (e.g….LGBTQIA+ people)."
The plan also calls for "fund[ing] activities to improve data collection…including tracking COVID-19 related outcomes for people of color and other underserved populations," and specifically calls for the collection of LGBTQ data.
The importance of collecting LGBTQ data, Cahill said, is based on its potential use in public outreach, including efforts to recognize disparities in health population and to create messaging for outreach, including for populations that may be reluctant to take the vaccine.
"If we see a disparity, we can say: Why is that?" Cahill said. "We could do focus groups of the population — try to understand and then what kind of messages would reassure you and make you feel comfortable getting a vaccine, and we could push those messages out through public education campaigns led by state local health departments led by the federal government."
The LGBTQ data, Cahill said, could be broken down further to determine if racial and ethnic disparities exist within the LGBTQ population, or whether LGBTQ people are likely to suffer from the disease in certain regions, such as the South.
"We have data showing that lesbian or bisexual women, and transgender people are less likely to be in preventive regular routine care for their health," Cahill said. "And so if that's true, there's a good chance that they're less likely to know where to get a vaccine, to have a medical professional they trust to talk to about it today."
Among the leaders who are supportive, Cahill said, is Rachel Levine, assistant secretary for health and the first openly transgender person confirmed by the U.S. Senate for a presidential appointment. Cahill said he raised the issue with her along with other officials at the Department of Health & Human Services three times in the last year.
In her previous role as Pennsylvania secretary of health, Levine led the way and made her state the first in the nation to set up an LGBTQ data collection system for COVID patients.
"So she definitely gets it, and I know she's supportive of it, but we really need the CDC to act," Cahill said.
Although the federal government has remained intransigent in taking action, Cahill said the situation has improved among states and counted five states — California, Pennsylvania, Rhode Island, Nevada and Oregon — in addition to D.C. as among those that have elected to collect data on sexual orientation and gender identity of COVID patients.
However, Cahill said even those data collection efforts are falling short because those jurisdictions have merely been public about collecting the data, but haven't reported back anything yet.
"Only California has reported data publicly, and the data that they're reporting is really just the completeness of the data," Cahill said. "They're not reporting the data itself…And they're also just asking people who tests positive. So, if somebody says positive COVID in California, a contact tracer follows up with that individual and asks them a battery of questions, and among the questions that are asked are SOGI questions."
As a result of these efforts, Cahill said, California has data on the LGBTQ status of COVID patients, but the data is overwhelmingly more complete for the gender identity of these patients rather than their sexual orientation. As of May 2021, California reported that they had sexual orientation data for 9.5 percent of individuals who had died from COVID and 16 percent of people who tested positive, but for gender identity, the data were 99.5 percent.