The Fascinating Symbolism Of Color In The Bible: Red
This page/post may contain affiliate links.  As an Amazon Associate, as well as an affiliate of other programs, this means if you purchase something using these links, I will receive a commission on qualifying purchases at no cost to you! For more detailed information, please visit our Affiliate Disclaimer page
Music is a common theme in the Bible. Most music in biblical times included scripture in the Words (or, later became scripture). We find many hymns with scripture. Thankfully, there are dozens (maybe hundreds) of Christian songs about Bible verses.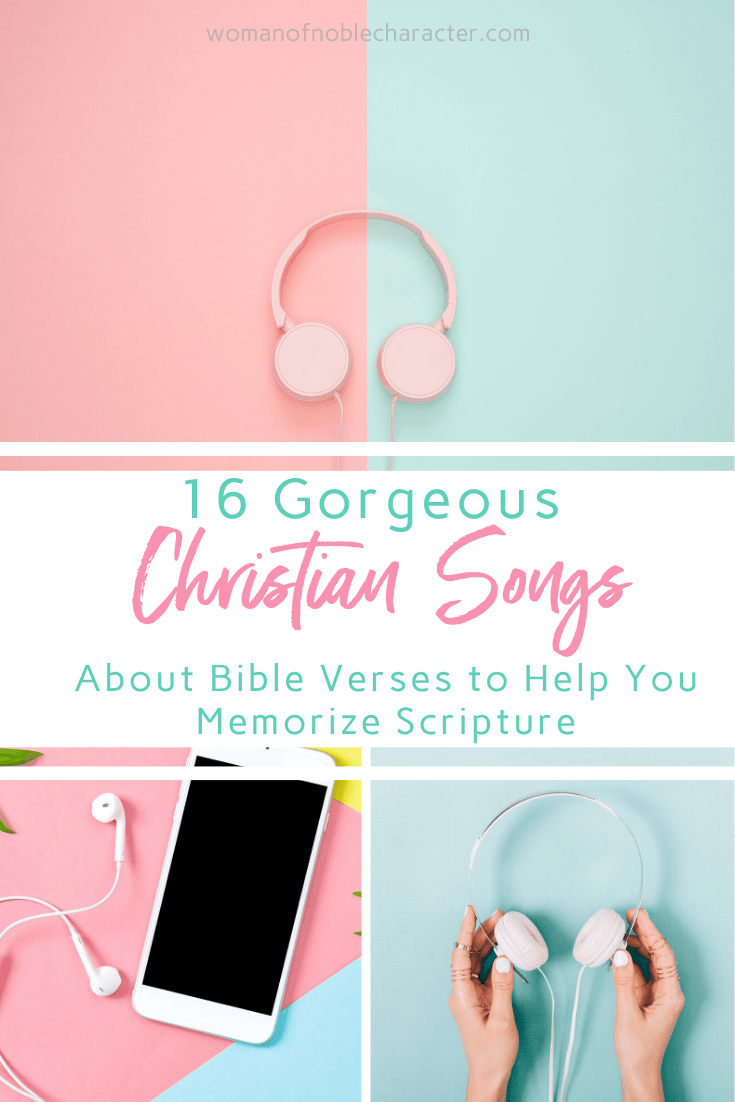 Christian Songs About Bible Verses
The Psalms are filled with music of praise and even sorrow and we even read about Miriam leading the women in song after escaping the Egyptians when crossing the Red Sea.
We read about sings as part of the Hebrews worship in the tabernacle and temple and even Jesus and His disciples sang hymns.
"When they had sung a hymn, they went out to the Mount of Olives." – Matthew 26:30
The Apostle Paul instructed the Colossians,
"Let the word of Christ dwell in you richly; teach and admonish one another in all wisdom; and with gratitude in your hearts sing psalms, hymns, and spiritual songs to God. And whatever you do, in word or deed, do everything in the name of the Lord Jesus, giving thanks to God the Father through him" – Colossians 3:16-17
Singing worship and praise music is part of God's commands for us, but, in addition, it can help us to learn and write scripture in our hearts.
The Bible contains over four hundred references to singing and fifty direct commands to sing. The Psalms, which is the longest book of the Bible, is a book of songs. And in the New Testament we're commanded not once, but twice, to sing psalms, hymns, and spiritual songs to one another when we meet (Ephesians 5:19; Colossians 3:16). Clearly, music as worship is pretty important to God.
[thrive_leads id='1175′]
Music has often been used to help us remember things. I'll bet you still remember jingles from television when you were a kid or the ABC song. In Deuteronomy 31, God himself wanted us to use music to help the Israelites remember His words.
As Israel was about to enter the Promised Land, God instructed Moses to teach Israel a song so that "when many evils and troubles have come upon them, this song shall confront them as a witness (for it will live unforgotten in the mouths of their offspring)" (Deuteronomy 31:21). Singing can help us remember words.
In this post, I'll share my favorite songs with Bible verses in them. Put them on your playlist and bathe yourself in the Word of God. Use them to help you memorize scripture and, even write the lyrics in your journal. This will help you turn the scripture into prayer to our Father.
For each listing, I'll include the scripture found in the song.
Christian Songs With Bible Verses
Christian music (since biblical times) is filled with scripture. It's a beautiful way to praise and worship while learning Bible verses, as well. Here is a list of some popular (and not so popular) songs with Bible verses.
And, finally, one of my favorites:
For even more Christian songs with Bible verses, see this immense list by Intoxicated on Life.
What other Christian songs with Bible verses can you think of? Comment below and be sure to add the corresponding scripture.
Because of Him,
Sue