This is a history sub-page related to Orville Elephant.
Orville Elephant is one of the purchasable products from the Catalog. He is labelled in the "Rare Auctions Find" of the Catalog, apart from the rest of the Mediocre Melodies band that were listed in the "Stan's Budget Tech". Classified as a "Mid-Size Animatronic" and in "Very Good" item condition, Orville is worth $4,100, which is far more than the rest of the Mediocre Melodies. His stats are as follows:
Atmosphere: 1
Health & Safety: 0
Entertainment: 7
Bonus Revenue: 1
Liability Risk: 0
To unlock the "Mediocre Melodies" achievement, the player must buy Orville along with Happy Frog, Nedd Bear, Mr. Hippo, and Pigpatch for the stage.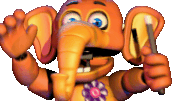 "He makes his way towards your office through the air ducts. He isn't often fooled by the audio lure, but can be pushed back with the heater."
— Menu description, Ultimate Custom Night
Orville returns in Ultimate Custom Night as one of the multiple selectable characters.
Like the rest of the Mediocre Melodies, Orville will climb into the overhead duct system, making his way toward the hoses that drop into the Office. However, he is considered the fastest and trickiest of the Melodies. The player should use the heater to repel him, or the audio lure to hold him in place. Orville is fooled 10% of the time by the audio lure. He can be identified by the orange-colored warning signal. If he reaches the end of either of the duct entrances, he will proceed to jumpscare the player and end their night.

Upon jumpscaring the player, Orville will question the player about how his performance went, except during a rare line, where he tells the player that somebody tried to release them, but he won't let that happen.
The challenges in which Orville is present are as follows:
Creepy Crawlies 1
Creepy Crawlies 2
Chaos 3