Best Youtube Channel for GATE 2022 Preparation
Best Youtube Channel for GATE Preparation - Every year around 8.5 lakh candidates appear for the Graduate Aptitude Test in Engineering (GATE) which is jointly conducted by IISc Bangalore and seven IITs. GATE exam is a computer-based examination conducted for admission to M.E./M.Tech/PhD at the IITs, NITS, IIITs and CFTIs or for PSU recruitment and fellowship.
Stay up-to date with GATE News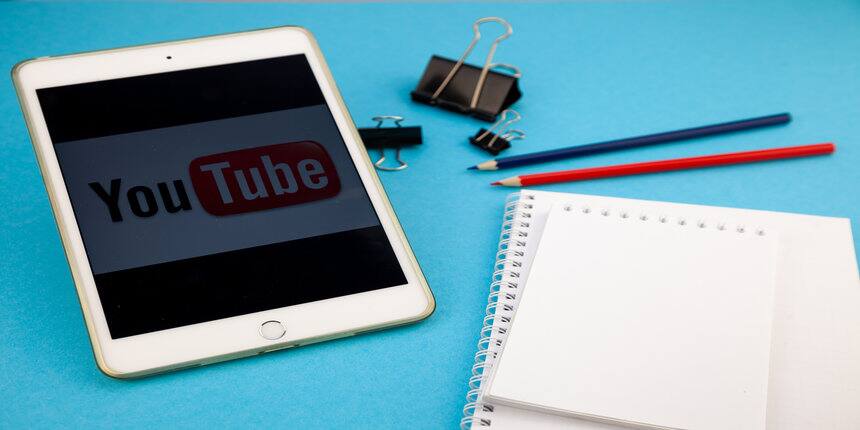 Because of the high level of competition in the exam, candidates generally search for important study and video lectures that can clear their concepts. That is why we have been receiving queries regarding the best Youtube channel for GATE preparation 2022. So, here we have listed some of the best Youtube channels that will help the candidates in their preparation for the exam. Read the full article to know about the best Youtube channels for GATE.

Quick Links:-
GATE qualified? Multiple options for you!
How to Prepare for GATE 2022 in 6 Months?
Popular Online Engineering Courses and Certifications
List of best Youtube Channels for GATE Preparation
Following are some of the top Youtube channels that candidates can follow for their GATE Preparation.

NPTEL - NPTEL is a project funded by MHRD, Government of India. It is a platform that provides study material and Youtube videos for engineering and science courses. NPTEL was initiated in 2003 by 7 IITs and IISc Bangalore to cover five core engineering disciplines namely civil engineering, computer science and engineering, electrical engineering, electronics and communication engineering and mechanical engineering through video lectures. But later the platform started covering all engineering disciplines. NPTEL provides various video lectures for GATE preparation and all these lectures are delivered by IIT professors. NPTEL also has preparation papers of all the disciplines on its website. So, NPTEL is definitely one of the best Youtube channels for GATE preparation. The channel has 1.69 M subscribers at present.
AICTE ELIS - All India Council of Technical Education (AICTE) has recently launched its e-learning platform Enhancement in Learning with Improvement In Skills (ELIS). The portal provides different courses for the candidates in partnership with various Ed-Tech companies. ELIS is also providing a GATE preparation course by Career Launcher Group. This course is free for the candidates and they can access it at the official website of AICTE ELIS i.e free.aicte-india.org.
Swayam Prabha - It is a group of 32 DTH channels devoted for telecasting educational programmes. GATE aspirants can refer to the engineering courses channel or subject-wise channels for their preparation.
Swayam - It is also a program under the government of India that provides video lectures for various courses through Youtube. GATE aspirants can find different lectures suitable for their streams on this platform.
GATEForum - It is also one of the famous Youtube channels for GATE preparation. The channel provides dedicated video lectures for the preparation of GATE exam. Candidates can refer to this channel as well.
Must Read:-
GATE Preparation Timetable
Are You Ready for GATE 2022?
GATE Academy - The Youtube channel of GATE Academy also provides dedicated video lectures for the preparation of all GATE papers. It is also a good Youtube channel for GATE preparation.
Made Easy - Made Easy which is the most famous coaching for GATE preparation also provides video lectures through its Youtube channel. GATE aspirants can refer to the subject-wise video lectures on the channel for their preparation.
Questions related to GATE
Showing 16218 out of 16218 Questions
11 Views
What is the gate score required to get admitted in jntu or ou for OBC category?
Dear applicant when it comes to admission into Jawaharlal Nehru Technological University, if you want branches like CIVIL Engineering then around 380-420 score in GATE is sufficient for OBC Category students. When you ask for branches like Computer Science Engineering or Mechanical Engineering or Information Technology, the cut off score keeps on rising and goes way above 500, these cut off scores can be expected following the past few years cut-off trends. So prepare well and crack GATE Examination with a good score, but don't solely rely on one Institute rather keep trying for others too.
Good luck!!
15 Views
syllabus for gate for it branch student
Hello aspirant,
I hope that you are doing absolutely great.
With reference to your above mentioned query, I would like to tell you the full section wise syllabus for IT branch which is detailed as follows :
Course Syllabus
Section A: Engineering Mathematics
Unit 1: Discrete Mathematics
Propositional and first order logic

Sets
Relations
Functions
Partial orders
Lattices

Groups
Graphs −

Connectivity
Matching
Coloring

Combinatorics −

Counting
Recurrence relations
Generating functions
Unit 2: Linear Algebra
Matrices
Determinants
System of linear equations
Eigenvalues and eigenvectors
LU decomposition
Unit 3: Calculus
Limits, continuity and differentiability
Maxima and minima
Mean value theorem
Integration
Unit 4: Probability
Random variables
Uniform, normal, exponential, poisson and binomial distributions
Mean, median, mode and standard deviation
Conditional probability
Bayes theorem
Section B: Digital Logic
Boolean algebra
Combinational and sequential circuits
Minimization. Number
representations and computer arithmetic (fixed and floating point)
Section C: Computer Organization and Architecture
Machine instructions and addressing modes
ALU, data-path and control unit
Instruction pipelining
Memory hierarchy −

Cache
Main memory and secondary storage
I/O interface (interrupt and DMA mode)
Section D: Programming and Data Structures
Programming in C

Recursion

Arrays, stacks, queues, linked lists, trees, binary search trees, binary heaps, graphs
Section E: Algorithms
Searching, sorting, hashing
Asymptotic worst case time and space complexity
Algorithm design techniques −

Greedy
Dynamic programming
Divide-and-conquer

Graph search, minimum spanning trees, shortest paths
Section F: Theory of Computation
Regular expressions and finite automata
Context-free grammars and push-down automata
Regular and contex-free languages, pumping lemma
Turing machines and undecidability
Section G: Compiler Design
Lexical analysis, parsing, syntax-directed translation
Runtime environments
Intermediate code generation
Section H: Operating System
Processes, threads, inter-process communication, concurrency and synchronization

Deadlock

CPU scheduling

Memory management and virtual memory

File systems
Section I: Databases
ER-model
Relational model −

Relational algebra
Tuple calculus
SQL

Integrity constraints, normal forms
File organization, indexing (e.g., B and B+ trees)
Transactions and concurrency control
Section J: Computer Networks
Concept of layering
LAN technologies (Ethernet)
Flow and error control techniques, switching
IPv4/IPv6, routers and routing algorithms (distance vector, link state)
TCP/UDP and sockets, congestion control
Application layer protocols (DNS, SMTP, POP, FTP, HTTP)
Basics of Wi-Fi
Network security −

Authentication
Basics of public key and private key cryptography
Digital signatures and certificates
Firewalls
Further, for more information follow the below link :
https://engineering.careers360.com/articles/gate-syllabus
I hope that this will help.
13 Views
GATE XE PREVIOUS year PAPER ANALYSIS
Hi,
Hope you are doing good.
Gate's previous year paper analysis contains the overview of the Gate exam. After analyzing the whole paper, you will be able to know the difficulty level of the paper, the types of questions asked in the exam, Division of syllabus, and much more. And also analyzing the previous paper you will be able to figure out the important topics.
So, below I am attaching the link through which you can check the analysis of preivious year paper.
https://engineering.careers360.com/articles/gate-paper-analysis
Hope this helps.