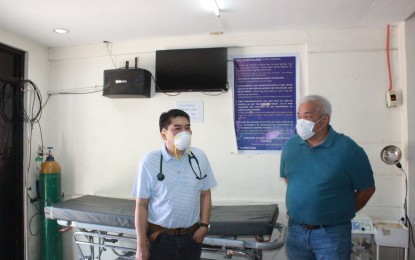 ANGELES CITY, Pampanga – This highly-urbanized city was placed under a state of calamity to ensure readiness against new coronavirus disease 2019 (Covid-19).
Mayor Carmelo Lazatin Jr. said while there are still no confirmed Covid-19 cases, it is fit to place the city under a state of calamity to ensure the safety of the residents.
"Sa ngayon po, wala pong dapat ikabahala, huwag po tayong mag-panic. Wala pong coronavirus dito sa Angeles. (As of now, there is nothing to worry. Do not panic. There is no coronavirus here in Angeles). But the safety of our constituents is our topmost priority. We will closely monitor to assure that the city is guarded against the virus," Lazatin said.
Under a state of calamity, the Office of the Mayor is authorized to use the city's calamity and quick response fund for alternative procurement modalities in emergencies.
The purchase of "medical supplies, medical equipment, medicines, sanitation supplies, sanitation equipment, testing kits, personal protective equipment, ambulance or other emergency response vehicles, additional public transportation services to augment existing public transportation services, printing, and additional contractual services to augment the services of the Health Department are allowed," the resolution said.
Meanwhile, The Rafael Lazatin Memorial Medical Center, also known as Ospital ning Angeles, and the Philippine Rehabilitation Institute will be the isolation area of patients under investigation (PUIs) as agreed by the local officials and representatives of public and private hospitals here.
Lazatin said the imposition of a price ceiling will be strictly implemented.
"There will be prohibition on profiteering and hoarding in the city where the Local Price Coordinating Council will issue a list of commodities which will be monitored to prevent hoarding and price manipulation as well," he added.
Lazatin said the city government will put up a special hotline to receive complaints on profiteering, hoarding, and other acts prohibited under Republic Act 7581, or the Price Act.
"Goods sold in violation of this provision shall be seized immediately and distributed for the use of Angeles City Covid-19 Task Force to respond to this emergency," he said.
Lazatin ordered the preparation of 20,000 emergency food packs to be distributed to the poorest of the poor.
He said the emergency purchase includes 2,000 sacks of rice and 2,000 boxes of canned goods for the city's food stockpile.
"With all of the business establishments shutting down, the lower-income families and hourly workers are greatly affected by the coronavirus pandemic, and their food security should be prioritized," he added. (PNA)