The Long Island music community has lost one of its most unique and gifted singer-songwriters. Lois Morton — who delighted audiences throughout the New York metropolitan area and beyond for years with her abundant charm and humorous songs of social commentary on such subjects as cell phones, clutter, diets, psychotherapy, and road rage — passed away on Dec. 17 at 87.
Lois, who reinvented herself in retirement, going from being an educator and therapist to a
singer-songwriter
with a rapier wit and a surprisingly contemporary approach, lived near me. We met years ago through the Folk
Music
Society of Huntington, a nonprofit presenting organization that I currently lead and for which she performed as a featured artist several times and more frequently in the open mics that precede our twice-monthly concerts. Over the years, she also retained my services to help promote her albums and shows, write her bios, provide advice and counsel, and introduce her to presenters and folk DJs.
Years ago, I encouraged Lois to attend the annual Northeast Regional Folk Alliance (NERFA) conference and to apply for showcases at it. Accompanying herself on a mini-piano during the Suzi Wollenberg Folk DJ Showcase at the 2011 NERFA Conference, she drew a standing ovation from an audience that was captivated by her and thoroughly enchanted with her funny songs. Selected for an official juried showcase in 2012, Lois repeated that feat (a rarity at NERFA conferences). At my urging, she applied for and secured another official juried showcase a few years later.
Lois earned the praise of noted folk DJs like John Platt and Rich Warren. "Don't be deceived. Underneath Lois Morton's sweet grandmotherly demeanor lurks a wickedly clever songwriter," Platt, host of Sunday Supper on New York's WFUV, once commented. "The legacy of Tom Lehrer lives on in Lois." Warren, the recently retired host of the long-running, nationally syndicated The Midnight Special, played her songs frequently and also invited her to perform live in Chicago on his WFMT radio program and concert series, Folkstage. Her song "The Diet is Cast" received an Imprint Radio Award from the late upstate New York folk DJ Terry Doyle for Best Live Performance and also was nominated for a 2012 MAC Award by the Manhattan Association of Cabarets and Clubs. She received a 2014 MAC Award for a New York City cabaret revue, 20th Century Girl (featuring songs from her 2013 album of the same name), that was performed at Don't Tell Mama and The Duplex.
[Here's a link to a video of Lois Morton performing "The Diet is Cast:"
https://www.youtube.com/watch?v=yZb30xZjUZc.]
Lois was also the subject of a cover feature in Acoustic Live! in New York City & Beyond. Richard Cuccaro, its editor & publisher, opined: "For any concertgoer who loves intricate wordplay, Lois is a lodestone discovery. Truly a gem." Singer-Songwriter Jimmie Dale Gilmore, with whom she took courses at the Omega Institute, described her songs as "a beautiful blend of biting wit, constant surprises and poignant, human stories. They alternately provoke us to laughter at our modern foibles and touch our hearts with timeless, tender, heartfelt sharing." Lois was also a frequent attendee of the Summersongs and Wintersongs songwriting camps in upstate New York.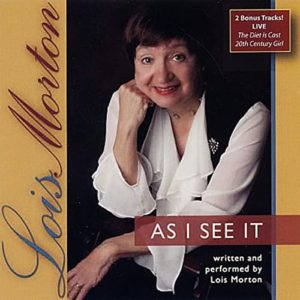 She released three CDs of original songs – As I See It, Doorways In Time and 20th Century Girl – and, in November 2019, a six-song EP entitled Thinking It Through. In addition to her own topical songs, which she began writing in the late 1960s, and several of which were published in Broadside Magazine, Lois brought to life the legendary Edith Piaf in a lecture-cabaret program featuring songs and stories and also performed a show called "Raisins and Almonds: Jewish Songs for the Heart."
Lois leaves behind a daughter (Amy), a son (Philip), three grandchildren, and a trove of songs that I hope will be discovered and enjoyed by people for years to come. Below are links to just a few of the many videos of her performing them that appear on YouTube:
"Twentieth Century Girl"
https://www.youtube.com/watch?v=tQaY9R2aBtk
"The Cell Phone Song"
https://www.youtube.com/watch?v=f84Kg2n-cTI
"Confessions of a Clutterholic"
https://www.youtube.com/watch?v=O5kbjYkFR58
"The Diet Is Cast" (performed live at the 2016 NERFA Conference)