When visiting San Francisco, Alcatraz is often at the top of the list for nearby attractions. The history of this island is extremely interesting and the notoriety of it makes it a must-see. You can actually pair your visit to Alcatraz with nearby Angel Island on the same tour. But some people may be apprehensive due to the price and availability so here we dive a little bit more into the logistics. Here is our review of visiting Angel Island and Alcatraz Island in San Francisco!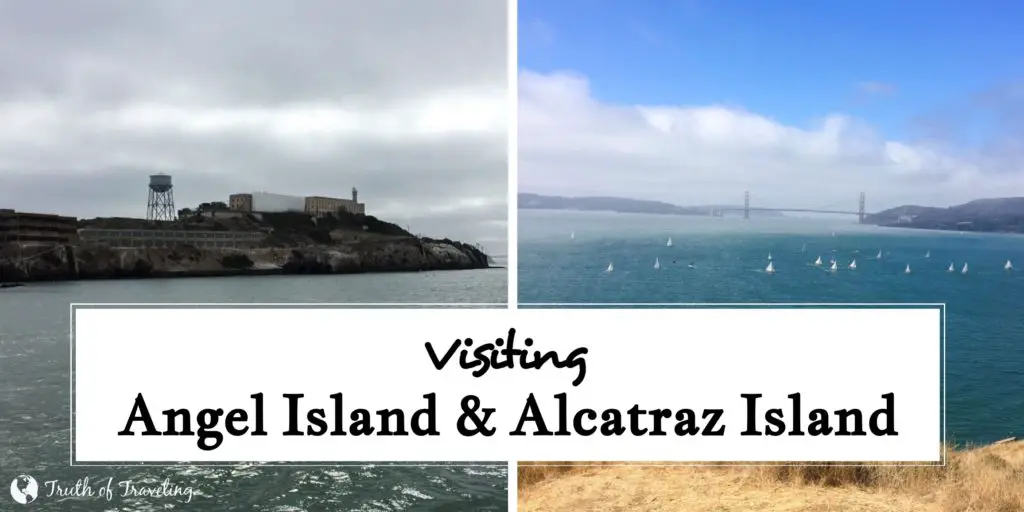 Things to know before you visit
Getting Tickets
Since both of these locations are islands you obviously will need to take a boat to get there. Alcatraz Cruises (alcatrazcruises.com) is the official ferry operator for visiting Alcatraz Island. They offer an option to visit both islands which includes a round trip ferry ride, a 1 hour guided tour of Angel Island, and the famous (and worth it) cellhouse audio tour of Alcatraz.
We would recommend buying your tickets well in advance if you choose this option. We booked ours ~6 weeks in advance and were able to get the date we hoped for, however, certain times of the day were already selling out.
Where do I catch the ferry and what time should I get there?
The ferry leaves from and returns to Pier 33 (Alcatraz Landing) in San Francisco. The line for the ferry can be long as you have to go through security and pick up your tickets (if you do not have them already). So we would recommend getting there about 30-40 minutes before your departure time.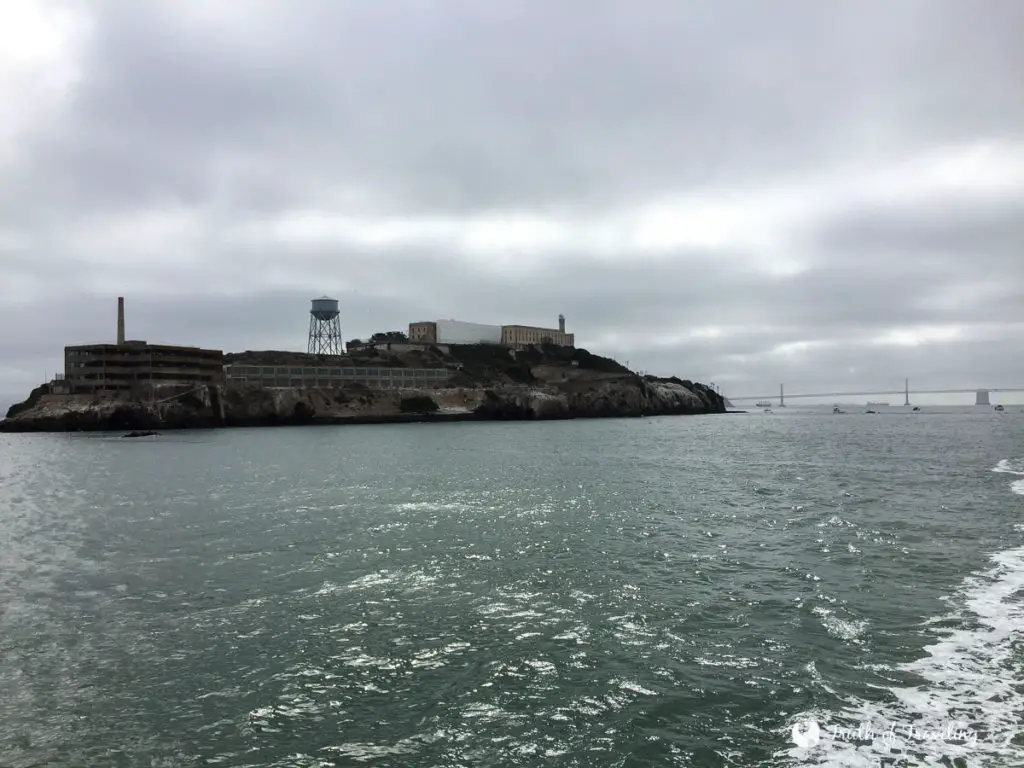 What should I bring to Alcatraz and Angel Island?
The weather in San Francisco can be incredibly difficult to predict. We started our trip in the morning when it was fairly cold and completely overcast. Once we got to Angel Island the morning clouds started to fade and the sun came out which raised the temperature immediately. By the time the afternoon came and we were walking around Alcatraz it was relatively warm although incredibly windy.
We dressed in layers and both brought a rain jacket to block the wind on the islands. This worked perfectly for us and we would suggest to do the same. Comfortable shoes are also a must as there is a good bit of walking around Angel Island as well as around Alcatraz.
You should also make sure to bring a good camera, portable charger for your phone, hat/sunglasses, and a government issued photo ID which is a requirement for visiting the islands.
Lastly leave your backpacks/luggage behind! There is no storage at Pier 33 and you will not be allowed on the ferry with your bags. A small bag is fine but no large backpacks or suitcases and really they will just be annoying to walk around with all day anyways!
What should I do about food when visiting Alcatraz and Angel Island?
Bring snacks, seriously! The tour we took stopped at Angel Island before heading over to Alcatraz. There are snacks available for purchase while waiting for the ferry, on the ferry itself, and there is even a restaurant on Angel Island where you can eat. After that, however, the food options are limited so make sure you plan accordingly. Alcatraz does not offer food and you are actually not allowed to eat on the island aside from at the dock.
Angel Island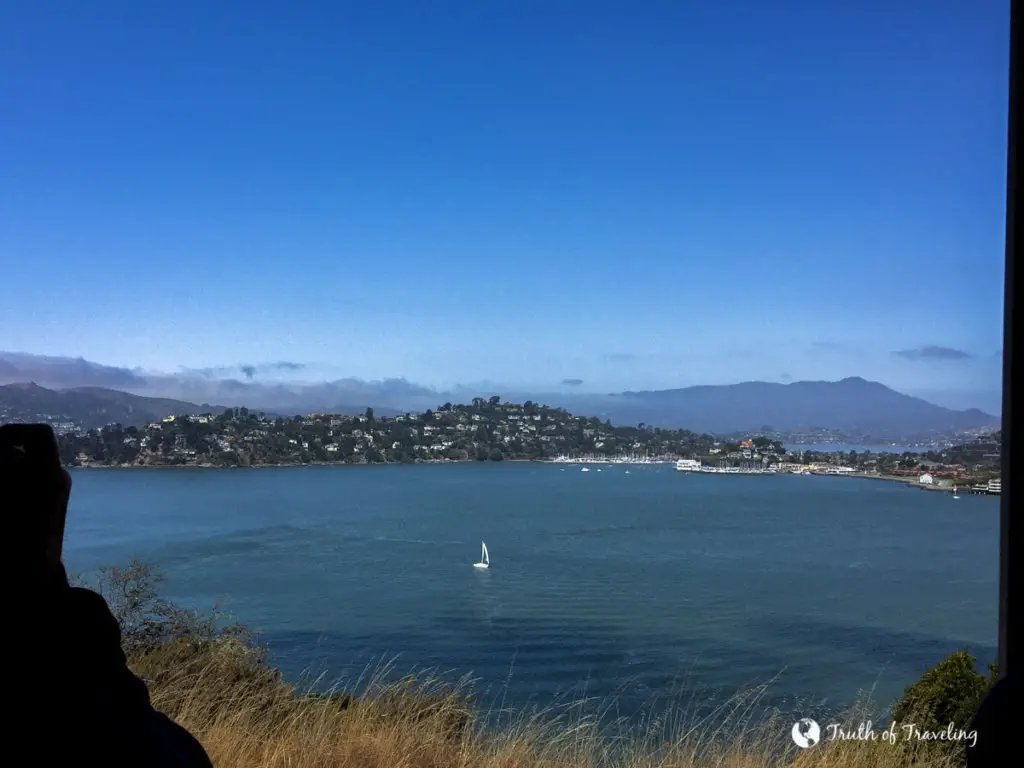 What is Angel Island?
Angel Island is an island off the coast of California in the San Francisco Bay. It initially was used as a quarantine station during the mid to late 1800's for immigrants coming across the Pacific to the United States. In the early 1900's it was converted to a full functioning immigration station, often referred to as the "Ellis Island of the West". Over one million Chinese Americans can trace their history to coming into the United States through Angel Island.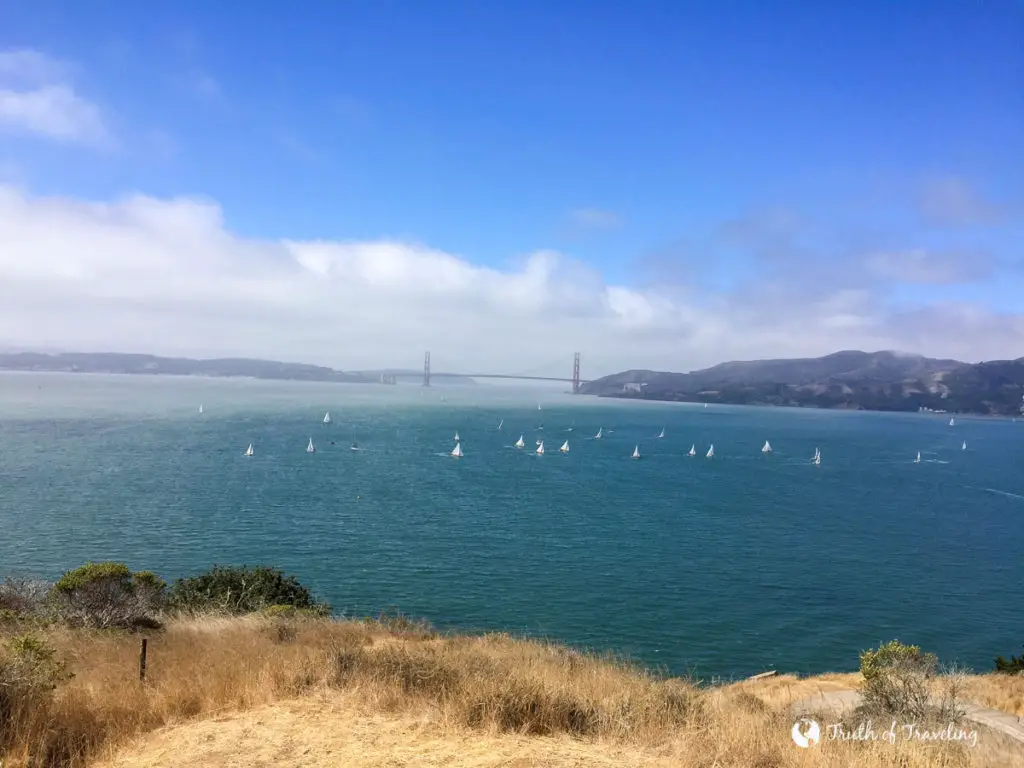 How to get to Angel Island?
Since the mid 1900's Angel Island has been a State Park of California and you can only access the island by private boat or public ferry. During our visit we booked a tour to see both Alcatraz and Angel Island which included our round trip ferry ride.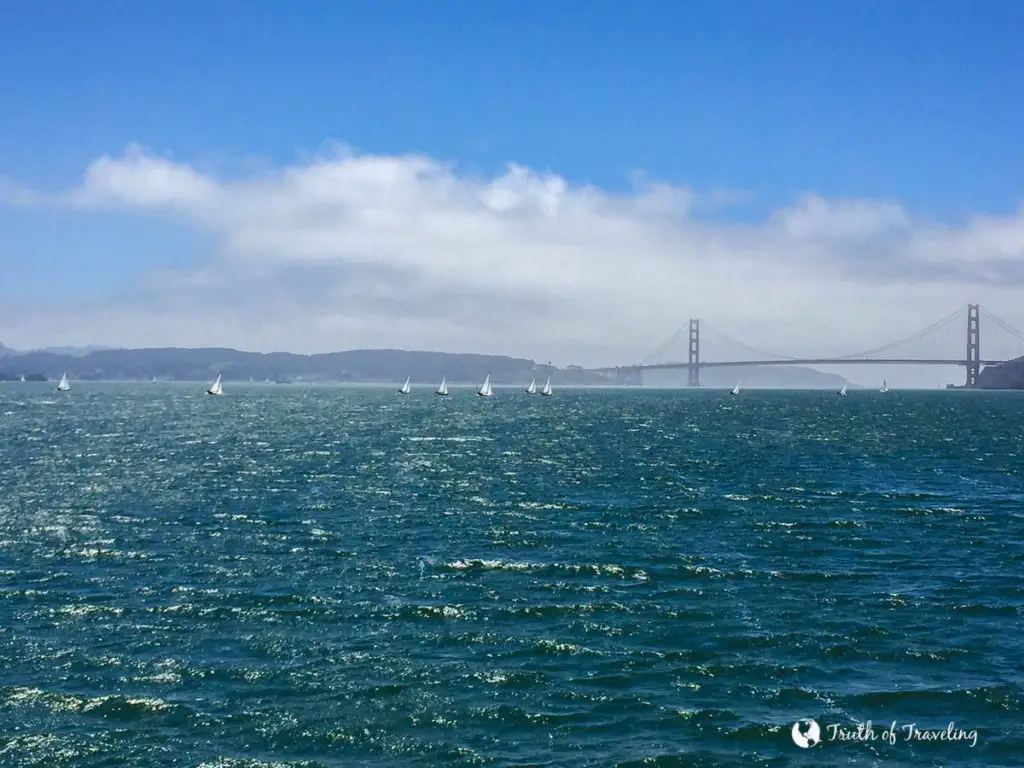 What to do on Angel Island?
There is a 1 hour tour offered on Angel Island which is actually very informative and stops at some of the best viewpoints on the island! After you take the tour you can break for lunch and then head out on any of the numerous hiking and biking trails on the island. Just make sure you give yourself enough time to catch your desired ferry to head over to Alcatraz!
Travel Truth: Angel Island is really pretty and has some amazing viewpoints looking across the water to Sausalito as well as views of the Golden Gate Bridge in the distance. However, we would say the real winner of this day was definitely Alcatraz Island. If you can only do one island (due to time or availability) we would definitely say do Alcatraz!
Alcatraz Island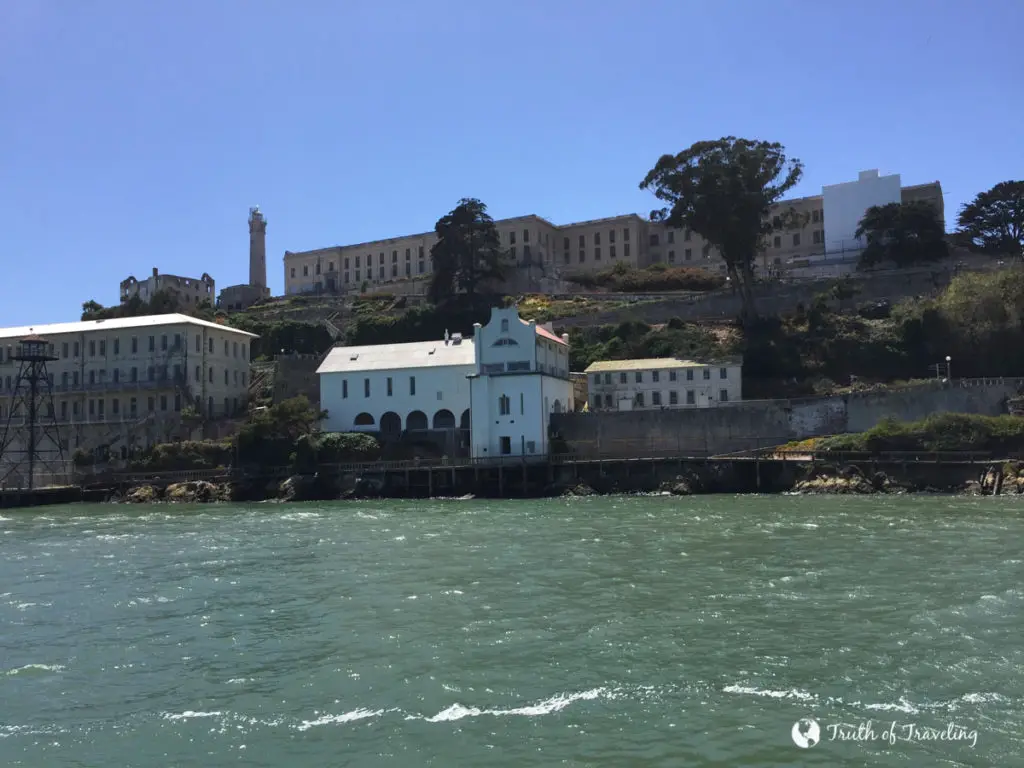 What is Alcatraz?
Alcatraz Island is an island roughly 1.25 miles off the coast of San Francisco in the San Fransisco Bay. Alcatraz Island has been used for numerous purposes throughout its history including a military base, a military prison, and most famously a federal penitentiary. It was also considered the most secure prison in history and was thought to have been "unescapable" due to the rough, frigid, surrounding waters of the San Francisco Bay. There has only been one known successful escape attempt where an inmate swam towards the Golden Gate Bridge and was discovered on the beach suffering from hypothermia and was then sent back to the prison.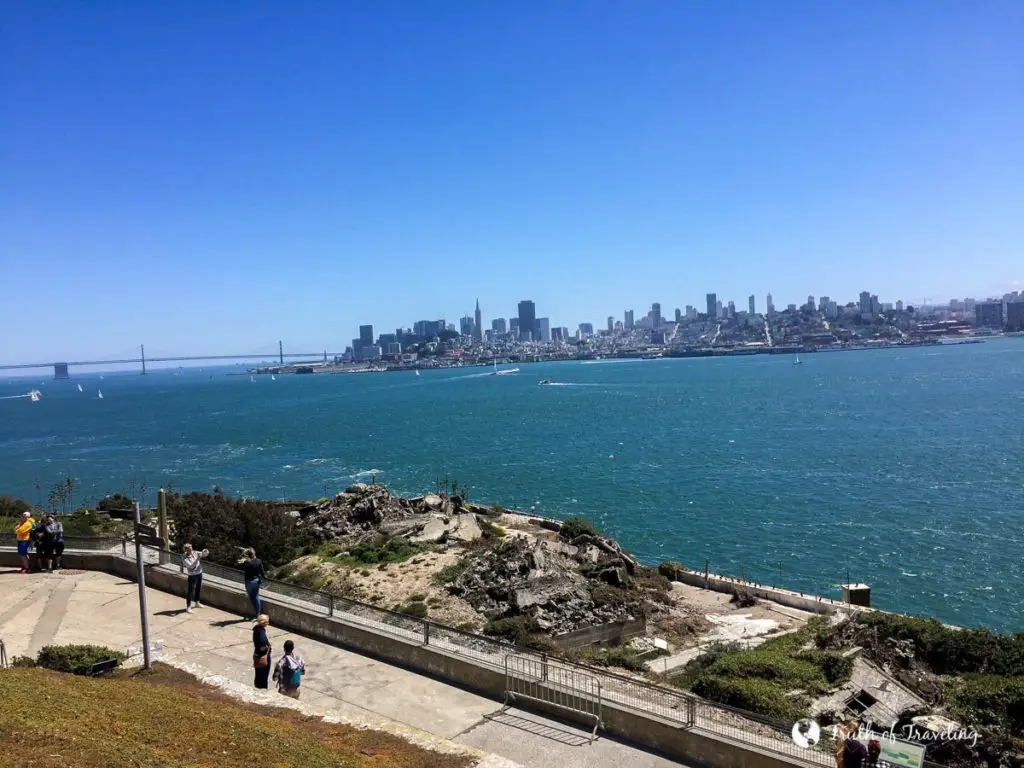 Alcatraz is also know for an escape attempt in 1962 where four inmates attempted to swim to shore. One inmate did not make it off of the island and the three others were never found. It is unknown whether they made it to shore or failed to make the journey across the water.
How to get to Alcatraz Island?
Swim! Just kidding.. similar to Angel Island you need to take a boat. Alcatraz utilizes the same ferry service which leaves from Fisherman's Wharf.
If interested check out Alcatrazcruises.com for official schedules and ticket options.
What to do on Alcatraz Island?
Without a doubt our number one recommendation for Alcatraz is the Cellhouse Audio Tour. In full transparency we almost NEVER do audio tours and when we do we often don't enjoy them how we should. This tour is completely worth it. It provides such good information about the prison and some of the famous escape attempts, riots, and other parts of its notorious history.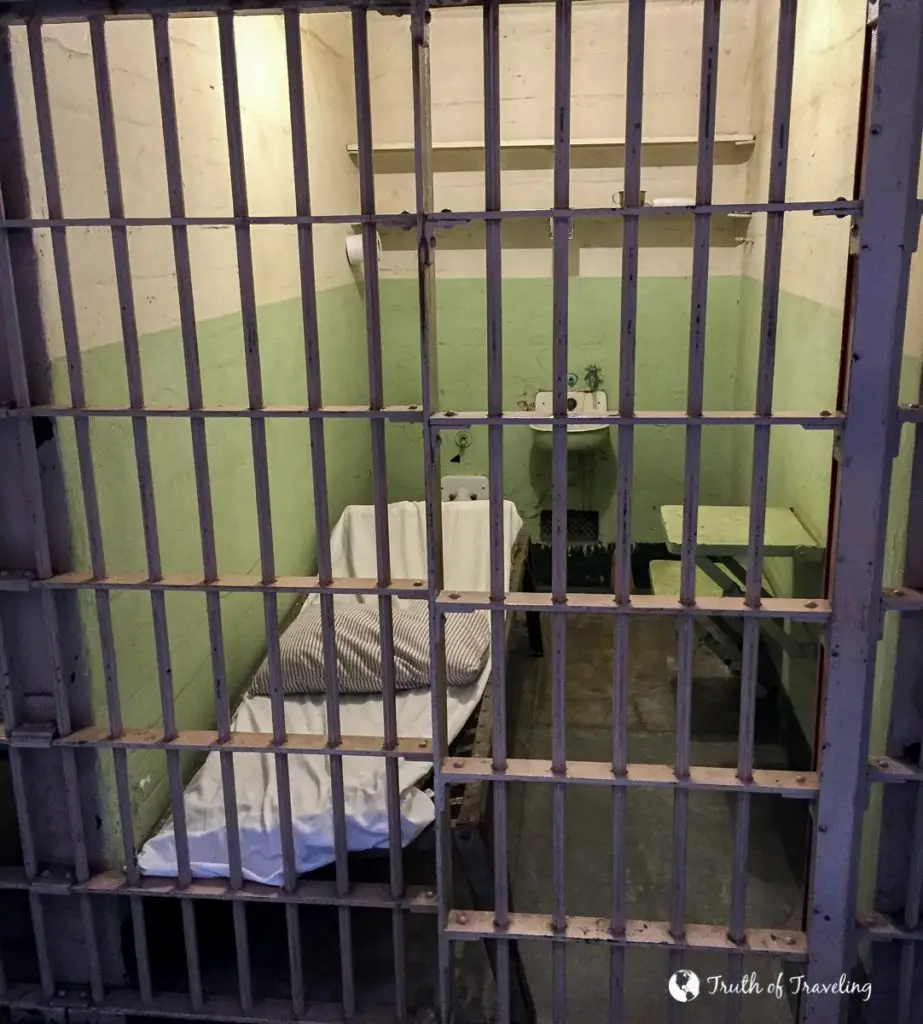 We would absolutely recommend visiting Alcatraz Island during your trip to San Francisco. Just remember it is not the type of tour, most days at least, where you can decide last minute to check it out so definitely plan ahead!
Have you been to Angel Island or Alcatraz Island? Let us know what you thought in the comments!
Pin it for later: