In Ohinata, Sakuho-town, Nagano-pref. We built a small cottage at a mountain side of the natural woodland which separated for a while from the colony. The time flows graceful here, while the interval of farm labor or works in the mountain. It is a special time to have Coffee or Beer while looking at Mt. Morai on the other side. You can spend time, being surrounded by nature... reading books slowly, taking a walk the mountain, listening songs of birds while lie on a hammock in the forest.
What guests are saying:
"It was a nice cottage surrounded by nature. At daytime, the mountains were superb, and at night, the starry sky was widening. During my stay, I experienced sunny, cloudy and rainy, but I enjoyed the goodness of each weather. The rooms are compact but have everything you need, and the wood stove is warm and comfortable! The warmth of a handmade tree is healed just by losing it. It is convenient because there are supermarkets, convenience stores and restaurants if you go about 10 minutes by car. It takes a little longer to take a bath, but there were two hot spring facilities with good views. The shrine, which can be reached on foot from the cottage, has a long staircase that is mysterious and beautiful. (Be careful because your feet are bad) Daigo, thank you for the wonderful experience!"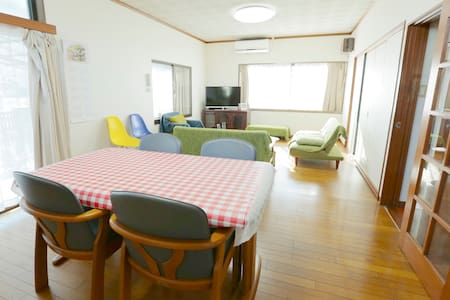 SUPERHOSTEntire house · 7 guests · 7 beds · 1 bathroom
Oarai entire house (24 hour for self check-in)
Our house was renovated recently. 13 - 15 mins to Oarai station by walk. We also have several bicycles for visitors. You can use them for free. Since we don't live in this house currently, you can use entire home, and all rooms in the house. Please ask us about the price and room available, if you are interested. Also please let me know if you need other amenities / services which were not listed, we would like to meet your request. Thank you!
What guests are saying:
"I was a little worried about the sound of the car because it faces the roadway, but the noise was alleviated due to the double glazing (new). I was surprised at the new high-grade air conditioner (it works like Gundam), the new unit bath, which is quite spacious and comfortable, and the new wash basin. There are two large sofas, so you can play around while watching TV. WiFi is also available and the internet is OK. The IH stove in the kitchen seems to be new, and I felt the owner's spirit. Although the parking lot is located outside the site, it is a large area close by, so even people who are not confident in driving or large vehicles can easily park and turn around. It was an old one-story house, but it was renovated properly and I was able to spend comfortably. It is recommended for families with small children, or because they don't bother running around. There is a large pharmacy on the other side, and if you use a car, you will be close to a supermarket, so I think you can comfortably prepare your own meals by preparing the ingredients. It's a waste to stay only one night, we recommend staying continuously. Even so, it was a very spacious and comfortable home for a couple. We did not use it, but there are bicycles on the premises and it seems that we can enjoy cycling in the neighborhood"
新型コロナウィルス感染予防につき5月いっぱいまで休業いたします。ご理解をよろしくお願いいたします。
What guests are saying:
"I stayed with a family of four, including an elementary school student and a four-year-old son. The food while watching the sea, the hot spring, and the private pool were the best! !! I am also impressed with the hospitality of the host! !! Although it was an extraordinary space, I was able to spend a relaxing time as if I had visited a relative's house. I want to come back again!"