N.C. lieutenant governor compares gays to cow feces, maggots
"If homosexuality is of God, what purpose does it serve? What does it make? What does it create? It creates nothing," Robinson said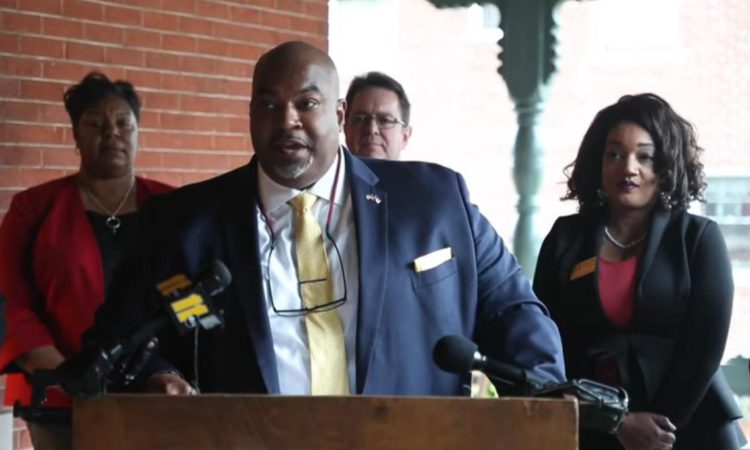 WINSTON-SALEM – Speaking to parishioners at the Berean Baptist Church in Winston-Salem last Sunday, November 14, North Carolina Lt. Governor Mark Robinson attacked the LGBTQ+ community in remarks caught on the church's livestreaming video on YouTube.
Robinson said in his sermon that he questioned the "purpose" of being gay; said heterosexual couples are "superior" to gay couples; and that he didn't want to explain to his grandchildren why two men are kissing if they see that on television the Charlotte Observer reported.
The state's Republican Lt. Governor then went on to compare being gay to "what the cows leave behind" as well as maggots and flies, who he said all serve a purpose in God's creation. "If homosexuality is of God, what purpose does it serve? What does it make? What does it create? It creates nothing," Robinson said.
Democratic lawmakers expressed their outrage on Twitter:
"This man's theology and religious practices are not only flawed and a perversion of the Christian tenets; he places countless people at risk of violent attacks and even murder every time he opens his mouth." #ncpol https://t.co/Uw8jeiqx7A

— NC House Democrats (@NCHouseDems) November 20, 2021
According to the Observer, "The video was distributed Friday by a pastor at St. John's Metropolitan Community Church in Raleigh, the day before the Transgender Day of Remembrance. A protest rally was held Friday in front of Robinson's office, but organizers also read the names of transgender people who have been killed.
"This man's theology and religious practices are not only flawed and a perversion of the Christian tenets; he places countless people at risk of violent attacks and even murder every time he opens his mouth," said Vance Haywood, senior pastor at St. John's, in a statement.
Robinson is expected to run for the governor's chair in 2024. In another video of the sermon captured the Lt. Governor ranting in transphobic terms his opinion of the Trans community:
North Carolina Lt. Gov. Mark Robinson (Twitter Video)
Video of remarks made by North Carolina Lt. Gov. Mark Robinson courtesy of the Charlotte Observer.
CDC still falling short on LGBTQ data collection for COVID patients: expert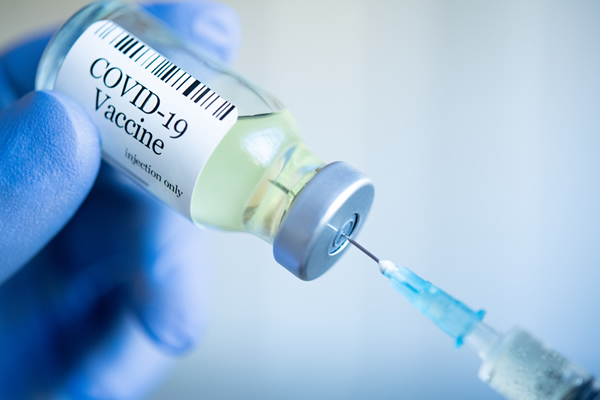 Despite requests since the start of the COVID pandemic for the U.S. government to enhance data collection for patients who are LGBTQ, the Centers for Disease Control & Prevention is still falling short on issuing nationwide guidance to states on the issue, a leading expert health on the issue told the Blade.
With a renewed focus on COVID infections reaching new heights just before the start of the holidays amid the emergence of Omicron, the absence of any LGBTQ data collection — now across both the Trump and Biden administrations — remains a sore point for health experts who say that information could be used for public outreach.
Sean Cahill, director of Health Policy Research at the Boston-based Fenway Institute, said Wednesday major federal entities and hospitals have been collecting data on whether patients identify as LGBTQ for years — such as the National Health & Nutrition Examination Survey, which has been collecting sexual orientation data since the 1990s — but the CDC hasn't duplicated that effort for COVID even though the pandemic has been underway for two years.
"It's not like this is a new idea," Cahill said. "But for some reason, the pandemic hit, and all of a sudden, we realize how little systematic data we were collecting in our health system. And it's a real problem because we're two years into the pandemic almost, and we still don't know how it's affecting this vulnerable population that experiences health disparities in other areas."
The Blade was among the first outlets to report on the lack of efforts by the states to collect data on whether a COVID patient identifies as LGBTQ, reporting in April 2020 on the absence of data even in places with influential LGBTQ communities. The CDC hasn't responded to the Blade's requests for nearly two years on why it doesn't instruct states to collect this data, nor did it respond this week to a request for comment on this article.
Cahill, who has published articles in the American Journal of Public Health on the importance of LGBTQ data collection and reporting in COVID-19 testing, care, and vaccination — said he's been making the case to the CDC to issue guidance to states on whether COVID patients identify as LGBTQ since June 2020.
Among those efforts, he said, were to include two comments he delivered to the Biden COVID-19 Health Equity Task Force in spring 2021, a letter a coalition of groups sent to the Association of State & Territorial Health Officers asking for states to collect and report SOGI in COVID in December 2020 as well as letters to HHS leadership and congressional leadership in spring and summer 2020 asking for them to take steps to encourage or require SOGI data collection in COVID.
Asked what CDC officials had to say in response when he brought this issue to their attention, Cahill said, "They listen, but they don't really tell me anything."
"We've been making that case, and to date, as of December 22, 2021, they have not issued guidance, they have not changed the case report form. I hope that they're in the process of doing that, and maybe we'll be pleasantly surprised in January, and they'll come up with something…I really hope that's true, but right now they're not doing anything to promote SOGI data collection and reporting in surveillance data."
Cahill, in an email to the Blade after the initial publication of this article, clarified CDC has indicated guidance on LGBTQ data collection for COVID patients may come in the near future.
"HHS leaders told us this fall that CDC is working on an initiative to expand SOGI data collection," Cahill said. "We are hopeful that we will see guidance early in 2022. Key people at CDC, including Director Walensky, understand the importance of SOGI data collection given their long history of working on HIV prevention."
In other issues related to LGBTQ data collection, there has been a history of states resisting federal mandates. The Trump administration, for example, rescinded guidance calling on states to collect information on whether foster youth identified as LGBTQ after complaints from states on the Obama-era process, much to the consternation of LGBTQ advocates who said the data was helpful.
The White House COVID-19 Health Equity Task Force has at least recognized the potential for enhancing LGBTQ data collection efforts. Last month, it published an implementation plan, calling for "an equity-centered approach to data collection, including sufficient funding to collect data for groups that are often left out of data collection (e.g….LGBTQIA+ people)."
The plan also calls for "fund[ing] activities to improve data collection…including tracking COVID-19 related outcomes for people of color and other underserved populations," and specifically calls for the collection of LGBTQ data.
The importance of collecting LGBTQ data, Cahill said, is based on its potential use in public outreach, including efforts to recognize disparities in health population and to create messaging for outreach, including for populations that may be reluctant to take the vaccine.
"If we see a disparity, we can say: Why is that?" Cahill said. "We could do focus groups of the population — try to understand and then what kind of messages would reassure you and make you feel comfortable getting a vaccine, and we could push those messages out through public education campaigns led by state local health departments led by the federal government."
The LGBTQ data, Cahill said, could be broken down further to determine if racial and ethnic disparities exist within the LGBTQ population, or whether LGBTQ people are likely to suffer from the disease in certain regions, such as the South.
"We have data showing that lesbian or bisexual women, and transgender people are less likely to be in preventive regular routine care for their health," Cahill said. "And so if that's true, there's a good chance that they're less likely to know where to get a vaccine, to have a medical professional they trust to talk to about it today."
Among the leaders who are supportive, Cahill said, is Rachel Levine, assistant secretary for health and the first openly transgender person confirmed by the U.S. Senate for a presidential appointment. Cahill said he raised the issue with her along with other officials at the Department of Health & Human Services three times in the last year.
In her previous role as Pennsylvania secretary of health, Levine led the way and made her state the first in the nation to set up an LGBTQ data collection system for COVID patients.
"So she definitely gets it, and I know she's supportive of it, but we really need the CDC to act," Cahill said.
Although the federal government has remained intransigent in taking action, Cahill said the situation has improved among states and counted five states — California, Pennsylvania, Rhode Island, Nevada and Oregon — in addition to D.C. as among those that have elected to collect data on sexual orientation and gender identity of COVID patients.
However, Cahill said even those data collection efforts are falling short because those jurisdictions have merely been public about collecting the data, but haven't reported back anything yet.
"Only California has reported data publicly, and the data that they're reporting is really just the completeness of the data," Cahill said. "They're not reporting the data itself…And they're also just asking people who tests positive. So, if somebody says positive COVID in California, a contact tracer follows up with that individual and asks them a battery of questions, and among the questions that are asked are SOGI questions."
As a result of these efforts, Cahill said, California has data on the LGBTQ status of COVID patients, but the data is overwhelmingly more complete for the gender identity of these patients rather than their sexual orientation. As of May 2021, California reported that they had sexual orientation data for 9.5 percent of individuals who had died from COVID and 16 percent of people who tested positive, but for gender identity, the data were 99.5 percent.
South Dakota Gov. Kristi Noem proposes anti-Trans sports bill
Noem's draft legislation would codify two executive orders – one for K-12 students and the other for the collegiate level.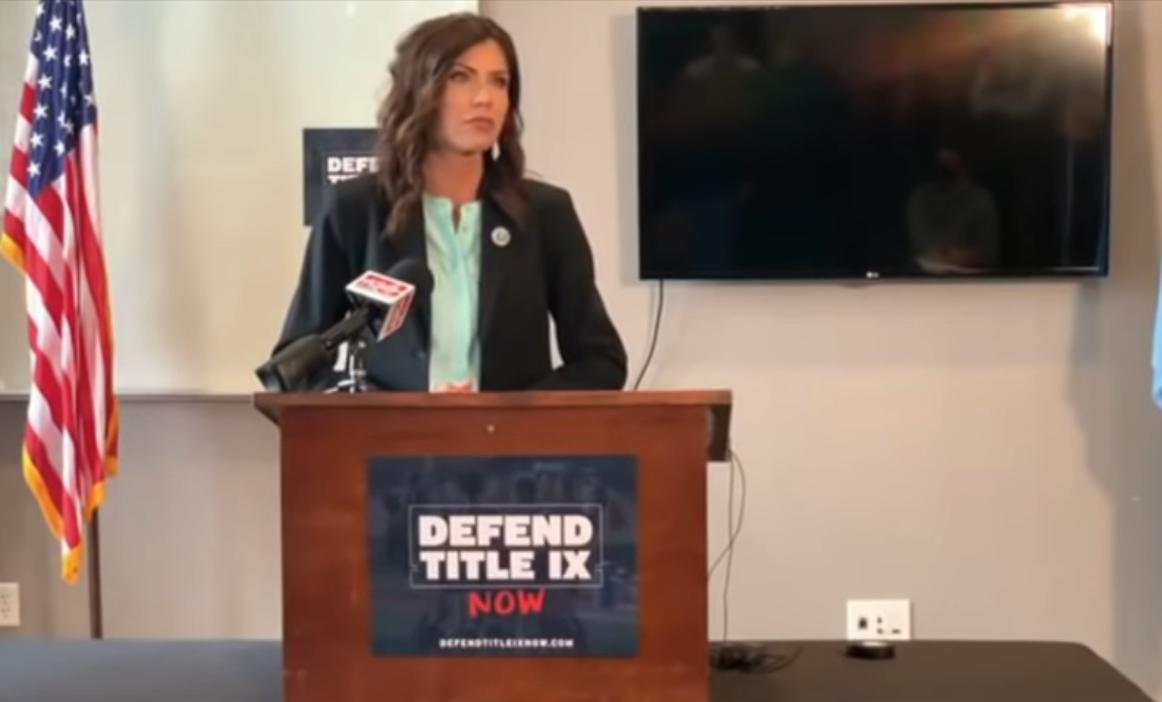 PIERRE – Months after vetoing an anti-trans sports bill, South Dakota Republican Gov. Kristi Noem proposed legislation last week to bar trans women and girls from playing sports.
Noem's draft legislation would codify two executive orders – one for K-12 students and the other for the collegiate level – she wrote shortly after vetoing a state Republican anti-trans sports bill.
Her first order stated that "only females, based on their biological sex, as reflected on ther birth certificate or affidavit provided upon initial enrollment" can participate in women's school sports. The second made a similar declaration for college sports.
According to the Sioux Falls Argus Leader, South Dakota High School Activities Association still allows trans student-athletes to compete.
The proposed bill also states that if an athlete suffers direct or indirect harm due to violation of the legislation, that student has a private cause of action for relief against the school, athletic organization or college that caused the harm.
The two executive orders came after Noem praised but vetoed anti-trans legislation that the Republican-controlled state legislature passed, fearing the NCAA would take the state to court over the bill.
"This legislation does not have the problematic provisions that were included in last year's House Bill 1217," Noem said in a press release. "Those flawed provisions would have led to litigation for our state, as well as for the families of young South Dakota athletes – male and female alike."
The American Civil Liberties Union (ACLU) of South Dakota condemned Noem's proposed legislation, calling it a solution in search of a problem.
"Let's be clear: Noem's proposed legislation is an attack on transgender women and girls," wrote Jett Jonelis, Advocacy Manager for the ACLU of South Dakota.
According to the organization, the bill is also illegal, violating the United States Constitution and Title IX of the Civil Rights Act, which protects students – including trans ones – from sex discrimination.
"This proposed legislation is clearly fueled by a fear and misunderstanding of transgender people in our state," Jonelis said.
Noem claimed that the bill was "about fairness," saying: "Every young woman deserves an equal playing field where she can achieve success, but common sense tells us that males have an unfair physical advantage over females in athletic competition. It is for those reasons that only girls should be competing in girls' sports. Women have fought long and hard for equal athletic opportunities, and South Dakota will defend them, but we have to do it in a smart way."
However, Jonelis said that if Noem's concerns were really about "fairness" in women's sports, she would "tackle the actual threats to women's sports such as severe underfunding, lack of media coverage, sexist ideologies that suggest that women and girls are weak, and pay equity for coaches."
"Nobody wins when politicians try to meddle in people's lives like this," Jonelis continued. "Nobody wins when we try to codify discrimination like this. Legislation like Noem's proposed bill has been discussed and defeated before. It's time to move on."
The bill is the eighth attempt to ban trans athletes from competing in sports in accordance with their gender identity, according to the ACLU of South Dakota. All of the proposals failed.
The next legislative session in South Dakota begins on January 11, 2022.
'Ex-gay' leader confesses to having gay sex in 'multiple falls'
'Stop conning people into believing that they can pray away the gay'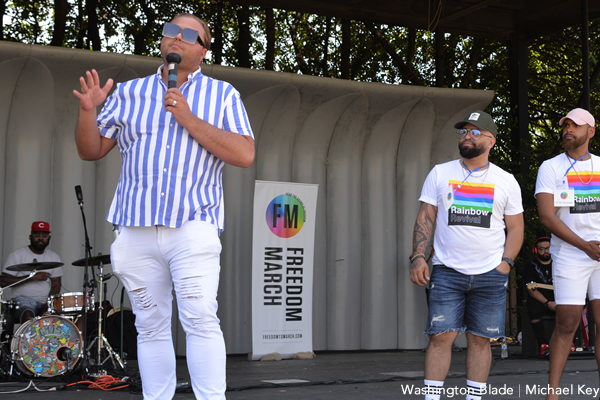 Jeffrey McCall, founder of the "ex-gay" group Freedom March, which organizes rallies across the country to promote religious oriented conversion therapy to change someone's sexual orientation from gay to straight, posted a message on Facebook last month admitting to "multiple falls" last year in which he had sex with men.
"Every time I fell I would truly repent and turn away again," he stated in his Facebook message, which first appeared on Nov. 6. "I would feel God's love, mercy, and forgiveness sometime before I could even finish the prayer," he said.
"I never want to be someone who can't share about my own struggles," McCall wrote. "In 2020, I met someone that I was trying to help…which [led] to me being unfaithful to Jesus and giving my heart away," he stated in his posting. "After denying what I wanted with him I then went on to fall sexually with a man when I felt wounded and lonely. This led to multiple falls with men over time."
McCall's Facebook and Instagram posting, which was little noticed at first, was discovered earlier this month by Wayne Besen, executive director of the LGBTQ advocacy group Truth Wins Out, which since 2006 has waged public awareness campaigns opposing the "ex-gay" movement. Besen immediately sent a statement with the text of McCall's Facebook posting to Truth Wins Out's contacts.
"Truth Wins Out condemned Freedom March founder Jeffrey McCall today as a hypocritical fraud after he admitted online to multiple hookups and romantic attachments with men, even as he continues to shamelessly lead 'Freedom March' parades of so-called 'ex-gays,'" Besen said in a Dec. 15 statement.
"Given the tawdry revelations, Truth Wins Out calls on the Freedom March to permanently shut down and stop conning people into believing that they can 'pray away the gay,'" Besen said.
Truth Wins Out has joined other LGBTQ advocacy groups in pointing out that all the nation's major medical and mental health professional organizations, including the American Psychiatric Association and the American Medical Association, strongly oppose so-called conversion or "reparative" therapy on grounds that it is harmful to those who undergo such therapy.
McCall couldn't immediately be reached for comment. The Freedom March Facebook page says the organization held its most recent march and rally in late October and early November in West Palm Beach, Fla. The group held a rally on the grounds of the Washington Monument in D.C. in June.
An announcement on the Freedom March Facebook page says McCall has just released a personal memoir that he wrote in the form of a paperback book called "For Such A Time." The announcement says the book "discusses his involvement in homosexuality, illegal drugs, alcohol, prescription pills, partying, and his transgendered life as Scarlet."
"Jeffrey McCall is a self-serving con artist who runs a fraudulent organization that preys on vulnerable and desperate LGBTQ people who grow up in religions homes," Besen said in his statement. "If McCall had an ounce of integrity, he'd apologize for his rank hypocrisy and shut down his odious Freedom March racket before it ruins more lives," Besen said.