Youssouf Fofana is not the only player to have graduated from the concrete pitches of the Île-de-France to the France team, but few have followed such an unconventional path. The Monaco midfielder is the embodiment of the idea that maturity is not measured in years but in experience. When he joined Strasbourg at 18, he had already endured more setbacks than many players suffer in their entire careers.
"We are one of the countries that has the most access to pitches and it's the first sport we can play together freely," says Fofana as he attempts to explain why France develops so many young players. Riyad Mahrez, who grew up in the same region, articulated a similar argument a few years ago. "We always play outside," said Mahrez. "When I go out in England, I never see people playing outside. Other countries don't make players the same as France. In France, you can be outside because there are small football pitches everywhere."
That raw talent is nurtured by what Fofana calls "the infrastructure" – prestigious academies such as Clairefontaine or Monaco. The 24-year-old ultimately made the step from the former to the latter, with plenty of twists and turns in between. Clairefontaine is a springboard into the professional game for many players. Not for Fofana, who left the academy aged 15 without a club. While his close friend and now international teammate Moussa Diaby, with whom he played youth football at l'Espérance Paris XIXe, was signing for PSG, Fofana was delivering pizzas and considering whether he had a future in the game. Fofana has always been blessed with technical ability but, by his own admission, in his teens he did not have the mental fortitude to match.
However, three years after leaving Clairefontaine his abilities earned him a second chance at Strasbourg. "Strasbourg prepared me more mentally because their training centre, compared to Clairefontaine and Monaco, in terms of quality, is a level below. It pushed me to go higher and further, and I improved more mentally than technically or tactically," says Fofana.
There is not a one-size-fits-all route into the professional game and Fofana found his feet at Strasbourg, which proved to be a better springboard for him than the more prestigious Clairefontaine academy. The newly determined midfielder refused the club's offer to pay for his family's travel so they could watch him play, preferring to wait until he signed his first professional contract at 19. Although his time at Strasbourg was to be brief, it was an indispensable stop on a path that led him to the World Cup just five years later.
Poetically, the scene of his greatest disappointment was given new meaning almost 10 years later, in September 2022, when Fofana received his first international call-up by Didier Deschamps. His triumphant return to Clairefontaine was secured; having "left by the small door" he "returned through the big door".
His form for Monaco, as well as his telepathic understanding with his former clubmate Aurélien Tchouaméni, convinced Deschamps to take him to Qatar and he was not there to make up the numbers. He featured in six of France's seven matches, only sitting out the quarter-final against England, which he described as "the hardest match to prepare for" in the tournament. "We were less calm than in other matches," he says. "England were the finalists in the previous Euros. We saw ourselves in them and felt like we were playing against ourselves. They had lots of quality across the pitch and particularly in attack."
France made it past England and, with Fofana back in the heart of midfield, they beat Morocco 2-0 to reach the final. The game against Argentina started badly for the reigning champions, who were 2-0 down before they started playing. "Maybe we lacked a bit of experience," says Fofana, who was introduced into the game during extra time. "In the whole 120 minutes, we only messed up the first 15, which cost us dearly. If we played the first 15 like we did the rest of the match, we could have won."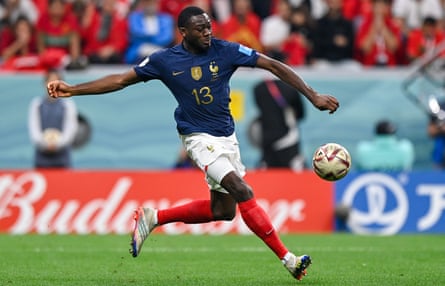 Despite defeat in Doha, France have flourished in recent years. They have reached three of the last four major finals as well as being copied by other international sides, notably England. However, it is a different story at club level. French sides have underwhelmed in European competition this season, with no Ligue 1 side reaching the semi-finals of any of the three competitions. Nice went the furthest, reaching the quarter-finals of the Europa Conference League before being knocked out by Basel.
Bernardo Silva, a former Monaco player, said recently that Ligue 1 is "more difficult, more physical" than the Premier League, yet he is preparing to play in a Champions League final while Ligue 1's fifth place in the Uefa coefficient came under considerable threat from the Eredivisie this season. "The French league has a DNA as a physical, intense league." says Fofana. "On the other hand, there are the European competitions where perhaps we need to manage games more to win. France lacks experience given that not many clubs have access to it every year."
Despite recognising the challenges facing Ligue 1 teams, Fofana is positive about the future. "We lack experience at this level and, with experience, I think we can do big things in Europe. Little by little, we're getting our bearings and why not next season or in two or seasons, we'll do what Italy did this season," he says.
Ligue 1 will have four clubs in the Champions League from next season, but the chances of Fofana still being at Monaco by then are slim. The French top flight – the self-professed "League of Talents" – is transitory, especially for young players. "The league is evolving well," says Fofana. "The arrival of big-name players creates a good blend of star players with experience and young players who want to give everything." That combination has made France one of the best, if not the best, exporter of talent in Europe.
Monaco have become masters of the art of selling. "We are a big club in France and in Europe. It's a bit of a springboard. Lots of clubs grab players off us," says Fofana. Tchouaméni joined Real Madrid for €100m last summer, Benoît Badiashile moved to Chelsea for €37m in the January window, and more departures are expected this year, with Fofana a target for Chelsea according to reports on both sides of the Channel. After what he calls the "most complete season" of his career so far, he seems open to a move. "If it is the right opportunity or moment to see something else, I can't say. I don't know but at Monaco we are doing things the right way at the moment."
The story of the pizza boy turned World Cup finalist is a testament to his own determination and France's elite training system; very few prospects fall through the cracks and many go on to fill Premier League squads. Having stepped from springboard to springboard, Fofana may be the next Ligue 1 product to take the plunge in England.